There's nothing quite like a new pair of high-end headphones from Focal arriving at your door.
I recently received their latest closed-back model, the Celestee, for audition. And they hit the headphone trifecta — among the most visually stunning, well-put-together, and articulate-sounding closed-back headphones I've experienced.
These wired audiophile headphones replace the Elegia 'phones as Focal's best closed-back offering under $1,000 (before tax). The French audio company uses similar physical attributes for all of their high-end models — like the popular Utopia, Stellia, and Clear 'phones. They all sport an identical frame, built from lightweight, premium materials like aluminum. Visually, each presents an elegant mix of curves and sharp angles.
But I think the deep navy color pattern here is my favorite of all, especially how it's punctuated by the copper-finished hardware and logo plate. It manages to pop in a way that's both striking and tasteful. And like Focal's other instant classics, the Celestee delivers a deluxe personal audio experience with pristine, super-detailed sound.
Powerful, nuanced sound with deep bass
In each earcup, you'll find Focal's fast-attack drivers, complete with their acclaimed "M"-shaped diaphragm domes. This special design gives the drivers a more fluid movement, which greatly reduces distortion and phase problems. It's why Focal headphones always sound so dynamic and yet controlled, across a wide frequency range.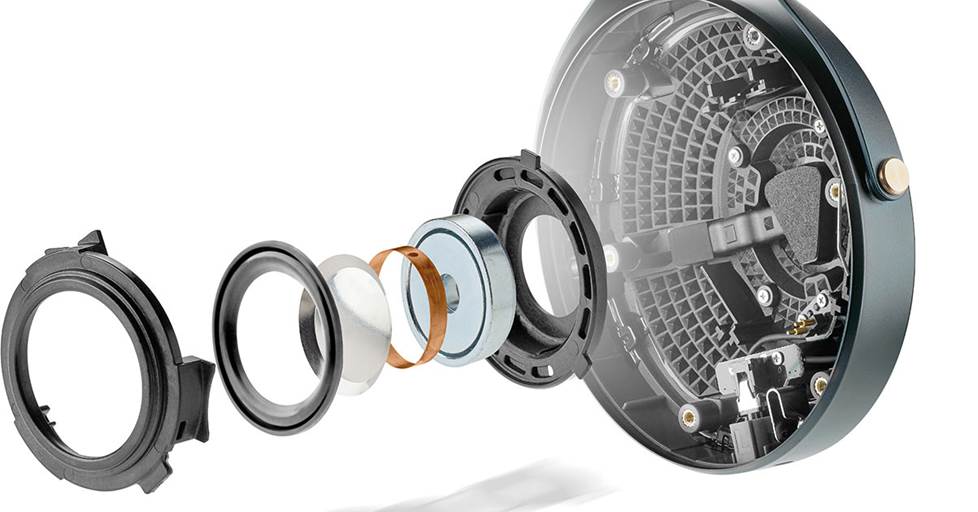 A specially designed driver with aluminum/magnesium domes produces focused, articulate sound.
Here, Focal's tuned their drivers to perform better within the Celestee's closed housings. That striking Focal logo doubles as shrewdly placed vents to release excess energy and avoid distortion. The oversized leather ear pads help further absorb resonances — keeping the powerful bass response tight and linear.
Unboxing
Before I actually dove into the box, I had to stop and admire Focal's presentation. Lush, oversized packaging gives way to a sturdy, form-fitting hard-shell case. The designer case is attractive enough with its patterned cloth lining, but it unzips to reveal an even more gorgeous gift inside.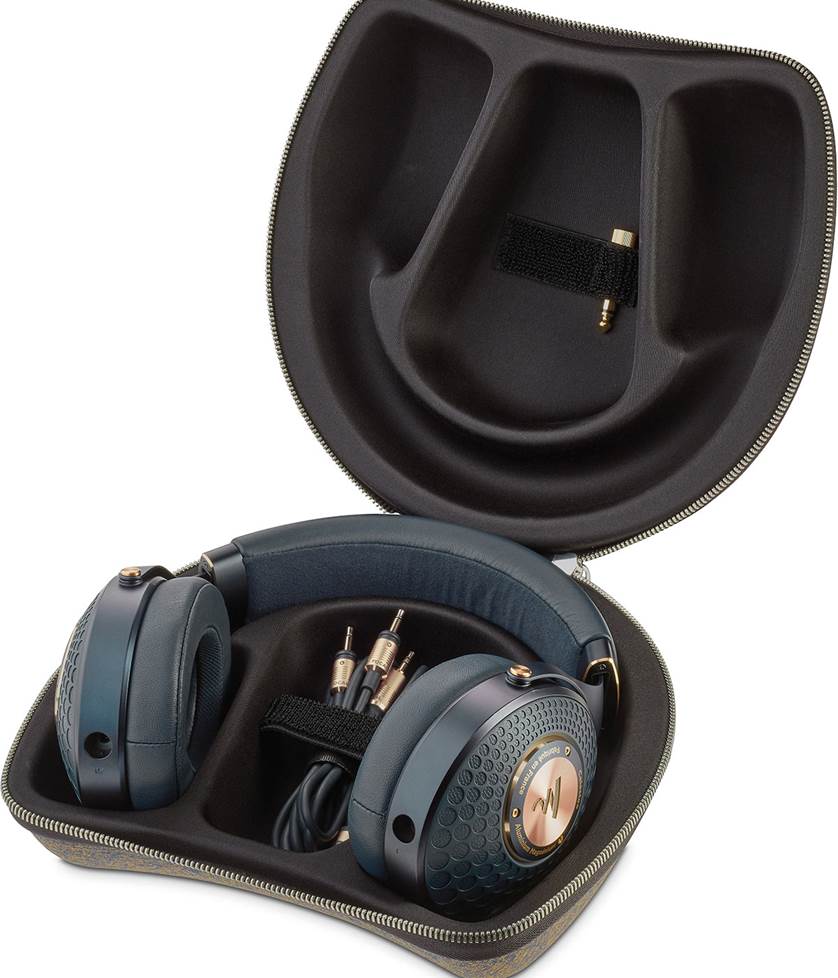 The closed-back Focal Celestee headphones are impeccably packed inside a form-fitting protective case.
Like all high-end Focal models, the Celestee 'phones are large and heavy-duty. They tip the scales at just over 15 ounces, but the weight is nicely distributed. Plus their leather-lined earcups and headband are generously padded. And the large, sturdy earcups are held together by smooth-sliding aluminum headphone yokes that helps keep the fit secure, yet relaxed.
My listening impressions
After a week or so of listening, I'd put the Celestee high on my list of favorite closed-backs. The soundstage hits a nice sweet spot — larger than you'd expect from closed-back headphones, but not overly spread out. It extended roughly as far left and right as my shoulders, and lead vocals were typically about the same distance in front of me.
Connected gear
The Celestee's closed-back design offers some noise isolation, making it more suitable for wearing in public. With that in mind, Focal made sure they were efficient enough to work with a portable music player — and I guess technically even your phone. However, if you want to hear them at their best, I strongly recommend a separate headphone amp.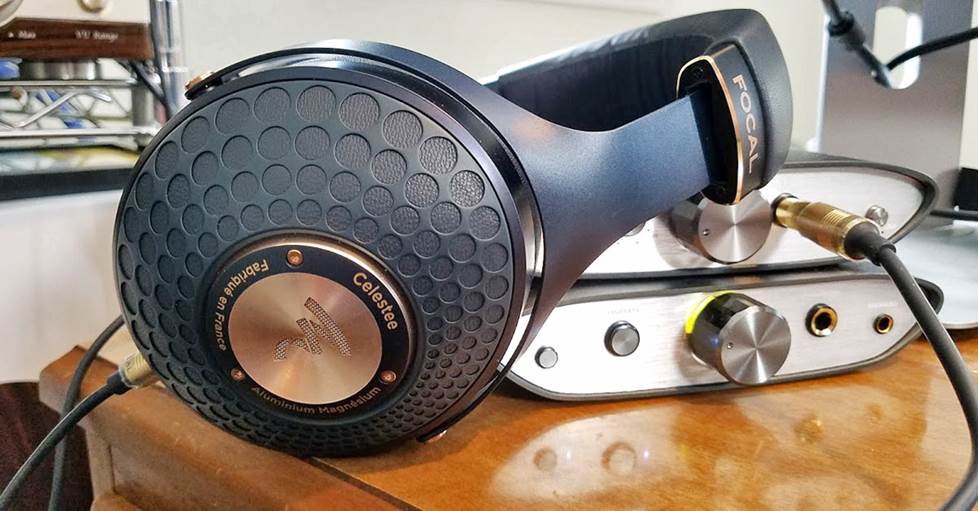 I drove the Focal Celestee with a stack of iFi ZEN gear — my go-to DAC/amp combo.
I first used a supersized Naim Audio headphone amp, and no surprise — it drove the Celestee 'phones with grace and clarity. Naim is a partner company of Focal, so they know what their drivers need in terms of power and damping.
But these headphones also performed well with my everyday home office listening rig: a stack of the iFi ZEN DAC connected to the ZEN CAN dedicated headphone amp. I enjoyed the full effect of those telltale Focal dynamics.
Celestee vs. Elegia and Celestee vs. Stellia
These replace the Elegia headphones in Focal's lineup, and I recognize — and enjoy — the improvements here. I was a fan of the Elegias, but these offer a step-up in detail and definition, with stronger, better-controlled bass.
"Gauze" by underground hip-hop legend Aesop Rock features a head-spinning mix of crunchy guitar licks, sub bass thump, DJ scratching, and what sounds like the strum of a mandolin. Each sound is so clearly defined, with no audible distortion or frequencies bleeding into each other.
For sure, you'll get even better resolution from the beryllium drivers in Focal's top-flight Stellia closed-backs. But we're playing in the same league here — at a significantly lower price point.
Deeper listening — and a lighter mood
When I auditioned these headphones, I had just finished watching the Bee Gees documentary How Can You Mend a Broken Heart. The film got me really into their earlier, pre-Disco stuff — so I had to fire up the soundtrack. I streamed it in CD-quality from Qobuz, and fed it to the Focal headphones through my iFi ZEN rig.
On the stripped-down, almost Beatles-esque ballad, "New York Mining Disaster 1941," the Gibb brothers' layered harmony seemed to emanate from dead center. As Noel Gallagher pointed out in the documentary, when they sing together, it's "like an instrument nobody can buy." And I could pick out each individual voice, even as they all blended together.
On the later dance tracks, when Barry's falsetto became more distinct and the production got more complex, there was still a sense of cohesion through the Celestee. Basslines punched with precision while the drum loops and synths seem to leap off the track. There was plenty of detail and space between instruments. Yet it never felt overly analytical — instead the musical moments were even more engaging and undeniably toe-tapping.
Product highlights
over-the-ear, closed-back design for focused sound with deep, well-controlled bass
specially designed 40mm dynamic drivers with aluminum/magnesium domes
heavy-duty frame made of premium materials like steel, aluminum, and leather
well-padded headband and earcups lined with leather
includes form-fitting case and detachable 4-foot oxygen-free cable with 3.5mm stereo plug (with 1/4" adapter)
designed, developed, and assembled in Saint-Etienne, France
frequency response: 5-23,000 Hz
impedance: 35 ohms
warranty: 3 years
Need more help? Contact us!
Have questions about how the Focal Celestee headphones compare to others? Contact us today.
Our expert Advisors know headphones inside and out. Your Advisor can send specific Crutchfield pages to your screen, saving you a lot of browsing time. You'll get a shopping cart loaded up with everything you need.
Free lifetime tech support is included with your Crutchfield purchase.