Arlo Smart Home Security Camera System
3 HD, 100% wire-free indoor/outdoor cameras with night vision (VMS3330)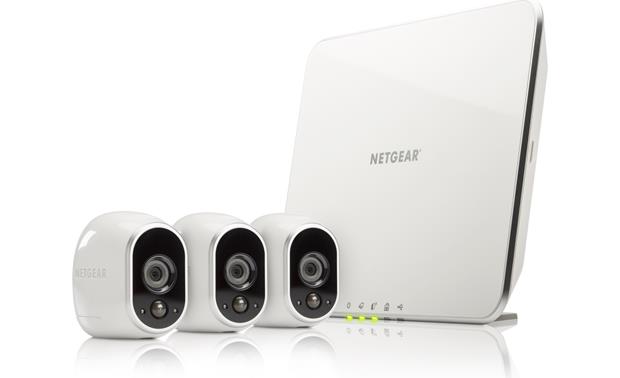 Arlo Smart Home Security Camera System - Front

Arlo Smart Home Security Camera System - Check in on the baby throughout the night

Arlo Smart Home Security Camera System - Included magnetic mounts make installation easy
From Netgear: Arlo - Find, Manage & Share
From Netgear: Arlo - Installation
From Netgear: Arlo - Turning On Motion Detection

Arlo Smart Home Security Camera System - See multiple camera views with the free app

Arlo Smart Home Security Camera System - Side of camera, with included magnetic mount

Arlo Smart Home Security Camera System - Small and lightweight
Item # 941ARLOSYS | MFR # 4193357
In Stock

Our VirginiaVA-based experts can help.
Overview
Our take on the Arlo Smart Home Security Camera System by Crutchfield's Eric Angevine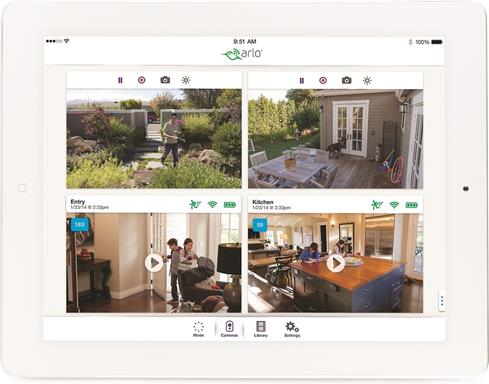 A free app lets the Arlo VMS3330 show multiple camera views on your smartphone or tablet.
Wireless home surveillance
Nobody really enjoys running tons of wire in order to set up basic surveillance at home or work. The Arlo VMS3330 by NETGEAR is a wireless, expandable system from the same company that supplies us with world-class wireless routers. The kit includes a sleek wireless hub and three versatile 100% wireless high-def cameras that can be magnetically mounted indoors or out. You can set up email alerts that will notify you when any of the cameras detects motion, and store footage in the cloud for later review. You'll get clear 720p video, and the camera's LED night vision will even let you see up to 25 feet away in low light.
Easy installation
The Arlo VMS3330 comes with everything you'll need to install and position the included 100% wire-free cameras. You'll have four wall anchors, mounting screws, and magnetic brackets, so you can add another VMC3030 camera to expand your system as needed.
Go live with the Arlo app
Download the free Arlo app for your Apple or Android device, and you'll have access to a live stream from your surveillance system, so you can reassure yourself when you're at work or far from home on holiday. Control when each camera is active with the scheduler, set modes and rules to govern when your camera is on and recording, and catalog stills and video by date and time in the library.
Secure cloud storage
When you tell your camera to record an event, HD video is automatically saved to the cloud. Arlo's free Basic level of storage keeps up to 1 gigabyte of archived footage for one week before deleting, with more robust packages available for a monthly fee. The Arlo storage system uses advanced 128-bit data encryption and advanced security protocols from NETGEAR to keep your data safe.
Product Highlights:
wireless security system with internet hub and 3 cameras
stay informed with automatic email alerts and push notifications
free app lets you remotely monitor and control your Arlo system
Basic cloud storage option stores up to 1GB of video for up to 7 days free of charge

upgraded storage packages available for a fee

compatible with Samsung SmartThings home automation system and Apple TV
four versatile magnetic mounts included
Base Station:
2.4GHz 802.11n wireless signal
500Mhz internal processor
memory: 128MB
internal antenna
connects directly to Wi-Fi® router
8-1/2"W x 6-1/2"H x 2-1/4"D
weight: 4 oz.
VMC3030 Cameras:
full-color CMOS image sensor
rated for indoor/outdoor use
operating temp. range 14-122° F
110° field of view
resolution: configurable up to 1280 x 720 pixels
motion detection with adjustable sensitivity
LED night vision illuminates up to 25 feet away
powered by 4 lithium CR123 photo batteries (included)
note: these cameras have no audio sensing or audio recording capabilities
1-5/8"W x 2-1/2"H x 2-13/16"D
weight: 4 oz.
warranty: 1 year
What's in the Box:
Arlo Smart Home Security Camera System Owner's manual
3 Wireless cameras
Base station
AC power adapter (w/ 6' DC cord)
12 Lithium CR123 batteries
8' Ethernet cable
4 Mounting brackets
4 Mounting screws
4 Wall-anchors
Quick Start Guide
GNU General Public License
2 Window Stickers
Reviews
Arlo Smart Home Security Camera System Reviews
Average Customer Review(s):


Submit a review and then enter to win a $350 rewards card
Review this product
Thanks for submitting your review
Most reviews are processed and published within 5 business days. You will receive a confirmation email once your review has been published.
Customer photos
Pros:
Cons:
Crutchfield response
---
Details
Product Research
Features
Arlo HD Security Camera System: The Arlo HD Security Camera System (VMS3330) includes an indoor base station w/ built-in WiFi and three wireless HD indoor/outdoor cameras with motion detection. The Arlo HD Security Camera System (VMS3330) lets you keep an eye on things while you are away using the Arlo app on your Apple iOS or Android device.
Applications: You can use the Arlo HD security camera system to watch over an empty home or business, to monitor your driveway or the entrance to your home, or to safeguard any other space in or around the house. The Arlo security system can keep an eye on the kids after school, pets home alone, sleeping babies, and elderly family members. No matter who or what you care about most, the Arlo system helps make sure it all stays safe.
System Requirements: You will need the following to activate your Arlo Smart Home Security system.
A Window PC, Mac computer, Apple iOS (7.0+) iPod/iPhone/iPad, Android (4.0.3+) smartphone/tablet, or Kindle Fire.
The Arlo app mobile app for your smartphone or tablet, visit the Apple, Google Play, or Amazon app store and search for "Arlo".
If you are using a computer or laptop, you also need a supported Internet browser - Internet Explorer 10 or higher, Firefox 3.5 or higher, Safari 3 or higher (Except on Windows and Linux), or Chrome.
A high-speed internet connection (minimum 1 Mbps upstream recommended).
An available Ethernet port (443 or 80) on your router.
Simple Setup: It takes just minutes to setup your new Arlo network camera system. Just connect the base station to your router & the Internet, mount & sync the cameras, and download the free Arlo app on your computer, laptop, smartphone, or tablet device. After your Arlo system is set up, you can change settings, view content and view camera streams remotely using the app or web browser client. Arlo can alert you by email notification or through the Arlo app whenever it records a video.
Service Plans: The Arlo HD security camera system automatically saves each video recorded in an online cloud storage account. How much video your cloud account holds and how long it stores each video depends on your subscription plan.
Basic (Free): Thee free Basic subscription plan includes 7 days of cloud recordings (up to 1 GB of cloud storage). When a video reaches its 7-day expiration date, it is automatically deleted. You have up to 1 GB of cloud storage to use within this period. If you reach the 1 GB storage limit within 7 days, then no more videos are stored in your account until you manually delete older videos. Up to 5 cameras and 1 base station can be connected. 90 Day technical support is offered for the Basic plan.
Premier ($9.99/mo. or $99/yr.): The Premier plan includes 30 days of cloud recordings (up to 10 GB of cloud storage). When a video reaches its 30-day expiration date, it is automatically deleted. You have up to 10 GB of cloud storage to use within this period. If you reach the 10 GB storage limit within 30 days, then no more videos are stored in your account until you manually delete older videos. In addition, Premier plan subscribers can connect up to 10 cameras to the cloud. Unlimited technical support is included with this plan.
Elite ($14.99/mo. or $149/yr.): The Elite plan includes 60 days of cloud recordings (up to 100 GB of cloud storage). When a video reaches its 60-day expiration date, it is automatically deleted. You have up to 100 GB of cloud storage to use within this period. If you reach the 100 GB storage limit within 60 days, then no more videos are stored in your account until you manually delete older videos. Elite plan subscribers can also connect up to 15 cameras and 3 base stations. Unlimited technical support is included with this plan.
Note: You can also add friends to your Arlo account. Friends can view live streams from your cameras, record video clips, view, share, favorite and delete clips from your library, and take snapshots. Friends have limited access to some of the settings and features on your Arlo account. You can select which cameras friends can see and what administrative rights are available to them.
Cloud Storage & Security: Recorded video from the security cameras is stored in the Arlo cloud so you can see all the activity the cameras detect at any time. The Arlo system is designed to maintain the highest level of security to keep your videos private and secure in the cloud.
AES Encryption: AES encryption protects your information. This is the same encryption method that financial institutions use to safeguard user data. AES-128 bit encryption and Transport Layer Security (TLS) ensure that your Arlo camera videos are secure to and from the Arlo camera and base station.
NETGEAR Security: NETGEAR passed the Safe Harbor certification and meets strict European Union privacy requirements. In addition, NETGEAR implements the following security measures.

strict password requirements are in place to keep your account safe
account authentication over a secure HTTPS connection prevents eavesdropping
Arlo limits login attempts (a maximum of five login attempts over five minutes) to prevent bots from guessing your password
Base Station: The Arlo HD security camera system's included base station connects to your existing network router using an Ethernet cable. The base station then creates its own WiFi (802.11n/2.4GHz) hotspot to communicate with the system's included wireless network cameras. The base station features a 500mHz MIPS 74K processor with 128MB Flash/128MB RAM memory for fast and reliable performance. The base station needs to be installed indoors.
Note: You can connect more than one Arlo base station to a network if open Ethernet ports (443/80) are available on your router. Each Arlo base station must be connected to an Ethernet port on your router.
3 Wireless Network Cameras: The Arlo HD Security Camera System (VMS3330) includes three wireless network cameras. Each camera features a full-color CMOS image sensor, a 110° wide-angle lens, and is capable of capturing up to 720p video. The cameras have a fixed focus of 2' to infinity, plus automatic balance and exposure adjustment. The Arlo cameras automatically detect movement, send alerts to the Arlo app on your mobile smartphone or tablet device, and record video to your free private cloud storage to review anytime. You can purchase additional NETGEAR Arlo VMC3030 security cameras (941ARLOADD, sold separately) for the system.
Video Quality: You can choose between 3 video quality modes which will affect picture quality and storage space. Choose from Best video, Optimized, or Best Battery Life. The following specs indicate the average and maximum bandwidth and storage values for a 30 second video. Video quality can also change based on the bandwidth available.

Best Video 600-750kbps of bandwidth and 2.2-2.8MB of storage
Optimized: 300-550kbps of bandwidth and 1.1-2.1MB of storage
Best Battery Life: 200-350kbps of bandwidth and 750KB-1.3MB of storage

Motion Detection: The Arlo cameras have a motion sensor that detects changes in heat in front of the cameras. This is done with the use of Infrared (IR) technology. The motion sensor detects an object, such as a person or motor vehicle, that is warmer than the environment around it, such as a room, and that is moving in front of the sensor from right to left or from left to right. The camera's LED flashes amber when motion is detected.
Night Vision: The cameras' LED night vision illuminates up to 25' away, so you can view live video and record video in the dark.
Weatherproof: These cameras are weatherproof (IP65). They work in a wide variety of weather conditions; including sun, wind, rain, or snow. Operating temperature is 14° F to 122° F (-10° C to 50° C).
Note: Arlo cameras are not meant to stream video 24/7. Arlo cameras spend most of their time in power-saving stand-by mode. They will turn on and record video during motion detection and when the Arlo app is accessed on your mobile device.
Wireless Range: You can place the Arlo cameras a maximum of 300' from the base station. In indoor installations, the range might be less if metal objects or thick walls and ceilings are between a camera and the base station. Be sure to place the Arlo cameras at least 10' from the base station, and allow at least 6.5' between cameras.
Note: Check the Camera LED on the base station; if it's blinking amber, the base station detects a low data rate; a sign that a camera is too far from the base station.
Optional Range Extenders: You can use the Arlo HD security camera system with a range extender or a Powerline adapter (sold separately) to offer you greater flexibility when deciding where to place the Arlo system's base station and cameras. Instead of connecting the base station directly to your router, you can connect the base station to an Ethernet port on a WiFi range extender or Powerline adapter (sold separately). This means you can put the Arlo base station farther away from the router or in a central location in your home to get better coverage with the Arlo security cameras.
Range Extenders: Range extenders work as a WiFi bridge by connecting wirelessly to routers. You can use the Ethernet port on the extender to connect the Arlo base station and other devices to your home network.
Powerline Adapters: Powerline adapters extend your network using your existing electrical wiring. Plug two or more Powerline adapters into electrical outlets to create a wired network connection. You can connect an Arlo base station to the Powerline adapter using an Ethernet cable.
Note: NETGEAR tested the Arlo camera system with NETGEAR WiFi range extenders and Powerline adapters (sold separately). If you are using an extender or an adapter offered by another manufacture, make sure that the device has an Ethernet port.
Motion Detected Recording: When motion detection is enabled, the cameras start recording automatically as soon as they detect motion. The Arlo camera system will also send an alert by email or push notification when motion is detected to your mobile device. Arlo cameras also turn on whenever you use the Arlo app to see what's happening at the moment.
Note: The cameras' motion sensors are much more sensitive to side-to-side movement across its field of view than to movement directly toward or away from the camera. The best area for motion detection is 5' to 20' from the camera position.
Instant Alerts: Instant alerts make Arlo systems useful for home monitoring. The Arlo security camera system sends instant alerts so that you know actions are occurring when they are occurring. Instant alerts are available when the cameras' motion alert is enabled using either Arlo's Scheduler feature or Manual mode selection.
Arlo App: Download the free Arlo app onto your Apple iOS (6.0+) iPod/iPhone/iPad or Android (4.0.3+) smartphone/tablet to view crystal-clear live and recorded HD video on your mobile device from the Arlo HD security camera system. The Arlo app also lets you configure the system from your mobile device & get push notifications. Configure unique features like Modes, Scheduler,
Library & Calendar: The Arlo system stores recordings and snapshots in its cloud library. In the library you can view recordings and snapshots by the day or month they were taken using the calendar.
Modes & Rules: A Mode is a set of rules that tell the Arlo security system what to do and when to do it. One or more Rules can be grouped into a Mode. You can create as many different Modes as you need to fit your unique lifestyle. For example, you might create a "Weekday" Mode whose Rules tell your system to turn on motion detection on all indoor cameras, record a video of any action that's detected, and send you an alert if anything moves. When your family gets home from work and school, you might switch Arlo to an "Evening" Mode whose Rules turn off indoor motion detection and alerts, and turn on motion detection and alerts on all your outdoor cameras. Arlo comes with two pre-programmed Modes.

All Motion On: In this Mode, the motion sensors on all of your cameras are active. If motion is detected, a video of what's happening will be automatically recorded to your cloud storage account and an email alert will be sent to you. This Mode is great for those times when nobody's home.
All Motion Off: No motion sensors are active, no video is recorded and no motion alerts are sent. This Mode is generally used when someone is home.

Scheduler: Modes can be turned on and off manually. However, you can use Arlo's Scheduler to automatically switch between Modes according to any schedule you create. With Scheduler feature, your system can be set on "auto-pilot" that automatically activates your pre-selected mode at a pre-defined time. Using Scheduler, you can create a unique daily schedule of Modes for every day of the week. This weekly schedule will repeat as long as you keep the Scheduler switch set to on. For example, the schedule you create for Tuesday will repeat every Tuesday, etc. The Scheduler feature comes with two pre-set Modes:

Monday through Friday, 8:00a.m. to 5:00p.m.: All motion sensors are on.
All Other Times: All motion sensors are off.
Mounting Options: You can place the wireless network cameras on a shelf or other flat surface, or you can mount them to the wall (magnetic wall-mount brackets included). When positioning your Arlo camera, keep these tips in mind.
Position Mode: Use the Arlo app in Position mode to help aim the camera. Position Mode sends video to the cloud as quickly as possible. This allows you to aim the camera while watching the video feed on your Arlo smartphone app to make near real-time adjustments to the camera's position.
Field Of View: The Arlo cameras have a 110° viewing angle. Position the cameras so that the space that you want to monitor is within the cameras' field of view.
Elevate Camera: Mount the Arlo motion-detection cameras at least 7' above the floor and aim them slightly down for the best sensor performance.
Side-To-Side Traffic: For best results, the path of expected motion should cross the cameras' field-of-view and not head directly into or away from the camera. For example, if you want to detect motion near a couch, place the camera to the side of the couch, rather than above it or opposite it. You can use the Motion Detection Test feature to verify if motion can be detected in a camera's current placement.
Note: If you are concerned about someone stealing a camera that uses a magnetic mount, you can use the threaded insert on the camera to attach it to the Arlo Adjustable Mount (VMA1000; sold separately from NETGEAR).
LED Indicators: The Arlo security camera system can tell you what state it's in simply by observing the LEDs on the front of the cameras and base station.
Battery Powered: Because the Arlo weatherproof cameras are battery powered, you can place them wherever you need them without needing to find a power outlet. Each NETGEAR Arlo wireless camera uses four CR123 lithium 3V photo batteries. The batteries last between 4 and 6 months.
Note: You can use rechargeable batteries with the Arlo cameras; however, NETGEAR cannot guarantee the performance of rechargeable batteries. In general, rechargeable batteries don't last as long as disposable batteries. Click here to find out what type of rechargeable batteries are compatible.
Dimensions: Dimensions for the Arlo security system's base station and wireless cameras.
Base Station: 8.5" (w) x 6.4375" (h) x 2.125" (d)
Wireless Cameras: 1.75" (w) x 2.625" (h) x 2.875" (d)
Our Product Research Team
At Crutchfield, you'll get detailed, accurate information that's hard to find elsewhere. That's because we have our own in-house Product Research team. They verify what's in the box, check the owner's manual, and record dimensions, features and specs. We stay on top of new products and technologies to help people make informed choices.
Q & A
Customer Q&A
Crutchfield asked


Why did you buy this?
Good reputation and good quality and cloud coverage. No DVD player is a big advantage

[ Samuel May 19, 2017 ]
Wireless

[ David Jan 03, 2017 ]
Price for known article

[ William Nov 28, 2016 ]
Needed cameras around my house for when I am at work.

[ F Nov 22, 2016 ]
Have one at my cabin. Very easy install and functional so getting one for my home

[ MATTHEW Aug 25, 2016 ]
Friend recommended it. My Foscams are finally crapping out. LOL.

[ W May 13, 2016 ]
I have two other Arlo systems and they work great.

[ RANDY Apr 27, 2016 ]
Wireless setup requiring minimum configuration. The ability to easily move camera locations around is a big plus.

[ Steven Apr 06, 2016 ]
Easy to install. Several cameras for different locations. Price is ok. App on the phone is convenient.

[ Xue Mar 20, 2016 ]
Looking for more? Check out the next model in this lineup.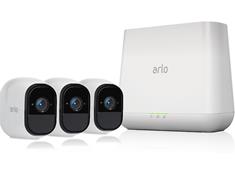 Get upgraded security features and perfromance
The Arlo Pro Home Security Camera System offers these features:
two-way audio lets you have a conversation even when you're far away
Smart Siren can be triggered manually or by motion or to frighten intruders
130° wide-angle field of view for each camera
each camera is powered by included 2440mAh rechargeable battery