AudioQuest Forest
"High Speed with Ethernet" HDMI cable (2 meters/6.6 feet)
California customers: Please click here for your Proposition 65 warning.
Item # 703FOR2M | MFR # HDMFOR02
In Stock

Our VirginiaVA-based experts can help.
Overview
Our take on the AudioQuest Forest by Crutchfield's Amanda P.
If you want to take advantage of the very latest technologies, you'll need an advanced HDMI cable like the AudioQuest Forest. It's rated "High Speed with Ethernet," so it can carry the highest-resolution video available — all the way up to 4K at 60 frames per second. Connecting your components with AQ Forest is a great way to prepare your system for the most cutting-edge features available today, as well as what's on the way.
Supports 4K video
Forest is one of AudioQuest's most affordable HDMI cables, but it's made with premium materials throughout to maximize the crystal-clear picture and sound quality available from the latest high-definition digital sources. AudioQuest HDMI cables are designed to carry 100% of the data required for all of HDMI's current audio/video features including 1080p and 4K video, HDR, and multichannel high-resolution audio.
AudioQuest Forest is fully backward-compatible with HDMI 1.3 and earlier cables. Bit Error Rate testing ensures that every cable passes signals as accurately as possible.
Silver-plated solid core conductors for better signal transfer
AudioQuest is known for their superior build quality, and these Forest HDMI cables are a perfect example. They use high-purity copper, solid-core conductors plated with a very thin layer of silver. High-frequency HDMI audio and video signals travel almost exclusively on the surface of the conductors. As the surface is made of high-purity silver, the performance is very close to that of a solid silver cable, but priced much closer to solid copper cable. It's a smart, cost-effective way to build a very high-performance HDMI cable.
Product Highlights:
supports HDMI version 1.4 and 2.0 features:

maximum bandwidth of 18Gbps
1080p and 4K video @ 60p
bi-directional Ethernet communication with compatible components
audio return channel for sending Dolby® Digital sound from an HDTV back to an A/V receiver

30-gauge, silver-plated, solid-core copper conductors (silver layer is 0.5% of total conductor)
solid polyethylene insulation
dark PVC jacket
gold-plated contacts resist corrosion
warranty: 5 years
Just needed basic 4k capability for TV not watched very often. Seems to be working very well, no complaints about picture quality.

Mo, Charlotte, NC
Reviews
AudioQuest Forest Reviews
Average Customer Review(s):


Submit a review and then enter to win a $350 rewards card
Review this product
Thanks for submitting your review
Most reviews are processed and published within 5 business days. You will receive a confirmation email once your review has been published.
Customer photos
Pros:
Cons:
Crutchfield response
---
Details
Product Research
Features
HDMI 2.0 Certified: The AudioQuest Forest HDMI cable fully complies with the HDMI 2.0 specification and supports the ultra high speed 18Gbps bandwidth for 4K UHD, HDR, high resolution multichannel audio, ARC, and Ethernet compatibility.
4K UHD: Supports resolutions up to 4K@50/60 (2160p), which is 4x the clarity of 1080p/60 video resolution, for the ultimate video experience. With stunning 4K UHD resolution (3840 x 2160) detail is strikingly sharper.
High Dynamic Range (HDR): High Dynamic Range (HDR) reproduces a wider range of brightness levels than conventional video, which brings a deeper contrast to the screen, greater color intensity without being oversaturated, and incredible detail in low-light images. Watching movies and TV shows mastered in HDR will give you a vivid new viewing experience filled with brilliant color and dramatic contrast.
High Resolution Multichannel Audio: Supports lossless high resolution multichannel audio - including Dolby Atmos, Dolby TrueHD, DTS:X, and DTS HD.
Audio Return Channel (ARC): Supports ARC (Audio Return Channel) which allows an HDMI-connected TV with a built-in tuner to send audio data "upstream" to a surround audio system, eliminating the need for a separate audio cable.
Ethernet Enabled: Provides high-speed networking to it HDMI link, allowing you to take full advantage of your IP-enabled devices without a separate Ethernet cable.
Note: AudioQuest HDMI cables over 8 meters (26' 3") are only standard speed with support up to 1080p video (not 4K).
Quality Construction: The Forest HDMI cable features quality construction to maximize video and audio performance.
Solid 0.5% Silver Conductors: Solid conductors eliminate strand-interaction distortion and reduce jitter. Solid silver-plated conductors are excellent for very high-frequency applications, like HDMI audio and video. These signals, being such a high frequency, travel almost exclusively on the surface of the conductor. As the surface is made of high-purity silver, the performance is very close to that of a solid silver cable, but priced much closer to solid copper cable.
Foamed-Polyethylene Insulation: Any solid material adjacent to a conductor is actually part of an imperfect circuit. Wire insulation and circuit board materials all absorb energy (loss). Some of this energy is stored and then released as distortion. Forest HDMI uses air-filled Foamed-Polyethylene Insulation because air absorbs next to no energy and Polyethylene is low-loss and has a benign distortion profile. Thanks to all the air in Foamed-PE, it causes much less of the out-of-focus effect common to other materials.
Gold-Plated Connectors: The Audioquest HDMI cable features gold-plated HDMI standard size (Type-A) connectors for maximum signal transfer.
Directionality: All AQ HDMI cables are directional. The correct direction is determined by listening to every batch of metal conductors used in every AudioQuest HDMI cable. All signal conductors controlled for digital-audio direction in AudioQuest HDMI cables, and care is even taken to run the conductors used in the Audio Return Channel in the opposite direction to ensure the best performance for that application. Arrows are clearly marked on the connectors to ensure superior sound quality.
Our Product Research Team
At Crutchfield, you'll get detailed, accurate information that's hard to find elsewhere. That's because we have our own in-house Product Research team. They verify what's in the box, check the owner's manual, and record dimensions, features and specs. We stay on top of new products and technologies to help people make informed choices.
Q & A
Customer Q&A
Crutchfield asked


Why did you buy this?
Gordo at Crutchfield assisted me in making the right choices for my system of choice.

[ ARTHUR Sep 20, 2018 ]
Was recommended.

[ Stephen Aug 30, 2018 ]
Only needed a 1 meter cable. I chose audioquest because they are sooooooo much better than the others.

[ John Aug 29, 2018 ]
I could not delete it from the order.

[ LEONARD Jul 30, 2018 ]
Connect PS4 to new Denon X3400H receiver

[ Sy Jul 28, 2018 ]
I needed to replace my antique Sony STR DN 840 because it suffered a lightning attack. I have a large number of components and like the specs on this product to accommodate them. Drew is a great advisor. After several emails, he helped me decide on the Denon. Drew is very knowledgeable and patient. It took us a while to get this far because of my many questions. Thanks Drew!

[ WILLIAM F Jul 13, 2018 ]
upgrading from 1080 to 4K

[ fred Jun 12, 2018 ]
Adam recommended this product. I always trust the Crutchfield online reps to point me in the right direction.

[ Kevin May 08, 2018 ]
I will use this HDMI cable from my satellite receiver to my Yamaha Adventage receiver

[ Greg Salopek Apr 19, 2018 ]
high speed

[ Doug Apr 14, 2018 ]
HD connectivity

[ LINAS Mar 15, 2018 ]
The Oppo player separates audio and video connections via HDMI connections.

[ Harold Feb 02, 2018 ]
I choose these items because these were the best ones that I can get for the money that I want to spend and I heard that they're the best out there so far and that they stand by the product. That's Dan

[ Daniel Jan 16, 2018 ]
Reputation of manufacturer.

[ Richard Jan 09, 2018 ]
Purchased per recommendation from Maverick from Critchfield for my 4k system.

[ Jim Dec 29, 2017 ]
I was in another electronics store in California and the sound bar Came highly recommended. I was looking for reviews on the Internet and the soundba did get some great reviews. someone mentioned not having to pay sales tax. I ordered it so I did not have to pay the sales tax in California

[ E Dec 24, 2017 ]
don't need an expensive cable...this will do just fine

[ H Dec 24, 2017 ]
It came up as an accessory with TV

[ Paul Nov 11, 2017 ]
No particular reason. Needed a HDMI cord.

[ RODERICK L Nov 11, 2017 ]
High quality without the huge price.

[ Dave Oct 22, 2017 ]
Excellent performance from prior 2 purchases of same-added existing DVD player to recent purchase of LG OLED from Crutchfield--needed quality cable.

[ Mark D. Oct 05, 2017 ]
It's not included with the purchased blu-ray player.

[ Arthur Aug 24, 2017 ]
Follow up purchase, given the satisfaction with overall quality, review ratings, and price.

[ Mark D. Aug 12, 2017 ]
Recommended on check out, I trust Crutchfield's products.

[ E Jul 05, 2017 ]
I need a good high speed HDMI cable.

[ Ernest Jun 29, 2017 ]
want top quality

[ Christopher Jun 20, 2017 ]
Reasonably priced high speed HDMI cable.

[ B May 31, 2017 ]
Best option and value among optional 4L Blue ray players.

[ Jose May 12, 2017 ]
went with sound system sony

[ Milonis Apr 11, 2017 ]
I have a Onkyo RZ 810 receiver and an LG OLED TV and I want to transmit the best possible sound and video from Blue Ray DVD"s. The cable is a very important component. I have ordered an Oppo 203 DVD player to use with this system.

[ John Mar 30, 2017 ]
Overall size and features

[ Edward Mar 23, 2017 ]
The reliability of the product

[ martin Mar 17, 2017 ]
excellent reviews + Confidence in Crutchfield for tech help.

[ Bianca M Mar 15, 2017 ]
Good connector.

[ David Mar 14, 2017 ]
wanted a high quality connection between my Blue ray/DVD player and TV

[ Stewart Jan 12, 2017 ]
Recommended by Crutchfield, I have tremendous trust in their opinions!

[ WINSTON Jan 03, 2017 ]
I trust Crutchfield for quality products.

[ K Dec 07, 2016 ]
To hook up my cd player to my receiver. I needed a quality cable for doing this.

[ MIKE Dec 07, 2016 ]
I needed one for my DVD/Blu-ray player

[ John Dec 02, 2016 ]
Recommended by adviser

[ Kevin Nov 29, 2016 ]
Recommended by Maverick at Crutchfield

[ Christopher Nov 28, 2016 ]
needed to connect to television

[ Robert E. Nov 28, 2016 ]
Made sense for my new 4K tv and DVD player

[ jose seanez Nov 27, 2016 ]
I HAVE USED ONE BEFORE

[ Gettis Nov 26, 2016 ]
Previous satisfaction with Audioquest products.

[ Steven F Nov 18, 2016 ]
Past experience with product was good.

[ Ricky Nov 04, 2016 ]
For use with PS4 and Apple TV

[ Robert Oct 05, 2016 ]
it was recommended online

[ M Sep 21, 2016 ]
Again, low cost!

[ ROY M Sep 11, 2016 ]
I needed a 3' HDMI to go from my cable box to my receiver and a 6' HDMI to run behind the wall from my tv to my receiver to get the best quality sound and picture

[ teresa Aug 31, 2016 ]
Recommended by customer service

[ Matthew Aug 03, 2016 ]
Good brand

[ Jason Jul 26, 2016 ]
Looking forward to installing these! I can't wait to hook them up to my Xbox One S, Sony 4K TV, Sony ES receiver, Sony BluRay and DIRECTV 4K These are HDMI 2.0 and they support 3-D, 4K, and HDR.

[ Wil Jul 25, 2016 ]
Better quality than my current HDMI cable

[ Gregory Apr 18, 2016 ]
I felt I needed an upgraded HDMI cable to get best results from my new Sony BDP-S7200 blu-ray player with high resolution audio. However, I did not want to get to carried away and buy very expensive top of the line HDMI cable. I will see what kind of improvement this provides.

[ Jimmye Apr 03, 2016 ]
Don't forget to purchase HDMI cables with your new receiver!

[ Trent Feb 16, 2016 ]
Recommended by Crutchfield, trust this is a good product.

[ KLAUS Feb 14, 2016 ]
Very favorable from other customers.

[ Stewart Oct 14, 2018 ]
Recommend by Crutchfield associate.

[ Paul Sep 13, 2018 ]
Audio quest cables are worth the extra!

[ John Aug 20, 2018 ]
YOUR TECH'S ADVISE

[ JOHNNY Jun 22, 2018 ]
Superior performance

[ Kwasi Dec 26, 2017 ]
quality at a fair price

[ Glenn Oct 13, 2017 ]
it was length i needed, and seemed like good compromise price wise from cinammon cables

[ lee Sep 08, 2017 ]
Excellent prior experience with shorter model of same cable.

[ Mark D. Sep 07, 2017 ]
Well I spoke to Mr. Brice and he was super helpful with what cables would be best used for my new system he explained why and why not and advised me what would be best for me thank you Crutch Field Family ( Chief Engineer James Patterson Stay Bridge Suites )

[ James Aug 29, 2017 ]
Based on other customers reviews. Also, no sale tax!

[ kenny Jul 25, 2017 ]
Durable well funtioning HDMI cable that supports 4K signal.

[ Scott Jul 01, 2017 ]
Because it was a good price.

[ Alexander Jun 28, 2017 ]
First I was looking in the web for HDMI 4K Cables. I select Crutchfield because I know, that, I can have all the information about the cable on its page, I place my order after compare between Cinnamon and Forest.

[ Victor M. Feb 26, 2017 ]
Because you need an HDMI cable to connect your A/V components to your A/V receiver.

[ Trent Jan 17, 2017 ]
NEEDED FOR CONNECTION TO ENTERTAINMENT CENTER

[ P Jan 14, 2017 ]
Have purchased AudioQuest a few times now; ordering Pearl and Forest interconnects. Fantastic craftsmanship and wonderful video and audio performance for the price!

[ Clarke Jan 02, 2017 ]
Good cable. Use this brand on all of my HDMI sources.

[ Paul Dec 30, 2016 ]
Ratings

[ Henry Dec 21, 2016 ]
I have other Forest cables in my home entertainment system and they work really well

[ RON Dec 13, 2016 ]
Best cable for running from my preamp to my receiver. Quality product hook it up and forget about it.

[ MIKE Dec 07, 2016 ]
I based this purchase off of the rep's reccomendation. I'll compare it to the Monster cable I have and if its not as advertised I'll return it.

[ Kyle Oct 02, 2016 ]
I have used AudoQuest HDMI cable in the past. They are standard equipment for me. Whether Forest or Cinnamon, depending on the application, they deliver superior bandwidth and signals.

[ Michael Sep 11, 2016 ]
Provides a picture perfect picture and crisp sound

[ teresa Sep 01, 2016 ]
Recommended

[ Gettis Aug 29, 2016 ]
I have always used these Forest Cables and I have been very pleased with them

[ Jeffery Aug 24, 2016 ]
Needed a cable and the reviews were good. Also, wanted a 6 foot cable.

[ Leslie Aug 09, 2016 ]
Because of its high quality.

[ Robert L. Jun 18, 2016 ]
Audioquest cable quality

[ Jose Jun 16, 2016 ]
Advisor recommended and I'm persnickety; if I'm going 4K I might saw well assure the experience.

[ Sam May 18, 2016 ]
I have used the Forrest series HDMI cables on just about every TV I own. They are a great cable, and definitely a great value.

[ MICHAEL Apr 18, 2016 ]
Needed longer HDMI cable that was 1.4/2.0 compatable

[ Roger Feb 04, 2016 ]
Zac at Crutchfield recommended these AudioQuest cables to me Zac's Bio: http://www.crutchfield.com/Support/Bio.aspx?bio=142

[ Bjorn Jan 10, 2016 ]
size that I needed and good rating.

[ CURTIS Dec 25, 2015 ]
Connect new Denon X3400H to tv

[ Sy Jul 28, 2018 ]
Needed quality, latest technology cable to reach from tv on wall to DVD player in cabinet. This cable fit the bill, although it is a bit expensive.

[ Thomas Jul 18, 2018 ]
Because it was a good price.

[ Alexander Jun 28, 2017 ]
Previous experience with Audioquest, combined with anticipated price/performance ratio.

[ Steven F Nov 08, 2016 ]
Looking for more? Check out the next model in this lineup.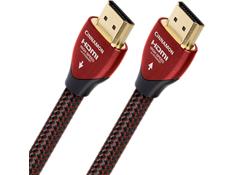 Higher-quality build for even cleaner picture and sound
The AudioQuest Cinnamon offers these features:
has thicker silver plating on the conductors for improved signal transfer (1.25%)