2002-2004 Ford Explorer
Upgrading the stereo system in your Ford Explorer
2002 • 2003 • 2004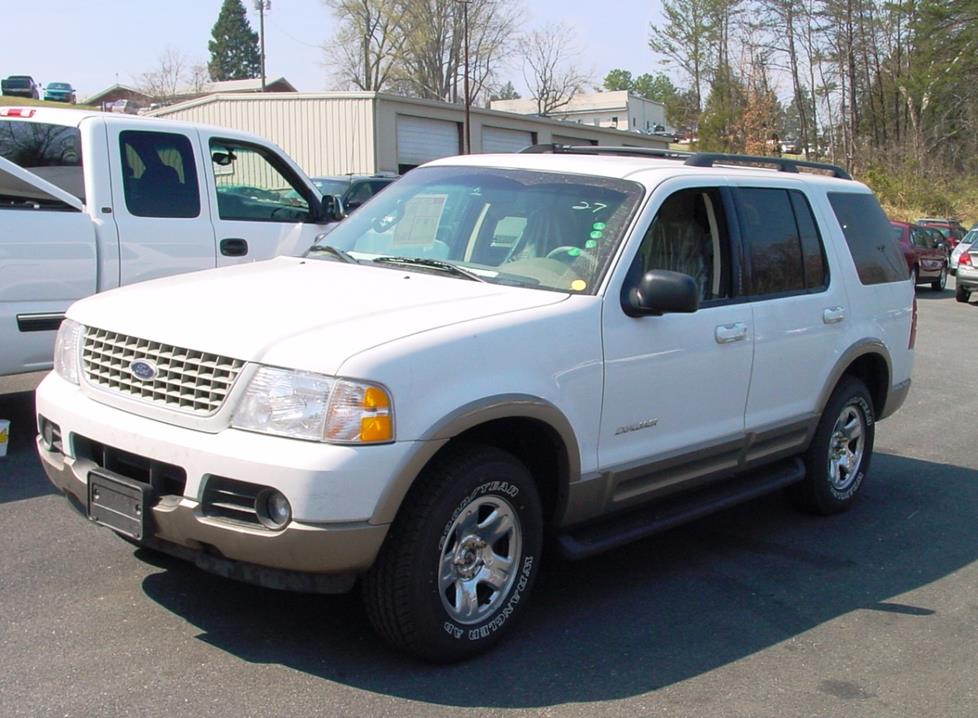 In brief: This Crutchfield Research Garage article gives you an overview of your Explorer's stock stereo system and your aftermarket upgrade options. We'll tell you all about:
Then, use our vehicle selector to find the gear that will fit your Explorer.
Overview of the Ford Explorer
One of the longest-running sport utility nameplates on the road, the Ford Explorer is a classic. These days it does way more than haul kids to soccer practice — over the years Ford has added all sorts of options, including several for the SUV's stereo system. This version of the Explorer was sold with two audio options:
the standard system — an AM/FM/CD/tape player with speakers in the front and rear doors;

the Mach system — adds a 6-disc in-dash CD changer with an upgraded set of speakers and a powered subwoofer tucked into the cargo area.
Both of these systems are easy to replace, or improve with simple add-ons to give you modern amenities like Bluetooth® and navigation.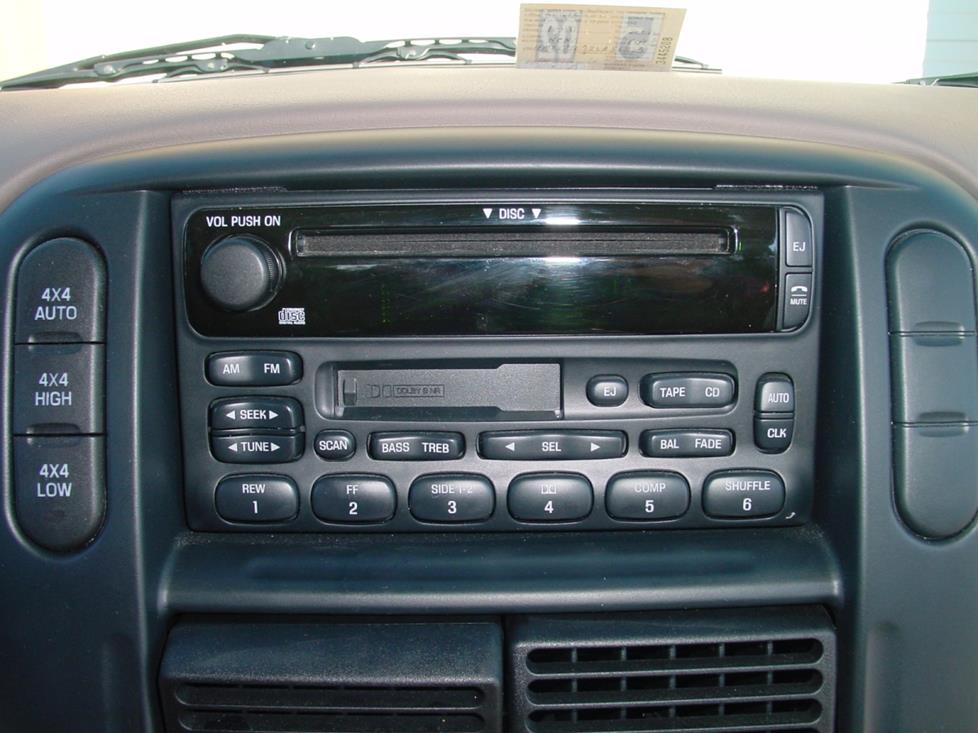 The standard Ford AM/FM/CD/cassette radio (Crutchfield Research Photo)
The factory stereo system
The Explorer was available with a vast array of option packages, so it's no surprise that it was also available with two different factory stereo systems.

This is the Explorer's Mach system radio (Crutchfield Research Photo)
Removing the factory radio
Here's a quick look at what needs to be done to replace the Explorer's factory radios:
Standard system
The factory radio is easily removed, and you'll find adapters that'll make almost any stereo fit in its place. You'll need a mounting kit to trim out the new radio, along with a wiring harness that allows you to connect your new radio without having to cut the factory wiring Crutchfield includes these installation parts at a very nice discount with your stereo gear, along with our free step-by-step instructions for your Explorer.
Tools needed: Small Phillips screwdriver, 7mm driver, panel tool.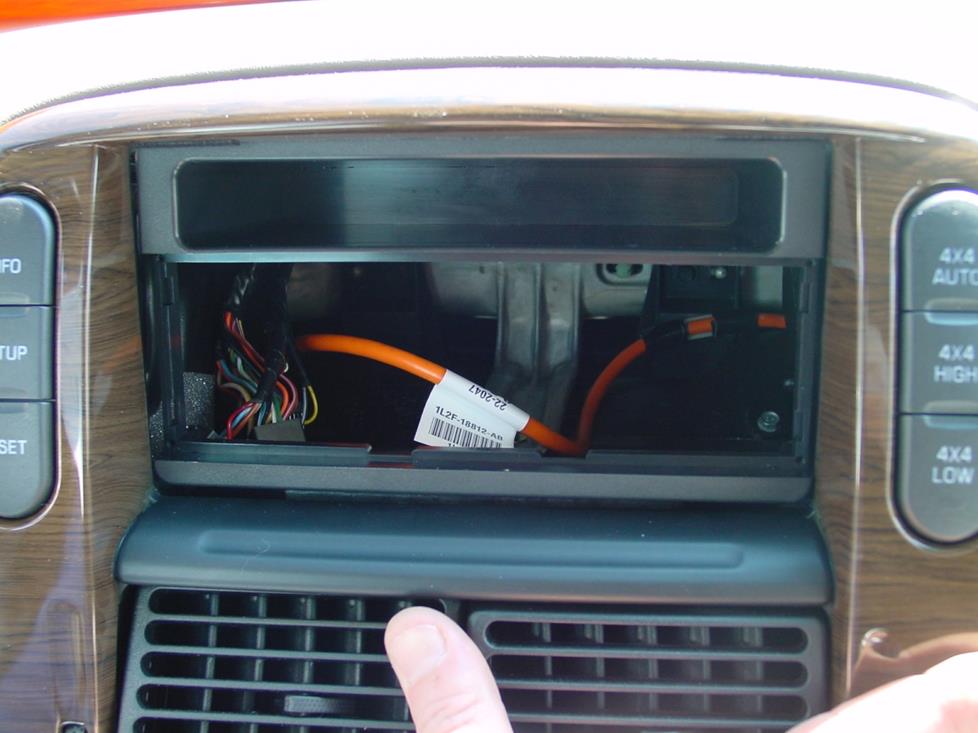 This dash kit holds a DIN-size radio, plus there's a storage pocket (Crutchfield Research Photo)
Mach system
The factory radio in the Mach system routes the proper signals to the Ford speakers and subwoofer. If you're keeping the Mach speaker system, then you'll want to buy a car stereo with a high-pass filter so you can remove the low bass from the factory speakers, and a dedicated subwoofer output that will allow you to control the factory sub. The wiring harness that helps you install a new stereo in this Explorer uses RCA connectors to connect to the Ford sub.
Tools needed: Small Phillips screwdriver, 7mm driver, panel tool
Shop for car stereos that fit your Ford Explorer
Detailed stereo and speaker removal instructions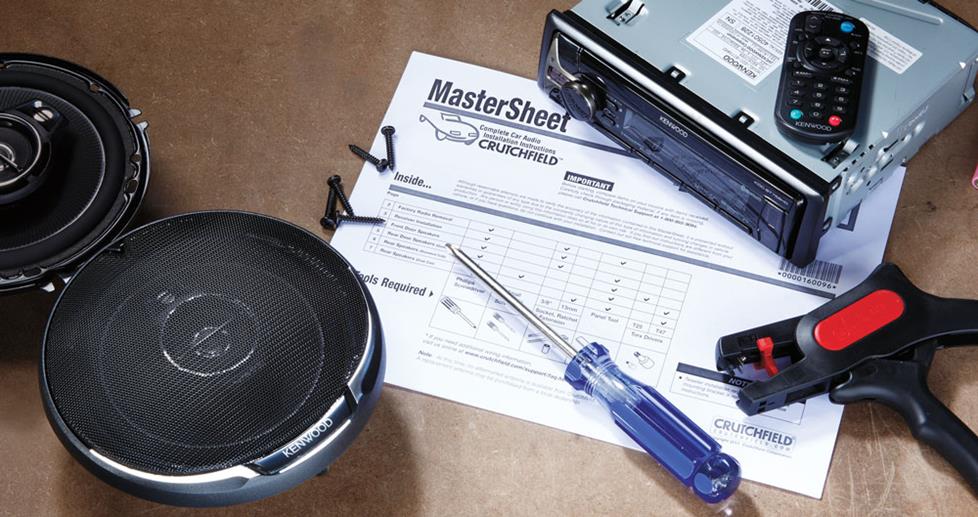 With step-by-step disassembly instructions and plenty of up-close, detailed photos, our exclusive
Crutchfield MasterSheet
™ takes the guesswork out of removing the factory stereo and speakers. It's free with your Crutchfield order, or you can purchase one separately for just $9.99.
Steering wheel audio controls
It's relatively easy to retain the steering wheel audio controls when you install a new stereo in your Explorer. When you enter your vehicle information, our database will choose the adapter you need to make your factory steering wheel controls work with your new receiver.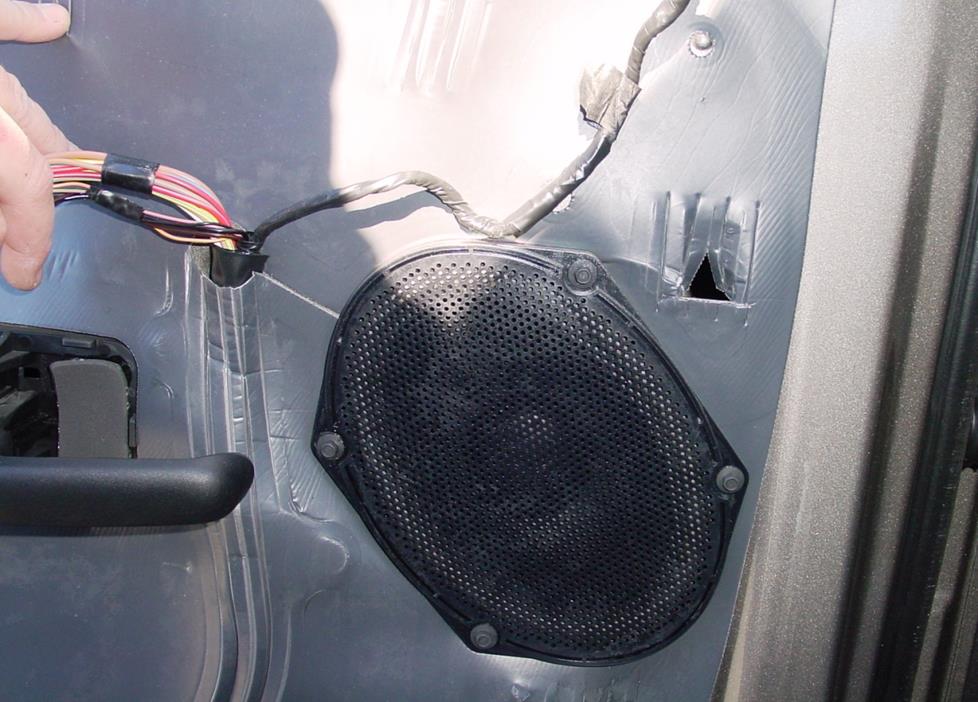 A front door speaker in the Explorer's standard system (Crutchfield Research Photo)
Removing the factory speakers
You'll have lots of options when you replace your Explorer's factory speakers.
Standard 4-speaker system
Most Ford vehicles are equipped with 6"x8" speakers, and the Explorer is no exception. You'll find a full-range speaker in each front and rear door, and your options for aftermarket speakers are nearly unlimited. You'll find 6"x8" speakers that fit right into the factory speaker locations, and you can also drop 5-1/4" speakers in there with the help of adapter plates.
It's a good idea to get speaker harnesses for your new speakers. They'll allow you to attach the new speakers to the plugs that connect to the Ford factory speakers, and they make it easier to reinstall the factory speakers if you ever sell your Explorer. Crutchfield includes adapter plates (if needed) and speaker wiring harnesses at a deep discount with every speaker order.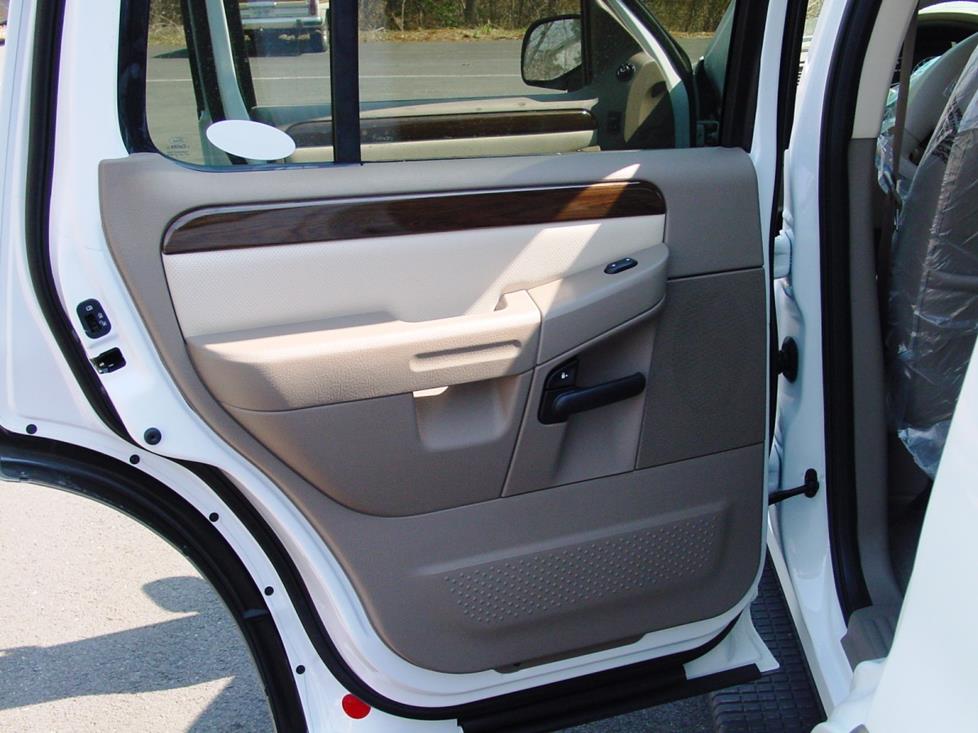 The rear door speakers aren't hard to replace (Crutchfield Research Photo)
You'll have to remove the door panels to access the speakers in both the front and rear locations, but it's a relatively simple procedure. A speaker upgrade is a quick and easy way to improve your sound.
Tools needed: Flat blade and Phillips screwdrivers, panel tool, 7/32", 6mm drivers
Shop for speakers that fit your Ford Explorer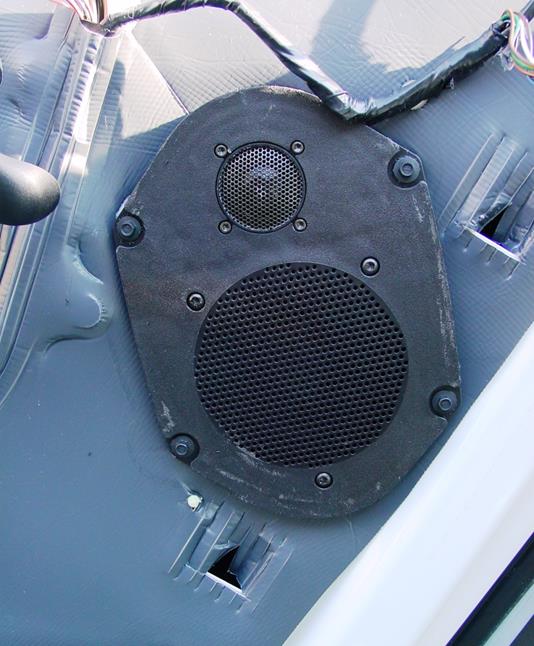 The plate-style front door speaker in the Mach system (Crutchfield Research Photo)
Mach speaker system with sub
You'll find a plate-style speaker with a separate 1" tweeter and 5" midrange speaker in the front doors, and a full-range speaker in each rear door. Some manufacturers offer 6"x8" plate speakers that will make a nice replacement options up front, but just about any full-range 6"x8" will fit in those doors.
Tools needed: Flat blade and Phillips screwdrivers, panel tool, 7/32", 6mm drivers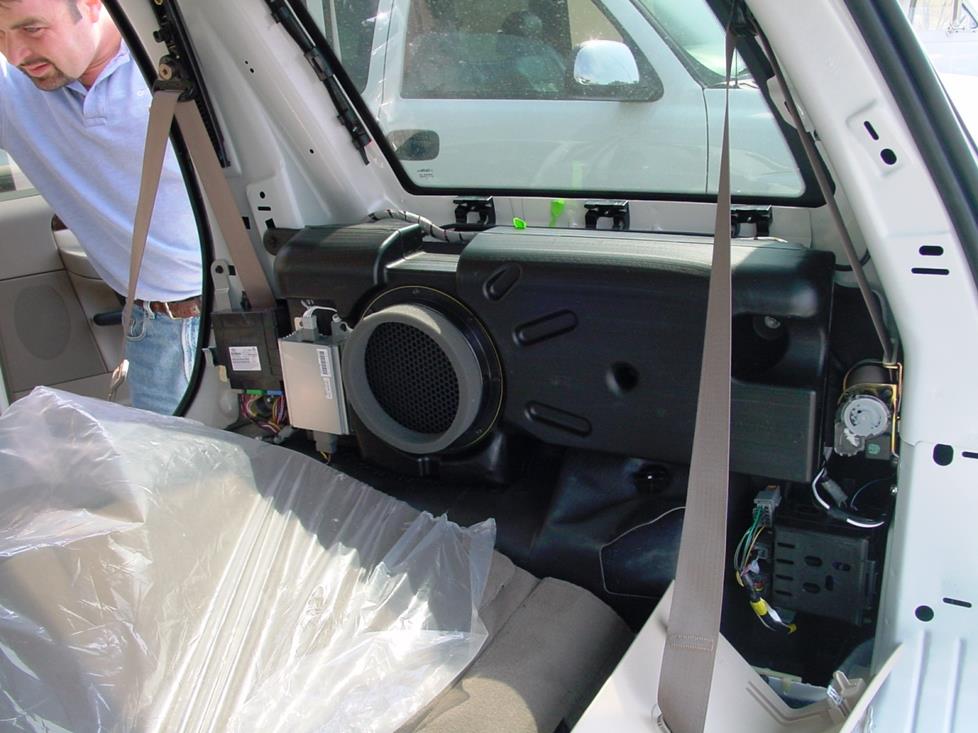 The 8" factory sub in the Mach system (Crutchfield Research Photo)
Bass in your Explorer
There are lots of different ways to bring more and better bass to your Explorer.
4-speaker system
Several manufacturers make enclosures that fit in the rear cargo area on the driver's side of the Explorer, so it's easy to add bass to the standard system. To make real noise, there's plenty of room in the cargo area of the Explorer, especially if you don't have a third-row seat, and several compartments in panels and underneath floorboards to tuck amps. Consider a custom-made subwoofer enclosure to get a perfect fit and save space — several companies make them, and they're available with or without subs and amps.

A close-up look at the Explorer's factory sub and amp (Crutchfield Research Photo)
Mach system
The Mach stereo system includes an 8" subwoofer and amplifier (60W + 60W to a 1.2-ohm dual voice coil sub) tucked into a special enclosure behind the trim in the rear passenger compartment. A couple of aftermarket subs will fit in the factory enclosure, and can be powered by the factory amp. Because of the low impedance of the factory sub, we really don't recommend going this route without replacing the factory amp too.
There are enclosures designed to fit your Explorer without costing you cargo space. If your Explorer doesn't have rear A/C, you can install a custom-fit JL Audio Stealthbox enclosure that replaces the driver's side rear side panel.
Note: The Ford radio in the Mach system eliminates low bass from the main speakers, so they sound better. If you're keeping your factory radio, you can't tap into the front and rear speaker wires to get a signal for your sub amp. You'll have to tap into the sub signal after the Ford's factory amp.
Tools needed: Panel tool, T47 Torx bit, 7mm and 10mm drivers
Shop for vehicle-specific subwoofers for your Ford Explorer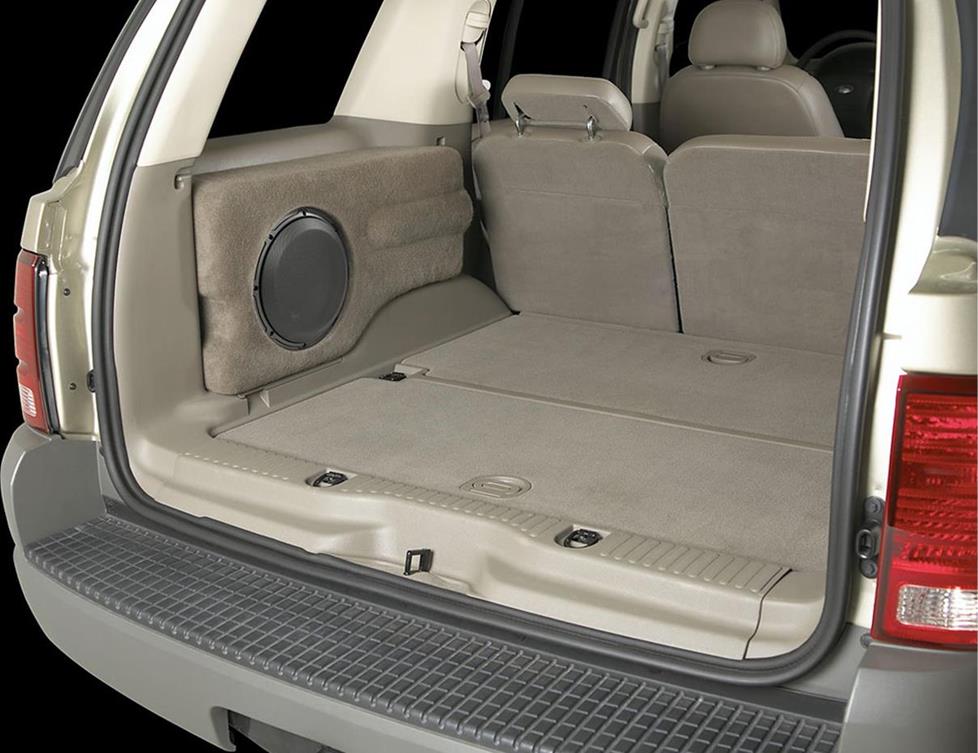 The JL Audio Stealthbox is made to fit right into the Explorer.
Other options for your Explorer
With a vehicle like the Explorer, there are lots of ways to upgrade your entertainment.
Rear seat DVD system
When you replace the factory radio, your Explorer's factory DVD system won't work anymore. You can replace it with an aftermarket DVD system, though. Give us a call and we'll help you find something that'll keep your backseat passengers happy.
Amps
The optional Mach system includes a small amplifier that powers the subwoofer in the Explorer's cargo area. The Ford amp is powerful enough to power some aftermarket subs (like the Kicker Comp), but if you want real power, you need an aftermarket amp. You'll find plenty of great spots to mount amplifiers in the Explorer — consider the extra spaces under the floor in the rear of the SUV, under seats or behind interior panels. Remember to consider the size of the amp and that it will need air for efficient operation.
Satellite radio
Ford didn't offer satellite radio during these model years, so you won't have to worry about losing it when you replace your stereo. If you want to add SiriusXM satellite radio, it's a simple add-on, ranging from removable tuners that easily move between cars, to dedicated tuners that are controlled through compatible aftermarket stereos.
Rear-view cameras
The Explorer is a big vehicle, and maneuvering in a crowded parking lot can be a huge challenge. If you want a better view of what's behind you, we offer rear-view cameras from Kenwood, Alpine, Sony, Pioneer, and more. Some are designed to work with same-brand receivers only, but others come with a composite video connector and will work with almost any video receiver.
Security
Installing a security system in your Explorer isn't easy (security systems rarely are), but it's definitely a good idea. Our Crutchfield Advisors can help figure out what you need to get the job done, but we usually recommend taking your car and new gear to a professional installer.
Let's get started!
Ready to shop? Use our vehicle selector to find the gear that will fit your car or truck. If you have questions, give us a shout via phone, chat, or email