2018-up Honda Accord
Upgrading the stereo system in your Accord
2018 • 2019 • 2020 • 2021 • 2022
In brief: This Crutchfield Research Garage article gives you an overview of your Accord's stock stereo system and your aftermarket upgrade options. We'll tell you all about:
Then, use our vehicle selector to find the gear that will fit your Honda.
Overview of the Honda Accord
There are those who say the sedan is dead. Those people do not work at Honda, thankfully. Sure, SUVs and trucks are the big (literally) thing right now, but Honda still believes that there's a place in this world for a smart, stylish, practical 4-door with a trunk. So much so, in fact, that the Accord 2-door is no more, which is kind of a shame, but we digress….
Honestly, the 2018-up Accord is so sleek that you might not miss the coupe. It's actually possible to look cool driving this sedan, which is something that can't be said for every 2-box people mover out there. It's the kind of car that you won't get tired of looking at, and because it's a Honda, you'll probaby be looking at it for quite a while.
Replacing the radio is pretty much impossible (sorry), but the stock receivers aren't bad and you have plenty of options if you want to boost your car's sound with aftermarket speakers. This Accord is one of the best sedans out there right now, so why not give it the best possible sound?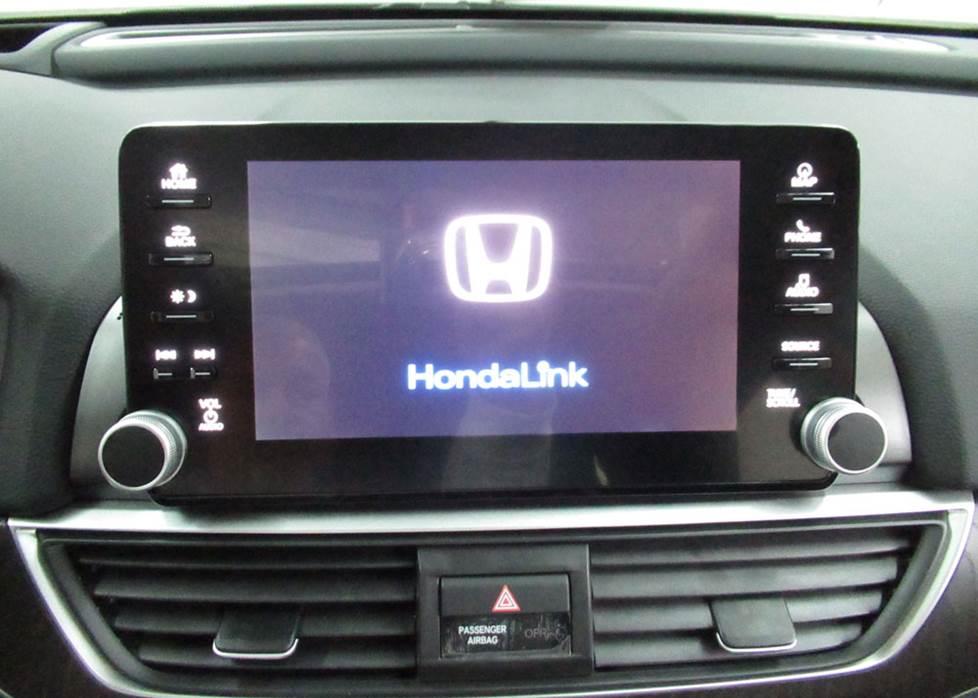 You can't replace this radio, but there are other ways to improve your Accord's sound (Crutchfield Research Photo)
Your Honda Accord's factory stereo system
The new Accord's factory systems come in three flavors, a 4-speaker base system, an 8-speaker system and a 10-speaker premium system. All center on an 8" AM/FM/SiriusXM/Bluetooth touchscreen receiver, and features like Apple Carplay, Android Auto, and wireless phone charging capability can be had with the right package.
There's also a built-in rear-view camera system, which is handy given the fastback design's somewhat limited sightlines. All in all, the stock stereos are pretty decent and Honda's revised infotainment interface is getting positive reviews so far.
Hybrid note
If you have an Accord hybrid, the gas-electric hybrid powertrain and its very sensitive electronics will make upgrading the audio system a little more complicated. Here are a couple of things to keep in mind:
Be sure to only use a multi-meter when testing wires, and NEVER use a test light to test wires in this vehicle. Doing so could cause some serious (by which we mean dangerous and expensive) damage.
A hybrid is not the car to choose if you want to build a massively powerful audio system. The thirsty current draw of a high-powered stereo is not a good thing for the hybrid system, so don't exceed a 30-amp current draw or 350-watt RMS power rating.
This is good news, because there's really no way to replace the receiver in this car. That may change, but at this point, everything's in the screen, and there's no room in the dash for a standard single-DIN or double-DIN receiver. That said, it's a very functional unit and all but the most dedicated CD enthusiasts will be very happy with it.
Yep, that's right – there's no CD player in this Accord. Some of you may now take a moment to feel somewhat old. We'll meet you back here as soon as we're done doing the same thing. Sigh….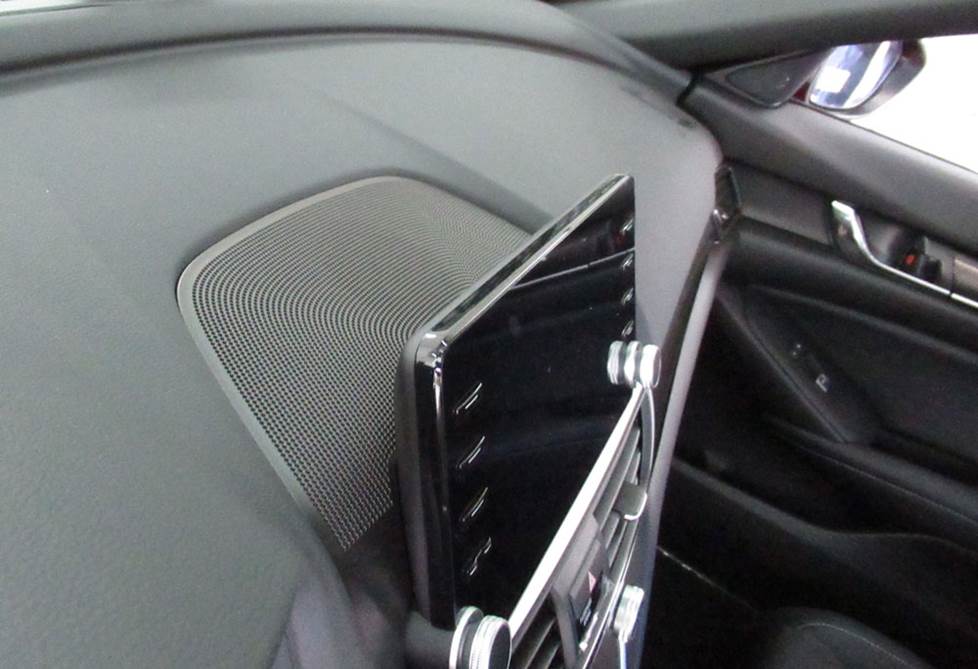 You can't replace the radio in this Accord, but you can upgrade the center dash speaker behind it (Crutchfield Research Photo)
Replacing your Accord's factory radio
Or not, actually. So what can you do if you want to improve your Accord's audio performance? Speakers, amplifiers, subwoofers, and sound processors, to be generally precise. Just enter your vehicle info to see what's available for your car. We'll give you an overview of how to replace the speakers here, but the ins and outs of adding amps and subs and processors are best discussed with a Crutchfield Advisor.
The reasons we're soft-pedaling this are many, but one reason is that the Accord is equipped with an active noise cancellation system (ANC). When you add an aftermarket amplifier, processor, or subwoofer to your system, you'll need to disable the system's microphones. It's things like this that make us want to have a conversation with you while you're planning your system.
Before you do anything to upgrade your Accord's audio system, set the parking brake and disconnect the negative battery cable prevent any electrical short. Safety first, y'know.
Replacing the factory speakers in your Honda Accord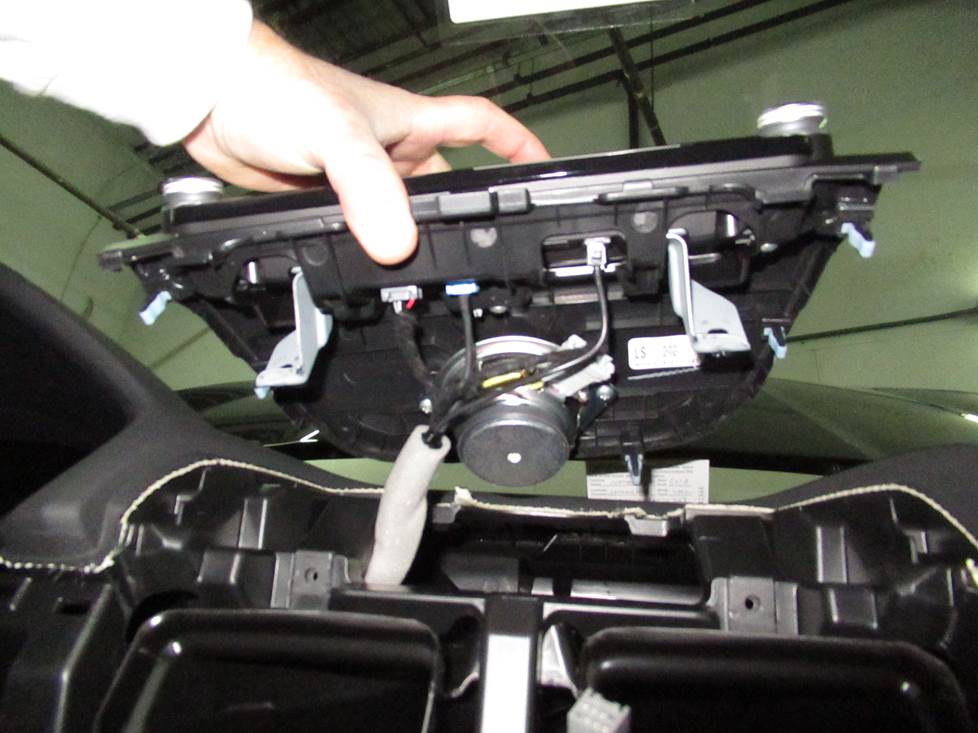 The speaker is attached to the center dash grille (Crutchfield Research Photo)
Center dash speaker (10-speaker system only)
The Premium System's center dash speaker is a 3-1/2" model located under a grille, behind the touchscreen. Getting to it involves a little less than half of the work necessary to remove the receiver, which is a good thing, because there are an awful lot of steps in that largely pointless process.
Replacing the speaker is a good thing to do, though. Once you've set the brake and disconnected the negative battery cable, you'll be ready to get to work.
Detailed stereo and speaker removal instructions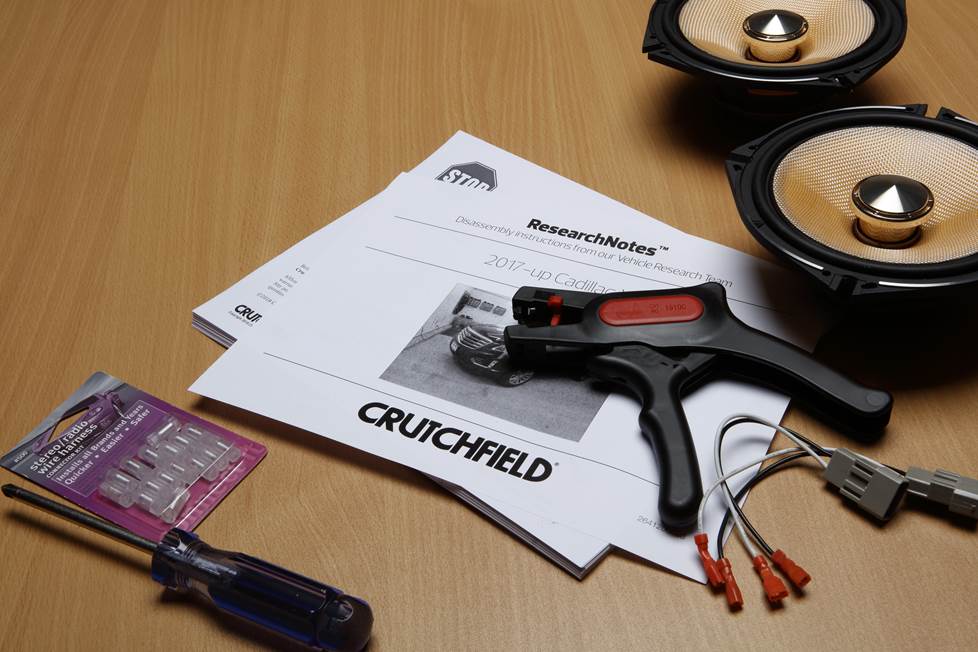 With step-by-step disassembly instructions and plenty of up-close, detailed photos, our exclusive
Crutchfield ResearchNotes
™ takes the guesswork out of removing the factory stereo and speakers. It's free with your Crutchfield order, or you can purchase one separately for just $9.99.
Use a panel tool to pry out the ignition switch panel to release the retaining clips, then disconnect the harness and remove the switch panel. Open the glove box door and pry out the upper glove box trim panel to release ten retaining clips and remove that panel. With that done, pry off the passenger's side dash endcap panel to release six retaining clips and remove then panel. Next, pull the passenger's side vent assembly toward the rear of the car to release four retaining clips and remove the assembly.
Starting at the driver's side edge, pry out the climate control panel to release nineteen (!) retaining clips, disconnect the harnesses and hose, then remove the panel. Remove the two Phillips screws thus exposed, then pry up the dash display to release its retaining clips, disconnect the harness, and remove the display.
With that, you can remove the two Phillips screws securing the speaker to the grille and remove the speaker. There are plenty of 3-1/2" aftermarket speakers that will fit here, and we'll include the wiring harness adapter you need to connect the new piece to the factory wiring.
Tools needed: Panel tool, Phillips screwdriver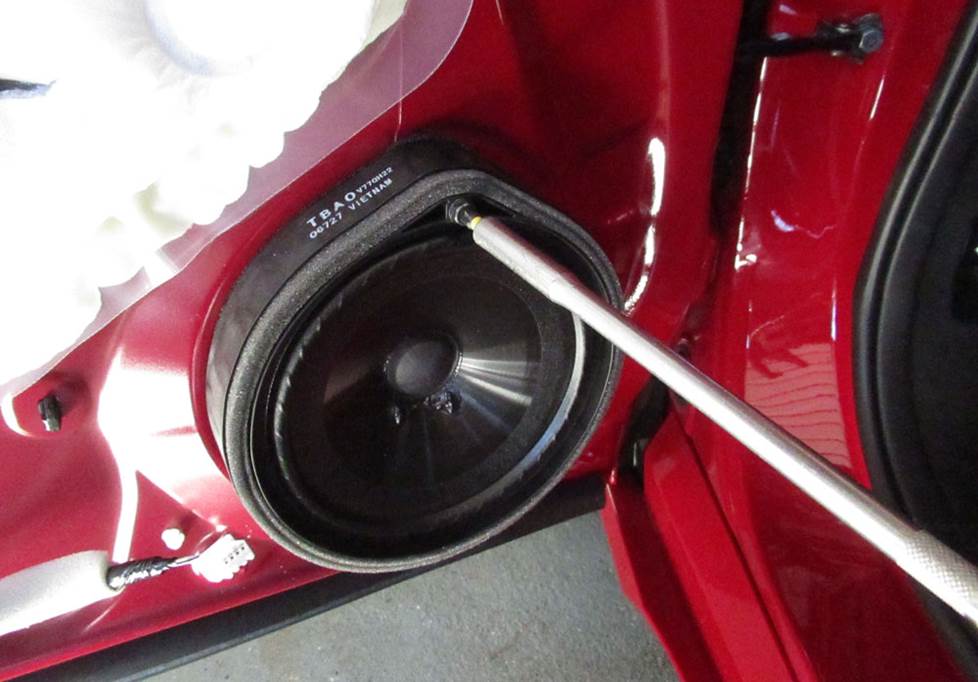 The Accord's front door speakers are pretty easy to deal with (Crutchfield Research Photo)
Front door speakers
The front door speakers (which are woofers in some cases) are 6-3/4" models and they're refreshingly easy to remove and replace. A decent number of replacement options are available, and when you order your speakers from Crutchfield, we'll include the mounting brackets you need to install your new 6-3/4" aftermarket speakers.
Starting at the rear edge, pry up the power switch panel to release seven retaining clips, then disconnect the harnesses and remove the switch panel. Once that's done, remove the Phillips screw exposed by the removal of the panel.
Pry out all sides of the door panel to release twelve retaining clips, then disconnect the harness and remove the door panel. Use care when you're prying on this panel or any other in this car, since Honda has a well-earned reputation for putting its cars together rather snugly.
With the panel removed and set aside, all that's left is removing the one Phillips screw securing the stock speaker to the door steel. Pry out the top of the speaker, then disconnect the harness and remove the speaker.
Tools Required: Panel tool, small flat-blade screwdriver, Phillips screwdriver, utility knife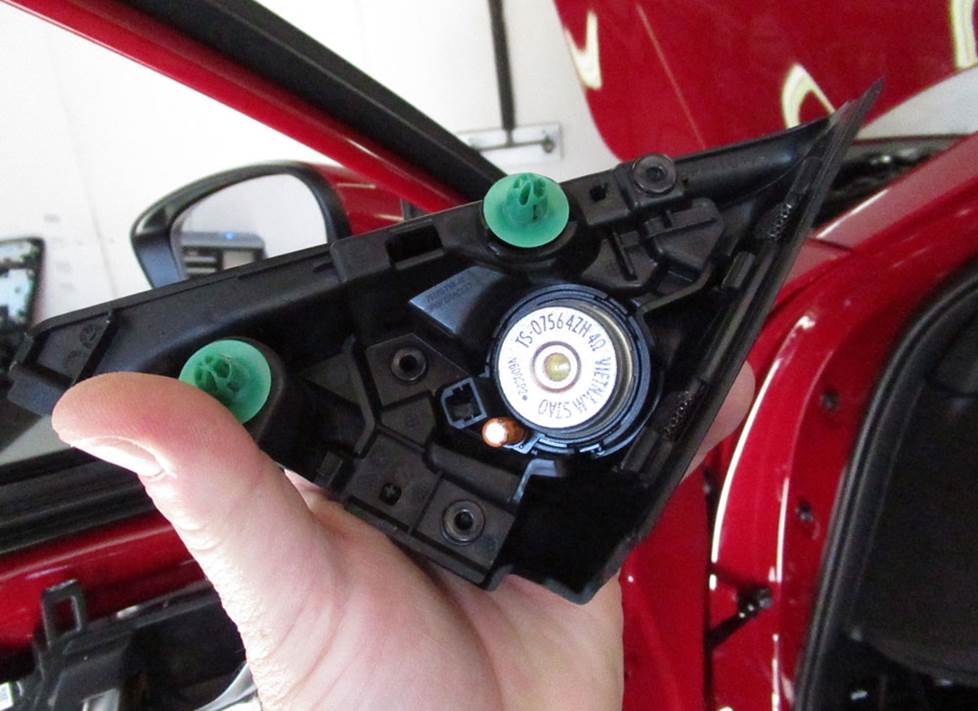 The front tweeters are attached to the sail panels (Crutchfield Research Photo)
Front door tweeters (8- and 10-speaker systems only)
If your Accord is has front door tweeters, you're already well on your way to removing the tweeters by the time you remove the door panels to get to the woofers. Once you've done that, pry off the sail panel to release two clips, then disconnect the harness and remove the sail panel. Pry the tweeter out of the sail panel grille to release three clips, then remove the tweeter.
The factory tweeter is just a bit over 1-1/2" in diameter (1.570", to be precise), so a wide variety of component system tweeters can work here. To secure the new tweeter, you'll need to use our universal backstraps (or hot glue or silicone). A wiring harness adapter is not available for this location, so we recommend using Posi-Products speaker connectors to connect the new tweeter to the factory wiring.
Tools Required: Panel tool, small flat-blade screwdriver, Phillips screwdriver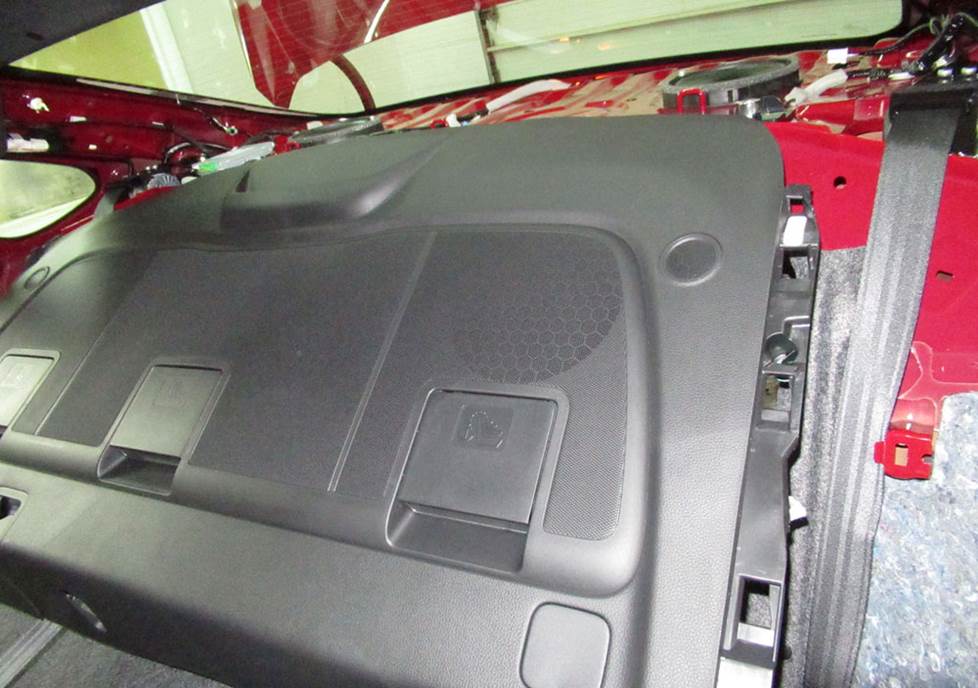 No matter how many rear desk speakers your Accord has, you'll have to do some work to replace them (Crutchfield Research Photo)
Rear deck speakers
Depending on how your Accord is equipped, the rear deck can house a pair of full-range speakers, a set of component speakers (8- and 10-speaker systems) and an 8" subwoofer (10-speaker system only).
However many speakers are in there, the process of getting to them is the same and it's a lengthy one. You'll have to remove the seat bottom cushion, some panels, and some window gaskets. None of the individual tasks are all that difficult, but there are a lot of them. You'll need time, patience, and probably a helper to do the job yourself, but it can be done. All the details are explained in the Crutchfield ResearchNotes included free with your speaker purchase.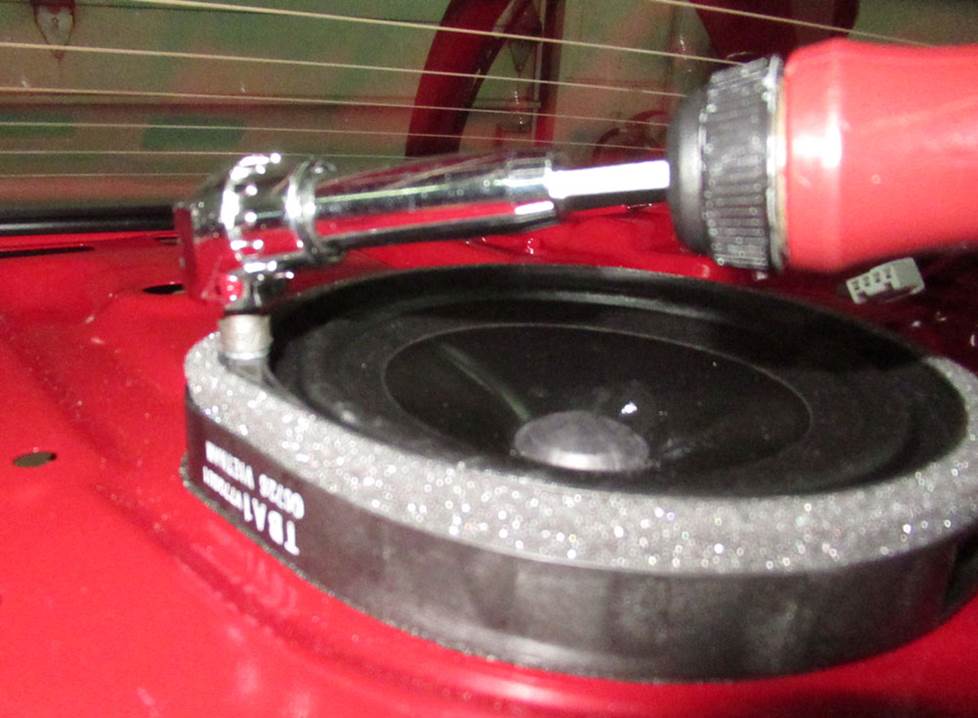 Once you get to the rear deck speakers, they're pretty easy to deal with (Crutchfield Research Photo)
The standard full-range speakers are 6-3/4" models that can be replaced by a variety of same-side models. The component set includes 6-3/4" woofers and there are plenty of component sets with tweeters that can replace the 1.570" stock models with the help of universal backstraps and Posi-Product connectors.
As for the Premium System subwoofer, it's approximately 8" in diameter and has a proprietary bolt pattern. You'll need to fabricate a bracket to install an aftermarket subwoofer. The stock piece is a 2-ohm sub, so pay close attention to impedance when you're shopping for a new sub. Give us a call if you have any questions about replacing this subwoofer.
Tools needed (all): Panel tool, small flat blade screwdriver, 10mm socket, ratchet and extension, 10mm open-ended wrench, Phillips screwdriver, utility knife
Shop for speakers that fit your Honda Accord EX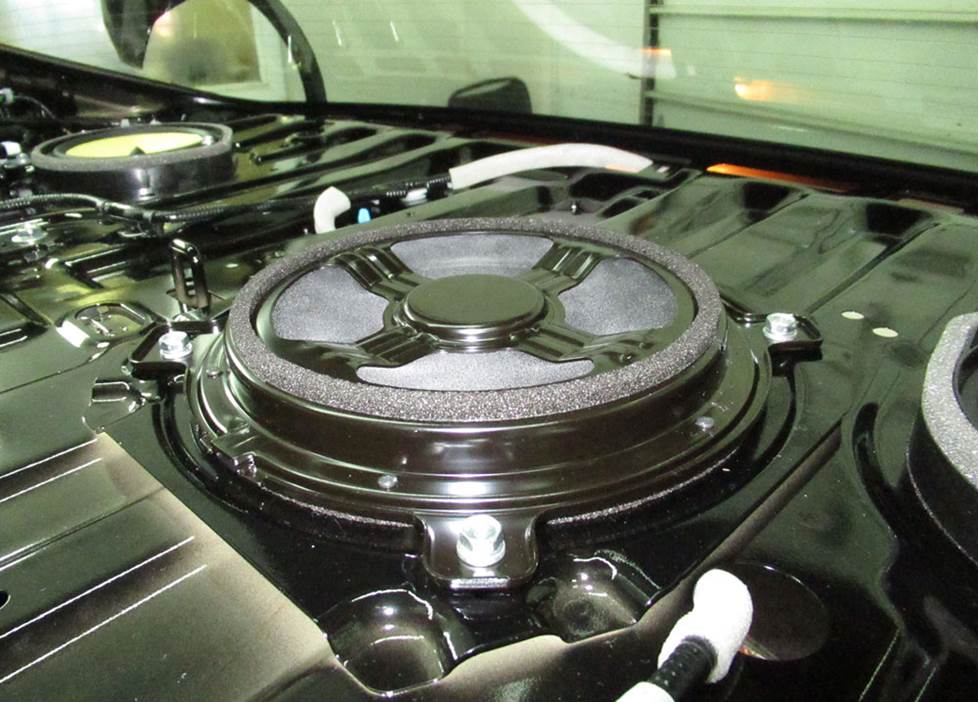 The 8" premium subwoofer isn't bad, but aftermarket subs will give you more thump (Crutchfield Research Photo)
Bass in your Accord
The new Accord's sleek appearance hides a trunk that's actually even larger than the outgoing model. This is good news for anyone who likes really big bass. We measured the trunk from the front section of the trunk to the rear edge of the wheel wells and came up with a 35" W x 19" H x 13"/20" D space for a subwoofer box. So you have something to work with if you want maximum thump in your Accord.
If you like bass just fine, but also like using the trunk for groceries and luggage, a more compact powered subwoofer might be a smart choice. That's definitely the way to go with the hybrid version of the Accord.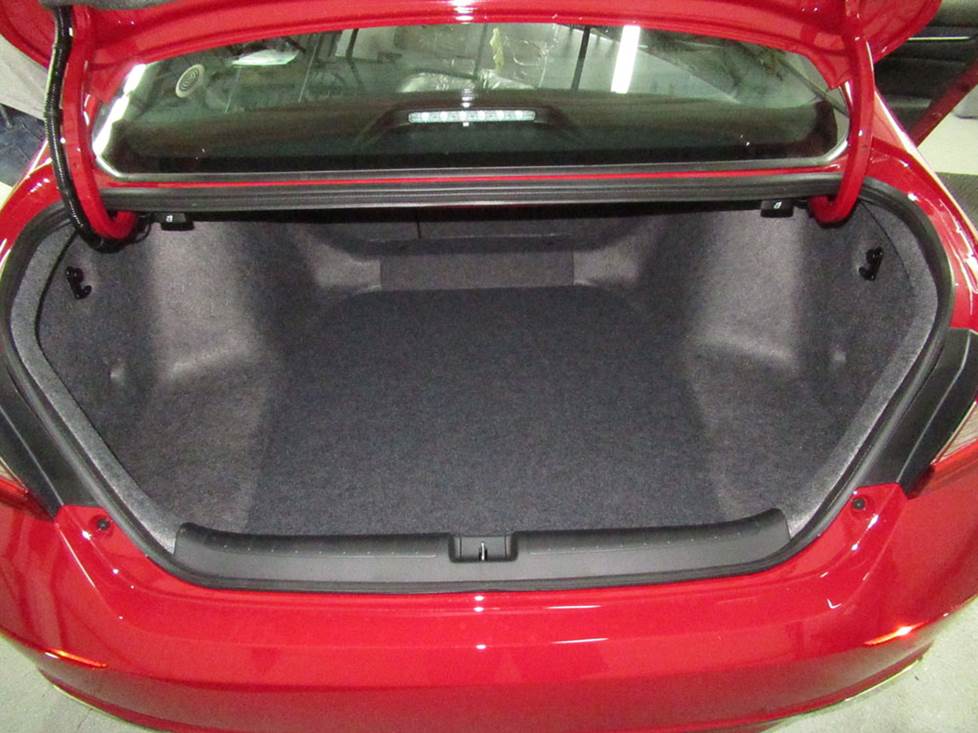 There's plenty of room back here for subs and amps (Crutchfield Research Photo)
Other options for your Accord sedan
There are plenty of other ways to improve your Accord sedan. Here are just a few of the ways Crutchfield can help.
Add an amp (or two)
A new 4-channel amplifier will help you get the most out of your new speakers. You'll get cleaner power (and a lot more of it), which will result in much, much better sound. A mono amp can provide the juice you need for a new subwoofer, too.
Protect your Accord's floors
Factory floor mats are designed to fill a space as cheaply as possible, so they look lousy and wear out quickly. Replacing the worn-out old mats with quality WeatherTech floor liners will help protect your Accord's carpeting from dirt, damage, and whatever else life throws at it. Plus, they look kinda sporty, which is a nice touch in a car like this.
Sound deadening
One good way to get the most out of your Accord's sound system is to keep more of the sound in your Accord. The Dynamat Xtreme Door Kit is the perfect way to seal out road noise and seal in the sound. This heavy-duty insulating material is easy to install, and it really makes a difference. This is a great thing to do while you're installing new speakers. Why take the doors apart twice if you don't have to? One kit will take care of the front doors on your car. If you're adding a trunk subwoofer, purchase some extra Dynamat and line the trunk lid.
Security systems and remote start
Installing a security system in your Accord won't be easy (security systems rarely are), but it's definitely a good idea for any popular Honda. Our Crutchfield Advisors can help figure out what you need to get the job done, but we usually recommend taking your car to a professional installer.
Adding remote start capability to your Accord lets you warm it up in the winter or cool it down in the summer. Installation is usually easier with these systems, but we still ask that you call to order so that we can make sure you get the right harness for your ride.
Let's get started!
Ready to shop? Use our vehicle selector to find the gear that will fit your car or truck. If you have questions, give us a shout via phone, chat, or email