Vendor training days are fun days at Crutchfield — manufacturers present their latest gadgets, and we get a chance to handle the new toys and learn how to play with them. Recently, when Alpine came to train us on their 2019 lineup of products, we decided to take the experience up a notch. As part of the training, we installed Alpine's cool vehicle-specific solution for improving the sound of the factory radio in certain cars.
We found the perfect car for the project
Vijaya (not pictured), a programmer/analyst in our IT department, drives to and from Crutchfield every day with one of her closest friends in a 2018 Honda Civic. While they both like the features and look of the factory stereo, they were excited by the prospect of a sound upgrade — a first for both of them.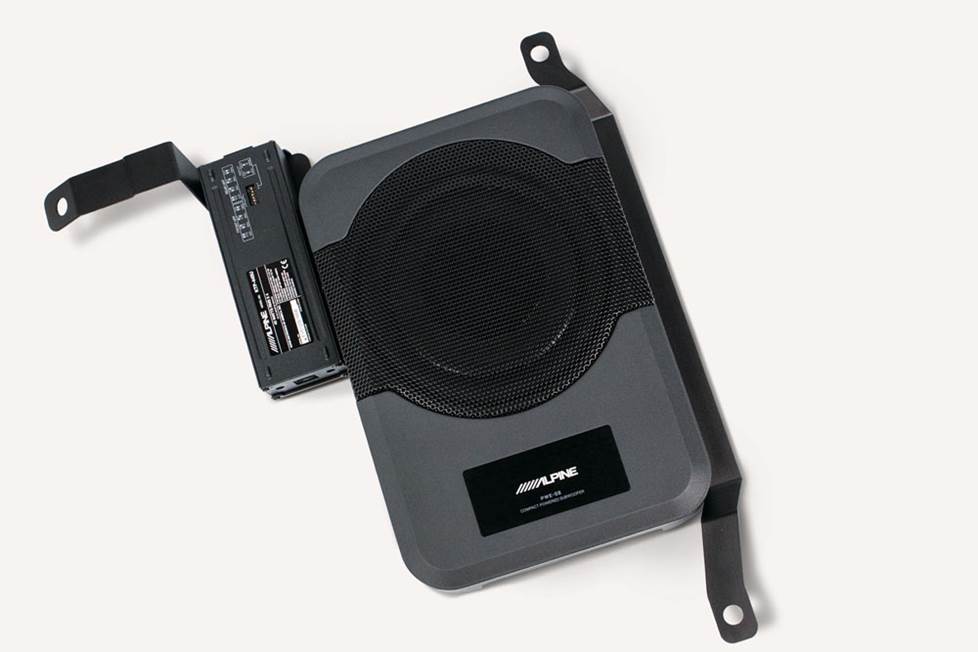 The Alpine Powered System Upgrade
This upgrade consists of four components:
The compact KTP-445U Power Pack 4-channel amplifier. It sends out four channels of 45 watts RMS power, so the front and rear factory speakers will play music loud and clear.
The PWE-S8 compact powered subwoofer. This sub will bring out the bass and complement the overall sound without over­whelming it with thump.
Those two components are mounted on a bracket designed to fit perfectly in specific vehicles.
Wiring that's designed to plug right into the factory harnesses.
Technically, the amp and sub could actually work in any vehicle. The trick performed by Alpine was to figure out a good place for the amp and sub to go in each vehicle, and then build the rack and wiring harness that would fit.
The installation
It's always a lot of fun when the gang gets together to build a superior system. And by "gang," I mean anyone who wants to join in — there's no shortage of 12-volt gearheads around here. Here's our crew for this installation, posing around the Civic.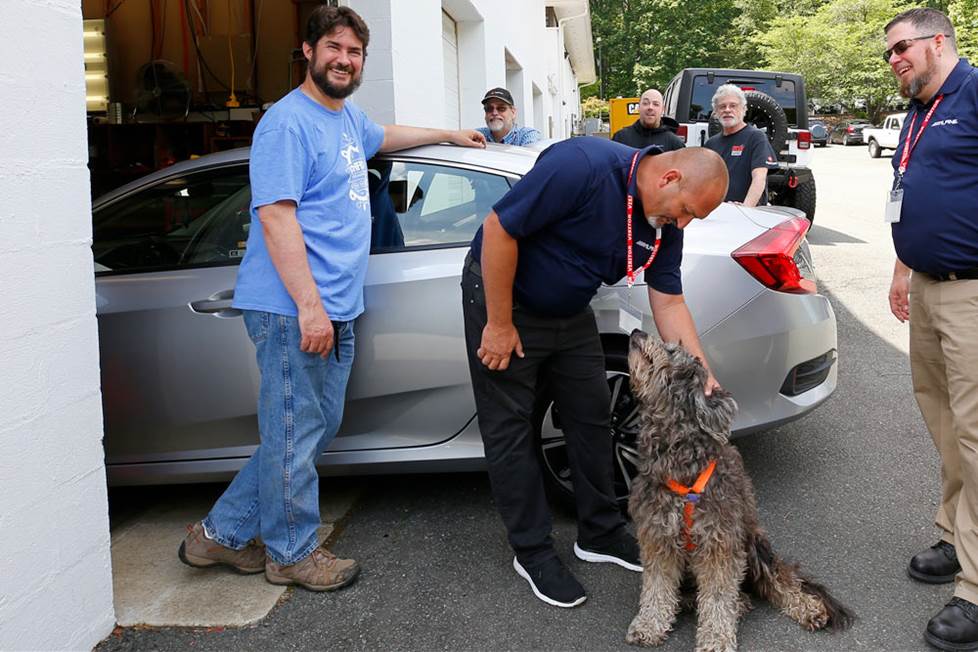 In the foreground we have: Crutchfield editor Matt, Alpine trainer Eric (petting Nina the photographer's dog), and Alpine trainer Colin. Standing in the background are: Crutchfield tech support specialist Cris, Crutchfield buyer Stephen, Crutchfield copywriter Buck (me).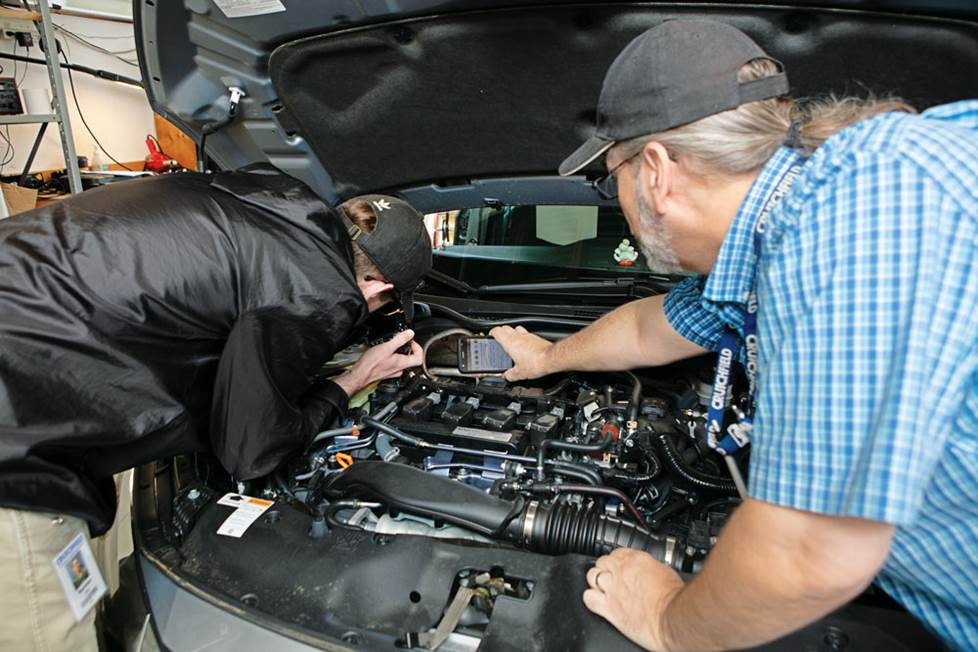 Damien (left) and Cris from our Tech Support department joined my editor Matt and me for the project. It took us four hours to complete the installation. It would have been quicker, but Cris and Damien wanted to take photos for their Tech Support files. Here, they're taking close-up photos of where the power wire runs through the car's firewall to the battery.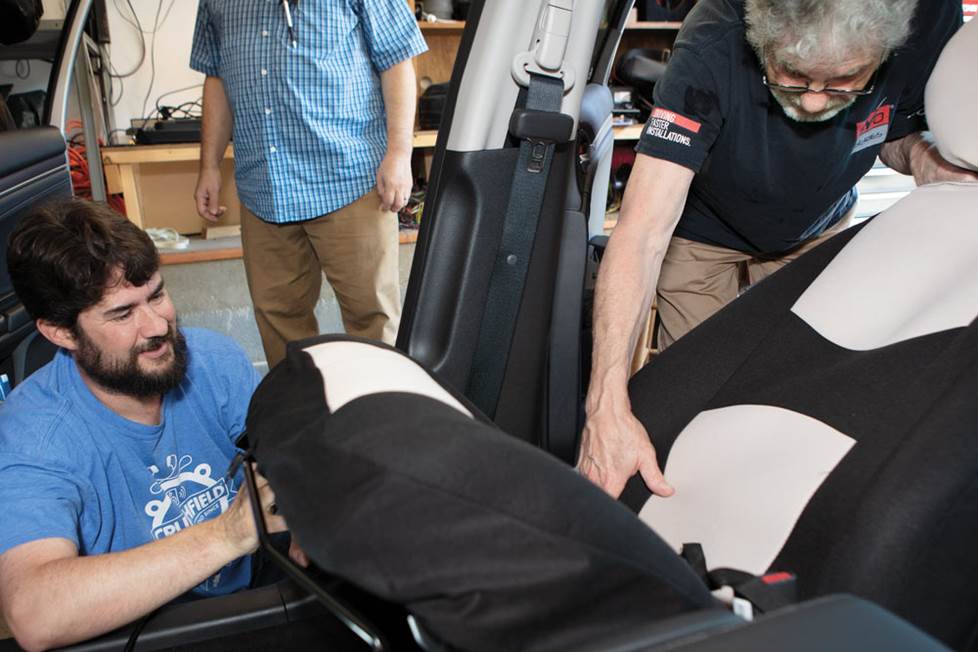 Matt removing the passenger seat to make way for the upgrade package. He had to unscrew four bolts and unplug a couple of electrical connectors.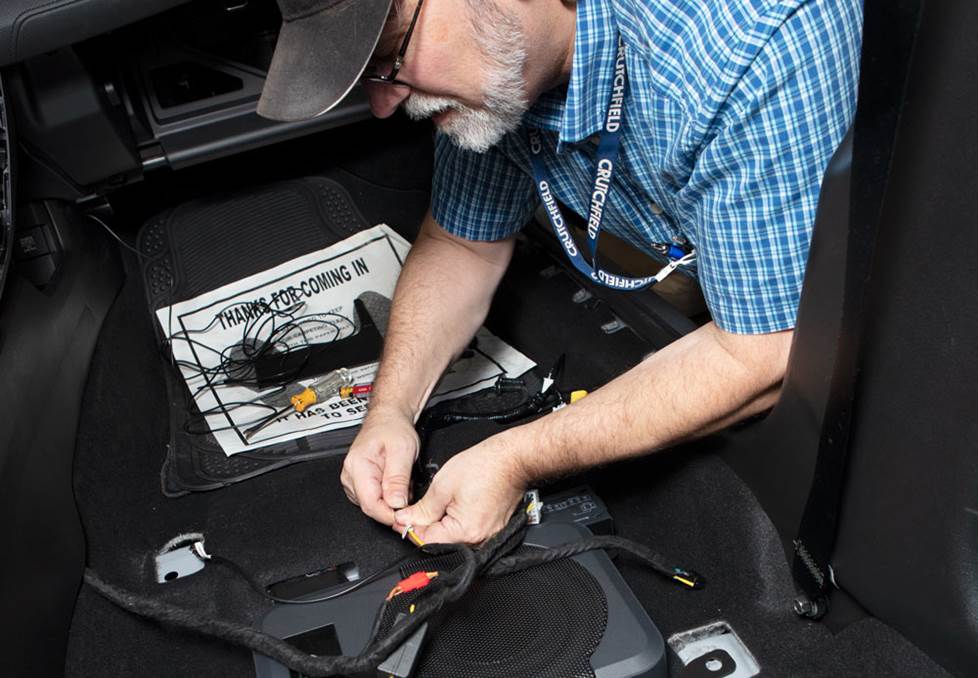 Cris gets hands on, plugging a power cable into the signal wiring harness.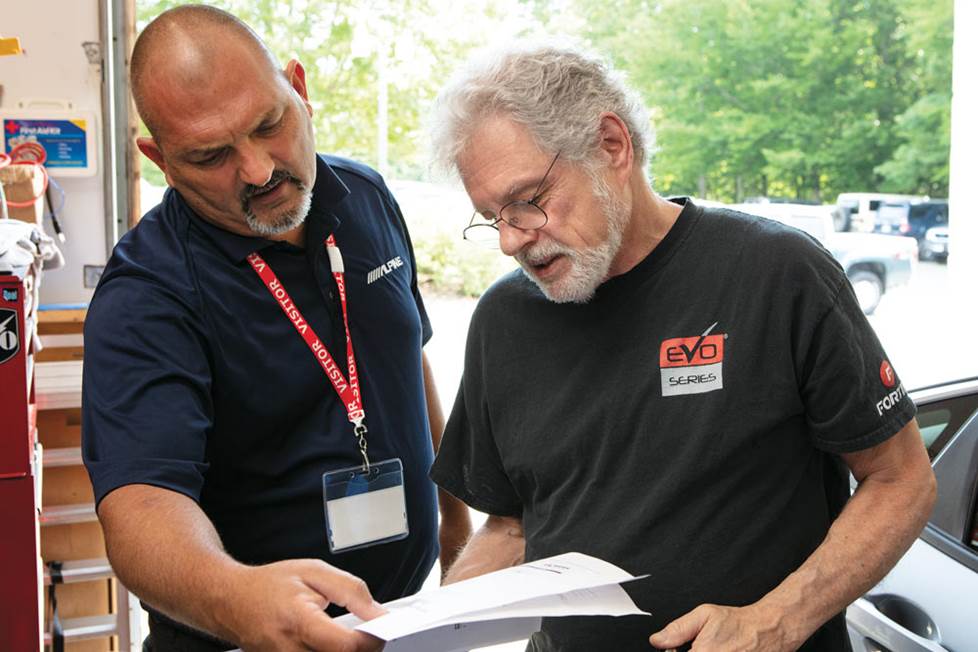 Eric, one of the Alpine trainers, dropped by a couple of times to offer some advice and show me how it works.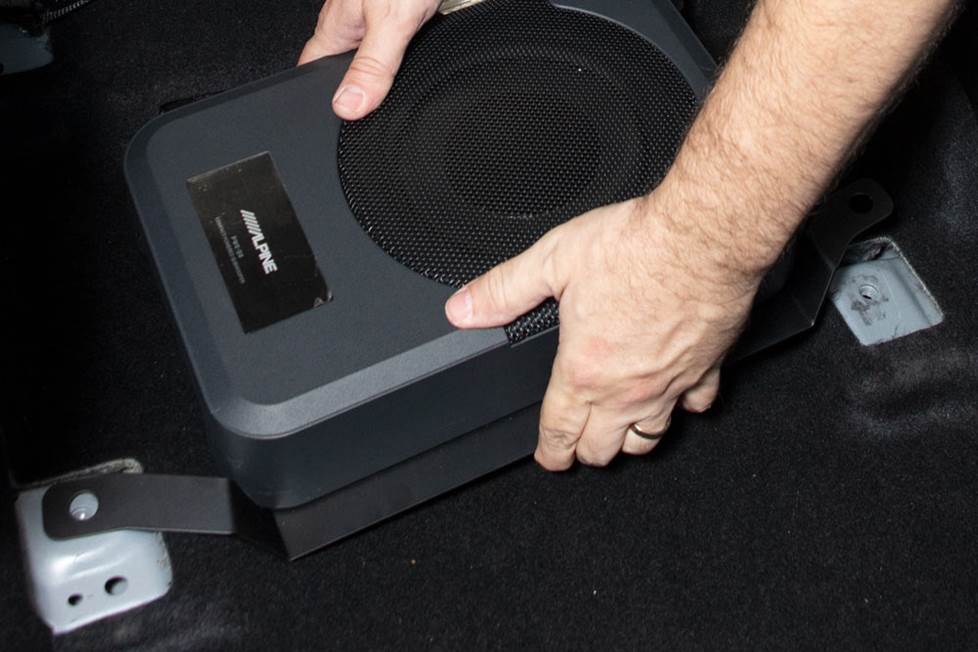 The bracket holds the sub and amp neatly under the Civic's front passenger seat. The mounting holes line up so that it uses the same bolts that hold the seat down.
Spectacular results — more power and improved sound
Who would have thought that such a small collection of gear could rock that car so hard? But wow, it does. Alpine combined their KTP-445U Power Pack and PWE-S8 powered subwoofer in an innovative way, and successfully brought better sound into the real world.
And if Vijaya ever wants to upgrade the factory speakers, they will benefit from the power of that 45-watt RMS amplifier, too. For now, she's thoroughly satisfied with just the added power and the subwoofer.
Want one? Call us.
Currently, Alpine offers Powered System Upgrades for select late-model Toyotas, Hondas, and Mustangs with non-premium sound systems — and they're working on adding more models to the list. Check out our entire selection of Alpine Powered System Upgrades and find out if we have one that fits your vehicle.