Amps make music fun
Because they let you hear it better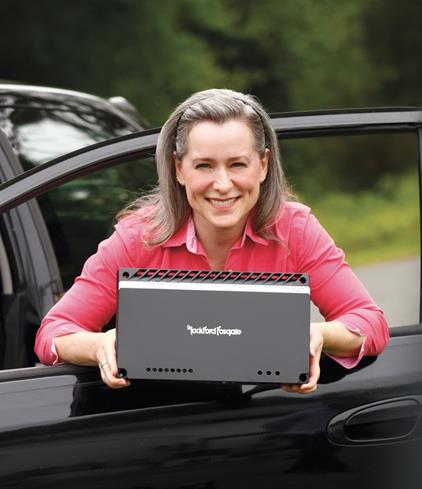 "I love it. I recommend it for anyone that has a system without an amp. You'll be impressed at the change.
When we heard that Mathilda, one of our Home Merchandising Specialists, had never had an aftermarket system in her car, we enlisted Rockford Fosgate to help us remedy the situation and let her in on all the fun she was missing. First, we put an aftermarket receiver and some Rockford Fosgate Prime speakers in her Honda Civic Si, so she could get used to the first stage of mobile audio bliss. Then we installed a Punch P400-4 4-channel amplifier to see what her reaction would be.
One simple word: "Wow!"
"My sound experience improved 100%. As much as I enjoy music, I'm surprised it took me so long to find out what a difference an amp can make. The sound quality improved greatly. Now I can turn it up loud, without hearing distortion in the high or low notes."
Adding power made the difference
Mathilda didn't know she was missing anything from her music until she heard it restored. Now she feels the dynamic punch when drums play, while vocals don't sound like someone shouting over the whistling wind. "I admit it, I enjoy loud music, especially in my car. I like to feel it as much as I like to hear it. Now, with the amp, I actually don't have to turn it up as loud in order to appreciate the more subtle details in the music."
You can listen to Mathilda describe her experience in her video.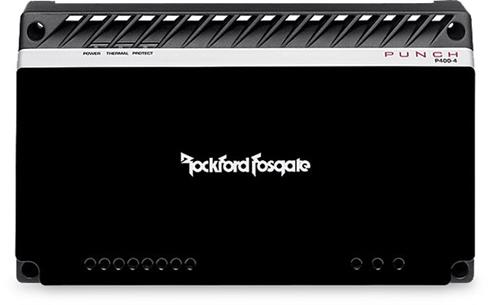 Punch P400-4 4-channel amplifier
Why add an external amp?
Your car stereo and an external amp basically do the same thing: they infuse your musical signal with enough power to let your car's speakers play it. An external amp simply does a whole lot more of it.
An amp receives signal from your stereo and power from your car's battery. Its internal components then go to work, pumping the signal way up and sending it to your speakers. This results in music that's stronger, clearer, and not prone to strain or distortion at higher volumes.
So why don't manufacturers just make stereos stronger? Because a byproduct of this kind of amplification is heat; an amp needs room to dissipate this heat, which the space behind the dash doesn't provide.
Amplifiers let you hear music better
Most factory and all aftermarket car speakers are capable of putting out enough sound to overcome road noise and fill a car with good sound. But most are hampered by low-powered stereos, so they end up playing poorly, with no impact, dynamics, or clear musical image. Adding an amp unclogs the system so the signal gains strength, instead of losing it, as it flows from the source to the speakers, letting you hear and feel your music's power and subtlety.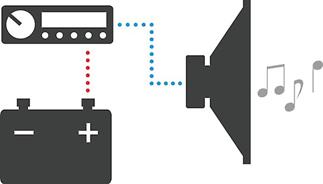 A low-powered stereo can't send the speakers much signal, so they won't sound good.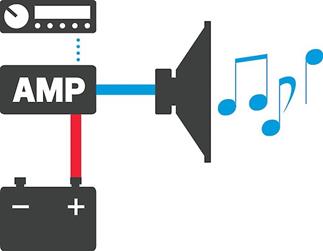 An amp boosts the signal, giving speakers more to work with.
Overcoming resistance
The output of a factory stereo has to travel through as much as fifteen feet of tiny (18- to 22-gauge) wiring before it arrives at a speaker. By the time it gets there, it has lost a lot of its strength and some of its precious information due to the wire's electrical resistance. Consequently, most factory stereos, with never more than about 11 watts RMS of output power, can't deliver all the music to their speakers. The solution is to amplify the signal so that more of it gets to the speaker than before.
It's not just loudness
Overcoming road noise with increased volume is just one of an amplifier's roles in improving your sound. An amp's onboard filters and tone controls help you sculpt the signal — adding something here, taking away something there — so your music will sound clearer and more powerfully moving.
Suddenly, everything becomes clear
When you add an amplifier into a car's system, the sound rises away from your knees and presents the music in front of you, where it belongs. It's like the band's playing on top of your dashboard and you're right there among the musicians. That's called the soundstage, and it becomes higher, wider, and more realistic when you amplify the music.
---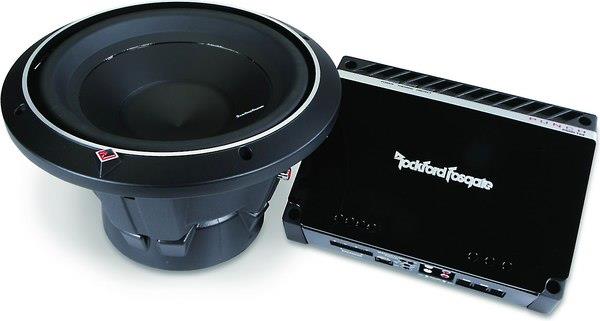 Rockford Fosgate Punch 10" P2 subwoofer and P500-1bd mono amplifier
Next, we added a subwoofer
After a couple of months, we decided to help Mathilda experience her music more completely by adding a mono amp and subwoofer. We figured that a Rockford Fosgate 500-watt Punch amp driving a 10" Punch sub ought to provide the rich bass tones she knew were missing from her music. We were right.
"It feels like I'm inside the drums"
She jumped a mile when the new sub first hit. "The feeling of being inside the music is what I'm always looking for. The addition of the sub and amp has made a big impact. I like music with a lot of drums, lots of bass, and I love it loud."
Why does a subwoofer need so many watts?
Human hearing is less sensitive to low-frequency sounds than to midrange and high tones, so bass notes need to be amplified with more power to be heard at the same level. Also, the large sound waves of bass notes take up lots of air space; consequently, it takes a lot of energy to push them to our ears.

Tweeters vibrate back and forth at high frequencies to spread sound waves through the air without needing a lot of power.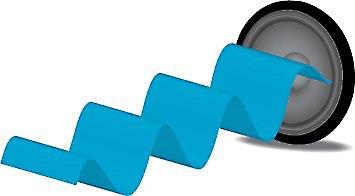 To create the very large sound waves of bass frequencies, subwoofers must move a much larger volume of air, which requires more power.
Adding power made the difference
Mathilda used to have to turn the bass level on her stereo up to just about the point where it distorted, which was pretty hard on her old speakers. Now, she doesn't have to turn it up so far in order to hear the bass. "The whole system sounds amazing. The amps provide an impressive amount of power and the subwoofer kicks it up to a whole new level. I try to keep it pretty low key — but I could blow the doors off my neighbor's house if I wanted to."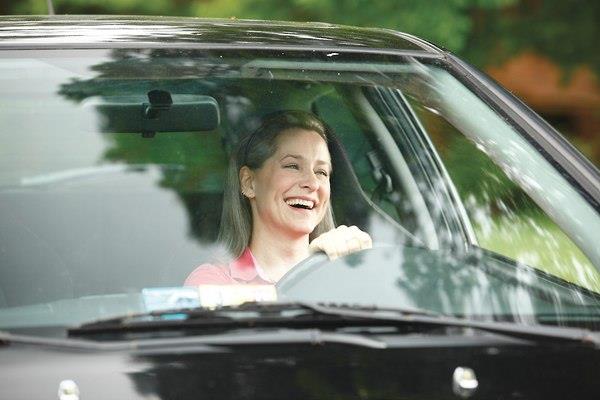 You can't conceal the enjoyment great music brings.
Hear it for yourself
Learn more about how to choose the right amplifier in our Car Amplifier Shopping Guide. Our video about Car Amplifier Channels explains one of the first questions about choosing an amplifier.
Then, when you're ready, check out our selection of car amplifiers. If you have any questions, give is a call or send us an email.
Building a system in stages
An economical way to put together a great mobile sound system is in stages, like we did in Mathilda's Honda. You start by getting a new receiver and speakers. This introduces you to the exciting world of great sound and cooler features, and gets you thinking about future improvements. We had Mathilda drive around for a week or so getting used to her new speakers and receiver before we performed the next upgrade.
As we did with Mathilda's system, you could install a 4-channel amp to run the front and rear speakers as the second step. If you know you're going to add a second amp later, it would be a good idea to plan ahead and use a multi-amp wiring kit, at this stage. As the final step, later on, you could add a mono amp and sub.
Another way to do it is to add the 4-channel amp and sub at the same time, using two of the amp's channels to drive the front speakers, and bridging the other two channels (combining their power into one channel) to power the sub. At this stage, you'd continue driving the rear speakers with your receiver. Then, when you're ready, you can add an amp for the sub alone, and connect the rear speakers to the 4-channel amp. Voilà: a full-fledged car system in just three steps.