What makes a great subwoofer sound so good? For Alpine, it's the blend of high-quality materials and acute attention to detail in design. Each part works in harmony to play your music loudly and clearly.
Take Alpine's Type-R subwoofers, for example. They utilize six patented (two pending) innovations in the technology of creating bass to bring you some of the loudest, cleanest-sounding, and longest-living subs in their class. It's not just the up-to-date materials of the individual pieces — it's also the way they're put together, and even their very shapes, that contribute to the production of superior sound.
We've highlighted some of the Type-R's finest features in the cutaway drawing below. Click on the numbers to read more.
HAMR surround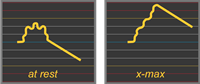 A HAMR surround unfolds as it straightens, so the cone can move to a very high position. This is called its maximum safe excursion point, or its "x-max."
Ordinary surround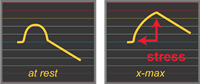 A normal curved surround resists straightening then pops suddenly to a stop, putting stress at its attachment points. The HAMR shape reduces that stress by moving more smoothly as it folds and unfolds.