In this article: The best strip-style surge protectors...
... and some tips on what to look for in surge protectors.
efore I came to Crutchfield, I didn't think too much about surge protectors. Then I discovered that the inexpensive power strips I tend to use often don't provide any protection at all. I was dismayed to see my gaming PC and monitor plugged into vulnerable outlets.
When it comes to your own beloved electronics, you are going to want to protect them with the best surge protectors. Below we list best strip-style surge protectors Crutchfield has to offer. First, let's talk about what to look for in a surge protector.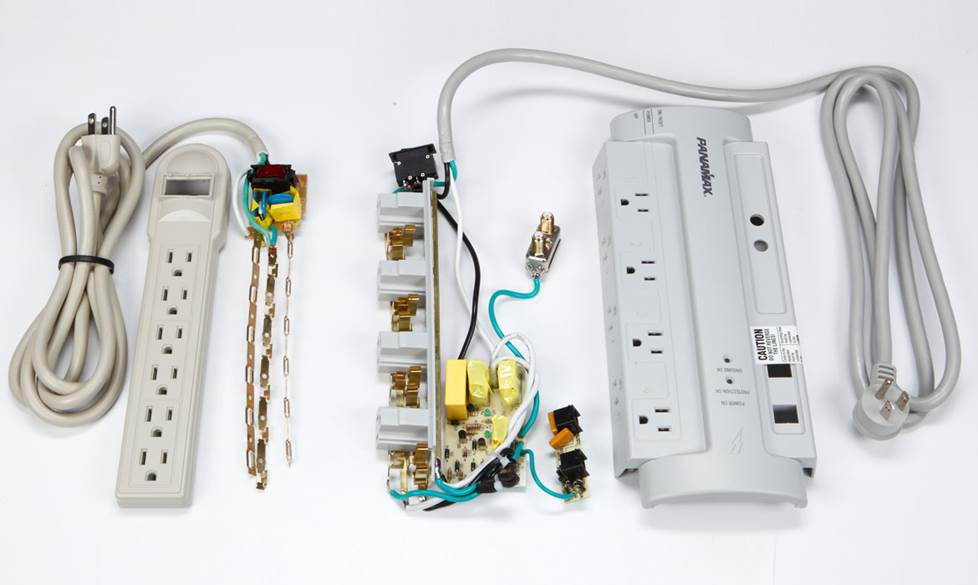 On the left is a look at what's inside a cheap power strip. On the right you see the guts of a Panamax surge protector. Which one would you rather have protecting your gear?
How do surge protectors work?
There are two basic types of surge protectors – sacrificial and non-sacrificial. Both styles have electronics that recognize when there is a spike in voltage, also known as transient voltage.
When a sacrificial unit receives transient voltage, it pushes the spike toward a metal oxide varistor (MOV). The MOV then heroically absorbs the transient voltage, preventing damage to your devices. MOVs can only take on so much damage before they are used up, or, sacrificed.
Non-sacrificial units prevent damage in two ways. First, they monitor and restrict the maximum amount of voltage that is able to pass through to your device. This is known as clamping voltage. If there is a surge that is too powerful to clamp, the protector will shut off distribution of power to all devices in milliseconds.
What to look for in a strip-style surge protector
Size and number of outlets
You probably need more outlets than you think. Consider that bulky power adapters will sometimes block access to adjacent outlets. Also think about where you intend to set up your protector and how much space is available.
Noise filtration
One of the added benefits of a good surge protector is power conditioning. This is achieved by using filters to get rid of electromagnetic interference (EMI) and radio-frequency interference (RFI). The result is cleaner sound and better TV pictures.
All the surge protectors on this list provide noise filtration.
Joule rating
The higher the joule rating, the more energy your surge protector can absorb before it is "sacrificed".
Connected equipment warranty
Some surge protector warranties will pay to replace equipment that was damaged by a surge while properly connected to the power protection unit. Careful though, these warranties are are typically full of fine print. Make sure you read through them and document your installation well.
The best strip-style surge protectors
Furman SS-6B — entry level protection
I own the Furman SS-6B, one of our most popular models. I have had it for a couple years and use it for my electric guitar, amp and pedal board. I purchased it because of Furman's reputation among musicians.
I am impressed by the heavy-duty metal construction. It feels like it will last forever. The power cord is a generous 15 feet.
The layout allows six connections easily. If you are looking for a Furman that can fit into tighter corners, consider the Furman SS-6.
Details
6 AC outlets
540 Joule rating
Surge protection of 400V
15' power cord
RFI/EMI noise filtration
Protection indicator light
What our customers say
Panamax SP8-AV — protection designed for A/V equipment
The Panamax SP8-AV has a unique outlet design which allows you to connect eight plugs at a time. On the other side, you have input/output jacks to protect your landline phone and TV connections.
Panamax builds their strip style surge protectors with premium noise filtration. This will work to eliminate unwanted loss of detail, hisses and hums generated by dirty power.
The SP8-AV contains Panamax's protect or disconnect™ circuitry. This means it will disconnect AC power to connected equipment in the event of a catastrophic surge. This technology essentially makes the Panamax SP8-AV a non-sacrificial unit, as it will opt to power off rather than burn through its MOVs.
Details
8 outlets
1125 Joule rating
Surge protection of 500V
6' power cord
RFI/EMI noise filtration
Brackets for wall mountain
Protection and ground OK indicator lights
Protect or disconnect™ technology
$50,000 lifetime limited connected equipment warranty
What our customers say
Popular questions customers ask
Power protection devices defend your electronic gear against lightning strikes and dangerous power surges that could destroy their circuitry. And since the AC power coming from your outlet fluctuates above and below the standard 120 volts, using a voltage-regulating line conditioner or uninterruptable power supply (UPS) also reduces both visual and audio noise.
It's a good idea to use power protection for TVs and monitors, desktop computers and plugged-in laptops, gaming consoles, streaming sticks (Apple TV, Roku, etc.), routers and modems, sound bars and wireless speakers, powered speakers and subwoofers, and other A/V components like CD players, turntables, DVD and Blu-ray players, cable boxes, digital video recorders, receivers, amplifiers, preamplifiers, and external DACs.
Most power strips only distribute AC power and at best feature a circuit breaker or on/off switch, while surge protectors have internal circuitry with a higher level of protection. Power protection comes in several different form factors, including power strips, rack-mountable and standalone components, or on-wall and in-wall plugs.
Some power protection devices offer connected equipment warranties, giving you an actual dollar-value of coverage. A line conditioner might be your best choice if you're using it for a TV or sound system. An uninterrupted power supply is good for a desktop computer, since if the power goes out you can continue working until you can save your work and safely power down. And surge protectors safeguard a wide range of gear — some even double as line conditioners.
Line conditioners clean up the fluctuations of your home's incoming AC power and filter out power noise, like EMI (ElectroMagnetic Interference) and RFI (Radio Frequency Interference). So do uninterruptable power supplies, which also feature backup battery power so your gear will function smoothly even if your power goes out.