If you've ever tried to install a modern car stereo in a pre-1960s vintage automobile, you've probably run across the problem of getting stereo sound in a vehicle with only one center dash speaker. When I owned a '56 Studebaker Hawk, I faced two not-so-great choices: modify the car by installing speakers in the doors or keep the car stock by putting clunky speaker boxes on the back deck. We just got in a new product that gives vintage car owners a much better option.
Retrosound is a California-based company that makes modern, Bluetooth®-equipped in-dash receivers that'll fit in vintage cars without modifications. Now, they've branched out into speakers. In addition to the usual speaker pairs for different size openings, they also offer three models designed to fit into your car's single dash speaker opening: a 5"x7", a 4"x8", a 4"x10", and a 6"x9".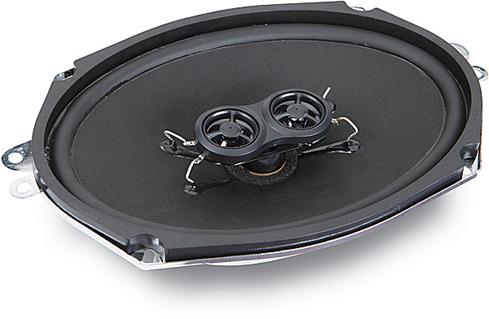 Retrosound R-69N Single 6"x9" speaker with dual voice coils
Dual voice coils make the difference
And here's the "why-didn't-I-think-of-that?" idea from Retrosound: each single speaker has a dual voice coil woofer and two Mylar dome tweeters, with each voice coil connected to its own tweeter. All you need to do is connect the right and left speaker outputs of your receiver to the two voice coils and presto — you can enjoy beautiful stereo sound from one speaker location.
Now, you won't get the big stereo spread that you'd get from having speakers on each side of your car, but you won't have to cut up your dash or doors either. That's a beautiful thing for many old car fanatics.
Low-profile design means maximum versatility
Another plus — Retrosound understands that older vehicles usually don't have a lot of room for speakers with big honkin' magnets, so these speakers use neodymium magnets to keep a low profile — they're all less than 1-3/4" deep. So a pair of these speakers will even work well in vintage cars with two speaker openings. They'll fit in most doors, they'll handle plenty of power, and you can connect both voice coils together for 2-ohm impedance to get more power out of your outboard amplifier.