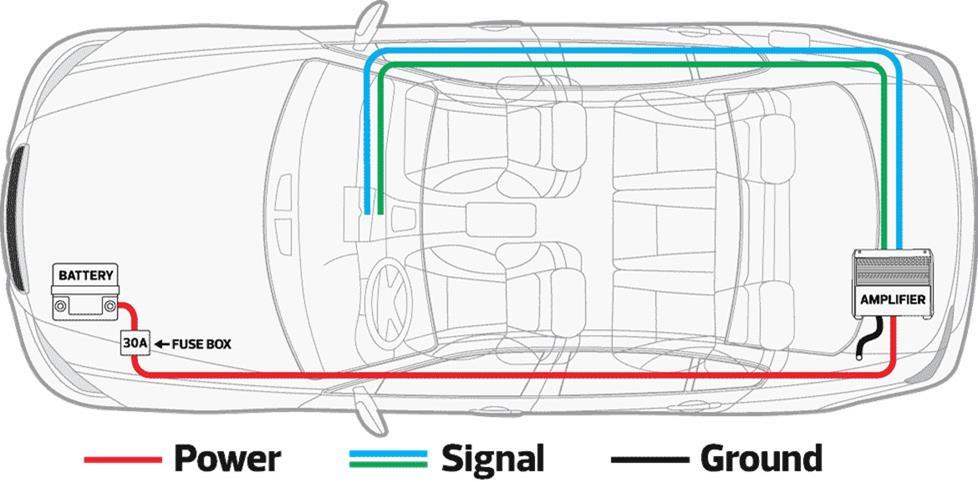 Adding an amplifier to a factory stereo often requires running a lot of new speaker wire — from the stereo to the amplifier and then from the amp to the speakers. This can feel like an impossible nightmare. Fortunately, we have a way to make it a little easier.
Note: This article explains how to connect an amplifier to a factory stereo system that does not include a factory amp. A Crutchfield article about connecting an amp to a factory-amplified system will become available soon.
If you have an aftermarket stereo, you'll use a set of RCA cables instead of one of the 9-wire cables below. Refer to our article about adding an amp to an aftermarket stereo for more details.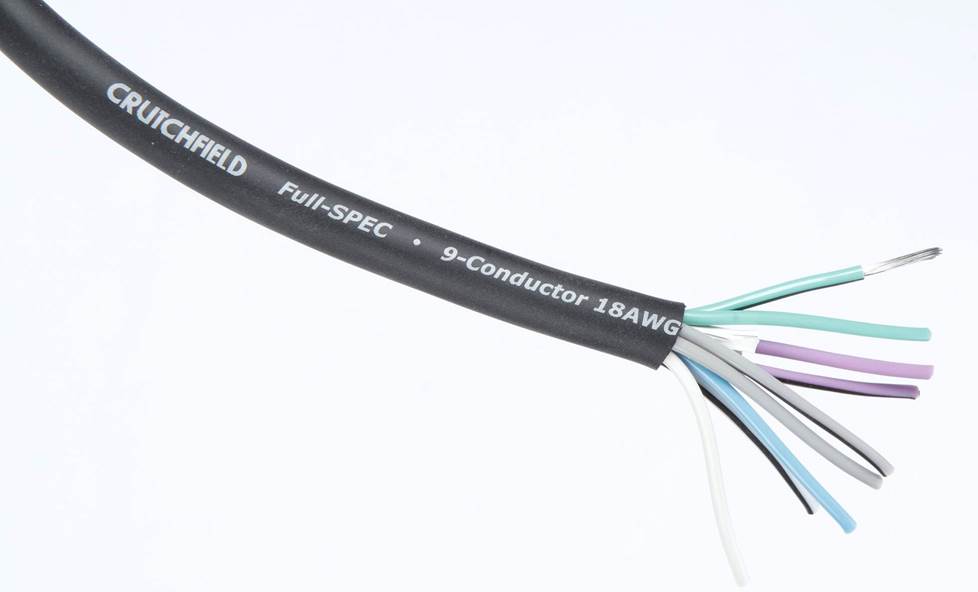 Multi-conductor cable to the rescue
Usually, you'll be installing a 4-channel amplifier with speaker-level inputs. The best way to connect it to a factory system is to tap into the stereo's speaker outputs for the amp's input signal. Then send the amp's outputs back to the stereo's harness, and on to the speakers through the factory wiring.
"All-in-one" Crutchfield 9-wire speaker cable makes this easier by including the wiring for four speakers and an amp turn-on lead all in one cable. Run two of these cables from the dash to your new amplifier. You'll need one for the amp's input and the other for its output. These cables will act like a "T-harness" to connect your amp to the factory system.
Remove the radio to get to the factory wiring
Behind the factory radio, you can access all of the speaker wires in one place. The radio's wiring harness delivers power to the radio and sends its output to the speakers. You'll need to identify which wire goes to which speaker. Positive leads are usually solid-colored wires, while their accompanying negative leads tend to be the same color with a stripe of a second color.
Please be aware that these wiring colors vary widely from one car to the next. If you purchase your new gear from Crutchfield, our Tech Support team can look up the wire colors for you. Give us a call before you tear apart your dash, so you'll know what to expect.
Connect the wires
Once you've identified each of the eight speaker wires, cut each one. Connect the end coming from the radio plug to a new wire going to the amp's input. Connect the end going to the speakers to the appropriate wire coming from the amp's output.
That means you'll use two of the 9-wire cables, one for the amp's input, the other for its output.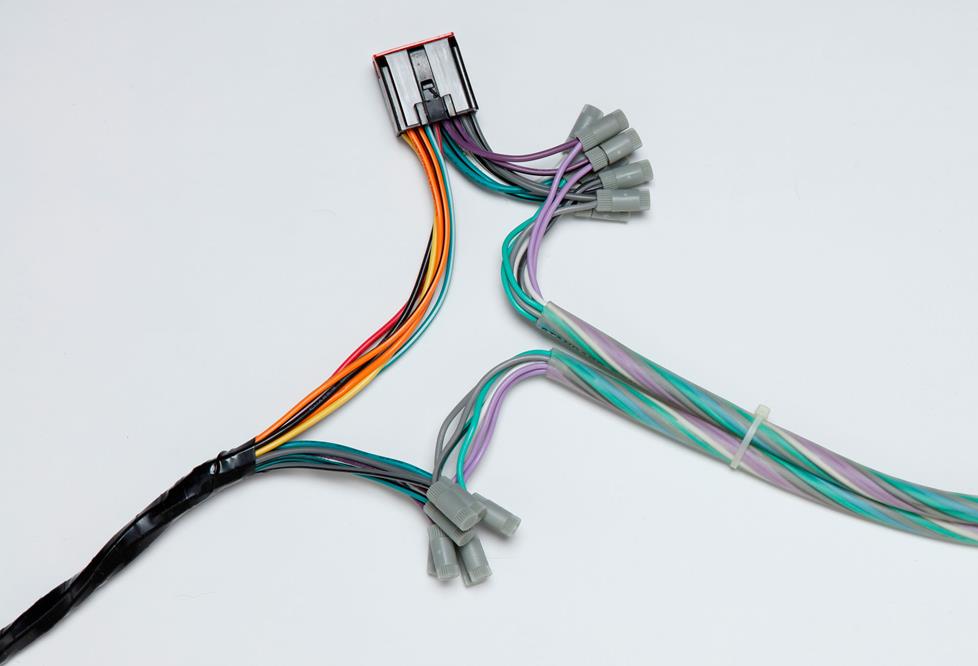 Amplifier in/out via 9-conductor cables go to the right, radio plugs in at top, and vehicle wiring goes left. (Even with my challenged eyesight and shaky hands it only took me about 40 minutes to wire this harness for illustration.)
Forget the turn-on lead
Amplifiers that have speaker-level inputs also feature "signal-sensing turn-on." The amp turns on when an input signal is present. This means you don't use the ninth wire (the blue wire) of either cable for this installation.
Something you may need
Sometimes after you cut the factory speaker wiring, the radio will shut down, because it can't detect any speakers connected to it. To solve this issue, you must install a load generating device on each output channel, so the radio will operate properly.
Expert installation tip
Before you run these two 9-wire cables through your car, mark both ends of one cable with a piece of electrical tape. That way, once the cables are in place, you'll know which of those cables is for the amp inputs and which is for the amp outputs.
Some products to help you do it
Our favorite option is the Crutchfield 9-wire cable shown above because each set of speaker wires is color coded. We also carry a selection of highly conductive, pure copper speaker wire, available by the foot, if you prefer that.
A multi-pack of Posi-Products Car Stereo Connectors could come in handy here. You can make all the speaker connections without having to solder or crimp anything. One package will cover this job and give you a few spares.
PAC Audio offers a few vehicle-specific T-harnesses that'll help you add an amplifier to a select number of vehicles with non-amplified factory stereos. 9-wire cable will also come in handy for these installations, in order to connect your aftermarket amp's inputs and outputs to the system.
High power amps need bigger wires
For amps with more than 75 watts RMS of output per channel, it might be better to go ahead and run new 14- or 16-gauge speaker wires directly from the amplifier to each speaker.
Factory speaker wires are very thin, with high electrical resistance. They can cause noticeable power loss when higher wattages try to get through. But amplifiers of 75-watts or less aren't really affected by this. Running their output through factory wiring remains a practical and convenient solution.
Line output converters
Another popular way to connect an amplifier to a factory radio is to use something called a line output converter. It connects to the factory radio's speaker wires and converts the speaker-level signal to a preamp-level signal. This lets you use RCA cables to run that signal to your amplifier.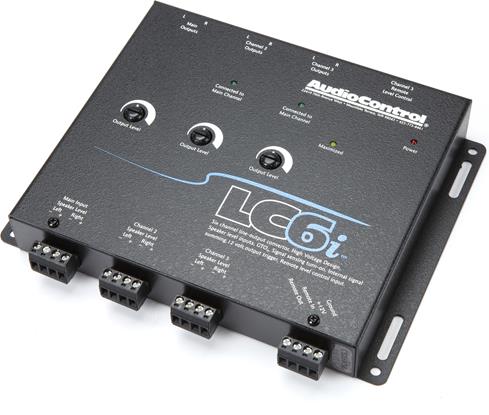 A line output converter offers some advantages, like the ability to sum and control signals of a multi-channel factory system. So if you're upgrading a complex system, using a line output converter might be your best option. The speaker wire solution we've shared here is a simpler, less-expensive alternative that will work for most people. Read more about line output converters.
Let us know what you need
This article focused on a way to simplify the speaker connections. For information about other aspects of amplifier installation, like power and ground wiring, check out our Amplifier Installation Guide.
If you have any questions about connecting a new amplifier to your speakers, contact our advisors via chat or phone. They'll take the time to answer your questions and explain the details, then get you set up with whatever you need.