Bill P's 1990 Toyota Camry
Items installed:
Dual 12" Dual 4-Ohm Single-Voice-Coil Subwoofers with Neon Enclosure
Redline Neon Lights in Trunk
TNT-1680P 6.5" 500 Watt 4-way Speakers
Road Gear 5.25" 40 Watt Speaker in Custom Box
Installation Description
Started with the wiring. It was 8 gauge wire from the car battery to the trunk of my 1990 Toyota Camry. I ran it through the electrical tubing of the front drivers side door. Then under the kick panels through the back seat.
The wiring was then connected to the Dual 460 watt amp. The Dual subs were bridged to the amp. This series comes with illuminate neon lights in the subs, so I hooked that up next.
Installed the Dual 7700 CD player in the dash with the stock harness and the new wire adapter. Ran the audio signal through the passenger side kick panels to the amp.
I put new 6.5" 500 watt speakers in the rear deck to replace the old ones. I then put in 5.25" speakers on the rear deck with custom box made out of foam board. To my surprise this worked very well.
Next came the neons. I put in a blue 20" Redline neon that pulses to the music. And then I also put in two blue 4" Redline neons that pulse to the music also on the sides of my sub box.
And all of this is done by me a 17 year with no job or training.
Q&A Section
Why did you decide to upgrade your A/V system?
Love to listen to great sounding music while I drive everywhere.
What's the first thing you show people about your installation?
The trunk at night with all the neons and the sub box.
Why did you choose these products?
Great quality at a great price.
What was the most difficult part of the installation?
Running the wiring from the battery to the trunk.
What plans, if any, do you have for future upgrades?
Transform the original trunk to a flip-flop trunk.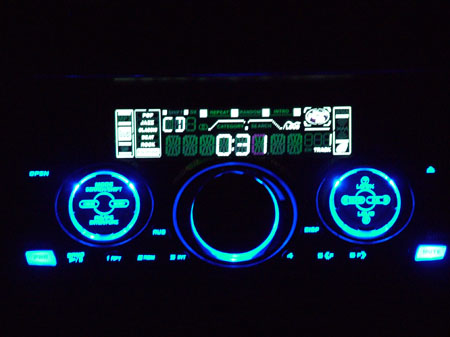 Dual 7700 CD Player at Night
Trunk with all neons on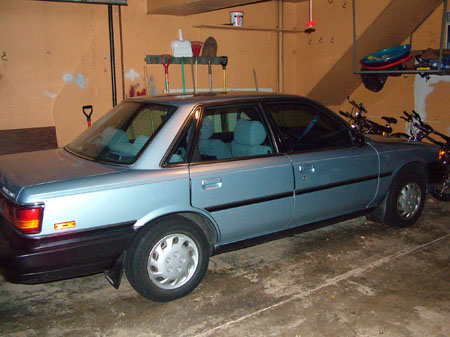 My whole car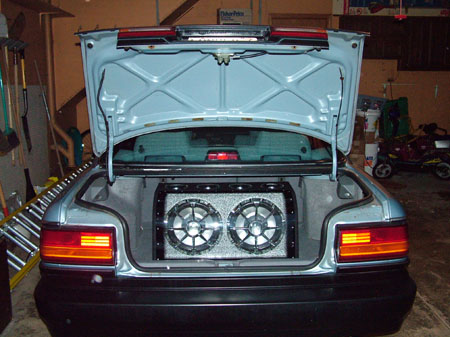 Trunk in the day in my garage