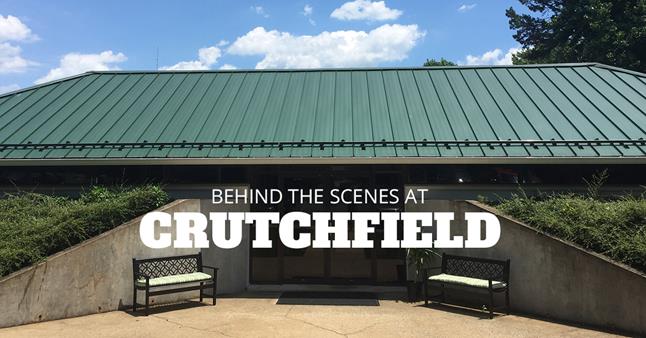 Hello everyone! My name is Alexis Goodwin, I'm Crutchfield's new Social Media Content Development Intern for the summer.
There are actually five interns working for Crutchfield this summer:
Hannah, our head intern this summer (It's her second summer at Crutchfield), works in the Marketing Department and attends the University of Virginia.
Rachel also works in the Marketing Department and attends Christopher Newport University.
Elliot, Andrew, and Hunter all work in the IT Department, Elliot attends the University of Virginia, Andrew attends Virginia Tech, and Hunter is a rising senior at Orange County High School.
I work in the Creative Department and just graduated from Radford University.
We wanted to show an inside look at just what a Crutchfield intern does and the work culture we get to experience every day, so I will be writing weekly blog updates filling you all in! Away we go...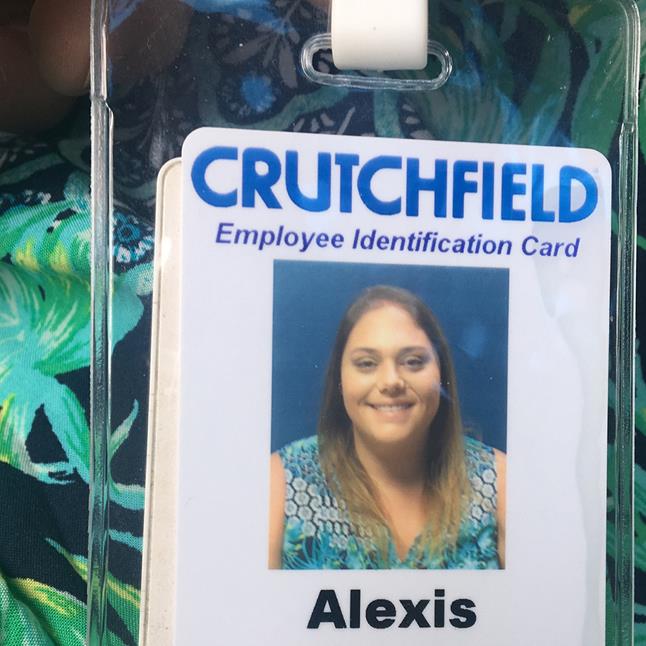 My new ID badge!
Week 1
Monday
Our first day was awesome! We started out by becoming official with our very own Crutchfield Employee ID cards, then started orientation. After some mandatory paperwork we were given a tour of headquarters and met a ton of great people along the way. We then ventured down the road to tour the distribution center which boasted a pretty impressive packing system throughout the warehouse.
Fun Fact: Crutchfield makes their own packing peanuts in house! They are completely dissolvable in water, making them environmentally friendly, and are even edible (though we don't recommend it) — think Cheetos, but without the cheese powder on the outside.
Next, we drove to the Charlottesville retail store to see all of our products on display and to experience the amazing listening rooms. If you haven't visited the store, you should! But just a quick explanation — the Charlottesville store has two soundproof rooms: one for listening to car audio and one for listening to home audio. They each have a super high-tech system that allows you to virtually customize pretty much everything from car type and room dimensions to what brand and type of speakers you want to hear. I have never experienced anything like it! To cap off Day One, we headed back to HQ and got to meet each of our teams individually and dive into work!
Tuesday and Wednesday
We all got to immerse ourselves in the work that our teams do every day. There were a ton of introductions made, and work on individual projects began. For me, that meant getting to meet various department heads around the building and getting my feet wet with how Crutchfield social media posting process works. I worked on creating Twitter posts, a Pinterest board for Father's Day, and brainstormed ideas for posts on all social media platforms.
On Wednesday I was able to sit in on the weekly social media group meeting. It was really cool seeing how everyone interacted and bounced ideas off of each other. Most of the talk was about planning how we would cover an event the company was having the next day.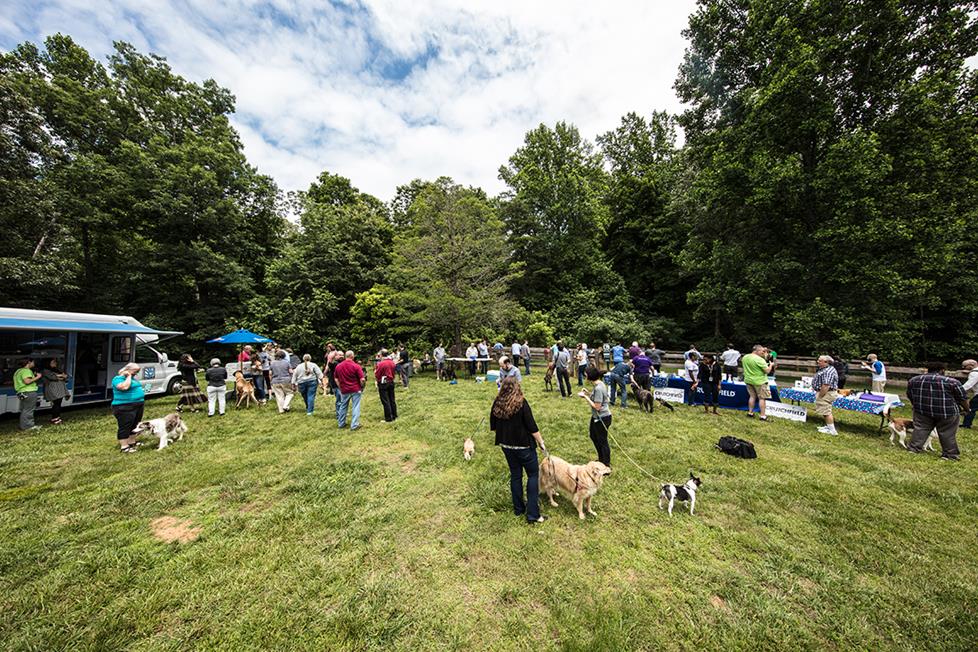 Employees brought their dogs to celebrate the launch of Pet Tech gear at Crutchfield.
Thursday
Thursday started out as a continuation of the work we had been doing all week, but that afternoon a special event called "Pupapalooza" was happening. Employees, their families, and their pets all joined together at the dog park on Crutchfield HQ campus to enjoy ice cream (There was even ice cream for the doggies!) and learn all about the new line of Pet Tech products the company just launched. It was a really fun way to meet coworkers from other departments and their pets!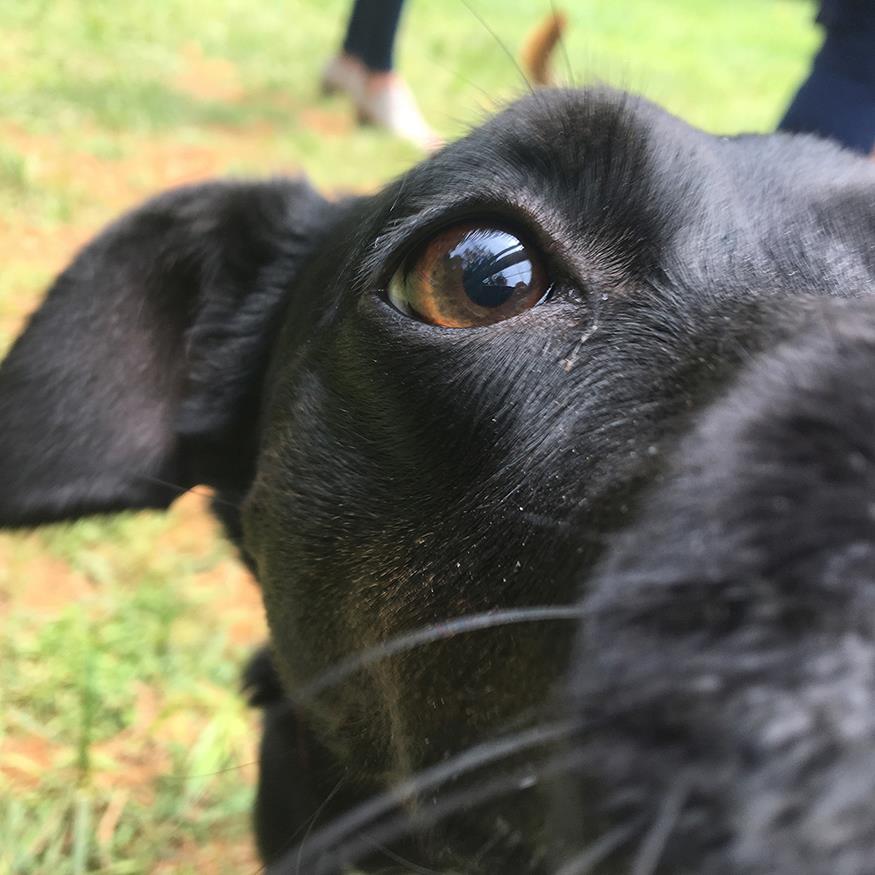 Meet Lulu!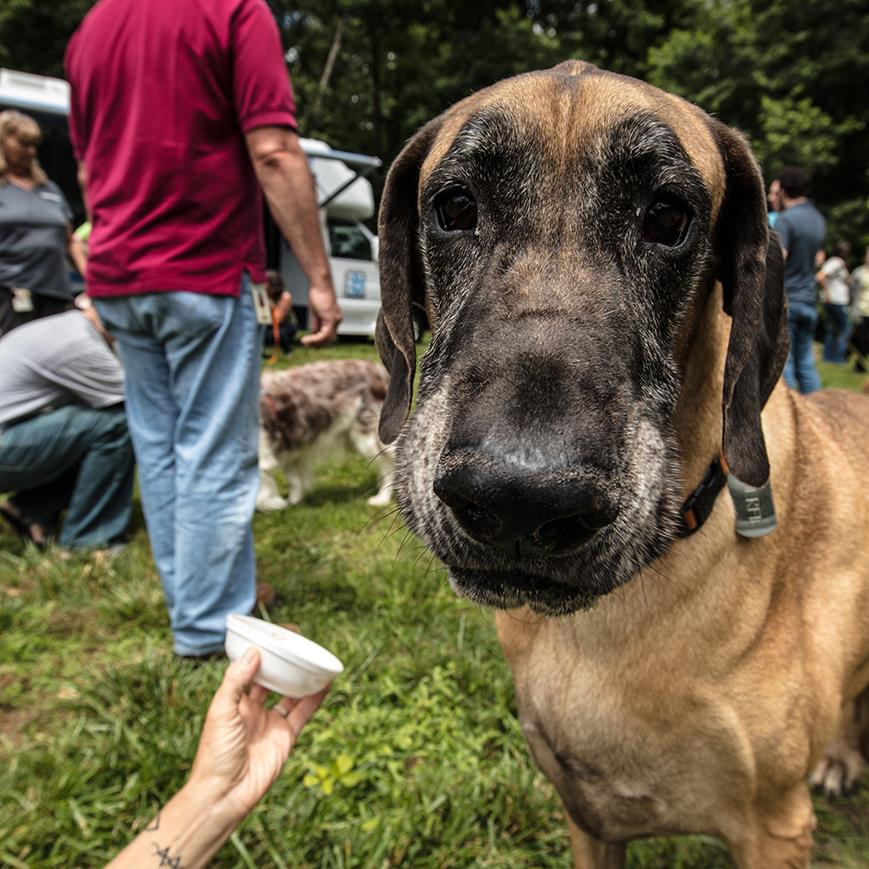 meet merf!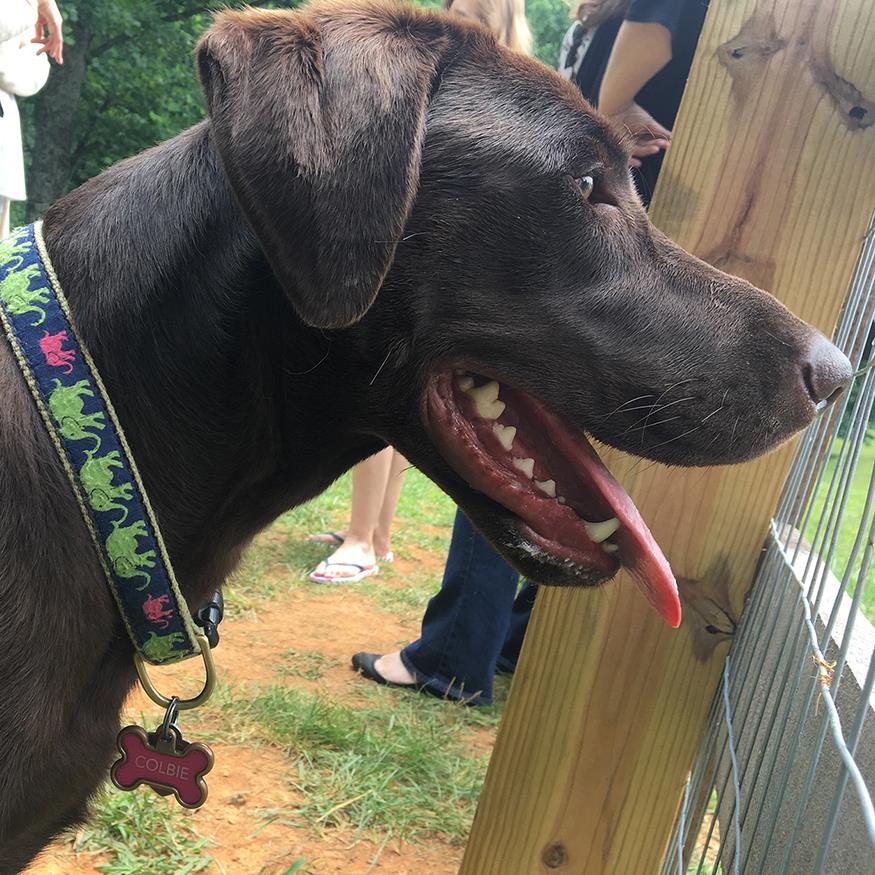 Meet colbie!
Fun Fact: Crutchfield is a pet-friendly workplace. Employees can bring their dogs to work every day. So basically, if you're a dog lover (like myself) this place is a little piece of heaven!
Friday
On Friday I created social media posts about the Pupapalooza event and got to share some pictures from Crutchfield's seriously talented photographers J and Martyn (they took all the photos above).
That afternoon all of the interns gathered for our first weekly meeting to talk about the things we'd been doing all week.
The marketing gals said that they had been to department meetings, and Rachel had already worked on creating display ads. Elliot from IT said that he had been learning all about the programs that his team uses on a regular basis and that he'd already worked on and completed a couple of projects.
We all agreed that it had been a great first week and we'd learned a lot already, which sets an exciting tone for the rest of the summer at Crutchfield!
Week 2
This week, the crew of interns just grew by one! Hunter joined us from a local high school through our state's Governor's School program and will be spending his summer working in IT.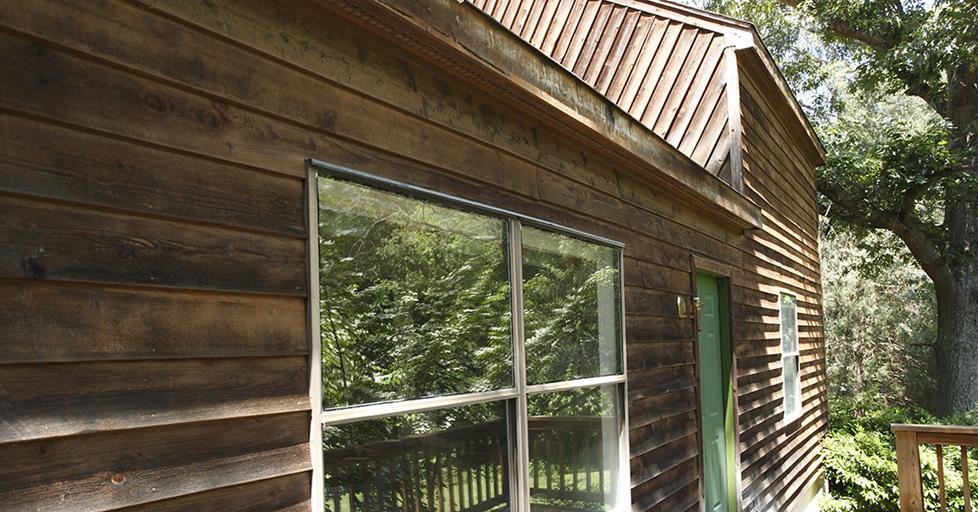 Lunch & Learn at The House
Fun Fact: "The House" was originally the Crutchfield family's home before the business was even opened. It's now used as a meeting space and was recently transformed into a Smart Home by the most recent training class of Crutchfield advisors, using products we sell.
Every Wednesday the interns attend a "Lunch and Learn" meeting. We're joined by a new speaker from a different department in the company, while enjoying a catered lunch (can you say intern perks?!).
It's a really unique opportunity to learn about the company and all that goes into making it run. We're encouraged to take advantage of the wealth of information that each speaker has by asking any and all questions that come to mind.
Lunch and Learn this week was held in "The House" which is located on the Crutchfield Headquarters campus and has been converted into a truly unique meeting space.
Our presenter was Laure, who spoke to us about business processes improvement. She's part of a two-person team that strategically tackles a variety of efficiency issues that pop up within the company. She explained that her job is never boring because she gets to work with so many different departments. Apart from the work that Laure currently does, she also gave us some background on her career — she came to Crutchfield from a considerably larger company, managing a huge team. It was really interesting to get her perspective on the differences and even some similarities that she saw between the two companies.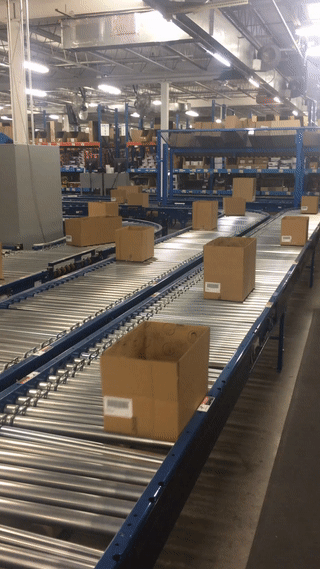 Week 3
Lunch and Learn at the Crutchfield Distribution Center
Week 3's Lunch and Learn gave us the opportunity to visit the Distribution Center again and meet up with Treva and Chris to learn about Corporate Transitions.
We talked about what has probably been one of the largest transitions Crutchfield has seen in recent years — the conveyor system in our Distribution Center. Chris explained that, in order to stay in the game, you have to always be on the ball, and that's one thing Crutchfield has never shied away from. Of course, this big operational change directly affected the Distribution Center, but the effects of the new system were also seen throughout the entire company, and by our customers.
Learning what "brand" means at Crutchfield
I also had the opportunity to meet with our Brand Manager, Julie. She talked to me about what Crutchfield is at the core and how we work to live up to the high standards that we set for ourselves as a company and that our customers expect from us. The idea, as a whole, seems so simple when you think about it, but in reality, it is a constant effort by all departments to consciously excel in every way that we communicate, create, and interact. Seeing the detail that goes into that process was pretty amazing, and it made a really positive impression of the company for me.
Work update
As far as day-to-day work goes, everyone is definitely keeping busy. Hannah has been working on Search Engine Optimization efforts to help our website stand out among the ranks of competitors. Rachel has been creating display ads that are posted on third-party websites to bring in online visitors to our site. The IT boys, Elliot, Andrew, and Hunter have been converting old ASP pages to SSRS reports and ASPX applications. Last but not least, I have been creating different types of social media posts. In July, you'll be seeing a bit more from Crutchfield on the social media front, so in preparation, I've been working on #TBT and #TriviaTuesday posts, among other content like GIFS promoting some of our awesome products!
Internship Wrap-up
Lunch and Learns
The rest of the summer sure flew by, or at least it felt like it here at Crutchfield! We were lucky enough to hear from employees in pretty much every department of the company. We learned so much about the innerworkings of the business that we never would have directly worked with in our individual positions.
Week 4
We heard from Amy more about brand and the content produced in the Creative Department.
Week 5
Rick from Merchandising explained how the company goes about carefully selecting exactly which products to sell and how we determine demand.
Week 6
Zach presented on basic business principles and how they relate to his work in the Marketing Department.
Week 7
We learned about strategic planning from Todd, which covered a lot of the company's successes, struggles, and how they plan for the future. He also talked about the ecommerce aspect of the business and our presence in Canada!
Week 8
We participated in a panel with employees from a variety of departments including Customer Service, IT, Marketing, and Sales. We circled up chairs and chatted for over an hour learning about each other and the work that everyone does. It was really informative and interesting to hear everyone's story.
Week 9
We met with HR and while we have worked with them all summer (their department hosts the meetings and internship program), we didn't know all too much about their day to day work. We learned about recruiting, how to understand the benefits a company offers, and in general how HR serves the company.
Week 10
As we entered the home stretch, the only people left to present were, well... us! This week's Lunch and Learn was run by the interns — we shared the work we have done this summer and what we've learned in the process. We presented to our mentors, managers, and the HR group who have led us through the entire program!
Volunteering
One of the coolest opportunities we had this summer was the day that we volunteered at the Blue Ridge Area Foodbank in Charlottesville Virginia. The interns, our mentors, and members of HR worked together to pack 300 bags of food for local families. We learned a lot about the people that the foodbank serves and how much of an impact volunteering makes. The bags that we made up included enough food to feed a family of four for a weekend, which we learned was one of the toughest times for those in need due to the lack of school-provided meals. While our efforts seemed minimal in the moment, it was very rewarding to give back to such an amazing community and know that we really were making a difference in someone's life.
Fun Around Crutchfield
If there's one thing Crutchfield has plenty of, it's fun! From demos of the awesome products we sell, to puppy pool parties and Pet Tech product testing events, to afternoons full of mini ponies, there's never a dull moment. Since I've been involved with social media, I've been lucky enough to get to cover a lot of the fun, which meant getting up close and personal with adorable pups, and snapping photos for Instagram of Gus the mini pony.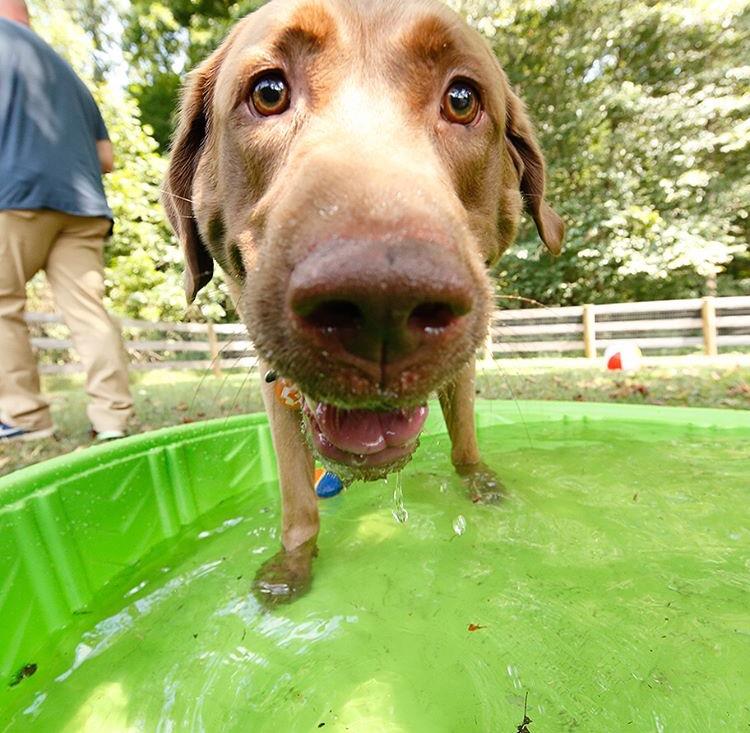 Cabell making a splash at the Pool Pawty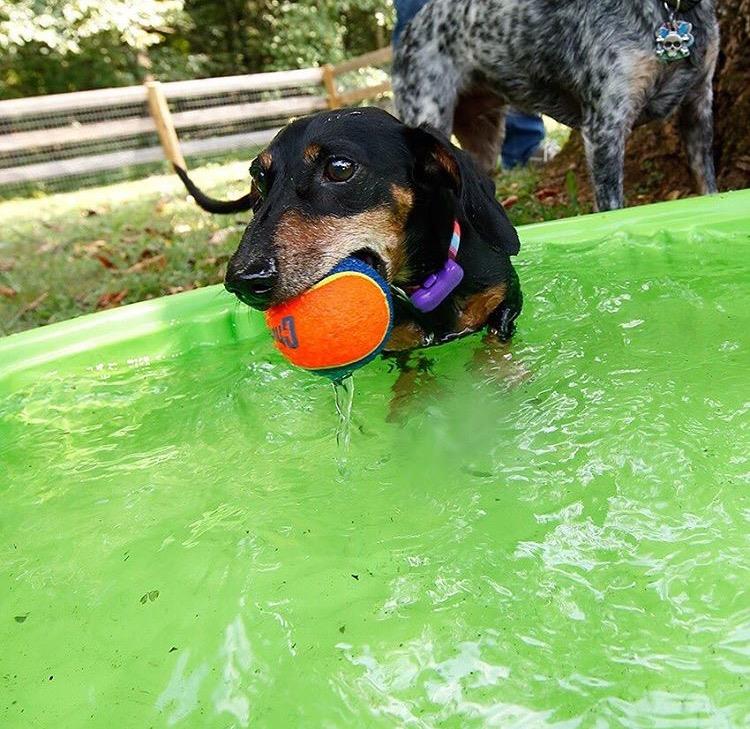 Lincoln taking a dip in the puppy pool.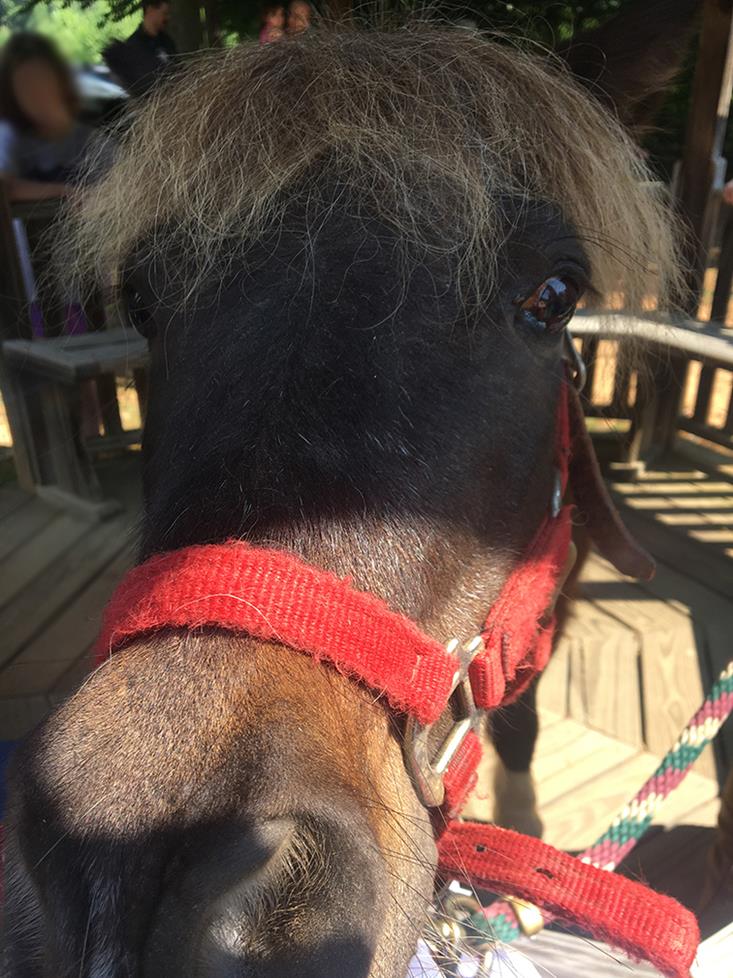 Gus the mini pony!
My experience
From the first week of the internship I had a really good feeling about the summer. The work was exciting and fun, the atmosphere was laid back, but everyone clearly worked hard and enjoyed what they did, and there was a lot of promise that I would come out of the internship having learned a lot. Turns out, I was right. My time interning here has definitely taught me a lot, not only about producing online content for a business, but about how businesses run as a whole, with tons of moving parts all working together as one. It has given me invaluable experience that I will surely use throughout my career.
The position I had allowed me to create content aimed towards an audience, to post that content on multiple online platforms, to see how the audience directly responded to the posts, and to interact with their feedback. What an awesome experience — thanks, Crutchfield!