About the Nikon Coolpix P950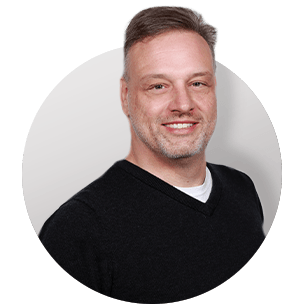 Capture blur-free super-telephoto images
With the Nikon Coolpix P950's 83X zoom lens fully extended, you'll be able to see — and photograph — faraway details your eye can barely focus on. I can think of several times I've wished for that: trying to capture a photo of a skittish animal or bird, or sitting in the cheap seats at a sporting event, for just a couple of examples.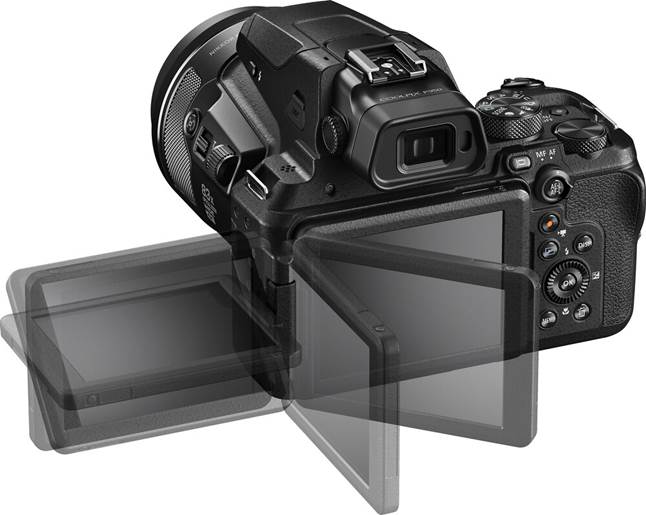 The Coolpix P950's 3.2-inch vari-angle LCD screen lets you frame your shot from any angle, even if you're in it.
Capture blur-free super-telephoto images
With the Nikon Coolpix P950's 83X zoom lens fully extended, you'll be able to see — and photograph — faraway details your eye can barely focus on. I can think of several times I've wished for that: trying to capture a photo of a skittish animal or bird, or sitting in the cheap seats at a sporting event, for just a couple of examples.
And you don't have to worry about your images coming out blurry at full zoom. The P950's grip-style body and large lens barrel let you hold it securely with both hands, and Dual Detect Optical VR (Vibration Reduction) effectively reduces image blur caused by any remaining camera shake when shooting handheld. For even more precise results, mount the P950 to a tripod and use the Nikon mobile app to turn your phone or tablet into a remote to trigger the shutter.
Explore your options
The P950 has intriguing possibilities for photographers on all levels. The vari-angle LCD viewscreen can be turned different ways so you can see your shot, even if you're in it.
Manual controls let you set up your shots carefully for the results you want, and in-camera editing effects let you fine-tune the photos after they're taken. If you don't know a lot about manual controls, the P950 makes a perfect starting point for unleashing your creative potential. When you'd prefer the camera to choose the settings, just turn the dial back to auto.
Shoot the moon, and catch a bird in flight
A selection of scene modes for specific subjects and environments gives you another way to control the look of your photos. A couple of special shooting modes are specially designed for use at the P950's full zoom capacity. Moon mode makes it easy to get detailed images of the lunar disc, craters and all, and Bird-watching mode makes it easier to get sharp photos of our feathered friends as they feed, nest, or take flight.
READ LESS
Product highlights:
16-megapixel CMOS sensor
records 4K Ultra HD video at up to 30 frames per second
83X optical zoom (up to 4X digital zoom)
35mm equivalent focal length: 24-2000mm

digital Dynamic Fine Zoom increases effective focal length to 4000mm

3.2" vari-angle LCD screen (921,000-dot)
high-resolution eye-level viewfinder (2,359,000-dot)
built-in flash
Wi-Fi and Bluetooth built-in
Dual Detect optical vibration reduction reduces image blur caused by camera shake
records photos and video onto optional SD, SDHC, or SDXC memory cards
EN-EL20a rechargeable lithium ion battery and charging station included
shutter speed: 1/4000-30 seconds

Bulb and Time settings (60 seconds max)

variable ISO sensitivity from 100-1600 (ISO 3200, 6400 available in P, S, A or M mode)
Special features:
Nikon SnapBridge technology for wireless image transfer to smartphones and tablets (requires free Nikon app for Apple® and Android™)
continuous shooting lets you take up to 10 shots at a rate of approximately 7 frames per second
Dynamic time-lapse movie mode
supports full-resolution RAW file format
Zoom Memory returns the camera to a pre-determined focal length when powered on
Smart Portrait System uses automatic functions like Smile Mode and Blink Warning to ensure great portraits
Scene modes including Party/Indoor, Sunset, and Pet Portrait give you optimal settings for specific subjects and shooting environments
easy-access Bird-watching and Moon modes
subject tracking and target finding autofocus ensure accurate focus on the intended subject
Connections:
USB port for connecting to your computer
micro HDMI (Type D) output for viewing photos and videos on a TV (cable not included)
standard 1/4" thread for tripod mounting
Dimensions and warranty:
5-5/8"W x 4-7/16"H x 5-15/16"D
weight: 2 lbs., 3.5 oz.
warranty: 1 year
MFR # 26532
What's in the box:
Nikon Coolpix P950 owner's manual
Digital camera (black)
LC-67 Lens cap (installed)
EN-EL20a Lithium-ion rechargeable battery with plastic terminal cover (7.2V 1110mAh 8.0Wh)
EH-73P AC adapter with USB output (DC output: 5V 1A)
HN-CP20 Lens hood
36" UC-E21 USB cable (Type A USB on one end and Micro-B USB on other end)
Neck strap
Quick Start Guide
SnapBridge Connection Guide
Warranty Programs sheet
Customer reviews for Nikon Coolpix P950
Loading...
Loading reviews...
Average review:
4.5 out of 5 stars
Thanks for submitting your review
Most reviews are processed and published within 5 business days. You will receive a confirmation email once your review has been published.
Customer photos
This review was collected as part of a promotion
More details on the Nikon Coolpix P950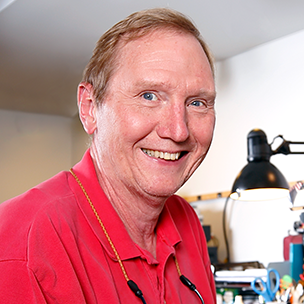 Researched by Crutchfield's

Mark G.
Features & specs
The Nikon Coolpix P950 replaces these items:
Product Research
Recording Features
Wireless Functions
Play, Edit and Print Functions
Battery Information
Inputs and Outputs Notes
Downloadable Software
Recording Features
Overview: The Nikon Coolpix P950 super-zoom camera is equipped with an 83x optical zoom lens with an angle of view equivalent to that of a 24-2000mm (in 35mm photography). This super-zoom Nikon camera is ideal for wildlife enthusiasts, birders, sports and travel, and astrophotography. There are special shooting modes for Moon photography and Bird-watching. The Coolpix P950 comes with a lens hood and shoulder strap.
83x Optical Zoom: The Coolpix P950 digital camera is equipped with a NIKKOR 83x wide optical Zoom ED VR glass lens for superb image quality. The lens has a focal length of 4.3-357mm that is equivalent to a 24-2000mm lens in 35mm photography. In addition to the optical zoom, there are two types of digital zoom: Dynamic Fine Zoom and full Digital Zoom. Dynamic Fine Zoom is approximately 2x the optical zoom value (or 4000mm) with little or no degradation of image quality. Beyond 2x, the full digital zoom enlarges the image up to 4x the optical zoom (up to 8000mm), but with a noticeable reduction in image quality. When you move beyond the optical zoom range, the digital zoom is activated and the zoom indicator changes to blue (for Dynamic Fine Zoom), and then to yellow (for full Digital Zoom). When recording 4K movies, the digital zoom magnification is up to 3.6x.
3.2" Vari-angle LCD Monitor: The Coolpix P950 has a 3.2" high resolution LCD monitor featuring approximately 921,000 dots, an anti-reflection coating and a 5-level brightness adjustment. The LCD monitor has approximately 99% horizontal and vertical coverage in shooting mode and approximately 100% in playback mode. The Vari-angle display swivels out 180° and rotates 270° for high- and low-angle shots, as well as self-portraits. The monitor can be turned completely around and faced inward to protect the LCD screen when using the viewfinder only or when not in use.
Electronic Viewfinder: In addition to the 3" LCD monitor, the camera has a 0.39" OLED Electronic Viewfinder with approximately 2,359,000 dots. It has approximately 99% horizontal and vertical coverage in shooting mode and approximately 100% in playback mode. The EVF has a diopter adjustment to allow you to set the image to your eyesight.
Image Sensor: The Coolpix P950 features a 1/2.3" CMOS image sensor with approximately 16.79-million total pixels and 16.0-million effective pixels.
Recording Media: Images can be recorded onto SD, SDHC, or SDXC Memory cards, including UHS-I compliant cards. When an SD Memory card is inserted in the camera, the images are automatically recorded onto the card. Memory cards with an SD Speed Class rating of 6 or faster are recommended for recording movies. When recording 4K UHD movies, cards with a UHS Speed Class 3 or faster are recommended.
Zoom Memory: When the zoom control is operated, the zoom stops at the following preset focal lengths: 24mm, 28mm, 35mm, 50mm, 70mm, 85mm, 105mm, 135mm, 200mm, 300mm, 400mm, 500mm, 600mm, 800mm, 1000mm, 1200mm, 1400mm, 1600mm, 1800mm, and 2000mm. The function is similar to having 20 different prime lenses on a DSLR camera. You can select any or all of the presets in the menu. (Zoom Memory is only available in the P, S, A, M, or U shooting modes.) You can set the camera to a specific Startup Zoom Position in advance (24mm, 28mm, 35mm, 50mm, 85mm, 105mm, or 135mm).
Zoom Controls: The camera features two separate zoom controls. One is located on the top surrounding the shutter release to be controlled by the right hand. The other is located on the left side of the lens barrel, for operation of the zoom by the left hand. A Snapback Zoom Button, on the left side of the lens barrel, that lets you quickly zoom out to recapture distant subjects that may have moved out of frame. When you release the button, the lens snaps back to the previous zoom position.
Dual Detect Vibration Reduction: The Coolpix P950 offers Dual Detect Vibration Reduction (VR) image stabilization to reduce blurring caused by camera shake when shooting. The camera automatically detects the panning direction (horizontally or vertically) and compensates for camera shake by shifting the lens. For still images, the camera uses the lens-shift method of vibration reduction. For movies, a combination of lens-shift and electronic VR is used. There are four modes of VR to choose from: Normal, Active, Normal (framing first), and Active (framing first). The level of compensation for Normal and Active is higher than that of Normal (framing first) and Active (framing first). When using Dual Detect Vibration Reduction, the camera effectively reduces image blur caused by camera shake with an equivalent of shooting at a shutter speed 5.5 stops faster (in Normal road).
Built-in Wi-Fi + Bluetooth/Nikon SnapBridge: The Coolpix P950 has built-in Wi-Fi and Bluetooth, which allow you to wirelessly connect the camera with your smartphone or tablet. Through the wireless connection and the Nikon SnapBridge app, you can automatically load photos and videos to your device as you take them, use your smart device to remotely take photos on the camera, or download existing pictures from the camera's memory card to your device. Once you have downloaded images to your smartphone, you can share them via email, texts, or social networking sites.
Note: The Nikon Snapbridge app is compatible with devices running Android 5.0 and up, or iOS 10.0 or later (iPhone, iPad, iPod touch).
File Formats: The Coolpix P950 records still images in JPEG format. 4K UHD, Full HD and HD movies are recorded in MP4 format (Video: MPEG-4 AVC/H.264, Audio: AAC stereo). You can choose Fine (1:4) or Normal (1:8) compression ratios for still images. There are seven still image size options and eight movie options:
Still Images:

16M: 4608 x 3456
8M: 3264 x 2448
4M: 2272 x 1704
2M: 1600 x 1200
16:9 12M: 4608 x 2592
3:2 14M: 4608 x 3072
1:1 12M: 3456 x 3456

Movies:

4K UHD: 3840 x 2160 (30 fps)
Full HD 1080/30p: 1920 x 1080 (30 fps)
Full HD 1080/60p: 1920 x 1080 (60 fps)
HD 720p/30p: 1280 x 720 (30 fps)
HD 720p/60p: 1280 x 720 (60 fps)

HS Movies (no sound recorded):

HS 480/4x (640 x 480): 1/4x speed playback (record up to 7 min 15 sec; playback 29 min)
HS 720/2x (1280 x 720): 1/2x speed playback (record up to 14 min 30 sec; playback 29 min)
HS 1080/0.5x (1920 x 1080): 2x speed playback (record up to 29 min; playback 14 min 30 sec)
RAW Images: RAW image data from the image sensor are saved without additional processing. RAW images are recorded in Nikon's own format RAW (NRW). RAW images cannot be processed in the camera. You will need to install Nikon's NX Studio software on your computer to view, edit, and convert the images to JPEG or another format. If desired, you can capture one RAW image and one JPEG image (in Normal or Fine compression) simultaneously. When shooting RAW images, the image size is set to 16M 4608 x 3456.
Shooting Modes: Using the top-mounted Mode Dial, you can choose one of the following shooting modes:
Auto Mode: This is an automatic "point-and-shoot" mode recommended for first-time users of digital cameras.
Programmed Auto Mode (P): The Programmed Auto Mode is a simple point-and-shoot mode in which the majority of camera settings are controlled by the camera. The camera will automatically set the shutter speed and aperture. This mode is recommended for most situations.
Shutter-Priority Auto Mode (S): The Shutter-Priority Auto Mode allows you to choose the shutter speed and lets the camera select the aperture value for best results when freezing or blurring motion.
Aperture-Priority Auto Mode (A): The Aperture-Priority Auto Mode allows you to choose the aperture value and lets the camera select shutter speed for best results when using to blur background or bring both foreground and background into focus.
Manual Mode (M): The Manual Mode allows you to control exposure by adjusting the shutter speed and aperture manually.
User Setting Mode (U): Settings that are frequently used for P, S, A, and M shooting modes can be saved in the User Setting Mode. The saved settings can be immediately retrieved for shooting by simply rotating the mode dial to "U".
Creative Mode: The Creative Mode lets you apply up to five types of effects while shooting: Light (Dream, Morning, Pop, Sunday), Depth (Somber, Dramatic, Silence, Bleached), Memories (Melancholic, Pure, Denim, Toy), Classic (Sepia, Blue, Red, Pink), or Noir (Charcoal, Graphite, Binary, Carbon).
Scene Mode: You can select Scene Auto Selector to let the camera choose the appropriate scene setting, or manually select one of 21 scene modes: Portrait, Landscape, Sports, Night Portrait, Party/indoor, Beach, Snow, Sunset, Dusk/dawn, Night Landscape, Close-up, Food, Fireworks show, Backlighting, Easy Panorama, Pet portrait, Soft, Selective Color, Multiple Exposure Lighten, and Time-lapse Movie.
Moon: Lets you capture images of the moon in a telephoto position. Use of a tripod is recommended.
Bird-watching: For capturing images of birds in a telephoto position. You can take a series of images in Continuous Mode (10 images at a rate of about 7 fps).
Continuous Shooting: In the P, S, A, M, or U shooting modes, you can select in the menu from the following single or continuous shooting options:
Single: One image is shot each time the shutter-release button is pressed.
Continuous H: Up to 7 pictures are shot at a rate of about 7 frames per second each time the shutter button is held down.
Continuous L: Up to 200 pictures are shot at a rate of about 1 frame per second each time the shutter button is held down.
Pre-shooting Cache: To avoid missing a shot, the pre-shooting cache begins when the shutter-release button is pressed halfway, and continues when the button is pressed all the way. Frame rate is about 15 fps. Up to 40 frames are captured, including up to 10 frames captured in the pre-shooting cache. Image size is fixed at 1M: 1280 x 960.
Continuous H 120 fps: Each time the shutter-release button, 60 frames are captured at a speed of about 120 fps or faster. Image size is fixed at VGA 640 x 480.
Continuous H 60 fps: Each time the shutter-release button, 60 frames are captured at a speed of about 60 fps. Image size is fixed at 16:9 2M 1920 x 1080.
Interval Shooting: The camera shoots still images automatically at a set interval. You can choose an interval of between 30 seconds to 60 minutes in 30-second increments.
Self-timer: The camera is equipped with a 10 second for self-portraits and 3 second timer to prevent camera shake. In addition, the camera can use face detection to detect human faces, and automatically release the shutter when a smile is detected (Smile Timer).
AF Modes: When shooting still images or movies you can choose between two auto-focus modes:
Single AF: The camera focuses when the shutter-release button is pressed halfway and locks at this position during recording.
Full-time AF: The camera constantly adjusts focus, even when the shutter-release button is not pressed.
AF Area Mode: You can select between the following AF Area Modes to determine how the camera selects the focus area for Auto Focus:
Face Priority: When the camera recognizes a face (front view only), the camera will focus on the face automatically.
Manual: You can manually select one of up to 99 focus areas in the monitor. This method is handy when the intended subject is not positioned in the center of the frame, and is relatively still. You can choose spot, normal, or wide to change the size of the movable focus area.
Subject Tracking: Once you select a subject to focus on, the focus area will move and follow the subject.
Target Finding AF: The camera will adjust the focus on what it determines to be the main subject. If no main subject is detected, it automatically selects the subject closest to the camera as the subject.
Focus Modes: You can choose a focus mode according to the subject and composition. The choices include:
Auto Focus: Camera automatically adjusts the focus. Focusing distances: 1'-8" to infinity (W), 16'-5" to infinity (T).
Macro Closeup: Macro mode is used for taking pictures of objects as close as 0.4"
Infinity: For use when shooting distant scenes through window glass or when shooting landscapes. A second infinity setting is for use when shooting the sky or a fireworks show.
Manual Focus: The focus can be adjusted for any subject 0.4" to infinity from the lens. The side dial on the left side of the lens is used to adjust the focus while viewing the image on the monitor. (Only available in certain shooting modes.)
Focus Lock: The Focus Lock feature is used to focus on off-centered subjects in the frame while shooting in Center AF mode.
AF-Assist Illuminator: If lighting is poor, the AF-assist illuminator may light to assist the focus operation when the shutter-release button is pressed halfway. The illuminator has a range of about 16' at maximum wide angle and the maximum telephoto position. You can turn this function on or off.
Exposure Compensation: You can alter the exposure from the value suggested by the camera, making pictures brighter or darker. You can adjust the exposure from -2.0 to +2.0 EV in 1/3 EV steps, using a rotary multi-selector on the back of the camera.
Exposure Bracketing: The exposure can be changed automatically during continuous shooting. With Exposure Bracketing, the camera takes three images, one at the set exposure, one overexposed, and one underexposed. You can set the compensation interval to +/-0.3, +/-0.7, or +/-1.0.
ISO Settings: Sensitivity is the measure of how quickly the camera reacts to light. The higher the sensitivity, the less light needed to make an exposure. The camera lets you select the ISO automatically within a set range, from ISO 100 to a maximum of ISO 400, 800, 1600, 3200, or 6400. You can also manually select the ISO setting at 100, 200, 400, 800, 1600, 3200, or 6400. In the Minimum Shutter Speed, you can choose the shutter speed at which ISO sensitivity starts to be automatically adjusted when shooting in P or A mode. If the exposure is insufficient with the set shutter speed, the ISO Sensitivity automatically increases to obtain the optimal exposure.
White Balance: You can set the White Balance to Auto Normal, Auto Warm Lighting, Daylight, Incandescent, Fluorescent (FL1 cool white, FL2 day white fluorescent, FL3 daylight fluorescent), Cloudy, or Flash. You can also choose Preset Manual and use a neutral-colored object as a reference to set the white balance under unusual lighting conditions.
Color Temperature: You can choose one of 11 different Color Temperature settings (instead of a preset White Balance setting): Sodium-vapor lamps (2700K), Incandescent/Warm-white fluorescent (3000K), White Fluorescent (3700K), Cool-white fluorescent (4200K), Day white fluorescent (5000K), Direct sunlight (5200K), Flash (5400K), Cloudy (6000K), Daylight fluorescent (6500K), High temp. Mercury-vapor (7200K), and Shade (8000K).
Built-in Flash: The Coolpix P950 has a built-in pop-up flash with a range of 1' to 41' (Wide angle) and 17' to 26' (Telephoto to 2000mm equivalent). When the focal length is equivalent to 3000mm lens, the range becomes 23'-26' at ISO 3200 and 23'-38' at ISO 6400. You can choose from the following flash modes:
Auto: Flash fires automatically when lighting is poor.
Auto with Red-eye Reduction: Pre-flash fires before main flash to reduce red-eye effect.
Fill Flash: Flash will fire whenever a picture is taken.
Slow Sync: Auto flash combined with slow shutter speeds.
Rear Curtain Sync: Fill flash fires just before the shutter closes, creating the effect of a stream of light behind moving objects.
Accessory Shoe: The Coolpix P950 has an ISO 518 Accessory Hot-shoe with sync and data contacts for use with Nikon Speedlights (external flash units) or microphones. Optional Speedlights SB-5000, SB-700, or SB-300 can be used on the camera. If an external microphone is used, you can adjust the sensitivity of the microphone manually or automatically. When the Accessory Shoe is not in use, you can attach a BS-1 Accessory Shoe Cover (sold separately from the manufacturer) to protect the contacts.
Flash Exposure Compensation: You can adjust the flash output in cases where the flash is too bright or too dark. Flash Exposure Compensation lets you increase the flash output by +0.3 to +2.0 EV, or decrease the output from -0.3 to 2.0 EV.
Other Options: Nikon offers two accessories specially designed for the Coolpix P950. The ML-L7 wireless remote control lets you zoom in or out, change the aperture or ISO settings, start movie recordings or shoot still images without touching the camera. It connects wirelessly via Bluetooth and is extremely helpful when shooting from a tripod. The DF-M1 Dot Sight attaches to the camera's hot shoe, and helps you acquire distant objects by acting as a wide-angle targeting device. You can line up your subject in the Dot Sight in a normal field of view and maintain sight of it even at extreme magnifications.
Wireless Functions
Wi-Fi: The Nikon P950 has built-in Wi-Fi capability (IEEE 802.11 b/g) that can be used with compatible iOS and Android smartphones and tablets for transferring still images and movies (up to 2 megapixels) from the camera. You can also adjust camera settings and take photos remotely. Once images are loaded to your phone or tablet, you can share them on your favorite social media sites, or with others. Your device must have the Nikon SnapBridge app.
Bluetooth: The camera also has built-in Bluetooth technology (version 4.1) for transferring images and remote operation. In addition, you can add location information from your smart device to your still images and movies through the SnapBridge app. The optional ML-L7 wireless remote control operates via Bluetooth with the camera.
Play, Edit and Print Functions
Slide Show Playback: View pictures in the internal memory or on the memory card in an automatic slide show with 2, 3, 5, or 10 seconds between pictures. If desired, you can loop the slideshow so it will continuously play. Maximum slide show duration is 30 minutes without operation.
Thumbnail Playback: During playback, you can view multiple thumbnail images (4, 9, 16, or 72) at a time. While these "contact sheets" are displayed, you can use the multi-selector to highlight individual pictures. Highlighted pictures can be deleted, if desired.
Calendar Display: This feature displays a calendar allowing you to select and view pictures taken on the same date.
Playback Zoom: During playback, you can enlarge a still image up to 10x. Once the image is zoomed, you can use the multi-selector to scroll around to non-visible portions of the image. You can record a new picture of the cropped image by pressing the shutter button.
Mark for Upload: Still images stored in the camera can be selected in advance before transferring to a smart device via Wi-Fi or Bluetooth.
Rotate Image: Recorded pictures can be rotated 90-degrees clockwise or counter-clockwise on the unit's LCD screen.
Editing Picture: You can use the Coolpix P950 to edit recorded pictures in-camera and store them as separate files. You can choose from the following editing functions:
Quick Retouch: Quick Retouch can be used to easily create retouched copies in which contrast and color saturation have been enhanced.
D-Lighting: D-Lighting can be used to brighten dark or backlit subjects. While playing back an image, you can select the D-Lighting function, apply it, and save the corrected image without harming the properly exposed areas of the image.
Skin Softening: The camera recognizes faces in pictures and creates a copy with softer facial skin tones.
Filter Effects: You can apply the following digital filter effects: Soft Portrait, Selective Color, Cross Screen, Fisheye, Miniature Effect, Painting, Vignette, Photo Illustration, and Portrait (color + B&W).
Resizing Pictures (Small Picture): You can create a small copy of a recorded image. The copy will be stored as a JPEG file with a compression ratio of 1:8. You can choose from the following sizes: 640 x 480 (suited to television playback), 320 x 240 (suited to display on web pages), or 160 x 120 (suitable for email attachments).
Crop: Creates a copy containing only a portion visible on the monitor.
Clean HDMI Output: You can output the Live View image without the information display to an HDMI-compatible device. This is helpful when you want to record images from the camera to a commercially available external recorder. When Clean HDMI Output is enabled, you cannot output 4K images.
Multi-Language Menu: You can choose from 31 different menu display languages including English, Spanish and French.
Battery Information
Power Requirements: The Coolpix P950 is powered by the supplied EN-EL20a rechargeable Lithium-Ion battery (7.2V, 1110mAh, 8.0Wh). The battery is charged using the supplied EH-73P Charging AC adapter. A fully charged battery will last for up to approximately 290 still image shots or 1 hour 20 minutes of movie shooting. A fully-exhausted battery charges in about 3 hours. When connected to a computer, the battery requires about 7 hours and 30 minutes to fully charge.
Auto Off: When the camera is operated on battery power, the Auto Off mode will automatically turn off the monitor to reduce the drain on the batteries if no operations are performed for the length of time specified in the Auto Off menu. The time limit for the Auto Off mode can be set to 30 seconds, 1 minute, 5 minutes or 30 minutes.
Inputs and Outputs Notes
HDMI: The Coolpix P950 is equipped with a Micro-HDMI (Type D) output, allowing you to connect the camera to an HDTV.
USB Port: The camera features a Micro USB port on the side of the camera for connecting the supplied USB cable (UC-E21) to download your photos to your computer or printer. The USB interface is USB 2.0 Hi-Speed compatible.
Downloadable Software
NX Studio: No software is included in the box with the camera. NX Studio is a new all-in-one software for viewing, processing, and editing your still images and videos. The software integrates all the benefits and functions of Nikon's ViewNX-i and Capture NX-D into a highly functional single software solution. With NX Studio, you can edit your photos using picture controls, white balance settings, and exposure compensation for RAW data. New features include color control points to adjust a specific area of a photo, and a retouch brush feature for advanced color correction. NX Studio works with JPEG, TIFF, and NEF (RAW) files. NX Studio is available as a free download, and works with the following Operating Systems: Windows 10, Windows 8.1, and macOS Big Sur (ver.11), Catalina (ver.10.15), and Mojave (ver.10.14)
The Nikon Coolpix P950 replaces these items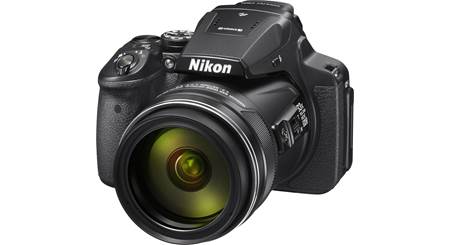 16-megapixel camera with 83X optical zoom, Wi-Fi® and GPS
83X optical zoom for detailed captures of distant subjects
3" high-resolution (921,000-dot) vari-angle LCD display with anti-glare coating and adjustable brightness
built-in Wi-Fi and GPS for instant tagging and sharing
Loading...
Loading accessories...
1 question already asked
Q
Is this camera a gray , or international camera ?
tom Nov 28, 2022
A
Greetings Mark, and thank you for your question. You would be better served buy one of our well trained product advisors. Please call 800-324-9695 and speak to one of our specialists.
hogan Nov 29, 2022
(Staff)
A
Greetings Tom, and thank you for your question. Crutchfield is an authorized dealer for everything we offer to sell including Nikon. Purchased from Crutchfield you are getting a U.S. model for sale in the U.S.
hogan Nov 29, 2022
(Staff)
Loading...
Loading articles...