About the JBL Quantum ONE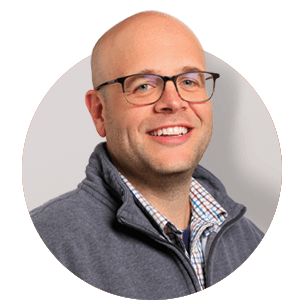 Textured, three-dimensional sound for serious gamers
When video games cross over from a time-consuming habit to lucrative career, the true professionals start taking their gear more seriously. That's where the JBL Quantum ONE headset comes in — the statement piece of the company's
new line of gaming headphones
. This ambitious headset features high-grade 50mm drivers under the hood, along with a 3D surround sound technology that can track the movement of your head.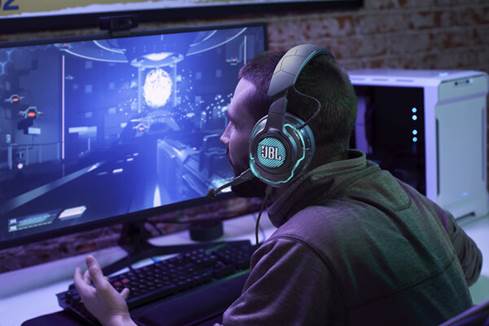 High-grade 50mm drivers deliver clear, detailed sound while built-in head-tracking provides a sense of space.
Textured, three-dimensional sound for serious gamers
When video games cross over from a time-consuming habit to lucrative career, the true professionals start taking their gear more seriously. That's where the JBL Quantum ONE headset comes in — the statement piece of the company's new line of gaming headphones. This ambitious headset features high-grade 50mm drivers under the hood, along with a 3D surround sound technology that can track the movement of your head.
Active noise cancellation helps remove external distractions. And game soundtracks have clarity, power, nuance, and realistic sense of space. After all, the most advanced players rely on the directional and spatial cues they hear as much as what they see on-screen. I have a sample on the way, but JBL is already has already earned rave reviews from some of the leading gaming publications.
Cutting-edge head-tracking tech adds a new dimension to surround sound
What sets the ONE apart from the other Quantum headphones is JBL's QuantumSPHERE 360° technology. Inside the headphones, there's a gyroscope that constantly tracks the position of your head. As you lean or turn your head, the sound field stays fixed and centered.
From there, you can hear the exact positioning of approaching footsteps, the distinct sounds of different weapons, and all the other important sonic cues. It's no longer as if you're wearing headphones — more like you're smack in the middle of the game's soundscape. Almost the audio equivalent of a visual virtual reality experience.
Hands-on with JBL's special software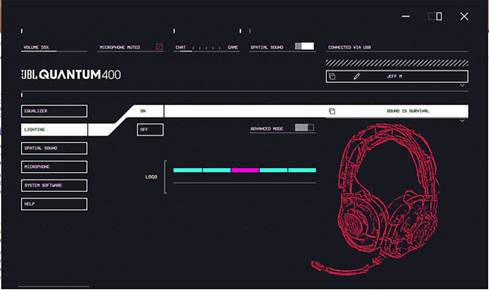 The Windows PC app gave me control of everything from the surround sound to the pattern of the headset's multi-color LED lights.
You gain access to the headtracking and surround sound processing — plus a suite full of cool customization features — by downloading the QuantumENGINE software to your Windows PC. I haven't used these advance features unlocked by Quantum ONE headset, but I did give the software a spin with both the JBL Quantum 400 and Quantum 600 headsets.
I really enjoyed the extra level of control over the simulated surround sound processing. I could dial it in based on my headsize and height. When audio played, the app gave me a visual representation of where the sounds were coming from. Graphics of speakers were positioned all around a 3D avatar of my head, an each would "pulse" when the sound was coming from their direction.
JBL's advanced surround sound processing
The surround processing was effective with the right material. I didn't do any gaming, but I did watch some videos mixed for surround sound. (With three young kids, I've kind of been forced into retirement from Madden and Red Dead — but we plan on having some of our Crutchfield gaming enthusiasts try out the Quantum series soon.)
The new season of the Netflix docuseries Formula 1: Drive to Survive was a good fit for these headphones. All of the visceral racing action and tire changes came through with punch-to-the-gut impact. But then in lower-key moments, like an office meeting between a driver and race sponsor, I heard subtle atmospheric nuances that provided a richer sense of place. For example, even though they were in a nondescript conference room, I heard a faint background murmur of machinery that told me they were within walking distance of the manufacturing area.
Wired connection to your PC or console game controller
You'll need to connect to your PC via the provided USB-A adapter cable to take advantage of the QuantumENGINE software — and the surround sound processing. This cable is over four feet long, so it gives you some extra slack. And it feels nice and durable thanks to the woven-fabric covering.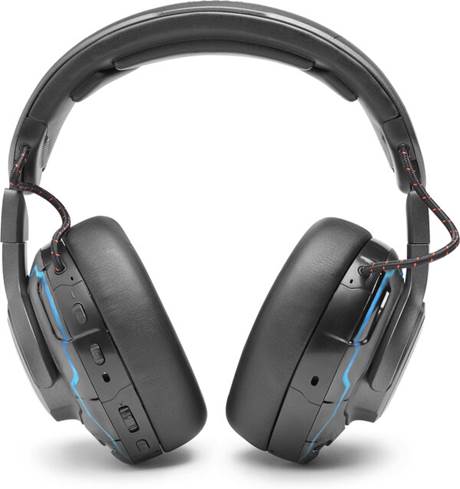 The leather ear pads and headband padding are both filled with thick memory foam for a secure, well-cushioned fit.
That adapter attaches to another cable terminated by a 3.5mm miniplug. So you can also connect to the headphone jack at the bottom of your Xbox ONE or PS4 controller (and some third-party Nintendo Switch controllers) for two-channel sound. You should be able to make the same type of connection on the forthcoming Xbox Series X and PlayStation 5 controllers, based on the specs released by those companies.
Battle-tested sound
JBL's special headphone sound signature has been honed by years and years of research and exhaustive user testing. We've visited their U.S. headquarters in California and seen their impressive testing facilities — they take this stuff seriously. It's helped them develop a sound profile that's been proven to satisfy most listeners — and gamers.
Secure, well-cushioned fit
Gamers often end up wearing headphones for even longer stretches than we serious music listeners. So JBL added an thick layer of soft memory-foam padding to the Quantum ONEs earcups and headband. They are larger and heavier than most gaming headphones, but the weight is distributed evenly.
One tip for all-day PC gamers: in the QuantumENGINE software suite, choose the EQ setting called "long session." It will smooth out some of the higher frequencies, so you don't get those harsh sounds that can grate on you over time.
Convenient communication and control
You'll find a game/chat balance dial on the USB-C to USB-A cable. It gives you quick and easy control over the audio mix for multi-player games. It is certified for use with DISCORD, and compatible with other chat software including TeamSpeak.
On the left earcup, there's a raised volume dial that's easy to find with your finger. The detachable directional microphone is tuned to pick up voices for clear-sounding chat. You can quickly mute the mic by pushing the dedicated button below the volume dial.
READ LESS
Product highlights:
over-ear, closed-back design provides noise isolation
active noise-canceling technology reduces external sounds
50mm drivers deliver clear sound with deep bass emphasis

JBL's QuantumSOUND signature tuned for immersive gaming sound with hard-hitting effects

integrated head-tracking and sound localization for immersive 3D surround sound
detachable voice-focused directional boom microphone
Build and controls:
durable design with snug, secure fit

premium leather ear pads and headband with extra-thick memory foam to relieve pressure

LED earcup logos and linings with chasing RGB lighting effects
controls on left earcup:

balance dial controls audio mix for gameplay and chat
overall volume control dial
microphone mute button
JBL QuantumENGINE software suite and surround sound:
downloadable PC software that lets you adjust settings and update firmware to Quantum headset

headset must be connected to computer via USB cable

JBL QuantumSPHERE 360 offers real-time head-tracking and 3D processing

sound field stays fixed and centered as you move your head
uses included calibration mic to help localize sound

customizable surround sound decoding up to 7.1 channels

helps provide directional and spatial awareness cues
customize the sound based on your head size and body height

DTS headphones:X v2.0 virtual surround sound
choose from existing audio profiles or manually dial-in EQ
fine tune microphone settings
choose LED lighting pattern for earcup logo
Connections and cables:
detachable 53" fabric-covered cable terminated with a 3.5mm miniplug

can connect to PlayStation or Xbox controller
two-channel stereo listening mode only

detachable 9-foot USB-C to USB-A cable with in-line Game/Chat balance control

for connecting to PC for sound, firmware updates, and QuantumENGINE software
General info and specs:
frequency response: 20-40,000 Hz
impedance: 32 ohms
sensitivity: 97 dB
weight: 13.1 ounces
warranty: 1 year
MFR # JBLQUANTUMONEBLKAM
What's in the box:
JBL Quantum ONE owner's manual
Gaming headphones
Plug-in boom microphone
Foam windscreen for microphone (installed)
Calibration microphone with attached 19" cable (3.5mm plug)
9' USB cable with in-line Game/Chat balance dial (Type A USB on one end and USB-C on the other end)
53" Audio cable with inline remote (straight 3.5mm plug on one end and angled 3.5mm plug on other end)
Quick Start Guide
Warranty Card
Attention sheet
Customer reviews for JBL Quantum ONE
Loading...
Loading reviews...
Average review:
3.0 out of 5 stars
Thanks for submitting your review
Most reviews are processed and published within 5 business days. You will receive a confirmation email once your review has been published.
Customer photos
This review was collected as part of a promotion
More details on the JBL Quantum ONE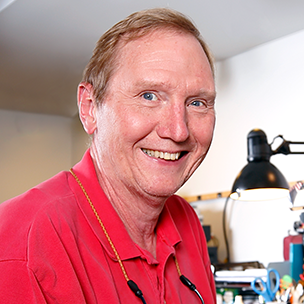 Researched by Crutchfield's

Mark G.
Product Research
Features
Overview: The Quantum ONE is JBL's flagship headset for gamers, providing a realistic gaming experience with the JBL QuantumSOUND Signature, Hi-Res audio performance, and pro-level 3D audio positioning. The headset features a directional microphone on a plug-in adjustable boom, and memory foam ear pads and headband for a comfortable fit during long gaming sessions. The Quantum ONE comes with interchangeable cables to work with multiple platforms. With the Quantum ONE's USB cable, you can enjoy JBL's QuantumSURROUND with your PC, for an even more immersive experience. The 3.5mm cable supports multiple platforms while the USB cable works with your PC, Mac, or PlayStation. In addition, the Quantum ONE offers Active Noise Cancelling so you can shut out ambient noise, so you can be on your best game.
JBL QuantumENGINE: JBL's downloadable QuantumENGINE PC software takes your gaming experience to the next level. Using advanced algorithms and overhead audio, QuantumENGINE provides more realism and a spacious soundstage to put you in the center of the action. QuantumENGINE adds multi-channel surround sound, multi-zone RGB illumination, 3D audio virtualization, and additional audio controls. You can also personalize your JBL Quantum gaming headphones with customized audio features and special light effects and colors. QuantumENGINE software requirements: Windows 7 or higher, 500MB of free hard drive space for installation is required. The headphones are also equipped with DTS Headphone: X v2.0.
Note: Not all software features are available for all Quantum headphone models.
JBL QuantumSPHERE 360™: QuantumSPHERE 360™ is the next-level enhancement of QuantumSURROUND to give you a professional level of 3D audio positioning. QuantumSPHERE 360 uses a head-tracking sensor to fix sounds in the 360° of space around you to make your instincts better. With typical headphones, when you move your head, the soundscape follows. With QuantumSPHERE 360, the sound source's perceived location stays in place because the head-tracking sensor compensates for your head movement. During play, if there's a sound coming from directly in front of you, the sound's location will move to your right ear if you turn your head to the left.
Earcup Design: The Quantum ONE's over-ear headset features soft memory foam ear pads for comfort, durability, and even passive noise reduction. The large, integrated rotary volume control, located on the left earcup, gives you easy and fast sound level adjustment at your fingertips.
Hi-Res Drivers: Quantum ONE's large 50mm dynamic drivers deliver JBL's QuantumSOUND Signature for more realistic gaming. With their extended frequency response (20-40kHz), the drivers have been Hi-Res certified, and deliver the most realistic soundscape available.
Active Noise Cancelling (ANC): The Quantum ONE offers Active Noise Cancelling (ANC) that is designed for the gaming environment. ANC eliminates unwanted background noise to you can concentrate on your game without distraction. In addition, the TalkThru feature amplifies the background noise to let you carry on a conversation without having to remove the headset. Active Noise Cancelling and TalkThru can be turned on or off through the dedicated button on the left ear cup.
QuantumLIGHTING: The JBL logos on each earcup can be backlit to any color you desire. Using the QuantumENGINE software, you can customize your headset by adding RGB color to the logos while you play. A long press of the mute button on the left earcup will let you toggle QuantumLIGHTING on or off as desired.
Microphone: The plug-in boom microphone has a voice focusing directional pattern so your communications are crystal clear. It has a frequency response of 100-10kHz, and a sensitivity rating of -41 dBV/PA. The 6mm x 2.7mm microphone is on a flexible 5" boom that allows you to adjust it into an optimum position. A foam windscreen for the microphone is included to cut down on wind noise and plosive sounds.
Connections: The Quantum ONE comes with dual cable options. The 4' fabric-covered audio cable with 3.5mm plugs on both ends supports Xbox, PlayStation, Nintendo Switch, mobile, Mac, and VR platforms. The cable features a convenient in-line volume control and mute button. The included 9' USB-A to USB-C cable provides connection to PC, Mac, and PlayStation. The cable has a large in-line rotary control for dialing in the optimum balance of game audio and chat. The control is certified by DISCORD, and compatible with TeamSpeak, Skype, and other communication platforms. With an optional USB-C to USB-C cable, you may be able to connect to a PC, mobile device, laptop, and Nintendo Switch (may not work with all models).
Specifications:
Frequency Response (Headset): 20Hz - 40kHz
Frequency Response (microphone): 100Hz - 10kHz
Impedance: 32Ω
Maximum Input Power: 20mW
Sensitivity: 95 dB SPL @ 1 kHz / 1mW
Maximum SPL: 97 dB
Microphone Sensitivity: -41 dBV @ 1 kHz / PA
Ear Cup Dimensions:

Exterior: Width 3.698", Height 4.272", Depth 2.581"
Interior: Width 1.9", Height 2.46", Depth 0.78"

Weight: 13.5 ounces
Loading...
Loading accessories...
Loading...
Loading articles...