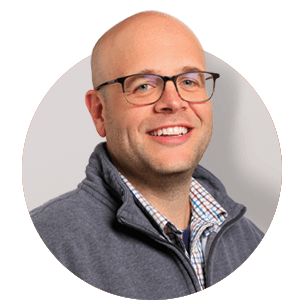 Stay aware with these one-of-a-kind earbuds
Sony's expert engineers have really been expanding the boundaries of headphone design lately. But the LinkBuds are truly unique: a new, completely open-air take on true wireless earbuds. These compact, sweat-proof in-ears keep you aware of your surroundings while you take calls, play music, or hop on Zoom. They allow you to stay in the flow of a busy office or stay alert while you're walking or jogging outside.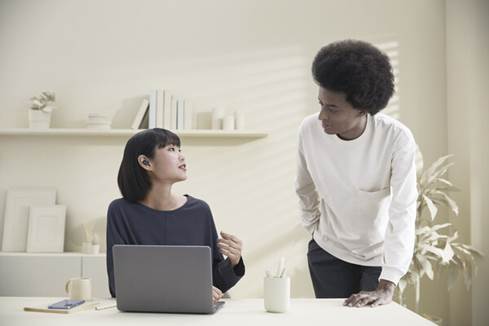 The Sony LinkBuds sport an open-air design, so you can carry on conversations and hear your surroundings.
Stay aware with these one-of-a-kind earbuds
Sony's expert engineers have really been expanding the boundaries of headphone design lately. But the LinkBuds are truly unique: a new, completely open-air take on true wireless earbuds. These compact, sweat-proof in-ears keep you aware of your surroundings while you take calls, play music, or hop on Zoom. They allow you to stay in the flow of a busy office or stay alert while you're walking or jogging outside.
As a father of young children — who often has to rock a toddler back to sleep while keeping tabs on a newborn — I consider the LinkBuds a game-changer. I've spent almost a week with them and have been able to keep up with podcasts during those late nights and early mornings. With LinkBuds in both ears, I can still listen out for other noises or voices.
Unique open-air design
Plenty of other headphones feature a "Transparency" mode that relies on built-in circuitry to amplify the sounds around you. Conversely, each tiny LinkBud sports a large hole in the middle that allows external sounds to pass through. Sony designed a custom ring-shaped 12mm driver and developed advanced processing to overcome this obvious obstacle — and still deliver balanced, full-range sound.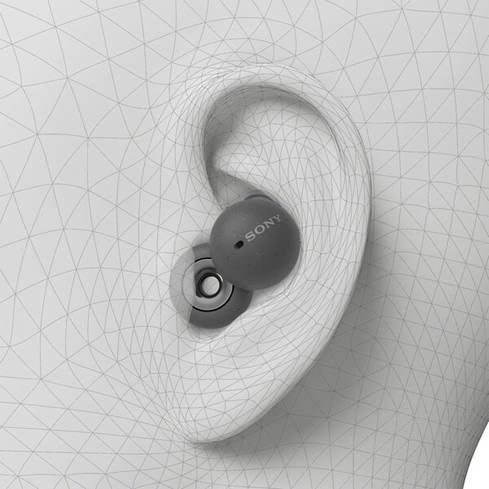 Compact design for secure, unobtrusive fit.
It's an unconventional approach, but I found it very effective when I needed to stay aware. Obviously, if you're in a loud area — or you want a more focused listening experience, this wouldn't be the right choice. But I was surprised at the clarity and depth of the sound, despite the opening in each 'bud.
High-quality Bluetooth streaming
Music plays wirelessly via Bluetooth 5.2, a newer version of Bluetooth that's stronger and more reliable than previous iterations. I could keep my phone on my desk or kitchen counter and walk around the room without audio dropout. I'd say if you're within a reasonable distance and can see your phone, you'll also be within wireless range.
Fit matters more than ever
I always say that in-ear headphones are only as good as their fit. But it's especially crucial for the LinkBuds — both in terms of comfort and performance. There's a bit of a learning curve figuring out how to position them in the ear, but once I got it, I got it.
At first, I didn't quite have the drivers centered, and it threw off the stereo imaging. But when I twisted the 'buds into the right position, everything sounded clear and natural. Sony provides illustrated instructions along with five sizes of "fitting supporters." These soft silicone loops help anchor the LinkBuds into place and keep them from falling out while you move.
My early listening impressions
As noted, the LinkBuds really come through in the clutch when I'm up at 3 a.m. with one kid or another. Pre-LinkBuds, I would wear a single earbud at a time for podcasts or watching videos. Now that I've had "full stereo" for a few nights, it might be hard to go back!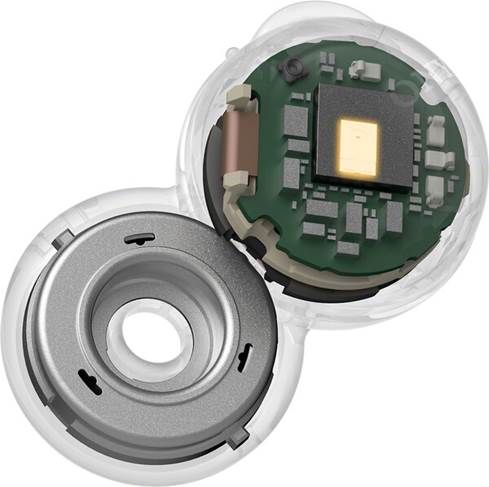 This cutaway view shows the 12mm ring driver (bottom) and advanced Sony processing chip (top) for clear calls and sound.
Voice-beaming microphones for clear calls, both ways
But late night isn't the only time the LinkBuds are useful. Occasionally when I'm working at home, I'll have to keep an ear out for one of the older kids in the playroom while my wife tends to the baby. With the LinkBuds, I could make phone calls or join a Microsoft Teams meeting, but still have both ears "free."
Sony's applied special processing to the microphones that's designed to filter out noise and cleanly pick up your voice. In my home office, conversations were clear back and forth and I was never asked to repeat myself. Out in my yard, I had no trouble on my end unless a particularly loud vehicle drove by — but my recipients seemed to hear me fine regardless.
Music sounded fuller than I expected
I admit — I figured that music played through these headphones would sound hollow (pardon the pun). But that's not what I heard. They deliver well-rounded sound, especially for earbuds with a big hole in the middle. The mids and vocals are their strongest attribute, but they actually offer decent bass response, too.
For me, coming from single-ear listening, it was "all gravy." But even without the qualifiers, the sound was clean and layered.
Thoughts on the bass
Bonnie Raitt's laid-back tune "Thank You" sounded breezy and pleasant — with a surprisingly large sense of space and instrument separation. The percussion stayed "between the ears," but the flute flew off the left, and up above my ear. And I heard the appropriate amount of complementary low end.
And it's not as if the bottom fell out when I switched over to boom-bap production of Conway the Machine's album God don't make Mistakes. Sure, the bass has limitations with the completely open design — and I would certainly recommend listening to this album with headphones that hit harder if you can. But of course, that's the trade-off for staying aware of one's surroundings, and I don't think I sacrificed nearly as much as I thought I would.
Just remember not to crank up the volume to compensate for the bass, or to compete with external sounds. Playing music at high levels is never a good idea for your hearing. And there are going to be some crowded or noisy areas where the LinkBuds simply aren't going to be the best headphone option.
Sony's free mobile app lets you fine-tune the sound
Download Sony's Headphones Connect mobile app for even more control over your music. You can customize the sound characteristics and adjust the EQ. You can also reconfigure the on-ear controls or set up Alexa or Google Assistant to activate via voice command through your paired phone.
READ LESS
Product highlights:
Featured in our article: Best workout headphones for 2024
100% wire-free headphones

no connecting cord between left and right earbuds

open-air design for better awareness of your surroundings

hear external sounds while you listen to music, take calls, and join in video conferences

12mm ring drivers deliver clear, well-balanced sound
Bluetooth 5.2 for wireless music listening and phone calls
IPX4-rated sweatproof design
Charging case and battery information:
built-in rechargeable batteries offers 5-1/2 hours of listening
carrying case banks up to 12 hours of power to wirelessly recharge headphones
compact, pocket-friendly case
USB-C cable included for charging case
Mobile app and easy controls:
free Sony Headphones Connect app for Apple® and Android™ lets you adjust settings

choose from sound presets or customize the EQ
immersive Sony 360 Reality Audio playback with select music services

on-ear buttons for control over music playback, volume, and calls
access Alexa or Google Assistant voice control

requires one-time setup through the app

single-earbud operation for music and calls (app setting)
General info and specs:
includes 5 sizes of silicone "fitting supporters" to comfortably secure earbuds in place
frequency response: 20-20,000 Hz
warranty: 1 year
MFR # WFL900/W
What's in the box:
Left and right wireless ear buds (white)
5 Pairs of Fitting Supporters (1 pair installed)
7" USB charging cable (Type A USB on one end and USB-C on other end)
Reference Guide
Warranty sheet
360 Reality Audio
Customer reviews for Sony LinkBuds
Loading...
Loading reviews...
Average review:
4.5 out of 5 stars
Thanks for submitting your review
Most reviews are processed and published within 5 business days. You will receive a confirmation email once your review has been published.
Customer photos
This review was collected as part of a promotion
More details on the Sony LinkBuds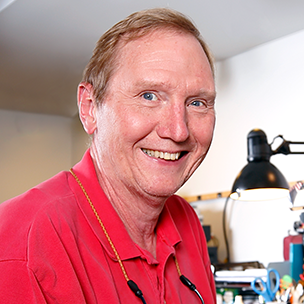 Researched by Crutchfield's

Mark G.
Features & specs
General
Fit Style
True Wireless
Earcup Type
Open
Earcup Width x Height
1.093" x 0.64"
Noise-canceling
No
Bluetooth
Yes
Bluetooth Version
5.2
Single-earbud Operation
Yes
Mic For Taking Calls
Yes
Voice Assistant Access
Amazon Alexa
Yes
Google Assistant
Yes
Siri
Yes
Connectors
3.5mm
No
1/4"
No
Lightning
No
4.4mm balanced
No
XLR4 balanced
No
2.5mm
No
Other
None
Specs
Frequency Response
20-20k Hz
Sensitivity
N/A dB
Impedance
N/A
Weight
0.3 ounces
Cord Length
N/A
Parts Warranty
1 Year
Labor Warranty
1 Year
Product Research
Features
Overview: Sony LinkBuds feature a unique open ring driver that lets you stay connected to your surroundings while listening to your favorite music and phone calls. The LinkBuds have Bluetooth version 5.2 for high quality sound and clear, reliable wireless performance. The LinkBuds come with a compact charging case, and 5 pairs of Fitting Supporters to assure a good fit for any sized ears.
Drivers: LinkBuds utilize a new open 12mm ring-shaped driver that lets in ambient sounds to keep you aware of what's going on around you. The ring design keeps the ear canals open instead of blocking them like traditional in-ear headphones. Coupled with the Integrated Processor V1, the Link Buds deliver clear, detailed music with very little distortion.
Fitting Supporters: Instead of traditional silicone ear tips that seal your ear canal, the LinkBuds include rubber Fitting Supporters that fit into a groove around the ring driver housing. The Fitting Supporters have a tab that enhances the fit by tucking behind the folds in your outer ear. There are five pairs of Fitting Supporters (XS, S, M, L, XL) included.
Bluetooth 5.2: The LinkBuds are equipped with Bluetooth 5.2, the latest version of the wireless technology. Your wireless connection is stable with fewer dropouts, lower latency, and high quality sound. The Bluetooth signal is transmitted to both ears at the same time, instead of the convention left-to-right relay transmission. You can choose either the left or right LinkBud if you only want to use a single ear bud instead of both. The LinkBuds support SBC and AAC codecs, as well as A2DP, AVRCP, HSP, and HFP profiles. Bluetooth range is approximately 30 feet (10 meters).
Note: A firmware update, released in November 2022, allows you to simultaneously connect 2 devices to the headphones, and switch between them. See Sony Support for more information.
Voice Assistant: The Sony LinkBuds allow you to use your favorite Voice Assistant. You can set up and use the default Voice Assistant from your phone, including Siri (iPhone) and Google (Android). The LinkBuds also work with Amazon Alexa and Google Assistant.
Control: LinkBuds can be controlled with simple taps to either the left or right ear bud. During music playback, you can pause or resume playback with a double-tap. A triple-tap will let you skip to the beginning of the next track. When a phone call comes in, you can answer it with a double-tap, or reject it with a triple-tap. When the call is over, a double-tap will end it, while a triple-tap will transfer it to a different device.
Wide Area Tap: Wide Area Tap extends the area for controlling your music and phone calls beyond the actual LinkBuds to the area on your face just ahead of your ears. The LinkBuds have accelerometers that can detect the vibration from tapping on the ear bud as well as an area around the ears.
Sony Headphones Connect: The Sony Headphones Connect app enhances your LinkBuds experience with additional features and sound enhancements. The app serves as the central location for configuring the operation of your LinkBuds. The app lets you keep your LinkBud software up to date, and view the Bluetooth pairing and battery charging status of the ear buds and charging case at a glance. The DSEE (Digital Sound Enhancement Engine) and built-in EQ lets you set the sound quality to your liking. The app is compatible with iPhone and iPod touch with iOS 11.0 or later, and Android devices with version 5.0 and up.
Adaptive Volume Control: Activated in the Sony Headphones Connect app, Adaptive Volume Control analyzes the ambient noise and automatically adjusts the volume. In quiet places, the LinkBuds adjust to a lower volume. When environmental noise increases, the volume automatically increases so you can still hear your music and phone calls clearly.
Speak-to-Chat: A feature found in the Sony Headphones Connect app, the Speak-to-Chat feature automatically pauses your audio when you speak so you can have a conversation without having to remove the LinkBuds. The feature must be enabled in the app. Once your conversation is over, the music will resume approximately 15 seconds after you finish speaking. You can customize the resume time in the app, if desired. You can also deactivate Speak-to-Chat by tapping either the left or right LinkBud.
Precise Voice Pickup: The built-in microphones have Precise Voice Pickup technology to ensure your voice is clear to your callers, even in noisy environments. Advanced voice signal processing and Sony's noise reduction algorithm brings out your voice in a wide range of environments.
360 Reality Audio: The LinkBuds are compatible with Sony's 360 Reality Audio, which immerses you in sound. 360 Reality Audio places vocals, instruments, and effects on a 360° sphere that surrounds you, instead of only two speakers. It is compatible with many of the popular premium music streaming services, including Amazon Music Unlimited, Deezer, TIDAL, and nugs.net.
Water Resistance: The Sony LinkBuds have an IPX4 water-resistance rating, providing protection against splashing water from any angle (except the ventilation holes, microphone holes, and sound exit tube). The charging case is not water resistant.
Battery: Each LinkBud has a built-in 3.85V Lithium-ion rechargeable battery that provides up to 5.5 hours of playback time on a full charge. Communication time is about 2.5 hours (continuous), while Standby Time is 11 hours. The charging case's built-in battery stores an additional 12 hours playback time for a total of 17.5 hours. The LinkBuds charge in the charging case in about 1.5 hours. Fully charging the LinkBuds and the charging case requires about 3 hours. A 10-minute quick charge gives you approximately 90 minutes of playback time. The case has a USB-C port for charging, and includes a 7" USB-A to USB-C cable. You should use a commercially available USB charging adapter that supplies an output current of 0.5A (500mA) or more, up to 2.6A (13 watts).
Recycled Materials and Packaging: The Sony LinkBuds are designed with the environment in mind. Aesthetic parts, such as the LinkBuds' exterior housing, use recycled plastic materials from automobile parts. In addition, the packaging material is made with no plastics to reduce the environmental impact.
Specifications:
Drivers: 12mm ring driver
Transmission Range: 20Hz - 20kHz (Sampling Frequency 44.1kHz)
Operating Temperature:
32° F to 104° F
Charging Temperature: 41° F to 95° F
Dimensions:

Headphones: Width 1.093", Height 0.64", Depth 0.612"
Charging Case: Width 1.904", Height 1.221" Depth 1.625"

Weight:

Headphones: 0.3 ounces (0.15 each)
Charging Case: 1.2 ounces
Loading...
Loading accessories...
1 question already asked
Q
Do these support dolby atmos?
dominick myan Jul 14, 2023
A
Greetings Dominick, and thank you for your question. Unfortunately I will have to say no. Dolby Atmos being a big selling point, that information would be all over the web page. There is nothing stating Dolby, or Dolby Atmos anywhere in the manual.
hogan Jul 14, 2023
(Staff)
Loading...
Loading articles...