About the Crutchfield SpeakerCompare™ Listening Kit Rental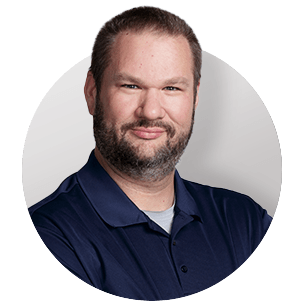 Get the most out of Crutchfield's Virtual Audio™ technology
The SpeakerCompare™ Listening Kit comes with everything you need to audition speakers virtually through your computer or compatible smartphone. Available on a rental basis, it includes a pair of
Sennheiser HD 280 Pro
headphones, an
AudioQuest DragonFly® Black
headphone amp/DAC (digital-to-analog converter), USB adapters for iOS® and Android™ devices, and a listening guide that walks you through SpeakerCompare's sample music clips.
Get the most out of Crutchfield's Virtual Audio™ technology
The SpeakerCompare™ Listening Kit comes with everything you need to audition speakers virtually through your computer or compatible smartphone. Available on a rental basis, it includes a pair of Sennheiser HD 280 Pro headphones, an AudioQuest DragonFly® Black headphone amp/DAC (digital-to-analog converter), USB adapters for iOS® and Android™ devices, and a listening guide that walks you through SpeakerCompare's sample music clips.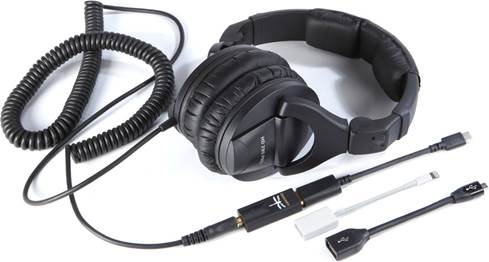 The Listening Kit includes headphones, a DAC, and USB adapters for auditioning speakers virtually on your computer or mobile device.
Why we created SpeakerCompare
We know that buying speakers online without hearing them can be challenging. And these days, it's hard to find a speaker showroom in many areas — let alone being able to demo all the models that you're considering.
To help with this, we've created a way to audition speakers online virtually. SpeakerCompare is a whole new way to shop for speakers, and one that we hope will be a valuable addition to conventional resources like reviews, features, and specs.
A little more about the process
Our engineers have carefully researched home and car speakers so that we can accurately simulate them online. On the playback side, we've also carefully measured the audio characteristics of many popular kinds of headphones to ensure that you're getting an accurate demonstration of the differences between the speakers.
Why we created the Listening Kit
We want you to have the most accurate listening experience possible when you use SpeakerCompare, and the sound profile of your playback system matters. By using a set of headphones that we've researched — along with a high-quality headphone amplifier — you will get a realistic sense of the sonic differences between speaker models.
Which speakers can you compare?
Below are the models that are currently available to audition with SpeakerCompare. Our research is ongoing, and we will be continually adding to the list.
Home:
Car:
Available on a rental basis
Unlike most items you get from us, you don't actually buy this Listening Kit outright. It's available for a $25 rental fee, which lets you use it for up to 30 days to evaluate speakers. Once you're done, simply box it back up and ship it back to us with the included prepaid shipping label.
We include a $25 Crutchfield merchandise credit with your rental that you can use for anything on our site. You also get a track-by-track guide to the music selections available within our SpeakerCompare app, which gives you tips on what to listen for as you're comparing speakers. The Listening Kit's rental terms and conditions are available here.
We're here to help
If you have any questions about the Listening Kit or about SpeakerCompare, give one of our friendly advisors a call at 1-888-291-8923. Thanks for using SpeakerCompare, and happy listening!
Note: Internet Explorer browser is not currently supported
READ LESS
Product highlights:
Listening Kit for Crutchfield's SpeakerCompare online listening tool
audition speakers virtually on your computer or mobile device
Kit Contents:
Kit is available on a 30-day rental program
Internet Explorer browser is not currently supported
What's in the box:
Crutchfield SpeakerCompare™ Listening Kit Rental owner's manual
The Crutchfield SpeakerCompare Listening Kit contains the following items:
Sennheiser HD 280 Pro headphones with an attached 9.8' coiled cord terminated with a gold-plated 3.5mm plug
AudioQuest DragonFly Black USB DAC / Preamp / Headphone Amp with attached protection cap
6" AQ DragonTail USB-C to USB-A cable (with male USB-C connector on one end and a female Type A USB connector on other end)
5.25" AQ DragonTail Micro USB adapter cable (with male Micro-B USB connector on one end and a female Type A USB connector on other end)
4.75" Apple Lightning to USB Camera adapter (with male Lightning connector on one end and a female Type A USB connector on other end)
HD 280 Pro Safety Guide
DragonFly Instruction booklet
Welcome document
Tips for Returning document
UPS ARS return label
California Proposition 65 warning document
Customer reviews for Crutchfield SpeakerCompare™ Listening Kit Rental
Average review:
4.5 out of 5 stars
Thanks for submitting your review
Most reviews are processed and published within 5 business days. You will receive a confirmation email once your review has been published.
Customer photos
This review was collected as part of a promotion
More details on the Crutchfield SpeakerCompare™ Listening Kit Rental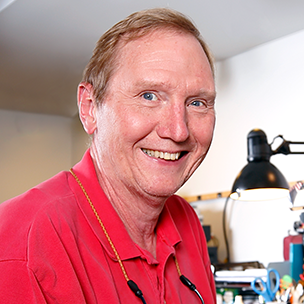 Researched by Crutchfield's

Mark G.
Product Research
SpeakerCompare Overview
Headphone Features
DragonFly Features
USB Adapters
SpeakerCompare Overview
Kit Contents: The Crutchfield SpeakerCompare Listening Kit includes the Sennheiser HD 280 Pro headphones and the AudioQuest DragonFly Black digital-to-analog converter (DAC) and headphone amplifier. Three USB adapters (USB-C, Micro-B USB, Apple Lightning) are also included for Android and iOS devices to connect them to your source device.
Headphone Features
Design: The Sennheiser HD 280 Pro headphones features a closed design that attenuates ambient noise up to 32 dB. These lightweight headphones adjust to the shape of your head for a comfortable fit, and to seal out unwanted room noise. The soft, elliptical circum-aural ear cushions, and padded, adjustable headband provide maximum comfort, even during long listening periods. The ear cups swivel and the headphones fold for easy storage.
Single-Sided Cord: The coiled cable attaches to the left ear cup, to keep the cable out of your way. The cable features a gold-plated 3.5mm straight plug.
Specifications:
Frequency Response: 8 Hz - 25 kHz
Power Handling Capacity: 500 mW
Impedance: 64Ω
Sensitivity: 113 dB
THD: < 0.1%
Coiled Cable Length: Min: 39" Max: 9.8'
Connector: Gold-plated 3.5mm plug
Ear Cup Dimensions: Width 3.365" Height 4.282"
Weight: 10.05 ounces
Warranty: 2 Years
DragonFly Features
USB DAC + Preamp + Headphone Amp: The AudioQuest DragonFly Black is a sleek, flash-drive sized USB DAC + Preamp + Headphone Amp that delivers far superior sound by bypassing the poor quality sound card that is built into your Apple iOS and Android smartphone/tablet or Windows and Mac laptop/desktop computer. Its 3.5mm port is designed specifically to connect to an external audio system such as headphones, powered desktop speakers, or your HiFi audio system. DragonFly Black carries a 1-year warranty.
Apple Compatibility: It is compatible with Apple iOS 9.2+ devices with a Lightning connector. (It is not compatible with 30-pin devices). The preferred method for connecting an Apple iOS device is using Apple's Lightning to USB camera adapter (included in the Listening Kit). Your Apple iOS device's battery will be charged while it's connected.
Android Compatibility: It is compatible with most Android devices running Jelly Bean 4.1 or newer using the DragonTail USB adapter (included in the Listening Kit). If the DragonFly Black seems to have too little output, you should download the the USB Audio Player Prop app which includes its own USB audio driver. This application is compatible with various audio formats and will manage music on both the Android's internal memory and inserted microSD card. Additionally, with your Android phone connected to a Wi-Fi network, this app can find and connect to DLNA servers/libraries, plus support playback of Tidal (UAPP does not offer support for any other 3rd-party applications).
Windows Compatibility: DragonFly Black is compatible with Windows PC (XP/7/8.1/10). No additional drivers are required to operate with a Windows PC.
Mac Compatibility: Compatible with Mac computers (OS X 10.6.8-up). No additional drivers are required with Mac OS X.
High-Performance Microcontroller: AudioQuest and DragonFly designer Gordon Rankin worked alongside Microchip Technology to develop a new high-performance, full-speed USB microcontroller solution that delivers improved signal-to-noise ratio and significantly lower power consumption. Drawing 77% less current than the previous microcontroller, the new Microchip PIC32MX microcontroller enables true compatibility with Apple iPod/iPhone/iPad and Android smartphones/tablets. In addition, the Microchip's ultra-low-noise power supply minimizes the sound-degrading effect of high-frequency interference on the critical audio signal.
32-Bit ESS Sabre 9010 DAC: At the heart of DragonFly Black is a 32-bit ESS Sabre 9010 DAC that uses a sophisticated minimum-phase digital filter to provide more naturally detailed and dynamic music. This high-performance DAC is typically found in today's higher-end CD and Blu-ray players. DragonFly Black can accept audio and music files ranging from MP3s (128/256/320kbps) and CD-standard 16-bit/44kHz to native 24-bit/96kHz high-resolution, regardless of music file format. DragonFly Black will accept almost any audio you want to play on your computer and make it sound dramatically better, whether your listening pleasure is iTunes or streaming music services such as Pandora, Spotify, Amazon, or Tidal.
Streamlength Asynchronous USB: Timing errors such as "jitter" have long been the plague of digital audio playback; never more so than in recent years as computers, laptops, tablets, and smartphones have been pressed into service as audio source components. Rather than sharing crucial audio "data clocking" functions with your source device, DragonFly Black uses a very sophisticated Streamlength Asynchronous USB audio data transfer protocol which takes command over the timing of the audio data transfer, dramatically reducing digital timing errors. As a result, you get low jitter, low resource load, minimal packet errors, world-class audio playback, and reliable connectivity between the DragonFly Black and your smartphone, tablet, laptop, or desktop computer.
Hybrid-PLL Clock System: The DragonFly Black employs a unique clock system called a Hybrid-PLL. While not discrete, the Hybrid-PLL performs equal to, or better than, many discrete clock systems.
Compatible Sampling Frequencies: DragonFly Black will play music or audio data at 44.1kHz, 48kHz, 88.2kHz, or 96kHz. However, for the best sonic results your smartphone, tablet, laptop, or desktop computer should be configured so that it sends music and audio data to DragonFly Black that matches the "native rate" of the music. For example, since all CDs and music files purchased from iTunes are at a 44.1kHz sample rate, for many people 44.1kHz will be the best sample rate since this is the "native rate" of most digital music. Choosing a higher sample rate will convert your native music and audio data using mathematical approximations that can potentially decrease the sound quality. Conversely, if you have purchased high-resolution music files (96kHz), such as those available from HDtracks.com, configuring your computer for 44.1kHz (or any other lower sample rate) will cause the computer to down-sample your music to a lower resolution. When possible, always configure the computer to output the native sample rate of the music you are listening to.
Note: If you have purchased a file that has a higher sample rate than 96kHz you need to configure your smartphone/tablet or computer/laptop to send DragonFly Black audio data at a resolution no greater than 96kHz, and for the best performance the sample rate you choose should be exactly half the sample rate of the file you're playing. For example; if you purchased a 24-bit/176.4kHz file, 88.2kHz should be selected, whereas if you purchased a 24/192kHz file, 96kHz should be selected. Directly divisible sample rates prevent the computer from doing sonically degrading, complex math in its conversions and allows DragonFly Black to sound its best.
MQA Firmware Update: The latest firmware update (1.06) will provide the DragonFly Black with the capability of rendering Master Quality Authenticated (MQA) files. This means that now the DragonFly Black lets you experience your favorite albums and songs in the highest audio resolutions available. As an MQA-rendering DAC, the DragonFly Black must be used with an MQA-approved playback application, such as Tidal or Audirvana (with more to come), in order to unlock the full resolution of an MQA file.
Note: When rendering MQA files, the DragonFly Black will display a purple light. (Sampling rates of 96kHz will continue to display in magenta.) While the DragonFly Black will not specify the native resolution of the associated MQA file, you can rest assured that the MQA file was derived from the highest source resolution available.
64-Step Analog Volume Control: The AudioQuest DragonFly Black is equipped with a 64-step analog volume control. With DragonFly Black connected to a PC or mobile device, adjusting the host's system volume control will, through proxy, control the DragonFly Black's onboard volume. This ensures maximum resolution and the highest sound quality, regardless of volume setting
Direct Coupled Analog Circuits: DragonFly Black's analog circuits are direct-coupled from the ESS converter chip's output, avoiding the need for any extraneous, sonically degrading components in the signal path.
Stereo Minijack Output (1.2-Volt): DragonFly Black is fitted with a stereo female minijack (3.5mm) output and will output 1.2-volts, which is enough power to successfully drive most preamplifier input circuits and a wide range of today's medium-to-moderately efficient headphones. The DragonFly Black's 3.5mm output can be used as a Headphone Jack, a Variable Out, or a Fixed Output.
Headphone Out: DragonFly Black is versatile enough to drive virtually any headphone on the market today. DragonFly Black can drive any headphone from 12-ohm impedance on up. DragonFly Black has enough output to drive even the lowest efficiency headphones.
Variable Out: DragonFly Black can be used in "variable" output mode with computer-controlled analog volume control when connected directly to powered speakers or a power amplifier.
Fixed Out: Connecting to a traditional preamplifier or AV receiver, DragonFly Black can be set to a "fixed" output mode by turning the volume to maximum, allowing it to behave like a CD or Blu-ray player.
LED Indicator: A smart LED indicator behind the DragonFly Black icon shows the resolution of the incoming signal - 44.1kHz (green), 48kHz (blue), 88.2kHz (amber), and 96kHz (magenta). Red indicates standby mode.
Firmware Software Upgrades: The DragonFly Black is firmware/software upgradeable through a complimentary Windows PC or Mac OS X desktop application. As new developments arise in music player applications, streaming protocols, or other associated software; DragonFly Black users will be able to incorporate those updates to their existing devices.
USB Adapters
DragonTail USB Adapters: The DragonTail USB-C and Micro USB adapters included in the Listening Kit activate the USB Host Mode for many Android devices, allowing the devices to transmit USB digital audio to an outboard digital-to-analog converter (DAC). Using the DragonTail adapters to connect to the AudioQuest DragonFly DAC will provide greatly improved audio performance. The DragonTail adapters are covered by a 5-year warranty.
High Quality Construction: The DragonTail USB-C and Micro USB adapters for Android devices offer high-quality construction:
Solid 5% silver conductors eliminate inter-strand distortion.
Hard-cell foam insulation maximizes geometry stability.
Carbon-based noise-dissipation system minimizes RF interference.
All conductors controlled for RF noise directionality.
Length: USB-C adapter: 6", Micro USB adapter: 5.25"
USB Connectors: The DragonTail USB-C adapter has a male USB Type-C connector for connecting to newer Android USB-C devices. The DragonTail Micro USB adapter can be used with those Android devices equipped with a Micro USB port. Both adapters feature a female Type A USB connector for connecting a standard Type A USB cable.
Apple Lightning/USB Camera Adapter: The Apple Lightning-to-USB Camera Adapter (MD821AM/A), included in the Listening Kit, features a male Lightning connector on one end, and a female USB Type A port on the other end. This allows you to connect the AQ DragonFly Black directly to your Apple device. The Lightning-to-USB Camera adapter is 4.75" in length, and carries a 1-year warranty.
2 questions already asked
Q
When do you get the gift card?
ryan Apr 29, 2022
A
The gift certificate information should have been e-mailed to you along with your invoice when it shipped out. If you did not receive if please contact our Customer Support team at 800-955-9091, or through the chat feature on our main site.
kenneth Apr 30, 2022
(Staff)
Q
cost to keep them?
richard Jul 07, 2019
A
$267 to keep $25 for month rental
damien Jul 16, 2019
A
Hi, Rich, Thanks for checking out the SpeakerCompare listening kit. Good question. The Dragonfly Black and the Sennheiser 280's are great for everyday listening as well as for listening to SpeakerCompare. The SpeakerCompare kits we send out come from our rental stock. If you want to buy the items, we suggest purchasing new stock to get factory sealed items with the full manufacturer's warranty. The item numbers are 703DGNFLYB for the DAC, and 143HD280P for the headphones. Total retail for both is $199.98 plus applicable sales tax.
george Jul 16, 2019
A
Two fitty
john Jul 16, 2019
A
I don't know for sure what you want to know. I used the kit for a few days and then sent it back. I bought new headphones and then I used them on the test. If you mean what it cost to keep the kit permanently I don't know. I hope this helps. Ted
ted Jul 16, 2019
A
I didn't keep the listening kit, although I loved the Dragonfly amp. I plan to purchase one to use with my Beats headphones.
camille Jul 16, 2019
A
they will charge you like $300 it's better to just buy everything brand new from them for cheaper.
emile Jul 16, 2019