About the iGuardStove Gas Range Monitor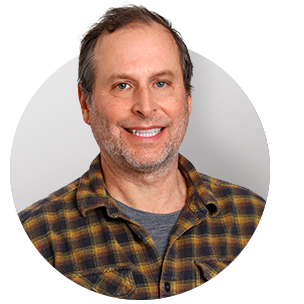 Accidents happen
The motion-sensor-controlled iGuardStove automatically shuts off your stove after 15 minutes with no activity near it, preventing unattended stove fires before they can start.
Accidents happen
The motion-sensor-controlled iGuardStove automatically shuts off your stove after 15 minutes with no activity near it, preventing unattended stove fires before they can start.
There are a lot of reasons why you might want one of these. When my mom was in the early stages of Alzheimer's, I went into her kitchen and noticed that she'd left the water running in the sink. I was thankful that it wasn't the front burner. But that's when I started thinking about safety devices like this one.
The iGuardStove can also be useful for people who want to protect their rental properties, including Airbnb and Vrbo owners.
Two-part protection for your gas range
The iGuardStove has two main parts: a gas valve that contains the shut-off, and a control panel box with a motion sensor. You'll need to have a gas plumber to install the gas valve shut-off, which is powered by the included DC wall adapter — that business remains behind your stove, hidden from view. The control box gets mounted near the cooktop, probably under your eye-level cabinets.
How it works
When you turn on your stove the iGuardStove proximity sensor is activated and starts a countdown — five minutes is the default, but you can set it anywhere from 1-15 minutes. If you stay in the kitchen within 10-12 feet of the control box, the proximity sensor will keep resetting the countdown for uninterrupted cooking. But if you leave, when the countdown reaches zero, iGuardStove shuts off the stove to prevent an unattended cooking fire.
For things that take longer to cook, like chili, you can either manually bypass the iGuard or override the countdown shut-off for up to 10 hours. You can also disable the override and bypass options, for the safety of the person you are protecting.
Protect the people who depend on you
The iGuard was designed for caregivers of loved ones who live on their own, or at least cook on their own, and need a safety net. It's also got a child lock — useful if you have toddlers who like to scramble the knobs around.
And it can be helpful for the times when you simply forget to turn off the stove. I've been lucky, but it's happened.
Powerful monitoring tools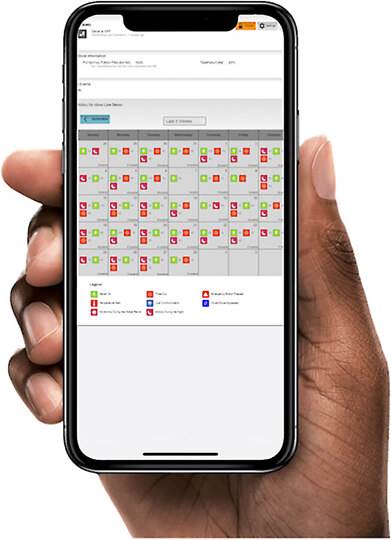 Monitor activity and stove use remotely using your online account.
Connect the control box to Wi-Fi® with the simple menu window and buttons on the front. You can also control some of iGuard's features from here, but you'll have access to a much more robust feature set after you register for an online account.
Using your computer, tablet, or smartphone, you can remotely monitor and adjust settings for stove use. You can enable email and/or text alerts if, for example, someone is cooking up a 3 a.m. snack. And you can track activity over time with a handy calendar view.
Other smart features
The iGuard's motion sensor can be used in some cool ways that have nothing to do with the stove. The daytime activity monitor will let you know if your loved one isn't moving around when they should be. For example, let's say mom usually gets up at 7 a.m. and is active in the kitchen for a couple of hours. You set the daytime activity wake up for 7 a.m., and then set a "grace period" — iGuard suggests three hours. If no motion is detected by the end of the grace period, you'll get an alert.
You can even receive temperature change alerts, to notify you if the temperature in the room goes above or below the range you set.
The iGuard gas range shut-off also has an unburned gas sensor that will alert you if there is a dangerous buildup.
Choose the right iGuardStove shut-off
This iGuardStove model works for gas cooktops, both independent and in dual fuel ranges. For electric ranges or cooktops, get the either the iGuardStove for 4 prong plug-in, or hardwired, depending on your setup.
READ LESS
Product highlights:
motion-sensing smart monitor and shut-off system for gas ranges
prevents unattended stove fires
professional installation recommended
automatically shuts off range after 1-15 minutes of no kitchen activity

optional beep and/or strobe can warn user of impending shut off

manual timer allows longer cooking times with no one in the kitchen
connect to Wi-Fi® (2.4 GHz) to remotely monitor with computer or smart device

track oven use and shut offs
create a contacts list for text alerts
nighttime activity monitor can show sleep irregularities
daytime activity monitor alerts you if no motion is detected for selected time period
unburned gas alert if iGuard senses a dangerous buildup
enable room temperature alert to get notification of extreme changes

three safety locks:

late night - disables stove during scheduled days and times
caregiver - manually disables stove with long-press of middle button on control panel
child - requires control panel confirmation for range's knobs or buttons to activate heat

phase switch allows stove to shut off while maintaining power to the clock
can also be used as a shut-off for:

gas cooktops
gas cooktops in a dual fuel range

do not mount control panel directly above stove, microwave, toaster, or other heat source
Dimensions and warranty:
control panel box: 9-11/16"W x 2-1/4"H x 2-3/16"D
gas valve shut-off:

for 1/2" gas pipes: 4-7/16"W x 4-1/4"H x 2-7/8"D
for 3/4" gas pipes: 5-1/2"W x 4-1/2"H x 3-1/2"D

DC wall adapter with 6" cord powers gas valve shut-off
control panel box connects to gas valve shut-off with included 10' CAT-5e cable
warranty: 1 year
MFR # IGSG-12-Black
What's in the box:
iGuardStove Gas Range Monitor owner's manual
Control Panel (black)
iGuardStove Gas valve
AC adapter with attached 69" DC output cord (DC output: 15V 1.2A)
12" Gas hose with screw fittings
User & Online Features Manual
Special Alert sheet
Gas Valve Installation Tips
Customer reviews for iGuardStove Gas Range Monitor
Loading...
Loading reviews...
Average review:
5.0 out of 5 stars
Thanks for submitting your review
Most reviews are processed and published within 5 business days. You will receive a confirmation email once your review has been published.
Customer photos
This review was collected as part of a promotion
More details on the iGuardStove Gas Range Monitor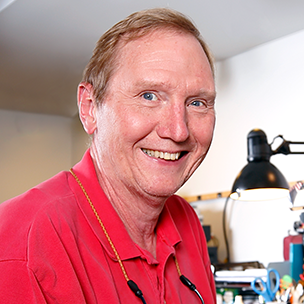 Researched by Crutchfield's

Mark G.
Product Research
Features
Overview: iGuardStove is an automatic shut-off device for gas cook stoves and ranges to help prevent fires in your home. This model (IGSG-12) works with gas stoves with 1/2" valves, and should be installed by a certified gas fitter or plumber. iGuardStove features a motion sensor and timer that automatically shuts off the gas to the stove after five or more minutes of no motion in the kitchen. A manual timer allows for longer unattended cooking times when making foods that require longer periods of time. Other sensors and features help contribute to added safety in the kitchen. iGuardStove connects to your home's Wi-Fi network, allowing remote access and stove activity monitoring online from anywhere.
Recommended Uses: iGuardStove can be used by anyone who owns a kitchen stove, but it is recommended for households dealing with persons with certain health conditions. Older adults that are living at home, or families touched by Alzheimer's or Dementia can benefit from iGuardStove. It is also effective for persons with brain injuries, and families dealing with Autism. iGuardStove can be installed in Retirement and Independent Living Communities, dorms, or even by owners of rental properties, to help prevent cooking fires.
Components: The iGuardStove IGSG-12 model features two main components:
Control Panel: The brains of the iGuardStove are located in the control panel. It features an Emergency Quick Shut Off button that will immediately turn off the gas to the stove, and send a text alert when connected to the Internet. A Motion Sensor detects motion in a 90° pattern in front of the control panel, out to approximately 10 to 12 feet. The LCD Screen displays various messages and the status of the iGuardStove. Below and beside the screen are action buttons and up/down arrows that allow you to select actions displayed on the screen, or to move the screen cursor or set the manual timer. The backlight of the LCD screen is color-coded to indicate setup stages. Recessed in the back of the Control Panel is an Ethernet jack (RJ-45) for connecting the Control Panel to the Gas Valve. Dimensions: Width 9.7", Height 2.21", Depth 2.21". Weight 10.65 ounces.
Gas Valve: The Honeywell Gas Valve connects in-line with the stove's installed 1/2" gas line. The valve is rated for 2 PSI gas pressure, and a gas flow rate of 7.1 cubic meters per hour. It is powered by the included AC adapter (15VDC 1.2A output). An RJ-45 Ethernet jack is provided for its connection to the Control Panel. Dimensions: Width 4.4375", Height 4.25", Depth 2.875", 12" Flexible gas hose with fittings
Installation Overview: The Control Panel is designed to be installed underneath one of the cabinets to either side of the stove (not directly above it, because of its temperature monitor). The built-in Motion Sensor should have a good view of the highest traffic area in the kitchen. The Gas Valve is installed between the existing stove's gas fitting and the home's gas shutoff behind the stove. The included 10' Network Cable plugs in between the Control Panel and Gas Valve. A 15" adhesive-backed plastic wire channel is provided to help hide the network cable.
Basic Features: iGuardStove's basic features include:
Auto Shut Off Timer: The Control Panel's Motion Sensor looks for motion while the gas stove is on to help determine if the cooking has been forgotten. If no motion is detected in 5 minutes, the device beeps and shuts off the gas to the stove. Once iGuardStove detects motion again when you return to the kitchen, it will automatically reset the unit, and prompt you to press Start and relight the stove (with the burner knobs) so you can resume your cooking. The factory default is 5 minutes, but you can adjust the timer to between 1 and 15 minutes.
Manual Timer: The Manual Timer can override the Auto Shut Off, and can be used when longer cooking times are needed. In the Control Panel's menu, you can set the Manual Timer between 30 minutes and 10 hours. The Manual Timer can also be disabled, requiring the user to cook only using the Auto Shut Off timer.
Emergency Button: An Emergency Button, marked with an exclamation mark inside a triangle, is provided to quickly shut off the gas to the stove.
Gas Sensors: The iGuardStove has two unburned gas sensors. The Upper Sensor is designed for open unlit burners, while the Lower Sensor is designed for gas leaks. When unburned gas is detected, the unit will shut off the gas valve to the stove and trigger an alert.
Caregiver Lock: The Caregiver Lock allows a loved one or caregiver the ability to disable the stove whenever they want. The lock is controlled by a secret button action (described in the owner's manual) that can be turned on or off in seconds. The Caregiver Lock can temporarily lock out unauthorized users until the lock is disabled. It is not password protected.
Wi-Fi Connection: The iGuardStove can connect to your Wi-Fi network (2.4GHz) using a simple WPS or manual setup. After setting up an iGuardFire online account, you can add and control as many iGuardStove devices as you have. Your online account lets you monitor your iGuardStove devices and change settings as you like. There are also several advanced features only available through the online account.
Advanced Online Features: When the iGuardStove is connected to the Internet, there are additional features that enhance the safety of your home:
Late Night Lock: The Late Night Lock allows you to disable the stove during certain hours of certain days of the week. This will prevent someone from waking at 3:00am and deciding to cook a late night snack, then falling back asleep with the stove on. You can choose which days and hours to lock out the stove.
Child Lock: If there are toddlers in the household, you can activate the Child Lock to prevent the stove from activating until a button on the Control Panel is pressed. This will prevent children that like to push buttons and turn knobs from turning on the stove when no one is around. Even after the Auto Shut Off feature has activated, you will need to press the button on the Control Panel to resume your cooking. Another option is "Auto Resume for only 30 minutes." This allows the stove to resume cooking automatically (through the motion sensor), but for only 30 minutes. After the 30 minute period, you will need to press "resume" on the Control Panel.
Ambient Temperature Alerts: The Control Panel has an ambient temperature sensor that is designed to warn you if the temperature in the kitchen area is getting dangerously hot or cold. This feature can alert you remotely that the furnace has quit, or the air conditioner has failed. The sensor is not immediate, and could take up to an hour to register the change in temperature. The alert appears on your online account's Home Screen as a Status Icon, and in the Calendar of Events.
Activity Monitor: iGuardStove can act as a remote activity monitor. You can set the unit to alert you if there is activity in the kitchen when you know the house is empty. You can also be alerted when no one enters the kitchen at certain times of the day when you know the home is occupied.
SMS Text and Email Alerts: The account's Contact List can be populated with the names, phone numbers, and email addresses of persons you want to receive the various alerts. Alerts can be triggered by the following events: Emergency Button, Loss of Communication, number of Auto Shut Offs within 24 hours (you can choose from 1 to 5), ambient temperature extremes, and whenever the stove is turned on.
Audible and Visual Alerts: The Control Panel can be set remotely to emit audible and visual reminders when the stove is about to shut off automatically due to abscence. In the online menu, you can set the Control Panel to beep before and/or after the stove shuts off. An LED strobe on the Control Panel can be set to flash before and/or after shut off. The strobe is a visual alert which can be used for the hearing impaired.
Safety Lock: This feature completely disables the stove from all use until you decide when to relinquish control back to the user in the kitchen.
Bypass iGuardStove: If large meals are planned, you can totally turn off the iGuardStove from controlling the stove. This is an option for those times when multiple people will be in the kitchen for long periods of time.
Shut Off Odometer: The online account has a Shut Off Odometer that counts the number of times the iGuardStove has to shut off the stove automatically. This feature can help you gauge you loved one's memory, especially if the number of events begins to ramp up.
History (Calendar View): The Calendar View gives you a quick way to view the type and number of events over a 5-week period of time. Stove Turn-ons are coded in green, Time-outs in orange, nighttime activity is noted in dark red, and Emergency Button presses are in bright red. The Calendar View also keeps track of Lost Communication, and when the iGuardStove was bypassed.
Loading...
Loading accessories...
2 questions already asked
Loading...
Loading articles...