About the Samsung QN32LS03T "The Frame"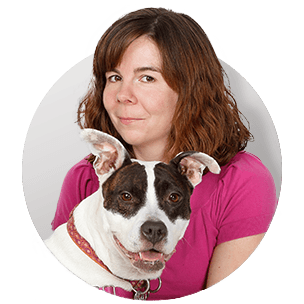 Hide your TV in plain sight
My folks wanted to replace their old TV when they moved into a new place. They were also dead set on hiding it inside a cabinet so they wouldn't have a black rectangle on the wall when it wasn't in use. It turns out, a Samsung Frame TV ended up being the perfect solution.
Hide your TV in plain sight
My folks wanted to replace their old TV when they moved into a new place. They were also dead set on hiding it inside a cabinet so they wouldn't have a black rectangle on the wall when it wasn't in use. It turns out, a Samsung Frame TV ended up being the perfect solution.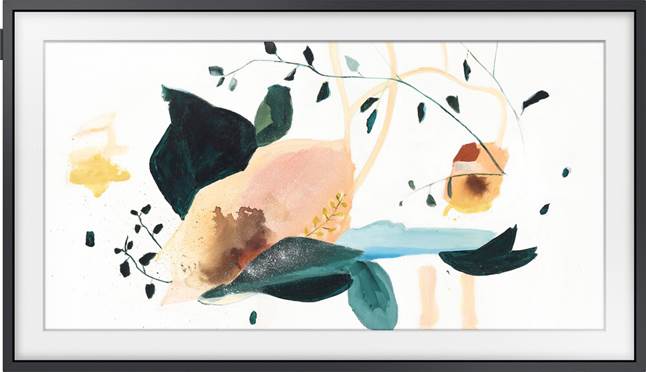 Art Mode transforms The Frame into a beautiful work of art when you're not watching TV.
The Frame itself, well, it looks like a frame. So it easily doubles as a work of art when you're not watching TV or movies. Display a selection of masterworks from galleries around the world. Or perhaps even more satisfying — display a few of the countless photos you've taken with your phone and never made prints of.
Movie night can be a work of art, too
The QN32LS03T's 32" screen might be small, but the picture quality will make a big impact on your favorite movies and shows. And its compact size means it can fit comfortably into a bedroom, office, or kitchen — or you can just tuck it into your gallery wall amongst your other art.
Thanks to Quantum Dot Technology, these QLED TVs can deliver 100% color volume in the DCI-P3 color space — that's over a billion shades of color. In simpler terms, it means that the TV can display vivid, accurate colors at any brightness level.
So many display options
The QN32LS03T keeps a very low profile when hung with Samsung's included No Gap Wall Mount. It allows the Frame TV to rest nearly flush against the wall, just like a real picture frame.
But you don't have to hang it on the wall to create an artsy look. This model has a special multi-position stand that allows it to mimic a standing picture frame by leaning back slightly. You can also rotate The Frame on its stand to display vertical art when the mood strikes you.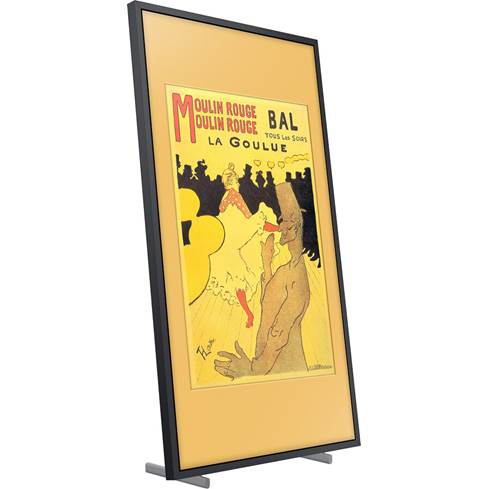 The 32" Frame TV allows portrait orientation, and its multi-position stand can lean back for a very artsy display.
A rotating digital gallery
The Frame includes a curated collection of 20 pre-loaded pieces of art. But if you crave more options, you can purchase individual pieces from the Art Store or pay a monthly membership fee for unlimited access to the whole catalog. And if you subscribe, The Frame will learn your taste and automatically curate your collection accordingly.
Show off your own works of art
It's easy to upload and display your own photographs or digital versions of other kinds of art, too. Load them up on a USB flash drive, or simply use the Samsung SmartThings app on your phone. You can use the app's filters to edit and improve your uploaded images. Further customize the artwork display by choosing from different matte color and layout options. Built-in ambient light sensors adjust the image to your room's lighting conditions.
Smart stuff
Ready for a movie marathon? This smart TV doesn't disappoint, with loads of ways to watch your favorite content. The major players are all there, including Netflix®, Amazon Prime Video, and YouTube. It also includes the Apple TV® streaming app, so you can rent, buy, and watch titles from Apple's video library, and subscribe to Apple TV channels, all without connecting a separate device. The QN32LS03T also supports Apple AirPlay® 2, so you'll be able to stream content wirelessly from your iOS® device or Mac® to this beautiful screen. Android users can mirror content using the SmartThings app.
Samsung's slim OneRemote is one of the smartest remotes we've seen. It automatically detects, identifies, and controls your connected devices and content. It also has a built-in voice assistant which you can activate by pressing the mic button or by saying "Hi Bixby."
Already have a voice assistant you love? This TV is also compatible with Amazon Alexa and Google Home devices.
Personalize it
And if you want The Frame to blend in or stand out in your decor, customize it with an add-on bezel (sold separately) to match or contrast the rest of your art or furnishings. This pint-sized version even comes in a few extra fun colors that you won't find on the larger sizes.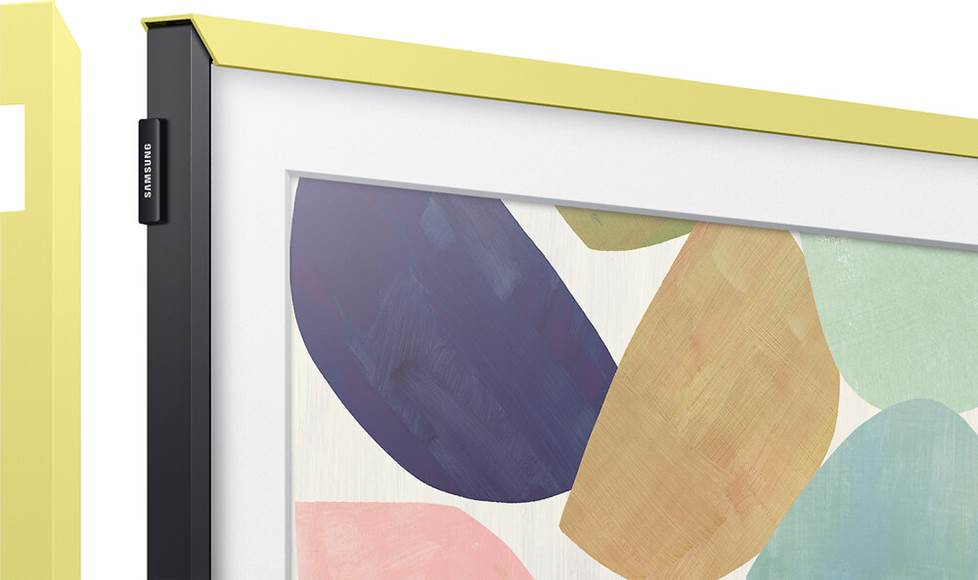 The Frame's gallery-like bezel can be swapped out for different colors (sold separately), so it can blend in or stand out as much as you want.
READ LESS
Product highlights:
Picture:
31.5" screen (measured diagonally)
1080p HD screen resolution (1920 x 1080 pixels)
Quantum Dot technology provides 100% color volume — full color with full brightness
Art Mode transforms The Frame into a beautiful work of art when you're not watching TV

upload your own files via flash drive or the SmartThings app
adjust your photos using the many filter, matte, and layout options
includes a built-in gallery of 20 pieces of professionally curated art
My Collection provides 2GB of memory to store your favorite personal photos for display on the TV
Samsung's online Art Store lets you buy individual pieces or subscribe to an ever-increasing library of established and emerging artists' work
the Art Store's Auto Curation feature learns what you like and recommends new art accordingly
Art can be displayed vertically or horizontally

Hyper Real processor
edge-lit LED backlight with Micro Dimming Pro
Motion Rate 60 (60Hz refresh rate)
Filmmaker Mode™ automatically adjusts picture settings to preserve the director's intent
Smart TV features:
Apple TV app lets you rent, buy, and watch titles from Apple's video library, and subscribe to Apple TV channels, without connecting a separate device
built-in Bixby intelligent voice assistant
supports voice control of compatible apps:
built-in Wi-Fi (802.11ac)
built-in Apple AirPlay 2 for streaming from iOS® devices or a Mac®
Connections (on One Connect Box Mini):
2 HDMI 2.0b
RF input for antenna/cable signals
Toslink optical digital audio output (can pass Dolby® Digital multichannel or 2-channel audio from connected sources)
2 USB 2.0 inputs for connecting a thumb drive or other device
RS-232C port
built-in ATSC tuner receives over-the-air HDTV broadcasts (antenna required)
One Connect Box Mini dimensions: 8-1/4"W x 1-5/16"H x 3-5/8"D
8.2-ft. ultra-thin proprietary cable to connect hub to TV

not rated for in-wall use
Sound:
built-in 2-channel speaker system (20 watts)
Bluetooth® wireless audio streaming to a compatible speaker or set of headphones

the TV's audio outputs will be disabled when streaming audio to Bluetooth headphones or speakers; you can choose to have the TV's built-in speakers play or not
General features:
OneRemote with built-in microphone for voice control
dimensions: 28-1/2"W x 17-13/16"H x 5-5/8"D with stand; 28-1/2"W x 16-1/2"H x 1"D without stand
weight: 11.9 lbs. with stand; 11.7 lbs. without stand
multi-position stand allows greater flexibility

can be used like a standard stand with TV upright
lean-back option mimics the look of a standing picture frame
Frame can be rotated to sit vertically on stand as portrait display

wall-mountable (includes No Gap Wall Mount)

no support for VESA wall mounts

can be personalized with colorful bezel (sold separately)
warranty: 1 year parts & labor — in-home service
MFR # QN32LS03TBFXZA
What's in the box:
Samsung QN32LS03T "The Frame" owner's manual
32" Frame TV
One Connect Mini Box
8' One Connect cable
5' AC power cord
Remote control (BN59-01330H)
2 "AA" batteries
2 Pedestal feet (stored on back of TV)
2 Wall brackets
2 Bracket screws
Two M4x14mm screws
4 Wall screws
4 Wall anchors
Cable-clamp
Quick Setup Guide
Correction Sheet
Wall Mount Installation Guide
Important Safety Precautions
"Accesory Kit/Connect" sheet
Warranty Information
"Using Accessibility Functions" sheet
Wall-Mount Template
EnergyGuide:

View EnergyGuide label
Customer reviews for Samsung QN32LS03T "The Frame"
Loading...
Loading reviews...
Average review:
4.5 out of 5 stars
Thanks for submitting your review
Most reviews are processed and published within 5 business days. You will receive a confirmation email once your review has been published.
Customer photos
This review was collected as part of a promotion
More details on the Samsung QN32LS03T "The Frame"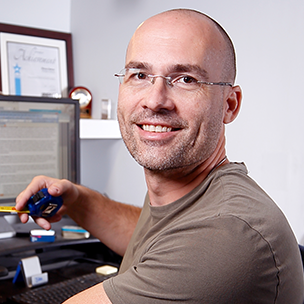 Researched by Crutchfield's

Stacey B.
Product Research
Video Section
Audio Section
Network/Internet/USB Functions
Remote/Voice/App Control
Convenience Features
Mounting Options
Video Section
Art Mode: In TV Mode, the Frame TV is a beautiful high defintion TV. But when you turn it off, the Frame TV enters Art Mode and begins elegantly presenting art or your own cherished photos to bring an inspiring, intimate touch to any room. In Art Mode, the Frame TV adapts the image on the screen with room lighting conditions to more closely resemble a work of art. The Frame TV delivers a stunning, gallery-quality experience that will bring great art and cherished memories to life in a fresh, new way.
Artwork: Select artwork from Samsung's preloaded collection or subscribe to the online art store and purchase artwork. You can also display your own personal content downloaded on a USB thumbdrive.

Samsung Collection: The Frame TV comes with the Samsung Collection, an exclusive, professionally-curated collection of many works of art from renowned artists spanning multiple genres (Landscapes, Patterns, Still Life, Digital Art, Urban Abstract, From Above, Action, Architecture, Drawing, & Wild Life). You'll find stunning photography, paintings, drawings, and digital works selected to complement a wide variety of tastes and decors.
Online Art Store: The online Art Store lets explore extraordinary works from internationally recognized artists. You can buy individual pieces or subscribe to an ever-increasing library of established and emerging artists' works. Over 1200 pieces of artwork are available. The Frame TV even learns your taste in art and automatically recommends new artwork. It also keeps you informed of new and popular artists as they become available in the Art Store. Get a free 1-month subscription to the Art Store, when you purchase The Frame TV. After 1-month, fees will apply to subscription service. Art pieces in the Art Store are subject to change without prior notice.
Personal Content: You are even able to download your favorite personal photos onto the Frame TV's 2GB memory for display on the big screen. Simply connect an external USB MSC device (like a USB thumbdrive) with images you want to download to the USB port on the Frame TV's One Connect Mini Box. Images must be in a JPEG format and have a resolution between 320 x 180 to 7680 x 4320. You can also wirelessly download photos that are on your Apple iOS or Android mobile device to the Frame TV using the SmartThings app (for Apple iOS 10.0+ and Android OS 6.0+). Personal photos uploaded to The Frame TV will be displayed at the original resolution. Displaying 1080p (1920 x 1080) and above images is recommended.
Favorites: You can even build your own personalized collection of favorite art pieces (Samsung Collection, Online Art Store, and Personal Content). Select and mark the pieces you like as favorites so you can easily access them all in one place.

Control: The Frame TV allows you to select matte layout & color, as well as use pre-loaded filters and create a customized slideshows. With Art Mode, you get a variety of different layout styles and a palette of multiple colors to choose from, allowing you to style and personalize Art that suits your mood.

Matte Layout & Color: You can even complement your artwork with just the right combination of matte layout and color. There are a vareity of options to choose from - Art Layout (Shadow Box, Modern, No Matte); Photo Layout (Shadow Box, Squares, Triptych, Modern, Mixed, Panoramic); and Matte Color (Polar, Antique, Warm, Natural, Sand, Sea Foam, Sage, Burgundy, Navy, Black).
Filters: Transform your personal photos using pre-loaded filters to add your own personal touch. Pre-loaded filters include Original, Art Deco, Ink Wash, Pastel, Aqua, Fauve, and more.
Customized Slideshow: Enjoy the artwork you like at the time that you would like it displayed. Select the art and set the duration it should be displayed on screen. Slideshow intervals between artwork can be set to 10 minute, 30 minute, 1 hour, 6 hours, 12 hours, or 1 day.
Mobile App: Your smartphone is always on hand, and with easy-to-use mobile control, you can instantly update the view with just a few taps. Adjust the settings or find new artwork to display with your smartphone device. Simply download Samsung's SmartThings app (for Apple iOS 10.0+ and Android OS 6.0+) onto your compatible smartphone or tablet device.
Voice Control: The built-in Bixby or Alexa voice assistant can go beyond just controlling what you want to watch on TV, and also helps turn on Art Mode. For example, ask Bixby or Alexa to "Turn Art Mode on" to starting enjoy your artwork and photographs.

Sensors: The Samsung Frame TV has a built-in Motion & Brightness Sensor to make sure you always see your artwork at its best.The Motion Sensor and Brightness Sensor operates only in Art Mode (not TV mode). Performance may vary depending on the lighting conditions.

Motion Sensor: The Frame TV automatically turns off to save power when you leave the room and turns on when you return. The Motion sensor operates only when The Frame is in Art Mode. Actual results may differ depending on lighting conditions.
Brightness Sensor: By detecting the ambient light, the Brightness Sensor automatically balances the screen's brightness and color tone for a natural illumination. So whether it's day or night, you can see your art how it was meant to be seen. Performance may vary depending on the ambient brightness level.

Ambient Mode+: Ambient Mode+ helps the Samsung Frame TV blend in even more with your home decor. Instead of a artwork and photos, you can choose for the TV to display background decor, important information, and special lighting from the TV's on-screen menu and SmartThings app on your Apple iOS 10.0+ or Android OS 6.0+ device.

Decor: Set the screen with a background and colors that matches your room decor perfectly. From the SmartThings app on your compatible mobile device you can even use a photo of your wall to recreate the pattern on screen.
Info: You can display information on the TV screen like the time and date or weather and news updates with a beautiful background.
Lighting: Special lighting for special occasions. Select from a variety of options, like neon, and have some fun with your space.
QLED Technology: Samsung's Frame TV utilizes Quantum Dots to produce an immersive viewing experience with a wide range of color, exceptional contrast, and accurate detail. Quantum Dots are nano-sized, cadmium-free, finely tuned particles that turn light into the brilliant billion plus colors you experience on Frame TVs. Quantum dots are inorganic particles that resist wear out, so you can enjoy superb picture quality for years. As some TVs age, you may see that colors are less vibrant. Frame TVs are built to last and provide a vibrant picture even after long periods of time. Samsung's metal alloy quantum dot pixels feature inorganic materials that are engineered for durability and resistance to fading.
1080p Resolution: The Samsung Frame TV is outfitted with two HDMI 2.0 inputs (located on the One Connect Mini Box Mini). The TV's HDMI inputs will support 1080p (24/60Hz), 1080i, 720p, 480p and 480i video signals. All video signal are upscaled and displayed at 1080p. This TV does not contain analog composite or component video inputs.
Quantum Dot Color (100% Color Volume): Samsung QLED TV delivers 100% color volume with over a billion shades of color (powered by Quantum Dots). QLED TVs with 100% Color Volume deliver a brilliant visual experience by providing a rejuvenating effect for colors that may appear dull or faded in challenging content. QLED televisions can produce 100% color volume in the DCI-P3 color space, the format for most cinema screen and HDR movies for television. By definition, Color Volume is an index of how well colors are reproduced in richness and accuracy at different brightness. With higher color volume, you get a wider, more diverse range of color that feels rejuvenated at higher brightness levels.
HDR (High Dynamic Range): The Samsung Frame TV features the ability to provide a premium High Dynamic Range (HDR) experience, with a higher level of contrast between light and dark images. HDR delivers a much higher level of contrast between light and dark to produce an image that is more realistic and closer to what the content creator imagined. This increased contrast reveals the subtle nuances of the image, from detailed blacks and shadows to the brightest whites and colors, plus greater depth. The TV supports HDR10 only. Not compatible with Dolby Vision, HLG, or HDR10+.
HyperReal Picture Engine: The Samsung Frame TV utilizes Samsung's HyperReal Picture Engine with additional proprietary technologies to achieve an optimized high-definition picture.
PurColor: PurColor allows the TV to express most shades of color as nature intended for optimal picture performance. Most TV's focus on the adjustment points of primary colors Red, Green and Blue. PurColor focuses on primary and secondary colors Magenta, Cyan and Yellow. You'll witness a wider spectrum of colors on the TV screen, just like the director intended. You'll enjoy enriched colors while watching your favorite movies, and shows, even if it's older, non-HD content.
Micro Dimming Pro: Micro Dimming Pro Technology enhances the picture quality of Samsung TV by analyzing each frame of video to optimize the LED backlight and video signal in real-time.
LED Clear Motion: The LED Clear Motion feature configure the LED backlight to sharpen fast-moving images for a clear image.
Picture Controls: You can make the following adjustments for an optimum picture. The TV's picture adjustments can be made for a particular AV input or for all inputs.
Picture Sizes: You can choose one of the following screen sizes - 16:9 (16:9 widescreen format), 4:3 (4:3 standard format), or Custom (magnifies or shrinks 16:9 pictures vertically and/or horizontally).
Picture Modes: Picture Modes apply preset adjustments to the picture. Select from Dynamic (increases the brightness of the screen), Standard (suitable for a normal environment), Natural (useful for reducing eye strain), or Movie (darkens the screen and reduces glare).
Manual Picture Settings: The TV has several options for manually adjusting the picture quality. Manually adjust Backlight (adjusts the brightness of the LED backlight), Contrast (increases or decreases the contrast between dark and light areas of the picture), Brightness (adjusts the brightness level of the picture) Sharpness (sharpens or dulls the edges of objects), Color (adjusts the color saturation of the picture), and Tint (adjusts the amount of green and red in a picture).
Expert Settings: The TV also offers more advanced picture adjustments for expert fine tuning. Fine tune the

Contrast Enhancer: automatically balances the contrast to prevent excessive differences between bright and dark areas
Color Tone: adjusts the overall color tone of the televisions using Cool/Normal/Warm 1/Warm 2 presets
Color Space: adjusts the range of colors available to create the image
White Balance: adjusts the color temperature for more natural picture colors)
RGB: displays the Red/Green/Blue color for making fine adjustments to the hue and saturation
Gamma: adjusts the primary color (red/green/blue intensity)
Shadow Detail: adjusts the brightness of dark images to increase detail in blacks
HDMI Black Levels: adjusts the black level to compensate for low black levels, low contrast, or dull colors generated by external devices connected to the TV via an HDMI cable; this function is only available when the input signal connected to the TV via an HDMI connector is set to RGB 4:4:4
Noise Reduction: reduce picture noise to avoid distractions such as flickering
Film & Games Modes: The Samsung Frame TV offers unique Film & Game modes to enhance your movie and gaming experience.
Film Mode: The TV can be set to automatically sense and process film signals and adjust the picture for optimum quality. This feature is only available for the built-in HDTV tuner and the TV's HDMI inputs (1080i only).
Game Modes: You can enable Game Mode to optimize the TV's settings for playing video games with a gaming console. Game Mode bypasses and disables some of the TV's video processing to allow for faster video gaming response time. You can also enable the Game Motion Plus option, which adds back in a little motion processing for smoother video motion while gaming (the video lag will be a little slower than the standard Game Mode).
Built-in HDTV Tuner: The TV features a built-in over-the-air HDTV (ATSC) tuner, so you don't need a separate set-top box to receive and decode over-the-air HDTV/SDTV signals (up to 1080i). A single RF-type coaxial input (located on the Frame TV) is use to connect an external indoor/outdoor antenna (sold separately).
Audio Section
ARC (Audio Return Channel): The Audio Return Channel within the television's HDMI 2 input enables the TV, via a single HDMI cable, to send audio data "upstream" to an A/V receiver; increasing user flexibility and eliminating the need for any separate S/PDIF audio connection. This feature allows audio to be sent from the television to your A/V receiver through the same HDMI cable already being used to send audio/video to the television. This eliminates the need for extra cables connected to the TV. ARC allows audio from the TV tuner, Network connection, inserted USB device, or HDMI inputs to be heard through your ARC compatible AV receiver via the television's HDMI ARC input.
The audio from the TV's tuner, HDMI inputs, USB ports, and Samsung TV apps can pass as Dolby Atmos (via Dolby Digital Plus), Dolby Digital Plus, Dolby Digital, or 2ch PCM.
DLNA compliant devices will be output audio at 2ch PCM only.
DTS multichannel audio formats are not supported.
Note: Both the television and the receiver must support ARC for this function to work properly. When connecting an A/V receiver that is compatible with Audio Return Channel (ARC), connect it to the TV's HDMI 2 input. If connecting a system that is incompatible Audio Return Channel (ARC), an additional audio connection via Digital Audio Out (Optical) is necessary. The TV's speakers are muted when using ARC function.
Optical Digital Output: The TV's optical digital output terminal (located on One Connect Mini Box) will output Dolby Digital (when available) or 2ch PCM. The digital optical output terminal only sends an audio signal in Dolby Digital when receiving Dolby Digital surround sound from a digital broadcast channel through the tuner, network apps, HDMI inputs, or USB ports. When the TV's optical digital output is selected, the TV's speakers are muted. DTS multichannel audio formats are not supported.
Note: This TV does not contain any analog outputs.
Built-In Bluetooth: Thanks to built-in Bluetooth, you can wirelessly connect a single set of Bluetooth headphones, a stereo pair of Bluetooth speakers, or a single Bluetooth speaker with the Samsung TV. You are able to stream audio from any of the TV's built-in sources or connected sources to the Bluetooth headphones or speakers. You can choose to have the TV speakers play at the same time as your Bluetooth headphones or speaker, or you can turn the TV speakers completely off. The TV's audio outputs and HDMI ARC will be deactivated when streaming audio to Bluetooth headphones or speaker. The volume of the Bluetooth headphones or speaker will be controlled via the headphones or speaker, and not the TV.
Audio Settings: The Samsung Frame TV offers a variety of audio adjustments to meet your listening needs.
Equalizer: You can manually adjusts the TV's built-in 7-band EQ (100, 200, 500, 1k, 2k, 5k, & 10k Hz) for a more customized sound; or simply choose from the following EQ Preset Modes - Standard, Adaptive, or Amplify.
Auto Volume: The Auto Volume feature equalizes the sound automatically so that the volume level remains the same when you change between channels and sources.
Audio Delay: The Audio Delay function corrects audio/video mismatch, when watching TV or video, and listening to a digital audio output using an external device such as an AV receiver. You can adjust the audio delay from 0ms to 250 ms.
Network/Internet/USB Functions
Network Connection: You can set up the Samsung Frame TV so that it can access your home network and online Samsung TV Apps through your local area network (LAN) using a wireless connection (built-in WiFi); it also supports WiFi Direct.
WiFi 802.11ac: The TV is IEEE 802.11ac WiFi certified for a wireless network connection. You can setup the wireless network connection using these four methods; Automatic, Manual, WPS (PBC), or WPS (PIN). The TV's built-in WiFi supports WEP (open/shared), WPA-PSK (TKIP/AES), or WPA2-PSK network security. The TV should be positioned within 50' of the wireless router, modem, or access point.
WiFi Direct: When using WiFi Direct, you can connect directly with other devices without using a wireless router. You'll be able to wirelessly transfer personal content (such as photos & videos) to the Samsung Frame TV without connecting to your home network. WiFi Direct completely bypasses your WiFi access point/router, so it's easy to set up. Streaming of copy-protected content and other certain formats are not supported.
Note: Samsung recommends a dual-band Gigabit wireless-N router or better and a home network connection speed of at least 10Mbps for standard and high-definition streaming.
Samsung TV Apps: Once you have connected the Samsung TV to your home network, you gain access to Samsung's TV Apps. Samsung's TV Apps let you download online applications and services to the Samsung Frame TV. Samsung TV Apps has a growing collection of online applications that connect you to some of your favorite online content. You can enjoy a variety of content from various downloaded applications - such as movies, TV shows, music, news, sports, and weather (subscriptions and purchase fees will apply).
Note: You will need to agree to Samsung's Smart Hub Terms & Conditions, Privacy Policy to gain access to all available content.
Built-In Apple TV: The Samsung TV features built-in Apple TV with support for iTunes Movies & TV Shows. With the new Apple TV app on the Samsung TV, you'll be able to access your existing iTunes library and browse the iTunes Store to buy or rent from a selection of hundreds of thousands of movies and TV episodes. The Apple TV app will work seamlessly with Samsung's Smart TV Services - such as Universal Guide, Keyword Search, and Bixby - to create a consistent experience across the Samsung user interface.
Note: Apple TV is not compatible with Alexa or Google Assistant voice control.
Mobile Device Mirroring: You are able to mirror video and photo content from your compatible mobile device on the Samsung TV. Smart View for Samsung Android devices and AirPlay 2 for Apple iOS devices are supported mirroring applications. Your Apple iOS or Android device must be connected to same wireless network as the Samsung TV.
Smart View (for Android): You are able mirror content from your Samsung Android smartphone with Smart View built-in on the Samsung Frame TV. You'll be able to mirror photos, videos, music, online apps and more on the big screen. Within Smart View is a Multi View feature that allows you to mirror the screen of your Samsung mobile device alongside the TV's content at the same time, so you can watch them side-by-side.
AirPlay 2 (for Apple iOS): With support for AirPlay 2, you will be able to wirelessly stream content (including videos, photos, music, podcasts, and more) directly from your Apple iPhone/iPad (iOS 11.4 and newer) or Mac computer (OS X 10.13.2 and newer) to the Samsung TV's big screen - all without the need for an Apple TV or additional wired connection. AirPlay 2 does not support Multi View.
Content Share: You can play media content saved on your computer (via DLNA), thumbdrive or hard disk drive (via USB), and the cloud (via Samsung Cloud) through the Samsung Frame TV.
DLNA Certified: The Samsung Frame TV is DLNA certified, allowing you to watch videos and photos, as well as listen to music saved on your Windows 7/8/10 PC (or other DLNA Certified media server) through the TV via its Ethernet (LAN) port or built-in WiFi (wireless).
USB 2.0 Ports: The television is equipped with two USB-A 2.0 ports (located on One Connect Mini Box); there is one USB 5V/0.5A port for connecting a USB thumbdrive and one USB 5V/1A port for connecting a HDD (hard disk drive). An external HDD may require its own AC power adapter. Both USB 2.0 ports let you view photo and movie files, as well as listen to audio files saved on a compatible USB device. Files must be formatted in FAT, exFAT, or NTFS. The TV can recognize up to 1,000 files per folder.
Gallery App (Samsung Cloud): The built-in Gallery App lets you view photos and videos synchronized with the Samsung Cloud. You can enjoy various content synchronized with a mobile device that supports the Samsung cloud. The available content types are photos, videos, stories, and other content shared through your groups.
Note: Compatible video file formats include AVI, MKV, WMV, MP4, and MOV. Compatible photo file formats include JPEG, PNG, BMP, and MPO. Compatible audio file formats include MP3, WMA, AAC, AIFF, ALAC, FLAC, WAV, and OGG.
SmartThings Compatible: From the Samsung TV's on-screen dashboard, you can monitor, configure, and control smart devices you connected to the SmartThings service via the SmartThings app (for Apple iOS 10.0+ and Android OS 6.0+) installed on your compatible smartphone or tablet device. You'll receive notifications about the statuses of your smart devices on the Frame TV's screen. You'll also be able to create custom modes to easily control multiple smart devices with a single command from the TV. Control of your SmartThings devices can be done from the included remote with Bixby or your mobile device running the SmartThings app.
SmartThings & Samsung Devices: With SmartThings hub functionality, the Samsung allows you to connect and control SmartThings compatible devices - including a Multipurpose Sensor, a Motion Sensor, a Arrival Sensor, a Water Leak Sensor, and a Smart Outlet (all sold separately - see Accessories Tab). It is also compatible with a number of Samsung appliances - including refrigerators and washers/dryer machines.
Internet of Things (IoT): In addition to being compatible with SmartThings and other Samsung network-enabled products, Samsung Connect Home is compatible with a number of third-party network devices that support Internet of Things (IoT) through Z-Wave, zigbee, LAN, or Cloud-to-Cloud; including locks (from Kwikset & Schlage), thermostats (from Honeywell), cameras (such as Netgear Arlo), light bulbs (such as Philips Hue), and more.
Full Web Browser: You can surf the Internet on the TV as you would on a PC. You may enter a URL addresses or enter a keyword search. The player will archive your web browser history. You can scroll web pages with the directional pad on the included remote. For a more convenient web browsing experience, connect a USB- or Bluetooth-enabled keyboard and mouse (sold separately) to the TV.
Remote/Voice/App Control
One Smart Remote with Buil-in Mic For Bixby or Alexa: Using the Samsung One Smart Remote's built-in microphone and Bixby or Alexa voice recognition, your voice is all you need to control the TV and your SmartThing compatible devices. Because the One Smart Remote communicates with the TV through a wireless Bluetooth communication, you don't even have to point the remote directly at the TV. Bixby or Alexa can be activated by pressing and holding "mic" button on the remote and then speaking into the remote's built-in mic ("Hi Bixby" and "Alexa" wakeup commands are not supported). The TV's on-screen setup menu lets you choose which voice control service (Bixby or Alexa) you want to use and provides a brief tutorial. Bixby or Alexa is only available when the TV is connected to the Internet. Bixby will require an active Samsung Account user log-in, while Alexa requires an active Amazon Acout user log-in.
TV Control: Use the remote's built-in microphone and Bixby or Alexa to turn on/off the Samsung television, adjust menu settings, change channels or inputs, adjust the volume, and even launch your favorite online music or movie apps.
SmartThings Control: Using the remote's built-in microphone with Bixby or Alexa and the TV's on-screen dashboard, you'll be able control your connected SmartThing and IoT devices. It will know all your connected devices, so all you have to do is say a command.

Questions & Answers: You can also use the One Smart Remote to ask Bixby or Alexa questions about the weather, traffic, news, sports, etc.
Notes:
Google Assistant supported will be added via a future over-the-network firmware update (no ETA).
You will need to agree to Samsung's Smart Hub Terms & Conditions, Privacy Policy to use voice control. Not all accents, dialects and expressions may be recognized. The list of features that can be controlled by voice commands will continue to expand. You can only choose to one type of voice control service (Bixby, Alexa, or Google Assistant).
When you turn on the TV for the first time, the Samsung One Smart Remote pairs to the TV automatically. If the Samsung One Smart Remote does not pair to the TV automatically, point it at the remote control sensor of the TV, and then press and hold the "Back/Return" and "Play/Pause" buttons simultaneously for 3 seconds or more.
Universal Remote Control Function: You can control external devices connected to the TV via HDMI using the One Smart Remote, Anynet+ (HDMI-CEC), and Auto Source Recognition.
Anynet+ (HDMI-CEC): You can use the TV's One Smart Remote to control external devices that are connected to the TV by an HDMI cable and that support Anynet+ (HDMI-CEC). Anynet+ (HDMI-CEC) can control up to 12 compliant external devices (up to 3 of the same type) except for home theaters; Anynet+ (HDMI-CEC) can control only one home theater system.
Auto Source Recognition: The TV uses Auto Source Recognition technology to automatically detect what kind of devices are plugged in via HDMI; then the One Smart Remote makes it simple to control these detected devices through the TV via HDMI-CEC. Auto Source Recognition and controlling function may not be supported by certain devices connected to the TV. To use the Auto Source Recognition feature, all HDMI-connected devices must also be on the same network and Internet connection is required.
Note: The remote control does not support IR commands. However, the TV does have an IR receiver and will support universal remote controls - such as Logitech's Harmony (sold separately).
SmartThings App: Use the SmartThings app (for Apple iOS 10.0+ and Android OS 6.0+) to turn your compatible smartphone or tablet into a remote control for the Samsung Frame TV. Use the SmartThings app on your compatible Apple iOS or Android device to quickly and easily connect to the TV and control its main settings from your smartphone or tablet. In addition, you can remotely check and control the statuses of various devices such as Samsung smart devices, home appliances, and speakers registered to the server. Through the SmartThings app, you can even use Bixby on your Samsung Galaxy S8 series or higher mobile device to operate the TV via voice commands (not compatible with Apple iOS or older Android devices).
Keyboard & Mouse Compatible: The Samsung Frame TV will support a USB or Bluetooth enabled keyboard and mouse (both sold separately), which makes web browsing a lot easier.
Serial Port (EX Link): You can connect the 3.5mm serial port to an external control device (such as a computer or A/V control system) to control the TV's functions externally.
Convenience Features
Smart Hub: The TV's Smart Hub offers easy navigation and quicky access to off-air and online content, as well as menu settings (many of these features can be done while still watching a program). The Smart Hub offers convenient access to content by displaying your favorite and most used TV applications, as well as recommendations for even more entertainment options. Samsung's Smart Hub offers unique ways to search and access your favorite and new content from the TV's tuner and network apps.
Universal Guide & Keyword Search: The TV's Universal Guide provides a list of curated content from broadcast and streaming channels, personalized just for you - so you can easily find your favorite content, all in one place. You can also type in a keyword to search for TV shows & movies across platforms, like over-the-air broadcasts and available online providers.
Smart TV Apps: From the TV's Home Screen, you can easily select the apps that have used previously or frequently. The apps can also be moved or deleted from the screen. You are also able to easily view, navigate and select between the following App categories - Editor's Choice, Most Popular, Downloaded Apps, Group Content, and Genre.
Channel Guide & Favorite Channels: In the Channel Guide, you can see the daily program schedules for each off-air broadcaster and Samsung TV Plus channels, see program information, choose a program to watch, and set up a schedule viewing. You can even designate frequently watched off-air stations as Favorites (up to 5).
Notifications & Reminders: Set notifications & reminders to display on screen. You'll get a pop up message on the corner of your TV screen when there is a notification or reminder.
Connection Guide: The TV's on-screen Connection Guide lets you view detailed information about external device that can be connected to the televisions. It shows you how to connect various external devices such as cable boxes, satellite receivers, Blu-ray players, game consoles, and more using on-screen images. You can also change the input name of a connected external device or add it to the Home Screen for easier access.
Netflix Recommended TV: Netflix Recommended TV is an evaluation program recognizing TVs that offer better performance, easier app access, and new features that make for a better smart TV. When you see the Netflix Recommended TV logo, it means the TV has passed a rigorous evaluation process based on criteria that Netflix members care about the most. The TV comes with the latest version of Netflix with newest features. It offers easier and faster access to Netflix, quicker playback and start times, and allows you to resume the Netflix app from where you left it.
Hearing & Visually Impaired: The Samsung Frame TV offers Closed Captions and Voice Guides for the hearing and visually impaired. The TV provides Analog Closed Captions and Digital Closed Captions for the hearing impaired. You can also activate Voice Guides that describe the menu options aloud to aid the visually impaired.
ECO Settings: The Samsung Frame TV provides ECO settings to reduce the television's power consumption and cut-down on energy costs.
Ambient Light Detection: Samsung's unique Ambient Light Detection measures the intensity of the room's light and automatically calibrates the brightness of the image on the screen. In a sun-filled environment, the screen gets brighter and in dim surroundings, the intensity is reduced. This feature optimizes the viewing experience while also saving you energy.
Power Saving Mode: This feature adjust the brightness of the TV in order to reduce power consumption. When watching TV at night, set the Energy Saver feature to High to reduce eye fatigue as well as power consumption. You can set this feature to High, Medium, Low, or Picture Off (sound remains on).
Motion Lighting: This feature adjusts the TV's brightness in response to on-screen movements to reduce power consumption.
Auto Power Off: Automatically turns off the TV to reduce unnecessary power consumption if there is no operation for the length of time you specify (up to 4 hours)
Security Settings: The Samsung Frame TV offers security features for TV programming and the Internet.
Program Rating Lock: The Program Rating Lock feature automatically locks out programs that are deemed inappropriate for children. You can block TV program based on their ratings and Movies based on their MPAA rating, so you have more control over what your children watch. The Program Rating Lock function is protected by a 4-digit PIN. You can also lock and unlock specific apps using the same 4-digit PIN.
Smart Security: When any device is connected to the Internet, it is vulnerable to hacks and malicious code. Samsung Smart Security protects the TV and storage media connected to the TV from such threats, when the television is connected to the Internet.
Timers: You can set Off Timer to shut off the TV automatically at a specific time; the Off Timer is only available if the Clock has been set. The Sleep Timer switches the television off after a specified amount of time. The Sleep Timer can be set to 30, 60, 90, 120, 150, or 180 minute.
Remote Support + Self Diagnosis: The Samsung Remote Support service offers you one-on-one support with a Samsung Technician who can remotely diagnose your TV, adjust the TV settings, perform a factory reset, and install recommended firmware updates. Your TV must be connected to your homes wired or wireless network. The Samsung Frame TV also provides a Self Diagnosis menu which allows you to check the television for picture, sound, and signal problems.
Notes:
You will need to agree to Samsung's Smart Hub Terms & Conditions, Privacy Policy to access Remote Support.
The television only comes with a brief User Manual. A complete instruction manual is built-in into the TV and can be viewed on-screen. Open the e-Manual to learn how to use the TV's many features.
Auto Updates: If the television is connected to the Internet, you can have the TV update its software automatically while you are watching it. When the background update is completed, it is applied the next time the TV is turned on. Updates can also be done via USB. Visit the Samsung Download Center for the latest Firmware & Software updates.
Notes:
You will need to agree to Samsung's Smart Hub Terms & Conditions, Privacy Policy to enable Auto Updates.
Do not turn off the TV's power until the update is complete. The TV will turn off and on automatically after completing the software update. Video and audio settings will be reset to their defaults after a software update.
Mounting Options
The Frame Design (Interchangeable Frames Sold Separately): Designed to be indistinguishable from a modern picture frame in every detail, the Frame TV is able to seamlessly blend with any room decor. The Frame TV's interchangeable frame is the secret to interior harmony. It magnetically attaches to the standard metal frame, allowing the Frame to beautifully complement any space. Available in attractive finishes, the high-quality frame options (sold separately) add an elegant finishing touch to any decor.
One Connect Mini Box: The Frame TV includes Samsung's One Connect Mini Box which connects to the television via a single 16' proprietary fiber optic cable. The One Connect Mini Box features 2 HDMI inputs, an Optical Digital output, and two USB-A 2.0 ports. The One Connect Mini Box provides clean integration of all your external devices so there's less clutter, plus allows you to update your TV with the newest software and features. The One Connect Mini Box measures 8.25" (w) x 1.375" (h) x 5.5625" (d).
Proprietary Fiber Optic Cable: The included 8' proprietary fiber optic cable has a diameter 0.25" in diamter and each connector measures 1.375" (w) x 0.5" (h) x 2.25" (d). The cable is not directional and the connectors are interchangeable for connection at the Frame TV or One Connect Mini Box. When installing the proprietary fiber optic cable, make sure it is not bent at a 90-degrees or greater angle (this will damage the cable). The proprietary fiber optic cable is not rated for in-wall use, but can be run through 2" conduit.
Detachable AC Power Cord: The One Connect Mini Box includes a detachable 5' AC power cord that plugs into the back of the box. The included 8' proprietary fiber optical cable which plugs in between the One Connect Mini Box and the Frame TV provides power to the television.
Note: The only connectors found on the Frame TV are the proprietary One Connect connector to plug into the One Connect Mini Box, an RF-coaxial input for the TV's built-in tuner, and a 3.5mm serial port (EX-Link).
Pedestal Feet: The Frame TV comes with two pedestal feet for mounting it on top of a piece of AV furniture. The Frame TV is shipped with the pedestal feet unattached and stored on the back of the TV. The pedestal feet mount to the TV with the included hardware. You can install the Frame TV's pedestal feet traditionally or in a way so the Frame TV mimics a standing picture frame. The pedestal feet do not allow the Frame TV to swivel. The television weighs 11.9 lbs with the pedestal feet.
Included Wall Mount: The Frame TV comes with two brackets and hardware to mount the television on your wall. The brackets mount the Frame TV almost flush with your wall. The wall-bracket does not swivel, tilt, or articulate. The TV weighs 11.7 lbs without the pedestal feet when wall mounted.
Note: Even though the Frame TV can be used with a 3rd party wall-mount bracket (sold separately), Crutchfield does not carry any wall-mount brackets that will fit this Frame TV.
Ventilation Clearance: When mounting the TV on the stand or a wall (with optional bracket) leave 4" of clearance on each side of the television and 4" above/below the television for adequate ventilation.
Loading...
Loading accessories...
4 questions already asked
Loading...
Loading articles...