About the Mark Levinson No.5802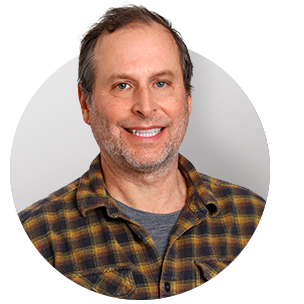 Beautiful design and big, detailed output
The No.5802 from Mark Levinson weighs in at 61 pounds, and features a beautiful curved aluminum and glass front panel — a statement piece from a storied audio brand. The 1"-thick aluminum chassis flows seamlessly into the elegant glass display. Two brushed aluminum hourglass knobs on either side control input and volume.
Beautiful design and big, detailed output
The No.5802 from Mark Levinson weighs in at 61 pounds, and features a beautiful curved aluminum and glass front panel — a statement piece from a storied audio brand. The 1"-thick aluminum chassis flows seamlessly into the elegant glass display. Two brushed aluminum hourglass knobs on either side control input and volume.
Refined industrial cosmetic design is a Mark Levinson hallmark. But it's the '5802's output that we love the most: huge, detailed sound, with the low noise-floor that only "big iron" — a massive transformer — can deliver.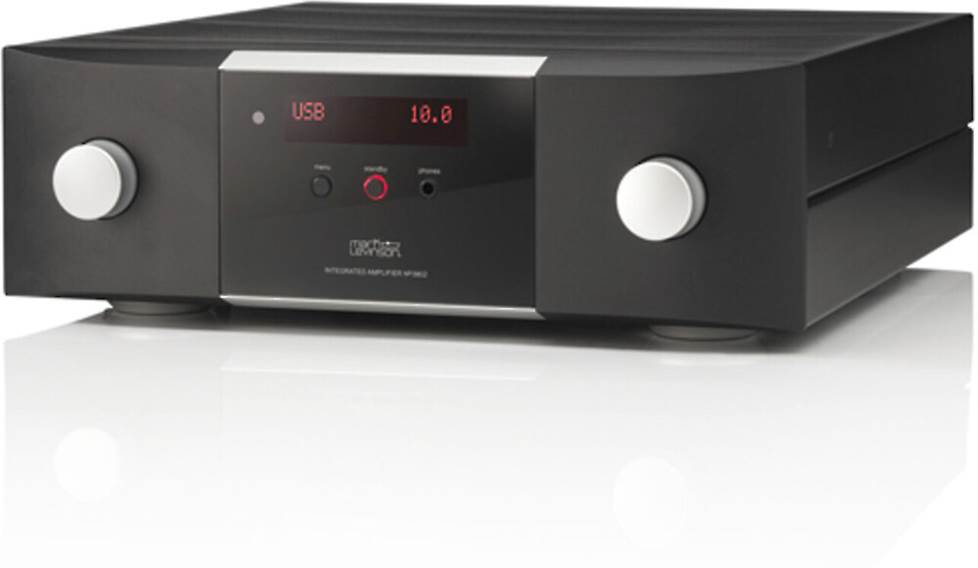 Mark Levinson's No.5802 integrated amp features a refined industrial cosmetic design.
Expansive soundstage for digital sources
Here is a single, stout component that reproduces digital sources with an expansive soundstage that is high, wide and deep.
The amplifier's beefy toroidal transformer underpins the dual mono, discrete component circuitry to produce an amazing accuracy of tone, timbre and dynamics. Whatever recording you happen to play through it, the '5802 gives you an energetic, lifelike rendering.
Flexible digital inputs
A total of six digital inputs — including optical and coaxial S/PDIF, USB Type-B, and AES/EBU digital XLR — feed through the '5802's Precision Link II DAC. This high-performance digital-to-analog converter makes the most of just about any digital source you send its way, including MQA (Master Quality Authenticated) music files. And with aptX-HD Bluetooth, even convenient wireless streaming from your compatible phone, tablet, or computer can sound excellent.
High-current output
The '5802 is also supremely flexible when it comes to your choice of loudspeakers. Four 10,000 microfarad capacitors per channel deliver 125 watts x 2 into 8 ohms, and 250 watts x 2 into 4 ohms, with consistent stability down to 2 ohms. In plain terms, it can cleanly power any speaker set you choose.
A legacy that sets the bar high
Since the company's inception in 1972, Mark Levinson has set world-class standards for quality, musicality and longevity. If you're lucky enough to find a vintage piece, the asking price may be higher than the original. And they're still designed and built in the USA.
We are thrilled that the recently developed 5000 Series brings the legendary sound of this brand into the realm of the attainable for more music lovers.
READ LESS
Product highlights:
125 watts x 2 channels into 8 ohms (20-20,000 Hz)
250 watts x 2 channels into 4 ohms
total harmonic distortion: 0.035% at 1 kHz (125W, 8 ohms); 0.18% at 20 kHz
Class AB dual mono amplification
Class A analog preamp stage has enough current capability to drive your headphones directly (via front-panel 1/4" output)
Precision Link II DAC

32 bit PCM/384 kHz and DSD 11.2 MHz capability
full MQA decoding on all digital inputs including asynchronous USB

Control with included aluminum remote or Mark Levinson 5Kontrol app for Android™ and iOS®
Integrated Bluetooth® receiver with aptX-HD
No.5000 series signature curved aluminum and glass front panel design
500+ VA (Volt-Amp) toroidal transformer
Connections:
1 AES/EBU digital XLR input
1 USB Type-B input
2 coaxial S/PDIF inputs
2 optical S/PDIF inputs
1 RCA stereo (variable) line output
1/4" headphone jack on front panel
1 pair of binding post speaker outputs
control ports include Ethernet (RJ-45), RS-232, 12V trigger input/output and IR input (3.5mm jack)
Warranty and other info:
web-based interface for system setup, configuration, and software updates
designed and hand crafted in the USA
17-1/4"W x 5-3/4"H x 20"D
weight: 61 lbs
warranty: 5 years
MFR # MLNO5802AM
Customer reviews for Mark Levinson No.5802
We don't have any reviews, yet.
Submit a review and then enter to win a $350 gift card.
Be the first to review this product
Loading...
Loading reviews...
Thanks for submitting your review
Most reviews are processed and published within 5 business days. You will receive a confirmation email once your review has been published.
Customer photos
This review was collected as part of a promotion
More details on the Mark Levinson No.5802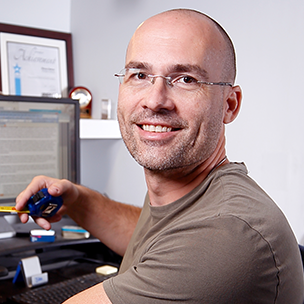 Researched by Crutchfield's

Stacey B.
Product Research
Features
Connections
Controls
Features
High Performance Integrated Amplifier: The No5802 integrated amplifier is designed to deliver all of the performance and quality expected from Mark Levinson, while implementing state of the art features and efficiencies gained from decades of superlative audio engineering. The Mark Levinson No5802 contains a high-performance preamplifier and class-A/B amplifier in one beautiful, iconic piece, so you can experience dynamic and vibrant digital audio. Feel the very soul of the artist's performance with this Mark Levinson 5000 Series integrated amplifier that delivers powerfully pure sound.
Class-A/B Amplification: With pristine class-A/B dual-mono amplification and a highly capable power supply, the No5802 delivers an abundance of power to your loudspeakers and fills an entire room with rich, distortion-free sound.
Oversized Toroidal Transformer: The fully discrete, direct-coupled, Class AB amplifier channels get their power from an oversized (500+ VA) toroidal transformer with individual secondary windings for the left and right channels. The voltage gain stage employs a topology directly descended from Mark Levinson's acclaimed No534 amplifier, which is mated to an output stage comprising two high-speed driver transistors operating in Class A and six 260V, 15A output transistors.
Low-Impedance Operation: Two Thermal-Trak devices in a unique configuration guarantee stable output bias regardless of load or temperature. Four 10,000-microfarad capacitors per channel, located directly on the output stage circuit board, easily provide enough current for a conservative 125 watts x 2 channels (at 8 ohms) and 250 watts x 2 channel (at 4 ohms), and stable operation down to 2 ohms.
Note: The amplifier section of this unit can be turned off so that it will operate solely as a preamplifier or headphone amplifier.
Precision Link II Digital-to-Analog Converter (DAC): The No5802 offer outstanding digital audio capability through the Mark Levinson Precision Link II DAC. The latest generation ESS Sabre 32-bit D/A converter with jitter elimination circuitry and a fully balanced, discrete current-to-voltage converter form the heart of the digital audio processing stage. The Mark Levinson No5802 accurately reproduces digital audio signals and minimizes noise, so you can discover new details in your favorite songs. You'll experience outstanding audio quality from your entire digital music collection. The unit supports PCM, DSD, and MQA playback with seven user selectable PCM filters and four lowpass filters for DSD playback.
PCM: The No5802 offers support for 32, 44.1, 48, 88.2, 96, 176.4, 192, 352.8, and 384kHz PCM. You can set the filter characteristic for PCM digital content such as the digital output from a CD player. Try several of these filters with the types of music you typically listen to and choose the one you prefer. Choose from Apodiz Fast, Hybrid Fast, Brickwall, Fast Linear, Slow Linear, Slow Minimum, and Fast Minimum.
DSD: The No5802 supports DSD Native/DoP 2.8, 5.6, or 11.2MHz. You can set the low-pass filter characteristic for DSD high-resolution digital content. You can select from roll-offs that begin at 47kHz, 50kHz, 60kHz or 70kHz. The audible effects of the different roll-off characteristics are subtle and will vary depending on the type of musical content and the high-frequency bandwidth of your speakers and headphones.
MQA: The Mark Levinson No5802 integrated amplifier offers full MQA (Master Quality Authenticated) decoding technology, which enables playback of MQA audio files and streams from any digital input - including USB-B, Optical, Coaxial, and AES. MQA delivers sound of the original master recording in the highest possible sound quality. At this level of playback you are hearing what was created in the studio - with precise file and platform-specific DAC compensation and management.
352.8kHz or 384kHz PCM Upsampling: Upsampling is the process of increasing the effective sampling rate of a digital audio signal. PCM signals at 44.1, 88.2, or 176.4kHz are upsampled to 352.8kHz; while PCM signals at 48, 96, and 192kHz are upsampled to 384kHz. Because these lower resolution signals inherently have fewer samples per second, it is impossible to perfectly recreate the additional samples that would have been present in a higher resolution signal. However, the advanced up-sampling algorithm of the No5802 is able to approximate these additional data points very well, and with most program material it offers a noticeable improvement.
Class-A Analog Headphone Stage: The No5802 features a MainDrive headphone output which employs a preamp output stage specifically designed with the current and power capacity to drive headphones directly in pure class A, without a separate headphone amp. As a result, you'll unleash all the performance your headphones can deliver with the Mark Levinson No5802 for an incredibly personal listening experience.
Audio Settings: The No5802 integrated amplifiers offers several audio adjustments for volume, mute, and source level.
Max Volume: This setting determines the maximum volume level setting in 0.5dB increments between 40.0dB and 80.0dB. The factory default maximum volume is 80.0dB. Set this value to the volume slightly below where your speakers start to distort audibly.
Turn-On Volume: This control lets you set the initial volume upon turn-on. Choose a turn-on volume level in 0.5dB increments between 10.0dB and 60.0dB. The factory default setting is 40.0dB. You can also set the turn-on volume level to the last used volume setting.
Mute Level: This setting lets you set the amount of Speaker output and Line output level attenuation that occurs when the Mute button is engaged, in 0.5dB increments between -10dB and -80.0dB. The factory default mute attenuation is -40dB.
Offset Adjustment: The output level of audio devices can vary from brand-to-brand and model-to-model, making some devices play louder or quieter than others. The Offset adjustment allows you precisely compensate for source volume differences so that all connected devices play at a similar volume level. The setting offers a range of -12.0dB to +12.0dB, in 0.5 dB steps.
Robust & Luxurious Design: From the gently curved profile to the beautiful glass panel, the No5802 is meticulously designed to exude excellence and luxury. Robust materials, lavish finishes and bold geometry are celebrated attributes of Mark Levinson designs. One-inch thick solid aluminum front panels are bead-blasted, black-anodized, and machine contoured to flow seamlessly into the sleek glass display, which itself is recessed into a bead-blasted and clear-anodized aluminum bezel. Two iconic hourglass knobs are machined with a gently curved profile softly transitioning into a rounded front. Meticulous artistry is evident in the fine details including debossed top cover vents, screen printing behind the glass panel and aluminum Standby and Menu buttons - all resting on matching custom aluminum feet.
Protection Circuitry: If the No5802 encounters a potentially damaging condition, its built-in protection circuitry will shut off the amplifier and the front-panel display will show error messages listed below.
DC Detected: The indicated amplifier channel has detected DC on the output, which can damage speakers.
Over Temperature: Indicates the amplifier channel has exceeded thermal limits.
Over Current: Indicated amplifier channel has exceeded current limits.
Connections
Digital Audio Inputs: The Mark Levinson No5802 is outfitted with a total of 5 digital audio inputs; including two optical (toslink) digital inputs, two coaxial (RCA) digital inputs, and one AES digital input. All digital inputs support 2ch stereo playback from PCM (up to 32-bit/384kHz), DSD (up to 256/11.2MHz), and MQA music files. It is not compatible with Dolby Digital, DTS, or other multichannel audio formats.
Note: The No5802 integrated amplifier does not contain any analog audio inputs.
Asynchronous USB-B Port: The No5802 integrated amp is equipped with an asynchronous USB-B port for connection to your Windows PC (7-up) or Mac computer (OSX 10.4-up), so you can play music files stored on your laptop or desktop through the Mark Levinson integrated amplifier. The USB-B input allows playback of PCM (up to 32-bit/384kHz), DSD (up to 256/11.2MHz), and MQA music files. A Windows PC will require a dedicated USB audio driver; a Mac does not require an additional USB audio driver.
Note: There is also a rear-panel USB-A port that is used for firmware updates only. The USB-A port does not support audio playback.
Bluetooth aptX-HD: The No5802 features Qualcomm aptX HD, the latest 24-bit High Res version of Bluetooth that is being supported by newer smartphones, tablets, and laptops. It preserves sound data through the audio transmission, resulting in a "better-than-CD" listening experience. With aptX HD, listening to music at the highest audible quality is possible wirelessly trough the Mark Levinson No5802 integrated amplifier.
Playback: You'll be able to stream stored music, music apps, and other audio content from your Bluetooth source device (such as a smartphone, tablet, laptop, or desktop computer) to the No5802 integrated amp.
Control: You can control basic playback functions (such as Play/Pause & Previous/Next Track) from the included IR remote; advanced music navigation will still need to be done from your Bluetooth source device.
Pairing: You can pair multiple device with the No5802, but only one Bluetooth source device can be connected and used for playback at a time.
Note: Your Bluetooth source device must also support Qualcomm aptX HD to enjoy wireless HD audio. If your device does not support aptX HD, you can still enjoy standard Bluetooth audio streaming.
Binding-Post Speaker Terminals: The No5802 utilizes gold-plated, high-current loudspeaker binding posts. The positive binding posts, labeled + (positive), are red; the negative binding posts are black and are labeled - (negative). The binding posts can accommodate speaker cables terminated in un-tinned bare wire (up to 10AWG), spade lugs and banana plugs (single only).
Note: Use high-quality 16AWG speaker or larger to ensure the highest fidelity performance.
Stereo Analog Line Outputs: Variable stereo analog line-level RCA outputs allow system expansion and flexibility. These stereo RCA jacks provide a line-level left-channel and right-channel signal that can be used to send the selected input to an amplifier connected to speakers in a second listening room, or a recording device.
Note: The Line outputs are variable and will follow the integrated amp's Volume, Balance and Mute controls.
Front-Panel Headphone Output: The No5802 is outfitted with a front-panel 1/4" TRS headphone jack. The integrated amp's speaker and line outputs automatically mute when a set of headphones are plugged in.
Controls
Front Panel Display: The front-panel 32-character alphanumeric display provides information about the No5802's operating status. During normal operation, it indicates the name and volume level of the selected input.
IR Remote: An elegant 5000 Series custom aluminum IR remote control is included for wireless operation of the Mark Levinson No5802 integrated amplifier. The remote provides control functions such as Power On/Off, Input Selection, Volume Up/Down, Mute, Balance, Play/Pause, Previous/Next Track, Stop, Menu Selection.
5Kontrol App: The new Mark Levinson 5000 series 5Kontrol app (for Apple iOS 9.0+ and Android OS 5.0+) allows you to control select functions of the integrated amplifier from your compatible Apple iOS or Android mobile device, From the 5Kontroll app you can select inputs, control volume, mute, and standby from your supported smartphone or tablet device that is connected to the same network as the No5802 integrated amp.
Make sure the No5802 has Firmware version 1.41 or above.
The No5802 must be connected to the same network as your Apple iOS or Android OS device.
The No5802 cannot be in Green Standby Mode. Green Standby mode disables  network functions once in standby. Setup power to the Power Save mode or the Normal mode for  the best user experience. 
Control Ports: System integration and communication ports include Ethernet, RS-232, IR input, and 12V trigger In/Out.
Ethernet: This RJ45 jack supports connection to a home network via Cat5e or CAT6 Ethernet cable and allows you to access the Setup menu and other controls via a browser-based setup panel on your laptop or desktop computer.
RS-232: This DB9F connector provides serial control through a standard RS-232 protocol. Click here for RS232 code data.
IR Input: This 3.5mm minijack port accepts IR (infrared) control signals from other equipment.
12V Trigger In/Out: The No5802 is outfitted with a 12V Trigger input (3.5mm) and output (3.5mm). These 12V triggers can be used to link other components in your system that also offer 12V triggers, so they turn on and off with one another.
Operating Modes: The No5802 integrated amplifier has three Operating modes - On, Standby, & Off.
On: The entire unit is powered up and all configured outputs are active.
Standby: The Standby mode has three settings that can be selected via the Setup menu - Green, Power Save, and Normal.

Normal: This mode shuts off the display and mutes its audio outputs, but keeps all of its control and audio circuits powered. This mode provides the least amount of power conservation, but allows the N05802s audio circuits to remain warmed up to deliver optimal performance at all times.
Green: This mode removes power from almost all of the amplifier's circuits, allowing the unit to be activated only via an IR control signal, a 5V - 12V trigger or a double press of the Standby button. This mode provides maximum power conservation and is the factory-default Standby mode.
Power Save: This mode removes power from the audio circuits, but keeps the control circuitry powered and ready to receive commands from the front panel controls, or the remote control or the web-browser Graphical User Interface (GUI). This mode provides moderate power conservation.

Off: The AC mains power is disconnected by removing the power cord from the rear panel.
Note: The No5802 has an Auto Off feature that automatically places it into the Standby mode after 20 minutes of no user control input or audio signal passing through the unit. The factory default setting for the Auto Off feature is On (engaged) as required for certain regions. You can disable the Auto Off.
Firmware Updates: The rear-panel USB (type-A) port allows you to perform firmware upgrades that may be offered in the future, and to import and export setup configurations via a standard USB thumbdrive (FAT32 formatted). Firmware updates may also be accomplished via download when the unit is connected to a local area network (LAN) via an Ethernet cable.
Note: The installation process for firmware updates takes at least 15 minutes and should never be interrupted.
Loading...
Loading accessories...
1 question already asked
Q
This unit does not HT bypass, right?
jj Apr 09, 2022
A
It does not have the home theater bypass ability. We offer some integrated amps that do have it. I recommend contacting an advisor by calling 1-800-324-9695 to get a personal recommendation
jason Apr 12, 2022
(Staff)
Loading...
Loading articles...