Product highlights:
Picture:
uses single-chip DLP system with XPR pixel-shifting technology to display true 4K UHD resolution (3840 x 2160)
widescreen 16:9 aspect ratio (can also display 4:3 material)
recommended image size: 30" to 300"
light output: 3,400 lumens
ISF modes let you save calibrated settings for day and night viewing
dynamic black technology for enhanced contrast and black level
500,000:1 contrast ratio
HDR-compatible for lifelike texture and detail (HDR10 and HLG)
supports 3D content
Gaming features:
enhanced gaming mode supports 1080p at 240Hz
up to 15.7ms input response time
game mode enhances color and contrast
Image adjustments:
1.3X zoom lens (manual)
vertical keystone correction: +/- 40°
Connections:
2 HDMI inputs (one 2.0, one 1.4a)
VGA input for connecting a computer
1.5A USB Type A port can power streaming sticks (sold separately)
one 3.5mm stereo minijack input and 1 stereo minijack output
RS-232C port for external control of the projector via compatible computer or third-party control device
detachable power cord
S/PDIF optical digital audio output
12-volt trigger output for controlling a motorized screen
General features:
240-watt lamp (lasts up to 15,000 hours in Dynamic mode)
quiet cooling fan (26 dB)
built-in speaker
backlit remote control
projection method: front, rear, upside down

can be ceiling-mounted with bracket (sold separately)

12-1/2"W x 5"H x 13"D (includes allowance for cable connections)
weight: 8.6 lbs.
warranty: 1 year parts & labor (90 days on lamp)
this projector does not include any type of built-in TV tuner
MFR # UHD50X
What's in the box:
Video projector
6' AC power cord
Remote control
2 "AAA" batteries
Quick Start User Manual
Customer reviews for Optoma UHD50X
Loading...
Loading reviews...
Average review:
4.5 out of 5 stars
Thanks for submitting your review
Most reviews are processed and published within 5 business days. You will receive a confirmation email once your review has been published.
Customer photos
This review was collected as part of a promotion
More details on the Optoma UHD50X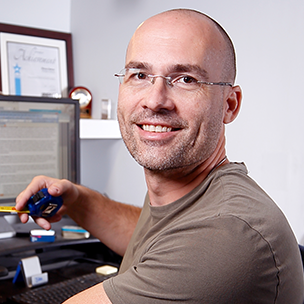 Researched by Crutchfield's

Stacey B.
Product Research
Features
DLP Projector: The Optoma UHD50X projector incorporates DLP technology from Texas Instruments (TI), which creates razor sharp pictures and amazing videos with incredible colors and brightness, while also providing reliability and longevity. It can be used with 30" to 300" screen sizes.
DLP is a reflective technology and can deliver images with both high native ANSI contrast (500,000:1) and exceptional brightness (3400 lumens), creating a picture that is natural and life-like.
Video and graphics produced by the latest DLP technology are sharper because the mirrors on the DLP chip are so close together that the gaps between pixels in an image are less noticeable. Spaced less than one micron apart, its mirrors create a crisp, detailed image.
The inherent speed of DLP technology means that Optoma projector can output video and images at an astonishing rate of 240Hz (1080p), 120Hz (1080p), or 60Hz (4K) for clear and seamless motion.
XPR 4K Pixel-Shift Technology: Texas Instrument's XPR Technology is a pixel-shifting technology that helps the DLP projector achieve CTA (Consumer Technology Association) approved 4K UHD (3840 x 2160) resolution. XPR Technology utilizes lightning fast pixel-shifting that creates pixels horizontally and vertically in 4-ways to perfectly quadruple the DLP projector's 0.47" DMD 1080p chip and generate 8.3 million distinct pixels on-screen. That's 4x more detail than Full HD 1080p and more than 2x the detail of Epson's 4K Pro UHD technology, which delivers just 4.1 million pixels.
4K UHD Resolution: 4K UHD resolution delivers sharper, life-like images and richer colors - allowing you to sit closer to the screen and enjoy a more immersive experience.
4K UHD Upscale: The UHD50X projector will also upscale lower resolution source content to 4K UHD. It will upscale 720p and 1080i/p video resolutions to 4K (3840 x 2160) @ 60Hz.
UltraDetail: In addition, the UHD50X possesses an exclusive image algorithm function, UltraDetail, that adjust the edges of the projected image in order to provide even more perceived details.
Note: The Optoma UHD50X is not Native 4K. It uses pixel-shifting technology to create a 4K display image from a 1080p DLP chip.
240W Lamp: The Optoma DLP projector utilizes a user-replaceable 240W lamp for high brightness and long-lasting life. The 240W lamp delivers high brightness (3400 lumens) for a vibrant image in well-lit environments (with no direct sunlight or lights directed on the screen). It has a lamp life of 15,000 hours (ECO) / 10,000 hours (Dynamic), or 4,000 hours (Bright). You can order a replacement lamp from Optoma by entering the serial number of your projector here.
Projection Lens: The Optoma UHD50X features a F1.94-2.23 projection lens with a focal length of 12.81mm to 16.74mm and throw ratio of 1.21 to1.59:1. The projection lens offers an optical (1:3x) and digital (0.8-2.0x) zoom with a manual zoom lever and focus ring to make sure your projected image looks great on screen. To adjust the image size, turn the zoom lever clockwise or counterclockwise to increase or decrease the projected image size. To adjust the focus, turn the focus ring clockwise or counterclockwise until the image is sharp and detailed. The projector will focus at a distance of 3.4' to 26.6'.
Lens Shift: To adjust the image position on-screen, turn the lens shift dial clockwise or counterclockwise to adjust the position of the projected image vertically.
Image Shift: Image Shift electronically adjusts the projected image position horizontally or vertically (this is not true Lens Shift where the actual lens moves).
Keystone Correction: Keystone Correction adjusts the image distortion caused by tilting the projector. It has a manual vertical keystone correction of +/- 40 degrees.
Amazing Color Technology: Equipped with Optoma's Amazing Color technology, which includes an 8-segment enhanced color wheel and support for a variety of wide color gamut standards. the UHD50X DLP projector lets you watch your movies, TV shows, and play games with vivid colors. Its capable of reproducing the Rec.709 (HDTV standard), DCI-P3 (CIE standard), and REC.2020 (HDR standard) wide color gamuts, to guarantee accurate reproduction of cinematic color exactly as the director intended.
BrilliantColor: BrilliantColor technology utilizes a new color-processing algorithm and enhancements to enable higher brightness while providing true, more vibrant colors in picture.
CMS (Color Management System): Its CMS (Color Management System) displays accurate lifelike colors to best match your viewing content and environment; this unique feature provides you with the flexibility to fine-tune the color settings for optimal precision.
Dynamic Black Technology: Dynamic Black Technology gives more depth to your image by smoothly adjusting the lamp output, based on the brightness information of each frame. As a result, the Optoma UHD50X DLP projector can create a stunning high contrast ratio of 500,000:1. Bright scenes appear crisp and clear, while dark scenes remain detailed with deep blacks and exceptional light and shade detail.
Dual HDMI Inputs: With dual HDMI inputs (one HDMI 2.0 and one HDMI 1.4a), you can connect your game console, set-top box, laptop, PC, Blu-ray player or media streamer to the Optoma UHD50XDLP laser projector. You can even turn it into a smart projector by connecting an HDMI dongle like the Google Chromecast, Amazon Fire TV, Apple TV, or Roku stick (sold separately).
HDMI 2.0: The HDMI 2.0 input supports up to a 4K/60Hz (3840 x 2160) video signal, HDR (High Dynamic Range), and is HDCP 2.2 compliant for playback of copyrighted 4K/HDR material. It will also playback copyrighted 480i/p, 720p, and 1080i/p content (3D video is not supported). The HDMI 2.0 input is also MHL compatible.
HDMI 1.4a: The HDMI 1.4a input supports up to a 4K/30Hz (3840 x 2160) video image and is also HDCP 2.2 compliant for playback of copyrighted 4K material. It will also playback copyrighted 480i/p, 720p, and 1080i/p content; as well as 3D video. The HDMI 1.4a input does not support HDR.
Note: There are no analog composite or component video input
HDR Compatible: The Optoma UHD50X is capable of receiving and displaying HDR content via its HDMI 2.0 input. HDR (High Dynamic Range) enhances the image brightness and contrast for more detail and texture with a greater sense of depth in order to produce a more natural and life like image. The projector is compatible with HDR10 and HLG formats (not compatible with HDR10+ or Dolby Vision). You can choose between 4 HDR Picture Modes to adjust the dynamic range according to the video content or environment.
Bright: Choose the Bright Mode for brighter and more saturated colors.
Standard: Choose Standard Mode for natural looking colors with a balance of warm and cool tones.
Film: Choose Film Mode for improved improved motion and film-like image.
Detail: Choose Detail Mode for improved detail and image sharpness.
Enhanced Gaming: Enhanced Gaming Mode combined with a fast refresh rate delivers low-latency, fast input response times for 1080p, 1440p, and 4K video; perfect for fast-paced and competitive console or PC gaming. The Game Display Mode provides a visual advantage by boosting shadows and dark scenes for greater visibility of impending obstacles.
1080p HD: 15.7ms @ 240 Hz, 18.2ms @ 120 Hz, or 23.8ms @ 60Hz
1440p: 23.8ms @ 60Hz
4K UHD: 25.8ms @ 60Hz
Note: The projector does not support 4k/120Hz.
24p: Most movies are shot at 24 frames per second (fps). To preserve the purity of the original image, The Optoma DLP projector can accept high definition sources at 24 fps to display movies exactly as the director intended.
3D-Ready: The Optoma UHD50X DLP projector can display 1080p 3D content from almost any 3D source, including 3D Blu-ray players, 3D broadcasting, and the latest generation games consoles. You'll need a pair of Optoma's DLP Link active shutter 3D Glasses (sold separately - not available at Crutchfield). Only the HDMI 1.4a input supports 3D video. 3D content is available in 720p or 1080p (not 4K).
MHL Compatible: The HDMI 2.0 input is MHL compatible which allows connection of certain mobile devices, including some Android OS smartphones and tablets. You'll be able to transmit audio and video from your MHL compatible source device to the Optoma DLP laser projector. Click here to find MHL compatible source devices.
PC Input: The Optoma UHD50X is equipped with a VGA (15-pin D-Sub) connector and stereo minijack 3.5mm audio input for connection of a computer monitor. The VGA input supports the following video resolutions - 4K UHD (2160p), WUXGA, HDTV (1080p), UXGA, SXGA, WXGA+, WXGA (1366x768), WXGA, HDTV (720p), XGA, SVGA, VGA,
Display Modes: You can choose from a variety of factory optimized display mode presets to suit your source content, as well as manually adjust picture settings to suit your personal preference.
Reference: This mode is intended to reproduce as close as possible the image the way the movie director intended. Color, color temperature, brightness, contrast and gamma settings are all configured to standard reference levels.
HDR/HLG: HDR Mode decodes and displays High Dynamic Range (HDR) content for the deepest blacks, brightest whites, and vivid cinematic color. This mode will be automatically enabled if HDR is set to On and HDR Content is sent to the projector. There is also a dedicated HLG mode for HDR content that uses the Hybrid Log-Gamma format.
HDR SIM: This mode is used to enhance non-HDR content with simulated High Dynamic Range (HDR). Choose this mode to enhance gamma, contrast, and color saturation for non-HDR content (720p and 1080p Broadcast/Cable TV, 1080p Blu-ray, non-HDR Games, etc). This mode can only be used with non-HDR content.
Cinema: The Cinema Mode provides the best colors for watching movies.
Game: Select Game Mode to increase the brightness and response time level for enjoying video games.
Bright: The Bright mode offers maximum brightness.
3D: 3D Mode allows you to enjoy a three-dimensional effect from 3D content; 3D active glass are required and sold separately.
User: The User Mode allows you to manually adjust the projector's Brightness, Contrast, Sharpness, Color, Tint, Gamma, Color Temperature, Color Space, and RGB.
Wall Color Adjustment: If you are not going to be using a projection screen and do not have a white wall, you can use the projector's Wall Color adjustment feature. No problem! With the Wall Color setting you can alter the projected image based on the color of your wall. With six options to chose from you can easily adjust for blackboard, light yellow, light green, light blue, pink and grey walls to get the most accurate color gamut.
Audio Section: The Optoma DLP projector features a built-in 10 watt speaker for audio playback, so you don't have to connect external speakers. There is also an analog stereo minijack (3.5mm) audio output and optical (toslink) digital audio output for connection of a soundbar or powered speaker. The projector can only output a 2ch PCM audio signal (not compatible with Dolby Digital or DTS). The projector does not support ARC or eARC.
USB Power Port: Use the projector's USB-A port (5V/1.5A) to power an HDMI dongle, such as Google Chromecast or Roku Stick (sold separately). There is also a USB-A port that is used for service purposes only.
Flexible Control: The Optoma UHD50X projector offers top-panel controls, comes with an IR remote, and is HDMI-CEC compatible.
Top-Panel: Top-panel controls included Power, Menu, Source, Information, Re-Sync, 4 Directional Select Keys, and Keystone Correction. Also on the top-panel are 3 LEDs that indicate On/Standby, Lamp, and Temperature.
Backlit Remote: The included IR remote provides wireless operation of the Optoma UHD50X DLP projector. The remote is designed with subtle white LEDs to light up the buttons, making it to see and operate, especially in the dark. The IR (infrared) control sensor is located on top of the projector. Make sure to hold the remote control at an angle within 30 degrees perpendicular to the projector's top IR remote control sensor to function correctly. The distance between the remote control and the sensor should be no longer than 22'.
HDMI-CEC: HDMI-CEC (Consumer Electronic Control) enables synchronization of Power On/Off between the UHD50X and connected HDMI-CEC compatible sources.
Remote Management: The UHD50X offers remote management and custom integration through its RS-232C port and 12V Trigger out.
RS-232C Port: The projector offers remote management control through its RS-232C port. The RS-232C port can be used to control Power, Brightness, Contrast, and other projector settings from your laptop or desktop computer, or a 3rd party remote management system - such as Crestron, Extron, AMX, or PJLink.
12V Trigger Out: The 12V Trigger Out consists a female mono-minijack (3.5mm) which enables control of motorized screens that feature a 12V Trigger Input.
Mounting Options: The Optoma DLP projector is designed to be installed in one of 4 possible positions. It can be tabletop or ceiling mounted in front of or behind your projection screen (ceiling mounting bracket sold separately). The projector should be placed flat on a surface and 90-degrees (perpendicular) to the screen. The projector is equipped with three adjustable feet for adjusting the image height when installing the projector on a tabletop. There are three M4 threaded inserts and one M6 threaded insert on the bottom of the projector to attach a ceiling mount bracket (sold separately).
The tilt angle of the projector should not exceed 15 degrees, nor should the projector be installed in any way other than the tabletop and ceiling mount, otherwise lamp life could decrease dramatically, and may lead to other unpredictable damages.
Allow at least 11.8125" on both the left and right sides of the projector, as well as allow at least 3.9375" above and behind the projector for proper ventilation.
Note: Your room layout or personal preference will dictate which installation location you select. Take into consideration the size and position of your screen, the location of a suitable power outlet, as well as the location and distance between the projector and the rest of your audio/video equipment.
Projection Distance: The further away the projector is placed from the screen the projected image size increases and vertical offset also increases proportionally. See chart below for recommended projector distance based on size of screen; or use the Optoma Projection Calculator to assist you with placement of the projector.
| Screen Size | Throw Distance |
| --- | --- |
| 30" | 41.3" |
| 60" | 63.4" to 83.1" |
| 90" | 94.9" to 124.8" |
| 100" | 105.5" to 138.6" |
| 120" | 126.4" to 166.1" |
| 150" | 158.27" to 207.9" |
| 200" | 211.0" to 277.2" |
| 250" | 263.8" to 346.4" |
| 300" | 316.9" |
Timers: A Sleep Timer allows you to set the projector to automatically turn off after a predetermined set amount of time. The Security Timer lets you set the number of hours the projector can be used; once this time has elapsed you will be requested to enter your password again.
Auto Power Off: There may be instances when the projector is left running when not in use. To help save energy, the Auto Power Off feature automatically turns off the projector after a set period of time if it is not being used.
Detachable AC Power Cord: The Optoma UHD50X DLP projector comes with a detachable 6' IEC 3-prong power cord that will need to be plugged into an AC wall outlet; preferably a surge protected AC outlet.
Loading...
Loading accessories...
Loading...
Loading articles...