About the Brilliant Smart Home Control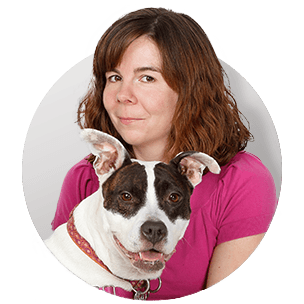 Total smart home control
I get to try out a lot of cool gear before I write about it, which means I've ended up with a variety of smart products installed in my home. The Brilliant is the first one that brings them all together in one convenient place. This is helpful for me, the resident smart home "admin." But it's becoming essential for residents and guests who are less keen on all this technology.
Total smart home control
I get to try out a lot of cool gear before I write about it, which means I've ended up with a variety of smart products installed in my home. The Brilliant is the first one that brings them all together in one convenient place. This is helpful for me, the resident smart home "admin." But it's becoming essential for residents and guests who are less keen on all this technology.

Brilliant can replace 1-, 2-, 3-, or 4-switch panels, allowing smart control of all the connected lights.
Easy access
I must admit here that my husband is one of the less keen. He did finally download the Ring app so that he can answer our doorbell remotely, but I'm pretty sure he draws the line at needing an app to turn on the lights. That's one reason I was stoked to install Brilliant.
Now everyone from my husband to my house sitter will be able to access all the smartness in my home without having to download a single app. They can use Brilliant to answer the Ring doorbell, turn on our Hue and Wemo lights, and play music on any of our Sonos speakers. Crucially, it also controls the lights wired to each switch and makes them dimmable, even when the Wi-Fi® is out.
Brilliant also works with Lifx, Lutron, and Leviton lighting products. However, the latter two brands of products can't be directly connected to Brilliant. They only work with Brilliant when connected to it via SmartThings.
Use your voice
Brilliant's built-in Amazon Alexa also means that you can control the attached lights — and the rest of your connected smart home gear — using only your voice. And, of course, it can also do all the other Alexa stuff, too, like give you a weather forecast, set a timer, or tell you the score of last night's game. Alexa replies via the built-in speaker, but you also get some on-screen feedback, too, depending on what you ask.
Don't want Alexa listening in? Turn off the mic right from the main screen.
Hear your housemates
My house isn't that big, but before I installed a second Brilliant, if my husband was upstairs and I was downstairs, I couldn't hear what he was trying to tell me unless we both stuck our heads in the stairwell. Now we can use the video intercom on each switch to speak at polite volumes instead of yelling "WHAAAT?" across the house at each other. Freaked out by the camera? No problem — you can cover it with the built-in privacy slider when you aren't using the intercom.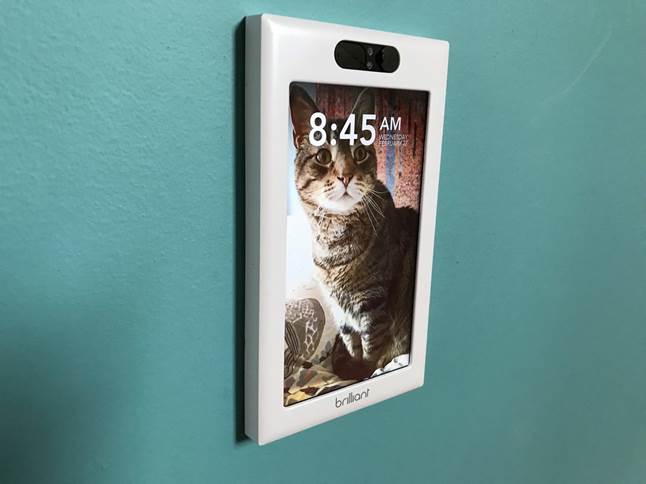 I'm using the LCD screens on my Brilliant controls to display some of my favorite photos — including this one of my handsome cat Radar.
Set the scene
One side effect of installing Brilliant: it made me want to get more smart home gear for it to control (sorry, dear!). I mean, I'm just a couple more lights, a thermostat, and a few smart locks away from really making good use of the "Scenes" feature. For example, I could automate bedtime with a scene that would lock the doors, turn off all the downstairs lights, and lower the temperature, all with a single tap.
In the meantime, just adding that second Brilliant control has made my house a whole lot smarter. The new 3-switch Brilliant in my bedroom controls five connected lights. Almost every night I use my downstairs Brilliant switch to turn on my reading lights upstairs so I don't have to head up in the dark.
Personalize it
I saved perhaps my favorite feature for last — it's a digital photo frame! In addition to showing you the date and time, the 5" LCD touchscreen can be personalized with up to 25 of your favorite photos. I have mine set to only turn on when motion is detected so I don't waste my lovely pet photos on an empty room. Screen brightness is also adjustable.
Can you install it yourself?
Well, I did. But I have a fair amount of experience with electrical DIY. I also have very modern wiring in my house. Load, line, ground, and neutral wires must all be present in order for you to safely install Brilliant, and the appropriate breaker must be turned off. If you aren't confident in your skills, please err on the side of caution and have it installed by a licensed electrician.
Read my full review of Brilliant here.
READ LESS
Product highlights:
turn any wall-controlled light into smart lighting you operate by touch, mobile app, or voice

replaces existing 1-switch panel
allows touch control of lights wired to switch without Wi-Fi, but all other functionality requires an internet connection

5" diagonal LCD touchscreen with 720 x 1280 resolution

digital photo frame — personalize it with up to 24 of your own photos

connects to compatible smart home products over Wi-Fi

control your entire Sonos home sound system
answer your Ring Video Doorbell or access its Live View anytime
lock and unlock your August smart locks
adjust Smart Thermostats including some Ecobee and Honeywell Lyric models
control LIFX bulbs
access Philips Hue lights and light groups discovered through the Philips Hue Bridge
control lights, switches, and locks connected to your SmartThings Hub
access dimmers, switches, and smart plugs by Wemo
future updates will add new integrations

voice control with built-in Amazon Alexa

adjust connected lights
control music selections with Alexa-compatible speakers and components
set timers, check the weather, and access other Alexa skills

also compatible with Apple HomeKit and Google Assistant (devices sold separately)
includes a microphone and camera with a privacy shutter

install two or more and it can be used to make announcements to the entire house or as a video intercom between rooms
check the camera's live view from anywhere using the Brilliant mobile app on your phone

adjustable motion sensor

set your lights to go on/off based on when people are in the room
screen can be set to display photos only when motion is detected

create "scenes" with your favorite combinations of settings for lights, music, temperature, etc.
app requires smart device with iOS® 9 or higher or Android™ 5.0 or higher

allows you to turn lights on and off remotely

must mount vertically — won't work in horizontal orientation
If you don't have experience working with residential electrical wiring, we recommend hiring a licensed electrician to install Brilliant
Tech specs:
neutral and ground wire required
automatic line and load switching
rating: 120V AC 60Hz
wattage limits: 300W incandescent, 150W LED and CFL
supports most multi-way lighting scenarios (lights controlled by more than one switch)
magnetic low voltage (MLV) lighting systems are not supported
connects to your network via 2.4 GHz Wi-Fi 4 (802.11n)
3-1/4"W x 5-9/16"H x 3/8"D (dimensions from wall out)
Brilliant will not work:

in a multi-way light circuit that has a dimmer in the circuit
to replace a 4-way switch in the middle of a multi-way circuit

warranty: 1 year
MFR # BHA120US-WH1
What's in the box:
Brilliant Smart Home Control owner's manual
Single switch faceplate with 5" diagonal touch screen (white frame)
Base (with two screws attached)
Five 5" 14-gauge wires (tinned ends)
5 Yellow plastic wire nuts
Installation Guide
Note on proper wiring
Customer reviews for Brilliant Smart Home Control
Loading...
Loading reviews...
Average review:
4.0 out of 5 stars
Thanks for submitting your review
Most reviews are processed and published within 5 business days. You will receive a confirmation email once your review has been published.
Customer photos
This review was collected as part of a promotion
More details on the Brilliant Smart Home Control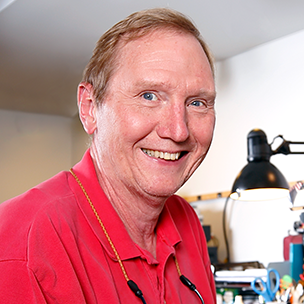 Researched by Crutchfield's

Mark G.
Product Research
Features
Overview: Brilliant Home Control puts control of all your smart home products in one place. Installation is as easy as replacing an existing light switch (120VAC 60Hz only). When connected to your Wi-Fi network, Brilliant works with many popular smart home devices, including Ring, Sonos, Philips Hue, SmartThings, August Lock, and select Honeywell Thermostats. It also has an Alexa interface, and works with the Google Assistant. You can install multiple Brilliant controls throughout your house and control all your devices from every room. Each Brilliant device has a built-in camera and microphone that lets you place video or audio calls between rooms (if more than one control is installed). The Brilliant app for your smart phone or tablet puts controls into your hands. This Brilliant Control Single Switch fits into a single gang box, and has a 5" (diagonal) LCD touch screen. Additional Brilliant Controls are available in two switch, three switch, and four switch models.
5" LCD Display: The Brilliant Single Switch has a 5" diagonal LCD touch screen display (2-7/16" x 4-3/8") with 720 x 1280 resolution. You can control your devices using tap and slide touch gestures. Up to 25 photos can be uploaded from your phone to display on the screen when the switch is idle, turning the Brilliant Control into a digital picture frame.
Motion Detection: The Brilliant Control has a built-in PIR (passive infrared) motion sensor that works within a range of 8 to 15 feet. You can program the Control to wake up the display when motion is detected, and to turn off the display after you leave the room. Specific devices (lights) can be programmed to turn on or off when the motion sensor detects a presence in the room. The motion-detected action can be set for all the time, or only during certain hours of the day.
Integrated Camera/Microphone: Each Brilliant Control has a built-in camera and microphone. The camera has a field of view of 50 degrees vertical and 86 degrees horizontal, and allows you to conduct room-to-room video chats (with two or more Brillant Controls). You can also make intercom announcements to the entire house or to individual rooms. When used with Ring Video Doorbells, you can see who is at your door when the doorbell rings. The camera has a privacy shutter that can be closed whenever you want to disable the camera.
Controls: Brilliant Home Control provides control over multiple types of devices:
Lights: Brilliant turns your standard lights into smart lights, and intelligently controls Philips Hue and other smart lights from your wall switch through voice or touch controls. Lights hardwired to the Brilliant can be toggled on/off or dimmed (if the bulbs are dimmable). Brilliant works with single pole and 3-way and multi-way circuits.
Door Locks: You can lock and unlock your door from anywhere with August, Schlage, or Yale smart locks.
Doorbell: Connect your Ring Video Doorbell and see instantly who is at your door on the Brilliant display.
Music: Brilliant has built-in Sonos controls, allowing you to play your music and adjust your audio settings from the wall switch.
Thermostats: If your home has a Honeywell Lyric or T-series Thermostat, you can adjust the temperature and manage your home heating and AC system from any room with a Brilliant control.
Brilliant Scenes: You can combine control of all your devices into a Brilliant Scene. For example, you can create a "Good Morning" scene that turns on your lights at 100% brightness, start playing a pre-selected song on your Sonos speakers, and raise your thermostat to the daytime temperature. A "Good Night" scene might lower the lights and the temperature in your home, turn on some relaxing music, and lock all the doors. Brilliant Scenes can be accessed on the Home Screen on the display.
Brilliant Partners: Brilliant Home Control works with smart home products from many different partners:
Smart Home Companies
Devices and Products
Integration
Ring
Ring doorbells and security camera
Notification appears on Brilliant Control when someone rings the doorbell. See and talk to person at the door.
View live video from Ring security cameras.
Sonos
Sonos speakers
Control your music playback on your Sonos network.
Philips Hue
Philips Hue smart lighting products
Toggle lights on/off
Control light intensity
Include lights in Brilliant scenes
SmartThings
SmartThings Hub and connected devices
Control lights, switches, and locks through SmartThings Hub
Honeywell Lyric
Lyric T-series and Lyric Round Thermostats
Adjust the temperature in your home through the Honeywell Lyric line thermostats.
Ecobee
Ecobee 3 and 4 series Thermostats
Control your heating and AC system through the Ecobee thermostat.
Wemo
Wemo light switches, dimmers, and smart plugs
Turn on/off or dim lights or devices controlled by Wemo
August Locks
August Smart Locks
Lock and unlock your door remotely from the Brilliant control
Yale Locks
Only Yale locks that are "connected by August"
Lock and unlock your door remotely from the Brilliant control
Amazon Alexa
Alexa is built into the Brilliant Control -- no separate Echo or Dot is needed. If you already have Alexa, you can use an Alexa skill to control devices connected to the Brilliant Control.
Google Assistant
Brilliant supports the ability to allow the Google Assistant to control whatever Brilliant is directly wired to. Google Assistant not currently built-in.
Apple HomeKit
Control lights connected to any Brilliant Smart Dimmer Switch with Siri or Apple HomeKit.
Brilliant Smart Home System App: The Brilliant App, available for iOS and Android, gives you remote and mobile access to the Brilliant Controls in your home on your smartphone or tablet. From your smart device, you can access your smart home devices by room or device type, execute Brilliant Scenes you have created. If you have separate apps for each smart home product you own, the Brilliant App gives you access to each of those products from one location. The Brilliant Smart Home System App is compatible with Apple iPhone and iPad with iOS 10.3 or later, and Android smartphones and tablets running version 7.0 and up.
Frequent Updates: Every two weeks, a software update is sent to your Brilliant Control devices. These updates introduce new integrations, and fix any bugs that may have been discovered.
Optional Faceplates: Brilliant offers optional faceplate frames to match your decor. The frames are easy to replace, and are available from Crutchfield in White, Metallized Silver, Ivory, Cool Grey, Black, and Light Almond.
Installation Requirements: The Brilliant Single Switch Control fits into a single gang electrical box, and replaces an existing light switch. After installation, the faceplate protrudes approximately 3/8" from the wall, which is slightly less that a typical toggle-style wall switch. The box includes the Brilliant faceplate and base, plus extra wires and wire nuts. Installation requires the following technical specifications:
Dimensions: Width 3.226" Height 5.565" Depth 0.375" (faceplate) / 1.767" (with base)
Gang Box Size Requirements (Single Switch):

Interior Width: 1.77" minimum
Interior Height: 2.75" minimum

Wiring: Neutral and Ground Wire required; Automatic Line and Load Switching
Voltage: 120V, 60Hz
Power Consumption: 0.75 KwH per month each
Wi-Fi:

802.11a/b/g/n 2.4 GHz
WPA or WPA2 password
Internet access
DHCP (dynamic) IP addressing

Internet: Working broadband Internet connection with at least 2 Mbps upload speed.
Lighting Type: LED, CFL, Halogen, Incandescent
Maximum Wattage:

300 watts per switch (Incandescent, Halogen)
150 watts per switch (LED, CFL, Electronic Ballast)
150VA (Traditional Ballast)
Loading...
Loading accessories...
Loading...
Loading articles...