About the Logitech G G923 (PlayStation®)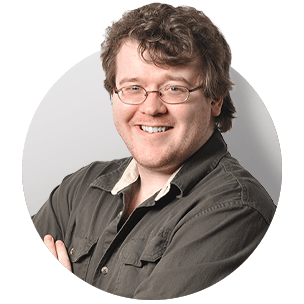 Going the distance
You grip the wheel, its sturdy metal frame vibrating as your skin brushes against its leather surface. Your engine rumbles impatiently as you wait with your competitors at the starting line. There's a moment of tension that's released in a roar of activity, the rumble of your tires biting into the asphalt, rolling from the wheel into your hands. The camera pans out as you careen down the track. It's not the Grand Prix. It's just you in the living room, but you barely remember — you've got a race to win, after all.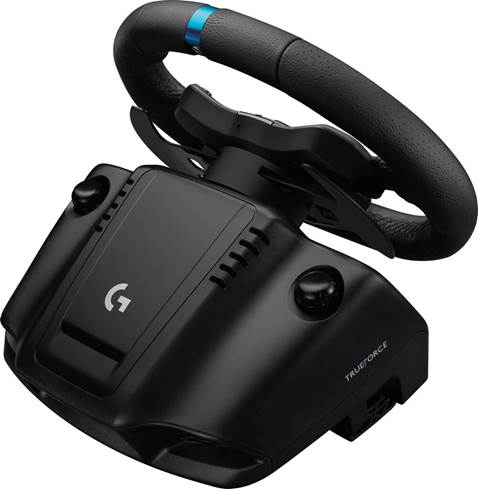 The G923's sturdy construction and immersive feedback makes racing a blast.
Going the distance
You grip the wheel, its sturdy metal frame vibrating as your skin brushes against its leather surface. Your engine rumbles impatiently as you wait with your competitors at the starting line. There's a moment of tension that's released in a roar of activity, the rumble of your tires biting into the asphalt, rolling from the wheel into your hands. The camera pans out as you careen down the track. It's not the Grand Prix. It's just you in the living room, but you barely remember — you've got a race to win, after all.
Get deeper into your driving games
It's hard not to end up a little lost in the moment when the tactile feedback of a game pulls you in deep and doesn't let go. If you're looking to maximize your immersion with racing or driving simulation, Logitech's new G923 is your ticket to ride. Its solid construction and powerful feedback help you feel each turn for a realistic driving experience that's hard to match.
Responsive controls
Getting started is pretty easy. Clamp the wheel to a desk or table at a comfortable height, hook up the power, then plug your rig into a PC or console. Don't try to use the wheel on your lap, because the intensity of the force feedback makes that unwieldy. Controls for the PS4 and PS5 are built right into the wheel, with an integrated center marker and rotary dial to help you fine-tune your settings. If you're playing on a PC it should only take a couple minutes to map your button layout.
Both the wheel and the pedals are responsive and accurate, helping you feel your way through maneuvers on the virtual road. Cool details like an LED display for your RPM (rotations per minute) are a great touch, letting you know when you're redlining and bringing you closer to what it feels like inside of a racing car.
Firsthand driving impressions
Full disclosure, I've dabbled in racing games over the years, but it's been a while since I've dived deep. I loved Top Gear way back on the SNES and Ridge Racer V on the PS2, but I'm often too distracted by the latest RPG to spend too much time on the road. I was only ever playing with a standard controller, and that may have been what was holding me back.
When I got my hands on the G923, I wanted to do it justice, so I picked up a copy of Grand Turismo Sport for the full experience. I thought rocking out a wheel and pedals would be pretty cool, but I was pleasantly surprised at how quickly the added immersion sucked me in. After spending hours whipping around corners at dangerous speeds to the squeal of rubber on pavement, I've learned two things: the G923 is a metric ton of fun, and I'm not cut out to be a professional racer.
What have I become?
There's something about the rumble of the engine and the visceral resistance of the wheel fighting back that turns me into a monster. In real life, I'm a pretty chill driver and rarely pick up over 50 to 60 mph. As I played with the G923, my foot became a lead brick and I gained a very real need for speed. Other cars became obstacles that were suddenly very much "in my way" and found themselves fishtailing against the wall. When I played couch co-op with my daughter, I cackled just a little too loudly when I lapped her for the second time.
If you're looking for a cool racing experience, I think it's absolutely worth picking up the G923. Just be careful what you let yourself become in the meantime.
Next-gen immersive feedback
The G923 uses TrueForce™, Logitech's powerful new force feedback system. This advanced technology helps you feel the pull of asphalt or crunch of gravel underneath your wheels. It's detailed enough to let you distinguish the engine purr of different vehicles while they're revving up. It does this by hooking into the physics of compatible games like Gran Turismo Sport, calculating the forces impacting your in-game vehicle's tires and steering wheel up to 4K times a second for unprecedented accuracy. Audio feedback is analyzed and integrated as well, bringing the sound of the road front and center.
Shift into gear
You can complement your rig with the optional G Driving Force Shifter for added immersion (sold separately). This dedicated short-throw shifter has a 6-speed "H" pattern and push-down reverse. Few things make you feel more like a race car driver than quickly switching gears as you burn down the virtual track.
READ LESS
Product highlights:
steering wheel and pedals for racing and driving simulation games
works with PS4, PS5, and PC
TrueForce™ delivers immersive tactile feedback with compatible games

processes physics and audio from the game engine 4,000 times a second to optimize accuracy and realism
up to 1000 Hz of force feedback provides resistance and vibration to simulate your vehicle's interaction with the game world

brushed metal steering wheel with genuine hand-stitched leather cover

built-in PS4/PS5 console controls
900° rotation lock-to-lock
closed-loop motor adjusts its output based on in-game physics for a realistic driving experience
built-in LEDs display RPM (rotations per minute) to provide intuitive visual feedback
integrated 24-point dial lets you adjust traction, torque, and brake force
wheel auto-calibrates as soon as it powers on
overheat safeguard

responsive polished metal pedals with textured heel grip

mimics pressure-sensitive brake system
can be positioned for heel-to-toe maneuvers
grips carpet to make sure the pedals stay in place during use

programmable dual-clutch simulates race car launch assist to help you get off the starting line faster
G HUB downloadable software lets you adjust wheel sensitivity, force feedback levels, and customize button layout (for PC only)

customize preset profiles for different games or activities

connects via USB to console or PC (requires USB 2.0)
PC requires Windows® 10, 8, 8.1, or 7 and 150 MB of hard disk space
clamps latch wheel onto a desk or table

maximum mounting surface depth of 2"
Note: remove clamp extenders for thicker tables

add the optional G Driving Force Shifter to get even closer to the real thing
10-5/8"H x 10-3/16"W x 10-7/8"D (steering wheel); 6-1/2"H x 18-3/8"W x 12-3/16"D (pedals)
weight: 4.6 lbs. (steering wheel); 6.8 lbs. (pedals)
warranty: 2 years
MFR # 941-000147
What's in the box:
Logitech G G923 (PlayStation®) owner's manual
Steering wheel console for PlayStation with attached 7' cable (Type A USB plug)
Pedals with attached 8' cable (male 9-pin plug)
AC adapter with attached 5' DC output cable (DC output: 24V 1.75A)
6' AC power cord (C7 non-polarized plug)
Quick Start Guide
Warning sheet
Important Safety Compliance and Warranty Information
The Color Collection promo card
Playseat promo card
Customer reviews for Logitech G G923 (PlayStation®)
We don't have any reviews, yet.
Submit a review and then enter to win a $350 gift card.
Be the first to review this product
Loading...
Loading reviews...
Thanks for submitting your review
Most reviews are processed and published within 5 business days. You will receive a confirmation email once your review has been published.
Customer photos
This review was collected as part of a promotion
More details on the Logitech G G923 (PlayStation®)

Researched by Crutchfield's

Research Team
Product Research
Features
Overview: The G923 TrueForce Racing Wheel for PlayStation and PC gives you all the realism you can handle in a racing simulation. The system includes the steering wheel console and a separate three-pedal floor unit, both equipped with next-generation TrueForce feedback for a truly immersive experience in supported games. The G923 is covered by a 2-year hardware warranty.
TrueForce: TrueForce provides direct force feedback to the steering wheel and pedals to enhance your e-racing experience. You'll feel the changes in road surfaces or terrain, tire contact, suspension, and other tactile feedback. Larger, kinesthetic effects, such as tire grips and slips, bumps, crashes, and even g-forces put you more in contact with your simulated car to help you improve your performance and enjoy the experience. TrueForce uses closed-loop, dual-motor control and thousands of calculations per second to deliver amazingly accurate feedback for every turn, shift, or braking action.
Steering Wheel: The G923's steering wheel is made of premium materials, including anodized aluminum wheel spokes, hand-stitched perforated leather wheel cover, brushed stainless steel shifting paddles, and a steel steering shaft. The wheel rotates 900 degrees from lock-to-lock, and has a blue aluminum center marker to help you gauge your wheel angle while cornering. Hall-effect steering sensors provide accurate response and performance. A programmable dual clutch launch assist gives you the advantage right off the starting line. Above the center hub and spokes are colored LEDs to indicate your RPM range during supported games, and full PS5/PS4 controls. The 24-point selection dial and selector let you set the traction, torque, brake force, and other parameters to your personal preferences. The steering wheel console clamps to the edge of a desk or tabletop with the glass-filled nylon mounting clamps. The attached 7' USB cable plugs into your PS4/PS5 console or your PC.
Pedals: The G923 includes a separate floor unit with integrated throttle, brake, and clutch pedals to help you maintain a realistic driving body position. The progressive brake pedal feels like a pressure-sensitive braking system to give you a better and more accurate response. The pedals of the G923 are made of brushed stainless steel faces and cold rolled steel arms and pedal frames. The pedal faces can be repositioned to make heel-toe maneuvers easier to perform. The pedal piston sleeves are made of POM (polyoxymethylene) thermoplastic. The platform features rubber pads for a sure grip on hard surfaces, and a patented carpet grip system that retracts when you're on tile or wooden floors. The pedals connect into the bottom of the steering wheel console via a 6' cable and 9-pin serial connector.
Supported Games: This G923 TrueForce Racing Wheel is compatible with PlayStation 5 and PlayStation 4, as well as PC. While you can play dozens of games with the G923, the following games also support TrueForce:
TrueForce-supported Games
Playstation 5 / PlayStation 4
PC
Assetto Corsa Competitzione
Gran Turismo Sport
GRID (2019)
Monster Truck Championship
Project Cars 3
Snowrunner
Assetto Corsa Competitzione
Automobilista 2
GRID (2019)
iRacing
Monster Truck Championship
Project Cars 3
Snowrunner
Dimensions:
Steering Wheel: Width 10.2", Height 10.6", Depth 10.9"; Weight 4.6 pounds
Pedals: Width 18.4", Height 6.5", Depth 12.2"; Weight 6.8 pounds
Loading...
Loading accessories...
Loading...
Loading articles...