About the Definitive Technology BP7004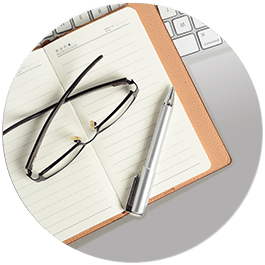 Experience exceptional sound from this ingenious pair of speakers
Each driver array in the BP7004 consists of one 5-1/4" midrange paired with a 1" dome tweeter. This bipolar design means that direct sound from the front drivers arrives at your ears first, to provide clear, focused imaging. That's followed by sound from the rear drivers, which is slightly delayed, to enhance spaciousness. The combination creates a lush, seamless soundstage that's more like the way we hear sounds in real life.
Experience exceptional sound from this ingenious pair of speakers
The Bipolar SuperTower™ series combines bipolar speaker design with Definitive's SuperCube® subwoofer technology to give you spacious, lifelike sound and rumbling bass. The BP7004 bipolar speaker uses both front- and rear-firing driver arrays to radiate full-range sound in all directions. Even in large rooms, every listener will experience a huge, three-dimensional soundstage with both music and movies.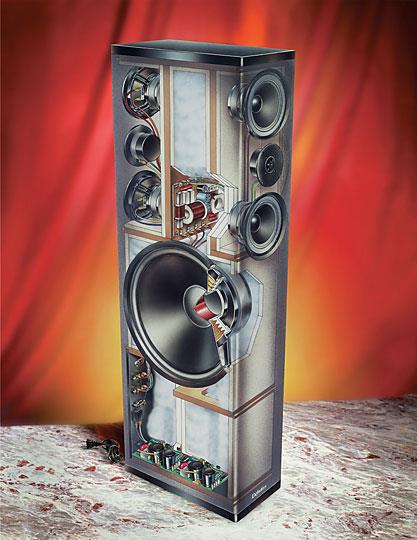 ---
Innovative bipolar design produces an exceptionally wide, deep soundstage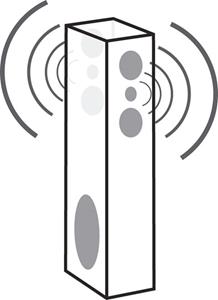 Each driver array in the BP7004 consists of one 5-1/4" midrange paired with a 1" dome tweeter. This bipolar design means that direct sound from the front drivers arrives at your ears first, to provide clear, focused imaging. That's followed by sound from the rear drivers, which is slightly delayed, to enhance spaciousness. The combination creates a lush, seamless soundstage that's more like the way we hear sounds in real life.
Powerful bass built right into each cabinet
At the base of each speaker is a 10" side-firing subwoofer coupled to two bass radiators. This trio creates a total surface area that's almost as much as a traditional 18" woofer, but has better bass control, speed, and detail than a single huge woofer could achieve. A built-in 300-watt amplifier powers the subwoofer, delivering massive bass that eliminates the need for an external sub. And because a subwoofer is built into each cabinet, bass output is already perfectly blended with the mids and the highs. So with a pair of BP7004s, you get two subs in your setup instead of just one.
---
Room-friendly sound allows flexible placement
The BP7004's slim cabinet takes up less than a square foot of floor space, yet its bipolar design produces twice as much sound in your room as a conventional speaker. A sophisticated crossover equalizes the front and rear drivers separately for more precise control of their combined output. The bipolar driver arrays are wired together internally, so you connect the BP7004s to your receiver as you would conventional speakers, using one set of wires per speaker. For best results, position the BP7004s from 4" to 24" out from your wall.
Build a complete home theater system using perfectly matched Definitive Technology centers and surrounds. The BP 7004s pair well with Definitive's C/L/R2002 center channel speaker, and with their BP8B floor-standing speakers or StudioMonitor 350 bookshelf speakers for surrounds.
READ LESS
Product highlights:
bipolar speaker technology
frequency response 16-30,000 Hz
sensitivity 92 dB
8-ohm impedance
handles up to 300 watts
video-shielded for safe placement next to any TV
front array: one 5-1/4" woofer and 1" pure aluminum dome tweeter
rear array: one 5-1/4" woofer and 1" pure aluminum dome tweeter
one 10" long-throw subwoofer coupled to two 10" low bass radiators
built-in 300-watt subwoofer amplifier with adjustable volume control
subwoofer auto on/off
one pair of 5-way binding posts
line-level LFE input (optional connection for use with receivers with LFE output)
6-foot AC power cord
piano-gloss black finish
5-5/8"W x 42-3/4"H x 14-1/8"D
warranty: 5 years for speakers, 3 years for amplifier
MFR # BP7004
What's in the box:
Definitive Technology BP7004 owner's manual
2 Tower speakers with built-in powered subwoofer
4 Rear stabilizer-feet
8 Adjustable plastic feet
8 Spiked-feet (hex-nuts installed)
8 Wood-screws
Owner's Manual
Online Product Registration card
Customer reviews for Definitive Technology BP7004
Loading...
Loading reviews...
Average review:
4.5 out of 5 stars
Thanks for submitting your review
Most reviews are processed and published within 5 business days. You will receive a confirmation email once your review has been published.
Customer photos
This review was collected as part of a promotion
More details on the Definitive Technology BP7004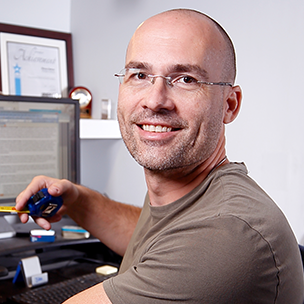 Researched by Crutchfield's

Stacey B.
Product Research
Overview: The Definitive Technology BP7004 SuperTower is a bipolar tower loudspeaker with a built-in powered subwoofer intended for musical reproduction and home theater systems. This full-range bipolar (front and rear) radiating tower loudspeaker combines spacious soundstaging, lifelike depth-of-field, accurate resolution, and pinpoint imaging with extended bass response, high-efficiency, wide-dynamic range, and easy-to-position convenience. The BP7004 features front and rear mounted driver arrays, each consisting of one high-definition cast-basket 5-1/4" bass/midrange driver and a 1" annealed Pure Aluminum dome tweeter. The BP7004 also combines a built-in 10-inch subwoofer driven by a 300-Watt class D amplifier and two pressure-coupled 10-inch low bass radiators for 235 square inches of bass radiating area. That is nearly as much surface area as a single 18-inch woofer; but with better control, speed and detail. Built-in powered subwoofers achieve dramatically better blending, integration and timbre accuracy than could ever be achieved with separate subs. A Linkwitz-Riley crossover network seamlessly blends all the speaker's drivers together. The bipolar tower speaker's slim designer enclosure takes up 6 tenths of a square foot of floor space.
Driver Technology
Built-In Powered Subwoofer
Enclosure Design
Connections
Mounting Options
Driver Technology
Bipolar Design: The Definitive Technology BP7004 is a true bipolar speaker, containing two complete full-range speaker systems; one on each side of the cabinet. Definitive's Bipolar technology radiates sound from the front and the back of the speaker for more life-like sound and spacious imaging for every listener in the room. Bipolar technology combines the performance advantages of direct radiating (imaging, focus, localization, and specificity) and dipolar speakers (spacious, all-enveloping ambience) into one ideal speaker which is perfect for all multi-channel formats. The BP7004's wide dynamic range, as well as true high-definition sound quality, combined with its bipolar radiation pattern results in total immersion in the sound field.
Moving Coil Pure Aluminum Dome Tweeters: Each Definitive Technology BP7004 utilizes two annealed pure aluminum 1-inch dome tweeters (one on front-side/one on back-side), suspended by a silk surround and acoustically loaded by a precisely configured phase plug/lens; engineered to assure perfectly controlled, absolutely linear movement. This results in smooth extended response (up to 30 kHz), greatly reduced distortion, improved transient response, wider dispersion, and notably higher definition. Magnetic fluid damping is incorporated for ultra high power handling.
High-Definition Die-Cast Basket Drivers: Each Definitive Technology BP7004 utilizes two 5-1/4 inch high-definition bass/midrange drivers (one on front-side/one on back-side) for significant performance advantages in the areas of bass reproduction, lifelike midrange clarity, and dynamic range. These sophisticated bass/midrange drivers incorporate deeply drawn mineral-filled polymer cones, combined with butyl rubber surrounds and dustcaps, high temperature vented voice coils, and massive magnet structures. This combination of features assures high definition, superb transient response, high efficiency, high power handling, and extended bass response. In addition, they are assembled utilizing an aerodynamically designed, magnetically inert, cast-magnesium basket to minimize internal reflections off the back of the cone and preserve structural and magnetic integrity under all conditions.
Phase-Coherent Crossovers: Definitive Technology's complex and sophisticated Linkwitz-Riley crossover networks are differential crossovers which equalize the front and rear drivers of the speaker separately for both linear frequency and phase response of their summed output. Also included are advanced technology Zobel Networks which provide a more stable load for your amplifier. This makes the speaker easier to drive, which results in smooth, more natural sound. In addition, the electronic crossovers in the subwoofer modules work together with the Linkwitz-Riley networks to perfectly blend the subwoofers with the bipolar arrays. The result is sonic perfection that completely preserves the phase coherence, transient response and dynamic integrity of the original signal.
Break-In Period: The BP7004 will sound good right out of the box; however, an extended break-in period of 40-60 hours or more of playing is required to reach full performance capability. The break-in period allows the suspensions to work in and results in full bass, a more open midrange, and smoother high frequency reproduction.
Built-In Powered Subwoofer
Powered Subwoofer: Besides eliminating the need for additional floor-space and a separate subwoofer, integrated subs offer dramatic performance benefits, such as being perfectly blended with the midrange and high frequency section of the speaker. Plus, you have two subwoofers to help minimize the detrimental effects of room conditions, so you typically get a smoother response than you would get with a single separate sub. Each BP7004 features a single 10-inch long-throw subwoofer that is powered by a built-in 300-watt Class D amplifier and pressure-coupled to two 10-inch low-bass radiators on the opposite-side of the cabinet for a total bass radiating area that is almost greater than a 18-inch woofer; but with far greater control, definition, and speed. A pair Definitive Technology BP7004 is like having two 18", 300-watt powered subwoofers in your room without taking up anymore floor space. The result is bass that is deep, powerful and impactful while at the same time having tight, controlled, and accurate response. The built-in powered subwoofer also provides the following features.
Auto Turn-On: The BP7004's built-in active power subwoofer section must be plugged into an electrical socket using the attached AC cord. The BP7004 has a special circuit which automatically turns the powered subwoofer section on when a signal is fed to the loudspeaker and turns off when there is a no signal (for 1-hour).
LED: An LED on the back-panel will light up when a signal is sensed and the amplifier turns on. The LED will automatically turn-off when there is no signal (for 1-hour).
Built-In Crossover: Definitive's engineers have perfectly adjusted the crossover and phase between the subwoofer and main speaker sections of the BP7004 to achieve seamless blending and life-like sound.

Note: Please not that there are no controls to vary the crossover points or phase because these have been factory calibrated and set to provide perfect blending.

Level Control: The BP7004 has a bass-level control which allows you to tune the output level of the built-in powered subwoofer section to match your room and personal listening preferences.
Protection Circuit: To prevent accidental damage to the subwoofer built-in the BP7004 from overdriving the system, the built-in powered subwoofer section features an internal overload protection circuit, which will turn the powered subwoofer off or down when overdriven or overheated and will then resume normal operation after a few minutes.
Enclosure Design
Narrow Non-Resonant, Low-Diffraction Cabinet: The tri-chambered monocoque cabinet of the Definitive Technology BP7004 is constructed of extremely thick, dense medite with foam damping pads and extensive internal bracing. This virtually eliminates cabinet vibrations and resonance which would otherwise interfere with the pure sound produced by Definitive's high-definition drivers. The driver placement of the BP7004 reduces diffraction to an absolute minimum by flush mounting drivers on extremely narrow baffles with radial edges covered by a frameless grille "sock." The narrow cabinet also dramatically improves three-dimensional imaging.
Connections
Speaker-Level & Line-Level Connections: Each Definitive Technology BP7004 is equipped with a pair of gold-plated, 5-way binding posts to attach your receiver's speaker wire and a gold-plated, mono-RCA/LFE input to connect your receiver's LFE/subwoofer output.
Applications: The precise accuracy, wide-range response, and high impact dynamic range of the Definitive Technology BP7004 allow you to use the speaker in most home audio/video system's ranging from a 2-channel music-only to a 7.1 channel home theater system. When used as a stereo pair, simply connect it with speaker wire as one would any pair of speakers; there is no benefit to using the low-level LFE inputs. When using the BP7004 in a multi-channel system there are two options.
Speaker Wire Only: Connect speaker wire as in a stereo system; set bass management as Front=Large, Subwoofer=None
Speaker Wire + Subwoofer Cable: In addition to speaker wires connect low-level cables from the LFE/Subwoofer output of the receiver/processor to the LFE inputs of the STS (Y connector is usually required). Set bass management as Front=Large, Subwoofer=Yes. The benefit of this hook up method is that one now has the ability to control the level of the LFE channel relative to Front L&R bass.
Mounting Options
Placement: The Definitive Technology Bipolar SuperTower speakers are easy to hook up to your system, simple to place, and flexible in terms of room positioning. They are engineered to be located as close as 5" or as far as 36" from the wall. The mirror-imaged side-mounted subwoofers can face either toward or away from each other for even greater flexibility and room tuning ability. In addition, a major benefit of the special driver topology is wide-dispersion, which assures a superb panorama of lifelike sound for every listener in the room wherever you put them.
Adjustable Feet: Each Definitive Technology BP7004 comes with four plastic-tipped feet for placing the tower speaker safely on your hardwood floors or tile, and four spiked-feet for placing the tower speaker securely on your carpet. The adjustable feet help you level the speaker on uneven flooring. In addition, each BP7004 comes with a pair of rear-stabilizer feet to help stabilize the speaker even further.
Loading...
Loading accessories...
Loading...
Loading articles...