About the Klipsch Heritage Klipschorn AK6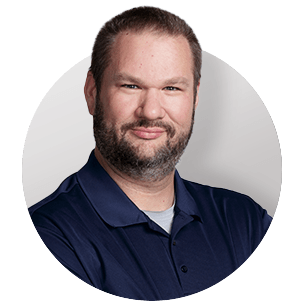 The speaker that started it all
Here at Crutchfield, there are few brands more beloved by our customers than Klipsch. In part, that's because the iconic speaker company's
passion for excellence
still shines through in each of their creations. Instead of resting on decades of industry prominence — or falling back on tried-and-true designs — Klipsch works tirelessly to reimagine even their most beloved speakers. Nothing reflects that innovative spirit more than the Klipschorn AK6.
The speaker that started it all
Here at Crutchfield, there are few brands more beloved by our customers than Klipsch. In part, that's because the iconic speaker company's passion for excellence still shines through in each of their creations. Instead of resting on decades of industry prominence — or falling back on tried-and-true designs — Klipsch works tirelessly to reimagine even their most beloved speakers. Nothing reflects that innovative spirit more than the Klipschorn AK6.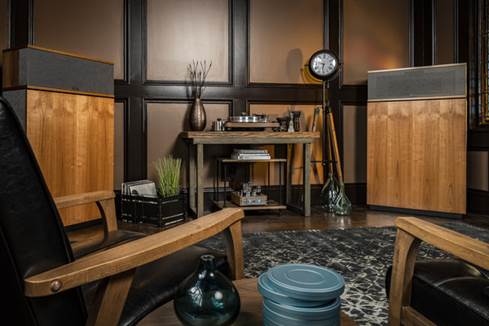 For the first time ever, Klipschorns don't need to sit snug in a corner — a game changer for rooms like this one.
Seven decades in the making
The original Klipschorn burst onto the hi-fi scene way back in the 1940s. To the delight of music lovers worldwide, it's been in continuous production ever since.
The latest iteration of the Klipschorn retains the charm and gravitas of its predecessors. But for the first time ever, this giant, beautiful speaker doesn't need to be positioned tightly in a corner.
That's huge, since for the last seven decades if you wanted a pair of "K-horns" in your listening room their once open-sided speaker cabinets limited your placement options.
Now, you're able to pull your Klipschorns away from the wall. This lets you angle them inward to create a listening "sweet spot" exactly where you want it in your room.
A redesigned driver complement
Company founder Paul W. Klipsch built the original Klipschorn to re-create the dynamics and excitement of a live orchestra in his living room. The AK6's trio of ultra-efficient drivers deliver the same high-energy listening experience today.
This speaker combines a 1" horn-loaded tweeter with a 2" horn-loaded midrange and a redesigned, enclosed 15" folded-horn woofer to deliver the full range of power and emotion behind your favorite records, CDs, and concert videos.
Each speaker consists of two separate cabinets — one for the woofer, the other for the midrange and tweeter — that are secured together during installation.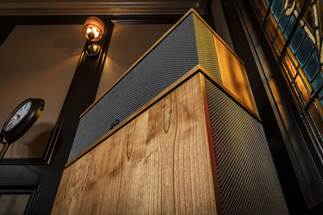 Classic Klipsch design
The Klipschorn's horn-loaded tweeter and midrange compression drivers give it exceptional sensitivity, low distortion, flat frequency response and broad, well-controlled dispersion. This translates to unequaled power, detail, and dynamics — the hallmarks of the classic Klipsch sound.
The AK6's high sensitivity also makes it a great choice for low- and medium-powered tube amps. Plus, dual speaker inputs allow bi-wiring or bi-amping for even better performance.
A hand-built beauty
The Klipschorn AK6 available in several attractive book-matched wood veneer finishes which provide a "mirror" image of each other. That's because each pair is sourced from the same piece of timber. The speakers are precisely arranged to provide an aesthetically pleasing mirror image at the splice.
Klipsch makes each Klipschorn one at a time by hand in Hope, Arkansas.
A friendly heads-up
The AK6 is absolutely enormous. At nearly 4-1/2 feet tall, and weighing in at 220 pounds each, I highly recommend having a couple of friends on site to help you unbox and position your new speakers.
READ LESS
Product highlights:
matched pair of floor-standing speakers
handmade in Hope, Arkansas
three-way design with horn-loaded enclosures
separate upper and lower cabinets
frequency response: 33-20,000 Hz (±4dB)
power handling: 100 watts max continuous (400W peak)
sensitivity: 105 dB (1 watt/1 meter)
nominal impedance: 8 ohms
1" Polyimide diaphragm compression tweeter with 90° x 40° Tractrix® horn
2" phenolic-diaphragm compression midrange with exponential horn
15" fiber-composite woofer with a trihedral exponential folded horn
two sets of binding posts allow bi-amp or bi-wire capability
book-matched real wood veneer finish

veneer leaves for the left and right speakers are crafted from the same piece of timber
they're precisely arranged to provide an aesthetically pleasing "mirror" image at the splice

31-1/4"W x 53"H x 28-1/4"D (each)
weight: 220 lbs. (each)
warranty: 10 years
Customer reviews for Klipsch Heritage Klipschorn AK6
Loading...
Loading reviews...
Average review:
5.0 out of 5 stars
Thanks for submitting your review
Most reviews are processed and published within 5 business days. You will receive a confirmation email once your review has been published.
Customer photos
This review was collected as part of a promotion
More details on the Klipsch Heritage Klipschorn AK6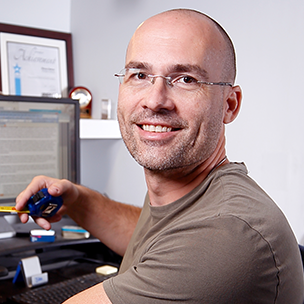 Researched by Crutchfield's

Stacey B.
Product Research
Features
Fully Horn-Loaded: The Klipschorn (AK6) is the only fully horn-loaded loudspeaker available to consumers. With its 3-way system, each driver is coupled to a horn and optimized to operate in its individual pass-band. This allows the Klipschorn to be a staggering 10 to 20x more efficient than other conventional loudspeakers. Higher efficiency yields greater acoustic power, which is generated with considerably less effort. The result is the cleanest, most dynamic sound possible throughout the entire musical range.
Neodymium Tweeter: The Klipschorn (AK6) features a neodymium tweeter with a 1" polyimide diaphragm and a copper clad aluminum voice coil. This lightweight diaphragm assembly and high strength magnet structure creates the tweeter's extremely high 109dB sensitivity and makes it the most efficient consumer tweeter in the market. When coupled to a 90° x 40° Tractrix horn, the tweeter sets new levels of performance for dynamic range and output. The phase plug design extends high frequency performance to 20kHz, meaning you hear the most subtle high frequency details better than ever.
Dedicated Midrange Driver: According to Paul W. Klipsch, the midrange is one of the most critical parts in any loudspeaker design. The Klipschorn's midrange utilizes a 2" compression driver mated to a high efficiency exponential horn that maximizes the system's power and performance. As a result, less distortion is produced by the amplifier and by the loudspeaker. That means clarity, accuracy and remarkable tonal definition.
Low Frequency Horn Design: The Klipschorn (AK6) houses a 15" fiber-composite cone woofer with a trihedral exponential folded horn. The Klipschorn's low frequency horn driver has been redesigned and is now fully enclosed. This eliminates the need for the loudspeaker to be positioned tightly in the corner of a listening room. The speaker only needs to be in the proximity of the corner to realize the horn's full performance. Additionally, the enclosed back provides positioning flexibility to angle the speaker to achieve the best stereo imaging.
Hand-Crafted Cabinet: While each component of the Klipschorn (AK6) is built to last, Klipsch has always recognized the unique and critical role of a loudspeaker's cabinet in the sound reproduction process. From the craftsmen in Hope, AR, to the engineers in Indianapolis, IN, Klipsch has always put an extraordinary emphasis on cabinet design. Crafted from over a hundred wood panels, the Klipschorn enclosure is assembled using only the highest-grade adhesives and fasteners. This is a speaker you will hand down from generation to generation.
Book-Matched Wood Veneers: Klipsch only uses book-matched wood veneers for the Heritage series of speakers. The veneer leaves are kept in order as they are delicately sliced from the timber and precisely arranged to provide a mirror image at the splice joint; like turning the pages of a book. This gives each speaker an aesthetically appealing and consistent appearance that is treasured more than any other cut of wood veneer.
Meticulously Crafted Pair: Each pair of Heritage series loudspeakers is grain-matched, using wood veneer panels that come from the same timber. Each cabinet is carefully matched so that each speaker in the pair is practically identical to each other. While the speakers move seamlessly together through the factory, each finished product is inspected and labeled with sequential serial numbers, ensuring that every Heritage series speaker leaves the factory as a meticulously crafted set.
High-Quality Binding Post Terminals with Cable Management: The Klipschorn (AK6) features a riser base that not only enhances the look of the speaker, but also improves the wire management so that speaker cables are cleanly hidden. The Klipschorn's premium, aluminum input panel accommodates large, high-quality speaker cables. Strong, versatile and quality binding posts provide the capability for bi-wiring or bi-amping. The quality continues with AudioQuest Type 4 with Star-Quad Geometry internal wiring featuring carbon-loaded insulation, nitrogen-injected PE and solid long-grain copper conductors.
Bi-Wiring: Bi-wiring can provide noticeable improvements in the overall transparency of your loudspeakers. Run separate speaker wires to the low & high frequency drivers from a single amplifier.
Bi-Amping: Bi-amping allows you to use separate amplifiers for the high & low frequency sections of your loudspeaker for greater dynamic range & lower distortion. We recommend that your separate amplifiers have identical gain to preserve the speaker's voicing balance.
Note: Make sure the jumper straps between the dual binding post terminals are removed when making a bi-amp or bi-wire type of connection.
Placement Options: The Klipschorn (AK6) has a fully enclosed low frequency horn and no longer has to be flush to the corner in order to operate properly. The Klipschorn can now be toed in or out to obtain the best imaging. The corner still serves as an extension of the low frequency horn, improving low frequency performance. For best results, Klipsch highly recommends the Klipschorn be placed in the proximity of a corner.
Klipsch Principles: Paul W. Klipsch believed four principles to be the foundation for great sound.
High Efficiency & Low Distortion: Klipsch horn technology is highly efficient, providing more accurate sound with less power and less distortion - resulting in louder, cleaner audio. Klipsch's Law: Efficiency is inversely proportional to distortion.
Controlled Directivity: Klipsch horn technology accurately directs sound to the proper locations, which, in turn, creates a more lifelike soundstage without wasting acoustic energy where sound is not needed or desired.
Wide Dynamic Range: The softest sounds are reproduced with remarkable clarity and the loudest sounds are delivered without harshness or distortion - with the greatest possible range between the softest and loudest sounds.
Flat Frequency Response: Audio is delivered without frequency bias - no unnatural highs, mids or lows - reproducing recorded sound as accurately as possible without colorization.
Loading...
Loading accessories...
2 questions already asked
Q
Which receiver(s) or amps would work best with this speaker set?
craig Jun 16, 2021
A
They are very efficient and only takes a few watts to drive them at impressive volumes. A low amperage (watt) tube amplifier of good quality will make a splendid match for these! You'll be in audio euphoria!!! Just remember that they are very sensitive to the source material another words, a bad recording of any type will sound bad, but. A good recording will reveal excellence, sounding music with an exceptional realism, holographic soundstage! Wonderful sounding speakers. You would have to spend 10's of thousands of dollars to get a better sounding set of speakers and then only on a certain passage you could be hard pressed to tell a difference!
harold Nov 16, 2022
A
We have not received any answers from other customers on your question. I would recommend reaching out to an Advisor by phone (1-800-324-9695) or online chat. They should be able to help answer your question.
thomas Jun 30, 2021
(Staff)
Loading...
Loading articles...