About the Google Home Mini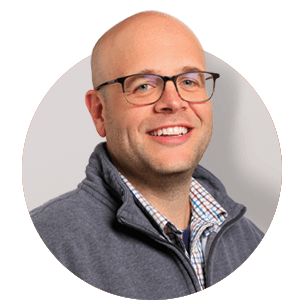 Put Google Assistant in every room
Here's a space-friendly, cost-effective way to get voice control into any, and every, room of your house. The Google Home Mini speaker gives you hands-free access to the Google Assistant in a super-compact design. This palm-sized speaker weighs less than half a pound and still offers much of what we love about the original
Google Home
.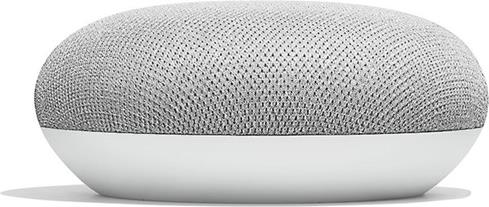 The extra-compact Google Home Mini sports a durable fabric top and non-skid silicone base (pictured in chalk).
Put Google Assistant in every room
Here's a space-friendly, cost-effective way to get voice control into any, and every, room of your house. The Google Home Mini speaker gives you hands-free access to the Google Assistant in a super-compact design. This palm-sized speaker weighs less than half a pound and still offers much of what we love about the original Google Home.
Just say, "Okay Google," or "Hey Google," and the Google Home Mini's built-in far-field mic is ready for your next question or command. Set an alarm, play a podcast, or even make a call to someone in your phone contacts — the number of tasks grow every day.
Get helpful answers from Google
The Google Home Mini also makes it easy to stay in the know. Weather, traffic, stock information, sports scores — Google's vast wealth of knowledge is one question or command away. Simply talk to your Google Home Mini in a conversation-level voice and it will delight you with news, facts, and even a bit of humor.
Pro tip: For a laugh, ask "Hey Google, what is the meaning of life?"
My favorite use for voice control? Has to be music
Of all the cool stuff you can do with the Google Assistant, I get the biggest kick out of playing music. Imagine a DJ that will actually take your requests! The Google Home Mini can stream from several top music services. I set Spotify® as my default music service, so I can request by song, artist, or album.
If you get more than one Google Home Mini, you can group them together and play music in other rooms throughout the house. It will even give you voice control over powerful audio gear with Chromecast built-in — like A/V receivers, sound bars and powered speakers.
I use the Polk Mag Mini sound bar for my main TV setup. So if I say, "OK Google, play the Black Crowes in the den," then "She Talks to Angels" will pump through the room.
Quick, guided setup
I've been burned by the promise of "easy setup" so often, that I always hesitate to write the phrase. The last time was my daughter's "easy-to-assemble" swing set that took me seven fuming and frustrating hours to complete. Setting up Google Home took me less than seven minutes.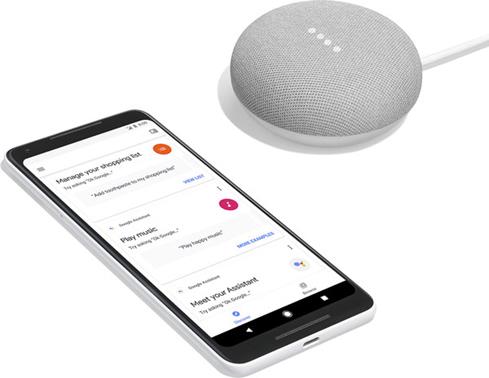 Download the free Google Home app to your smartphone (not included) for easy setup.
First you plug in the Google Home Mini, then download the free Google Home app on your Android™ or Apple® device. The app will walk you through setup and get the speaker on your home Wi-Fi® network. From there, you can lose the phone if you want and control this compact speaker by voice.
Voice recognition for personalized service
The Google Home Mini can recognize up to six different voices. Each person in the household can sync up their calendar, music services, and phone contacts to their voice. So when I say "Hey Google, call work," I'll get Crutchfield. When my wife says the same phrase, she gets the medical spa.
Control compatible smart devices
The Google Home Mini can control compatible smart home devices from WeMo, Philips Hue, Samsung SmartThings, Nest, and more. Setup is done through the Google Home app.
I synced up my Logitech Harmony Elite to the Google Home app. So whenever my kids hide or lose the remote, I don't have to tear up the house looking for it. I can just say "Hey Google, tell Harmony to turn on ESPN," and watch SportsCenter.
Roon-compatible for serious music lovers
The Google Home Mini is also compatible with Roon, a subscription digital music player you download to your smartphone, tablet, or computer. It gives you multi-room audio playback for all your Chromecast-compatible devices and more. Roon accesses your digital music collection from your iTunes library or NAS drive. It also works with your TIDAL subscription. Roon lets you do deep dives into your music, showing artist bios, photos, reviews, and lyrics. Roon can also suggest other artists and songs based on your selections, making it easy to discover new music you'll enjoy.
READ LESS
Product highlights:
hands-free help from the Google Assistant
lightweight, compact voice-activated Wi-Fi-enabled speaker

omni-directional 40mm powered speaker for music, podcasts, and spoken word

stream music, get answers from Google, and control compatible smart devices with your voice

use the phrase "Okay Google" or "Hey Google" to start a voice-activated command
Some Google Assistant Functions:
"Voice Match" recognizes up to six different voices for personalized answers

each person can sync their Google account, contacts, calendar to their voice

wirelessly stream from Spotify®, Pandora®, YouTube&reg Music, Google Music, and other online music services

multiple Google Home devices can be grouped together so you can play the same song in every room
control audio gear with Chromecast built-in by voice

hands-free calls to businesses and your phone contacts
stay in the know about weather, traffic, finance, sports, and more
set alarms, start timers, and add items to your shopping list
General Info and Specs:
far-field microphone and natural language processing ensure reliable voice recognition

switch on side to turn off microphone

dual-band 802.11ac Wi-Fi delivers fast, reliable wireless streaming
requires AC power (power cord included)
1-5/8" height x 3-7/8" diameter
weight: 6.1 ounces
warranty: 1 year
MFR # GA00210-US
What's in the box:
Google Home Mini owner's manual
Voice-activated powered speaker
AC power adapter (attached 5' DC cord)
"Let's Get Started" card
"Get To Know Your Google Home Mini" booklet
Safety + Warranty information
Customer reviews for Google Home Mini
Loading...
Loading reviews...
Average review:
4.5 out of 5 stars
Thanks for submitting your review
Most reviews are processed and published within 5 business days. You will receive a confirmation email once your review has been published.
Customer photos
This review was collected as part of a promotion
More details on the Google Home Mini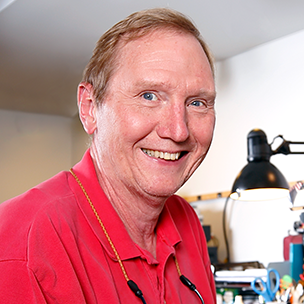 Researched by Crutchfield's

Mark G.
Product Research
Features
Google Home Mini: Google Home Mini is a voice-activated speaker powered by the Google Assistant. Ask it questions or tell it to do things. It's your own personal Google assistance that is always ready to help. Thanks to Google's rich history in search, Google Home is ready for your questions. Get real-time answers including the latest on weather, traffic, finance, sports, local businesses and more.
Far-Field Voice Recognition: A simple voice request triggers Google Home Mini to play music, podcasts, radio and more. Far-field microphones and industry-leading natural language processing ensure Google Home Mini hears you reliably. You can mute the microphone for privacy.
360° Omni-Directional Sound: An integrated 1.5" driver powered by a built-in amplifier delivers 360° omni-directional.
Wireless Network Connection: The Google Home Mini is equipped with built-in WiFi for a wireless connection to your home's wireless router and network. It uses dual band (2.4GHz/5Ghz) Wi-Fi (802.11b/g/n/ac) for high-performance streaming. WPA2-Enterprise is not supported.
Google Home App: Use the Google Home App for Apple iOS 9.1+ and Android OS 4.4+ to connect the Google Home Mini Speaker to your home's wireless WiFi network from your Apple iOS or Android device. You also get to configure compatible apps within the Google Home App, plus adjust various settings.
Multi-User Accounts: Google Home Mini has added the ability for up to six people to connect their Google account to one Google Home Mini. So now when you ask the Google Assistant for help, it can distinguish your voice from your spouse or kids, and you'll be able to hear your own personal playlists, your own commute time, your own schedule and more.
Chromecast Compatible: Using only your voice, you can initiate and control audio to any powered speaker, receiver, or TV with Chromecast, Chromecast Audio, or Chromecast built-in. You'll have access to Play, Pause, Skip, & Volume control of each compatible speaker.
Multi-Room Audio: Multiple Google Home Mini devices can be grouped together to enjoy the same song in every room. Group any combination of Google Home Mini, Chromecast Audio or Speaker with Chromecast built-in together for synchronous music throughout your home. Your favorite music and audio from Chromecast-enabled apps are instantly available to stream.
Note: Multi-room sync with video devices isn't currently supported.
Mobile App Audio Streaming: Stream audio from your smartphone to Google Home Mini from 100+ Chromecast-enabled audio apps or through phone mirroring.
Music & Radio: Play music from popular music services by artist, song, genre, album playlist, mood, or activity. You can also listen to your favorite internet radio station. Compatible music and internet radio apps include Tidal, Spotify, Pandora, TuneIn, GooglePlay Music, YouTube Music, iHeart Radio (subscription fees may apply).
News, Weather & Sports: Get the latest news and weather from sources you trust. With Google Home Mini, you can listen to top headlines, get the latest on a certain category of news (like world, weather, business, tech, etc.), or ask about a specific news item. With Google Home Mini, you can even stay up-to-date on your favorite sports, teams, and games using your voice.
Podcasts: With Google Home Mini, you can listen to your favorite podcasts and shows from anywhere in your home, using only your voice. Currently, you can't request podcasts from partner podcast players, like Spotify, Google Play Music, and TuneIn.
Chrome Browser: By playing music from a Chrome browser tab, you can mirror what's playing on your computer screen onto Google Home Mini.
Android Audio: Stream your favorite music, playlists, podcasts, and more that are stored on your Android (OS 4.4.2+) device to Google Home Mini. This is also known as "mirroring". You cannot stream stored content on an Apple iOS device.
Notes:
Some music providers, like Spotify and YouTube Music, require a subscription to play music from its Chromecast-enabled app. Also, you must cast from the YouTube Music app, not the YouTube app.
You can block explicit music and video content from YouTube, Google Play Music, and other music/radio services from playing on Google Home Mini and linked devices.
Streaming To Your TV: You can even use Google Home Mini to control your TV with Chromecast or Chromecast built-in. You can initiate and control YouTube videos, as well as select TV shows and movies from Netflix with simply using your voice. In addition, you can enjoy a slideshow of your personal photos from your Google Photos library.
Hands-Free Calling: Google Home Mini supports hands-free calling, so you can call friends, family, and businesses using just your voice. Call your own personal contacts or millions of businesses thanks to Google's extensive business listings. You can also call a number by speaking it aloud. Google does not record any of the phone conversation. Answering incoming calls and calls to emergency services are not supported.
Smart Home Automation: Google Home Mini lets you control devices around your home from compatible smart home automation partners.
IFTTT: You can create your own voice commands for Google Home Mini or the Google Assistant on your Android device, Apple iPhone, or computer using IFTTT (If This, Then That).
Light Control: With Philips Hue or lights connected to Samsung SmartThings on Google Home Mini, you can use your voice to control the lights around your house without touching a switch. Philips Hue Scenes are not supported.
Smart Plugs & Switch Control: You can use your voice to control Belkin Wemo plugs or switches and plugs or switches connected to SmartThings on Google Home Mini.
Thermostat Control: Now you can use your voice with the Google Assistant and Google Home Mini to control the temperature in your home, switch between heating and cooling modes, and more. Compatible thermostats include the Nest Thermostat, the Honeywell thermostat, or select thermostats connected to Samsung SmartThings.
Manage Tasks & Plan Your Day: Start your day the right way with Google Home Mini. Wake up and hear the information you need without going online or opening your calendar. Also, set alarms and timers for things you need to do.
Calendar & Event Information: Use Google Home Mini and Google Calendar to get information about an event or get your schedule for the day from Google Calendar - using only your voice. Currently, you will only hear events from the main calendar associated with the Google Account used to set up Google Home Mini. You can't add events to your Google Calendar using your voice.
Traffic & Commute Information: With Google Home Mini, you can always get to work on time by hearing information about your commute, traffic conditions, and your estimated time of arrival. You can even call a car to come pick you up with Uber.
Weather Forecast Information: With Google Home Mini, you can listen to the current weather and upcoming forecast for your location using only your voice.
Local Business Information: With Google Home Mini, you can search for local places and ask for important information, like hours of operation or addresses.
Shopping: Order everyday essentials & add items to your shopping list with your Google Assistant on Google Home Mini. Add items to your shopping list and check what's already on it using Google Keep. Then order hands-free from your favorite stores with Google Express.
Alarms: Set, check, cancel, stop, and snooze multiple recurring alarms. Never run late or miss a flight or meeting. You can set and manage alarms with just your voice.
Timers: Set and manage a timer for cooking, game time, laundry and to track other activities using the timer on Google Home Mini. It's great for the kitchen, but can be used in the living room, bedroom, and more. Set, pause, check, resume, and cancel timers.
Flight Information: Use Google Home Mini and Gmail to get status updates on your upcoming flights.
Get Answers: Google Home Mini can help you find answers for many of your daily questions - including calculator, translations, unit conversions, nutrition, dictionary, and more.
Calculator: Perform complicated calculations
Dictionary: Get definitions of spellings for words.
Facts & Info: Get answers to everyday questions.
Finance: Ask about current individual stock prices or current points of an index, like the NASDAQ.
Nutrition: Get nutrition information for ingredients or food.
Translations: Get translations for words or phrases in supported languages.
Games: Lighten up your day or test your trivia smarts with jokes, trivia, games, and other fun on Google Home Mini.
Touch & Remote Control: The top touch surface gives you Play/Pause and Volume Up/Down control. There is also a Mic switch on the side to turn the microphones On or Off. You can also use your Android or Apple iOS device as a remote to operate Playback and Volume.
Guest Mode: Guest mode makes it easier for your friends to cast their favorite media to your Google Home Mini from an Android or Apple iOS device without connecting to your Wi-Fi network. As the host, you can keep your password private. Guests can cast from their Android or Apple iOS device as long as they are in the same room as the Google Home Mini.
AC Power Adapter: The Google Home Mini voice-activated speaker comes with an external AC power adapter which needs to be plugged into an AC wall outlet or surge protector.
Loading...
Loading accessories...
Loading...
Loading articles...