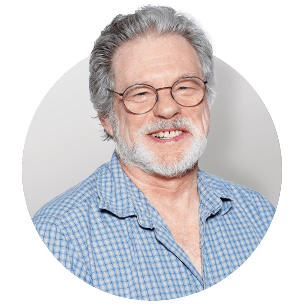 Reliable control of your music
Yamaha used their extensive acoustical knowledge and engineering skills in offering you the MG16 mixer. This 16-channel workhorse can bring order and balance to your music, and help you make it all sound great, whether produced in church, home studio, dance club, or on the road.
Reliable control of your music
Yamaha used their extensive acoustical knowledge and engineering skills in offering you the MG16 mixer. This 16-channel workhorse can bring order and balance to your music, and help you make it all sound great, whether produced in church, home studio, dance club, or on the road.
16 inputs
The ten microphone inputs feature Yamaha's D-PRE mic preamps, designed for their high-end recording consoles, which use a special Class A amplifier circuit to faithfully reproduce a microphone's signal without sacrificing warmth. The MG16 also offers stereo line-level inputs that can accommodate unbalanced signals via 1/4" TS or RCA plugs.
Analog outputs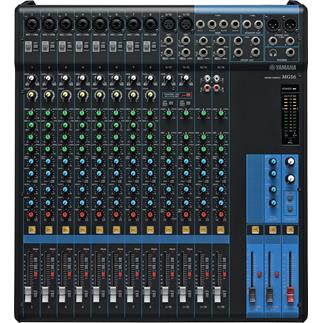 In addition to the main left/right stereo outputs, the MG16 sports 4 auxiliary and 4 subgroup outputs, presenting you with an array of output channels for PA speakers, different monitor mixes, outboard processors, and recording.
Compression onboard
Eight channels of the MG16 come loaded with a one-knob audio compressor, for smoothing the dynamics of sounds that don't always maintain consistent levels, like vocals or horns.
Universal features
All channels have 3 bands of EQ to help you adjust voices and instruments. You'll find the peak lights, pre-fader listen bus, and LED meter handy for keeping channels clean and distortion-free. The MG16 comes in a powder-coated steel chassis that's ready to endure the occasional but inevitable bumps that occur along the way. It also comes with a rack-mount kit, so you can protect this mixer even better when you're on the road.
READ LESS
Product highlights:
16-channel mixer
channels 1-8:

mono mic/line inputs (XLR and 1/4" TRS)
switchable 26 dB pad

channels 9/10 and 11/12:

mono mic and stereo line inputs (XLR and 1/4" TS)

channels 13/14 and 15/16:

stereo line inputs (1/4" TS and RCA)

all microphone inputs:

D-PRE Class A microphone preamps
phantom power (+48 volts)
switchable high-pass filter (80 Hz, 12 dB/octave)

3-band EQ on all channels (+/-15 dB)

chs 1-8: high: 10,000 Hz (shelving), mid: 250-5,000 Hz (peaking), low: 100 Hz (shelving)
chs 9-16: high: 10,000 Hz (shelving), mid: 2,500 Hz (peaking), low: 100 Hz (shelving)

peak lights on chs 1-12
Special features
dynamic compression available on chs 1-8 (single-knob control)
4 auxiliary bus/outputs: Aux 1: pre-fader, Aux 2: pre-/post-fader (switchable), Aux 3 and 4: post-fader
4 subgroups (two stereo pairs) with direct outputs
General features
LED output meter with peak indicator
PFL (pre-fader listen) for metering and monitoring individual channels
on/off, pan, and stereo/group assignment controls on each channel
headphone and monitor outputs
rack mount kit included
metal chassis
weight: 14.6 lbs
dimensions: 17-9/16"W x 5-1/8"H x 19-3/4"D
warranty: 1 year
MFR # MG16
What's in the box:
16-Channel mixing console
AC power cord
Rack-mount kit
Owner's Manual
Technical Specifications
Customer reviews for Yamaha MG16
Loading...
Loading reviews...
Average review:
4.0 out of 5 stars
Thanks for submitting your review
Most reviews are processed and published within 5 business days. You will receive a confirmation email once your review has been published.
Customer photos
This review was collected as part of a promotion
More details on the Yamaha MG16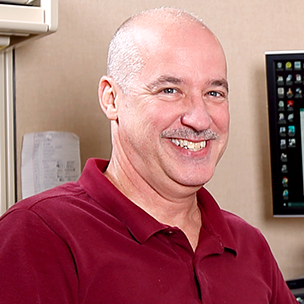 Researched by Crutchfield's

Russ B.
Features & specs
General
Mic inputs
10
Line inputs
Combo (8), Phone (8)
Phantom power
+48V
Channel EQ
3-band
Master EQ
N
Monitors
Phone (L/R)
Effects
N
Talkback
N
Height (inches)
5-1/8
Depth (inches)
19-3/4
Width (inches)
17-9/16
Weight
14.6 lbs
Product Research
Features
D-PRE (Discrete Class-A Mic Preamps): This MG Series mixing console features Yamaha's studio-grade discrete class-A D-PRE preamps, which utilize an inverted Darlington circuit comprising two cascading transistors in a configuration that provides more power with lower impedance. Delivering fat, natural sounding bass and smooth, soaring highs, with very low distortion, D-PRE preamps possess an impressively wide frequency range that allow them to handle signal from any audio source without overly amplifying any specific elements of the sound. Having such a pure sonic platform to build on will ultimately save you time and effort by eliminating the need for excessive EQ-ing or additional effects processing in order to "fix" your mix.
High Quality Sound Op-Amp: The MG Series mixer features new, high-quality, custom made MG01 op-amps that we developed in cooperation with the semiconductor manufacturer. Although many other Op-amps prioritize electrical design and efficiency, we worked directly with the semiconductor manufacturer to focus on sound quality first. MG01 op-amps feature redesigned circuitry in which even the internal components and wiring have been optimized, and use materials such as high-quality silicon wafers and copper wire to achieve superb resolution.
16-Channel Inputs: The Yamaha MG Series mixer provides sixteen total channel inputs; there eight Mic/Line mono input jacks (Ch1-Ch8), four Mic/Line stereo/mono input jacks (Ch 9/10-11/12), and four Line stereo input channels (Ch13/14-15/16). The four Mic/Line mono input jacks utilize high-quality Neutrik connectors which can support both XLR and phone plugs; use these to connect a microphone, an instrument, or an audio device. The four Mic/Line stereo/mono input jacks support either XLR-type connectors or phone plugs to connect an electric keyboard or other audio device. The four Line stereo input jacks only support phono-plugs for line-level instruments and devices.
Stereo & Monitor Outputs: The main stereo outputs consist of stereo XLR-type connectors and phono plugs to connect to powered speakers or a powered amp. The mixer also features a standard 1/4" headphone jack for private listening. In addition, there is a stereo monitor output which consists of phone plugs to connect to a monitoring system. Rugged and dependable, these professional connectors ensure stable signal transmission even in the most demanding environments.
Aux/Effect Sends/Group: The MG Series mixer features AUX sends for expanding your sound reinforcement or recording setup, allowing you to incorporate additional effects, output to external recording devices, or feed to an monitoring system. The mixer also features two stereo group buses that can be used for convenient channel grouping.
Switchable Phantom Power & PAD Switch: With +48V phantom power (for the Mic channels), the MG Series console allows you to take full advantage of the greater frequency response and high sound quality of condenser microphones. The Mic/Line Ch 1-8 input channels feature a PAD switch; the PAD Switch attenuates high input signals that often accompany mic'ed instruments during performance, avoiding the clipping that can seriously affect your mix.
Gain Knobs & Level Faders: The Mic/Line channels offer independent gain control to determine the basic volume level of each channel. The Level faders determine the volume of the signal from each input channel to the main mixing output.
1-Knob Compression: Compression plays an essential role in just about any recording or sound reinforcement environment by altering the level of dynamics of an audio signal when you need livelier guitars, punchier bass lines, a tighter snare, or a cleaner vocal sound. However, it can take countless hours to master the complexities of even the most basic outboard compression units and use them effectively. Originally a Yamaha innovation, 1-knob compressors are now an industry standard that gives you instant access to optimized compression settings via a single rotary control. 1-Knob compressors are found on Mic/Line input channels 1-8.
EQ & High-Pass Filters: The MG Series mixer benefits from Yamaha's unparalleled experience in designing pro audio gear, featuring 3-band equalizers with sweeping mid (High = 10kHz, Mid = 250-5kHz, & Low = 100 Hz) on channels 1-8 and 3-band equalizers with fixed mid (High = 10kHz, Mid = 2.5kHz, & Low = 100 Hz) on channels 9/10-15/16 for precise control of your sound. High-pass filters (80Hz) for channels 1-7/8 allow you to eliminate unwanted low-frequency noise, for a smoother, cleaner mix.
Pan & Balance: The Pan knob (on all Mic/Line channels) adjusts the volume balance of each channel sent to the mixer's outputs, and determines the positioning of the sound image between left and right (stereo L/R). The Balance dial (on all Line mono/stereo channels) determines the volume balance of the stereo channels sent to the mixer's outputs.
Pre-Fader Listen (PFL): The PFL (Pre-Fader Listen) switch lets you monitor the channel's pre-fader signal, before any level adjustment. When the switch is "On", the pre-fader signal is output to your monitor speakers for monitoring.
LED Level Metering: Easy-to-read LED level metering allows output levels to be monitored with precision.
Metal Chassis: The MG Series mixer features a rugged, impact-resistant, powder-coated metal chassis, offering an unrivalled level of durability. With a sleek design contoured for optimal convection cooling, the internal layout separates the power supply from the analog circuitry for superior noise reduction, and further extends the life of the components inside. To further ensure reliable performance, knob control placement above the surface of the chassis diverts any impact or pressure on the knobs to the chassis itself and not the circuit board or components underneath.
Internal Power Supply: The MG Series mixer features a universal switching power supply. This power supply supports input voltages of 100 V to 240 V, for stable operation even in environments where power voltage fluctuates easily. Lowering the impedance of the power supply has resulted in improved sound quality with a faster attack. An AC inlet allows simple installation in environments where portability is required, as well as when mounting the mixing console in a rack.
Loading...
Loading accessories...
Loading...
Loading articles...