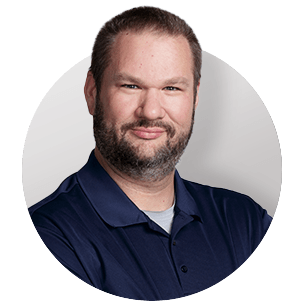 Explosive bass from subwoofer experts
It's no secret why SVS's diverse lineup of powered subwoofers is so popular with our customers. Their acclaimed subs offer staggering levels of bass in a variety of footprints and enclosures. The all-new PB-4000 continues the company's track record of high-end performance with impeccable build quality and expert-level sound-tweaking options.
Explosive bass from subwoofer experts
It's no secret why SVS's diverse lineup of powered subwoofers is so popular with our customers. Their acclaimed subs offer staggering levels of bass in a variety of footprints and enclosures. The all-new PB-4000 continues the company's track record of high-end performance with impeccable build quality and expert-level sound-tweaking options.
Friendly heads-up: this sub is not for the faint of heart. I mean, just look at the thing — that trio of tunnel-sized ports on the front mean business. And at 153 pounds (!!), it's one of the largest and heaviest subs in SVS's lineup.
Outstanding for movies, music, and video game immersion
I have a checklist of features that I look for in an elite powered subwoofer. The first few — sonic realism, visceral "oomph," room adaptability, and ease of control — are crucial components of performance. The PB-4000 checks off each of these boxes with ease.
This sub can produce crazy levels of bass, for sure. But it also offers impressive control for such a large, ported enclosure. Use the PB-4000 with confidence as part of a high-end stereo or home theater system.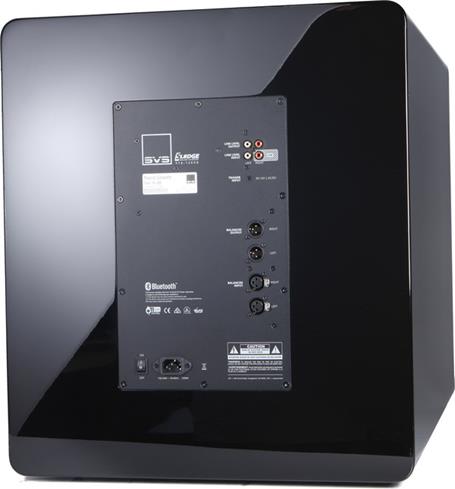 You won't find any knobs or dials on the back of the PB-4000 (shown in gloss black). Instead, everything is controlled from a free app on your smartphone or tablet.
Goal number one: move a lot of air
I'll get into the more nuanced aspects of this sub in a moment. But first things first: the PB-4000's most notable trait is its sheer brute strength. Its heavily braced enclosure houses a massive 13-1/2" woofer. This exceptionally large surface area means there's a ton of bass wave generation. And its ported box design means that the backward motion of the driver also contributes to wave creation, further reinforcing low-frequency extension.
This mammoth driver is powered by a 1200-watt RMS amplifier which allows it to produce commanding bass all the way down to 16 Hz (that's dipping into subsonic territory — bass you feel but can't hear).
Wireless control from your phone
You'll find the PB-4000 simple to operate and control. There's no reaching behind it to fumble with hard-to-see dials and switches. Instead, make settings changes right from the front-panel interface — or easier still, the included IR remote control.
You can also control this sub via a free app on your phone, which lets you select your room's layout, change audio settings, and switch modes right from your seat.
Bass tailored to your room
SVS knows that a sub's performance is largely determined by the acoustics of your room, and your subwoofer's position within it. Thankfully, this enormous sub (did I mention it weighs over 150 pounds?) doesn't have to be wrangled into a single "sweet spot" in your room. It offers a host of sound adjustments that let you get great sound wherever it's located.
Use the app to adjust crossover frequencies, parametric EQ settings, polarity, room gain, and other bass management functions. You can even save up to three groups of tailored settings as presets. These let you set up and switch between "listening modes" for a particular time of day or entertainment source. For instance, you can easily dial the bass down for nighttime listening.
READ LESS
Product highlights:
frequency response: 16-200 Hz (±3 dB)
built-in Class D amplifier delivers 1200 watts RMS of continuous power (4000 watts peak dynamic power)
front-firing 13-1/2" composite paper/fiberglass cone with die-cast aluminum basket for extreme performance and reliability
bass reflex (ported) design with three giant front-firing ports

SVS will provide port tuning plugs for free if you reach out to them, helping you tailor the bass output

front-mounted Intelligent Feature Control (IFC) panel with blue dimmable/defeatable 8-digit LED display
in-depth control via Bluetooth&reg for Apple® and Android™ devices

app-based control of crossover frequencies, parametric EQ, polarity, and other bass management functions
bi-directional feedback shows adjustments in real time in both app and the subwoofer's display
selectable room gain compensation control with adjustable frequency and slope to better match bass to room size

three digital Parametric EQ filters with adjustable frequency, cut/boost, and Q values
variable low-pass crossover
variable phase control (0-180°)
line-level/LFE RCA and balanced (XLR) inputs
RCA and XLR outputs
main power on/off switch plus auto standby/on mode
infrared (IR) remote control included
detachable high-current 6-foot power cord
non-resonant steel mesh grille
black ash wood veneer finish
20-1/2"W x 23-7/16"H x 30"D
weight: 153.2 lbs.
warranty: 5 years
MFR # PB-4000 BK Ash
What's in the box:
Powered subwoofer
Grille
6' AC power cord
Remote control
4 Elastomer feet
Owner's Manual
Important Safety Instructions
Customer reviews for SVS PB-4000
Loading...
Loading reviews...
Average review:
5.0 out of 5 stars
Thanks for submitting your review
Most reviews are processed and published within 5 business days. You will receive a confirmation email once your review has been published.
Customer photos
This review was collected as part of a promotion
More details on the SVS PB-4000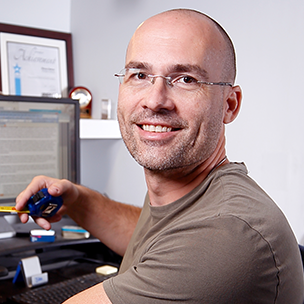 Researched by Crutchfield's

Stacey B.
Features & specs
The SVS PB-4000 replaces these items:
Product Research
Features
13.5" High Output Woofer: The front-firing 13.5" high output woofer of the SVS PB-4000 powered subwoofer pumps out deep and powerful bass with low distortion, for smooth and accurate performance on music and movies soundtracks. The woofer features a lightweight and rigid composite cone with a premium glass fiber dustcap to generate massive output with pinpoint accurate frequency response. A dual ferrite magnet motor assembly weighing nearly 40lbs generates immense magnetic force and excursion of the 13.5" driver to produce massive low frequency output well below the limits of human hearing. An edge wound 3" voice coil with an eight-layer aluminum flat wire minimizes distortion and power compression while providing excellent heat dissipation and linearity ensuring precise control. The proprietary injection molded gasket and long-throw parabolic surround ensure longevity and allow extreme excursion and SPLs.
Sledge STA1200D Amplifier: Rated conservatively at 1200 watts RMS, and 4000 watts peak power, the PB-4000's Sledge STA-1200D amplifier uses an efficient Class D design combined with fully discrete MOSFET output and a sophisticated Analog Devices DSP engine. The result is a level of effortless power and advanced processing not available from any other powered subwoofer manufacturer. Efficiency of a Class D amplifier with the ability to move massive amounts of current through the fully discrete MOSFETs enabling immense output and precise control for outstanding real-world subwoofer performance at all drive levels. The amplifier's advanced digital processor maintains pinpoint accuracy and pristine sound quality through advanced in-room tuning, optimized frequency response curves, powerful DSP controls and more.
Rigid MDF Enclosure: The SVS PB-4000 powered subwoofer features a rigid MDF (Medium Density Fiberboard) cabinet with screw-in rubber feet and a non-resonant steel mesh grille to resist unwanted distortion caused by vibration. A double thick 2" MDF front baffle and rigid internal bracing is used to support the massive drive unit and to ensure an acoustically inert environment. This highly reinforced internal design and acoustic insulation eliminates all coloration or resonance from the cabinet, even when the deepest low frequencies are played at reference volume.
3 Front-Firing Ports: The cabinet utilizes a bass reflex (ported) design with three front-firing 3.5" high-flow ports with inner/outer port flares for smooth bass and high output. Foam port plugs are available at no charge directly from SVS, and allow for variable tuning. Each response curve for the three port tuning modes; standard, extended and sealed, is fully configured to the respective mode to achieve balanced and accurate low frequency response with all tuning preferences.
Standard Tune: All ports are open for the highest maximum output.
Extended Tune: One port is plugged for deeper extension, but slightly less maximum output.
Sealed Tune: All ports are plugged for best transient response.
Intuitive Control: The SVS PB-4000 powered subwoofer can be controlled from the front-panel interface, the included IR remote, or via the new SVS Mobile App for unprecedented flexibility when optimizing performance for room layout, speakers, system set-up and more.
Front-Panel Interface: The front-panel features an intuitive user interface with simplified controls and display that can be used to adjust the majority of the advanced subwoofer control settings. The convenient front-panel display with Intelligent Feature Control (IFC) features a bright blue dimmable/defeatable 8-digit LED backlight.
Remote Control: The included IR remote can be used to adjust nearly every one of the advanced subwoofer control settings with two-way feedback on the front-panel display.
SVS App: In addition to the IR remote & front-panel control interface, SVS has developed the convenient SVS mobile app (for Apple iOS 8.0+ and Android OS 4.3+) that allows you to make adjustments for room layout, personal preferences, movies vs. music, and more from your Bluetooth-connected smartphone or tablet. It's the easiest and best way to fine tune the subwoofer for perfect performance from the comfort of your favorite seat. The SVS App lets you control the following DSP functions - volume, parametric EQ, low pass filter, phase, polarity, room gain, port tuning, custom presets and system setting - from your Bluetooth-connected Apple iOS or Android OS device. Once installed, there's a helpful tutorial that will guide you through each option and provide common settings to simplify the process.
Note: The SVS App is the only way to access all of the advanced control features available on the PB-4000 and it is the most convenient option for controlling every feature.
Advanced Subwoofer Controls: The PB-4000 subwoofer provides advanced DSP controls, settings, and adjustments.
Volume Level: The Volume Level (-60 to 0dB) affects how loud the subwoofer plays. It should be adjusted to match the output level of your loudspeakers. Setting the level too high will cause the bass to seem bloated and is the single most common cause of bad sounding subwoofers. Setting it too low, will cause your movie or music soundtracks to sound "thin" and less dynamic.
Low Pass Crossover: This Low Pass Crossover affects the upper frequency limit of the powered sub. The control range is 30-200Hz, along with a "LFE" (disabled) setting. The slope of the low pass crossover can be set 6, 12, 18, or 24dB/octave. For connection to a home theater receiver, the low pass should be set to "LFE" (disabled). For stereo receiver, it should be adjusted to blend with the natural roll-off frequency of your loudspeakers.
Phase Adjustment: The Phase Adjustment (0-180°) solves sound wave cancellation issues at specific frequencies and perfectly aligns the arrival of output from speakers and subwoofers to your listening position. Normally set to 0° if the subwoofer is near the main speakers. Adjusting Phase shifts timing of the subwoofer output to align with the main speakers or additional subwoofers.
Polarity Switch: In some cases, reversing polarity (Positive or Negative) solves dips or humps at the crossover frequency between a subwoofer and speaker and can be used to fix bass nulls or overly boomy spots in the listening area. Reversing the electrical polarity of the subwoofer amplifier makes it so the woofer moves in when speaker drivers move out and is normally set to positive.
Parametric EQ: The built-in Parametric EQ is a powerful tool for removing peaks and dips in your listening area, and for creating custom subwoofer output based on personal listening preferences. It allows you to set the desired center frequency of the filter (20-200Hz), increase or decrease the SPL dB of the filter (-12 to 6.0dB), or adjust the bandwidth of the filter (0.2-10.0).
Room Gain Compensation: The Room Gain Compensation feature fixes bloated sounding bass by optimizing low frequency output and extension when too much sound wave density is being created by a small room. The RGC frequency can be set to 25, 31, or 40Hz; while the RGC slope can be set to 6 or 12dB.
Presets: You can store up to three preset settings for movie, music and custom. This enables easy switching to optimize the PB-4000's output and settings based on your specific listening preferences with different kinds of content. If using the SVS App, these presets can be renamed as desired.
Balanced & Unbalanced Connections: The SVS PB-4000 is equipped with balanced (XLR) and unbalanced (RCA) inputs and outputs for flexible connectivity. Superior audio quality is ensured with the distinctive noise reduction capability of a balanced connection with XLR jacks.
XLR & RCA Inputs: The balanced XLR and unbalanced RCA inputs are used for line-level connection between your receiver and the powered sub. This type of connection enables the PB-4000's on-board low pass filter for a smooth blend with the your main speakers.
LFE/RCA Input: The LFE input (Left RCA) connects to the LFE output of your AV receiver or preamplifier. The LFE connection your receiver's or preamplifier's processor to perform the upstream bass management and send the subwoofer a pre-filtered mono signal (bypassing the low pass crossover in the PB-4000).
XLR & RCA Outputs: You can use the balanced XLR or unbalanced RCA outputs on the PB-4000 to daisy-chain additional subwoofers. It's important to use the matching output and input terminals. For example, if you are using the RCA inputs, be sure to use the RCA outputs to daisy chain to the next subwoofer.
Active Power Factor Correction (PFC) & Ground Loop Isolation: Active Power Factor Correction (PFC) & Ground Loop Isolation serves as a line conditioner, surge suppressor and voltage regulator letting the amplifier deal with wide voltage fluctuations and ensuring the subwoofers operate flawlessly on any household circuit no matter how unstable the incoming current. An isolated circuit creates a vanishingly low noise floor by eliminating the potential for ground loop hums from outside components resulting in absolute sonic transparency.
Placement Options: Placement of a powered subwoofer is a process driven by competing variables that differ in every home. Décor, floor space, furniture, speaker placement, seating location, and of course, sound quality all factor into the decision of where a subwoofer should be placed. If you have flexibility, there's an artistry to subwoofer placement that can be aided by understanding some basic acoustic principles and set-up techniques.
Corner Placement: Corner placement of a subwoofer reduces the potential to encounter nulls, which are acoustic cancellation points or "dead spots" in the room. While this can often make for hugely impactful bass, it can sometimes result in a "boomy" sound depending on your listening position. If you experience this, you can use the tuning controls to blend your PB-4000 more smoothly with your speakers or try pulling it further away from the walls to smooth out the bass response.
Front Placement: Front of the room placement in between or just to the side of the front channel speakers is another common choice. Front of the room placement usually results in the best blending with the main speakers and center channel and minimizes localization effects.
Side Wall Placement: Side wall placement is less frequently used but can be an effective subwoofer location for excellent accuracy and output.
Dual Sub Placement: Based on extensive testing, and research done by the professional audio community, SVS recommends the following placement options for dual subwoofers - (1) Opposite diagonal front/rear corners, (2) At the mid-points of the side walls, (3) Front stage in the corners, or (4) Front stage flanking the center channel to the inside of the main speakers.
Auto On/Standby: With the "Auto On/Standby" feature activated, the powered sub will automatically turn-on when an audio signal is sensed and automatically turn off if there is no audio signal for several minutes. There is also a Main Power On/Off switch located on the back of the powered sub.
3V-12V Trigger Input: When in standby mode, the powered sub's trigger input (3.5mm) can be used to automatically turn on the powered subwoofer if a signal is sent to this input from another component in the system (like your AV receiver) that features a trigger output.
The SVS PB-4000 replaces these items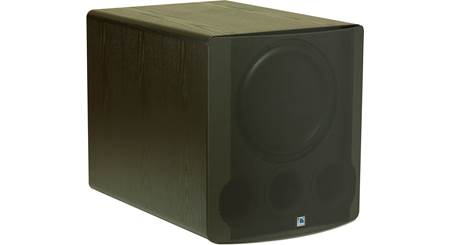 Powered subwoofer
Black Oak
13-1/2" front-firing woofer with three front-mounted ports
built-in Class D amplifier delivers 1000 watts of continuous power
frequency response: 16-250 Hz
Loading...
Loading accessories...
Loading...
Loading articles...