About the DJI Mavic Pro Quadcopter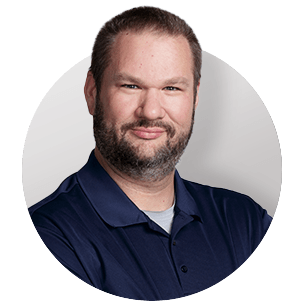 Too much fun? No such thing
We carry some pretty amazing drones, but the Mavic Pro from DJI may just be the coolest one yet. It offers a unique combination of portability, ease-of-use, and ground-breaking technology that makes capturing the special moments in your life fun and easy. And it has a range of over four miles! It's the perfect option for nature lovers, sports enthusiasts, or anyone that wants to capture more of their world.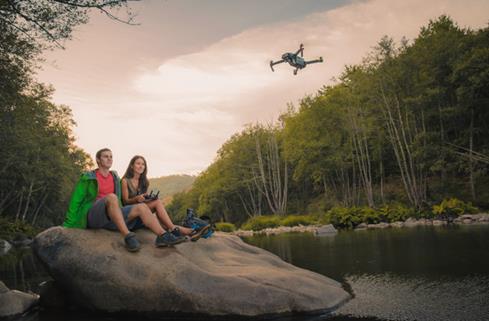 ActiveTrack mode keeps the camera on you and makes capturing memories fun and easy.
Too much fun? No such thing
We carry some pretty amazing drones, but the Mavic Pro from DJI may just be the coolest one yet. It offers a unique combination of portability, ease-of-use, and ground-breaking technology that makes capturing the special moments in your life fun and easy. And it has a range of over four miles! It's the perfect option for nature lovers, sports enthusiasts, or anyone that wants to capture more of their world.
Wave for a selfie
An array of creative features makes the Mavic Pro a blast to use. Use ActiveTrack to keep the camera focused on yourself or a friend while you have fun. Want to take an aerial selfie? Just wave at the Mavic Pro and it will snap a shot! Love sharing your newly captured footage? It's easy to do from free DJIGO app for iOS® and Android™ devices.
You're in the pilot's seat
This lightweight drone gives you up to 27 minutes of flight time on a fresh battery, and can fly as fast as 40mph. Want to really feel like you're in the cockpit? Use the optional DJI Goggles (available separately) for an exhilarating first-person piloting experience.
Built for performance and longevity
The Mavic Pro records Ultra High Definition 4K video at multiple frame rates, and also snaps beautiful 12-megapixel photos. Its razor-sharp lens offers a 78° field of view, and DJI's 3-axis gimbal technology ensures stable, shake-free footage.
Its sleek, aerodynamic body is both lightweight and very durable. Sophisticated sensors and GPS tracking provide accurate flying, even in windy conditions. Foldable propellers make traveling with it a breeze, too. They've been tested to at least 5,000 folds for long-term enjoyment.
Easy controls
The included controller features responsive control sticks that make piloting smooth and intuitive. Built-in dials control gimbal movement and camera settings, and dedicated buttons provide easy video recording and photo capture. A return-to-home button makes bringing the Mavic Pro back to you easy. This remote supports a range up to 4.3 miles.
You can also use your smartphone to control your drone through Wi-Fi®. You'll enjoy a live-view look in HD when you dock your phone as a display.
READ LESS
Product highlights:
Drone:
quadcopter with 4K Ultra HD camera, controller, rechargeable intelligent flight battery, and charger
foldable, lightweight design makes it easy to carry to your launch destination
flight time: up to 27 minutes
maximum speed: 40 mph
features a variety of new flight modes including Terrain Follow, Tripod, and Gesture
ActiveTrack modes follow you anywhere (Trace, Profile, and Spotlight)
OcuSync technology delivers clear video transmission over long distances
SkyAutonomy technology detects and avoids potential obstacles up to 49 feet away
wave at Mavic Pro while it's in the air pointing at you to snap a selfie
GPS/GLONASS positioning allows super-accurate navigation
dock your smartphone and use its touchscreen for navigation
tap where you want to go on your smartphone's screen and the Mavic Pro will smoothly fly there in TapFly mode
precise hovering ability indoors or in places without GPS
automatically returns to its launch location if it ever loses contact with the controller or reaches critically low battery levels
24 high-performance computing cores
5 vision sensors help avoid obstacles
share footage with the free, downloadable DJIGO app for iOS® and Android™ devices
flight telemetry data is stored internally and can be downloaded via micro USB port
weight: 1.62 lbs.
Camera:
12.35-megapixel camera with 1/2.3" CMOS sensor
records 4K video at 24, 25, or 30 frames per second
ultra-precise 3-axis gimbal mount stabilizes camera in flight
wide, 78° field of view
takes up to 7 still photos per second in burst mode
fast shutter speeds down to 1/8000 sec.
ISO range: 100-3200 (video), 100-1600 (photo)
features Adobe DNG RAW support
records to optional microSD memory card (64 GB max., Speed Class 10 or UHS-1 rating required)
built-in rechargeable battery
Included Accessories and Warranty:
pocket-sized remote controller (2.4 GHz wireless band)
three pairs of propellers
one micro USB cable
one Apple® Lightning-to-micro USB cable
one 16GB microSD card
rechargeable intelligent flight battery
battery charger
warranty: 1 year
Note: The FAA requires users to register their drones. State and/or local laws may also restrict the use of this drone in certain areas.
MFR # CP.PT.000500
What's in the box:
DJI Mavic Pro Quadcopter owner's manual
Aerial drone
Intelligent Flight Battery (installed)
16GB microSD card (installed)
Controller
6 Propellers (2 installed)
AC power adapter (attached 21" DC cord)
19" AC power cord
20" MicroUSB-to-USB cable
3.75" MicroUSB cable
3.875" MicroUSB-to-USB-C cable
Cable slider
Gimbal clamp (installed)
Camera lens cover (installed)
Quick Start Guide
"In The Box" booklet
Intelligent Flight Battery Safety Guidelines
Disclaimer & Safety Guidelines
"DJI Care Refresh" card
Customer reviews for DJI Mavic Pro Quadcopter
Average review:
5.0 out of 5 stars
Thanks for submitting your review
Most reviews are processed and published within 5 business days. You will receive a confirmation email once your review has been published.
Customer photos
This review was collected as part of a promotion
More details on the DJI Mavic Pro Quadcopter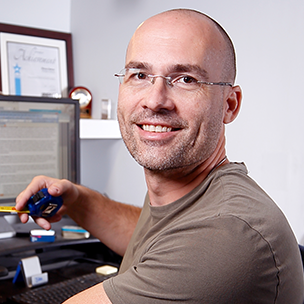 Researched by Crutchfield's

Stacey B.
Features & specs
General
Type
Air
Bundle/combo
---
Size class
---
Application
---
Protection Plan
---
Camera Features & Specs
Camera Mount Type
Gimbal camera
Visual Camera
---
Thermal Camera
---
Other Type of Camera
---
Image sensor
1/2.3" CMOS
Video Resolution
3096 x 2160 (4K)
Still Image Size
4000 x 3000 (12MP)
Aircraft Features & Specs
RTH (Return to Home)
Yes
Auto Takeoff/Landing
---
Obstacle Sensing
---
GPS-enabled
GPS/GLONASS
GLONASS-enabled
---
Max. Flight Speed
40 mph
Max. Flight Time
27 min
Max. Height
16400 feet
Max. Distance
4.3 mile
Internal Storage
No
External Storage
microSD
Control & Display
Remote Controller
Included
Built-in Display
No
Display on Smartphone
Yes
FPV Goggles
Optional
Connections
USB
microUSB
HDMI
No
Other
No
Included Accessories
Case
No
Neck Strap
No
Spare Propellers
Yes
Battery
1
Battery Charger
Yes
Other Accessories
microUSB cables
Other Info
Width (inches)
18.9375
Height (inches)
3.3125
Depth (inches)
16.6875
Weight (pounds)
1.62
Parts Warranty
6 Months
Labor Warranty
6 Months
Product Research
Aerial Drone
Gimbal Camera
Controller & Apps
Rechargeable Battery
Aerial Drone
DJI Mavic Pro: The DJI Mavic Pro is a small yet powerful aerial drone. Its compact size hides a high degree of complexity that makes it one of DJI's most sophisticated flying cameras. 24 high-performance computing cores, an all-new transmission system with a 4.3 mile range, 4 vision sensors, and a 4K camera stabilized by a 3-axis mechanical gimbal are all at your command from the included controller.
Aerodynamic Design: The aerodynamic configuration of the Mavic Pro has been redesigned according to its flying attitude and angle when moving forward. DJI also optimized the aerodynamic efficiency of the propellers so that the Mavic Pro can fly for longer. Its aerodynamic design and polished surfaces reduce air resistance for excellent flight handling in up to 24mph winds.
Propulsion System w/ Folding Propellers: An improved propulsion system ensures the DJI Mavic Pro ascends and accelerates faster. Combined with a fast responding, highly robustness flight controller, it is able to expertly handle strong winds while flying. Mavic Pro has 2 pairs of 8.3" foldable propellers, each covering nearly half its length, compared to most foldable drones on the market whose propellers are only 1/4 their length. This is possible through elegant engineering that allows rear arms to fold below forearms, saving overall space while allowing room for larger props.
Max Ascent Speed: 16.4ft/s in Sport mode
Max Descent Speed: 9.8ft/s
Max Speed: 40mph in Sport mode without wind
Max Height: 1640 feet
Note: Once the rotors start spinning, the centrifugal force will automatically push the propellers into the correct position, so you don't need to worry about not having unfolded them perfectly.
OcuSync HD Transmission: The DJI Mavic Pro utilizes a brand new OcuSync HD transmission technology which offers a range of 4.3 miles and full HD 1080p/720p video streaming between the aerial drone, the controller, and your Apple iOS or Android mobile device. OcuSync is able to strike a perfect balance between latency and receptivity, reducing latency to 5ms for remote controller transmission commands, 10ms for video data and 130ms for videos. Before taking off, OcuSync will automatically scan the environment and choose the frequency band with the lowest interference, ensuring more stable video transmission. During a flight, it sends key flight parameters back for viewing in the DJI GO app and supports a maximum download speed of 40Mb/s for photos and videos.
FlightAutonomy Technology: FlightAutonomy gives the DJI Mavic Pro long range, high precision obstacle sensing, enabling it to scan its environment in 3D before taking off. FlightAutonomy ensures the Mavic precisely locates obstacles around it to brake and maneuver around them. FlightAutonomy is made up of 7 components including 5 cameras (forward and downward dual vision sensors and the main camera), dual-band satellite positioning (GPS and GLONASS), 2 ultrasonic rangefinders, redundant sensors, and a group of 24 powerful, specialized computing cores. As the Mavic flies, dual forward and downward vision sensors measure the distance between itself and obstacles by taking photos from all four cameras and using the information to create a 3D map that tells it exactly where obstacles are. The dual forward and downward vision sensors require visible light to function, and in bright light can see as far as 49' out in front.
Notes: This obstacle avoidance system is activated in every Intelligent Flight Mode including all ActiveTrack modes, TapFly and Terrain Follow. It is also available during automatic Return to Home, so that the Mavic can easily make its way back without bumping into anything in its path.
Precision Hover & Return Home Landing: Through the use of dual forward vision sensors, the DJI Mavic Pro is able to see obstacles in 3-dimensions up to 49' in front, increasing positioning accuracy to 2-3x that of an Optical Flow system. It also allows the speed of the aircraft to be calculated, enabling precise hovering at up to 33' without satellite positioning. Dual forward vision sensors allow it to calculate its current location and speed of flight by observing the scene in front, further increasing positioning accuracy. Thanks to this precise hovering technology, the Mavic Pro is able to automatically land almost exactly where you took off. Every time you take off, the two downward facing vision sensors record a burst of video of the ground below and pair it with satellite coordinates. When you tell the Mavic Pro to fly home, it will return to that coordinate, match the video, and land back at your feet.
Redundant IMU & Compass Sensors: The DJI Mavic Pro employs dual IMUs and dual compasses. The IMU acquires the angle, speed, and acceleration of the Mavic Pro, so if it functions abnormally, it could negatively affect flight. The compass is used to know where the drone is heading, ensuring it flies in the right direction, and allowing it to return to home automatically. Without the compass, the Mavic Pro would lose its ability to navigate. This is why DJI has made these sensors in the Mavic Pro redundant with two sets of sensors working simultaneously. Whenever the system detects an inconsistency in one, it switches to the other, keeping your flight steady and reliable.
ActiveTrack: The Mavic Pro with ActiveTrack technology is engineered to detect and recognize a number of common subjects including people, bike riders, vehicles and even animals. Once you have marked your subject, you can create a huge variety of shots depending on the mode you are in. Choose from Trace, Profile or Spotlight, to give every scene you shoot a professional touch. When the Mavic Pro is tracking, you can even select exactly where you want them in the frame, for more control over your final shot.
Trace: Follows behind or in front of your subject, or circle it as it moves at a constant distance
Profile: Flies alongside your subject at a constant angle and distance.
Spotlight: Keeps the camera pointed on your subject while you fly almost anywhere.
Intelligent Flight Modes: The DJI Mavic Pro offers a variety of intelligent flight modes that are convenient and fun for both beginner and advanced pilots.
TapFly Mode: Thanks to its intelligent vision technology, the DJI Mavic Pro is extremely smart. In TapFly mode, you can simply tap a point on the touchscreen of your smartphone and the Mavic Pro will fly towards that point directly. If you tap another point, it will smoothly turn to the new destination. In TapFly mode, Mavic Pro's onboard obstacle sensing systems are constantly scanning in front of it, keeping it away from any obstructions, freeing you up to admire the view.
Terrain Follow: When you are flying over changing terrain, like following bikers riding uphill, the Mavic Pro's Terrain Follow function uses height information gathered by the onboard ultrasonic system, and its downward facing cameras to keep you flying at the same height above the ground even as the ground moves. Just set the height from the ground (9' to 33') you want and focus on getting the right shot.
Gesture Mode for Selfies: In Gesture Mode, the DJI Mavic Pro's Vision System can recognize your gestures. Raise your arms or wave to it and the Mavic Pro will follow you or take selfies for you. You can put away your smartphone and controller, all you need is a gesture.
Tripod Mode: Tripod Mode limits the DJI Mavic Pro's maximum speed to just 2.2mph, and the control stick sensitivity of the remote controller is slowed to give you the precision you need for accurate framing. It is also great for flying indoors in small spaces where the Mavic Pro's normal speed may make it more challenging to fly.
Sport Mode: Sport Mode was designed for fun, giving the DJI Mavic Pro a top speed of 40mph, all the while ramping up agility and responsiveness, to give you a taste of drone racing. You can also use it to film something fast, or zip out to catch a shot before the moment passes. Even in Sport Mode, the Mavic Pro will stop almost instantly if you let go of the controls, so no matter how fast you go, you can stop at any time.
Note: The Forward Vision System is disabled in Sport mode, which means the aerial drone will not be able to automatically avoid obstacles on its route.
Flight Recorder: Flight data is automatically recorded to the internal storage of the aircraft. This includes flight telemetry, aircraft status information, and other parameters. To access this data, connect the aircraft to your computer through it microUSB port and the included microUSB-to-USB cable.
FAA Rules & Regulations: Please familiarize yourself with the FAA's rules & regulations for unmanned aircraft systems before flying your drone. Click here for more details.
Gimbal Camera
4K Camera: The included 4K camera uses core technologies found in all DJI cameras. It is equipped with a 1/2.3" CMOS image sensor (12.71 total pixels / 12.35M effective pixels), commonly found in professional sports cameras, and an aerial imaging optimized integrated lens with an equivalent focal length of 28mm, FOV (field of view) of 78.8°, and focus range of is 1.64' to infinite. There is a 2x digital zoom, but no optical zoom. The camera has an ISO Range of 100-3200 (for video) and 100-1600 for photo).
3-Axis Gimbal: To provide true 4K aerial video and a smooth live feed, the Mavic Pro is equipped with the smallest high-precision 3-axis gimbal that DJI has ever made. With brushless motors on all three axes (pitch/roll/yaw), the gimbal can control the camera with precision, adjusting it to eliminate shake caused by movement from the Mavic Pro.
Tilt & Roll Adjustments: It has an adjustable pitch from -90° to +30° for a total tilt of 120°. It also has an adjustable roll of 0° (horizontal) or 90° (vertical) for portrait or landscape shooting modes.
Follow or FPV Mode: Two gimbal operations modes are available. In the Follow mode, the angle between the gimbal's orientation and aircraft's nose remains constant at all times. In FPV mode, the gimbal will synchronize with the movement of the drone to provide a first-person perspective flying experience.
Up to 4K Video: The DJI Mavic Pro's 3-axis gimbal 4K camera can shoot smooth video up to 4K (60Mbps max video bitrate). Video recording modes include - C4K (4096 x 2160 @ 24fps) 4K (3840 x 2160 @ 24/25/30fps), 2.7K (2704 x 1520 @ 24/25/30fps), FHD (1920 x 1080@ 24/25/30/48/50/60/96fps) & HD (1280 x 720 @ 24/25/30/48/50/60/120fps). Video is recorded in either MP4 or MOV (MPEG-4 AVC/H.264).
12MP Photos: The DJI Mavic Pro's 3-axis gimbal 4K camera will also capture 12 megapixel (4000 x 3000) still images in JPEG or DNG RAW format. The camera's shutter speed can be set to 8s to 1/8000s. You can even flip the camera 90° for portrait oriented shots, just like you do with your smartphone. Still photography modes include Single Shot, Burst Shooting (3/5/7 frames), Auto Exposure Bracketing (AEB), Interval, & HDR.
microSD Memory Card: Captured video and still image photos are recorded onto a microSD or microSDHC memory card (up to 128GB). A Class 10 or UHS-1 rated microSD/SDHC memory card is required.
microUSB Port: The Mavic Pro features a microUSB port and comes with a microUSB-to-USB cable to connect to your computer for transfer and download of your aerial videos and photos to your computer.
Edit & Share: Automatic video editing templates, simple video editing functions, and easy photo and video management, bring together everything you need to make epic videos right on your smartphone. After you've selected your photo or video, edited and created your masterpiece, you are able to share it straight to Facebook, YouTube, Twitter, Instagram and more; as well as SkyPixel (DJI's own community dedicated to aerial imaging). If you start shooting a video that just cannot wait to be shared, go ahead and stream it live to Facebook or YouTube so no one misses out.
Controller & Apps
RC & WiFi Modes: By sliding the Control Mode switch on the right hand side of the DJI Mavic Pro you can choose easily between RC and WiFi mode depending on which transmission type you need. In RC mode, you will use the included remote control with OcuSync to operate the Mavic Pro. In WiFi mode, you will use your Apple iOS or Android mobile device with the DJI Go 4 App installed to control the Mavic Pro over WiFi.
RC Mode: In RC mode, the Mavic Pro utilizes OcuSync transmission technology and is controlled by the included remote controller for an increased range of up to 4.3 miles in open areas without interference, FCC compliant.
WiFi Mode: When using a smartphone connected via Wi-Fi, the controllable range is 262', with a maximum altitude of 164', making it suitable for short-range shots like selfies and for setting up ActiveTrack. You can also download photos and videos directly from the Mavic Pro to your mobile device via Wi-Fi.
Note: The aerial drone will also automatically return to home if the remote control signal or your smartphone's WiFi signal is not detected for a specified amount of time (3 seconds when using the remote controller and 20 seconds when using WiFi).
Remote Controller: The included remote controller is a multi-function wireless communication device that integrates the video downlink system and aircraft remote control system. The video downlink and aircraft remote control system operates at 2.4GHz using OcuSync transmission technology for a wireless range up to 4.1 miles. In addition to flight controls, the remote controller features a number of camera control functions. The remote is equipped with joystick and push-button control, as well as a LCD screen.
Joystick Control: The slightest movement of your fingers on the controller's joysticks is translated almost immediately into movement in the air, so you always feel in complete control.
LCD Screen: The LCD screen displays various system statuses including flight telemetry and battery level in real-time.
Customizable Buttons: The push-buttons of the controller are customizable.
Note: The remote controller and aircraft are already linked out of the box. To prevent interference, do not operate more than three aircrafts in the same area.
DJI Go 4 App: The DJI Go 4 app for Apple iOS 9.0-up & Android OS 4.4-up lets you control gimbal, camera, and flight functions from your compatible mobile device.
Flight Controls: Control the flight pattern of the Mavic Pro from your mobile device and the DJI Go 4 app, while viewing a live video feed and flight telemetry data. Virtual joysticks on your compatible mobile device's touchscreen let you control the direction of the aircraft.
Flight Simulator: The DJI Go 4 app even includes a flight simulator that gives you the lifelike experience of flying the Mavic Pro in a safe, controlled virtual environment.
Camera Functions: The DJI Go 4 app gives you complete control of your camera and a live HD video feed right on your mobile device's touchscreen. You'll be able to adjust camera settings and use this real-time view to line up the perfect shot. You can snap photos and record vides with just a tap on your Apple iOS or Android device's touchscreen.
Video Editor: An intelligent video editor is built into the DJI Go 4 app. After recording several video clips and downloading them to your mobile device, you can select a template from the DJI Go 4 app and specify which clips you want to combine and create a short film that can be shared immediately.
SkyPixel: Take part in the world's largest aerial imaging community at SkyPixel. Learn tips and tricks from power users, find people to fly with and give your productions a global audience.
Me: If you have a DJI account, you will be able to participate in forum discussions, and share your creating with the community
Mobile Cradle: The included remote controller features a mobile device cradle which allows you to use the RF remote controller and the DJI Go 4 app on your smartphone in conjunction with one another. Use the RF remote for longer range control of the Mavic Pro and use the DJI Go 4 app on your mobile device as a live view screen. This type of configuration also requires your smartphone be connected to the remote controller via USB (cables sold separately).
Note: The remote controller can fit smartphones between 0.25-0.33" thick and up to 6.3" long, without a phone case. Smartphones and tablets larger than this do not fit the remote controller's device holder.
Optional DJI Goggles: Optional DJI Goggles (sold separately) make flying totally immersive, putting two lifelike 1920 × 1080p LTPS displays with a wide 85° angle of view in front of your eyes for a true bird's eye look at the world around you. Built-in OcuSync delivers a 1080p video stream and because it connects directly to the Mavic Pro and not through a cable or a Wi-Fi link to the controller, a super low latency.
Rechargeable Battery
Rechargeable Lithium-Polymer Batteries: The DJI Mavic Pro is powered by a high-density, rechargeable lithium-polymer (LiPo) battery that has a capacity of 3830mAh and voltage of 11.4V. This battery can provide a flight time of up to 27 minutes (at 15.5mphs with 0 wind) and a hover time of 24 minutes (with 0 wind). In calm weather and under ideal conditions, the Mavic Pro can fly up to 8 miles at 31mph on a single charge. The included remote controller is equipped with a rechargeable lithium-polymer battery with a capacity of 2970mAH. Operating temperature for both batteries is 41°F to 104°F. The batteries must be fully charged before using it for the first time.
Notes: The aerial drone will automatically return to home if the battery signal is getting too low. The drone may land automatically if the current battery level can only support the aircraft long enough to descend from its current altitude.
Intelligent Flight Battery: The DJI Intelligent Flight Battery in the Mavic Pro adopts the latest technologies to ensure that the flight control system is able to obtain accurate battery level. This allows it to calculate remaining flight times more accurately. It also gives pilots a full understanding of the overall battery status, including real-time battery cell status, circle number, temperature and more, and all in the DJI GO app on your smartphone.
BMS (Battery Management System): As well as monitoring the battery status during flight, the BMS (Battery Management System) also has overcharge and over discharge protection, reducing the likelihood of battery damage. When not in use for extended periods of time, DJI Intelligent Flight Battery automatically discharges to 50% charge, keeping it at an optimum charge level for extended battery life. When flying in cold temperatures, the BMS will activate low-temperature protection and will control power output according to the temperature. This ensures the battery can provide adequate propulsion without damage from the cold.
AC Power Adapter: An AC power adapter is included to charge the Mavic Pro's lithium-polymer (LiPo) battery. The AC power adapter is also outfitted with two USB (type-A) ports to charged the included remote control and your smartphone. Charging times are not specified. However, it will take longer to fully charge the battery when multiple devices are connected.
2 questions already asked
Q
Can the Mav be controlled using an Ipad mini or is this too large for to fit in the controller?
doug Oct 07, 2017
A
No, the iPad is too big. An iPhone plus works. There are aftermarket options to be able to use some larger devices like an iPad mini.
eric Oct 08, 2017
A
Ipad mini is too large for the controller. I squeeze my iphone 7plus into the controller.
munesh Oct 08, 2017
A
Absolutely! While the arms can hold the iPad Mini, you can purchase a 3rd Party Adapter so you can hold the iPad with the controller more securely. I use an iPad Min with mine, and I've even seen people use a regular iPad , but not the iPad Pro it's just to big.
alvin Oct 07, 2017
A
The mini should fit! You should be fine! The mavic pro is an awesome drone!
espirito l Oct 07, 2017
A
Depends on the version but iPad mini 2 or better is actually the preferred tablet.
brian Oct 07, 2017