About the ELAC VELA BS 403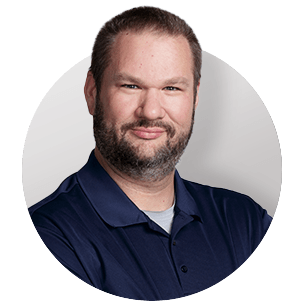 Another sonic wonder from ELAC
I always look forward to ELAC paying a visit to Crutchfield HQ. They bring along their latest speakers for us to demo. But equally enjoyable for me is hearing about the company's design philosophy from Andrew Jones, one of ELAC's esteemed speaker engineers.
Another sonic wonder from ELAC
I always look forward to ELAC paying a visit to Crutchfield HQ. They bring along their latest speakers for us to demo. But equally enjoyable for me is hearing about the company's design philosophy from Andrew Jones, one of ELAC's esteemed speaker engineers.
During a recent gathering in our training room, the VELA BS 403 stand-mount speakers delighted my ears while I got the inside scoop from Mr. Jones, a true industry expert. If you're in the market for a new pair of high-fidelity speakers, I believe the BS 403s are worthy of a spot on your list of contenders.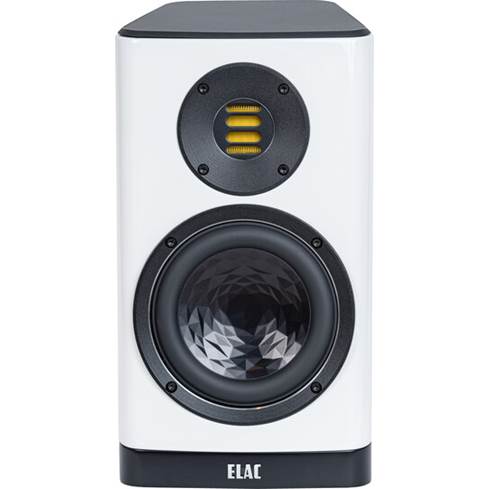 The BS 403's aluminum woofer features a unique, crystal-like design.
A remake of a tried-and-true classic
ELAC's 400 Series speakers have been beloved by audiophiles for years. To replace them, the VELA Series includes an improved JET 5 folded ribbon tweeter, which is hand-assembled in Germany to ensure the best possible quality.
This unique design works like the bellows in an accordion, squeezing air quickly and precisely to produce sound. Highs are incredibly smooth and detailed, while offering a realistic three-dimensional feeling of sound in space.
My listening impressions
On the half dozen or so tracks I auditioned, I was continually impressed by the size and depth of the soundstage these speakers produced.
For example, Lyle Lovett's "Good Intentions" found me bobbing my head with glee. His soulful voice complemented the deep, plucky notes of an upright bass and the array of tinkling piano riffs that give this track so much energy.
I could close my eyes and feel like I was in the middle of a neon-lit blues club. It was music how music was meant to be experienced — engrossing, emotive, and one heck of a lot of fun.
A woofer that looks cool and sounds sublime
More often than not, I find I need to add a subwoofer to smallish speakers to get the kind of bass that I enjoy when listening to music. That wasn't the case with the BS 403s.
Each speaker sports a 6" aluminum and paper "sandwich" woofer with a die-cast basket and a unique, crystal-shaped cone design. Add all of that up and you get punchy, musical bass that can fill even large rooms.
Ideal for music and for movies
Use this pair of BS 403s with confidence as part of an audiophile-grade stereo system, or as the front or rear channels of an ELAC VELA Series surround sound system.
Whether you're enjoying your favorite album or the latest superhero movie, you'll appreciate the crystal-clear, vividly realistic sound these speakers produce.
Upscale fit and finish
The BS 403s feature sturdy, reinforced enclosures to reduce vibration and eliminate unwanted resonance. The beautiful, grille-less design features a wood veneer exterior and a high-gloss lacquer finish.
You'll want a powerhouse amp to drive them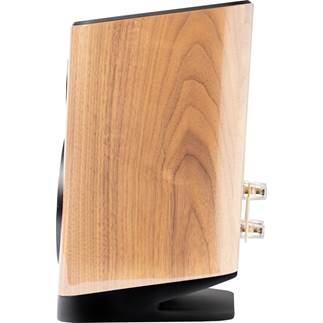 A custom down-firing port improves bass output while reducing noise.
The BS 403s have a nominal impedance of 4 ohms. And with an 86 dB sensitivity rating, they're real "gas-guzzlers." I recommend using high-performance amplification to get the best sound of out these speakers.
In particular, I recommend matching them with ELAC's Alchemy Series DPA-2 amplifier. This high-end, space-saving amp offers plenty of power for the BS 403s to reach their full potential.
For the ultimate ELAC system, pair this amp with the Alchemy Series DDP-2
Stereo preamplifier/DAC/streamer. This is the equipment combination I auditioned the BS 403s on, and man, what a treat it was to hear.
Place them on stands so they sound their best
Proper speaker placement is crucial to getting the best performance out of the '403s. I recommend buying ELAC's matching LS-80 speaker stands to help eliminate unwanted vibrations and reflections. Read my article on stereo speaker placement for positioning and setup tips.
Got wire?
The BS 403s don't include any speaker wire. Read our article about choosing and installing speaker wire.
Shop our selection of speaker wire.
READ LESS
Product highlights:
handmade JET 5 folded ribbon tweeter for lightning-fast response and wide dynamic range
6" aluminum/paper sandwich cone woofer
frequency response: 41-50,000 Hz
sensitivity: 86 dB
nominal impedance: 4 ohms
recommended amplifier power: up to 100 watts RMS
wood veneer exterior with high-gloss lacquer finish
bass-reflex design with down-firing port at the speaker's sturdy aluminum base plate
angled cabinet for improved high-frequency performance and stereo imaging
dual sets of binding post speaker terminals allow bi-amping or bi-wiring
made in Germany
no grille is included
7-1/2"W x 14-3/16"H x 9-3/8"D
weight: 15.7 lbs. each
warranty: 3 years
MFR # VBS403-GB
Customer reviews for ELAC VELA BS 403
Loading...
Loading reviews...
Average review:
4.5 out of 5 stars
Thanks for submitting your review
Most reviews are processed and published within 5 business days. You will receive a confirmation email once your review has been published.
Customer photos
This review was collected as part of a promotion
More details on the ELAC VELA BS 403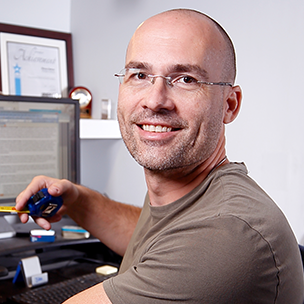 Researched by Crutchfield's

Stacey B.
Product Research
Features
JET 5 Tweeter with Wave Guide: The Elac Vela BS 403 bookshelf loudspeaker features a JET 5 folded-ribbon tweeter with an integrated waveguide for exceptional high frequency reproduction for those who want to hear the most out of their high-resolution movie and music soundtracks. The JET 5 folded-ribbon tweeter is known for its lightning-fast response, wide dynamic range, minimal distortion, lots of headroom, and its wide frequency range. The JET 5 tweeter creates an effortless, airy and resonance-free high-frequency image up to 50,000 Hz; and with its linear frequency response is ideally suited for the reproduction of hi-res formats.
Aluminum-Sandwich (AS) Woofer with Crystal Membrane: The Elac Vela Series bookshelf loudspeaker (VBS 403) houses a 6" Aluminum-Sandwich (AS) cone woofer with Crystal Membrane technology and rubber surround. A crystal-shaped inverse aluminum dome is joined to the paper cone in a special gluing process to result in the desired sandwich construction. Resembling the surface of a large crystal, the aluminum-foil stamping stiffens the aluminum dome, diminishing resonances and minimizing coloration, while improving power handling and dynamics. The combination of aluminum and paper creates a woofer cone that is stiff, precise, linear, and lightweight. The result is mid and bass frequencies that are clean, clear, and powerful.
Bass Reflex Angle Cabinet: The Elac Vela BS 403 features a bass reflex cabinet with a down-firing port for greater efficiency, bigger bass, and flexible placement. The down-firing bass reflex port is integrated into the speaker cabinet's sturdy aluminum bottom plate. The speaker cabinet has a trapezoid shape and is angled rearward with a convex shaped baffle. The angling of the cabinet and unique design of the baffle improves the speaker's acoustics and soundstage.
Note: These Vela Series does not come with grilles.
Dual Binding Posts: The Elac Vela Series bookshelf loudspeaker (VBS 403) is outfitted with two sets of heavy-duty binding posts allowing to bi-amp or bi-wire the bookshelf loudspeaker. These binding posts ensure a secure connection to many types of cable and connectors. The binding post terminals will accept banana plugs (single only), pin-connectors, spade-lugs and bare wire (up to 10AWG).
Bi-Wiring: Bi-wiring can provide noticeable improvements in the overall transparency of your loudspeakers. Run separate speaker wires to the low & high frequency drivers from a single amplifier (the upper set of binding posts are for the high frequency drivers; the lower set of binding posts are for the low frequency drivers).
Bi-Amping: Bi-amping allows you to use separate amplifiers for the high & low frequency sections of your loudspeaker for greater dynamic range & lower distortion. We recommend that your separate amplifiers have identical gain to preserve the speaker's voicing balance.
Note: If you decide to bi-wire or bi-amp, you must remove the jumpers between the terminal posts (failure to do this could result in damage to your amplifier and loudspeakers).
Mounting Options: The Vela BS 403 bookshelf loudspeakers can simply be placed on a flat surface; like a table-top, stand, or shelf. The base of the speaker features an integrated rubber pad to help isolate the speaker from the mounting surface and protect your mounting surface from scratches.
Note: The bookshelf speaker does not offer any bracket, keyhole slot, or threaded insert to wall mount the loudspeaker.
Applications: The Elac Vela Series bookshelf loudspeaker (VBS 403) can be used in a 2ch stereo application, or used as your front speakers and/or rear surround speakers in a multichannel home theater application.
2Ch Stereo or Front Speaker Placement:  For optimum stereo imaging, place the speakers so that an equilateral triangle is created between the speakers your main listening position. You can also angle ("toe-in") the speakers towards the listening position to gain a more focused central image. In addition, the speaker's tweeter should be positioned at ear level in your main seated listening position.
Rear Surround Placement: In a 5.1-channel surround setup, avoid placing the speakers forward of your listening position. The speakers should be spread apart wider than the front speakers. In addition, try to elevate the speakers to the same height or slightly higher as the front speakers for the most enveloping soundfield.
Note: In either application, the speaker should be placed 1' to 2' away from boundaries such as wall and corners. Close proximity to a side or rear wall will enhance bass performance, but being too close may result in bass that is unnatural.
Vela Series: The Vela Series from Elac is built to the highest standards in Germany using high-quality components that are carefully constructed to deliver the best-in-class sound quality. The Vela Series consists of two floorstanding loudspeakers (VFS 407 / VFS 409), a bookshelf loudspeaker (VBS 403), and a center-channel speaker (VCC 401). The Velas Series delivers high quality sound with a sophisticated look for today's modern lifestyle.
Optional Powered Subwoofer: Add an Elac powered subwoofer (sold separately) to the Vela series to bring more bass to your movie and music soundtracks.
Loading...
Loading accessories...
Loading...
Loading articles...