About the AtlasIED AA240G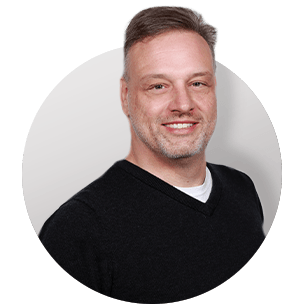 A flexible background music and paging system
AtlasIED's AA240G mixer/amplifier provides power and distribution for background music and paging for a large commercial sound system. It delivers up to 240 watts RMS into a 4-ohm load or to multiple speakers in a 70-volt distributed system. Six inputs — four mic/line Phoenix-style inputs and two mono-summed RCA stereo pairs — let you make announcements and play music from multiple sources.
Get started with
a free system design
After we gather your information, we'll send you a detailed system plan. It will include a link to a pre-filled shopping cart. Ordering is easy, and delivery is fast.
A flexible background music and paging system
AtlasIED's AA240G mixer/amplifier provides power and distribution for background music and paging for a large commercial sound system. It delivers up to 240 watts RMS into a 4-ohm load or to multiple speakers in a 70-volt distributed system. Six inputs — four mic/line Phoenix-style inputs and two mono-summed RCA stereo pairs — let you make announcements and play music from multiple sources.
You can set the mixer to mute inputs automatically when Channel 1 detects an input signal, for clearly audible announcements. Adjustable settings let you dial in the sensitivity threshold or enable remote mute switching. You can also route any combination of inputs to a Zone 2 output for a second set of speakers or for music on hold (MOH) in a telephone system.
Also good for public speaking setups
The AA240G also works well in a multi-microphone PA system. Up to four microphone channels can handle singers and other musicians, while the line input can play recorded music. You can set it so that whenever the main speaker (pastor, principal, teacher, or guest lecturer) begins to talk into a mic, the other channels automatically mute. The microphone channels have phantom power available for condenser microphones.
Special input/output options
"Pre Out" and "Amp In" connections allow the AA240G to work in conjunction with another amplifier or external audio device. The "Bridge In/Out" feature allows you to connect two or more AA240Gs together for those large occasions where multiple ballrooms or conference rooms need to share the same music and announcements.
READ LESS
Product highlights:
amplified 6-channel mixer for commercial audio distribution
output: 240 watts RMS x 1 at 4 ohms, 25 volts, 70 volts, and 100 volts

zone 2 output: 1 watt at 8 ohms or 1.5 volts at 600 ohms
rear-panel DIP switches for zone 2 assignment

bridge in/out feature allows combining of multiple amplifiers without external relays
individual output volume controls for each channel
master output volume control with bass and treble tone controls
frequency response: 50-15,000 Hz (±3dB)
signal-to-noise ratio: 55 dB (mic/line/telephone); 75 dB (aux inputs 4, 5, and 6)
rack-mountable with pre-installed rack ears
Connections:
four balanced Phoenix-style mic/line inputs with individual trim controls

adjustable vox (mute) sensitivity for input 1
mono summed 3.5mm input option for input 4

unbalanced stereo RCA inputs 5 and 6 (mono summed)
DIP switches for input routing, mute selection, +24VDC phantom power, and low-cut filter

remote and voice-activated muting

5-pin Phoenix-style zone 2 output with individual level control
5-pin Phoenix-style output for bridge in/out feature
5-pin Phoenix-style amp in/pre out loop with on/off switch for direct input
barrier-strip speaker output
Dimensions and warranty:
19"W x 3-13/16"H x 12-3/4"D (2U rack spaces)
weight: 16.5 lbs.
warranty: 3 years
MFR # AA240G
What's in the box:
AtlasIED AA240G owner's manual
6-Input mixer/amplifier
2 Rack ears (installed)
Three 5-pin Euroblock (Phoenix) connectors
Four 3-pin Euroblock connectors
One 4-pin Euroblock connector (all Euroblock connectors are pre-installed)
Clear terminal cover (pre-installed)
35" Power cord (IEC 3-prong plug)
Owners Manual
Customer reviews for AtlasIED AA240G
We don't have any reviews, yet.
Submit a review and then enter to win a $350 gift card.
Be the first to review this product
Loading...
Loading reviews...
Thanks for submitting your review
Most reviews are processed and published within 5 business days. You will receive a confirmation email once your review has been published.
Customer photos
This review was collected as part of a promotion
More details on the AtlasIED AA240G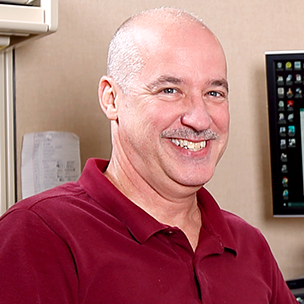 Researched by Crutchfield's

Russ B.
Product Research
Features
Connections
Controls & Indicators
Mounting & Specifications
Overview: The Atlas AA240G is a 6 input channel mixer/amplifier designed for distributed business paging and background music systems, small to medium speech privacy systems, and in applications where music on hold plus paging is required. The Atlas mixer/amplifier features 4 microphone/line inputs and 2 stereo unbalanced RCA inputs, accommodating a variety of input sources including paging microphones, CD players, and digital music receivers. A DIP switch selectable matrix allows for easy feature selections, and a Zone 2 output that can provide either a line-level signal or a 1W amplified output to drive a single speaker. The amp can be configured for 25V, 70V, 100V, or 4-ohm operation, with 240 watts of output power.
Inputs:
 Input 1-4: Four 3-pin Euroblock (Phoenix) connectors can accommodate a balanced mic- or unbalanced line-level signal . Four corresponding Input Trim dials can provide up to 20dB of gain for each Euroblock input when set for Mic signals.

Input 1: Provides voice-activated (VOX) muting, which is triggered by a signal on the microphone, and includes a Threshold dial for adjusting how loud the mic signal must be to mute the other channels.
Input 4: In addition to the 3-pin Euroblock connector, Input 4 also includes a 3.5mm jack for summed stereo signals.

Note: Only one input signal type can be used at a time.

Inputs 5 & 6: Two sets of stereo unbalanced RCA inputs are provided for running audio signals such as a CD or MP3 player. The stereo signal on these inputs gets summed to a mono signal.
Outputs:
Amplifier Output: The main speaker output is a 5-terminal set-screw block, that includes connections for 100V, 70V, 25V, and 4-ohm speaker configurations. This section has a pre-installed protective clear cover that is easily removed to access terminals.
Zone 2 Output: A 5-pin Euroblock connector can be used to pass a balanced 600-ohm line-level signal out to a telephone Music On Hold system or an additional amplifier, and a 1W output for a single speaker (8-ohm) connection in a secondary area such as a lobby, restroom, or waiting room. A corresponding adjustment dial lets you control the level of the Zone 2 signal.
Additional Connections:
Bridge In/Out & Select: A 5-pin Euroblock connector includes three Bridge In/Out terminals that can be used to send and receive balanced line-level signals between multiple Atlas AA120G or AA240G mixer/amplifiers. This allows amps in different rooms to share music content or a paging signal simultaneously. Send and Receive signals are combined through the same terminals. Two additional Bridge Select terminals let you install an external contact closure switch (sold separately) that allows the Bridge In/Out feature to function when the switch contacts are closed. Connections between mixer/amps can be up to 200'.
Pre-Out/Amp In: A 5-pin Euroblock connector provides a balanced pre-out that can be used to run the main output signal to a secondary amplifier. The Pre-Out signal is pre-Master Level control on the front panel. The Pre-Out can also be used in conjunction with the Amp In lines on the same Euroblock connector. This lets you run the Pre-Out signal to an outboard processor, for EQ, limiting, compression, etc, and then back into the AA240G's Amp In. A corresponding Amp Direct switch will need to be set to the On position when using the Amp In.
VCA/Mute: A 4-pin Euroblock connector lets you use an optional 10k potentiometer (sold separately) for Remote Level Control of either the Main Output or Input #6 (music input). This option can is assignable in the DIP switch matrix. Two additional Mute pins on this connector can be used with an optional contact switch (not included) that will mute any input, assigned in the DIP matrix, when the contacts are closed. Input 1 cannot be muted, since it's used for the VOX microphone input.
DIP Switches: The AA240G includes 3 DIP switch matrix panels for quick and easy configuration of inputs and outputs. This allows for the following settings:
DIP Switch Bank A:

DIP#1-4 (Mic/Line): Lets you select whether Inputs 1-4 are using a Mic- or Line-level signal.
DIP#5-8 (Phantom): Individually assigns +24VDC of Phantom power to Inputs 1-4 when connecting condenser microphones.

DIP Switch Bank B:

DIP#1 (Sens): Changes the input sensitivity on Input 1 between 100mV and 300mV, for use with a microphone.
DIP#2 (VCA): Determines which input will be affected by a connected 10k potentiometer on the VCA input - either the Main Output level or Input #6 (music).
DIP#3 (Low Cut): When On, activates a 300Hz (6dB/oct.) high-pass filter for each input.
DIP#4-8 (Mute Receive): These 5 DIP switches determine if that corresponding Input will be muted when the VOX (Input #1) is used, or if an optional Mute switch is connected.

DIP Switch Bank C (Zone 2 Assign): Six switches allow each Input to be assigned to the Zone 2 output.
Front Panel Controls:
Input Levels: Each of the six inputs has its own level control.
Master Level: Controls the overall signal to the speaker output. This does not affect the Line Output level.
Tone Controls: Recessed Bass and Treble controls allow ± 10dB of adjustment at 100Hz and 10kHz.
Power Switch
LED Indicators: A Power indicator lights blue when the unit is powered on. A green LED above each of the Input Level controls lights when the input signal level exceeds -40dBu and flashes if the signal reaches the distortion level. The Master Level section also includes a green signal indicator, which lights when the signal exceeds -40dBu, and a red Clip indicator that will flash if the output signal reaches the distortion level.
Mounting: The AA240G includes two pre-installed rack-ears, letting you mount the amp into a standard 19" equipment rack. Attached rubberized feet also allow the amp to sit on a table or shelf. The rubber feet can be removed if rack-mounting.
Specifications:
Output Power: 240 Watts
Connections: 25V, 70V, 100V, 4-ohm
Frequency Response: 50Hz - 20kHz
Zone 2 Output (Amplified): 1 Watt @ 8-ohm
Zone 2 Output (Line): 500mV into 600-ohm
Phantom Power: +24VDC
Dimensions: Width = 17.0", Height = 3.79", Depth = 12.75"
Weight: 16.5 lbs.
The AtlasIED AA240G replaces these items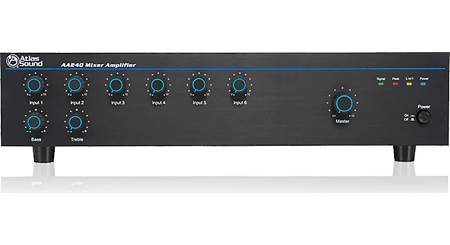 6-input commercial mixer/amplifier — 240W x 1 at 70V
240W x 1 at 70V and 8 ohms; Aux outputs: 1 x unbalanced Phoenix connector (Zone 2), 1 x mono RCA (Pre), 2 x stereo RCA (Pre)
inputs: 5 x balanced Phoenix connectors, 1 x stereo RCA (summed to mono)
size: 2U (rack mount not included)
Loading...
Loading accessories...
Loading...
Loading articles...