Looking for a wireless microphone for a PA (public address) system? Don't know where to start? You're in the right place.
The wireless mic systems we're talking about use a variety of radio frequencies. And they come in a lot of different styles. That makes choosing the right one a little tricky. This article will help you select a system that works well in your location and for your intended purpose.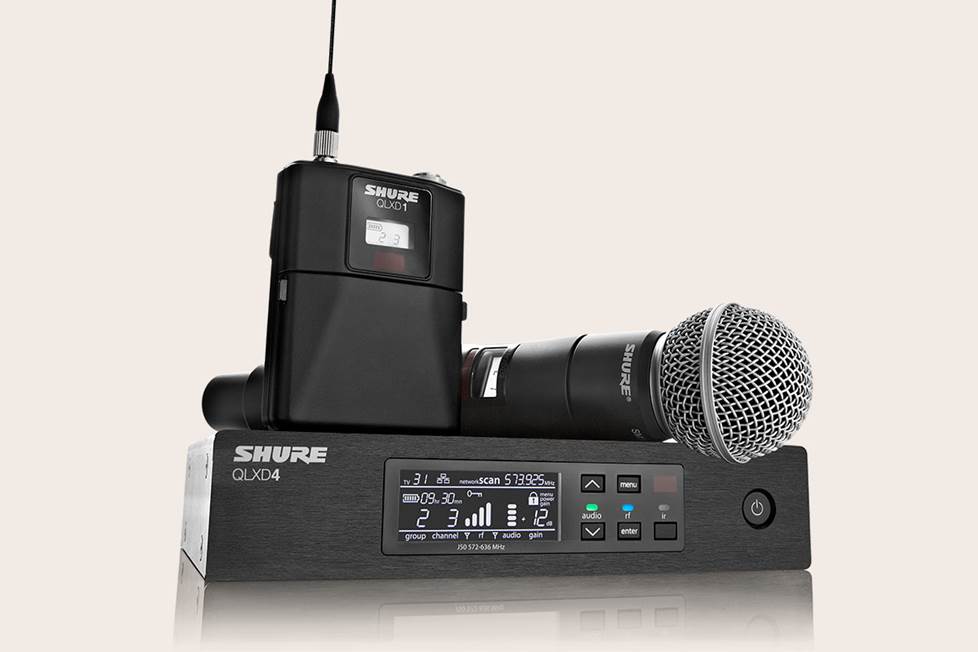 Some people ask us about Bluetooth mics (like the one you might use with your smartphone). Sorry, those don't work with PA gear.
Wired vs wireless
Freedom of movement is the main benefit of wireless. It's a huge plus for worship leaders, fitness instructors, teachers, and many others. With no mic cables lying about, your stage will be safer and more attractive.
On the other hand…
Are you just going to sit or stand in one place while you perform? Then you might want to go with wired microphones. You'll spend less. You won't have to bother with batteries. And you won't have to learn how to avoid radio interference and signal dropouts.
What's in a wireless microphone system?
A wireless microphone system includes three parts:
Microphone
Transmitter
Receiver
In some systems, the transmitter is built into the microphone. But those three ingredients are present in every system.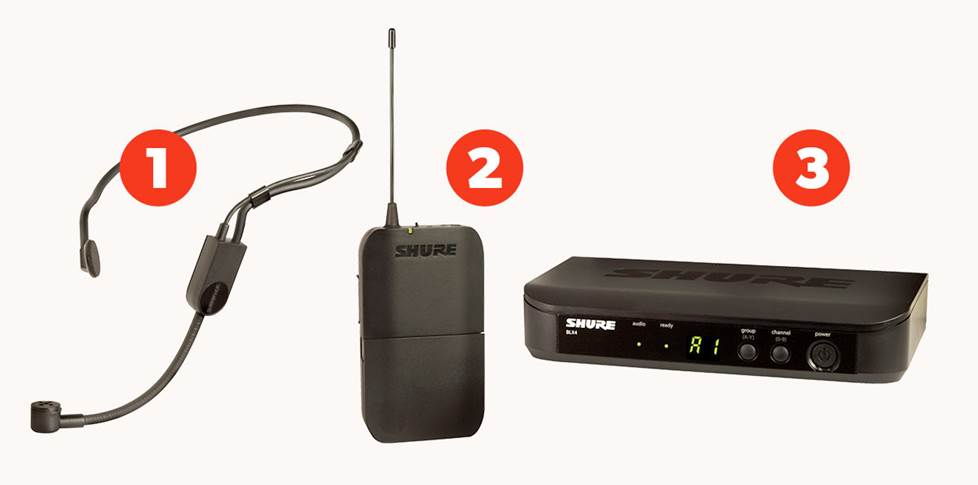 Every wireless mic system contains three things: 1) Microphone. 2) Transmitter. 3) Receiver.
Transmitters and receivers can't be shared. If you need three mics on the same stage, you need three transmitters and three receivers, too.
You can't mix and match different brands of receivers and transmitters. You'll be choosing all three parts from the same brand and the same series within that brand.
To simplify your shopping, systems are often sold as package deals. In some cases, you can add a different type of mic as an accessory to your system. That will give you options for different types of presentations. But with each system, you can only use one mic at a time.
Microphone styles
Handheld mics are great for singers. They can be easily shared or passed around the audience during the Q&A segment of a conference session. Or they can be placed in a mic stand. Handheld mics in desktop stands are perfect for panel discussions.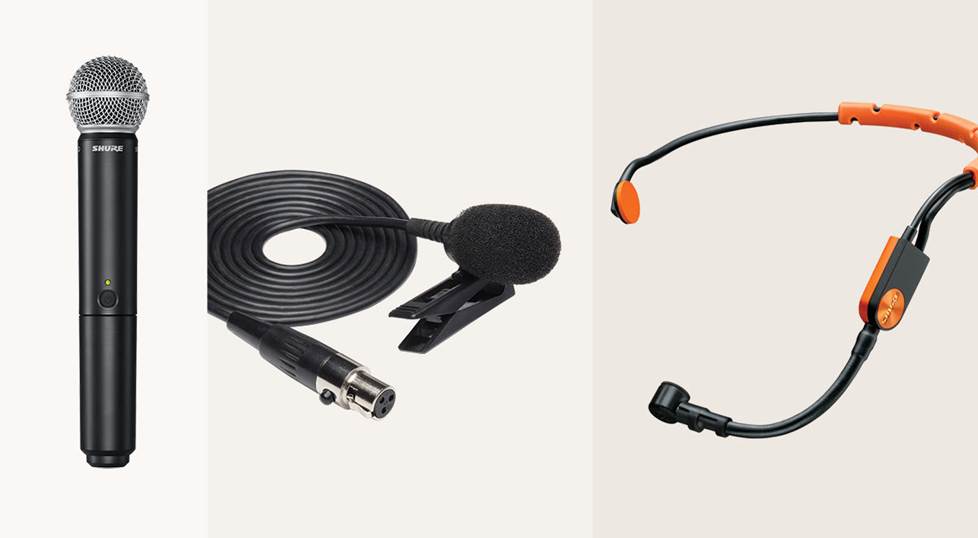 Wireless mic form factors: handheld, clip-on (Lavalier), and headset.
There are two types of wearable mics. Lavalier (clip-on) mics are the most discrete. They're great for video makers who want to close-mic interview subjects. Lavalier mics can be used by different people without worrying too much about sanitation.
Is there a downside to clip-on mics?
Lavalier mics are positioned further from the user's mouth than a headset mic. This makes them a bit more likely to pick up room noises. Your soundboard operator may have to increase the gain or signal level to the point where feedback can occur. And audio levels can vary with movements of the speaker's head.
Headset mics are preferred by fitness instructors and performers who need to dance or move around a lot. The mic stays close to the speaker's mouth. As a result, the audio level and sound quality are consistently excellent. Feedback is much less likely.
The biggest downside for headset mics is that they are not easily shareable. They also tend to cost a little more.
Look at your headset mic fitting options carefully. Some of the more rugged models are a bit bulky. Others are very light and are barely visible to the audience.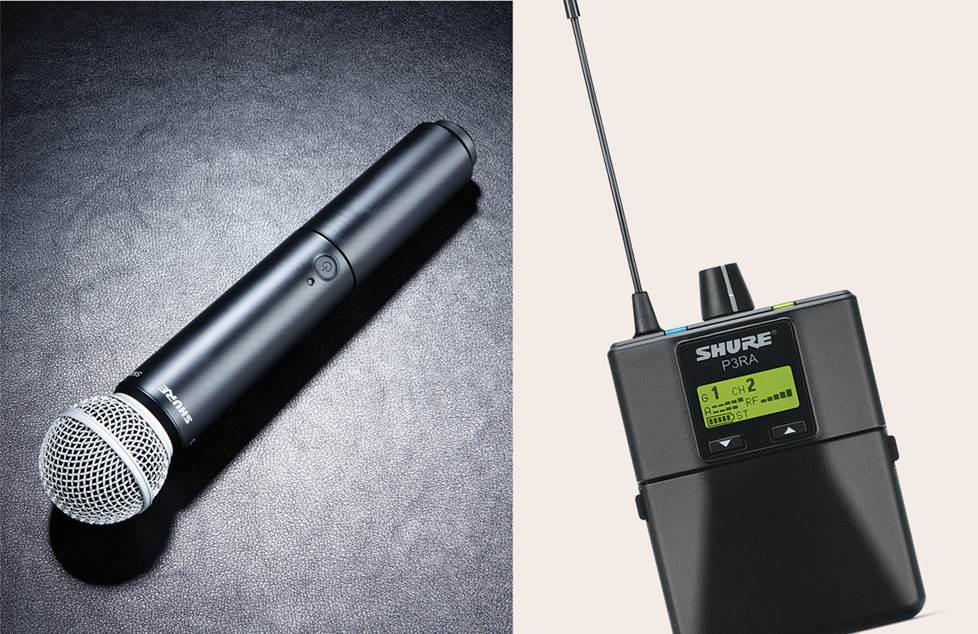 There are two styles of transmitters. They can be built into a handheld mic (left). Or they can be housed in a wearable bodypack (right).
Transmitter styles
As we said, transmitters are built into most handheld mics (and a few headset models, too).
Most headset and lavalier mics require a bodypack transmitter. A short wire runs from the mic to the bodypack, which can clip onto your belt or some other part of your clothing.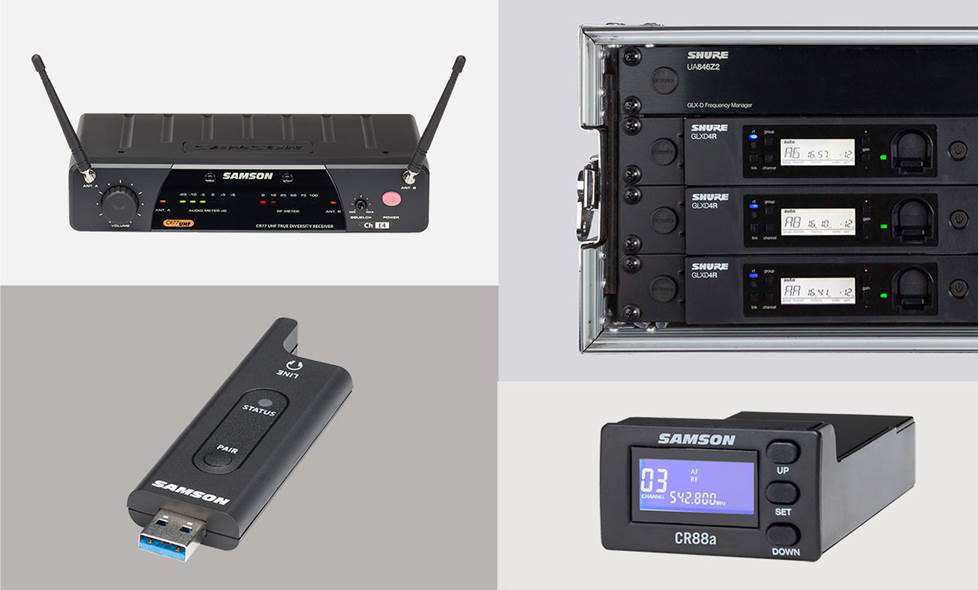 Receiver styles (clockwise from top left): Tabletop, rack-mount, docking module for a powered speaker, USB dongle.
Receiver styles
In our selection of wireless mic systems, you'll find at least four different types of receivers:
Tabletop (single-channel or dual-channel)
Rack-mount
USB dongle
Docking module for powered speakers
Learn more about the receiver styles in the system descriptions below.
What to expect for the money
There are some simple, affordable options that are great for small-scale, low-risk applications. For larger-scale, mission-critical uses, you'll want to invest in a more robust system.
Before you buy, please contact one of our expert advisors. Tell your advisor why you need a wireless mic and where you intend to use it. He or she will recommend a system that will meet your needs and work well in your location.
Let's talk about wireless range
The range specs provided by the manufacturers of wireless mics are best-case figures. A system that claims a range of 300 feet may keep that promise under ideal conditions. In worst-case situations, it may only give you 75-100 feet.
What sorts of things tend to limit a wireless system's effective range?
Bodies or other obstructions between the transmitter and the receiver.
The frequency band your system is on
Other wireless systems that are being used in close proximity to yours.
Digital systems that operate in 2.4Ghz band can run into interference from things like microwave ovens, wireless routers, and Bluetooth transmitters
When you approach or exceed the system's effective range, you get noise or signal dropouts. Toward the bottom of this article, there are some tips on how to avoid dropouts.
Systems that work with specific powered PA speakers
Looking for a simple, highly portable rig? Consider a powered PA speaker/wireless mic combo. This type of system is great for special occasions like outdoor weddings, family reunions, and company picnics.
The receiver in these systems connects to the speaker via USB or slides into the speaker's docking port.
Samson's XP310w or XP312w powered speakers come with a handheld wireless mic. To add a second wireless mic, choose one of their Concert 88a systems. Choose a Concert 88a combo with a headset, clip-on (lavalier), or handheld mic. You also get another docking receiver for your speaker.
The perfect headset systems for fitness instructors?
Samson's Airline 77 AH7 and Airline 88x AH8 systems have the transmitter built into the headset. That means you can teach a yoga class without wearing a bodypack.
Shure
Shure is one the world's leading wireless microphone brands. And they're Crutchfield's top-selling brand by far. To suit a wide range of applications, we offer four of Shure's wireless lines.
Shure BLX: Our most popular and versatile wireless mic line
The professional-grade BLX systems are affordable and flexible. They're great for permanent installations in schools, churches, and many other settings.
Analog systems like Shure BLX are subject to interference from local TV stations. Different versions of each BLX model work on different radio bands. To determine which band works best in your locale, consult your Crutchfield advisor. Or punch your zip code into the Shure Frequency Finder app.
A digital system may be a better option in a big city, where there are fewer available channels to work with. Digital is also better in a hotel, conference center, or other venues where a lot of wireless systems may be in use at the same time.
If security is a concern, you'll want to look at the encryption protocols available in some digital systems. We discuss three of Shure's digital systems below.
BLX models
The BLX system model names can be a bit confusing. Here's how to read them.
The first number after BLX denotes the transmitter style. 1 is for bodypack, and 2 means the transmitter is built into the mic.
The second number tells you about the receiver. 4 is the single-channel tabletop receiver. 4R is the single-channel rack-mount receiver. 88 is the dual-channel table-top receiver.
The letters and numbers that come after the slash tell you about the microphone. For instance, SM58, means you get the same sound-capturing capsule that's in Shure's famous SM58 vocal mic. It sits atop a handle that contains the transmitter and its battery compartment.
Rack-mount receivers are your best bet if you need to operate multiple systems simultaneously. They can share antennas. And you won't have multiple shelf mount receivers lying around loose or stacked awkwardly on top of each other. You also get a display screen with RF and audio level meters.
Here's a breakdown of the single-channel BLX systems Crutchfield offers:
With handheld mic

| Model name | Receiver type | Frequency bands we stock |
| --- | --- | --- |
| BLX24/SM58 | Tabletop | H10, H9 |
| BLX24R/SM58 | Rack-mount | H10, H9 |
Dual-channel BLX systems
Need to operate two mics at the same time? Consider a dual-channel system. The receiver in a dual-channel BLX system is essentially two of the tabletop receivers in a single housing. Here are the models Crutchfield offers:
Shure QLX digital systems
Shure QLX-D systems are the most sophisticated wireless mic systems Crutchfield offers. They give you advanced control options but are still very easy to set up and use. You can even manage the system from your iOS device. They include AES-256 advanced encryption for users who require a secure system. You can simultaneously use up to 17 systems in the 6MHz range or 21 systems in the 8MHz.
These are the Shure QLX-D systems Crutchfield offers:
Shure SLX digital systems
Shure's new SLX digital systems are rugged and very easy to use. They offer terrific sound quality, super-reliable RF performance, extended operating range, and outstanding system expandability — all at a suprisingly attractive price. You can use up to 32 systems on the same stage.
The sleek bodypack transmitter has rounded corners that make it more comfortable. You get 8 hours running time on two AA batteries or with the optional SB903 rechargeable lithium-ion battery.
The rack-mountable receivers sport Shure's most user-friendly controls. This is a big plus for houses of worship or other venues that may employ novice users.
These are the Shure SLX-D systems Crutchfield offers:
How to avoid dropouts, interference, and other problems
Proper setup will maximize your wireless mic system's range (and reduce the chances of dropouts). Place the receiver in a spot that will help you maintain a "line of sight" between the transmitter and receiver.
You don't want metal objects, walls, or a lot of people between your receiver's antenna and your transmitter. If possible, elevate your antennas above any obstructions. Your receiver doesn't have to sit right next to your mixing board. Put the transmitter in the best spot and, if necessary, use a long cable to connect it to your mixer.
Make sure you and your mic users know the limits of the system's range. Wander around during your sound check to see how far you can go without experiencing problems.
Battery tips
Use high-quality batteries. Keep an eye on your battery life indicators and replace or recharge weak ones. Distortion and signal dropouts can occur when your batteries are near death.
Avoiding interference from other wireless systems
Many systems will help you dodge interference by automatically picking a clear channel when you set things up. But what worked during sound check may not work at showtime. Why? Because another nearby wireless system may not have been turned on when you did your sound check. Check again just before your show starts. You may have to change channel your group and channel settings.
Here's a way to diagnose your interference problem, provided your receiver has an RF (radio frequency) level meter. Turn off your transmitter and check to see if the receiver is still picking up a signal. If it is, change channels until you find one that's free of competing signals.
Gain settings
Most wireless mic transmitters have a gain control. If the gain is set too high, distortion can occur. If it's set too low, your sound person may try to compensate by jacking up the volume at the mixing board. This "gain staging" problem will cause noisy sound.
Questions?
Need help choosing the right wireless mics for your PA system? Our expert Advisors can help. Call or chat with us today.
Free lifetime tech support comes with every Crutchfield purchase.