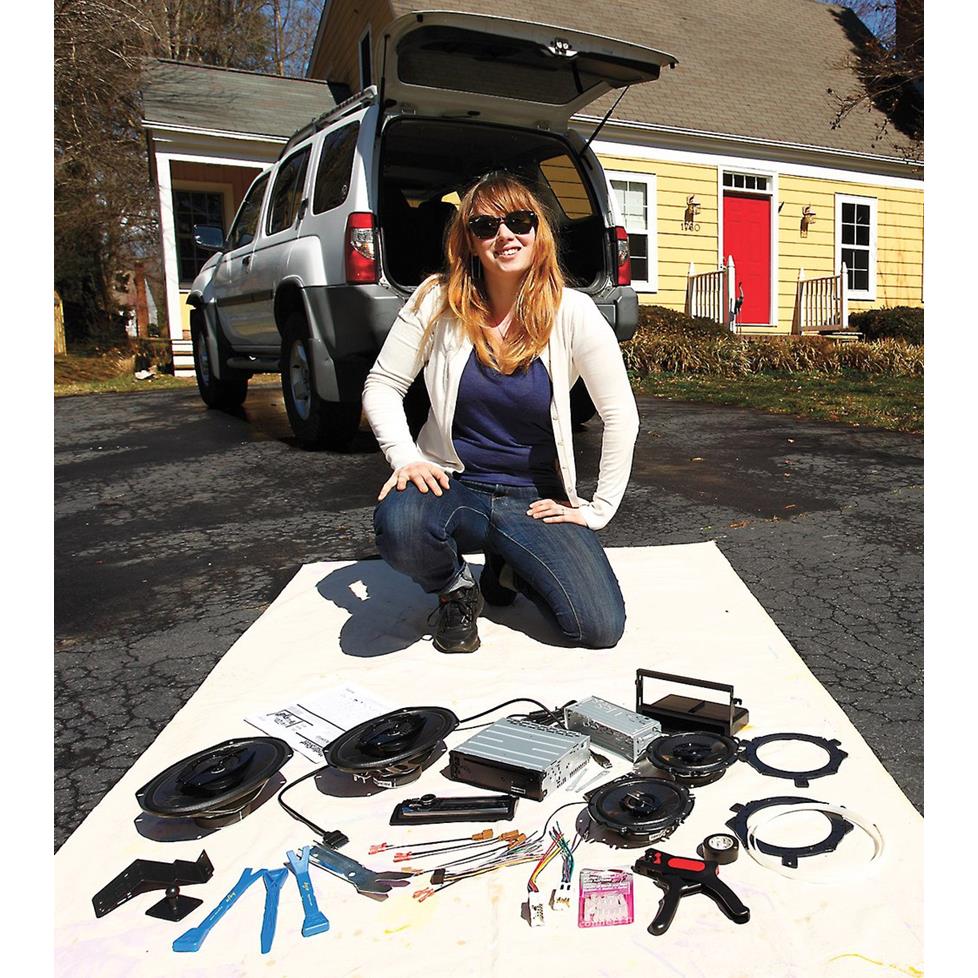 When you upgrade the audio gear in your vehicle, you'll treat yourself to better sound quality. And if our customers have taught us anything, when you install it yourself, you'll feel pride and satisfaction from a project well done. At Crutchfield, we built our business around DIY—we've helped hundreds of thousands of customers get what they need to complete their installations. If you're reasonably handy and can follow directions, you can do it too, with our help.
A first-timer tackles car installation
To show you what you can expect when doing a basic system installation, we recruited Alexi, a local business owner. While she isn't afraid to handle carpentry and maintenance at her restaurant, she hadn't worked on car audio before. She'd been wanting to replace the stereo system in her 2004 Nissan Xterra, because it didn't let her connect her iPhone®, and the speakers left a lot to be desired when it came to audio clarity. But she wasn't sure where to start.
We walked her through the process of tracking down a receiver, iPhone mount, and speakers that fit her needs and her vehicle. With our help, she was ready to tackle the installation herself.
We offer deeply discounted installation gear for most cars
We make it easy to get the receiver wiring harness, dash kit, antenna adapter, speaker brackets, and other installation parts and accessories you'll need, all at deep discounts when you buy a receiver and speakers from us. This gear helps you get professional-looking results. You won't have to make many dash modifications or splice into your vehicle's factory wiring.
Our exclusive MasterSheet™ installation instructions
We also provide a free set of MasterSheets for your specific vehicle. Each set uses detailed photos, illustrations, and step-by-step instructions to show you how to disassemble your vehicle's dash and door panels to remove the factory speakers and receiver. Our vehicle research team has pulled apart and documented thousands of vehicles; we take that information and use it to build our MasterSheets. You won't get detailed info like this from other companies. Watch this video about our MasterSheets for an look at all of the research that goes into creating them.
Free lifetime tech support
Sometimes you'll run into questions while completing your installation. We have you covered there, too. Our technical support team is available over the phone seven days a week, and can help guide you through any questions that may come up. We provide this service to Crutchfield customers free for the life of their products. This way you aren't left high and dry if you run into a snag along the way.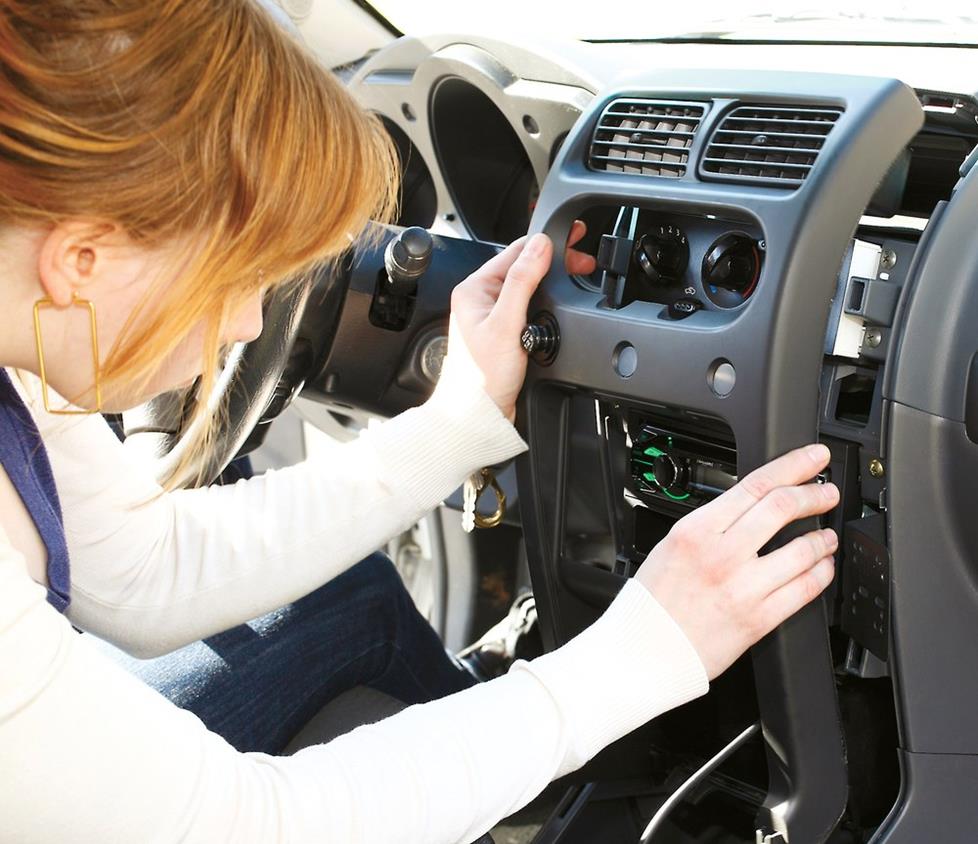 Alexi installing the receiver
Installing the receiver
Stage 1: Wiring the new harness
Aftermarket receivers come with a wiring harness that ends in bare wires. Factory stereo wiring, meanwhile, ends in a plastic connector plug. The wiring harness you can get from us bridges this gap. The wires on the harness are color-coded to match the power, ground, and speaker wires of the new stereo's harness (though it doesn't hurt to double-check your instructions). Alexi used an S&G wire cutter and stripper tool to remove the wire's outer jacket so she could use Posi-Products™ connectors to join the wires together. Our video about Posi-Products™ connectors demonstrates how easy they are to use.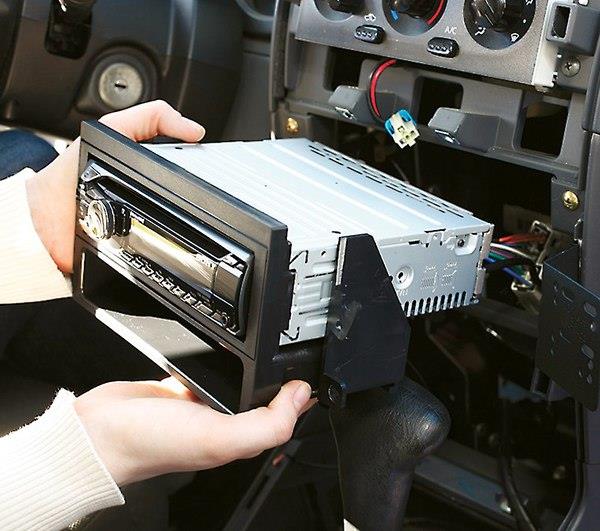 Installing the receiver and mounting kit
Stage 2: Installing the new receiver in the dash
Using our included MasterSheets, Alexi learned step-by-step how to pull apart the dash and get to the stereo. Disassembling the dash involved prying off some plastic panels, removing some screws, and unplugging a few wiring connectors She used some common tools to aid in the removal (like a Phillips head screwdriver) along with a set of Bojo's handy panel tools.
With the factory stereo removed, it was time to install the new receiver into the dash mounting kit—with this Xterra, we provide it for free. It even comes with a built-in storage pocket to help fill in the space left over from the factory stereo (the factory stereo is larger than the new one). The included instructions walked her through how to mount the new receiver into the kit.
She also installed a Pro.Fit mount to keep her iPhone within reach while she's driving. Because the mount is held in by the same screws that hold in the new receiver, she installed it at this point. You can read all about Pro.Fit and other mounts in our article about dash-mounting your phone.
The new receiver has a rear-panel USB input that her iPhone plugs into. She used a Pro.Fit wire worm to thread the heavy-duty car iPhone cable (sold separately) behind the dash.
Finally, it was time to reassemble the dash and test it out.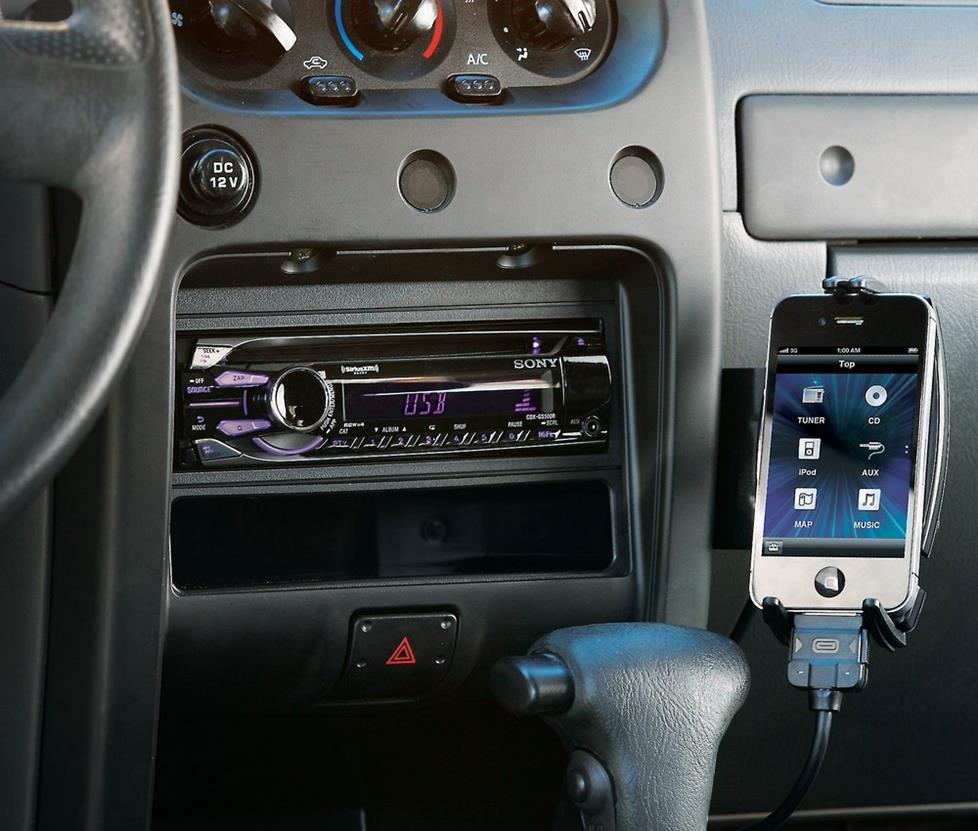 The new receiver and phone mount installed
The results
Alexi, like many people nowadays, depends on her smartphone for music, so she loves the way she can control the Sony App Remote receiver with her iPhone. The new receiver also makes it easy to access her favorite music streaming apps like Pandora® and Spotify®.
She can also clearly hear the increase in sound quality, and notices that the volume can get even louder than before.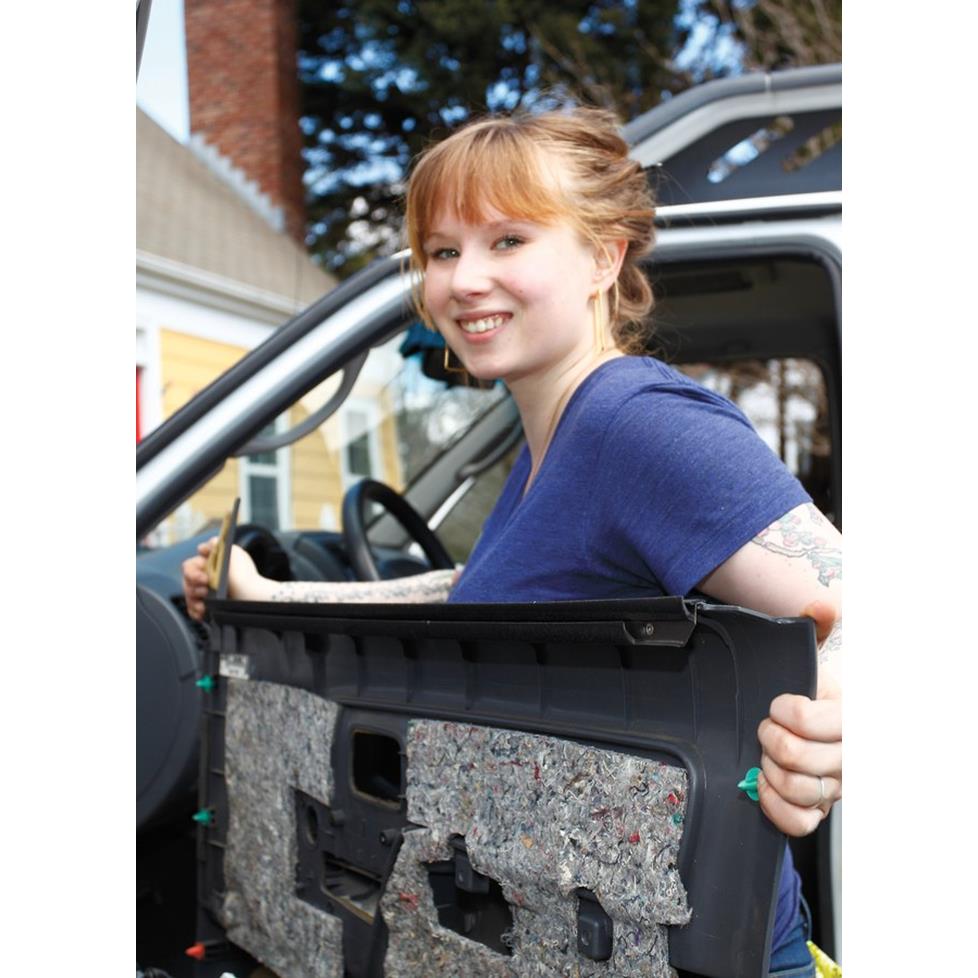 Installing the speakers
Stage 1: Removing the panels
Alexi consulted her MasterSheets again to start the speaker installation. Using an S&G panel tool and a Phillips head screwdriver, she disassembled the front door panels and removed the factory speakers. Aftermarket speakers often need mounting brackets to fit into factory speaker locations; as long as they're available, we provide them for free with all speaker purchases. With these brackets, Alexi didn't have to drill new holes to get the new speakers mounted.
The rear speakers were relatively easy to get to thanks to the MasterSheets, a Phillips head screwdriver, and the Bojo panel tools. She just needed a ratchet and socket to remove them.
Stage 2: Wiring the speakers
We typically provide wiring harnesses that connect new speakers to the factory wiring harnesses for free whenever they're available. Unfortunately, the Xterra comes with odd plugs we don't have an adapter for. This is where our tech support comes in. A quick call got Alexi the color codes she needed to know to find the positive and negative speaker wires in each location. She then used Posi-Products to connect the wires that came with the Sony speakers to the factory wires. After that, it was time to test the speakers to make sure they all worked, then put the panels back together.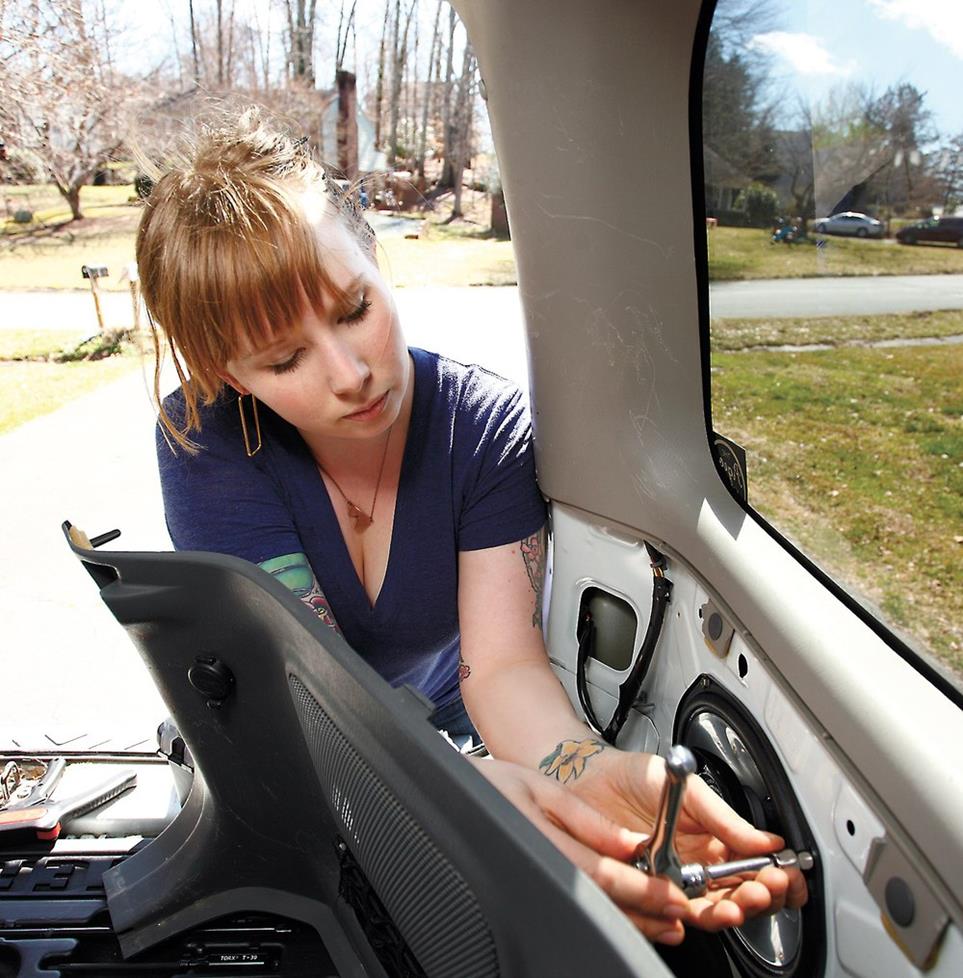 Installing the new rear speakers
The results
Alexi could hear an impressive amount of extra detail after the speaker installation. Bass was tighter and better defined, and vocals and cymbals sounded more lifelike.
So was the experience worth it?
Alexi certainly thinks so. "I love the way the new system sounds and it felt great to do the installation myself. It was easier than I expected!"
If you'd like to see which stereos fit your vehicle, visit our vehicle selector or call us at 1-888-955-6000.