hen you're looking for the right size TV, the old saying "bigger is better" ends up being a pretty solid guideline. If you want to enjoy an immersive experience like what you get at a movie theater, you'll need a big picture that fills up your field of vision.
It's deceptively simple. Just get the largest screen you can afford — as long as it still fits in your room and can sit at the right distance from your couch. Ask yourself two questions: "do I have enough space for this TV?" and "how far away do I plan to sit from the TV?" We often hear from people who wish they'd gotten an even bigger TV screen, but virtually never the reverse.
Figuring out what will fit in your space is just a matter of double-checking the dimensions of the room and the TV. Viewing distance is a little more complicated, but not by much. Let's take a quick look at the ideal distance you'd want to sit from your TV, based on size. 4K UHD TVs are the current industry standard, so we'll be focusing on 4K viewing distances.
Seating distance for the best picture on a 4K TV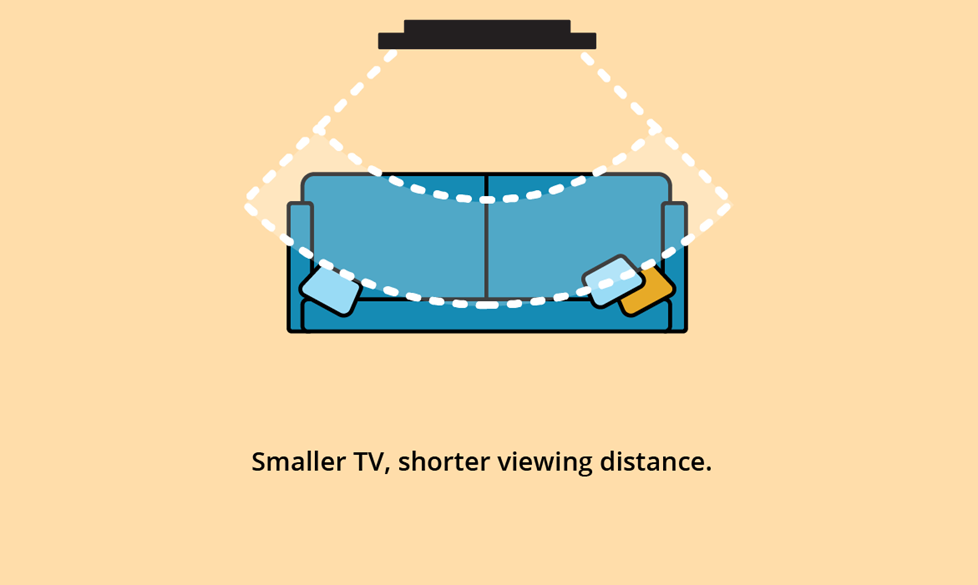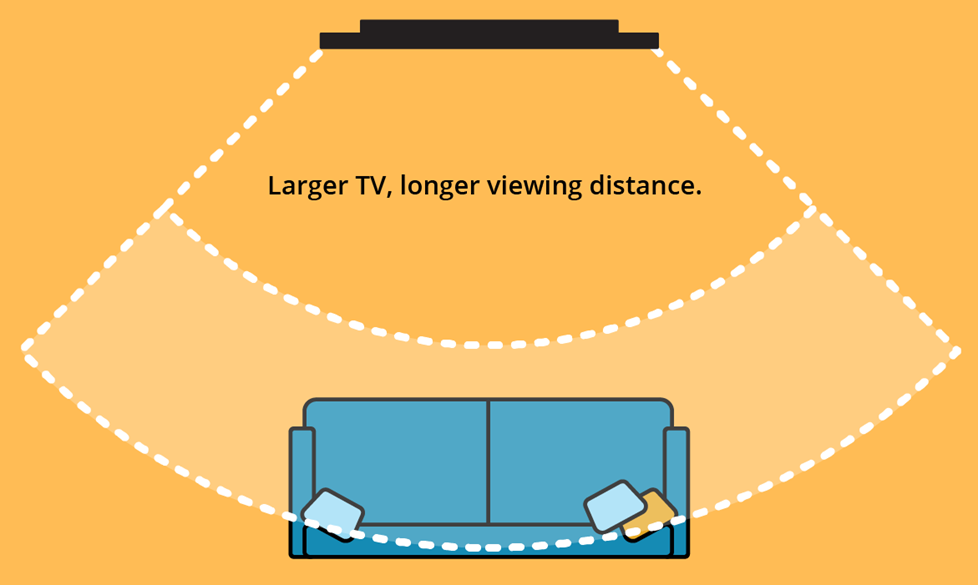 Check out the chart below to find out which TV size is best for your room and viewing distance. These distances are based on recommendations by TV industry experts.
You'll notice the recommended viewing distances are expressed in ranges for each size. That extra wiggle room is there because viewing distance eventually comes down to personal taste. Often enough, it's easier to just get a bigger TV than rearrange your whole room.
| TV Screen Size | Viewing Distance for 4K |
| --- | --- |
| 40" | 3.3 - 5 feet |
| 43" | 3.6 - 5.4 feet |
| 50" | 4.2 - 6.3 feet |
| 55" | 4.6 - 6.9 feet |
| 60" | 5 - 7.5 feet |
| 65" | 5.4 - 8.1 feet |
| 70" | 5.8 - 8.75 feet |
| 75" | 6.3 - 9.4 feet |
| 80" | 6.7 - 10 feet |
| 85" | 7.1 - 10.6 feet |
How distance impacts picture quality
Back in the day, if you parked yourself too close to an old-school tube TV, you'd end up seeing scan lines. Similarly, with HDTVs running 1080p or lower, you'd end up noticing rows and columns of pixels, the tiny dots that make up your picture. We're way past both of those problems with 4K now. Getting too close is less of an issue than sitting too far away, and missing out on the details and picture quality you paid for.
4K Ultra HD TVs have a much higher resolution than HDTVs — up to four times the level of detail of a 1080p screen. Because UHD pixels are so small, it's hard to pick out individual pixels even if you're right in front of the screen. This gives you the freedom to sit about as close as you're comfortable, and if you're rocking out an 8K TV you can get even closer.
If you need to sit farther from your TV, though, you totally can. Even when you sit farther away than the distances recommended, a 4K TV will still look pretty sharp. Nowadays, almost all 4K TVs support HDR (High Dynamic Range), which extends contrast and color ranges when you're watching HDR-encoded content. The improvements from HDR are pretty easy to notice, even from across a room.
How TVs are measured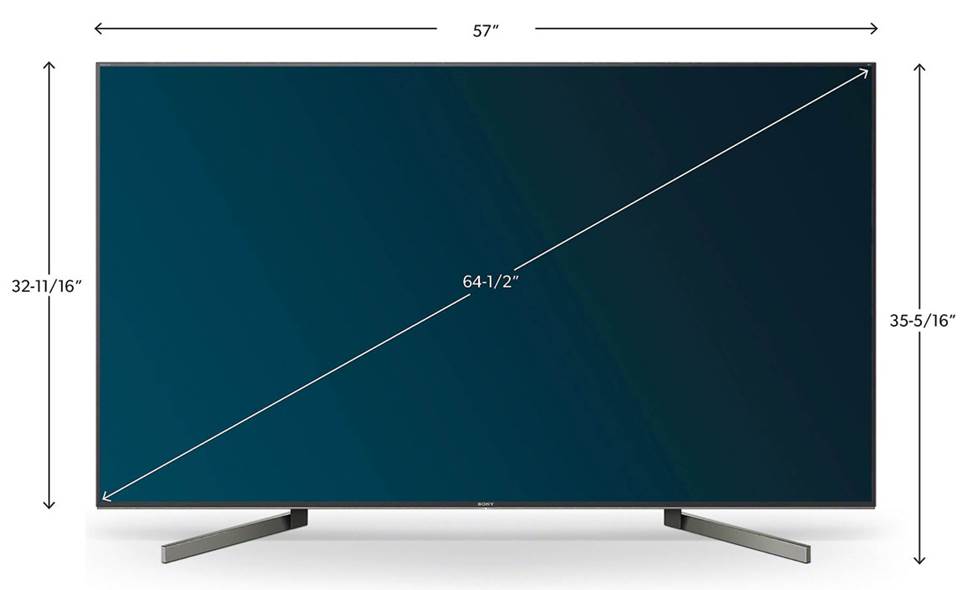 A TV's size is based on its diagonal measurement. This illustration shows measurements for a 65" TV.
TV dimensions can end up being a big deal, especially if you're trying to fit the TV onto a cabinet, in an alcove, or on another piece of furniture. We try to give you the best information we can about a TV's size so you know what you're getting into. To that end, we provide several key measurements, for both the panel itself and overall dimensions with a stand.
If you're wall-mounting your TV, you'll want to pay attention to the height and depth without a stand. On the flipside, if you're using the included stand, you'll want to focus on the height and depth with the stand attached, as well as it's "footprint." This is basically the width and depth of the attached stand. In almost all cases, you'll want to double-check the TV's width too, of course.
Our product research team verifies this information personally to make sure you're not getting the wrong size TV. If you're looking at one of our product pages, you can find these dimensions on the "Details" Tab, or in the Product Highlights on the "Overview" tab.
An easy and inexpensive way to double-check if a TV will fit your room is to use painter's tape to outline the dimensions on your wall. Or you could just measure a cardboard cutout, and try to physically place it where you want to position your TV.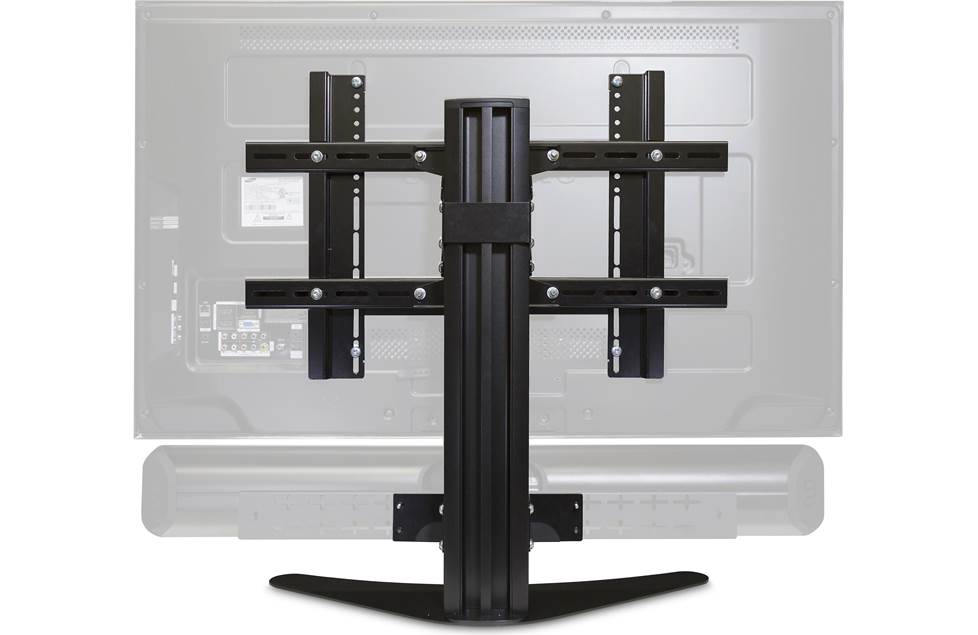 Some TV stands have mounts for both your TV and a sound bar. This is pretty efficient option if you're looking to boost your sound as well as your visuals.
Don't forget about other components that share your entertainment space with the TV. If you're planning on planting a sound bar beneath your TV, you'll need to make sure you have enough room for it. No one wants their sound bar blocking the bottom portion of their screen.
Just calculate the difference between the height with and without the stand. If the sound bar's taller than that? Don't buy it. Keep in mind that some TV feet are configurable for stand mounting, with or without a sound bar.
If you're into the nitty gritty details, it also helps to know that a TV's height is what ultimately makes the biggest difference in our perception of its size. Basically, taller TVs look bigger, so the dimensions can do more than just tell you if a TV will fit.
Typical TV dimensions
Here's a list of common screen sizes and their approximate width and height measurements. Note that the overall size of a TV is an approximation of the screen's diagonal measurement.
| | | |
| --- | --- | --- |
| TV Diagonal Screen Size | Width | Height |
| 32-inch TV dimensions | 28" | 16" |
| 43-inch TV dimensions | 38" | 21" |
| 49-inch TV dimensions | 43" | 24" |
| 50-inch TV dimensions | 44" | 25" |
| 55-inch TV dimensions | 49" | 28" |
| 65-inch TV dimensions | 57" | 32" |
| 75-inch TV dimensions | 65" | 37" |
| 77-inch TV dimensions | 67" | 38" |
| 85-inch TV dimensions | 74" | 42" |
What's the best size TV for you?
Here are a few quick shortcuts to the different TV size ranges we offer:
Small TVs
25"-39" TVs are great for a bedroom, home office, dorm room, or kitchen.
Medium-size TVs
40"-59" TVs work well in smaller rooms, where the seats are relatively close to the TV. 55" TVs are the most popular size we carry in this range.
Large TVs
60"-79" TVs provide a great experience watching movies or sports. 65" or 75" are a common choice for this range. If you've got a large room, you'll want to stick with a large TV.
Extra-large TVs
An 80"+ TV is a game changer. It's about as great a TV viewing experience as you can get. That being said, you'll need a heavy-duty TV stand. If you want to go bigger than 86" for a theater-like setup in a large room, you're a candidate for a projector and screen combo.
If you're looking for some more tips on how to pick out the right TV, head over to the TV buying guide or our list of the Best TVs we currently carry.
Where should I place my TV?
All TVs will look their best when you watch them straight-on, at eye level. How nice your TV screen will look when viewed at an angle though, will depend a bit on the display technology being used.
If your room is arranged with seats off to the side, you'll want a TV that has a solid "off-axis" picture. In general, OLED TVs outperform LED TVs in this regard. For a full comparision of these key display technologies check out our article on OLED vs LED TVs.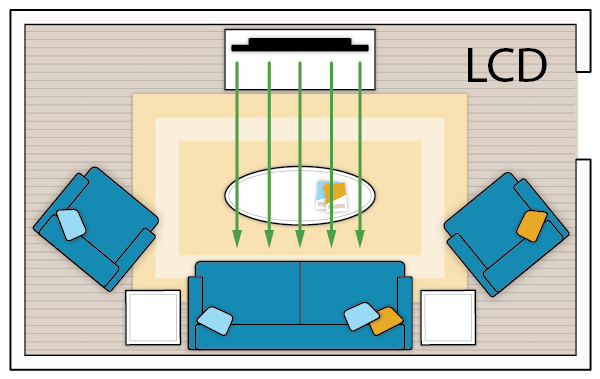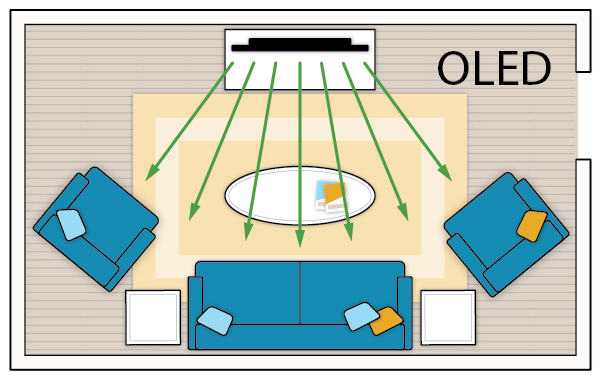 If you're not planning on having a bunch of people over all the time, or your favorite seat happens to be the recliner in the corner, you can adjust for off-axis viewing by installing a full-motion (aka "articulating") wall mount or a swivel stand.
These options let you turn the TV to face different seating positions in the room. Suddenly your recliner isn't off-axis, it's directly in front of the TV. When you're done watching, just rotate the TV back to its original position. (More about mounting your TV on the wall in just a moment.)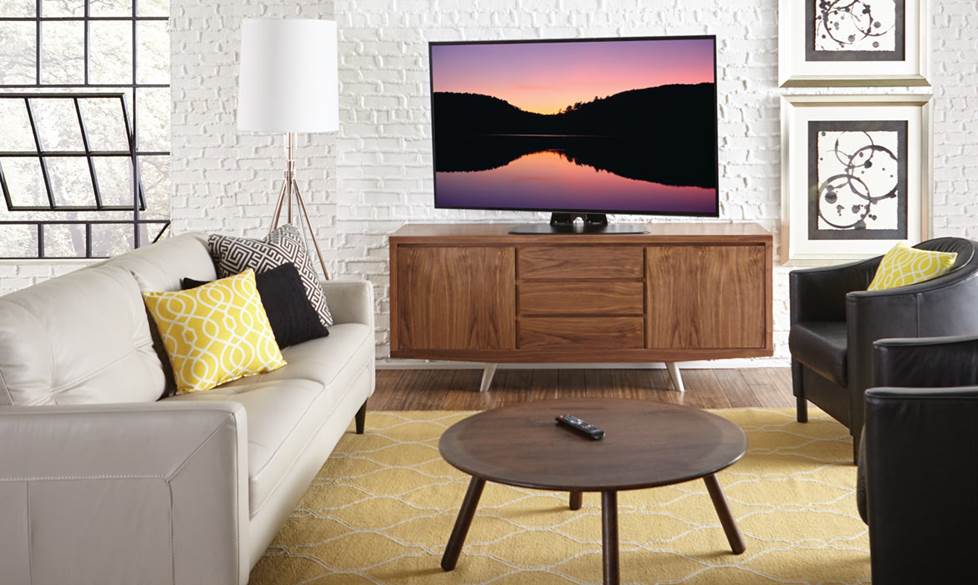 A full-motion swivel stand lets you tinker with the TV's position whenever you want. It can be a quick way to get rid of a distracting glare on your TV screen.
What's the safest way to mount a TV?
You'll want a TV stand or wall mount that's built to handle your TV. If you've got a pretty big TV, that old coffee table might not be the best choice. You'll want to make sure you've got a large and stable enough surface to accommodate your TV. You'll also want to make sure the TV is placed properly and isn't off-balance. If you need help picking out a stand, head over to our list of the Best TV stands we currently carry.
Pedestal stands used to be really common, but these days, most TVs use two legs. You'll want to make sure the footprint of those legs isn't too wide for where you plan on putting the TV. If they're too close to the edge or aren't on a stable, even surface, the TV could slip and fall right over.
If you've got kids, or have family or friends that do and visit with any frequency, consider wall-mounting your TV. It's an easy way to avoid the possibility of the TV being tipped over and causing injuries. Or, if you've got the TV placed on a stand or furniture, you can securely fasten it with a TV safety strap.
Check out our wall-mounting guide for helpful tips on how to safely place your TV. If you're looking for help picking out a mount, head over to our TV wall mount buying guide.
How room lighting affects your TV's picture
Ambient light from your windows, lamps, or chandelier can affect your TV's picture. A little bit is definitely okay. It can help prevent eye strain and help you see deeper blacks. Too much though, and you'll end up with glare. That can end up obscuring the action onscreen or just make your TV look faded and washed out, which is lame.
If there's a lot of light in your entertainment room, you may want to lean towards picking up an LED TV — they tend to be brighter than OLEDs and often have anti-reflective screens.
You can control the amount of light in your room with window treatments, dimmers, or just a nice set of curtains, for the best picture all day long.
It's not hard to ease the ambient light in your room and reduce its impact on your TV picture. When the sun dips behind the horizon, West-facing windows can let a lot of light leak into the room. You can bypass a lot of those issues with blinds, shades, or a nice set of curtains. If you're able to shuffle some furniture around, it's also pretty easy to pick a new spot for your TV.
With a little extra set up, dimmers can be a great way to control just how much light is in your home theater room. This is even easier with smart lighting, which lets you control your lighting with an app on your smartphone. With a couple swipes on your phone, that glare bothering you gets a one-way ticket out of town.
Get started today!
There are tons great TVs to choose from, but we're here to help. If you need a little guidance finding exactly what you're looking for, don't hesitate to get in touch with one of our friendly Advisors.
Free lifetime tech support is included with your Crutchfield purchase.