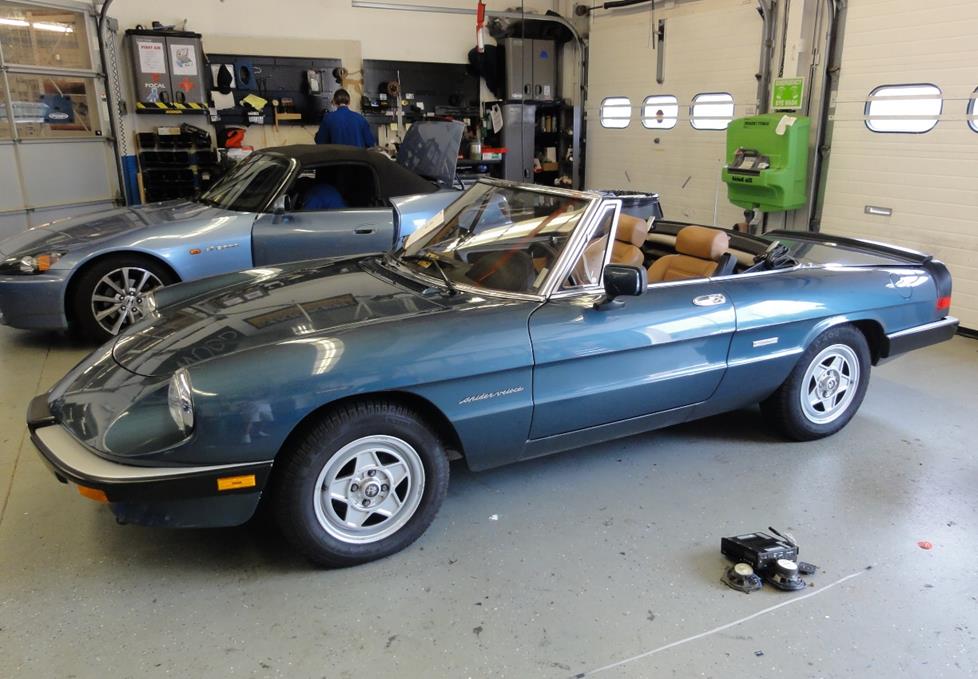 In brief: This Crutchfield Research Garage article gives you an overview of your Spider's stock stereo system and your aftermarket upgrade options. We'll tell you all about:
Then, use our vehicle selector to find the gear that will fit your Alfa Romeo.
Overview of the Alfa Spider
If you're reading this, we probably don't need to tell you the entire story of the Alfa Spider. And that's good, because it's a long story. Suffice to say, once upon a time, there was a nice little sports car that wound up being the second-most memorable character in a certain movie (Hellloooo, Mrs. Robinson….) and became the iconic sporty roadster for an entire generation.
During its remarkably long run (1966 to 1994!), the Spider went through an equally remarkable series of changes that made it a better car without making it a fundamentally different car. By the time the final few Series 4 models rolled off the boat in1994, the Alfa Spider was undoubtedly the finest 1966 roadster available anywhere. Which, by the way, was totally fine with pretty much everyone in the incredibly passionate Alfa community.
Whether you're a prospective first-time Spider owner or a longtime Alfisti who's thinking about livening up those weekend drives with a nicer stereo, these installation tips might come in handy. Of course, if you're already an Alfa owner, you undoubtedly know more about working on these cars than we do, so if you have any tips and suggestions of your own (especially for older Spiders), please share them in the "Comments" section below. We'd also encourage you to share pics of your Alfa's stereo system in our Custom Car Showroom.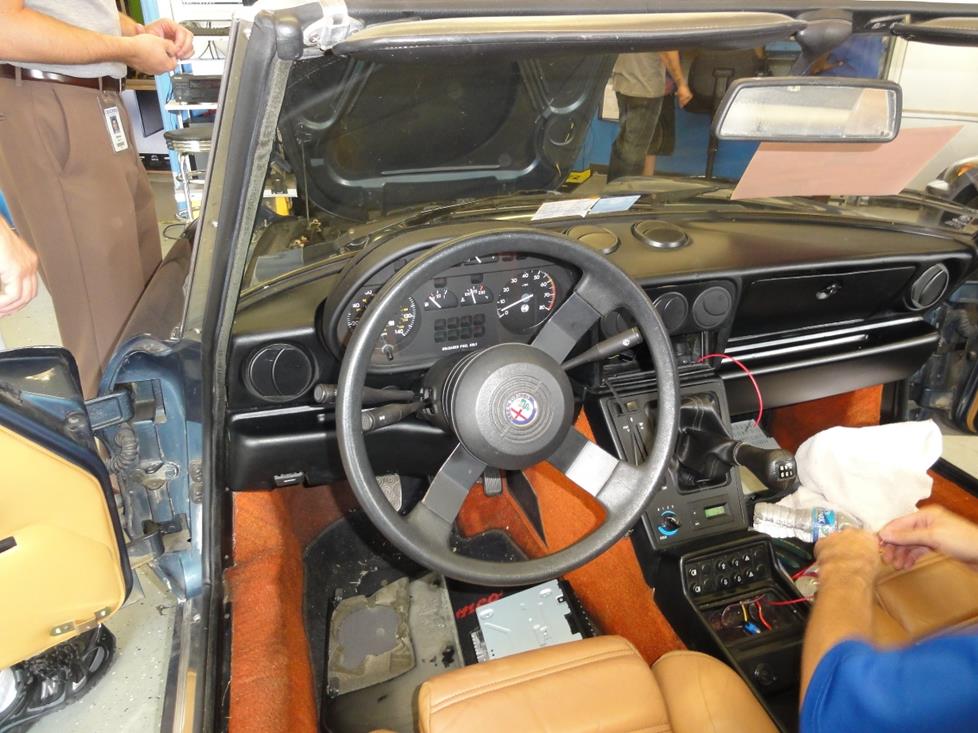 An in-depth look at the Spider's dashboard (Crutchfield Research Photo)
The factory stereo system
We're going to focus on later Series 3 and Series 4 Spiders, because those seem like the most likely candidates for new stereos. In the later cars, the stock system was a (usually) 6-speaker AM/FM/cassette receiver that did its job reasonably well for the time. Alfa was more interested in how the engine sounded, and, quite frankly, so were most of its customers. If it still lights up and does stuff at this point, there's nothing wrong with leaving it in place and listening to that glorious engine.
On the other hand, any Alfa owner knows that parts and pieces wear out over time, and stereo components are no exception. Replacing the stereo on your Spider is no different than replacing the seat coverings. When it's time, it's time.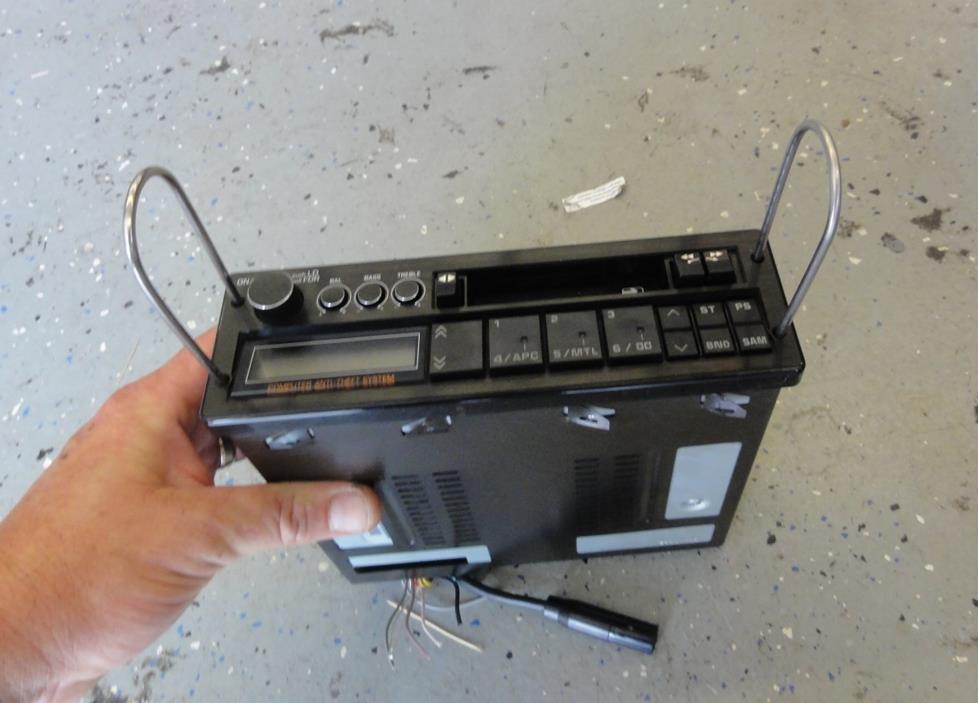 You'll need DIN tools to remove the factory radio (Crutchfield Research Photo)
Removing the factory radio
Removing the Spider's factory radio requires a set of DIN tools, and those are included free with your Crutchfield purchase. You'll start by inserting the DIN tools into the openings on each side of the radio face. Go approximately 1" in or until a click is heard from each side, then spread them apart and pull out the radio. Disconnect the harnesses, and set the radio aside. Pull up the tabs securing the factory DIN sleeve to the dash, then pull the sleeve out of the dash.
You won't need an installation kit to install a new receiver, but a wiring harness is not available, so you'll need a set of Posi-Products connectors to connect your new stereo to the factory wiring. This method is a lot easier than splicing, and you'll get a rugged, reliable, long-lasting connection.
The instructions probably don't differ greatly, but unless your Series 1, 2, or 3 car has already been modified, you might want to keep the original gear in place if it works. If you do need a new receiver, your best bet is a shaft-style digital media player (it won't play CDs) from Retrosound. You'll get great sound, and you won't have to cut your dash.
Tools needed: DIN tools, small flat blade screwdriver
Shop for car stereos that fit your Alfa Romeo 2000
Removing the factory speakers
The Alfa Romeo Spider has speakers in the doors and in the rear deck area.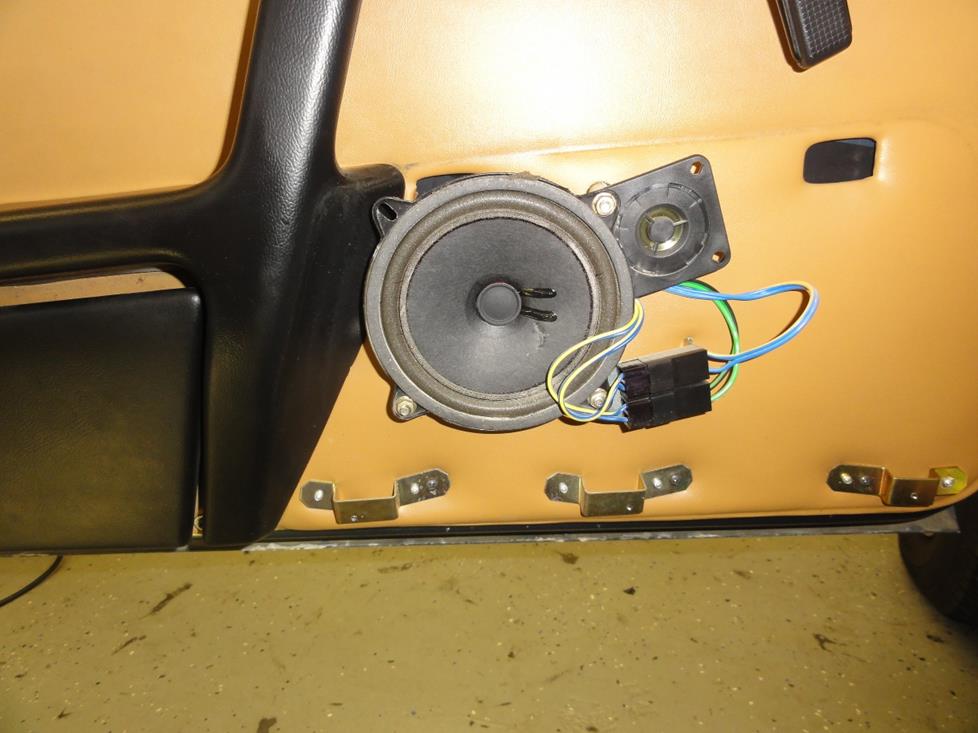 The Spider's front door speaker (Crutchfield Research Photo)
Door speakers
The stock door speakers were 5-1/4" models that, in some cars, were accompanied by a tweeter. You'll need to fabricate a bracket (or use one of our universal mounting brackets) to install an aftermarket tweeter in your Alfa.
To remove the speaker (or woofer, as the case may be), you'll need to first remove the door grille. To do that, take out three Phillips screws along the bottom edge of the grille, then push the grille toward the front of the car. With that out of the way, remove three 8mm nuts securing the woofer (and tweeter) to the door, then cut the wires and remove the speakers. Posi-Products speaker connectors are the best way we know of to connect the speaker wires to the factory wires.
The Spider's doors are thin, so you won't have room for speakers with large magnets. Thankfully, we've measured all this, and when you enter your vehicle info into our Outfit My Car tool, we'll only show you speakers that fit your Alfa.
Tools needed: Phillips screwdriver, 8mm socket, ratchet, and extension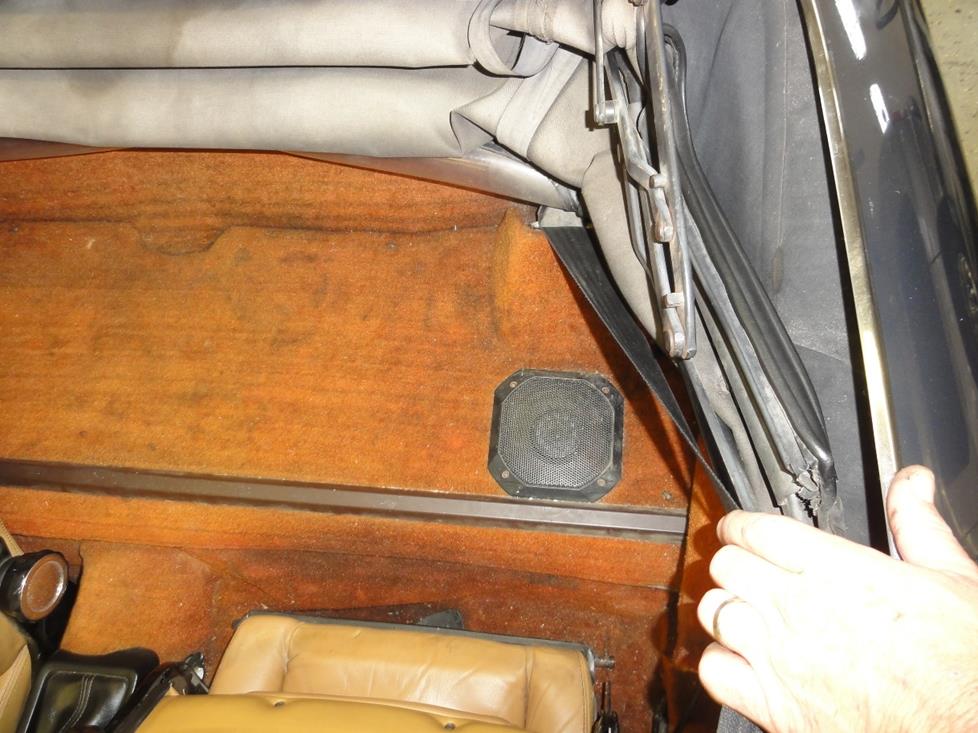 You'll need to re-use these grilles when you replace the Spider's rear deck speakers (Crutchfield Research Photo)
Rear deck speakers
These speakers are located just behind the seats on the rear package panel. Due to the speaker's proximity to the trim rail, you'll need to reuse the factory speaker grilles. If your car doesn't have factory speakers in this location, you'll need to cut holes in the rear deck panel.
Use caution when cutting on the passenger's side, because you really don't want to damage the vehicle modules and wiring underneath the deck panel.
The stock speakers in this location are also 5-1/4" models, and replacement models are available. To remove the old ones, you'll start by removing the four Phillips screws securing the speaker and grille to the rear deck. Remove grille, then lift up speaker, disconnect the harness, and remove the speaker.
Tools needed: Phillips screwdriver
Shop for speakers that fit your Alfa Romeo 2000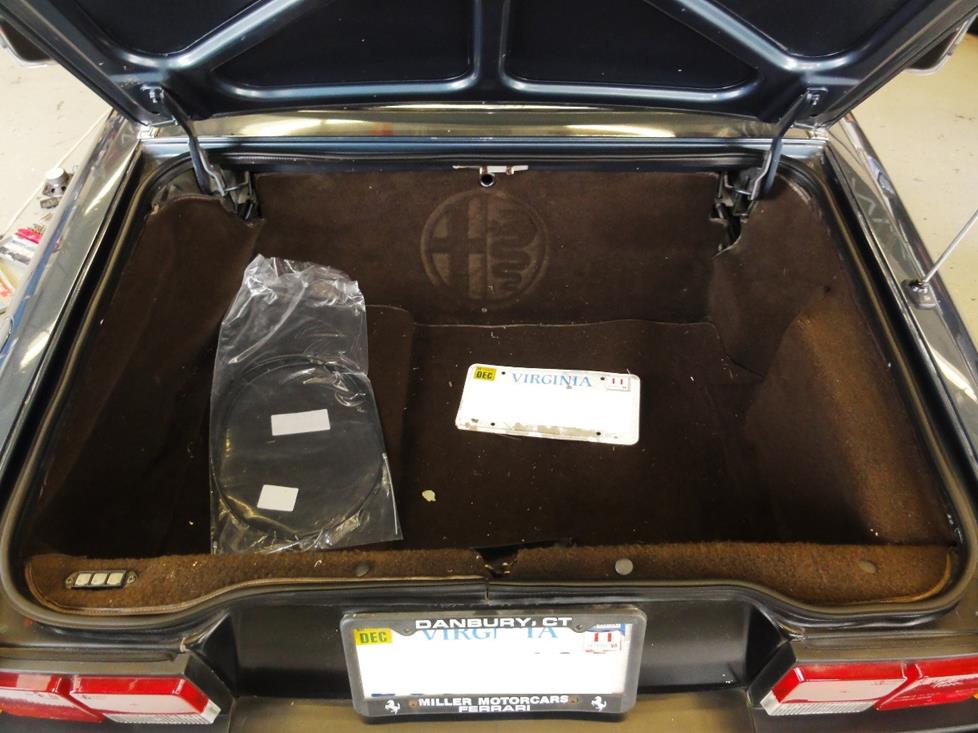 There is room for a small powered subwoofer back here. (Crutchfield Research Photo)
More bass in your Alfa Spider
When one thinks of small, light, sporty cars like the Spider, one doesn't usually think of big, booming bass. That's probably because the last thing most Spiders need at this point is one more source of vibration. There's not much space for a sub enclosure anyway, since the available space measures a mere 34" W x 12" H x 24" D.
You'll want to leave room for tools and duffle bags in your car, so if you're looking for a smart way to bring out the best in your music, a small powered subwoofer is your best bet.
Other options for your Alfa
Here are some other ideas to breath new life into your Alfa Romeo Spider.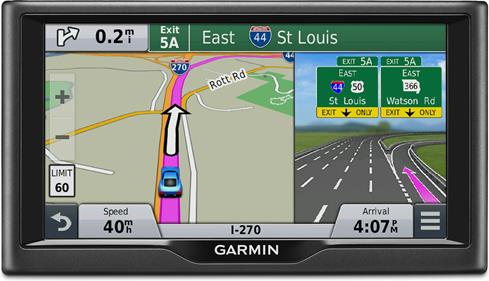 Portable GPS
You can still get aftermarket navigation functionality without installing an enormous, expensive touchscreen nav receiver in your Spider's dash. A portable GPS will mount on your dash and give you turn-by-turn directions, traffic updates, and everything you need to make your road trip go smoothly. Plus, when you get where you're going, you can put your GPS in your pocket and use it to find points of interest around town.
Amplifiers
A new set of speakers will immediately improve your sound, but in a car like the Spider, every little bit helps. A compact Class D amplifier will help you get the most out of your new gear.
Security
Installing a security system in your Alfa Spider isn't easy (security systems rarely are), but it's definitely a good idea. Our Crutchfield Advisors can help figure out what you need to get the job done, but we usually recommend taking your car and new gear to a professional installer.
Let's get started!
Ready to shop? Use our vehicle selector to find the gear that will fit your car or truck. If you have questions of your own, give us a shout via phone, chat, or email