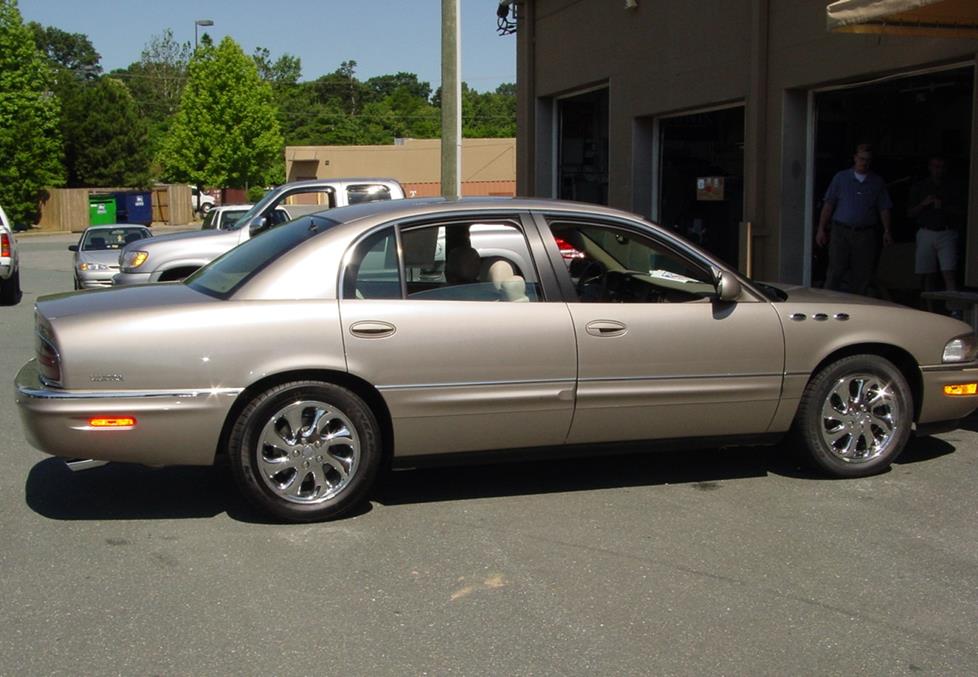 In brief: This Crutchfield Research Garage article gives you an overview of your Buick's stock stereo system and your aftermarket upgrade options. We'll tell you all about:
Then, use our vehicle selector to find the gear that will fit your Park Avenue.
Overview of the Buick Park Avenue
Wouldn't you really rather have a Buick? Well, if you're looking for a sleek, spacious sedan that combines modern technology with just the right amount of old-school style, you just might.
The Park Avenue, like so many of the big Buicks that came before it, was a winning combination of value and voluptuousness. Gentle, flowing lines, a richly-appointed interior, and some surprisingly stout engines (including an optional supercharged V6) made this car a solid player in the full-sized luxury car category.
Today, the Park Avenue is a great choice for anyone who's in the mood for a big, comfortable car that feels like your den and devours highway miles like a competitive eater sucking down a plate of hot dogs. You'll enjoy those miles even more with an upgraded audio system.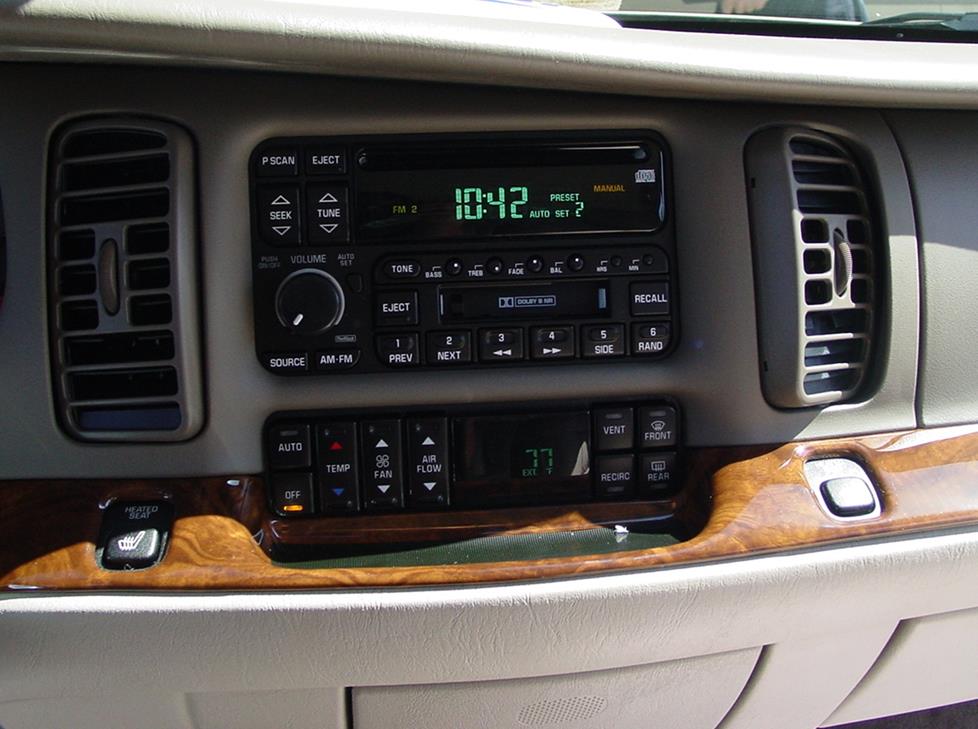 The Park Avenue's factory radio (Crutchfield Research Photo)
The factory stereo system
As you might expect, the Park Avenue offered plenty of audio options. Not great options, mind you, but options. The standard AM/FM/cassette player was rather pedestrian, while the premium AM/FM/cassette/CD unit at least offered more ways to play music through the base (6-speaker) or premium (9-speaker) systems.
A variety of single-DIN (2" tall) or double-DIN (4" tall) receivers will fit in the Park Avenue's dash, but you may need to remove the small plastic wall in the rear of the radio cavity to create enough depth for certain receivers. This isn't hard, and you can probably use a hobby knife to cut it out of the way.
There are a couple of things to keep in mind when you're shopping. First, if your car is equipped with OnStar, you'll lose the voice prompts when you replace the factory radio. Second, video receivers with retractable screens probably won't work in this car due to the dash configuration.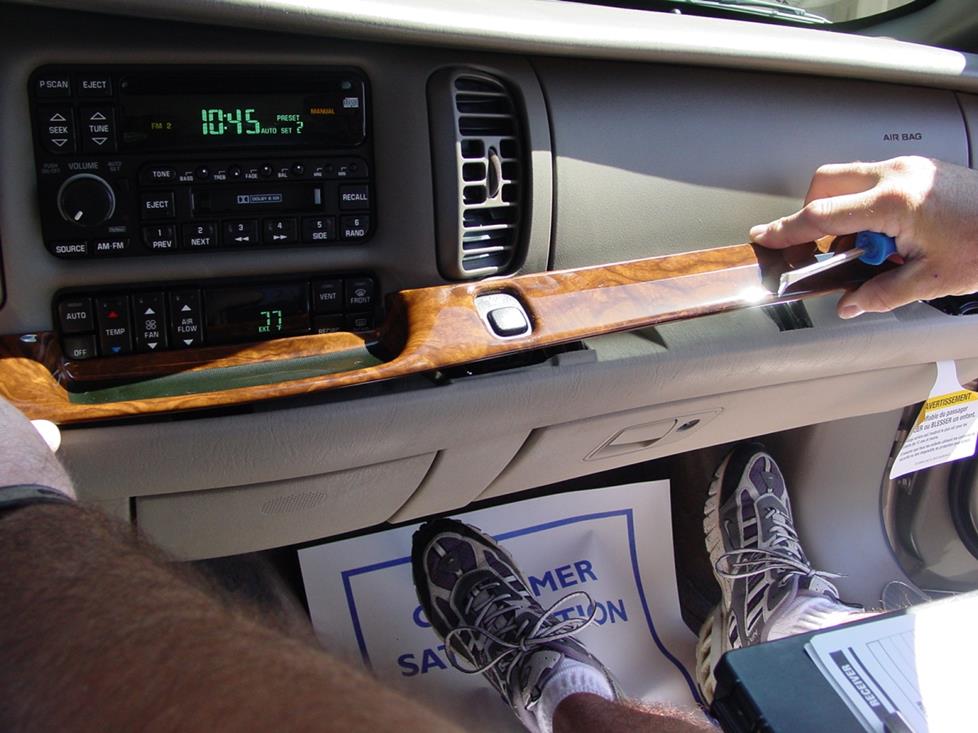 Use care when removing the trim panels (Crutchfield Research Photo)
Removing the factory radio
Replacing the Park Avenue's radio isn't a tough task, but it does require some care and patience when you're working with the faux woodgrain strips along the base of the dash. You'll need to use a pry tool to remove them, starting at the steering column and working towards the passenger-side door. Work gently at the outside edges to avoid breaking the hooks that secure the strip to the dash. And be careful with the smaller bits of woodgrain trim, too. Just because they're small doesn't mean they're any less likely to break.
When you buy your new receiver at Crutchfield, you'll get the dash kit you'll need to fit the new receiver into the dash, plus a wiring harness adapter to plug into the factory wiring. These parts aren't free, but you'll get a very healthy discount when you order everything together. Our illustrated, step-by-step Crutchfield MasterSheet, however, is free (with your stereo purchase), and it's a big help when you're replacing the radio and speakers in a Park Avenue.
Detailed stereo and speaker removal instructions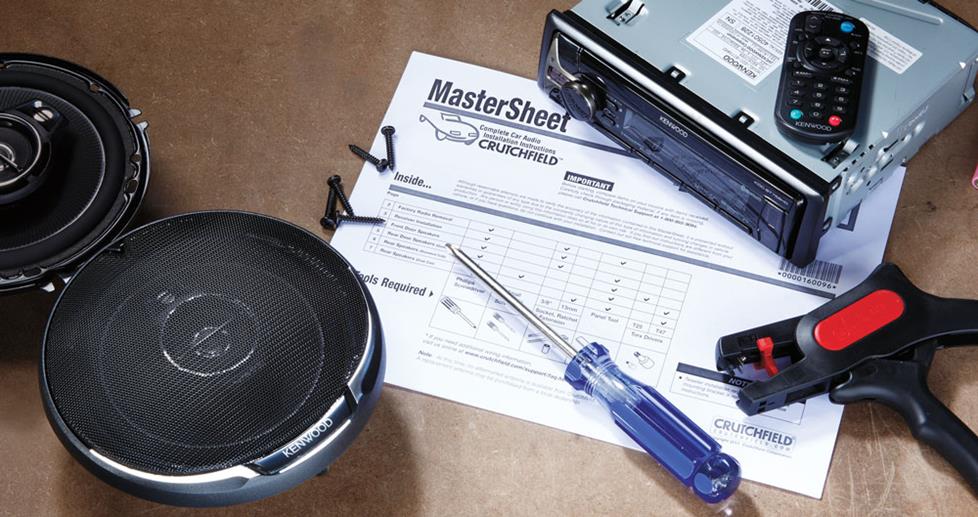 With step-by-step disassembly instructions and plenty of up-close, detailed photos, our exclusive
Crutchfield MasterSheet
™ takes the guesswork out of removing the factory stereo and speakers. It's free with your Crutchfield order, or you can purchase one separately for just $9.99.
Once you've installed and tested the receiver, all you need to do is button everything back up and enjoy your new stereo. Don't be in too much of a hurry, though. Those panels are still a bit fragile, so handle with care.
Tools needed: Panel tool, 9/32" socket, ratchet & extension
Steering wheel audio controls
It's relatively easy to retain your Buick's steering wheel audio controls when you install a new stereo. When you enter your vehicle information, our database will choose the adapter you need to make your factory steering wheel controls work with your new receiver.
Shop for car stereos that fit your Buick Park Avenue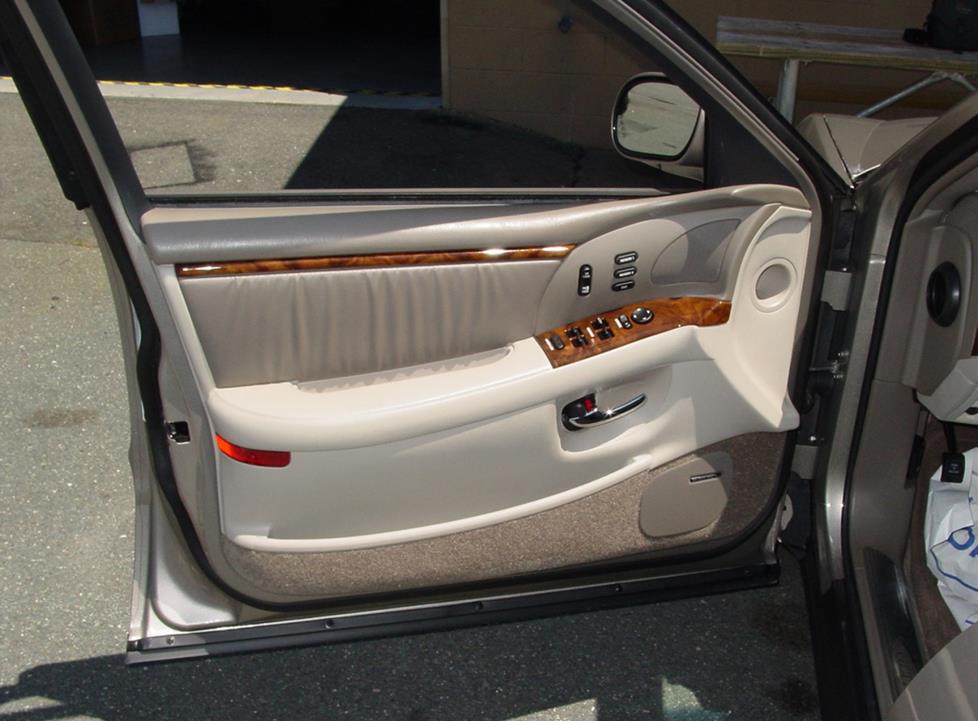 You'll need to remove the door panels to replace the front door woofers (Crutchfield Research Photo)
Removing the factory speakers
The average Park Avenue has speakers in the front doors and rear deck. If it's equipped with the optional stereo system, you'll also find speakers in the dash and rear doors.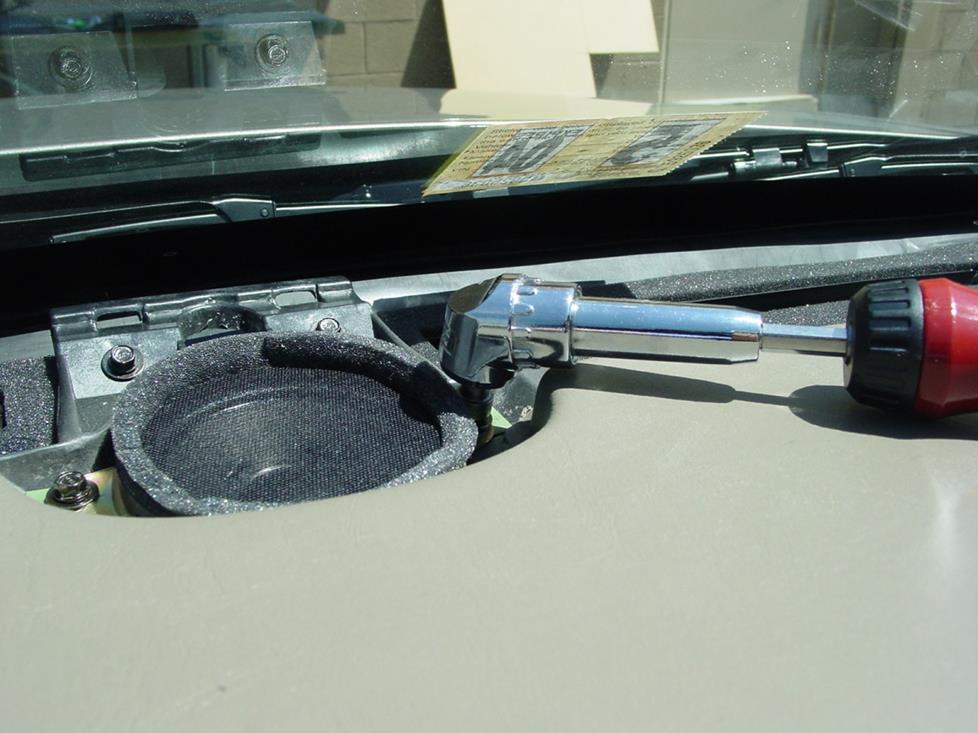 The dash speaker is pretty easy to deal with (Crutchfield Research Photo)
Center dash speaker
If your Park Avenue is equipped with the 3-1/2" dash speaker, it's easy to reach and replace. Use a panel tool to pry up the one-piece grille along the base of the windshield and release the retaining clips. Lift the grille up just enough to reach in and disconnect the harness, which is located on the driver's side. Remove the grille and store it someplace safe. With the speaker exposed, you can remove the two 7mm screws that hold the speaker in place, then disconnect the harness and remove the speaker.
Tools needed: Panel tool, 7mm socket, ratchet & extension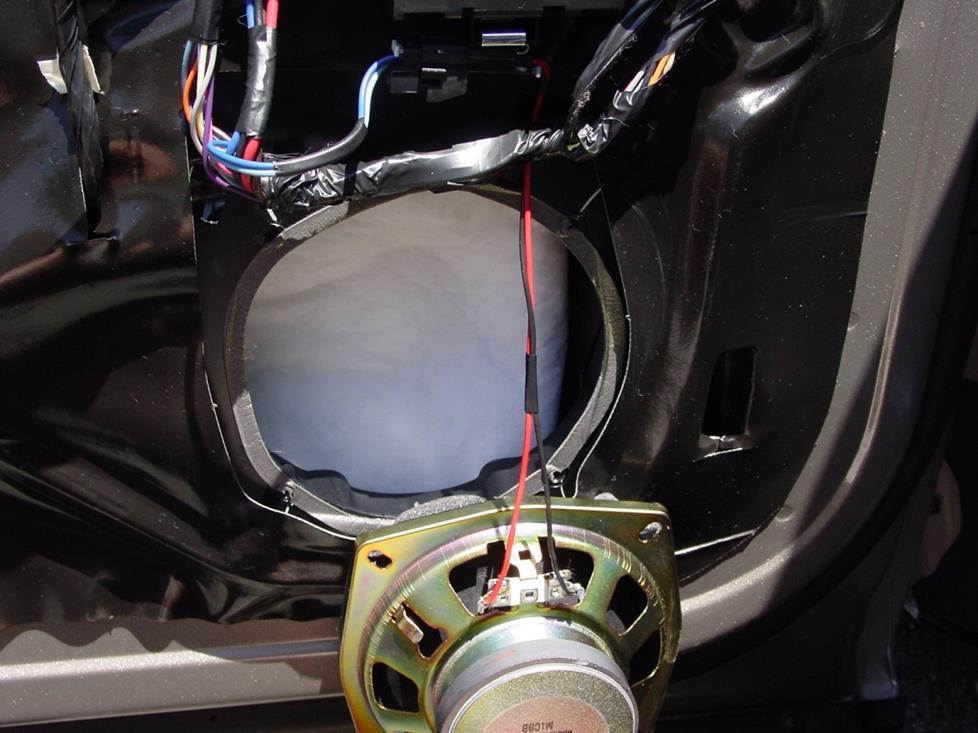 Here's a close-up look at the Park Avenue's front door speaker (Crutchfield Research Photo)
Front door speakers
The front door speaker array, which consists of woofers and tweeters, can be reached by removing the door panels. This isn't hard to do, but you will need to use a fair amount of force to remove the clip from the door vent. The best way is to slide the panel tool behind the door panel and pry hard behind the vent to release the clip. Once that's clear, you can slide the door panel upwards to release it front the door. Complete instructions are in your MasterSheet, of course.
The woofer is a 5-1/4" model, and you can choose from a healthy variety of aftermarket replacements. The tweeter, which is mounted on the door panel itself, is a small, 6-ohm speaker that can be replaced by pretty much any tweeter in a set of component speakers. You'll need to fabricate a speaker mounting bracket or spacer, though, and a wiring harness is not available. Your best bet is to use our universal backstraps to mount the tweeters, and Posi-Products speaker connectors to connect them into the factory wiring.
Tools needed: Phillips screwdriver, small flat blade screwdriver, panel tool, 1/4" socket, socket wrench and extension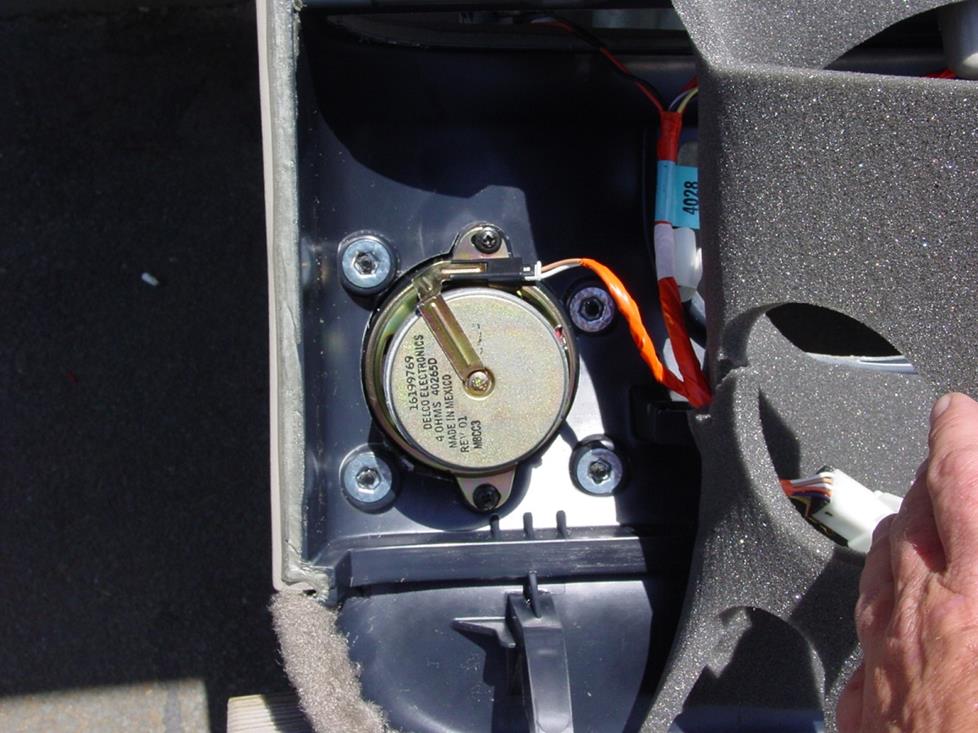 The top-line stereo system includes these door panel-mounted 3-1/2" speakers (Crutchfield Research Photo)
Rear door speakers
The premium sound system includes a set of 3-1/2" speakers in the rear doors. To replace them, you'll use the same basic tools and techniques you used on the front door panels. They're mounted on the inside of the door panels, and they're attached by a pair of Phillips screws. You'll find plenty of aftermarket replacements for these 4-ohm speakers.
Tools needed: Phillips screwdriver, small flat blade screwdriver, panel tool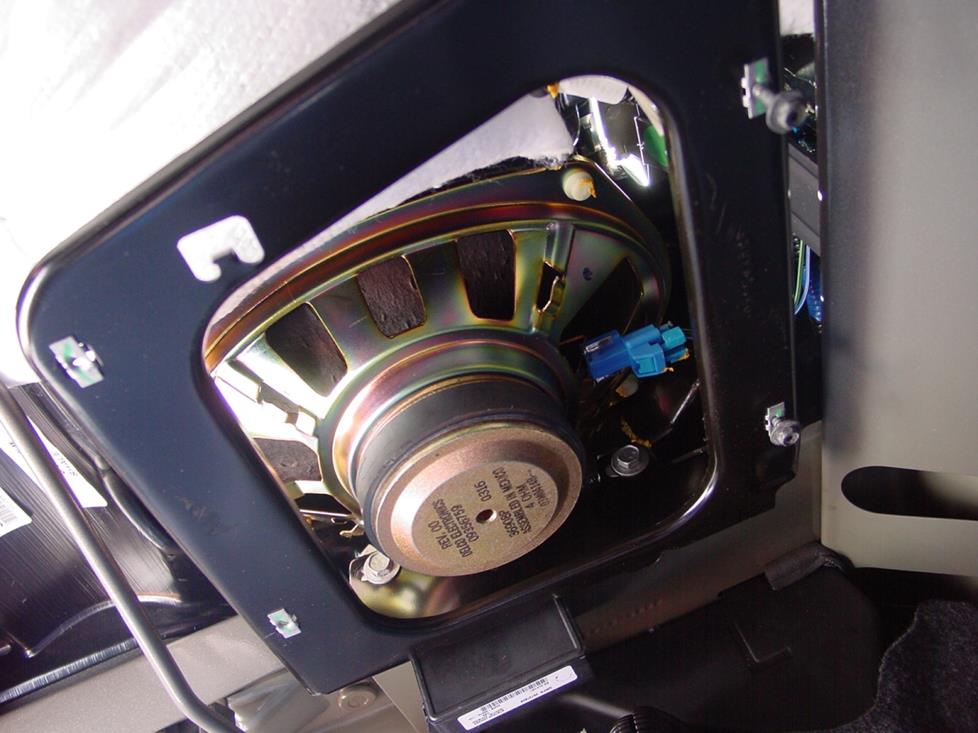 Removing the rear deck speakers isn't hard, but you might want to stretch first (Crutchfield Research Photo)
Rear deck speakers
Removing the 6"x9" factory rear deck speakers will involve wedging yourself at least partway into the trunk. Once you're in there, the work isn't hard, but if you're worried about tweaking your back, this is probably a job best left to the skinny guy at your local car audio installation shop.
Each speaker is held in place by four plastic clips, which can be removed with a pair of pliers. Don't get too crazy with the brute force here, since you'll probably need them again to hold the new speakers in place. We say "probably" because if you're installing speakers with more or less height, you may need to drill new mounting holes and use screws instead.
The 9-speaker system has has a factory amplifier powering these rear deck speakers. It's located right near the driver's side rear speaker, and it's kind of in the way. You'll need to remove four 7mm screws and let it hang while you replace that speaker. It's not hard, just kind of annoying.
The amp only sends bass frequencies to the rear deck speakers, so if you want full-range sound from your new speakers, you'll need to bypass the amp. And if you're doing that, you might as well just remove the amp entirely. Here's a link to our car amplifier section.
Tools needed: Pliers; if removing the amp, you'll also need a panel tool, 7mm socket, ratchet & extension
Shop for speakers that fit your Buick Park Avenue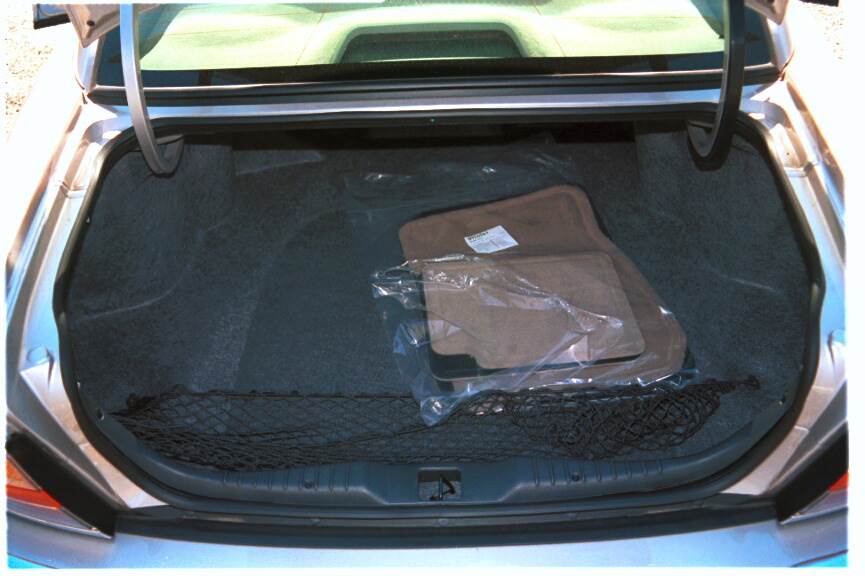 There's plenty of room for a sub enclosure in your Buick's trunk (Crutchfield Research Photo)
More bass in your Park Avenue
The Park Avenue trunk is a spacious one, so there's plenty of room for luggage, groceries, and subwoofers. If you're going heavy on the bass, you have a 39" W x 14" H x 41" D space to work with, which should hold something impressive.
If you're not planning to line the entire trunk with subs, you can still add plenty of sound with a component sub in a smaller subwoofer box or a powered subwoofer. With the variety of sub sizes on the market today, it's easy to find the right amount of bass system to get the sound you want.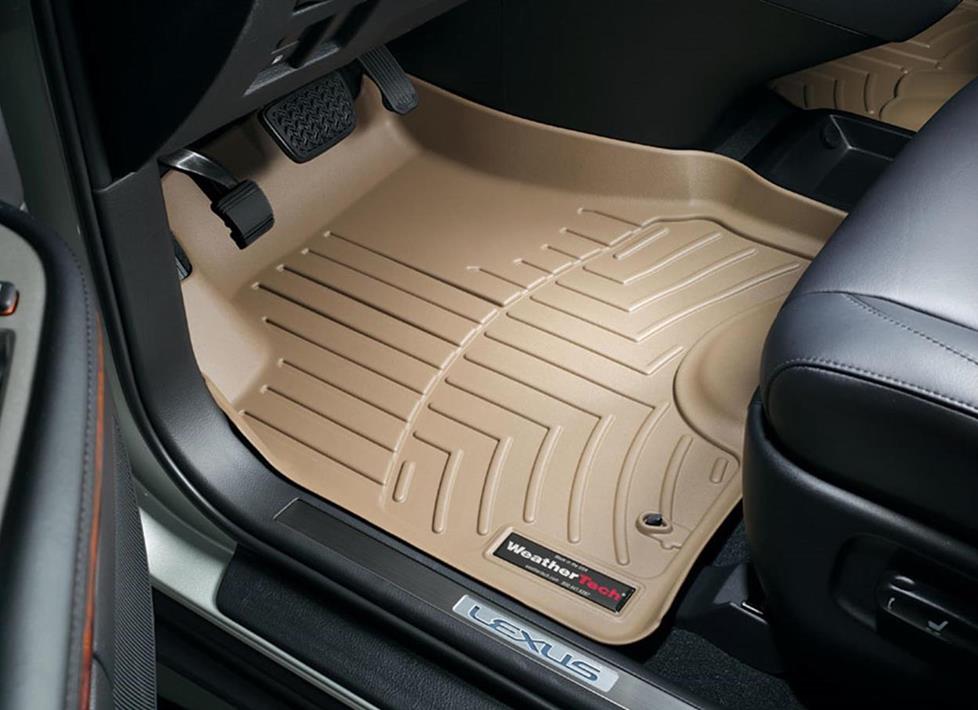 The mats made for your Buick will look a bit different, but they'll fit perfectly
Other options for your Park Avenue
Add an amplifier for better sound
No matter what else you do to your audio system, to further improve the sound quality, consider installing a 4-channel amplifier for your speakers. That will let you get the best sound from your music and really fill up the Buick's spacious cabin. And if you install a new subwoofer, you'll also need to install an amplifier to power it as well. Talk to one of our advisors to get some ideas for how to economically and easily build your system.
Noise damping
Your big Buick is a rather quiet vehicle to begin with, but as cars age, creaks and groans (not to mention wind noise) start to become more noticeable. Installing Dynamat in the front and rear doors can really help seal out noise and seal in sound. If you're installing a big subwoofer and you don't want your car's trunk to vibrate like an out-of-balance washing machine every time you crank the volume, you should line the trunklid, as well.
You can also install a set of foam speaker baffles behind your new speakers. In addition to helping with performance, they'll also provide extra protection against moisture and dust.
Car care
Some cars (no names) look perfectly normal covered in a thin coat of dust and grime. Buicks only really look like Buicks when they're clean and shiny, inside and out. Keeping the interior in top shape really helps with resale value, too, so protect your carpets (and your investment) with a set of custom-fit WeatherTech floor liners. For the rest of your Buick, use WeatherTech® TechCare™ cleaning products to keep all the interior and exterior surfaces looking sharp.
Security
Installing a security system in your Park Avenue isn't easy (security systems rarely are), but it's less complicated than it could be. Our Crutchfield Advisors can help figure out what you need to get the job done, but we usually recommend taking your car and new gear to a professional security system installer.
Let's get started!
Ready to shop? Use our vehicle selector to find the gear that will fit your car or truck. If you have questions of your own, give us a shout via phone, chat, or email