1999-2002 Daewoo Lanos
Upgrading the stereo system in your Lanos
1999 • 2000 • 2001 • 2002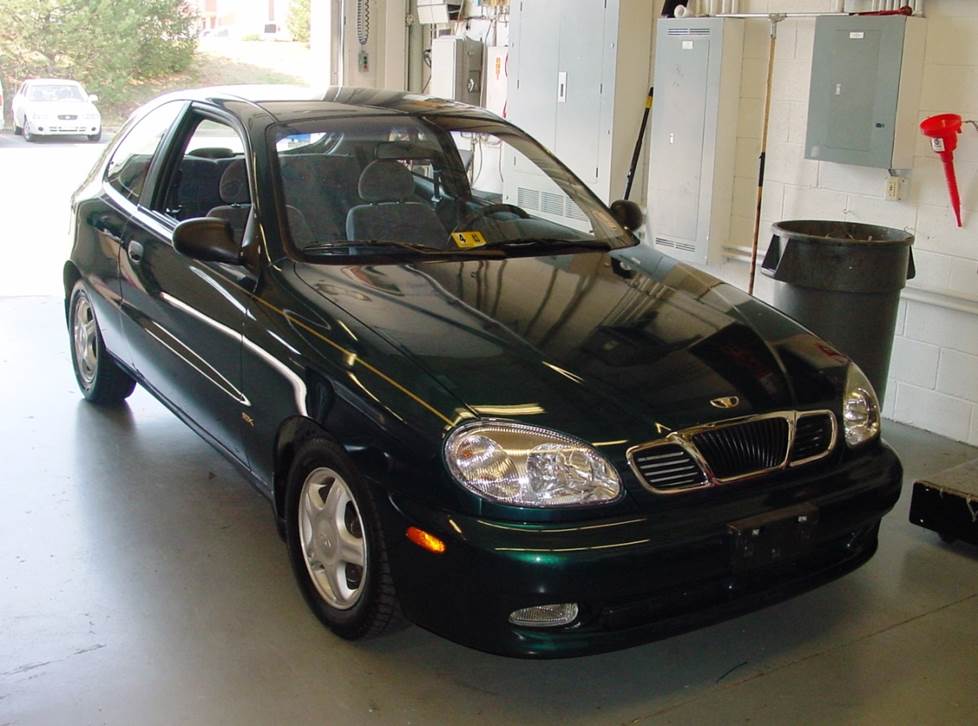 In brief: This Crutchfield Research Garage article gives you an overview of your Daewoo's stock stereo system and your aftermarket upgrade options. We'll tell you all about:
Then, use our vehicle selector to find the gear that will fit your car.
Overview of the Daewoo Lanos
The Daewoo Lanos is not a great car. Honestly, it isn't even a good car. Even when new, which it isn't anymore, it was slow, thrashy, and about as refined as burlap underwear. It is, however, a car. And if it's your car, it's the best car in the world — because it's yours.
Sometimes, a car doesn't have to be great, it just has to be. Having your own car means no more riding buses, bumming rides, or waiting on some random dude you hailed from an app. If you want to go somewhere, you just go. And if you decide to wander off somewhere else along the way, you just do. It's an amazing thing.
That's about as amazing as the Lanos gets, honestly, but the car does have its merits. The body, penned by famed design house Italdesign, is subtle, attractive, and aging better than a lot of cars from this era. The handling is, by most accounts, not bad. And you can buy a Lanos for the price of a half-decent sofa and park it just about anywhere without a second thought.
And that is what makes this car so great for the budding audiophile. Your new stereo gear could have a cooler, sexier home, sure, but it'll never be safer. Let's face it, not a lot of people are going to risk jail time to break into a Daewoo Lanos. Advantage you!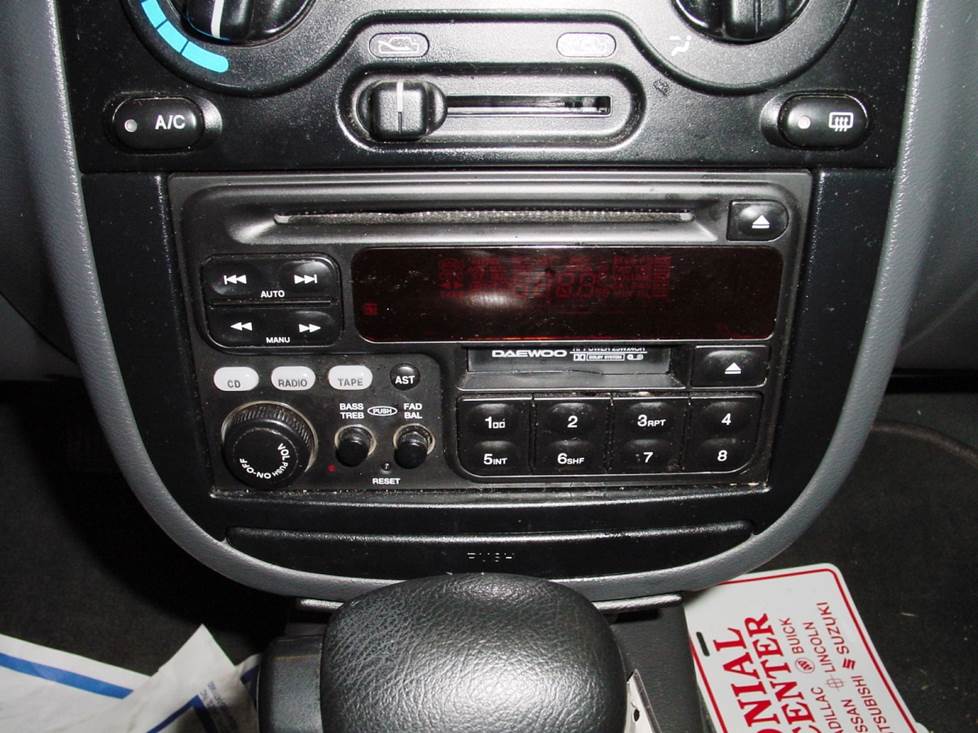 The factory radio is a true jack-of-all-trades (Crutchfield Research Photo)
The factory stereo system
The factory stereo doesn't do anything very well, but it sure can do a lot of things – assuming it still works, that is. This AM/FM/CD/Cassette receiver could handle just about anything in its day, but that day was a long time ago.
If you store your music on your phone or other device, you'll want to replace the old receiver with something that rocks your way. A variety of single-DIN (2" tall) receivers will fit in the dash opening with the help of a dash kit that's included at a discount with your Crutchfield stereo purchase.
You'll absolutely want to replace all four speakers as soon as you can. They weren't much to begin with, and now they're old enough to drive the car themselves. A variety of 4" and 5" speakers will fit in the front doors, though with some speakers, you'll need to cut out the back of the plastic cup or mounting bracket to create the necessary clearances. The rear speakers, which are no doubt thoroughly sunbaked by now, can be replaced with 4"x6" aftermarket models.
To see everything that fits your Lanos, enter your vehicle information and let our database show you what's available. If you have questions, give us a call or chat.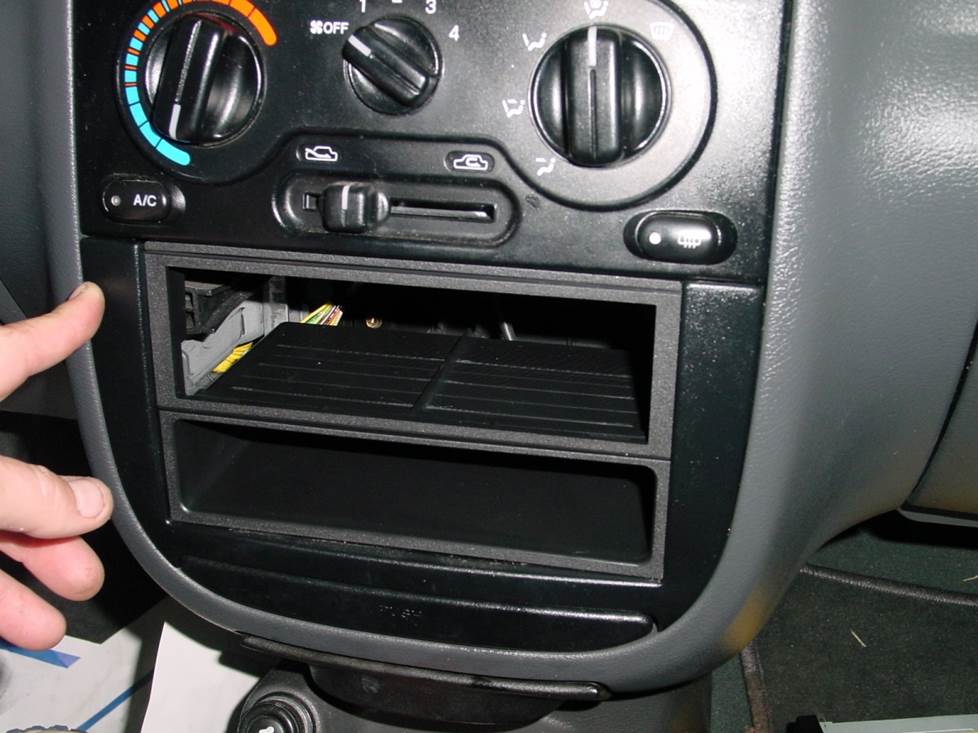 It was, however, a master of none, so you'll want to replace it. This dash kit helps. (Crutchfield Research Photo)
Removing the factory radio
The Lanos is, to be polite, a rather unsophisticated machine. But that's not necessarily a bad thing, especially when it comes to replacing the factory stereo system. If you're a first-time DIY-er, a car like this is a great place to learn how to install audio gear. Sure, it's challenging in places, but you can totally do this.
Before you do anything else (on this or any installation), set the parking brake and disconnect the negative battery cable. This will prevent any electrical short, which will ensure that you're not the person who got electrocuted or run over by a Daewoo Lanos. Trust us, that is not how you want to get famous.
Next, grab your panel tool and pry around the edges of the trim panel to release the retaining clips, then remove the panel. You'll then need to remove the four Phillips screws that secure the receiver to the dash. Once they're out of the way (and safely stored in a bowl or cup or something), pull the radio out and disconnect the harness.
Detailed stereo and speaker removal instructions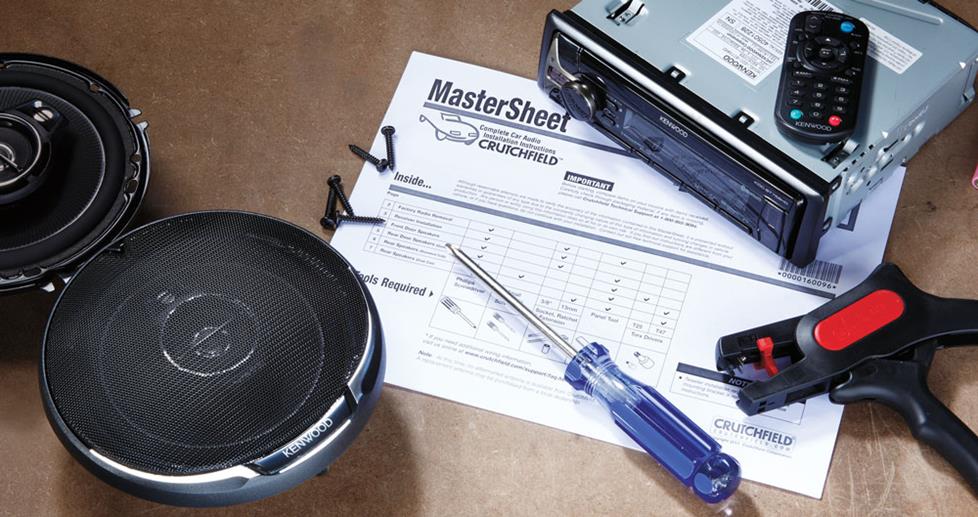 With step-by-step disassembly instructions and plenty of up-close, detailed photos, our exclusive
Crutchfield MasterSheet
™ takes the guesswork out of removing the factory stereo and speakers. It's free with your Crutchfield order, or you can purchase one separately for just $9.99.
To install the new receiver, your first step is preparing the receiver mounting bracket by removing the plastic tabs. The bracket comes with instructions, and this is really easy to do.
Next, remove the DIN sleeve from your new receiver, then slide the sleeve into the mounting bracket and secure it by bending the tabs. Slide the receiver into the sleeve/bracket assembly, then hold the entire thing close to the dash and connect the receiver's wiring adapter to the factory harness. You'll also want to plug the antenna lead into the back of the receiver.
Once you're hooked up, slide the assembled package into the dash cavity and secure the receiver with the screws you removed earlier. Reconnect the battery and check to make sure the receiver is working. If it is, you can put everything back together and enjoy your tunes.
Tools needed: Phillips screwdriver, panel tool, flat-blade screwdriver
Shop for car stereos that fit your Daewoo Lanos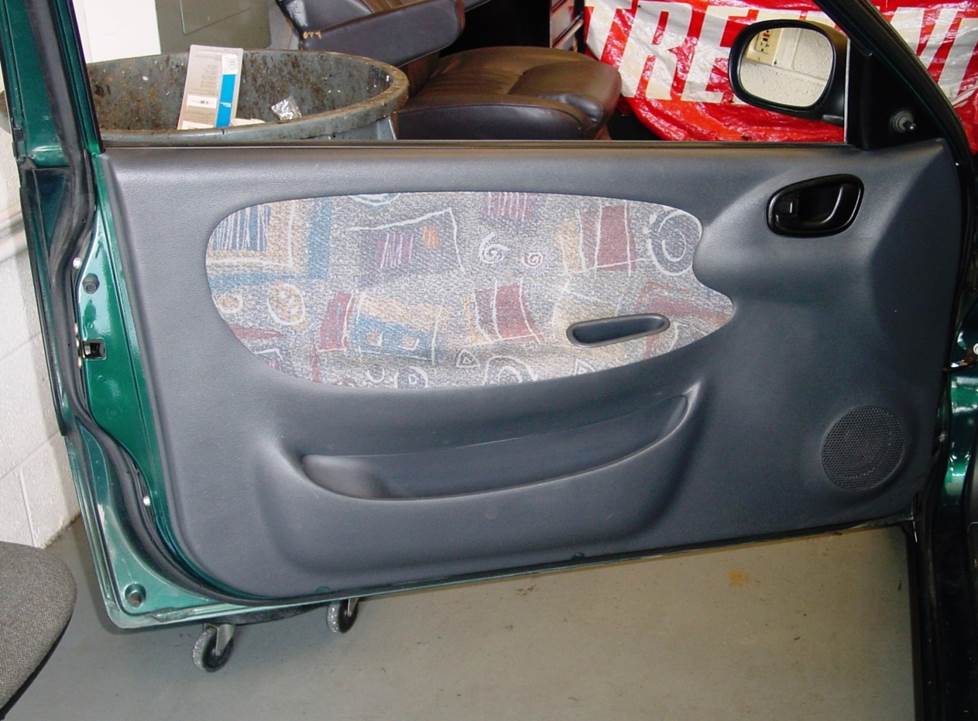 We think the patterned inserts are kinda cool, actually. The stock speakers, not so much. (Crutchfield Research Photo)
Removing the factory speakers
The Lanos hatchback has speakers in the front doors and just above the rear wheel arches, more or less.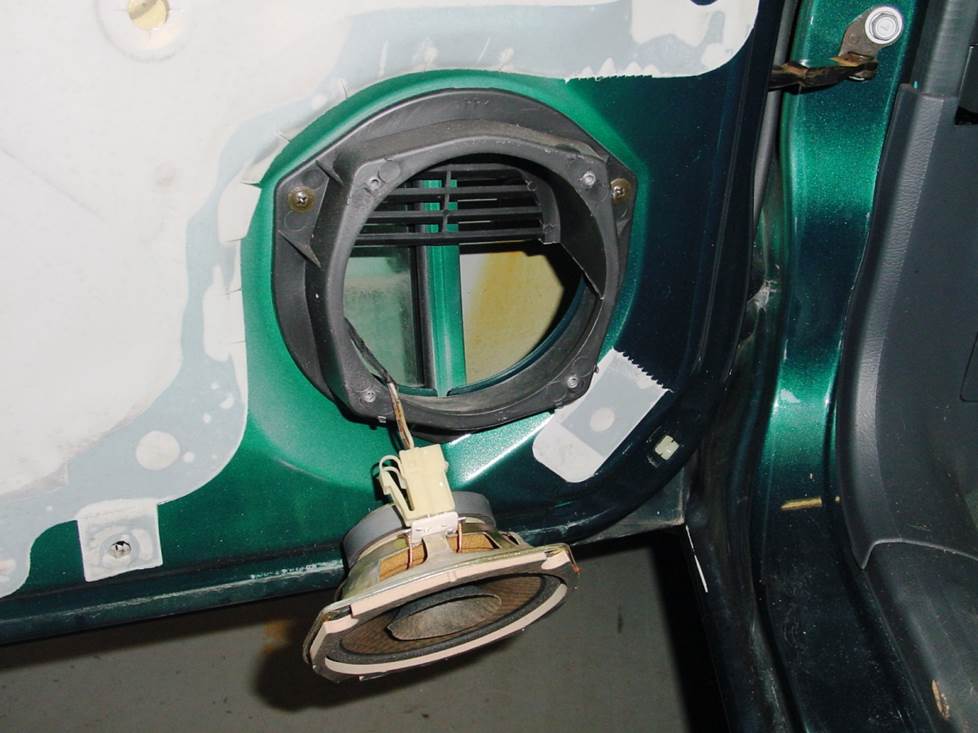 A variety of 4" and 5" speakers will fit, but you may need to cut out that vent-ish looking thing at the top of the cavity. (Crutchfield Research Photo)
Front door speakers
The door speakers are also easy to deal with. All you really need are some basic tools, but you'll want to be patient when you use them. These plastic panels aren't young anymore, and you don't want to break anything.
You'll start by using your panel tool to pry off the sail panel and the door release trim. Remove those, then remove one Phillips screw from the door pull cup, and three Phillips screws from the bottom edge of the door panel.
Grab your panel tool again, and pry around the sides and bottom of the door panel to release three plastic clips on each side. Remove the panel, and set it aside. It's a good idea to have an old sheet or towel handy to make sure the panel doesn't get scratched while you're installing your speakers.
Remove the four Phillips screws securing the speaker, then pull the speaker out, disconnect it, and get that sorry old thing out of there.
Wiring harnesses are not available for this location, so you'll need to make your speaker connections with a set of Posi-Products speaker connectors. This isn't hard (especially when compared to splicing, which can be a pain), and you'll get a secure, reliable connection.
When everything's connected, secure the speakers with the screws removed earlier, and test 'em out. If everything works, you're ready to put the doors back together.
Pro tip: With some 4" speakers, we recommend adding an inexpensive set of foam speaker baffles. They'll seal in the sound and also provide a little extra protection for the speakers. Some speakers are too deep, but most aren't.
Tools needed: Phillips screwdriver, panel tool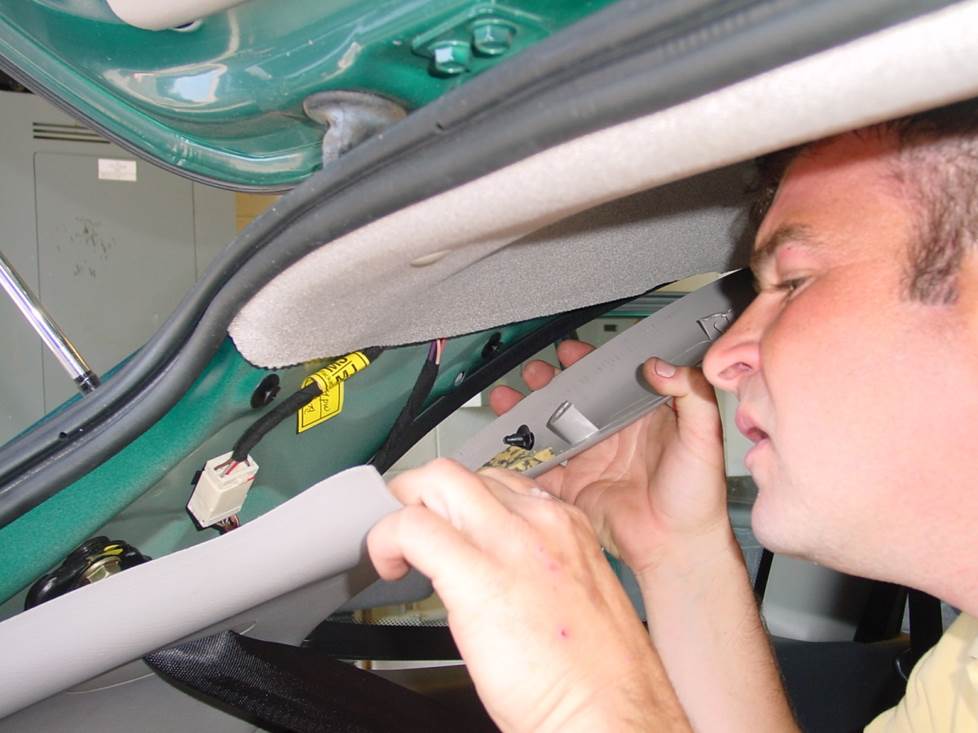 There's a speaker in here somewhere.... (Crutchfield Research Photo)
Rear speakers
The factory rear speakers are 4"x6" models that have spent a decade or so broiling in the sun. This is not good for speakers, so you'll absolutely want to replace these two.
You'll start by removing the cargo cover and folding down the rear seats. The speaker grilles are right there in front of you, so remove the two Phillips screws from the ends of the speaker grilles.
The next part isn't as weird as it sounds, but it might sound kinda weird. You'll need to open the rear side window, then pull back the top edge of the rear side panel juuuust enough to remove one Phillips screw at the bottom of the panel. You might need more than two hands to do this, so invite a friend over for pizza. Better yet, ask your friend to pick up the pizza on the way.
With the screw taken care of, pry out the rear pillar trim panel/speaker grille, starting at the top, which will release six plastic clips. You can lay the panel toward the center of the vehicle and let it hang for the remainder of the process.
Disconnect the wiring harness, remove four Phillips screws securing the speaker to the back of the panel, and remove the speaker. You'll secure the new speaker to the panel in the same manner, using the screws you removed before. Wiring harnesses are not available for this location, either, so you'll need to make your speaker connections with another set of Posi-Products speaker connectors.
Once that's done, test 'em out and see if they work. If they do, button everything up again and hit the road. The improvement will amaze you, we promise.
Tools needed: Phillips screwdriver, panel tool
Shop for speakers that fit your Daewoo Lanos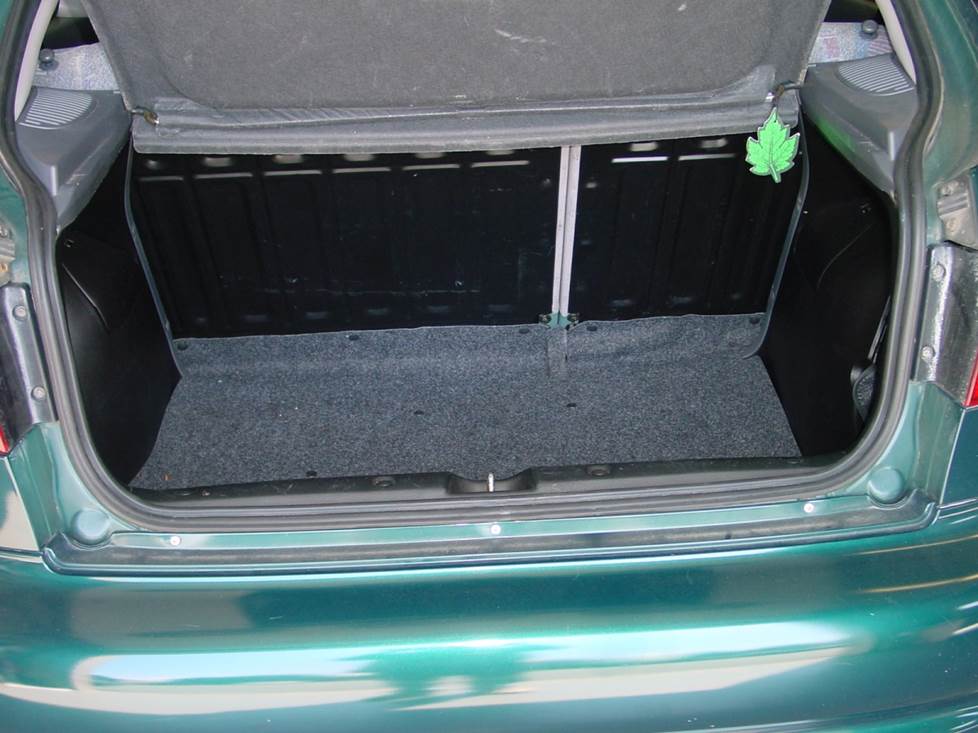 Not a ton of space for bass back here, but a powered sub could work nicely. (Crutchfield Research Photo)
Bass in your Lanos
You can go big on bass if you really want to, but you'll lose some cargo space. There's a 37" W x 20" H x 26"/18" D space for a subwoofer enclosure back here, which gives you some space to work with, anyway. You'll also want to add an amplifier or two to power the sub, and/or your new speakers.
That said, if you want to keep some space for groceries, luggage, and tools, a compact powered subwoofer might be a better choice. It's lighter, too. Just sayin'.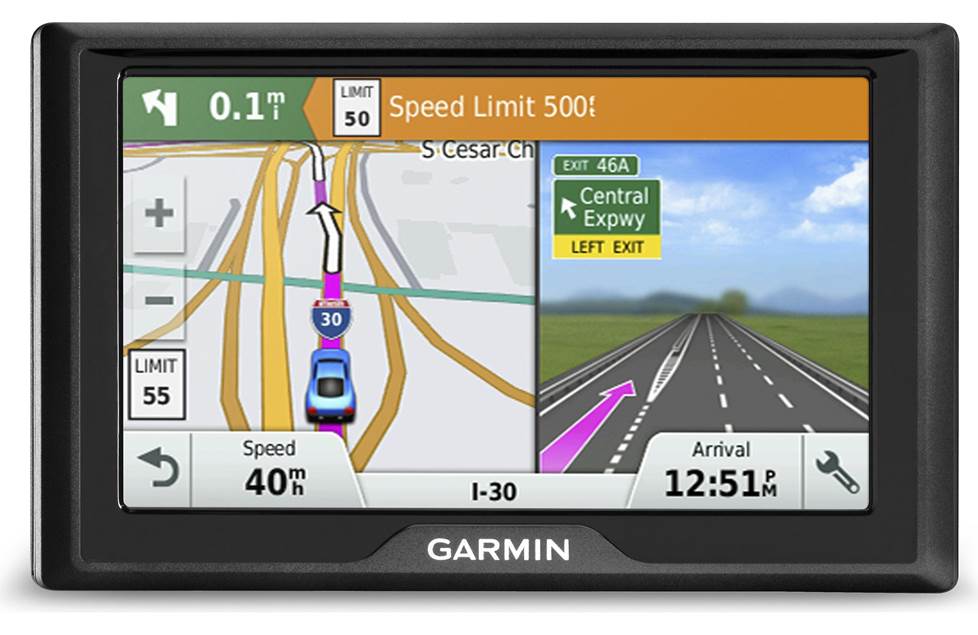 A portable GPS will help you get where you're going
Other options for your Lanos
Here are a few other ways Crutchfield can help you make your Lanos a better place to be:
Portable navigation
A big screen nav receiver won't work in your Lanos, but that doesn't mean you have to be directionless. We offer a wide array of portable GPS models that will fit nicely on the dash when you need them and store neatly in a purse or go-bag when you don't. That's kind of a handy thing when you're parking on the street or in unattended garages.
Sound deadening
The Lanos isn't exactly a Lexus when it comes to peace and quiet. To minimize road noise and maximize sound, we recommend installing Dynamat inside the door panels. If you've installed a sub, you should also put some in the cargo area to reduce rattling.
Security
Car thieves aren't very bright – that's one reason they steal stuff. So, if you worry about your car attracting some fool who can't tell a Daewoo from a Honda, a security system is a smart idea. Installing a security system in your Lanos isn't exactly easy (security systems rarely are), but it's definitely a good idea. Our Crutchfield Advisors can help figure out what you need to get the job done, but we usually recommend taking your car and new gear to a professional installer.
Let's get started!
Ready to shop? Use our vehicle selector to find the gear that will fit your car or truck. If you have questions of your own, give us a shout via phone, chat, or email