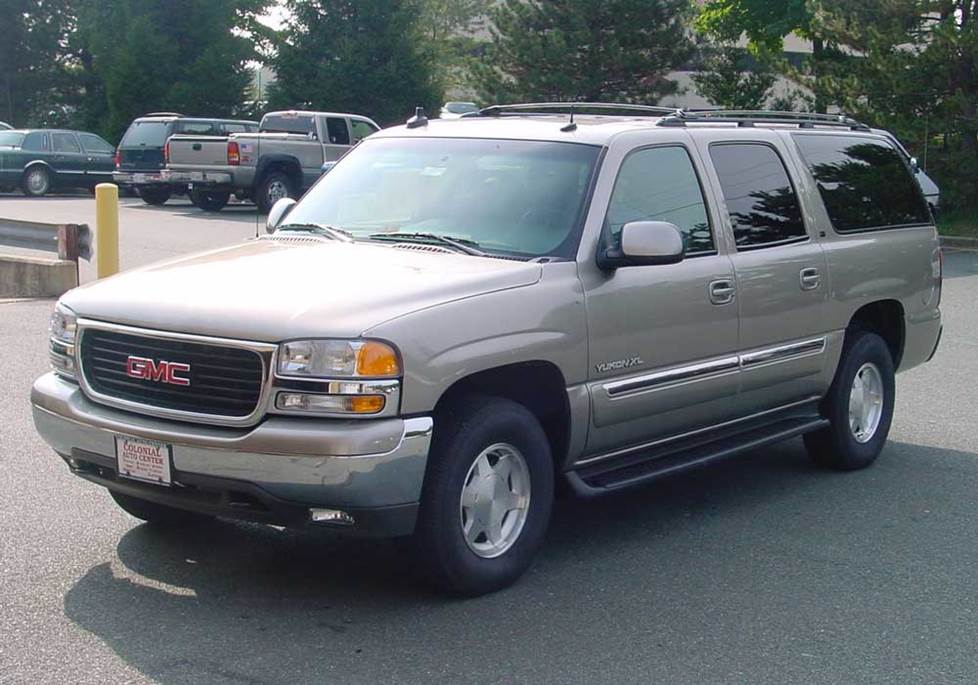 In brief: This Crutchfield Research Garage article gives you an overview of your SUV's stock stereo system and your aftermarket upgrade options. We'll tell you all about:
Then, use our vehicle selector to find the gear that will fit your SUV.
Overview
Any car or truck that's in its ninth generation obviously has something going for it. And this is pretty much the only vehicle that can make that claim.
The first Suburban came out in the mid-thirties and while these trucks are a lot more sophisticated than their forebears, the basic idea hasn't changed a whole lot. These trucks are designed to haul lots of people and/or stuff over all sorts of terrain in comfort and style, and they do the job really, really well.
The Tahoe and Yukon came along a few decades later, but they're only slightly smaller than their big brothers and just as capable on- or off-road. The stereo systems are the same, so we've lumped all four SUVs together in one super-sized article.
Note: This article also applies to the 2002 Cadillac Escalade.
Whether you have a stripped-down truck that you use for work and weekend duty, or a maxed out, ultra-luxurious hauler for your family, these trucks are up for the task. But if you're into audio, we don't have to tell you that the stereo could use some upgrading.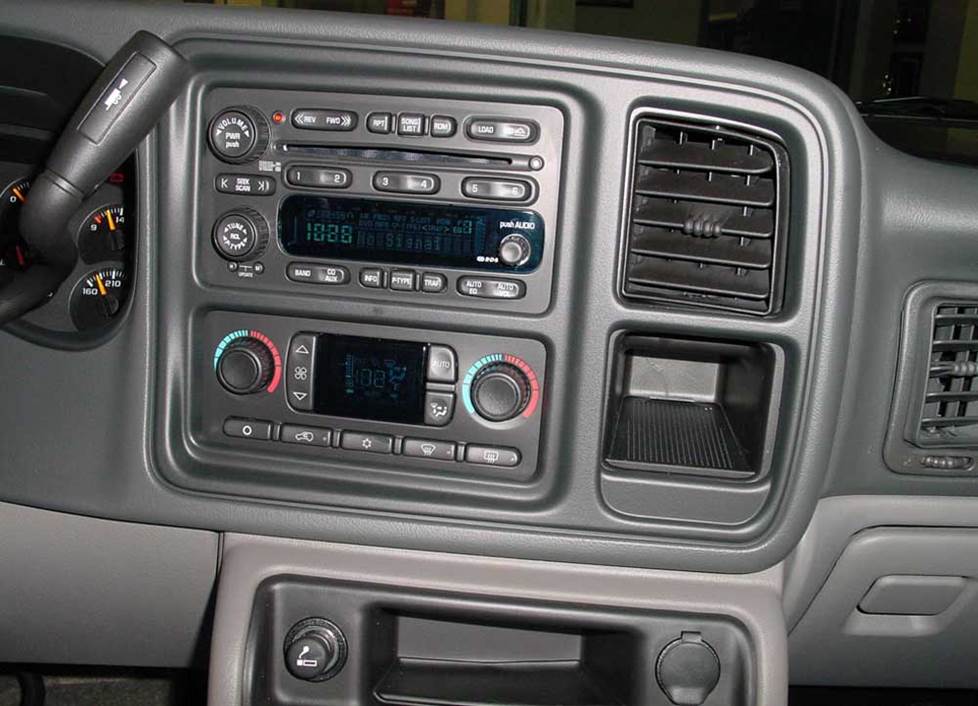 A navigation receiver joined this base receiver later in the model run (Crutchfield Research Photo)
The factory stereo system
The stock stereo gear stayed largely the same over this truck's 7-year run, but a 2003 dash refresh changed the way you go about replacing the receiver. There are some other minor differences between the 2000-2002 trucks and the later versions, and all those will be covered in the Crutchfield MasterSheet that's included free with your stereo or speaker purchase.
There's nothing exceedingly complicated about working on these big SUVs, so if you're a reasonably skilled DIY-er, you'll be just fine. There's a bit of actual work involved in places, but improving the sound and adding cool features like smartphone compatibility, satellite radio, and Bluetooth connectivity will make the effort worthwhile.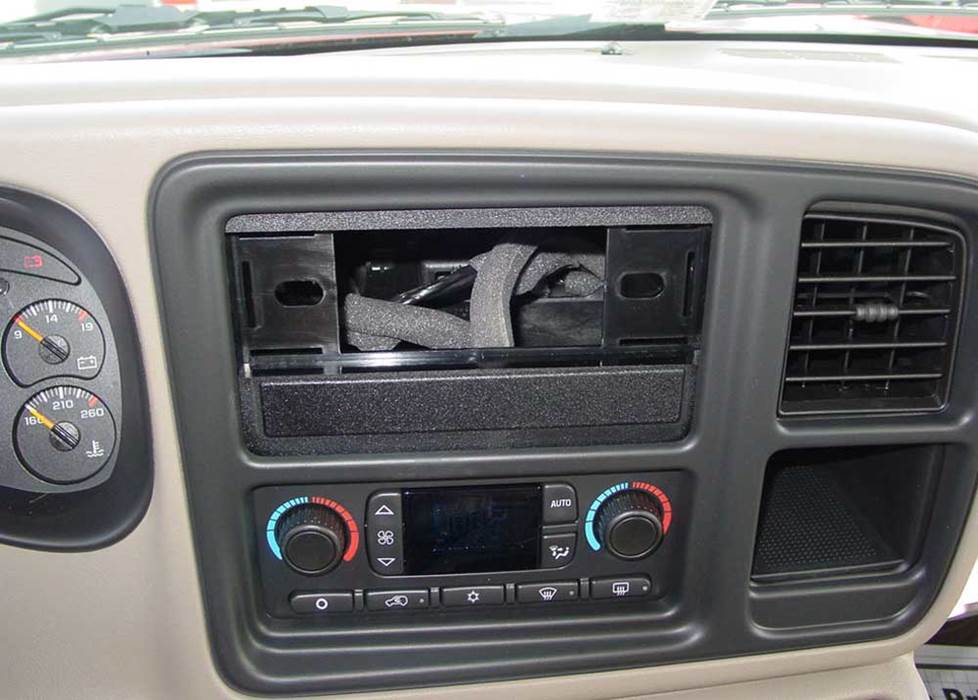 This dash kit allows you to install a new single-DIN receiver (Crutchfield Research Photo)
Removing the factory radio
Many of these trucks were equipped with a version of GM's ubiquitous AM/FM CD player, but later trucks could be had with an optional navigation receiver.
A vast number of single-DIN (2" tall) and double-DIN (4" tall) stereos will fit, but you'll need a dash kit and you'll need to take a hacksaw to the rear support bracket in the dash opening to create space for most of them. This is pretty easy and it won't compromise the dash integrity, but it's something to be aware of. If you're not into that idea, look for a digital media receiver. They're not nearly as deep as CD receivers, and most should fit nicely.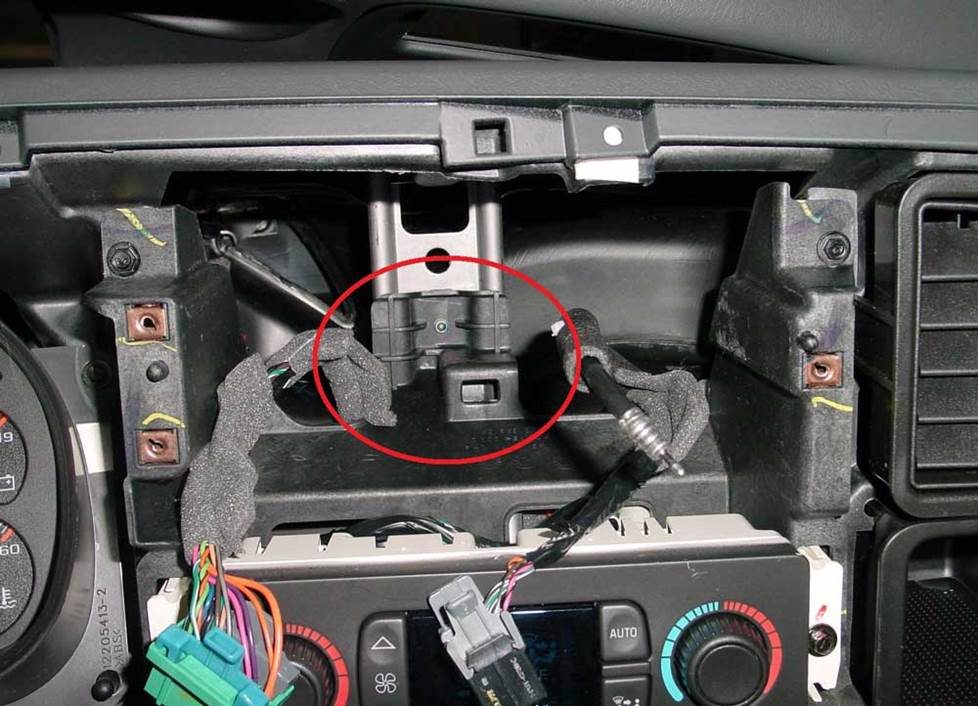 You might have to cut out this rear brace when you install a new stereo (Crutchfield Research Photo)
As tempting as it might be to add a single-DIN stereo with a flip-out screen, we don't recommend it, because the screen will bang into the column-mounted shifter.
Whatever kind of receiver you go with, you'll need a dash kit to install it. You'll also need an antenna adapter and a wiring harness adapter that will allow you to connect the new radio without having to cut into the factory wiring. All of those items are available at a healthy discount with your order.
Detailed stereo and speaker removal instructions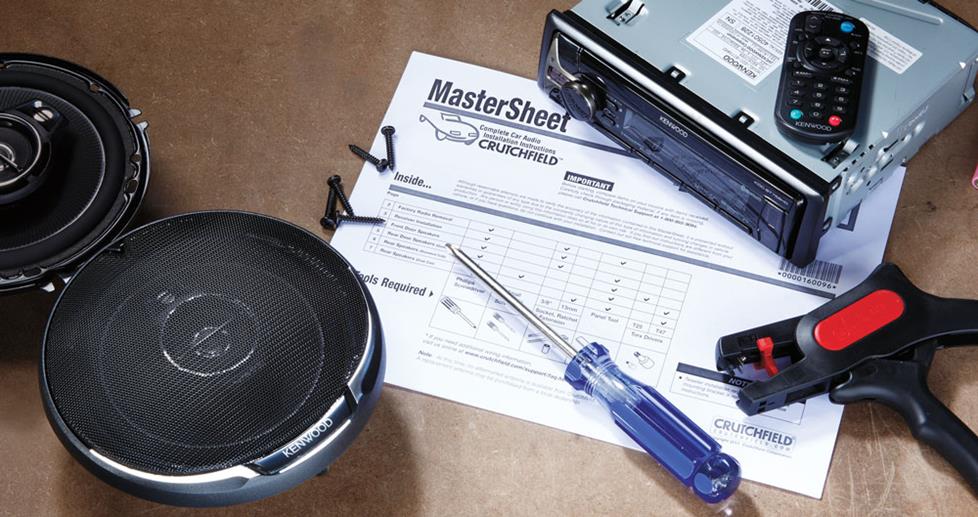 With step-by-step disassembly instructions and plenty of up-close, detailed photos, our exclusive
Crutchfield MasterSheet
™ takes the guesswork out of removing the factory stereo and speakers. It's free with your Crutchfield order, or you can purchase one separately for just $9.99.
A quick word about wiring harnesses
On 2003-2006 trucks, the warning chime is built into the factory radio, and the adapter we recommend retains that audible safety warning while also providing a switched 12-volt power source for your new radio. Crutchfield strongly recommends that you don't replace your factory radio without using a recommended adapter. In fact, we can't offer tech support if you don't use it. So you should like, y'know, use it, okay?
When you install a new receiver, you'll lose factory features like XM satellite radio and navigation, if present, but you can replace and actually upgrade them if you order the right receiver.
If your 2000-2002 truck has a rear DVD player, audio will only be available through the factory headphones. That's not a problem on 2003-2006 trucks because there's an adapter available that will let you connect that audio to your new stereo's rear-mounted auxiliary input. The caveat there is that your new stereo has to have a rear-mounted auxiliary input — keep that in mind while you're shopping.
Tools needed (2000-2002): Panel tool, opposable thumbs
Tools needed: (2003-2006): Panel tool, 7mm socket, ratchet and extension, hacksaw
Read our Car Stereo Buying Guide for shopping tips and advice.
Shop for car stereos that fit your Cadillac Escalade
Steering wheel audio controls
In most cases, it's reasonably easy to retain your truck's steering wheel audio controls when you install a new stereo. When you enter your vehicle information, our database will choose the adapter you need to make your factory steering wheel controls work with a compatible aftermarket receiver.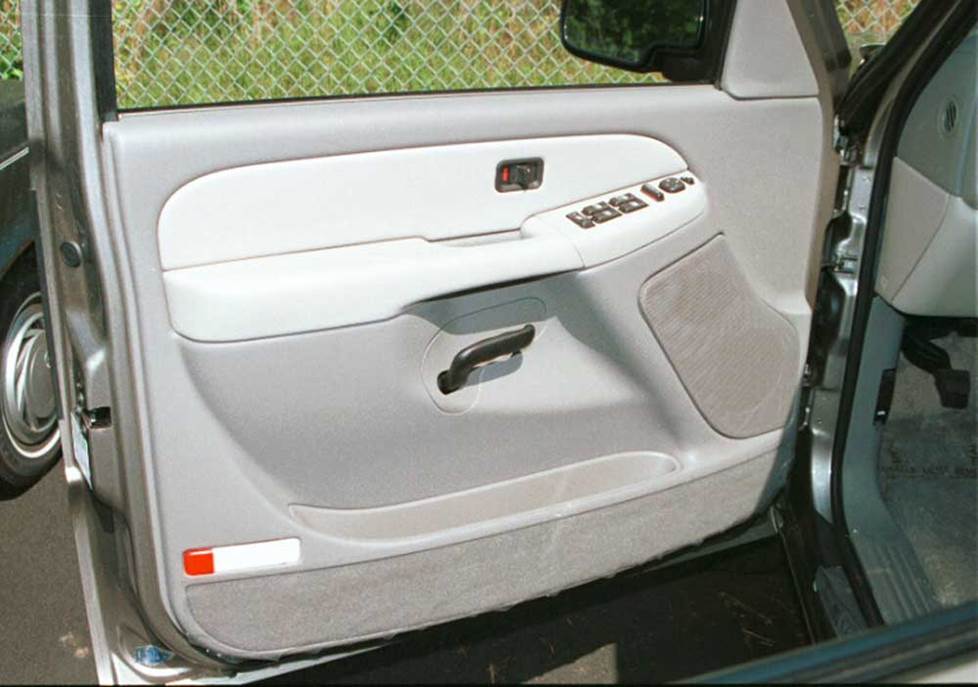 The front and rear door speakers are reasonably easy to reach and replace (Crutchfield Research Photo)
Removing the factory speakers
There are some model year variations to pay attention to, but overall, speaker replacement is pretty uncomplicated in these trucks.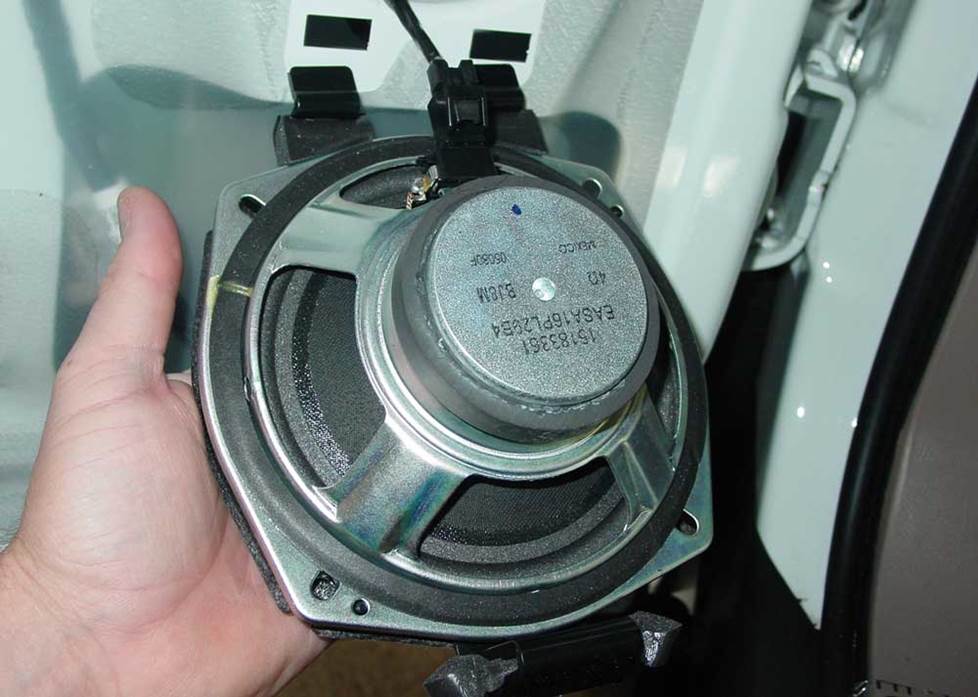 The stock speakers can be replaced by a wide variety of aftermarket models (Crutchfield Research Photo)
Front door speakers
The door speakers in these big trucks are 6-1/2" models. You can replace them with same-size speakers slightly smaller 5-1/4" speakers. You'll need a mounting bracket in either case, and we'll include them and wiring adapters at a significant discount. If you're willing to drill some new screw holes, slightly larger 6-3/4" models will work, too.
The speakers are reasonably easy to reach and replace. You'll need to remove the sail panel and door panel, but it's not a terribly involved process at all. Your MasterSheet will walk you through every step. The key is to work carefully and take it easy when you're prying away the plastic bits. They're not as young and flexible as they used to be.
Most of these trucks included tweeters in the front doors. As long as you have the door panel off, you might as well replace the woofer and the tweeter with a top-quality set of component speakers. You'll have to fashion a mounting plate for the new tweeter, a task for which our universal backstraps are very helpful.
If you install the larger speakers, be safe when you're drilling the new mounting holes. Take note of what's around the drilling area and work carefully to avoid damaging your truck.
Tools needed: Panel tool, small flat blade screwdriver, Phillips screwdriver, Torx T-20 driver, 7mm socket, ratchet and extension, drill, 1/8" bit, shop rag (used on manual window cranks)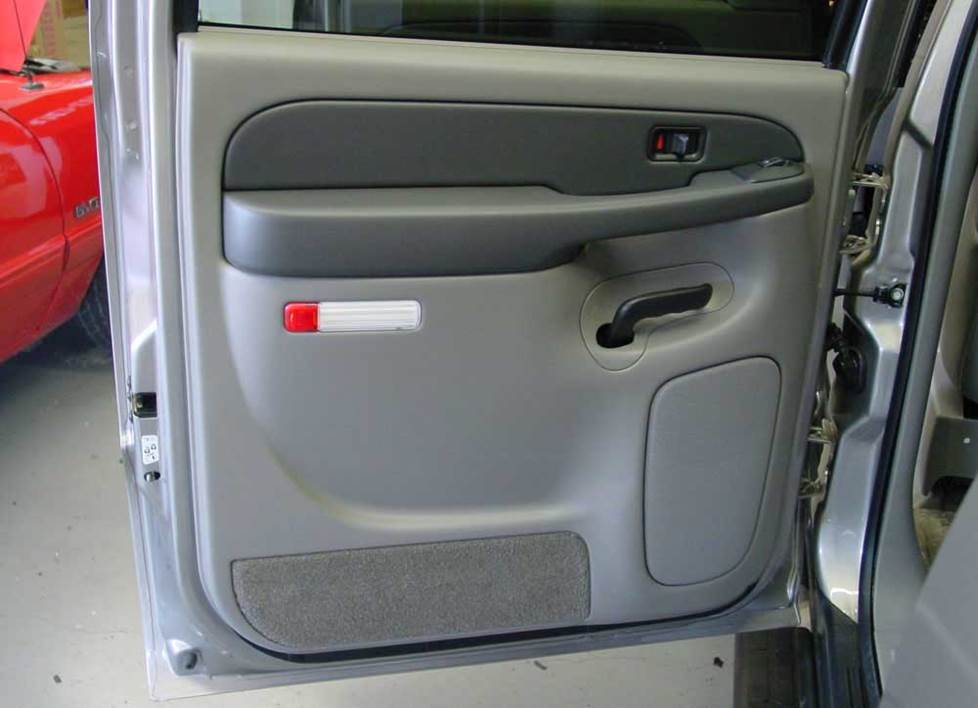 You have lots of options when it comes to replacing the rear door speakers (Crutchfield Research Photo)
Rear door speakers
Replacing the rear door speakers is a very similar process to what you did up front. The same size ranges work here, and the same cautions and suggestions apply. If you need mounting brackets for your speakers, they'll be included with your order.
Whenever you're replacing door speakers, it's important to test them out before going to the trouble of putting the doors back together. It's also smart to make sure the locks and windows are operating properly before you button everything up again.
Tools needed: Panel tool, small flat blade screwdriver, Torx T-15 driver, 9/32" socket, ratchet and extension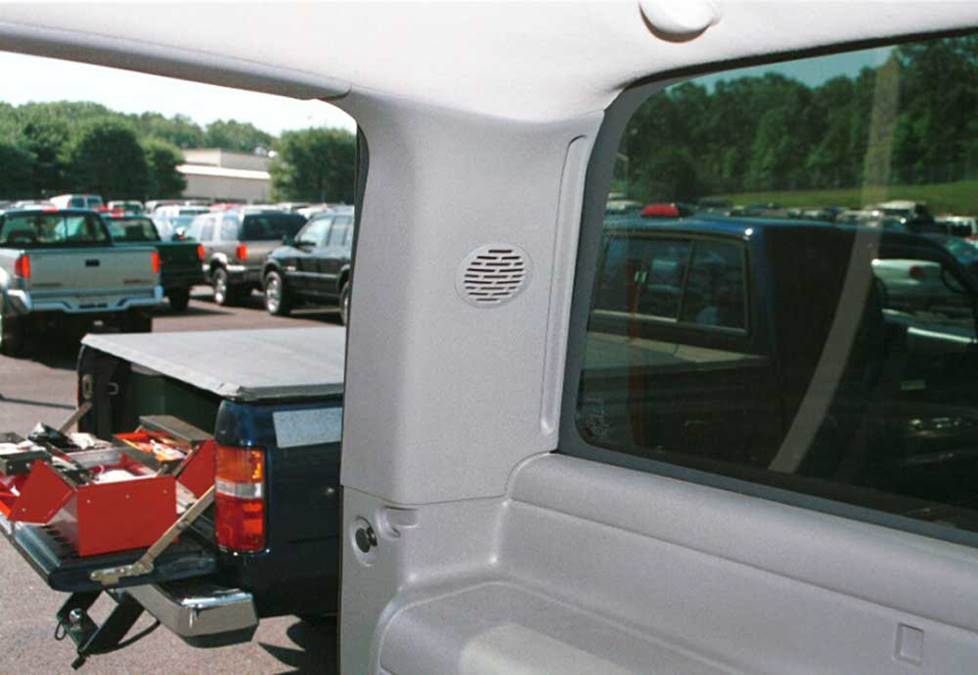 The rear tweeters can be found behind the pillar panels (Crutchfield Research Photo)
Rear tweeters
Most trim levels have tweeters mounted in the rear pillars. The tweeters are 2-3/4" in size, with a distance of 3-1/4" between the mounting screw holes. There's plenty of room to install new tweeters, if you want, but you'll need to use universal backstraps, hot glue, or silicone to secure them.
To replace the tweeters, start by prying off the upper trim that connects the two pillars, above the cargo door. Next, remove the rear pillar trim panels. Start at the edge closest to the center of the vehicle to release three metal clips, then move to the edge near the side window and pry to release two more clips.
Disconnect the speaker harness to free the panel from the truck. Cut the zip tie and pry out on three plastic clips to free the factory speaker.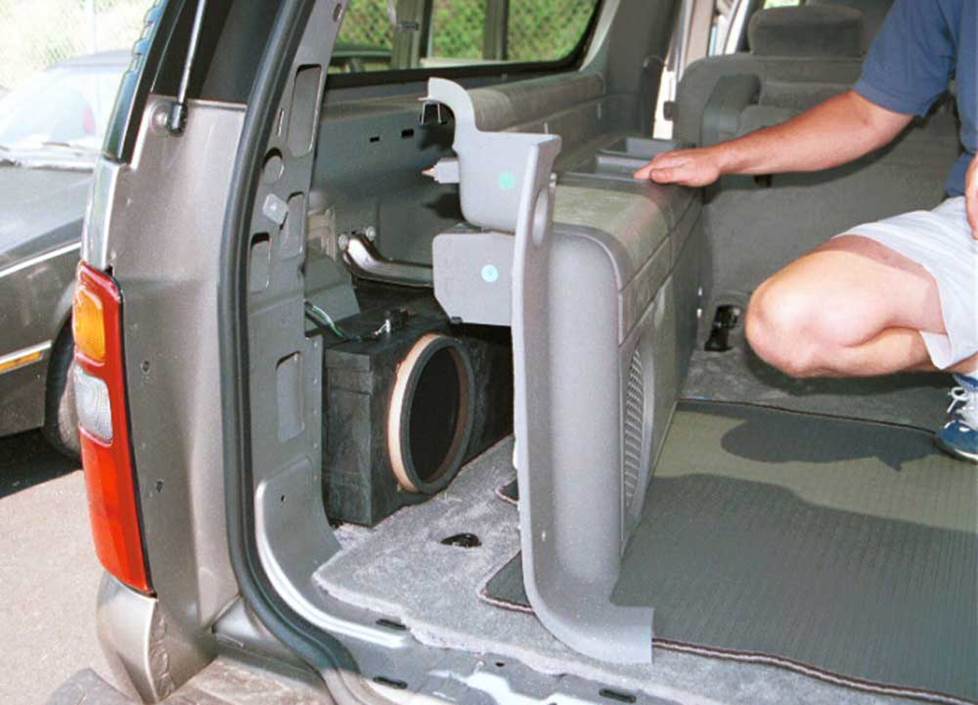 The factory sub lives behind this good-sized rear trim panel in 2000-2002 trucks (Crutchfield Research Photo)
Side-panel subwoofer (2000-2002 models)
If your 2000-2002 Tahoe, Suburban, Yukon, or Yukon XL has the premium audio system, you'll find an 8", 2-ohm subwoofer back in the cargo area. If you want to replace it, there are several aftermarket subs that will fit in the space.
To replace that sub, you'll start by following the procedure above to remove the rear pillar trim on the driver's side. Next, pry up the door opening scuff plate to release 10 metal clips, then remove the scuff plate.
Pry out the retaining clip from the rear side trim panel located at the bottom of panel near the door opening, then cover the cargo net holder with a shop rag or cloth and use a pair of pliers to unscrew and remove the holder. Next, remove a screw from the cupholder.
To remove the sub, start at the rear and top rear edges of the rear side panel and pry the panel out enough to access the screws securing the sub. Remove the four Torx T-20 screws securing the sub, then pull it out and disconnect it.
Tools needed: Panel tool, wire cutters, Torx T-20 driver, shop rag
Center console subwoofer (2003-2006 models)
Bose-equipped 2003-up trucks have the same tweeters, but the subwoofer is located up front in the center console. This sub is a forward-firing, dual-voice coil model that's roughly the same size as a 6-3/4" sub, but slightly oblong in shape.
If it's there, you can replace it with something newer and nicer, but the job's not easy. To be quite frank, it's a massive pain. Once you get in there, you'll need to fabricate a mounting bracket to install a new one. The factory system sends only bass frequencies to the sub, so a replacement aftermarket speaker will also only play bass.
None of the (many) steps involved in getting to the sub are especially difficult, but there are a lot of them and it's not a job you can rush through. A DIY-er can do this, but allocate plenty of time and remember to be very, very patient while you work.
Tools needed: Phillips screwdriver, right-angle Phillips screwdriver, 10mm driver
Read our Car Speakers Buying Guide for more information.
Shop for speakers that fit your Cadillac Escalade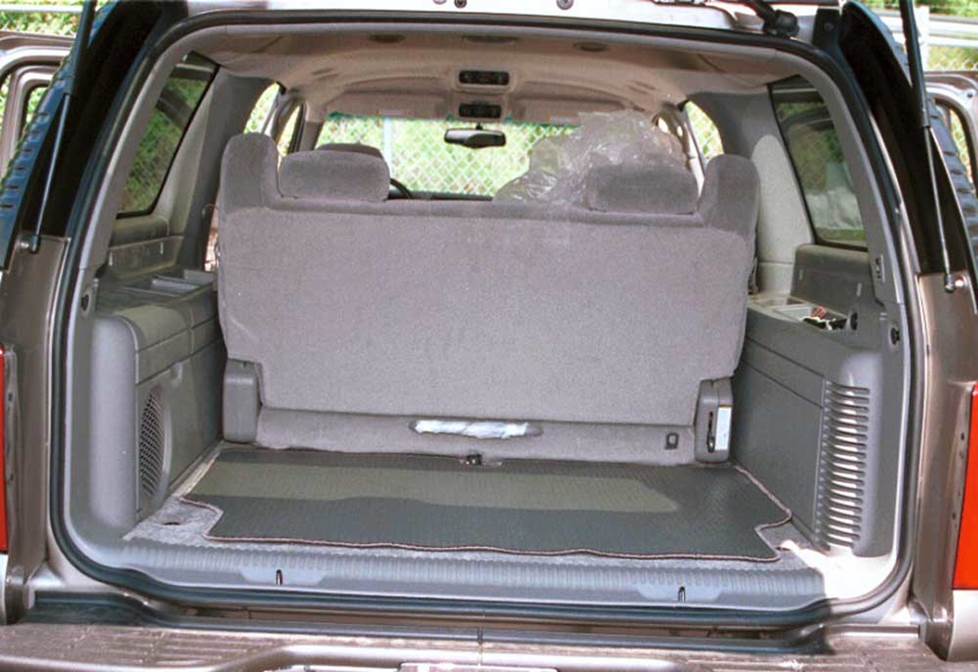 There's plenty of space for bass in this enormous cargo area. (Crutchfield Research Photo)
Bass in your Tahoe, Suburban, Yukon, or Yukon XL
Replacing the factory subwoofer is one way to improve the bass in your truck, but it's not the only way.
There's obviously tons of space in this vehicle, so if you want to go big on bass, the easiest way to do it is by adding a traditional subwoofer box. From side to side, there's a 49" W x 16" H x 27"/28" D space available, but feel free to install something even bigger if cargo hauling isn't much of a concern. If it is, look into a smaller enclosure or a powered subwoofer that'll take up less space.
Learn more about building a bass system in our Car Subwoofer Buying Guide.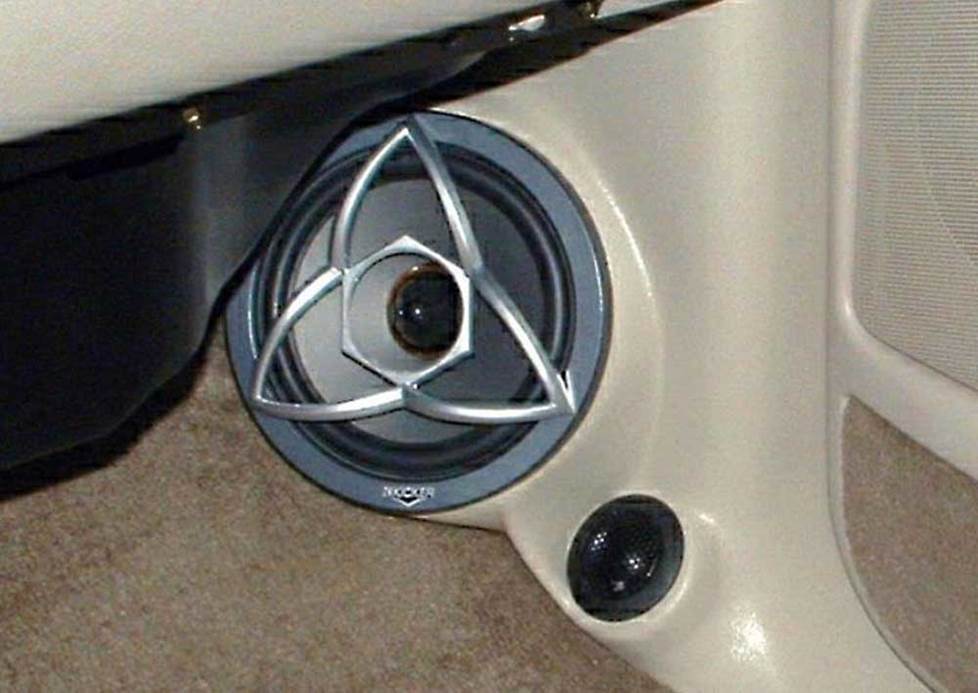 Q-Forms Kick Panel Enclosures can really improve your SUV's soundstaging
Other options for your Tahoe, Suburban, Yukon, or Yukon XL
Here are some other upgrade ideas for your SUV.
Add an amplifier for better sound
No matter what else you do to your audio system, to further improve the sound quality, consider installing a 4-channel amplifier for your speakers. That will let you get the best sound from your music and really fill up this truck's spacious cabin. And if you install subwoofers, you'll also need to install an amplifier to power them as well. Learn more about adding amps to your system in our Car Amplifier Buying Guide.
Kick Panel Pods for more speakers
To pump up the sound even more, install a set of Q-Forms Kick Panel Pods. These custom speaker enclosures fit right into the space where your kick panels are now and, once you pick and install a set of 6-1/2" speakers, will direct great sound up towards your ears. They're available in a variety of colors to match your truck's interior.
Sound damping to block road noise
There's no way to totally eliminate wind and road noise from a big old brick like this, but installing some Dynamat in the doors — and, potentially, throughout the cabin, can really seal in sound. A set of inexpensive foam speaker baffles behind your new speakers will also help, plus they help protect the speakers from dust and damage.
Navigation
If your truck didn't come with factory navigation, you can add an aftermarket double-DIN nav receiver with help from a dash kit. Depending on how you use your truck, a portable navigation unit could also be a good solution, because you can move it between vehicles as needed and tuck it into a storage compartment when you're not using it.
Security
Installing a security system in this truck is reasonably simple as these things go, but these things really aren't simple. If you're not experienced with car security and remote start installations, consult a Crutchfield advisor before ordering and consider handing the job off to a professional.
Let's get started!
Ready to shop? Use our vehicle selector to find the gear that will fit your car or truck. If you have questions, give us a shout via phone, chat, or email