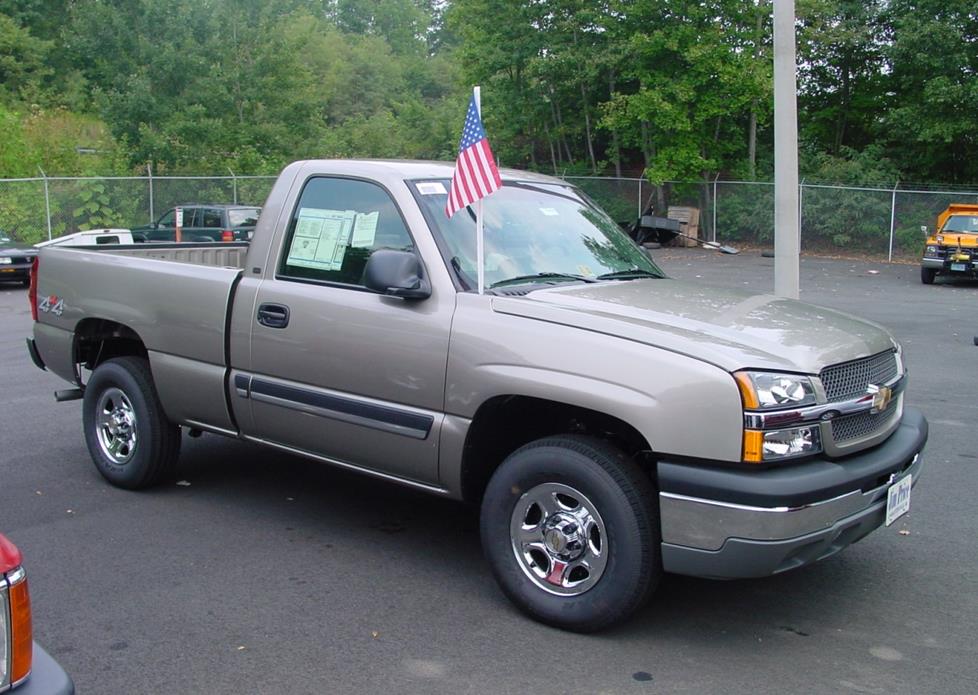 In brief: This Crutchfield Research Garage article gives you an overview of your truck's stock stereo system and your aftermarket upgrade options. We'll tell you all about:
Then, use our vehicle selector to find the gear that will fit your pickup.
Overview of the Silverado and Sierra
Pickups haven't always been leather-lined, multi-doored, power-accessorized personal luxury vehicles. Once upon a time, they were serious, spartan machines built by and for for people with things to do. Options were rare, comforts were few, and frippery of any kind was simply not allowed. Thankfully for you, the 2003-2007 Silverado and Sierra regular cab pickups are much easier to live with than their rough-hewn ancestors.
These trucks will go for years and years, but the old factory stereos are already starting to show some age. If your Chevy or GMC pickup is still getting the job done, a new stereo can make a big difference in your daily drive. Smartphone compatibility, satellite radio, and Bluetooth® connectivity are just a few of the modern features that can make your Silverado or Sierra a much more comfortable place to spend time.
Note: While this generation of the Silverado/Sierra ended with the 2006 model year, some trucks were sold in 2007 as the "Classic" model. If you have an '07 and you're not sure which version you have, compare your truck with a "new" 2007 model. The more aggressive-looking "Classic" features distinct "eyebrows" above the headlamps, plus a slight dip in the front bumper to accommodate the grille.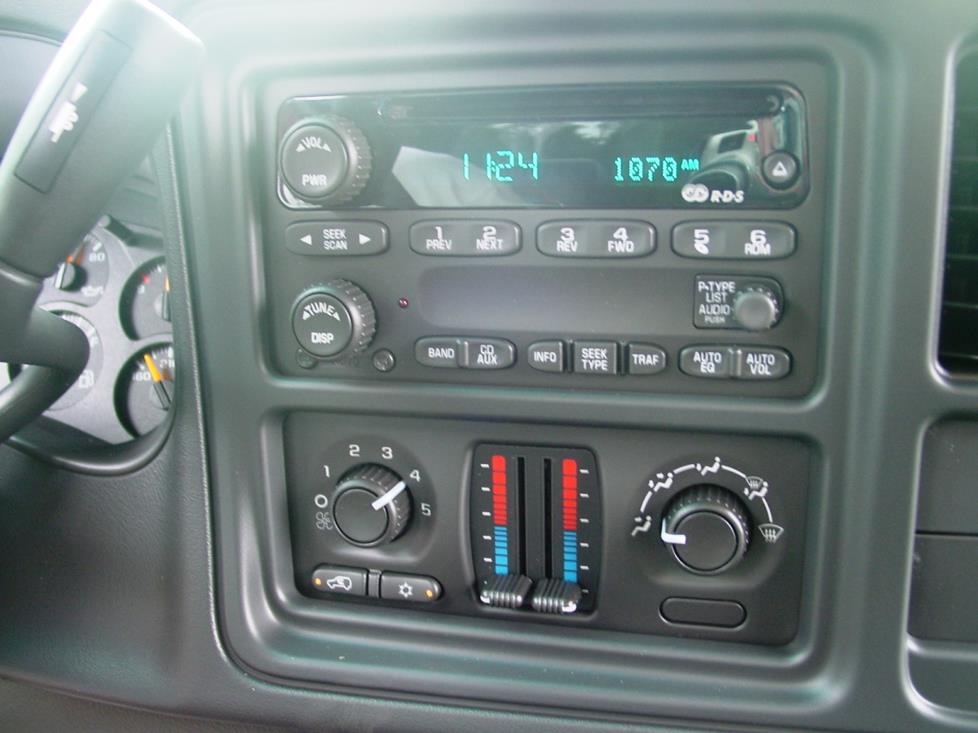 The factory radio does the job, but a new one will do so much more (Crutchfield Research Photo)
The factory stereo system
For years, GM pickups were equipped with what we casually call "tweener" radios. At first glance, they looked like double-DIN (4" tall) models, but they weren't. Only single-DIN (2" tall) aftermarket receivers would fit in the opening with the help of a dash kit.
The 2003-up trucks, on the other hand, finally offered a legitimate double-DIN opening, which means you can install a big screen DVD or navigation receiver if you want to. While a vast number of single-DIN (2" tall) stereos will also work nicely, a single-DIN stereo with a flip-out screen won't, because the screen will bang into the column-mounted shifter.
Detailed stereo and speaker removal instructions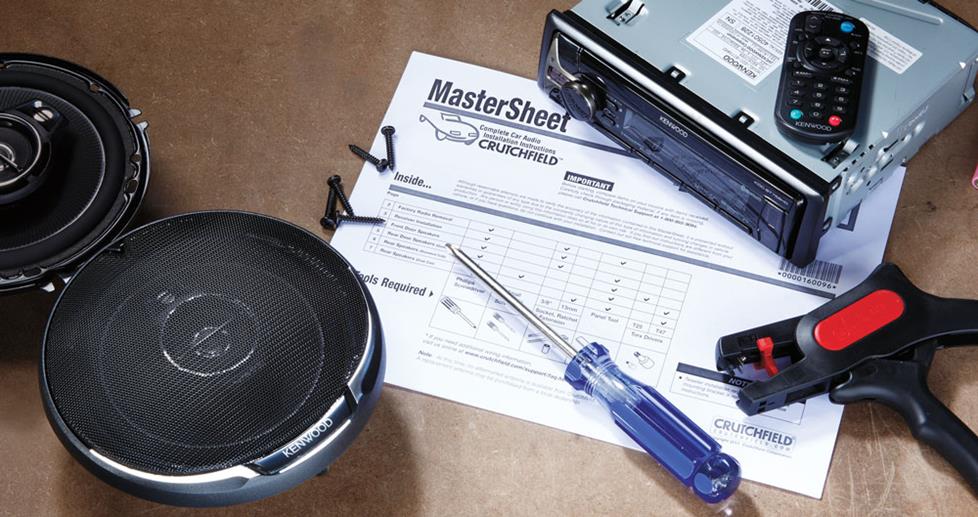 With step-by-step disassembly instructions and plenty of up-close, detailed photos, our exclusive
Crutchfield MasterSheet
™ takes the guesswork out of removing the factory stereo and speakers. It's free with your Crutchfield order, or you can purchase one separately for just $9.99.
Removing the factory radio
Replacing the old radio isn't amazingly hard, but it isn't a cakewalk, either. The factory receiver is very shallow due to the presence of a metal support bracket inside the dash. You'll need to cut out the bracket to make room for most new CD receivers – even the single-DIN models. This isn't hard, but if you're not comfortable cutting a metal bar out of a dashboard with a hacksaw, you might want to turn the job over to someone who is – like a car audio professional.
Of course, if you listen to music stored on a smartphone or an MP3 player, you really don't need a CD player. If that's the case, you should check out our selection of digital media receivers. There's no CD drive to worry about, so most of these all-digital models are shallow enough to fit into this opening.
Your truck's audible safety alerts (aka "warning chimes") are delivered through the factory radio. You'll need an adapter that retains the factory warning chime and provides a switched 12-volt power source for your new radio. Crutchfield strongly recommends that you use the recommended adapter when you replace your radio. The adapter isn't free, but when you purchase it along with your new receiver, we'll give you a very nice discount off the retail price. You'll also save on the mounting kit that will help you fit the receiver into the dash.
Tools needed: Panel tool, 7mm socket, ratchet, and extension
Steering wheel audio controls
It's relatively easy to retain the steering wheel audio controls when you install a new stereo in your Silverado or Sierra. When you enter your vehicle information, our database will choose the adapter you need to make your factory steering wheel controls work with your new receiver.
Shop for car stereos that fit your GMC Sierra 1500
Removing the factory speakers
The regular cab Silverado and Sierra are work trucks, not listening rooms, a fact reflected in the stock speaker array. You've got speakers in the doors, two more in the rear pillars, and that's it. So there's plenty of room for improvement. They're not hard to replace, and the effort is well worth it.

You'll need to remove the door panels to reach and replace the door speakers (Crutchfield Research Photo)
Door speakers
The front woofers can be replaced with 6-1/2" and 5-1/4" speakers with the help of mounting brackets that are included free with your Crutchfield speaker purchase. If you're willing to drill some new screw holes, slightly larger 6-3/4" models will work in this location, too. Crutchfield also includes speaker wiring harnesses with your speaker order.
These speakers are reasonably easy to reach and replace. You'll need to remove the sail panel and door panel, but this is a reasonably easy DIY project and your MasterSheet will walk you through every step. The key is to work carefully and take it easy when you're prying away the plastic bits. They're not as young and flexible as they used to be.
Tools needed: Panel tool, Phillips screwdriver, small flat blade screwdriver, shop rag, 7mm socket, ratchet, and extension, Torx T20 driver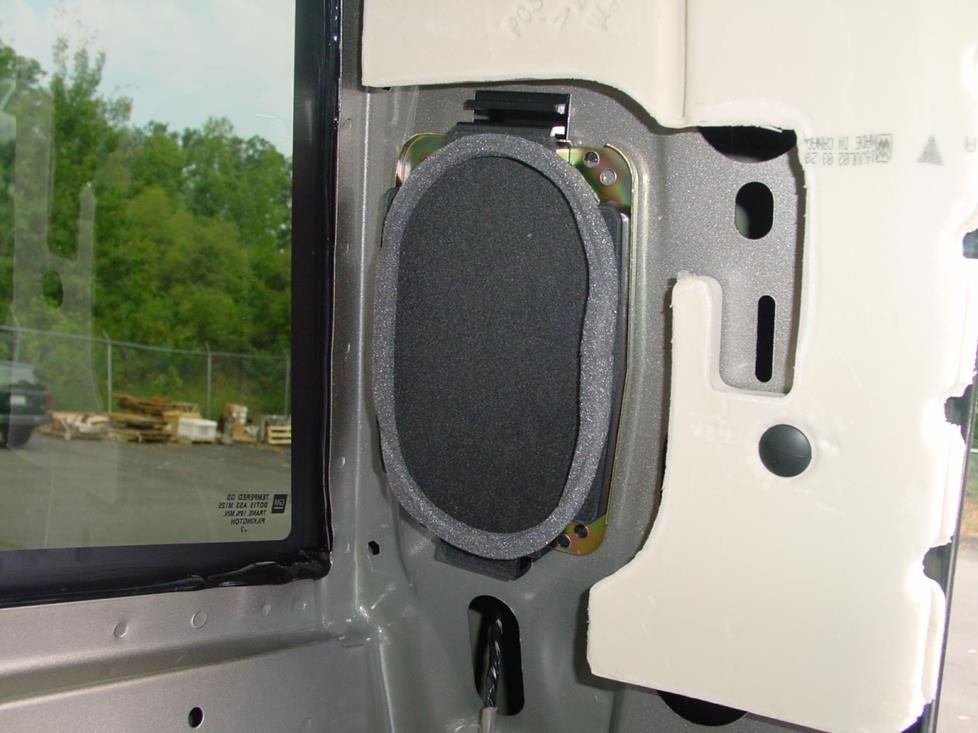 The rear pillars house 4"x6" speakers that are reasonably easy to replace (Crutchfield Research Photo)
Rear pillar speakers
This truck also features a pair of 4"x6" speakers in the rear pillars. The speaker grilles are built into the pillars, so you'll need to pry up the lower scuff plate and remove the trim panel underneath the rear window before removing the pillars to reach the speakers. This is pretty easy, really, but each panel is held in place by metal clips, so work carefully to avoid damaging the trim pieces.
Same-size replacement speakers are available, but you can also install 4" models or 4"x6" plate speakers. You'll need mounting brackets for smaller speakers, and they're included with your speaker purchase. You'll also need to drill new mounting holes for any aftermarket speaker. This isn't hard, either, but you'll want to know what's around where you're drilling, work carefully, and wear eye protection.
To get maximum sound quality out of your new rear pillar speakers, purchase a set of foam baffles. These baffles, which fit around the rear of the speaker, improve performance and reduce rattling – always a problem in trucks. They're an inexpensive addition that really makes a difference, so you'll probably want to get a set for the door speakers, too.
Tools needed: Panel tool, Phillips screwdriver
Shop for speakers that fit your GMC Sierra 1500
Bass in your Silverado or Sierra
Like most regular cab pickups, there isn't a ton of space for a custom sub enclosure in these trucks. Well, in the cabin, anyway. You can fit all the bass you want in the bed, assuming you have all the mulch you need and don't need the bed for anything else! If you're looking for a less-extreme way to boost your bass, look into compact powered subwoofers that might fit behind or beneath the seat.

The Q-Forms Kick Panel Pod is available in a variety of factory colors
Other options for your Silverado or Sierra
Here are some other ways to upgrade your truck:
Kick panel pods
If you really want to improve the sound in your Silverado or Sierra, install a set of Q-Forms Kick Panel Pods. These unloaded, custom-fit speaker enclosures fit into the space where your kick panels are now. They hold a set of component speakers in an ideal position, angling them to maximize sound quality. They're available in a variety of colors to match your truck's interior. Installation takes some work, but it's not beyond the realm of an experienced DIY-er.
Noise reduction
Despite plenty of time in the wind tunnel, the Silverado/Sierra is still a pickup, so exterior noise is a fact of life. There's no way to totally eliminate wind and road noise in this (or any truck), but installing some Dynamat in the doors – and, potentially, throughout the cabin, can really seal in sound and let you enjoy your stereo to the fullest.
Security
Installing a security system in your truck isn't easy (security systems rarely are), but it's definitely a good idea. Our Crutchfield Advisors can help figure out what you need to get the job done, but we usually recommend taking your car and new gear to a professional installer.
Let's get started!
Ready to shop? Use our vehicle selector to find the gear that will fit your car or truck. If you have questions of your own, give us a shout via phone, chat, or email