In brief: This Crutchfield Research Garage article gives you an overview of your car's stock stereo system and your aftermarket upgrade options. We'll tell you all about:
Then, use our vehicle selector to find the gear that will fit your Crown Victoria or Grand Marquis.
Overview of the Crown Victoria and Grand Marquis
Bored with Sudoku? Here's a math challenge for you: Try to figure out how many individual human beings have taken at least one ride in the Ford Crown Victoria.
Think of all the Crown Vics you've seen in the rental lot at the airport, or in the busy, taxi-filled streets of your nearest major city, or (gulp) in the median just as you crested a blind hill. And that's not even counting the Crown Vics that rolled out of the dealership into a cushy life as a regular family car, of which there were many. The numbers have to be absolutely staggering.
Look at it this way: in all likelihood, everyone you've ever known has probably been in a Crown Vic at some point in their lives – hopefully because they wanted to be, but we're not judging… And if any of those people rode in a Crown Vic cab on the way to see a Kevin Bacon movie… Oh, wow…. This isn't just a big car; it's a big part of our shared culture. They really don't make 'em like this anymore, but with some upgraded audio gear, you can make your car a great place to enjoy music in comfort and style.
The Crown Vic wasn't produced for civilian purchase after 2007, so all later models were made for fleet use. The Mercury Grand Marquis, to which the information below also applies, was sold in dealerships until 2011, when the entire Mercury brand ceased to be. In fact, the very last Mercury that rolled off the assembly line was a Grand Marquis.
Note: For simplicity's sake, we'll refer to the car as a Crown Vic throughout the text, unless we're addressing a Mercury-specific topic. No disrespect to the storied Mercury brand, but "Crown Vic" is a lot easier to type.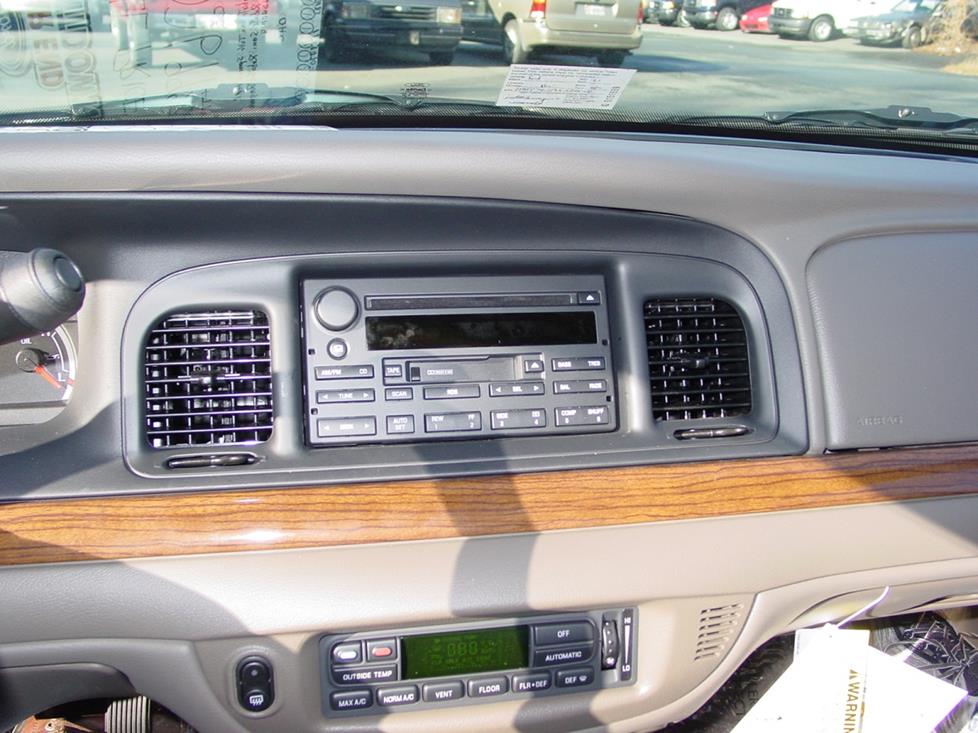 Objects in dash are smaller than they appear (Crutchfield Research Photo)
The factory stereo system
The classic Crown Vic system was an AM/FM/CD/cassette unit with 4 speakers. Even when new, its performance could best be described as "adequate," so there's plenty of room for improvement.
There's room for a variety of receivers, too, but you will have to make some slight modifications to the dash cavity to make a double-DIN (4" tall) receiver fit. We don't recommend receivers with flip-out video screens, though.
Detailed stereo and speaker removal instructions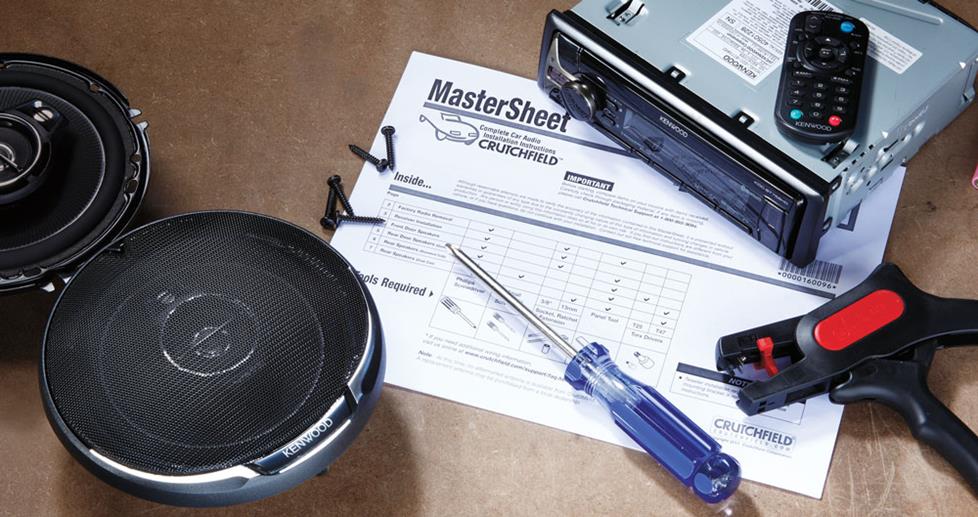 With step-by-step disassembly instructions and plenty of up-close, detailed photos, our exclusive
Crutchfield MasterSheet
™ takes the guesswork out of removing the factory stereo and speakers. It's free with your Crutchfield order, or you can purchase one separately for just $9.99.
You'll need a mounting kit for any receiver, of course, and it's included at a discount with your Crutchfield stereo purchase.
The dash mods needed to install a double-DIN stereo are pretty minor. There's a small (1/8" or so) lip where the stock radio sits, and you can remove it by cutting or grinding. It's not a hard job, but it is a permanent modification, so the stock radio can't be re-installed. Also, be careful when you install the dash kit, because once it's snapped into place, you won't be able to remove it without also removing the entire dash panel.
We're probably making it sound worse than it actually is, but we want you to know what's involved in this installation before you start. If you do the job yourself, remember that your Crutchfield purchase includes free tech support for the life of the gear. And if you're not 100% comfortable with all this, consult a car audio professional about installing your new receiver.

Use DIN tools (free with purchase) to remove the radio (Crutchfield Research Photo)
Removing the factory radio
To remove the factory receiver, you'll need to use the metal DIN tools that are included with your stereo purchase. Insert the tools approximately one inch into the holes in each side of the radio until you hear a click on each side. Be gentle during this process, because excessive force will damage the retaining clips. Once you've heard the magic click, spread the tools apart slightly, pull out the radio, disconnect the wiring harnesses, unplug the antenna and remove the radio.
To install your new receiver, you'll start by attaching it to the mounting bracket that's included at a discount with your Crutchfield stereo purchase. Follow the instructions that come with the kit. And, of course, modify the cavity as needed.
Connect the wiring adapter (also available at a steep discount with your stereo purchase) to the receiver, following the instructions included. Hold the receiver assembly near the dash and connect the wiring adapter to the factory harness. Plug the antenna lead into the rear of the receiver; then slide the assembly into the dash until it snaps into place.
Tools needed: DIN tools
Steering wheel audio controls
It's relatively easy to retain the steering wheel audio controls when you install a new stereo in your Crown Vic or Grand Marquis. When you enter your vehicle information, our database will choose the adapter you need to make your factory steering wheel controls work with your new receiver.
Shop for car stereos that fit your Ford Crown Victoria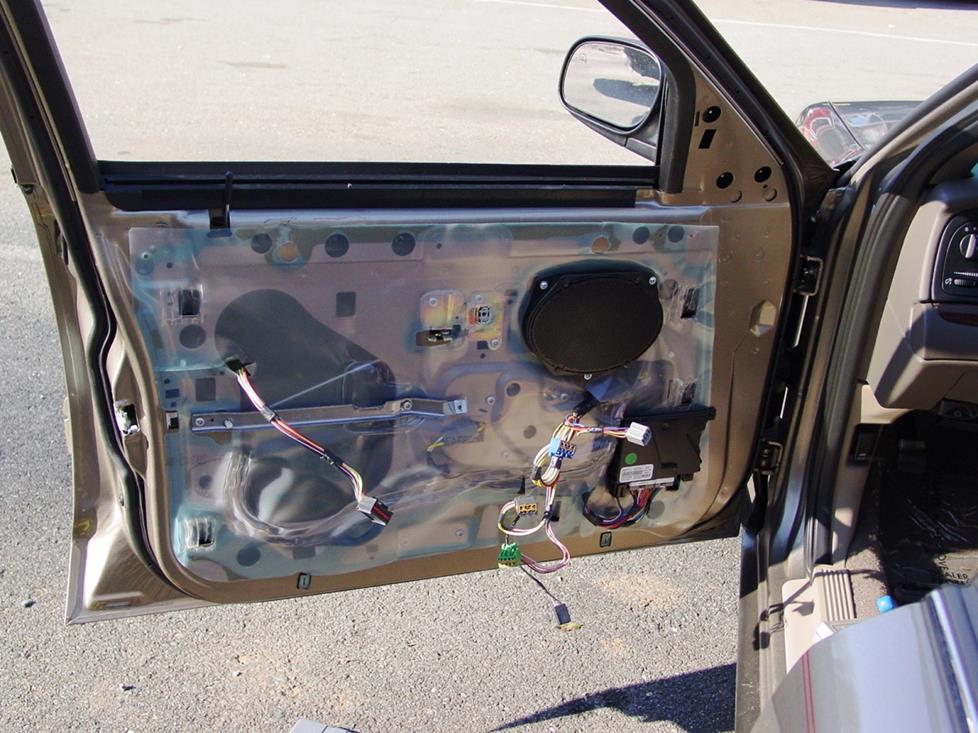 The Crown Vic's front door (Crutchfield Research Photo)
Removing the factory speakers
The Crown Vic didn't change a lot over the years, but there were yearly tweaks and improvements that made it a better car. There were some minor adjustments made with the speakers, and we'll address them below. Overall, the process of replacing your factory speakers is relatively uncomplicated and the improvement in sound should be impressive.
Front speakers
The stock front speakers on all Fords and Mercurys were special-size 6x8 models. You can replace them with aftermarket 6x8s, or install 5-1/4" speakers with the help of the discounted mounting brackets available with your speaker purchase.
Removing and replacing the speakers is a relatively uncomplicated process, but you will have to remove the door panels. We've researched these cars extensively, so the Crutchfield MasterSheet included free with your speaker purchase will contain detailed removal instructions for your specific year, make, and model.
Tools needed: Phillips screwdriver, small flat blade screwdriver, panel tool,Torx T30 driver, 5mm socket, ratchet, and extension.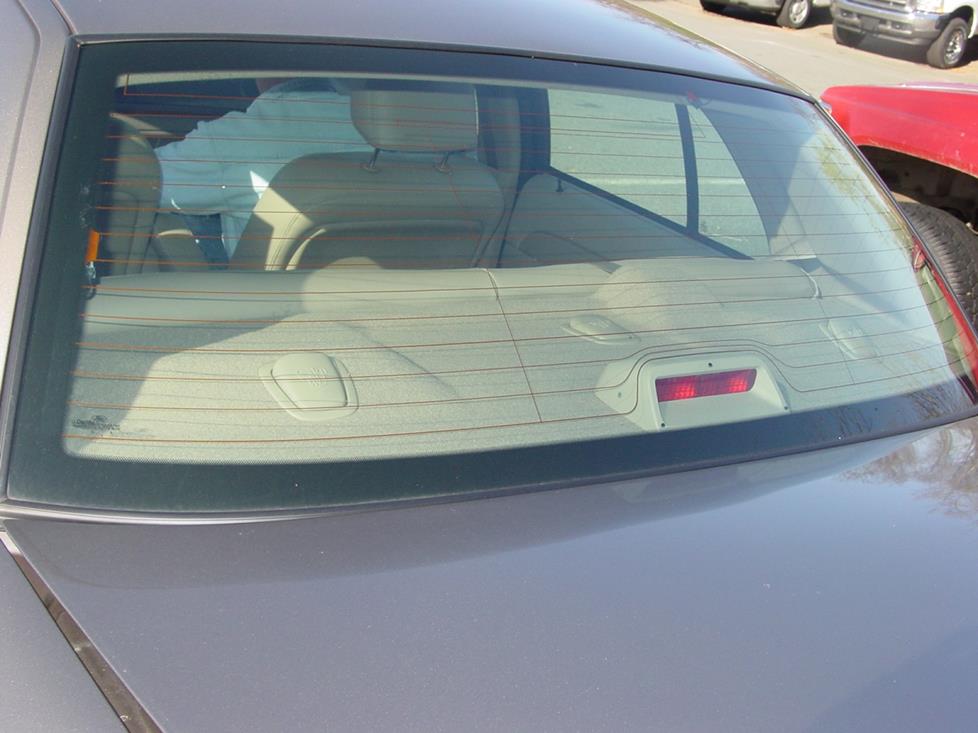 Removal techniques vary for the rear deck speakers (Crutchfield Research Photo)
Rear speakers
The Crown Vic's rear speakers are located in the spacious rear deck. Ford took full advantage of the space and installed a set of factory 6x8 speakers back there. You can replace them with same-size aftermarket speakers, or go with 5-1/4" models mounted in brackets.
As with the front speakers, the exact technique for reaching and replacing the rear deck speakers in a Crown Vic or Grand Marquis changed a bit over the course of the production run. It's usually pretty easy on early models, but some later models might require more work, including removing the rear seat.
There's nothing the average DIY installer can't handle, though, and no matter which year Ford or Mercury you have, you'll get help from your Crutchfield MasterSheet and, if needed, our Technical Advisors.
Tools needed: Phillips screwdriver, panel tool, 18mm socket, ratchet, and extension (varies by model).
Shop for speakers that fit your Ford Crown Victoria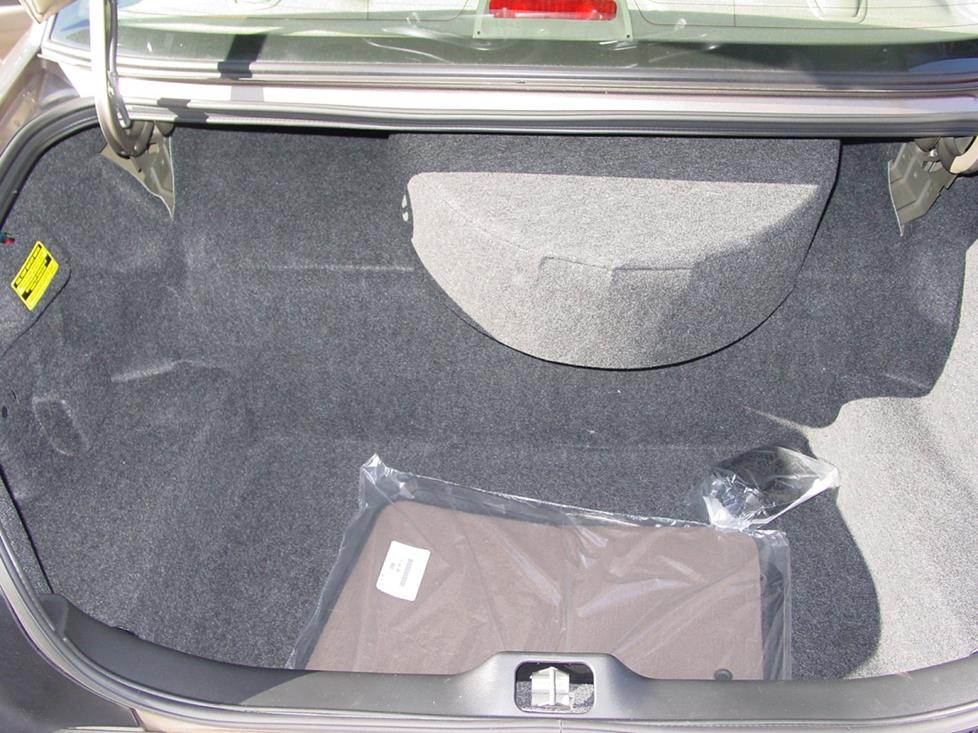 The Crown Vic offers plenty of room for bass. And a spare tire. (Crutchfield Research Photo)
Bass in your Crown Victoria or Grand Marquis
We've seen some really trick custom audio work in Crown Vics, so whether your tastes in bass are mild or wild, you have a nice canvas to work with. The same goes for musical tastes, by the way. Adding a sub and an amp isn't just a thing for kids who love loud music. These upgrades will add depth and clarity to any type of music, from classical to country.
The Crown Vic's trunk is, as you know, a truly massive space. If you're all about power and volume, you've got a 40" W x 13" H x 25" D area that will hold a custom component enclosure and enough amplifiers to feed a big-time system.
Even if you want to retain most of your luggage capacity, you still have plenty of room for an enclosed subwoofer and a couple of amps. The more subtle option, of course, is a powered sub. You'll get surprisingly healthy performance in a compact package that will leave you plenty of room for luggage, groceries, golf clubs, and what have you.
Other options for your Crown Victoria or Grand Marquis
Here are some other additions that will make your Ford or Mercury even more enjoyable to own:
Navigation
Just because you can't easily install a touchscreen nav receiver in your car's dash doesn't mean you have to drive around lost. A portable GPS from Garmin, Magellan, or TomTom will mount on your dash and give you turn-by-turn directions, traffic updates, and everything you need to make your road trip go smoothly. Plus, when you get where you're going, you can put your GPS in your pocket and use it to find points of interest around town.
Noise damping
The Crown Vic is, and we mean this respectfully, a tank. The civilian models were made to cruise in near Lincoln-esque silence, while the more workaday Crown Vics were solidly built and reasonably quiet. Still, these are older cars, so they will tend to creak and rattle. Installing Dynamat in the doors when you're replacing the speakers can really help seal out noise and seal in sound. If you're installing a sub, lining the trunk with Dynamat will seal in the thump and keep the trunk lid from rattling, too. If you're all about sound, you might want to line the floors, as well.
Security
Installing a security system in your Crown Vic or Grand Marquis isn't easy (security systems rarely are), but it's less complicated than it could be. If you're installing an alarm, you won't need a transponder bypass unless you're also adding remote start. Our Crutchfield Advisors can help figure out what you need to get the job done, but we usually recommend taking your car and new gear to a professional installer when it comes to security systems.
Let's get started!
Ready to shop? Use our vehicle selector to find the gear that will fit your car or truck. If you have questions, give us a shout via phone, chat, or email