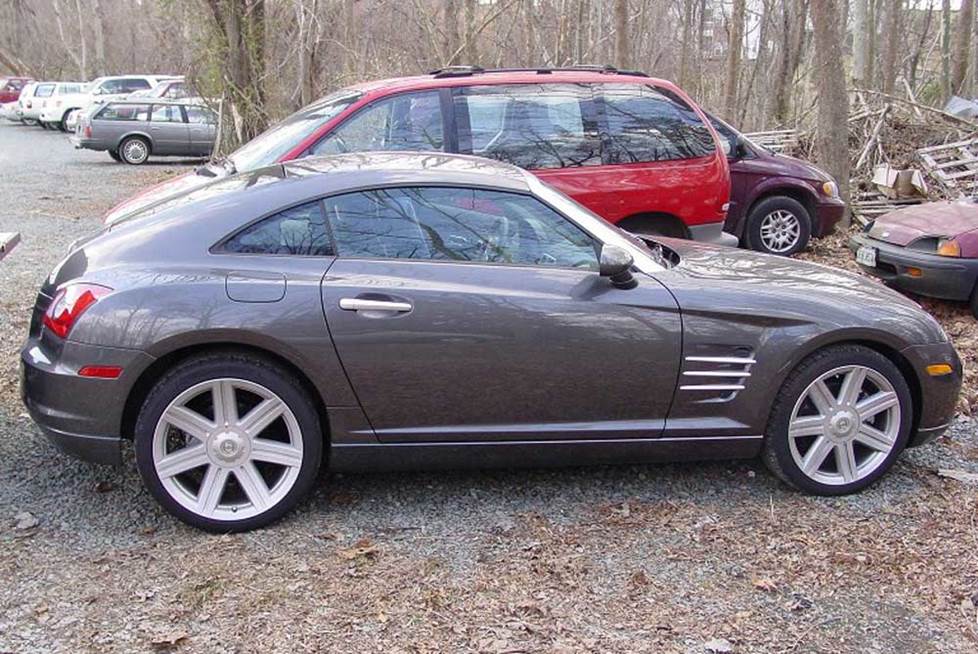 In brief: This Crutchfield Research Garage article gives you an overview of your Crossfire's stock stereo system and your aftermarket upgrade options. We'll tell you all about:
Then, use our vehicle selector to find the gear that will fit your Crossfire.
Overview of the Chrysler Crossfire
The typical concept car rotating slowly in the center of an auto show display is exactly that – a collection of concepts that may or may not ever make it to your local dealership. You might see bits and pieces of the technology or slight hints of styling cues, but the chances of the whole car making it from show to showroom are incredibly slim.
The Chrysler Crossfire coupe is one of those rare cars that more or less did just that. Sure, the production version was toned down a fair amount due to real world concerns about safety and mass-production realities and whatnot, but the overall theme of the Crossfire remained surprisingly true to the 2001 concept.
With two seats, minimal luggage space, and submarine-quality rear visibility, the Crossfire is about as practical as a disco ball in a duck blind. But so what? A car like this isn't meant to be practical; it's meant to be sporty, stylish, and fun. If you're looking for a distinctive car to jazz up your commute or add a little spice to weekend trips, a Crossfire coupe or convertible will make a very nice addition to your motor pool.
The Crossfire's factory radio (Crutchfield Research Photo)
The factory stereo system
Crossfire coupes and convertibles were available with three stereo packages. The base model featured an AM/FM/CD receiver and door speakers, while the upgrade was an Infinity package that included two subs and an amp. A navigation system was also a factory option.
No matter which package you have, the stock receiver is a single-DIN model, and a wide variety of aftermarket stereos will fit nicely into the opening without the aid of an installation kit. You'll lose your factory nav when you replace the stock receiver, but a new portable GPS unit will do a better job, anyway.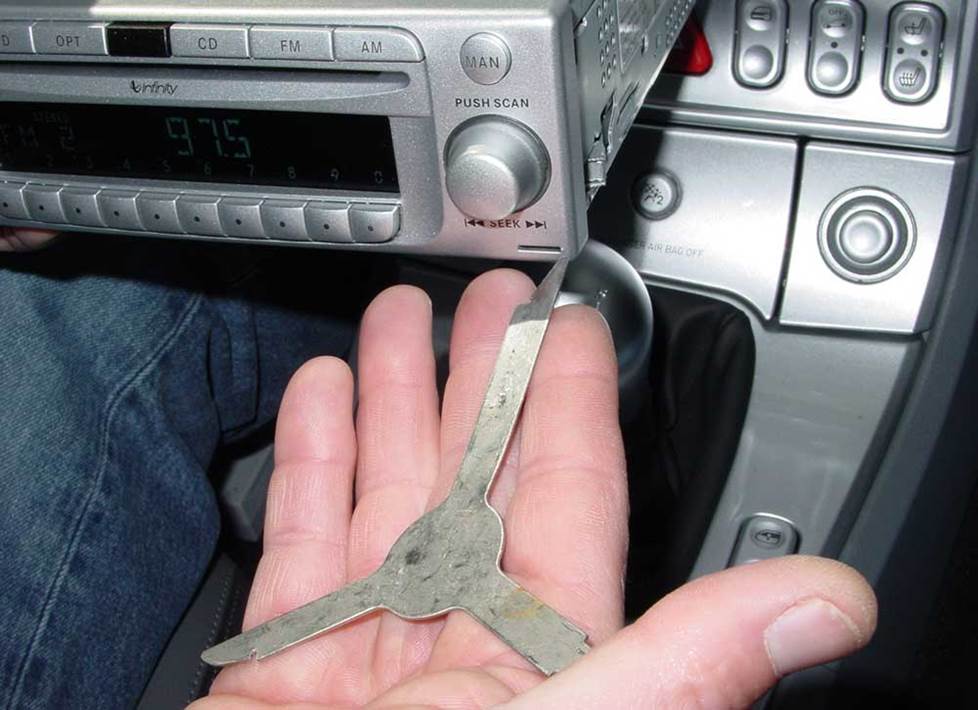 This DIN tool is needed to remove your factory radio (Crutchfield Research Photo)
Removing the factory radio
Before you even start your audio upgrade project, be sure to set the parking brake and disconnect the negtive battery cable to prevent any electrical short.
With that done, there's nothing terribly complex about swapping out the Crossfire's factory receiver. You'll need a set of DIN tools, which are included free with most Crutchfield stereo purchases, but that's about it. Gently insert the radio removal tools into the slots in the face of the radio until you hear a click on each side, then remove the unit.
The Crossfire may or may not have future value as a collectable, but with even (well-preserved) K-cars going for actual money all of a sudden, you might want to store that factory unit someplace safe, just in case.
You'll need a wiring harness adapter to install your new receiver, and it'll be available at a deep discount with your Crutchfield stereo purchase. Once the new receiver is connected and secure, test it out. If it's working, button everything up.
Detailed stereo and speaker removal instructions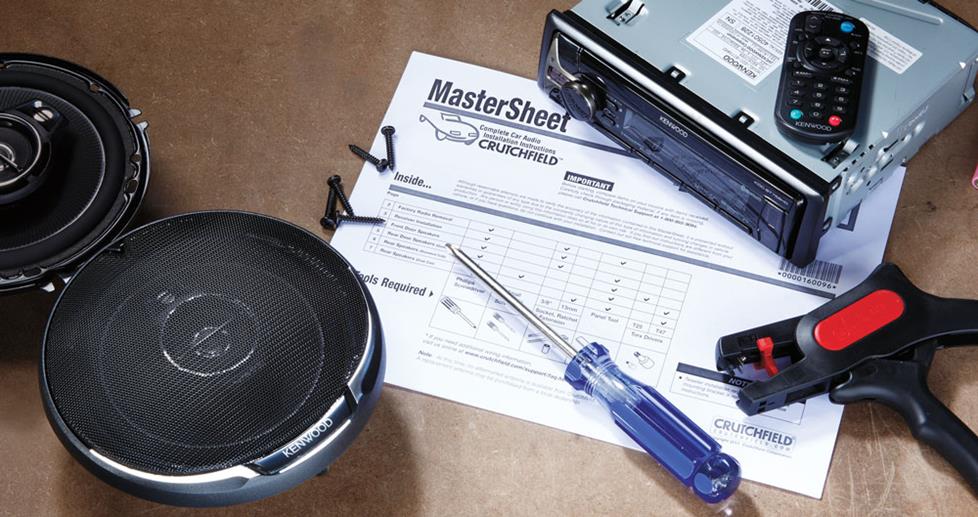 With step-by-step disassembly instructions and plenty of up-close, detailed photos, our exclusive
Crutchfield MasterSheet
™ takes the guesswork out of removing the factory stereo and speakers. It's free with your Crutchfield order, or you can purchase one separately for just $9.99.
The Crossfire's shiny silver center console is a nice-looking piece, and some owners hesitate to replace the head unit because they don't want to disturb the aesthetics. If you're one of them, there are several marine-rated receivers that have the silver finish you like and the digital media-friendly features you want. Plus, they're water-resistant, so Crossfire convertible owners will theoretically have one less thing to worry about during sudden downpours.
Note: The Crutchfield harness allows you to use the factory amp (located under the passenger's side footwell), should you choose to keep it. In order to retain fading abilities, your new radio must have front and rear preamp outputs.
Tools needed: DIN radio removal tools
Read our Car Stereo Buying Guide for shopping tips and advice.
Shop for car stereos that fit your Chrysler Crossfire
Removing the factory speakers
The Crossfire has speakers in the doors and the rear bulkhead.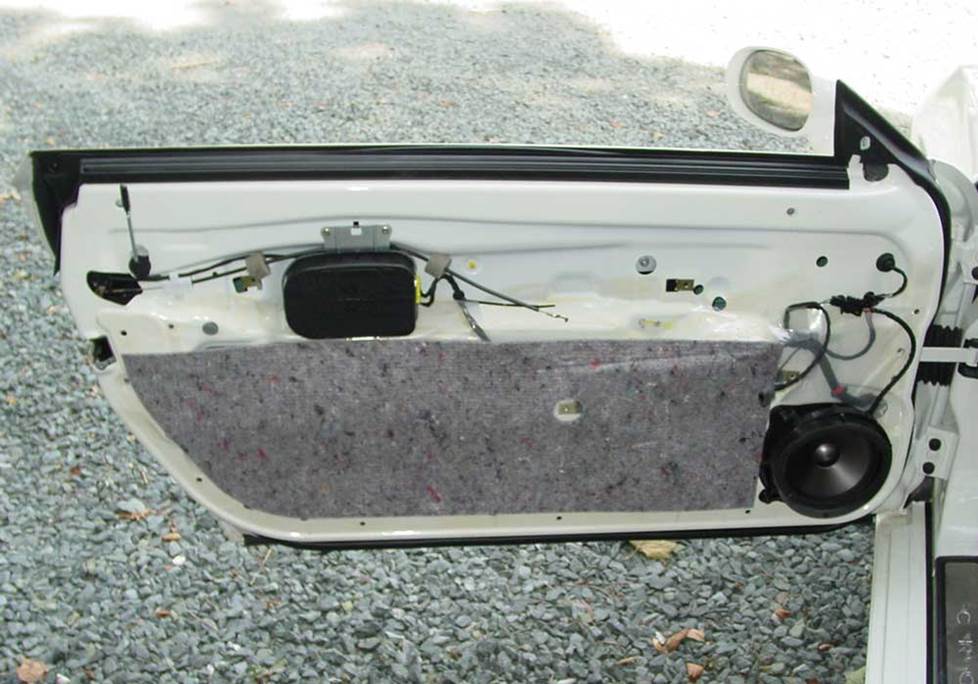 The Crossfire's door, with the panel removed (Crutchfield Research Photo)
Removing the door speakers
The Crossfire's long, high-waisted doors house a set of stock 6-3/4" speakers and, depending on the stereo, a set of door-mounted tweeters. The door speakers can be replaced by same-size aftermarket speakers, or 6-1/2" or 5-1/4" models.
A wiring harness is not needed, but you will need to use a mounting bracket if you're installing the smaller speakers. The bracket is included free with your Crutchfield speaker purchase, as is our Crutchfield MasterSheet, which provides detailed, illustrated instructions for replacing your factory stereo equipment.
Replacing the door speakers isn't difficult, but you'll need to remove the door panels and numerous trim pieces along the way. Work carefully, to avoid damaging the plastic bits, and make sure you have a tray or cup to keep the various screws organized until it's time to replace those panels.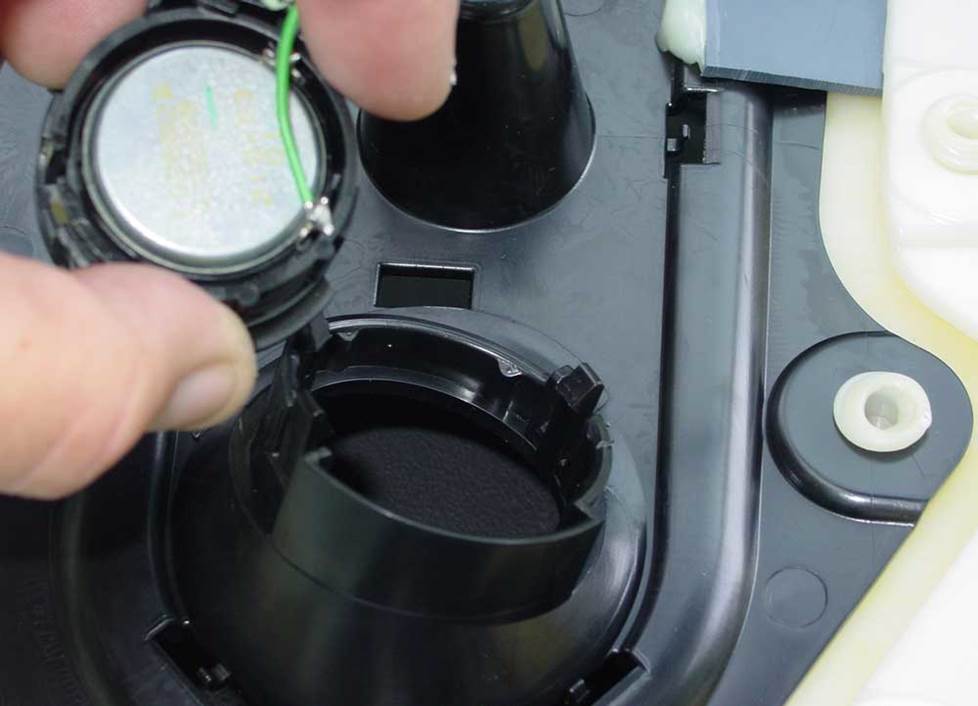 The tweeter is mounted on the door panel (Crutchfield Research Photo)
The tweeters, 1-1/2" models mounted on the inside of the door panel, can be replaced when you install a set of component speakers. A wiring harness is not available, so you'll want to use a set of Posi-Products connectors to hook your speakers into the factory speaker wires. Our universal backstrap will help you install your new tweeters in the factory spaces.
Tools needed: Phillips screwdriver, panel tool, Torx T8, T20, and T30 drivers
Removing the rear bulkhead speakers
The rear-mounted 6-3/4" speakers, found in Infinity and nav-equipped Crossfires, are 2-ohm dual voice coil subwoofers located in the bulkhead behind the seats. You can replace them with same-size aftermarket speakers, or 6-1/2" or 5-1/4" models. A wiring harness is not required, but you will need a mounting bracket with the smaller speakers. It's included free with your Crutchfield speaker purchase.
The factory speaker receives only bass frequencies, so any replacement speaker will only produce bass. We do offer a limited selection of shallow-mount subs that will fit in the 2-3/4" deep opening, plus a decent variety of speakers if you're planning to use this location for mids and install a sub or two in the cargo area.
The removal process is a bit complicated, mostly because you're working in a tight space. While you're wedged in there, you'll need to remove the scuff plate, pull out some of the rubber weather stripping, and peel back the carpeting on the back wall. The subs are mounted in brackets, so you'll have to remove the bracket from the car; then remove the sub from the bracket.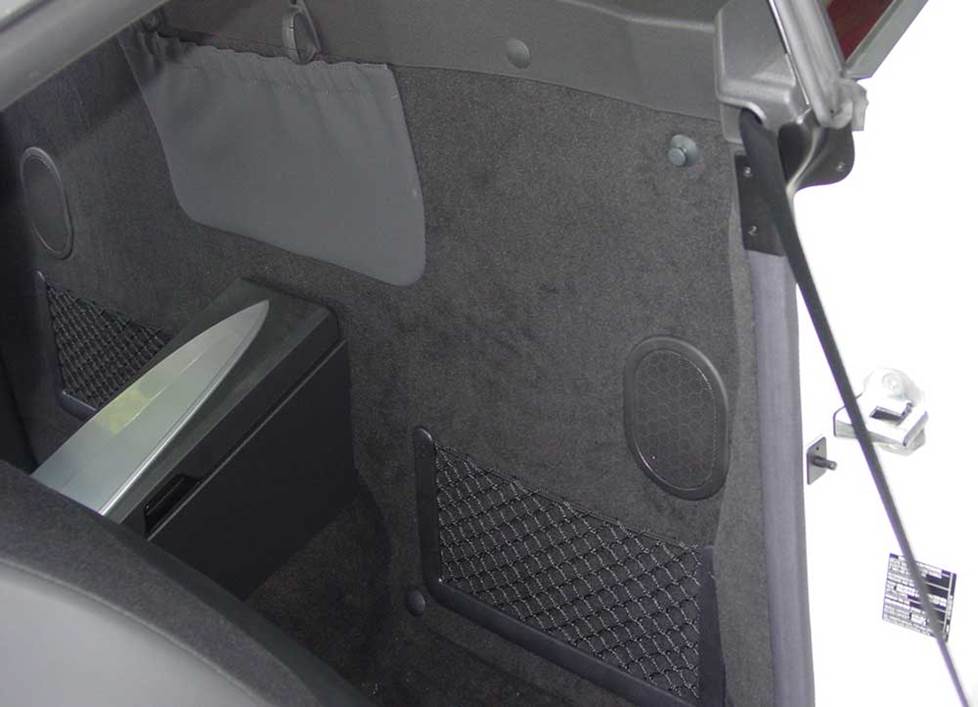 Replacing the rear speakers takes work, but it's worth it (Crutchfield Research Photo)
This actually isn't quite as hard as we're making it seem, but it does help to have some basic car audio installation experience and DIY skills. If you're not quite sure about doing it yourself, you can always turn to a local car audio shop.
Tools needed: Panel tool, socket wrench, extension, 10mm socket, Torx T8 and T20 drivers
Read our Car Speakers Buying Guide for more information.
Shop for speakers that fit your Chrysler Crossfire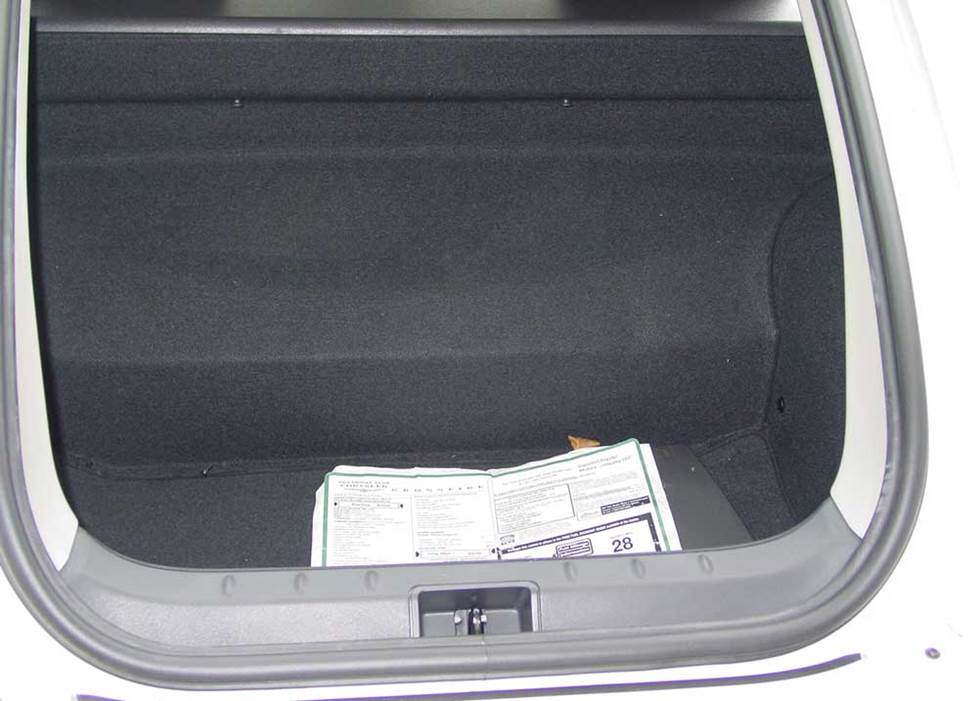 The Crossfire's trunk is a bit on the snug side (Crutchfield Research Photo)
Bass in your Crossfire
If you already own a Crossfire, you know that the cargo space is quite limited in the coupe and even more so in the convertible. If you want better bass in your Crossfire, but still want to retain a little bit of cargo space for a weekend duffle bag or two, your best bet is to add a compact powered subwoofer.
Still, we have seen Crossfires fitted with component subs in boxes, so if you demand big bass, you can have it. The coupe offers a 35" W x 15" H x 22" D space for a custom subwoofer box, so there is some room to work with.
We haven't measured a convertible yet, but we're guessing it's an extremely tight fit. A powered sub is almost certainly the way to go with the drop-top.
Learn more about building a bass system in our Car Subwoofer Buying Guide.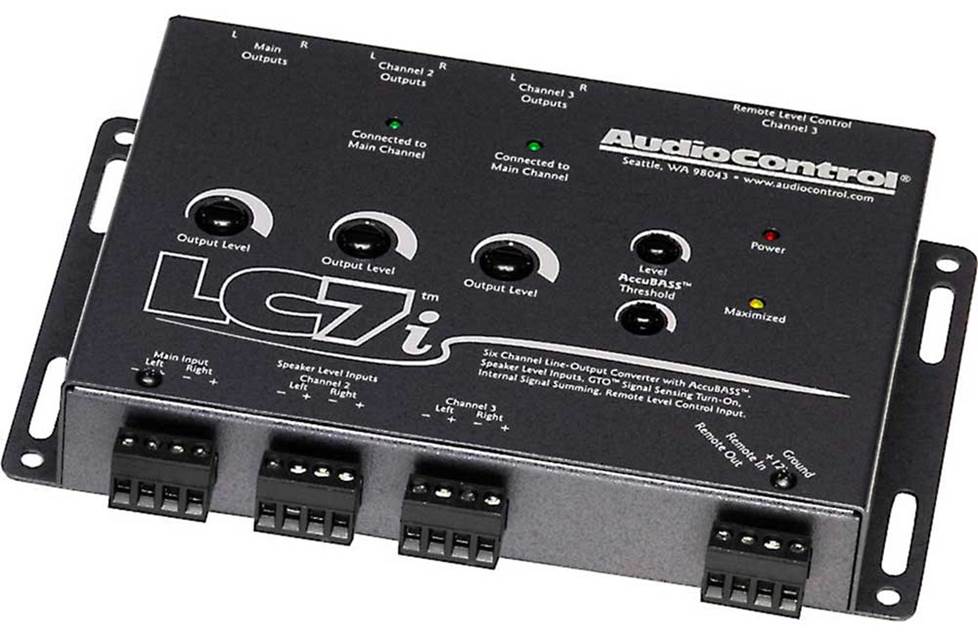 AudioControl LC7i
Other options for your Crossfire
There are plenty of other ways to improve your Crossfire. Here are a few ideas:
iPod® and satellite radio adapters
If you don't want to replace the factory receiver, you can still expand your musical horizons in the Crossfire. We offer several adapters that will allow you to use your iPod, MP3 player, or even satellite radio tuner with the factory system.
Factory sound processors
Here's an option for those who intend to keep the factory stereo and add an aftermarket amplifier and speakers. Installing a factory sound processor will clean up the signal from the factory radio, which has built-in equalization to make cheap, factory speakers sound better, but just gets in the way of new gear. A processor removes that equalization and sends your amp and speakers a clean, full-range signal.
Sound deadening
The Dynamat Xtreme Door Kit is the perfect way to seal in sound. This heavy-duty noise damping material is easy to install, and it really makes a difference, even in the convertible. One kit will take care of your Crossfire's doors.
Security systems
When it comes to installing security systems or remote start, the Crossfire's Mercedes-Benz underpinnings make the job a lot more challenging than it would be in your average Chrysler product. It's not impossible, but unless you have extensive experience with this sort of thing, it's probably best to hand the job off to a professional installer.
Let's get started!
Ready to shop? Use our vehicle selector to find the gear that will fit your car or truck. If you have questions of your own, give us a shout via phone, chat, or email