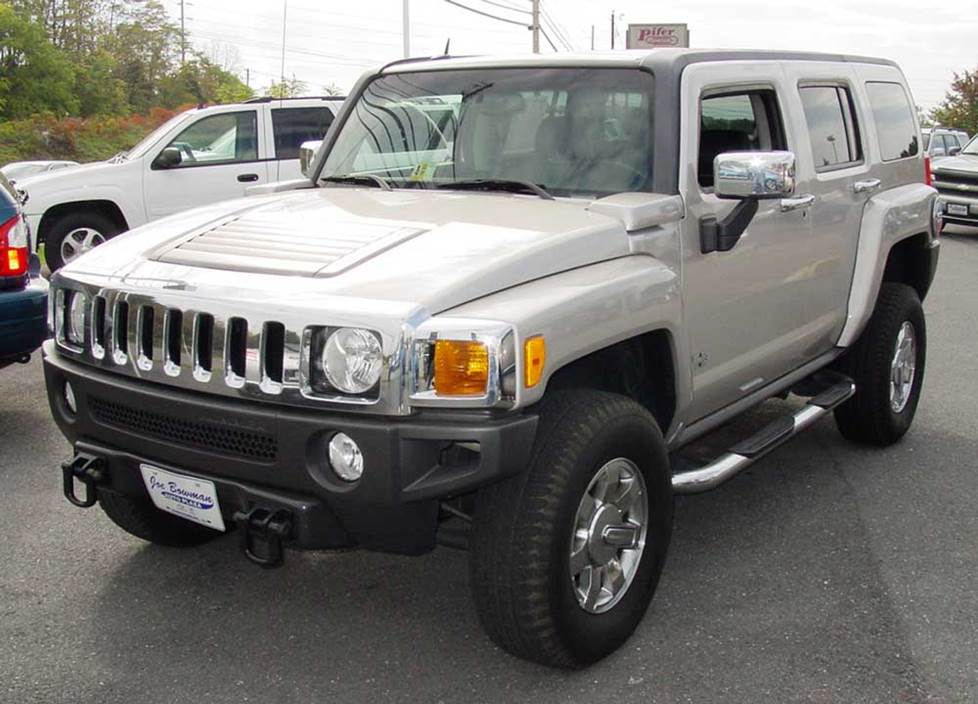 In brief: This Crutchfield Research Garage article gives you an overview of your H3's stock stereo system and your aftermarket upgrade options. We'll tell you all about:
Then, use our vehicle selector to find the gear that will fit your Hummer H3.
Overview of the Hummer H3
Some people love Hummers, some people hate them, but everybody notices them. The Hummer H3 is the smaller version of this well-known vehicle, and it tends to generate the same intense feelings as its larger relatives.
The Hummer brand went the way of the dodo in 2010, but there are still plenty of these brawny beasts on the road. Loosely based on a Chevy/GMC platform, the H3 is much more suitable to "real life" than its larger, pricier relatives, the H1 and H2. And your local GM dealer should have little trouble keeping your truck in good running order, which is another bonus.
The H3 isn't for everyone. Sure, it has the outward visibility of a fallout shelter, and it goes through gas like there's a hole in the tank, but the rugged H3 is a thoroughly capable truck with a lot of personality. Upgrading the stereo system will make it an even better ride.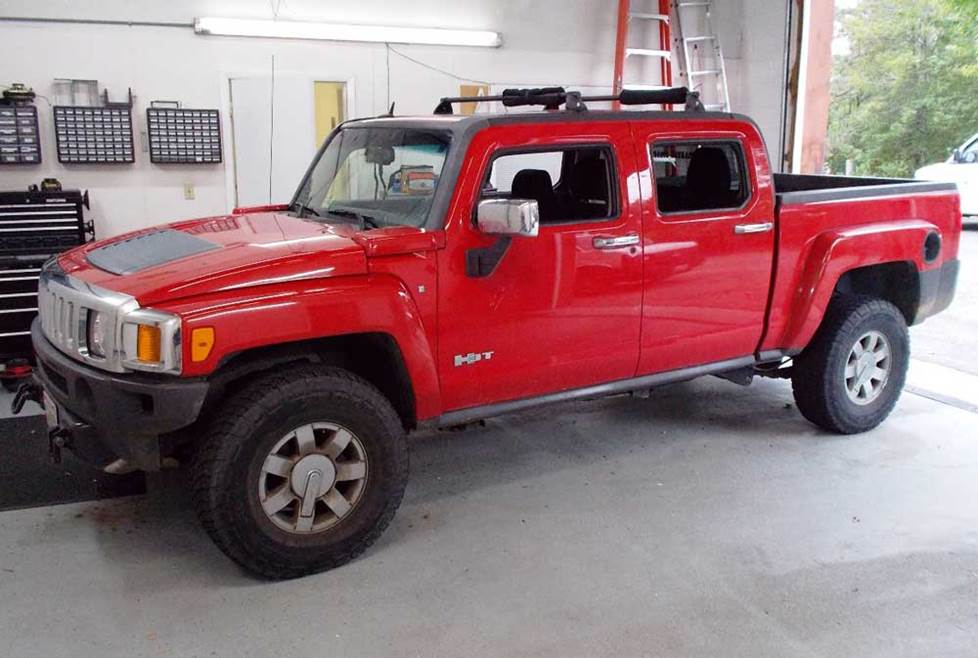 In 2009, Hummer added the H3T pickup. The basic stereo replacement details are the same, but we'll note any differences below. (Crutchfield Research Photo)
The factory stereo system
The H3's base stereo included an AM/FM/CD receiver and 6 speakers. The optional Monsoon system also offered six speakers, but included a subwoofer and an AM/FM/6-disc navigation receiver. XM satellite radio, Bluetooth® connectivity and GM's OnStar system were included as well, and a (much-needed) rear-view camera was added in 2008.
If you replace the factory radio, you'll lose your factory XM satellite radio capability, as well as the factory navigation system. Both of those features can easily be replaced (not to mention improved) with an aftermarket receiver.
The Hummer's safety warning chime is built into the factory radio, so you'll need to purchase an integration adapter to retain that important safety feature. Crutchfield strongly recommends that you use the recommended adapter (which also retains OnStar) when you replace your factory radio. It's not free, but we'll discount it deeply when you purchase the adapter along with your receiver.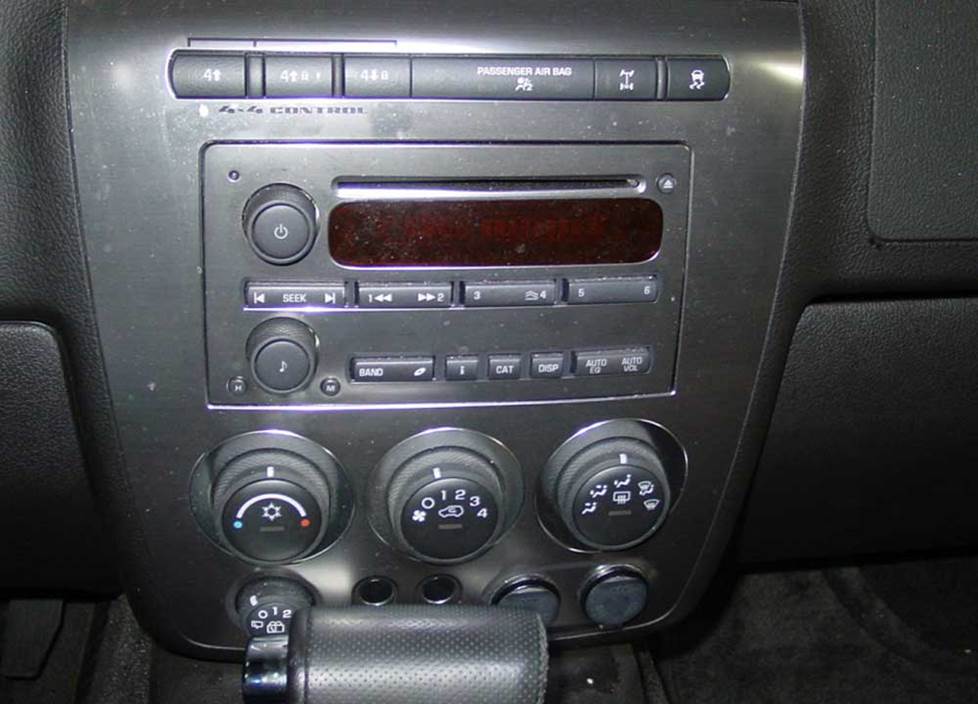 The H3's standard factory radio (Crutchfield Research Photo)
Replacing the factory radio
Whether your Hummer H3 is equipped with the base receiver or the optional nav unit, the swap-out process is pretty straightforward. If you're installing a double-DIN (4" tall) receiver, you'll have to unbolt or cut out the factory stereo's rear support bracket to make room for the new piece. This isn't nearly as hard as it sounds, but it is an extra step to keep in mind.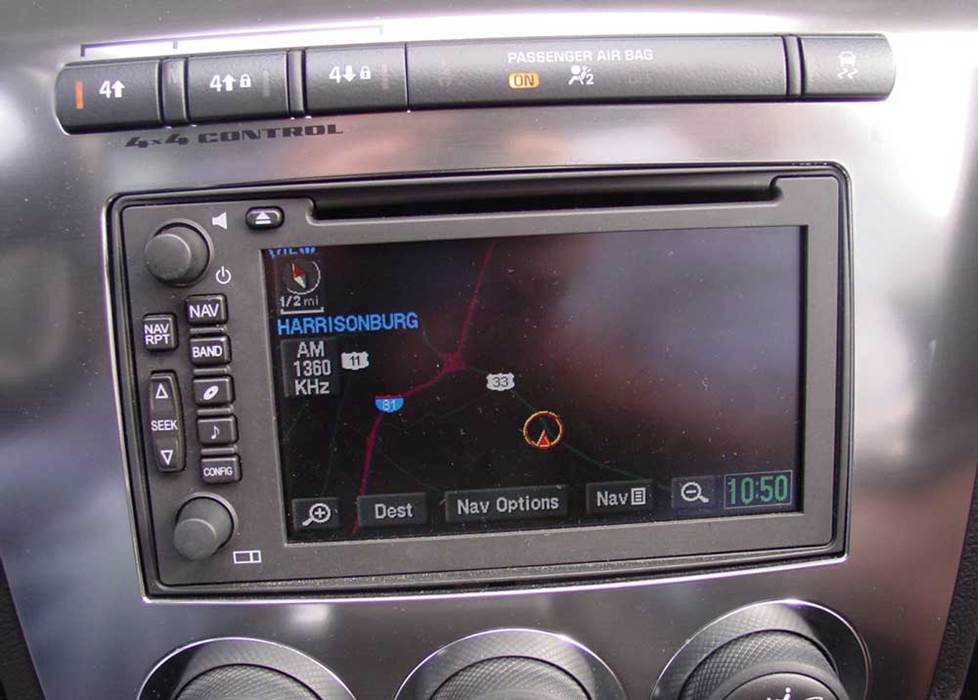 The optional navigation receiver (Crutchfield Research Photo)
Pry around the sides and bottom of the receiver trim panel to release seven retaining clips, then disconnect the wiring harnesses and remove the trim panel. Next, remove the four screws that secure the radio to the dash. At that point, you can pull the radio out and disconnect everything.
Installing the new piece is largely a matter of doing all of the above steps in reverse. You'll need your factory integration adapter (see above) to connect the receiver to your factory system. You'll also need a custom mounting bracket to make the new stereo look like it belongs in your truck. This piece is also included at a deeply discounted price with your new stereo purchase from Crutchfield.
Detailed stereo and speaker removal instructions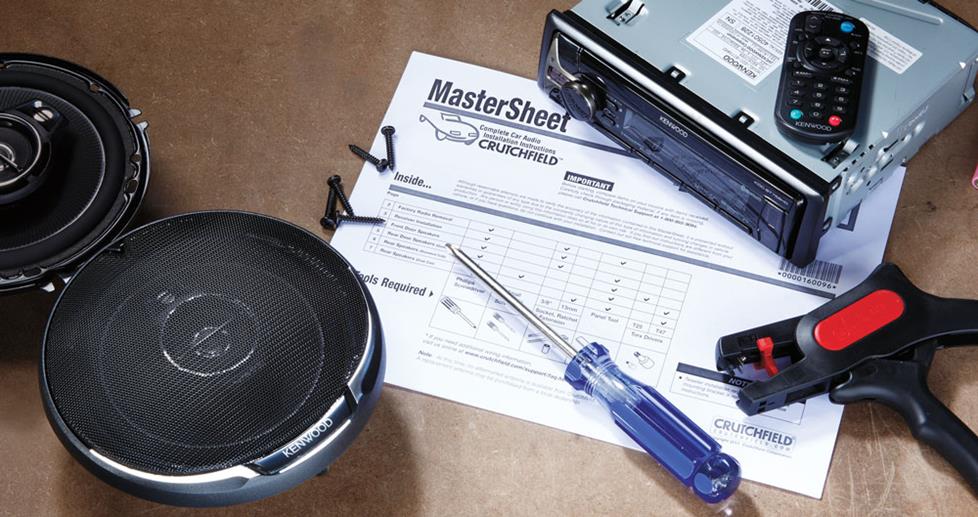 With step-by-step disassembly instructions and plenty of up-close, detailed photos, our exclusive
Crutchfield MasterSheet
™ takes the guesswork out of removing the factory stereo and speakers. It's free with your Crutchfield order, or you can purchase one separately for just $9.99.
Here, and elsewhere throughout the truck, be careful with these plastic panels. A set of Bojo Trim Panel Tools can be a big help here, because (unlike a big flathead screwdriver, for example) they're designed specifically for this kind of work. Ergonomic handles and specialized tips make it a lot easier to remove panels without damaging your vehicle's interior. Trim panels aren't cheap, so these tools are a smart investment, especially when you consider that we discount them when you buy them with a new stereo.
Work slowly, and make sure you have a safe place to store the panels until you need them again. Once the stereo is hooked up, remember to test it before you go to the trouble of putting the dash back together.
Tools needed: panel tool, 7mm socket, ratchet, and extension
Read our Car Stereo Buying Guide for shopping tips and advice.
Shop for car stereos that fit your Hummer H3
Replacing the factory speakers
This Hummer sports speakers in the front and rear doors, plus there are tweeters up front in the A-pillars. Upgrading them will really improve your audio experience.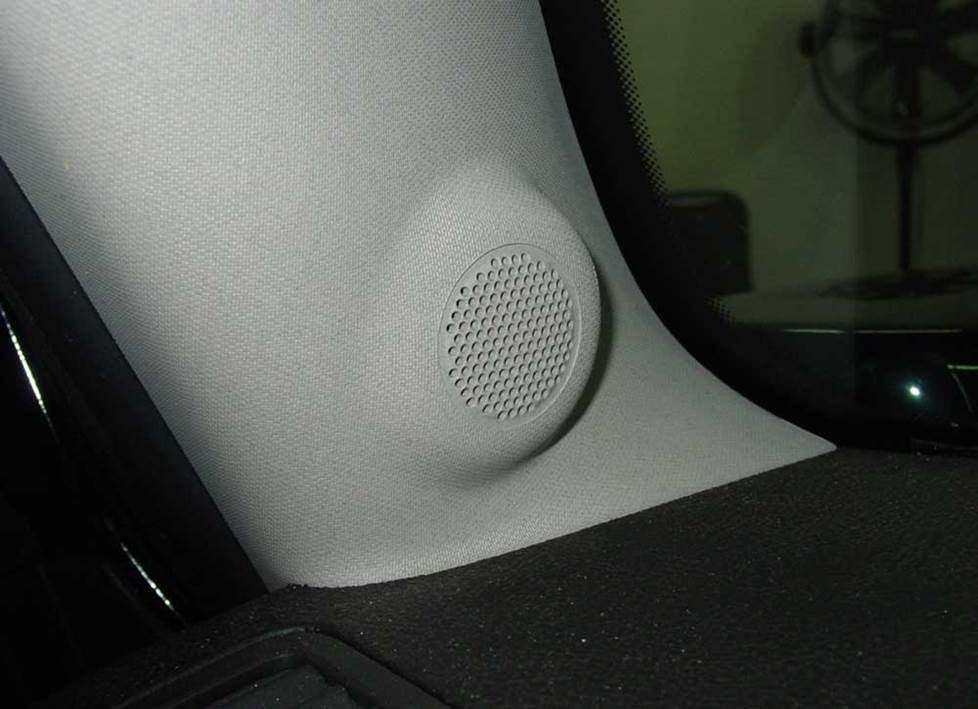 The tweeters are located in the A-pillars (Crutchfield Research Photo)
Front tweeters
All H3's, regardless of which factory system is installed, have 1-1/2" tweeters located in the lower A-pillar trim piece. They're easy to get to and reasonably easy to replace. The tweeter is attached to the trim panel itself, so you'll need to gently pry it out of the panel. A mounting bracket is not available, but you can use our universal backstrap to secure the new tweeters.
Complete, illustrated instructions for this (and the rest of your installation) can be found in your Crutchfield MasterSheet, which is included free with your stereo purchase.
Tools needed: Phillips screwdriver, panel tool, small flat blade screwdriver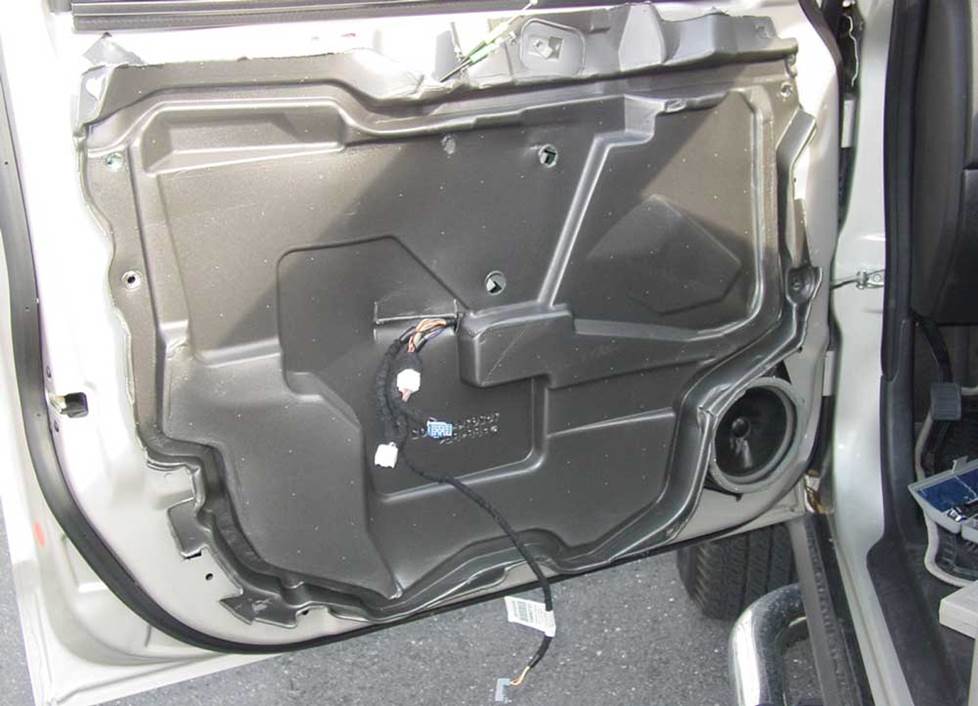 The H3's front doors house 6-3/4" factory speakers (Crutchfield Research Photo)
Front doors
The factory front speakers in both Monsoon and base H3's, are 6-3/4" units, and you can replace them with a wide variety of aftermarket speakers. The key difference to keep in mind is that a wiring harness is not available for Monsoon-equipped trucks. You can splice or solder your new speaker's wires to the factory wiring, or use a set of Posi-Products connectors. We recommend the latter option, because it's faster, easier, and the connection is much stronger.
You'll need to remove the door panel to access these speakers, but that's a straightforward process. It's fully covered in your MasterSheet, so there's nothing to worry about there.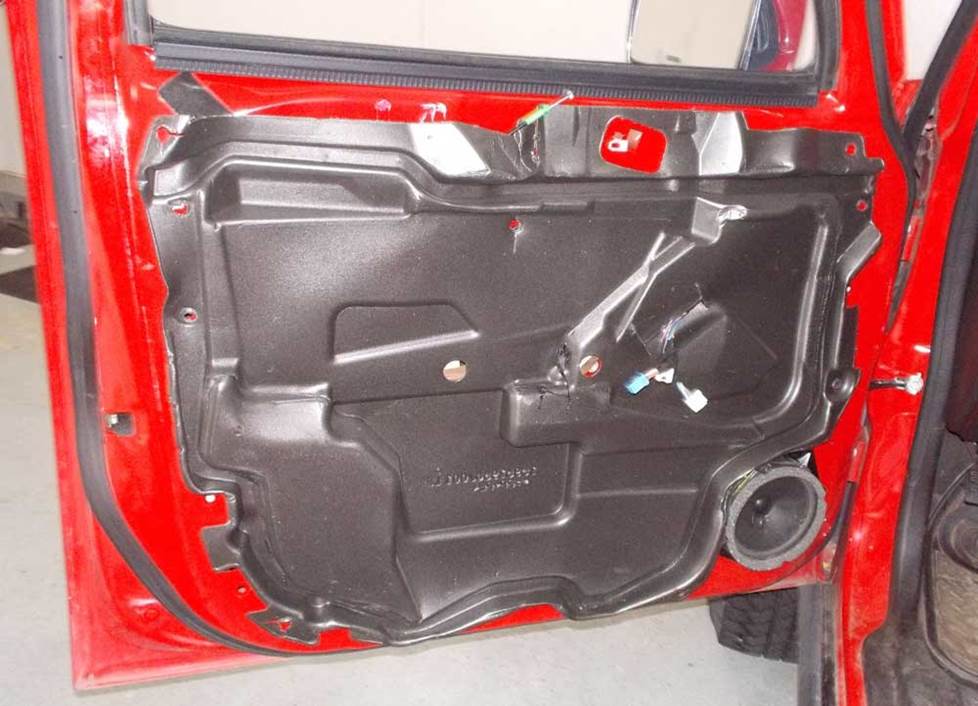 The H3T's doors are a bit different, but not difficult (Crutchfield Research Photo)
Front speakers in the H3T
The H3T truck's front doors differ from those found on its closed-in cousins. Getting to the speakers involves doing a lot of the same things, but not exactly and in a different order.
On this truck, you'll pry out the screw cover behind the door release handle and remove one Torx T-30 screw. Pry up the power switch panel to release the retaining clips holding it in place, disconnect the harnesses and remove the switch panel.
Next, you'll pry off the armrest side trim strip and remove the two exposed Torx T-30 screws. Carefully pry out the sides and bottom of the door panel to release ten retaining clips, then disconnect the cables and put the door panel aside in a safe place.
Remove the four screws securing the speaker to the factory bracket, then disconnect the harness and remove the speaker.
To install the new speaker, simply reverse those steps. If you need a mounting bracket for your new speakers, it will be included with your Crutchfield speaker purchase.
Tools needed: Phillips screwdriver, panel tool, small flat blade screwdriver, Torx T-30 driver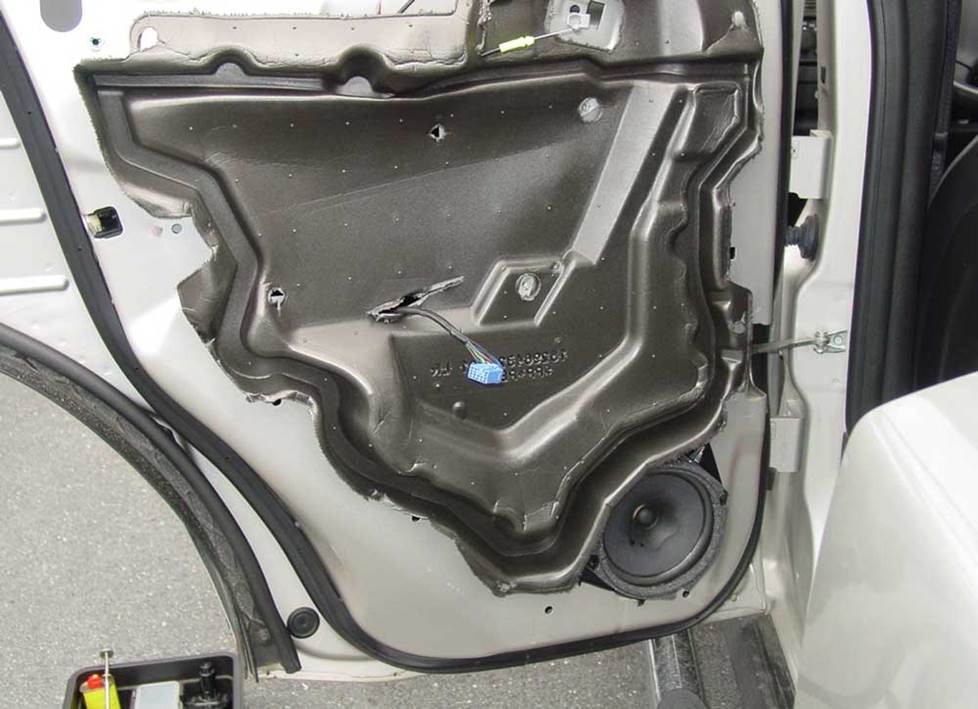 The H3's rear door (Crutchfield Research Photo)
Rear door speakers
The H3, especially in its top trim level, is a surprisingly comfortable vehicle. It's not a Rolls-Royce, but it's a very nice place to be, especially when you consider this truck's utilitarian roots.
The gut-level simplicity of the Hummer shows itself in several subtle ways, though. Replacing the rear door speakers will give you a look at one of them. Essentially, you'll be doing the same work here that you did on the front doors, right down to the Monsoon-base model differences.
Tools needed: Phillips screwdriver, small flat blade screwdriver, Torx T-30 driver
Read our Car Speakers Buying Guide for more information.
Shop for speakers that fit your Hummer H3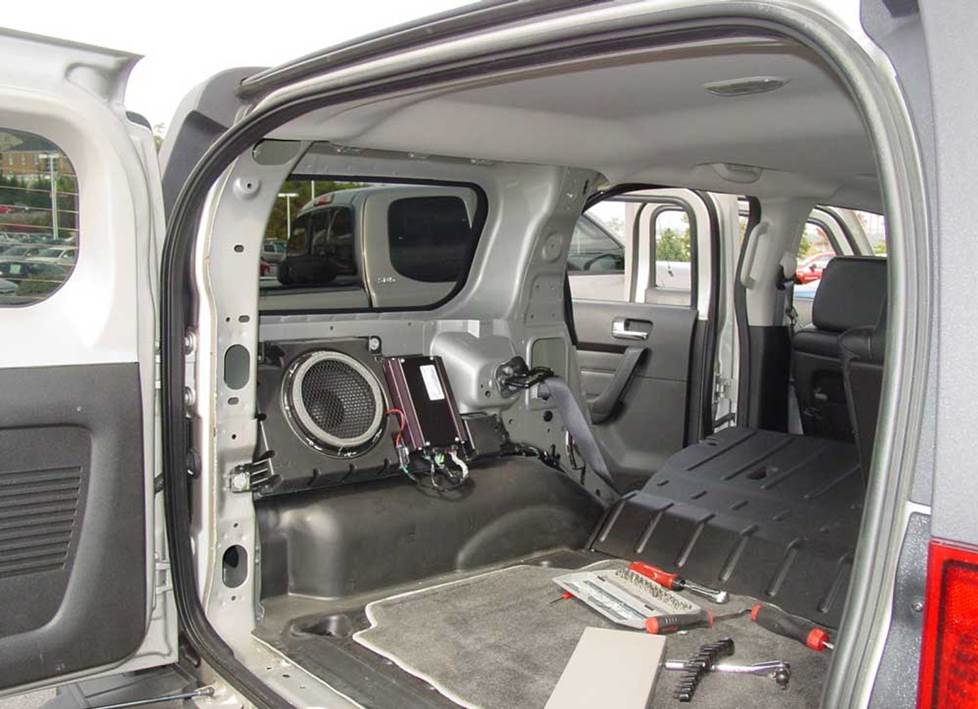 The factory sub is an 8" model. Getting to it involves some effort, but it's not as hard as it looks (Crutchfield Research Photo)
Bass in your Hummer H3
Monsoon-equipped H3's have an 8" subwoofer in the cargo area, behind a panel on the driver's side. Getting to the sub doesn't involve anything especially tricky, but it does involve a lot of steps and a lot of panel removal.
This is well within the ability of the average DIY-er, but it's important to work patiently and stay organized when you're removing this many screws and panels. All the instructions you need can be found in your MasterSheet, and if you get stuck, our tech support team is only a phone call away.
The most challenging part, really, is that, depending on which sub you choose, you may need to drill new screw holes to mount an aftermarket sub in this location. Plan on having a pencil (to mark the new holes) and a drill handy if you need them. The drilling itself isn't that tough, but be aware of where you're drilling and what's around the area at all times. And, of course, wear eye protection.
Tools needed: Panel tool, Torx T-50 socket, ratchet and extension, Phillips screwdriver, small flat blade screwdriver, power drill
Aftermarket bass
If you want even more bass, there are several ways to go with the H3. The cargo area, while not as vast as you might expect in a truck this size, still offers a 42"W x 19"H x 23"/30" H space for a woofer box. That's plenty of room for a seriously booming bass set-up, so if you want to install aftermarket amps and stuff an enclosure with the biggest component subs you can find, have at it.
Learn more about adding amps to your system in our Car Amplifier Buying Guide.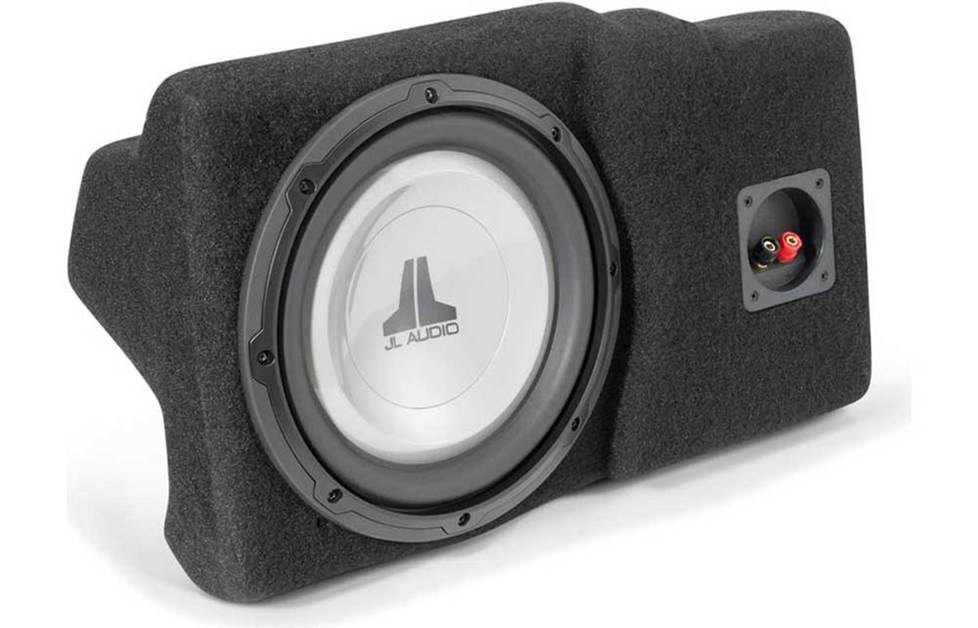 JL Audio's custom-fit bass solution for your Hummer H3
If your H3 still gets used like a truck every now and again, you might want to look into more practical options. The JL Audio Stealthbox is a custom enclosure that fits behind the rear storage panel on the driver side and replaces the factory Monsoon sub. It includes one 10" 4-ohm subwoofer from JL Audio. If your H3 doesn't have a factory sub, you'll need to buy a new driver's side rear trim panel to install a Stealthbox. Either way, this is not an easy installation. Unless you're an experienced hand at this sort of thing, we recommend turning the job over to professionals.
If that sounds like a bit much, a powered subwoofer can fit simply and neatly into the cargo area and still leave plenty of room for camping gear, luggage, and whatnot. You won't get the planet-rattling thump of a component set-up, but you'll still get plenty of the bass you need to enhance all kinds of music.
Bass in the H3T
With the H3T pickup, the rear cargo area isn't an option and there's almost no room under the rear seats. Your best bet here is to opt for a smaller, powered subwoofer.
Learn more about building a bass system in our Car Subwoofer Buying Guide.
Shop for vehicle-specific subwoofers for your Hummer H3
Other options for your H3
There are plenty of other ways to improve your Hummer. Here are just a few ideas:
Rear-view cameras
The H3 is kind of interesting to look at, but it's really tough to look out of. With small windows and blind spots large enough to hide a minivan, driving the H3 in traffic can be an adventure and maneuvering in a crowded parking lot can be a huge challenge. A factory rearview camera was added to the option sheet in 2008, but if your H3 doesn't have one, we offer rear-view cameras from Alpine, Kenwood, Sony, Pioneer, and more. Some are designed to work with same-brand receivers only, but others come with a composite video connector and will work with almost any video receiver.
Interior protection
When you head to the great outdoors in your H3, some of the outdoors will find its way into your truck. Floor mats and cargo mats from WeatherTech will help protect your floors from dirt and damage. As for the seats, door panels, headliner and other interior surfaces, we recommend WeatherTech's TechCare car care products.
Sound deadening
With a big, broad front end, a stand-up windshield, and enormous tires, the H3 doesn't slip through the air as much as it bludgeons the air senseless and shoves it out of the way. All that bludgeoning can get noisy, which will diminish the impact of your new stereo system. To combat wind noise and road roar, you can install Dynamat in the doors and (if you install a big sub) rear hatch area. This sound-deadening material will keep the noise out and allow you to really enjoy your music.
Security
Installing a security system in your Hummer isn't easy (security systems rarely are), but it's definitely a good idea. Our Crutchfield Advisors can help figure out what you need to get the job done, but we usually recommend taking your car and new gear to a professional installer.
Let's get started!
Ready to shop? Use our vehicle selector to find the gear that will fit your car or truck. If you have questions, give us a shout via phone, chat, or email