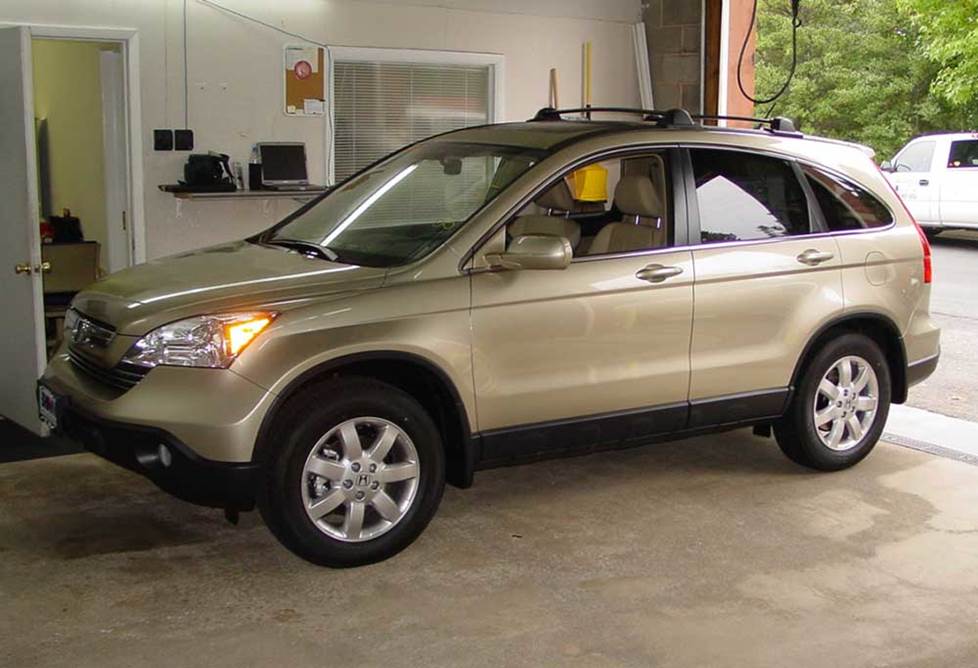 In brief: This Crutchfield Research Garage article gives you an overview of your CR-V's stock stereo system and your aftermarket upgrade options. We'll tell you all about:
Then, use our vehicle selector to find the gear that will fit your Honda.
Overview of the Honda CR-V
The third generation of Honda's compact SUV took the well-rounded wonderfulness of the previous models and added a bit more size and refinement to the package. Big enough for family duties and compact enough to scoot around town, this comfortable, versatile vehicle has proven to be the perfect choice for all sorts of drivers. No wonder it's been the most popular nameplate in its class for quite a while now.
There are things that the CR-V doesn't do well, but they're probably not things the average CR-V owner would want to do in the first place. If you're thinking about climbing a rocky hillside, this is not the SUV to choose. But if you're picking up a few bags of rocks for the garden on the way home from the gym, the CR-V is ready, willing, and able.
If you're planning to play some rock during your daily drive, the CR-V's factory stereo systems are competent, but that's about all. If you care about sound, you'll definitely want to install some aftermarket upgrades.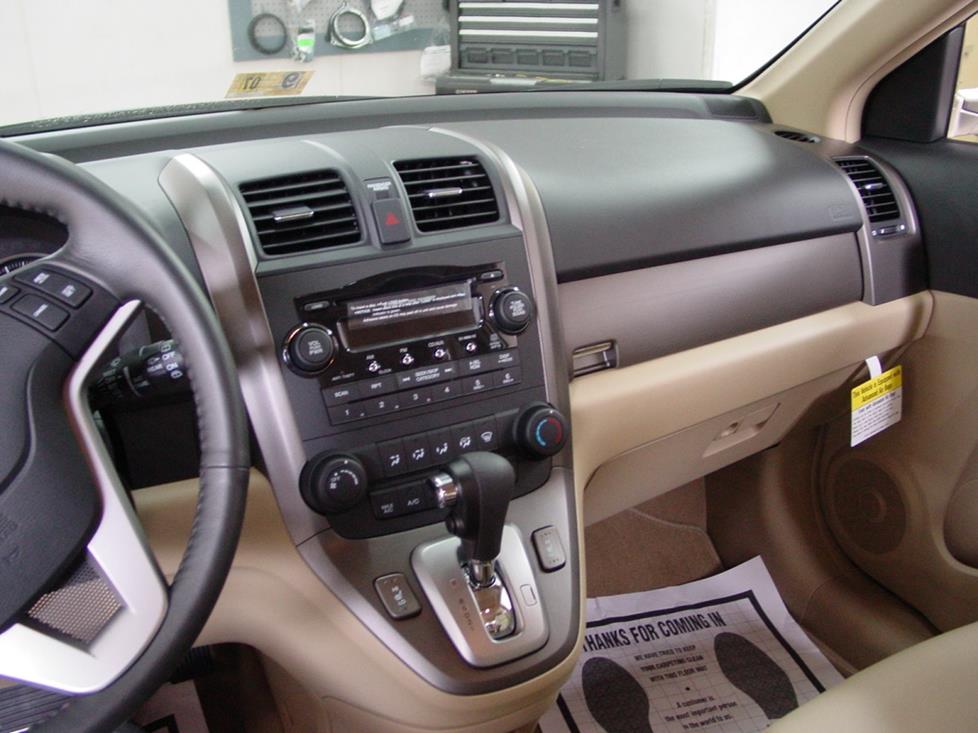 The CR-V's base receiver (Crutchfield Research Photo)
The factory stereo system
The third-gen CR-V offered a few different factory stereo packages over its run. The base model was an AM/FM/CD receiver with six speakers and an AUX input inside the center console. A navigation receiver was optional, and XM satellite radio was also available.
In 2008, Honda added a premium sound system that could be ordered with the base radio instead of only with the optional nav. In 2010, Bluetooth® connectivity and a USB audio port were added to the options list.
Replacing the CR-V's factory receiver will mean losing (if present to begin with) select inputs, the factory navigation system, Bluetooth connectivity, and satellite radio. The good news is that you can get all of these features back with the right aftermarket receiver.

The CR-V's optional navigation receiver (Crutchfield Research Photo)
Removing the factory radio
The CR-V's dash will comfortably accommodate a wide variety of single-DIN (2" tall) or double-DIN (4" tall) receivers, with the help of a dash kit that's included at a very nice discount when you purchase your receiver from Crutchfield. The removal process is the same for the base and nav receivers, and all is explained in the Crutchfield MasterSheet™ included with your receiver or speaker purchase.
Detailed stereo and speaker removal instructions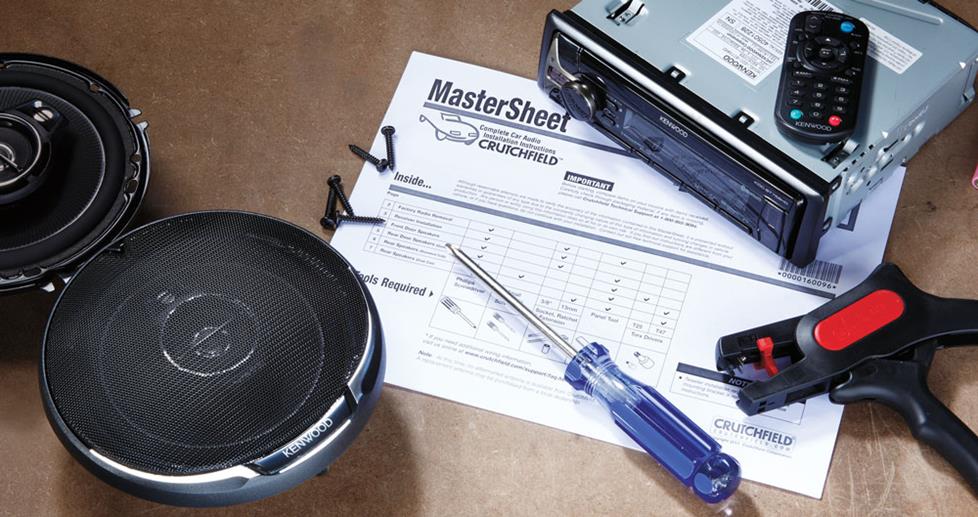 With step-by-step disassembly instructions and plenty of up-close, detailed photos, our exclusive
Crutchfield MasterSheet
™ takes the guesswork out of removing the factory stereo and speakers. It's free with your Crutchfield order, or you can purchase one separately for just $9.99.
To remove the factory radio, you'll start by prying off the shift lock release cover with a panel tool. Depress the shift lock, then move the shifter to its lowest position. With the shifter out of the way, you'll need to remove the climate control panel.
Using the pry points at each side of the panel, carefully pry out the assembly, then disconnect the harnesses and remove the whole thing. You'll then need to remove two Phillips screws exposed by removal of climate control panel.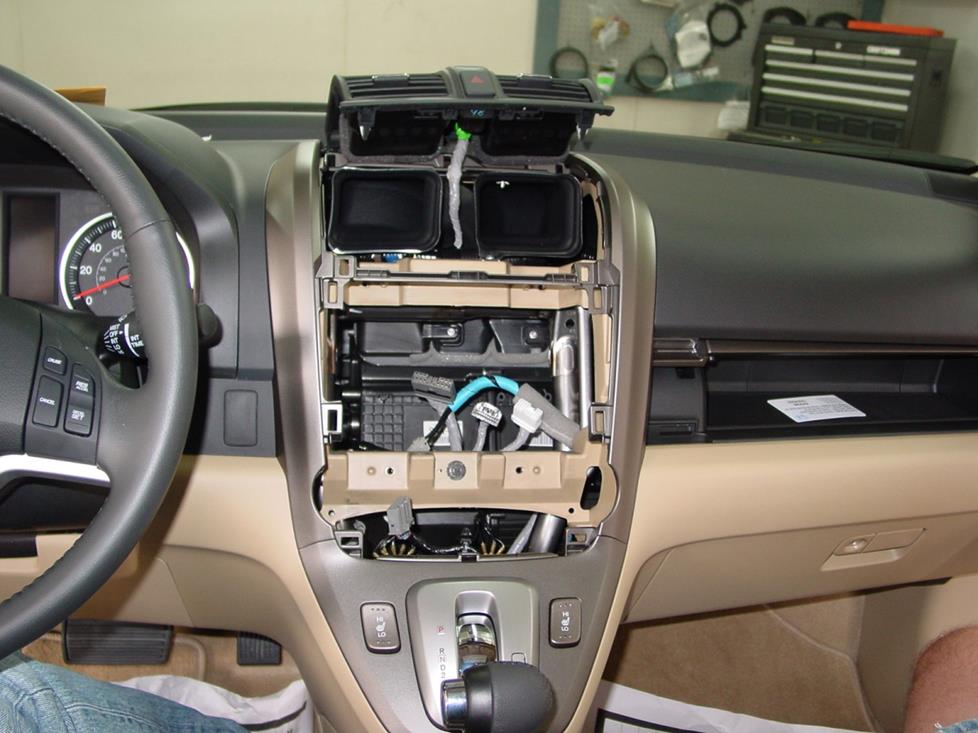 You can leave the vent panel on top of the dash while you're working (Crutchfield Research Photo)
Moving upwards, you'll next need to pry up the top dash panel to release the retaining clips that hold it in place. The vent panel is next, and you'll start prying up those retaining clips at the rear edge. Don't disconnect this panel; just leave it on the top of the dash.
This will expose two more Phillips screws at the top of the factory radio. Remove them, then pull out the factory radio, disconnect the harnesses, and set it aside. To install the new receiver, secure it to the mounting bracket and connect the receiver wiring adapter by following the instructions supplied.
This is all pretty straightforward, but to turn on your vehicle's factory amplifier, you'll need to connect the new stereo's amp remote wire to the amp remote wire in the wiring harness. After plugging the stereo wiring harness into the dash, connect the RCA plug from the harness to the subwoofer output on your new stereo.
Tools needed: Panel tool, small flat blade screwdriver, Phillips screwdriver
Read our Car Stereo Buying Guide for shopping tips and advice.
[SHOPCARSTEREOS]
Steering wheel audio controls
It's relatively easy to retain the steering wheel audio controls in your CR-V when you install a new stereo. When you enter your vehicle information, our database will choose the adapter you need to make your factory steering wheel controls work with your new receiver.
Removing the factory speakers
The CR-V has factory speakers in the dash and doors, plus (in some models) a subwoofer.

The tweeters are rather easy to get to (Crutchfield Research Photo)
Dash speakers
The stock tweeters are located in the dashboard, near the base of the windshield. These speakers measure just about 1-1/2" in diameter, so a number of component speaker tweeters will fit comfortably beneath the factory grilles.
A speaker adapter bracket is not available for this location, so you'll need to bend and shape a set of our universal backstraps to secure the speakers in place. You can also secure them with hot glue or silicone.
Wiring adapters aren't available for these speakers either, so you'll need to splice into the factory wiring or use a set of Posi-Products connectors to make the connections. We recommend the latter, because you'll get a much more secure, long-lasting connection.
Tools needed: Small flat blade screwdriver, panel tool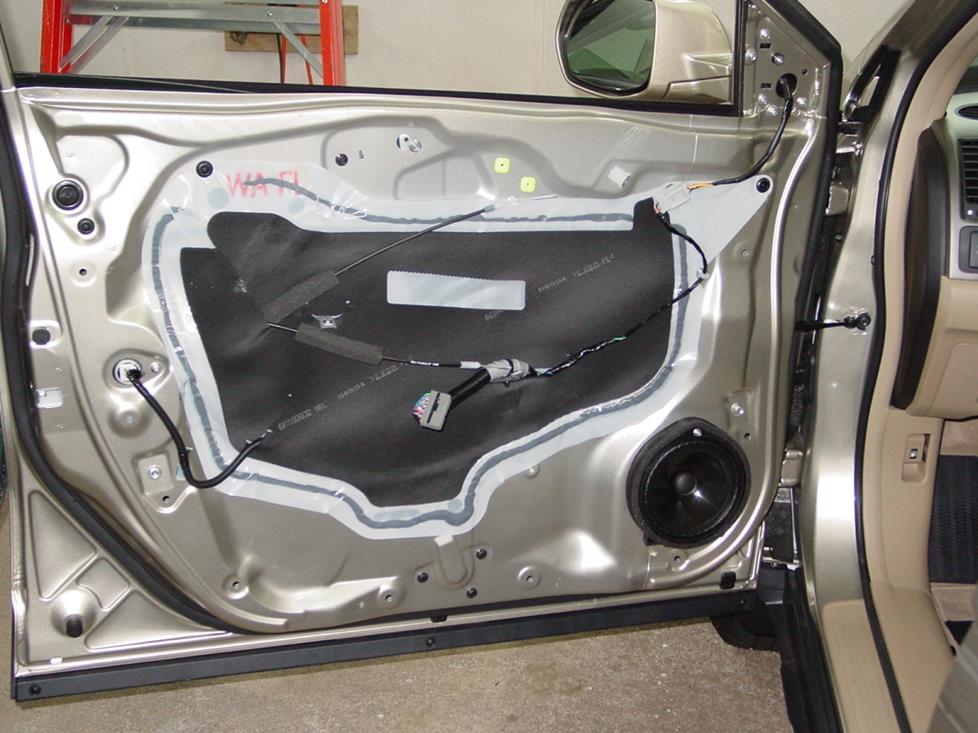 A look at the CR-V's front door speaker (Crutchfield Research Photo)
Front door speakers
Replacing the front door speakers is a reasonably uncomplicated process in the CR-V. You'll need to remove the door panels, of course, but that's not difficult at all.
Installing 6-1/2" or 5-1/4" replacement speakers (you'll have plenty to choose from) isn't too tough, but you will need to use the mounting brackets that are included at a nice discount with your Crutchfield speaker purchase. We also recommend adding a set of foam baffles, which will improve sound quality and also protect the speakers from dust and moisture.
Tools needed: Panel tool, Phillips screwdriver, small flat blade screwdriver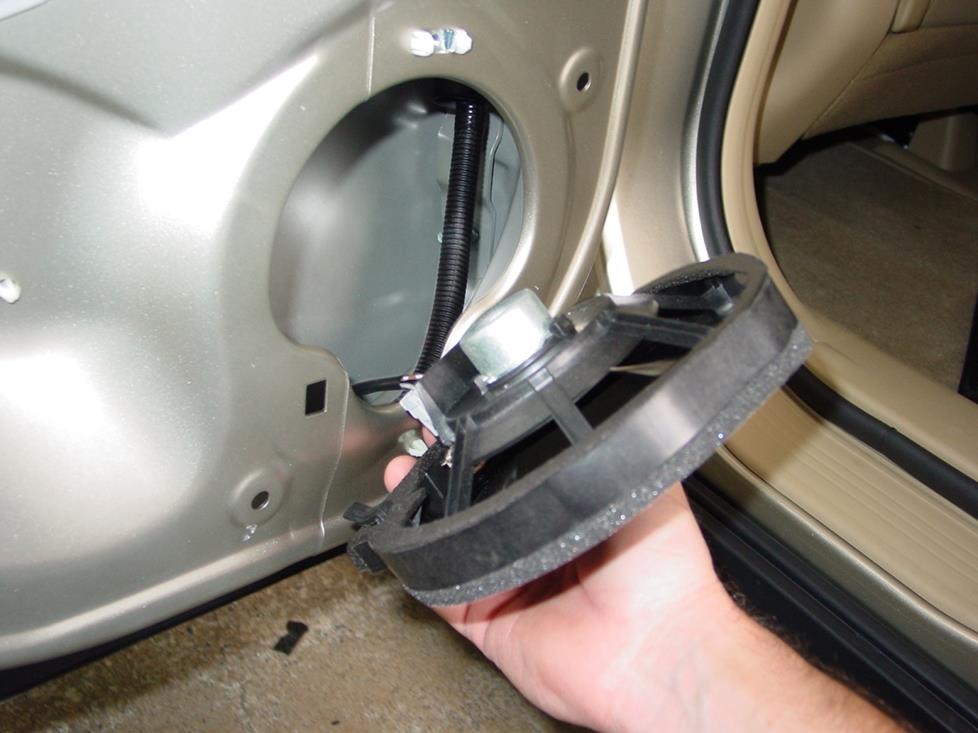 These rear speakers don't have the biggest magnets you've ever seen... (Crutchfield Research Photo)
Rear door speakers
Replacing the rear speakers is essentially the same process as replacing the ones up front. You'll have a wide selection of 6-1/2" or 5-1/4" aftermarket models to choose from, and you'll need to use mounting brackets here, too.
When you replace the door speakers, it's always smart to test the new speakers before you hook everything back up and put the door panels back in place. Though we know how tempting it can be to button everything up and see how it all looks, we also know how annoying it can be to have to take the doors apart again and figure out why one of the speakers isn't working!
Tools needed: Panel tool, Phillips screwdriver, small flat blade screwdriver
Read our Car Speakers Buying Guide for more information.
[SHOPCARSPEAKERS]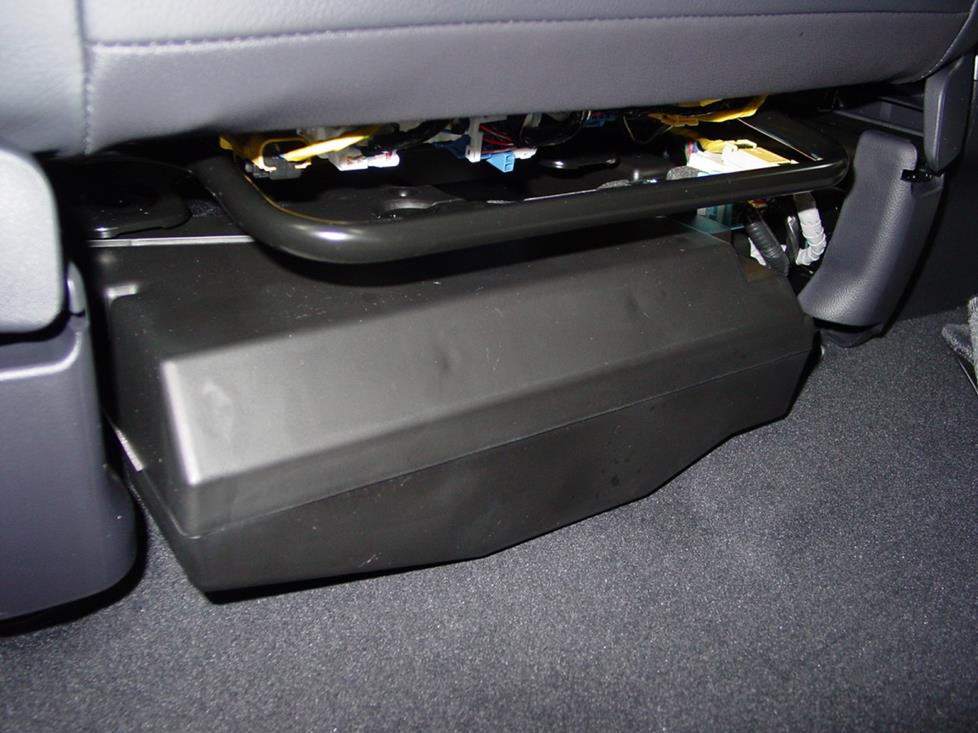 Replacing the factory sub is...not a thing you want to do. (Crutchfield Research Photo)
More bass in your CR-V
The CR-V's premium sound system included a subwoofer and a dedicated subwoofer amplifier. This is a good thing in general, but if you're upgrading your audio system, the presence of this gear makes the process a bit more complicated.
The main problem is that the sub is located under the passenger's side front seat, which is also home to the seat airbag harness. You can't remove the sub without disconnecting the harness, and doing that can send an airbag fault code to the SRS unit, which potentially opens up a whole bunch of problems we won't get into here. Short version: Do not — do not — attempt to remove and replace the factory subwoofer.
If you want to continue using the factory sub with your aftermarket stereo, you'll need to bypass the factory amplifier (located behind and below the console pocket in the dash), and install an aftermarket amp with a low-pass crossover. Make sure your new car stereo has a subwoofer output, because the vehicle-specific wiring harness has a plug that connects to that output.
Another option would be disconnecting the factory sub, leaving it where it is, and exploring some other options.
You can add a subwoofer box stuffed with component subs, which could theoretically provide all the bass you could ever want. The available space for this kind of installation is 40" W x 12" H x 35"-34" D, so you can go big if you're not worried about cargo room. The height measurement can even be increased to 20" if you remove the cargo shelf.
Learn more about building a bass system in our Car Subwoofer Buying Guide.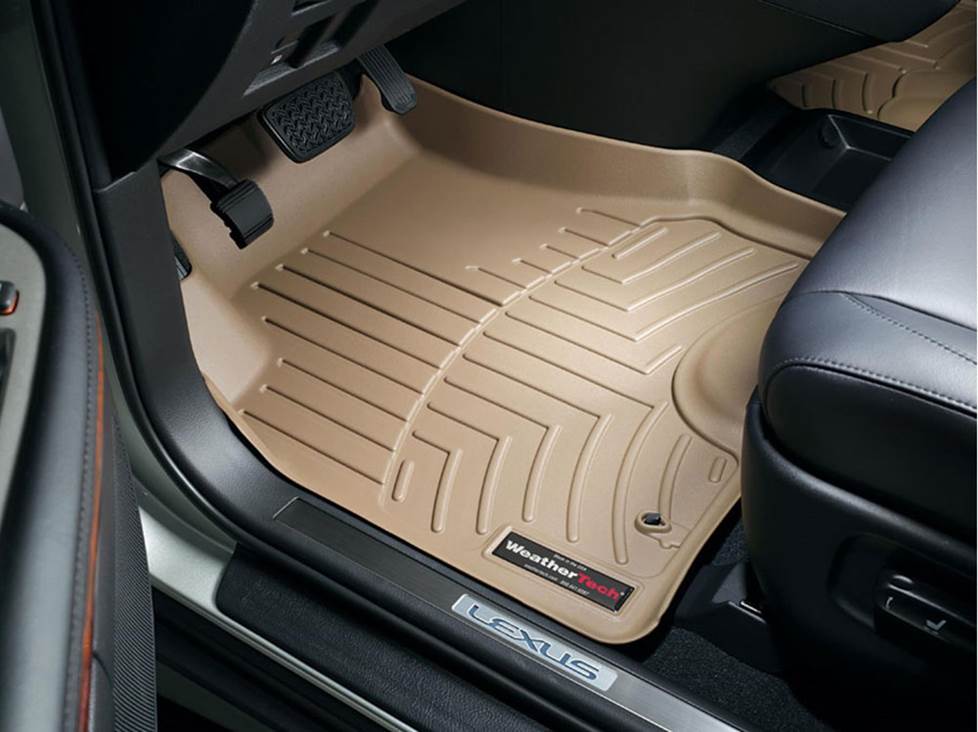 A set of WeatherTech floor liners will keep your Honda's carpets looking great
Other options for your CR-V
There are plenty of other ways to improve the sound, safety, and comfort of your CR-V. Here are some of the ways Crutchfield can help.
Dynamat
The third-gen CR-V isn't as blocky as some of its predecessors, but it still produces a fair amount of wind noise. The Dynamat 10435 Xtreme Door Kit is the perfect way to quiet the roar and enjoy your music. This heavy-duty, noise-damping material is easy to install, and it really makes a difference. One kit will take care of both front doors.
Rear-view cameras
Though it's a "small" SUV, maneuvering the CR-V in a crowded parking lot can still be a challenge. We offer rear-view cameras from Kenwood, Alpine, Sony, Pioneer, and more. Some are designed to work with same-brand receivers only, but others come with a composite video connector and will work with almost any video receiver.
Interior protection
If you have an SUV of any size, you're eventually going to haul something somewhere. And even if you don't, the front floor mats will get a lot of abuse. Floor mats and cargo mats from WeatherTech will help protect your floors from dirt and damage.
Remote start and security systems
Adding remote start capability to your vehicle lets you warm it up in the winter or cool it down in the summer. The iDatastart system is incredibly convenient and makes it easier than ever to install a remote start system, so we highly recommend it. The module requires a vehicle-specific T-harness (sold separately) to connect with your vehicle's computer, security, and ignition systems, so we ask that you call to order so that we can make sure you get the right harness for your ride.
You can also talk to your Crutchfield Advisor about a security system. They're not as easy to install (we usually suggest letting a professional do the job), but we can help you choose a system that'll work in your vehicle.
Let's get started!
Ready to shop? Use our vehicle selector to find the gear that will fit your car or truck. If you have questions, give us a shout via phone, chat, or email