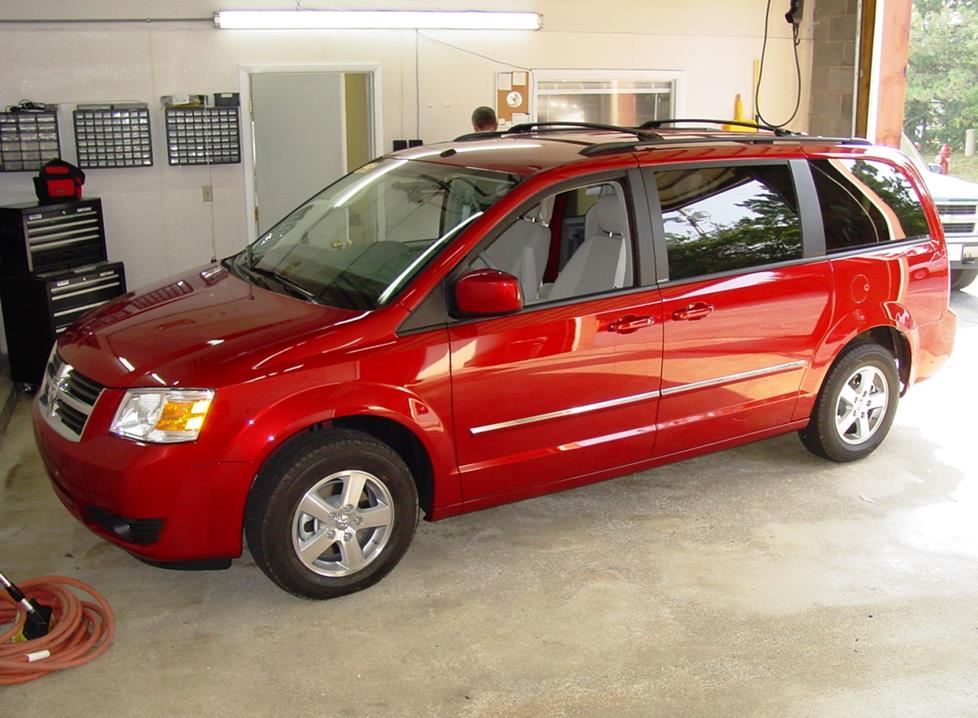 In brief: This Crutchfield Research Garage article gives you an overview of your Grand Caravan's stock stereo system and your aftermarket upgrade options. We'll tell you all about:
Then, use our vehicle selector to find the gear that will fit your van.
Overview of the Dodge Grand Caravan
This redesigned Dodge Grand Caravan retained all that was good about Chrysler's genre-defining minivan line, while adding a host of family-friendly comfort and entertainment features. Some, like the slightly larger overall size and increased interior space, were subtle. Others, like the three available interior configuration options, were a little more obvious. Either way, this is a comfortable, capable people-mover with plenty of room for infotainment improvements.
The Grand Caravan is obviously not the Mopar to choose if you're looking for oohs and ahhs down at the drive-in, but then again, you wouldn't want to haul four kids to soccer practice in a '70 Challenger R/T, either. This minivan is what it is, and does what it does, but that doesn't mean it can't be a great place to be. With the right gear from Crutchfield, you can rock out to Blondie while the kids are watching Barney. Minivan or not, that's still pretty cool.
In 2011, the Grand Caravan (along with its sibling, the Chrysler Town & Country) received a mid-cycle update that included a major revamping of the interior and dashboard. The changes actually made it much easier to remove and replace a factory radio, and we've noted the differences below. All other installation instructions are identical to the 2008-2010 models.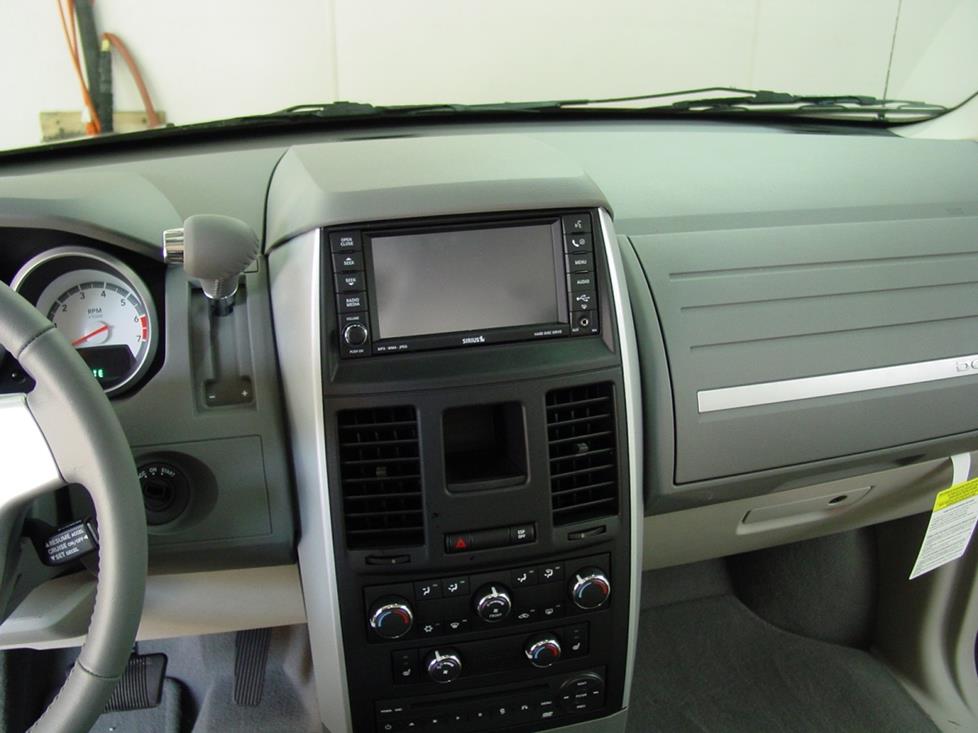 The Grand Caravan's factory radio with the DVD player at the bottom of the console (Crutchfield Research Photo)
The factory stereo system
The Caravan's base system was an AM/FM/CD/MP3 player with four speakers. The next level of trim added speakers in the corner dash. The Premium Sound System adds a center channel speaker, rear pillar tweeters and rear side panel subwoofer, along with a main amplifier and dedicated subwoofer amp. Optional features, like navigation, Bluetooth® connectivity, satellite radio, and rear seat DVD entertainment pumped up the GC's entertainment quotient.
As you might expect, the rear-seat entertainment system was a very popular option on the Grand Caravan. The DVD player is separate from the radio, and is located in the lower dash. If your van is equipped with this entertainment system and you're planning to install an aftermarket stereo, you'll need to purchase a radio replacement adapter to power the DVD player.
Once everything's hooked up, your passengers can watch a video while you enjoy music or use your aftermarket navigation system up front. Aftermarket DVD/nav receivers will not work with the factory fold-down screens, so you'll still need the above adapter to retain the factory DVD player.
Removing the factory radio
The degree of difficulty involved in removing the Grand Caravan's factory radio depends on your vehicle's model year.
Removing the factory radio (2008-2010)
A wide variety of single-DIN units will fit neatly into the Grand Caravan's dash with the aid of the mounting kit that's available at a deep discount with most stereo purchases from Crutchfield.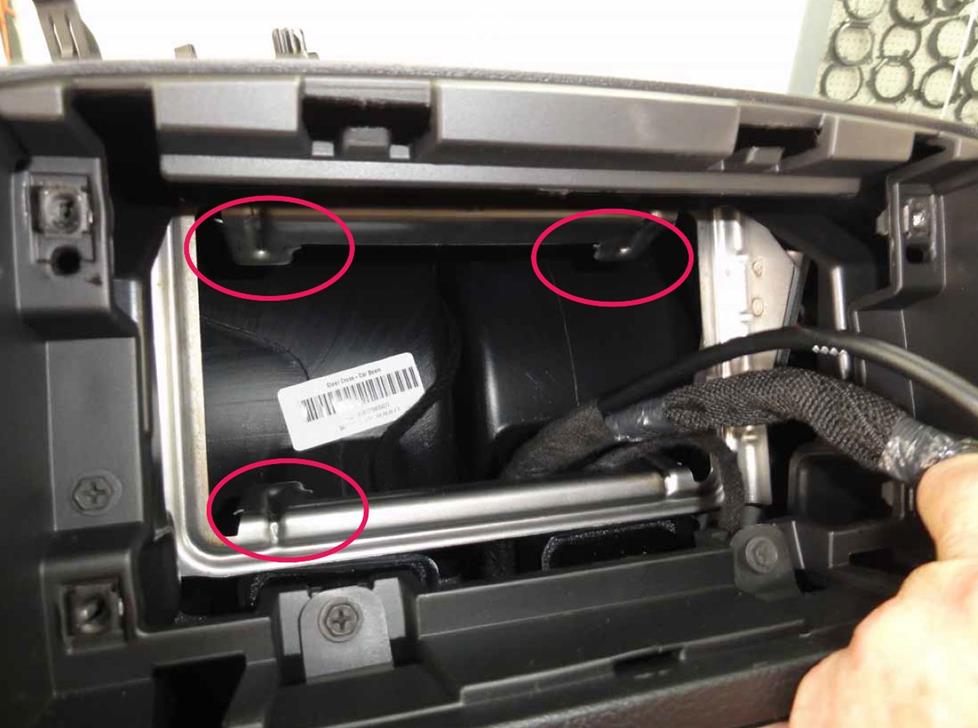 These four tabs need to be removed in order to fit a double-DIN stereo (Crutchfield Research Photo)
If you're planning to install a double-DIN receiver, be prepared for a bit more work. The culprit is a metal support bracket that gets in the way when you're replacing the factory receiver. You'll need to cut this bracket out using a hacksaw. If you're extremely confident in your skills, proceed. If not, you might want to consult a car stereo installation professional.
The 2008-10 Caravan's dash assembly is actually a series of interlocking pieces that starts at the A-pillars. You'll need to pry those off, then gradually work your way through a series of trim panels that eventually expose the factory receiver.
This takes some time, but it's not difficult. Be sure to work slowly and carefully, though. You don't want to scar the trim panels or break off the plastic retaining clips, so don't rush through this stage. No matter how great your new system sounds; that broken trim panel will annoy you forever.
Detailed stereo and speaker removal instructions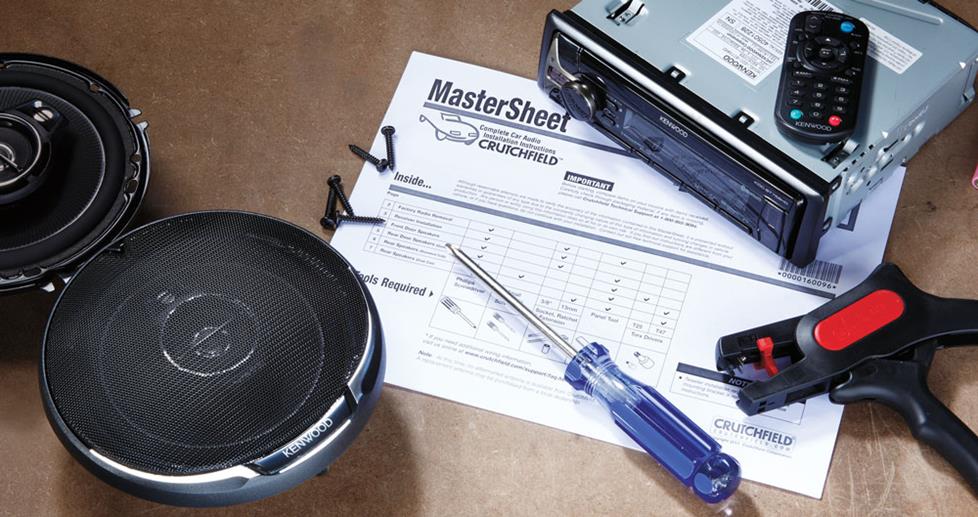 With step-by-step disassembly instructions and plenty of up-close, detailed photos, our exclusive
Crutchfield MasterSheet
™ takes the guesswork out of removing the factory stereo and speakers. It's free with your Crutchfield order, or you can purchase one separately for just $9.99.
Once you've worked your way through the various panels and pieces, installing your new stereo is simply a matter of securing the receiver to the mounting bracket, connecting the wiring adapter to the stereo wires, and plugging that into the Caravan's wiring. The mounting kit is avaiable at a special price when you purchase your stereo at Crutchfield, as is the special adapter that you'll need to make the new stereo work with the van's electronics.
Tools needed: Panel tool, Phillips screwdriver, Torx T-30 driver, small flat blade screwdriver
Removing the factory radio (2011-2018)
A 2011 dashboard redesign made the radio removal process a lot easier. The painstaking process of removing multiple trim pieces with multiple tools was gone, replaced by a stereo removal process that can be summed up in two sentences.
Starting at either upper corner, pry out the receiver trim panel to release the clips and remove the trim panel.
Remove four Phillips screws securing the receiver to the dash, disconnect the harnesses and remove the receiver.
And that's all. Your neighbor with the 2009 model will be green with envy. Unfortunately, these later models still have the same metal support in the dash, so if you're installing a double-DIN receiver, you'll still need to cut this away with a hacksaw. This isn't easy, so be prepared to consult a professional of you're not comfortable doing the job. Or, you can always ask your neighbor.
Tools needed: Panel tool, Phillips screwdriver
Steering wheel controls
It's relatively easy to retain the steering wheel audio controls when you install a new stereo in your Grand Caravan. When you enter your vehicle information, our database will choose the adapter you need to make your factory steering wheel controls work with your new receiver.
Shop for car stereos that fit your Dodge Grand Caravan
Removing the factory speakers
Depending on the model, the Grand Caravan offered factory speakers in the front doors, the dash, the rear side panels, and the rear pillars. All the disassembly details can be found in the Crutchfield MasterSheet™ that's included free with your stereo or speaker purchase.

The Dodge Caravan's stock front door speakers (Crutchfield Research Photo)
Front door speakers
The Caravan's stock front speakers, regardless of trim level, are 6"x9" units. The base models are 4 ohm, while the premium models are 2 ohm. A variety of 6"x9" speakers will fit into the factory openings, but some modifications may be required due to cavity space issues. We generally recommend smaller speakers for this location, and a wide variety of 5-1/4" or 6-1/2" speakers will fit using the mounting brackets we'll include with your purchase.
If you're keeping the factory amp, you'll need to use low-impedance replacements (from Infinity or JBL, for example). Installation is relatively simple. You'll need to remove the front door panel, of course, but our illustrated dissasembly instructions will help make this a straightforward process.
Tools needed: Panel tool, small flat blade screwdriver, Torx T-20 driver
Dash speakers
Upper-end Grand Caravans are equipped with dash speakers – two corner speakers and, in the premium system, one center speaker. They're nice to have and hard to replace. The corner dash openings are too shallow for most aftermarket 3-1/2" speakers. The center speaker has a 3-1/2" bolt pattern, but again, there's isn't enough space for an aftermarket speaker.
Instead, this a great location to mount tweeters. You'll need to create a mounting bracket for them, and we offer a universal backstrap that we often recommend for just that.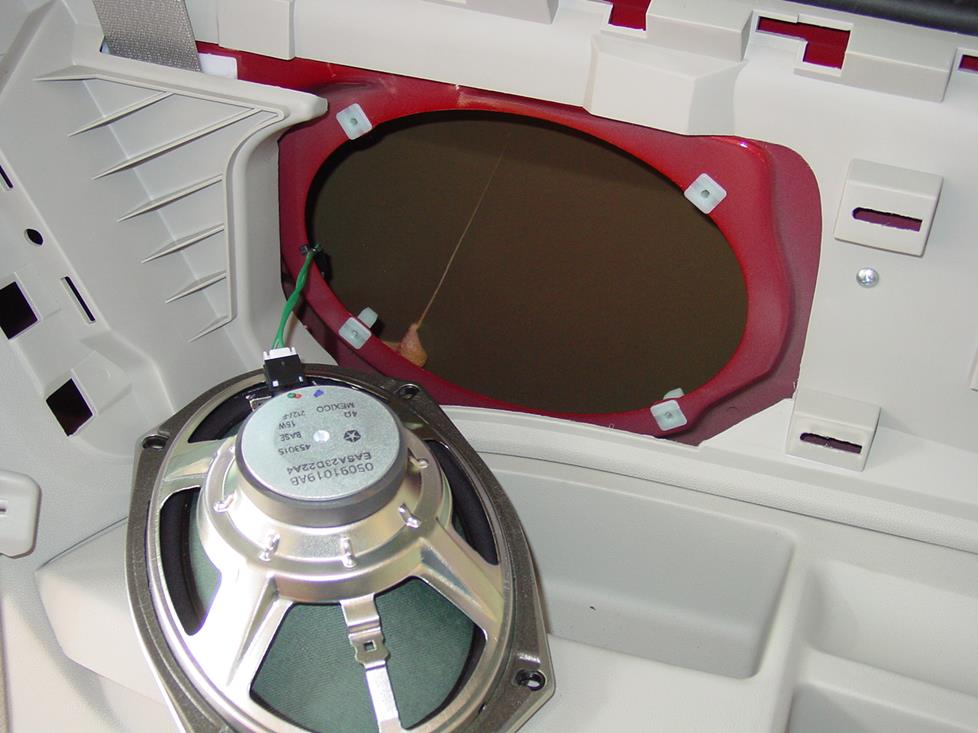 Dodge Grand Caravan rear speaker, located behind the side panel (Crutchfield Research Photo)
Rear speakers
The Caravan's rear speakers are 6" x 9" models located on the mid-rear side panels. They're very easy to access and replace, since you only need to pry off the speaker grilles to get to them. Aftermarket 6" x 9" speakers fit right in, but you can also install 5-1/4" or 6-1/2" speakers using mounting brackets.
Rear tweeters
A pair of rear pillar tweeters was included as a part of the premium stereo package. They're hard to reach and harder to replace. A fair amount of trim must be removed to access the tweeter location, where you'll find 2-1/2" tweeters clipped into the factory bracket. If you want to replace them with aftermarket units, you'll have to fabricate a new bracket. We suggest leaving them where they are.
Tools needed: Panel tool, Phillips screwdriver
Shop for speakers that fit your Dodge Grand Caravan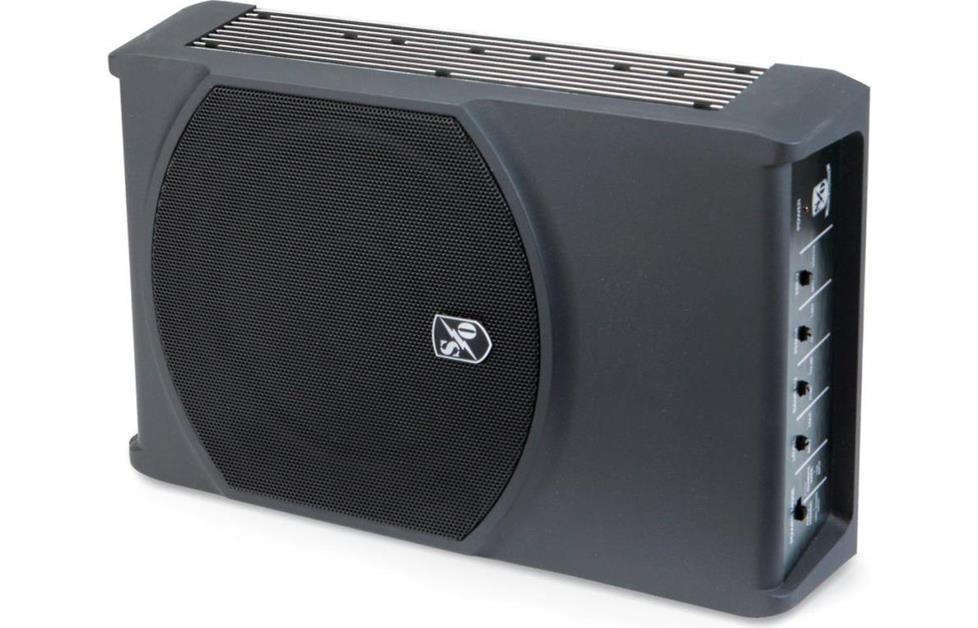 You can improve your bass performance with a Sound Ordnance B-8PTD powered sub (Crutchfield Photo)
Bass in your Grand Caravan
Part of the joy of a minivan (Yes, we said joy….) is having the ability to carry plenty of passengers and/or cargo. On the other hand, rows of seats and multiple configuration options can make it tough to add big-time bass.
That's why powered subwoofers have long been favorites of minivan owners who want better sound, but don't want to give up cargo space to get it. These compact subs deliver a big, beefy low-end punch without taking up tons of room in the back of the van. Available in a variety of shapes and sizes, these subs sound great and fit in out-of-the-way places.
The 10-speaker premium sound system came with a factory-installed subwoofer and amp. An aftermarket 8" sub will fit nicely in the opening, which can be reached by removing the rear side panel. This isn't a quick job, but it's not difficult. You'll have to re-drill the mounting screw holes to install your aftermarket subwoofer, but the new piece will fit under the factory grille.

The premium system includes this 8" subwoofer (Crutchfield Research Photo)
If you do replace the 8" factory sub with an aftermarket model, we recommend that you also add an aftermarket amp. The factory amp, located behind the left rear quarter panel below the left rear speaker, served its purpose well, but if you're investing in a better sub, you should give it all the power it needs.
To replace it, remove two 10mm bolts securing the sub enclosure to the side wall, disconnect the harness and remove the enclosure. Loosen the three 10mm bolts securing the amp to the side wall, lift the amp, disconnect the harnesses and remove.
Tools needed: Panel tool, Phillips screwdriver, drill
Other options for your Grand Caravan
There are plenty of other ways to improve your Grand Caravan. Here are some of the ways Crutchfield can help.

A set of WeatherTech floor mats will probably outlast your Caravan
Factory sound processor
If you don't want to replace your factory radio, a sound processor is a great way to improve your Grand Caravan's system performance. The factory stereo is programmed to make the inferior factory speakers sound their best, which often means dialing back the bass output as you increase the volume. This can make new speakers under-perform and sound weak. A sound processor will strip out that sound shaping and give you a clean, flat signal to send to your aftermarket speakers and amps. Read more about factory sound processors.
Floor mats
If you've ever owned a minivan of any kind, you don't need us to remind you of what can happen when you hit the road carrying any combination of adults, kids, pets, and food. Floor mats and cargo mats from WeatherTech will help protect your floors from dirt, damage and discarded juice boxes.
Remote start and security systems
Adding remote start capability to your vehicle lets you warm it up in the winter or cool it down in the summer. The iDatastart system is incredibly convenient and makes it easier than ever to install a remote start system in select vehicles, so we highly recommend it. The module requires a vehicle-specific T-harness (sold separately) to connect with your vehicle's computer, security, and ignition systems, so we ask that you call to order so that we can make sure you get the right harness for your ride.
You can also talk to your Crutchfield Advisor about a security system. They're not as easy to install (we usually suggest letting a professional do the job), but we can help you choose a system that'll work in your vehicle.
Let's get started!
Ready to shop? Use our vehicle selector to find the gear that will fit your car or truck. If you have questions of your own, give us a shout via phone, chat, or email