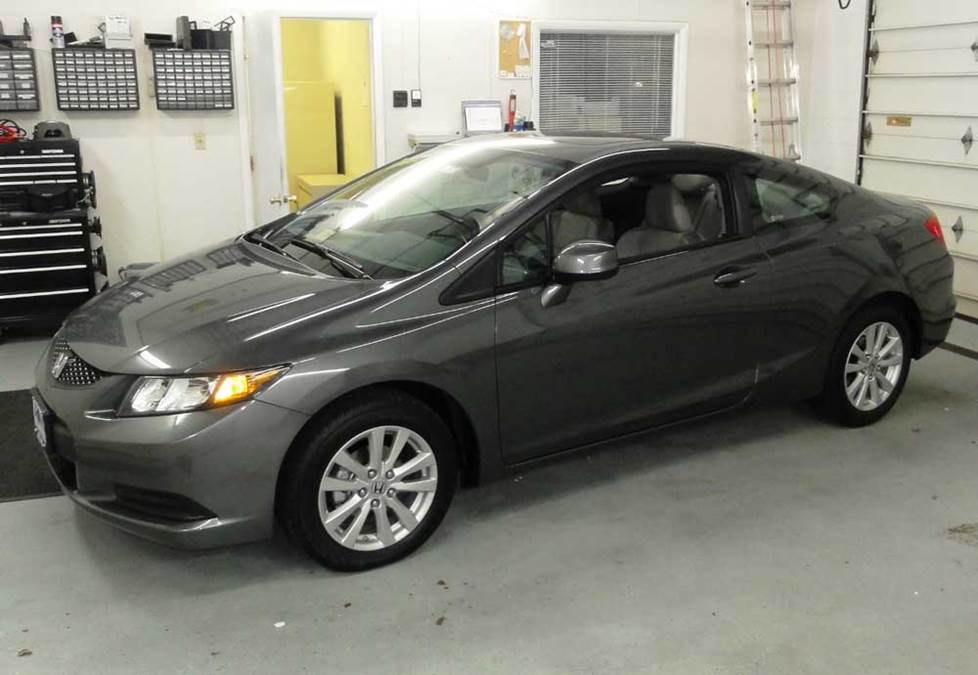 In brief: This Crutchfield Research Garage article gives you an overview of your Civic's stock stereo system and your aftermarket upgrade options. We'll tell you all about:
Then, use our vehicle selector to find the gear that will fit your Honda.
Overview of the Honda Civic
The automotive press typically greets the introduction of a new Honda with the same sort of breathless enthusiasm the tabloids reserve for the birth of a royal baby. So, when the all-new 2012 Civics weren't showered with the expected array of hoorays and huzzahs, it was kind of a surprise.
The 2012 Civics weren't bad cars, mind you. They were (and are) perfectly fine machines, but car writers like to be wowed and they weren't. There was plenty of praise, but the lack of wowiness became the big story. This bothered Honda greatly, but it seemed to have no effect on people who actually buy cars instead of write about them.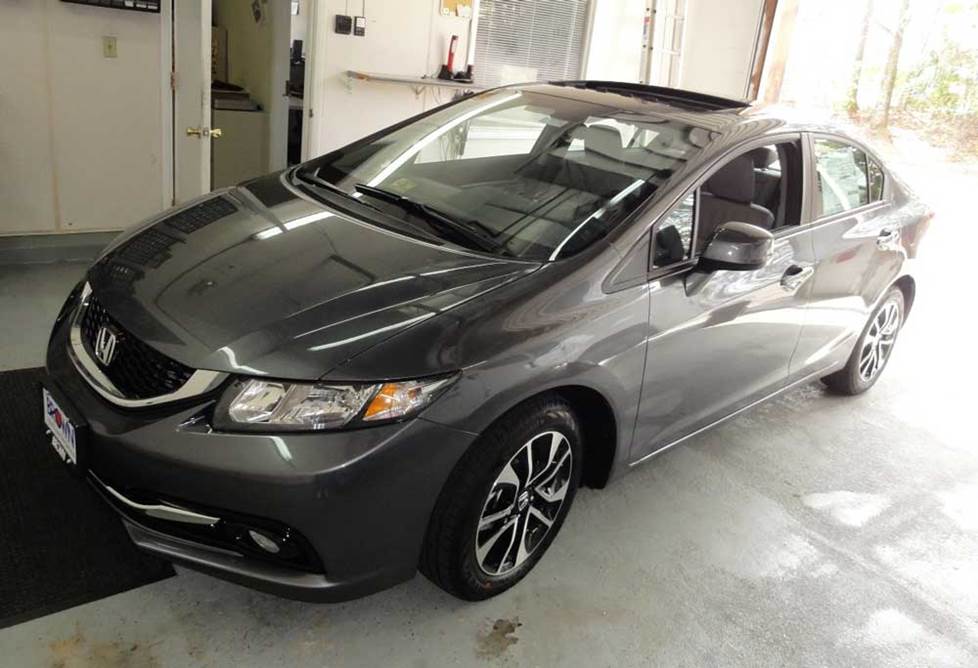 Those people bought a lot of 2012 Civics, but Honda being Honda, ordered a serious revamp for 2013. The result was a Civic that was fundamentally the same, but different in a few areas that automotive journalists worry about more than normal people do. Either way, it was an impressive effort by a proud company.
Model year differences aside, whether you have a Civic coupe or sedan, you're driving a car that's economical, comfortable, reliable, and easy on the eyes. You'll probably get a lot more miles out of your Civic, so upgrade the stereo and make those miles a lot more enjoyable.
The factory stereo system
The Civic was available with the expected array of early 21st-century factory audio gear. The standard AM/FM/CD/MP3/WMA stereo could be had with four or seven speakers, and a factory navigation system was also an option. They're not hard to deal with, but there are some differences in how you approach the 2012 and 2013-15 receivers.
Depending on how your Civic is equipped, replacing the factory stereo means losing factory features like USB, AUX, satellite radio, a hands-free phone interface, and/or navigation. This is not a problem, really, since you can regain (and upgrade) all of those things with the right aftermarket receiver.
When you enter your vehicle information on our site, our database will show you the receiver, speakers, and other gear that fits your Civic. You'll also save money on the installation gear needed to replace your stereo, including dash kits and wiring adapters, when you buy your receiver at Crutchfield.
Hybrid note
If your Civic has a gas-electric hybrid powertrain, replacing the stereo is a little more complicated. As you might expect, these hybrid cars have very sensitive electronics, so here are a couple of things to keep in mind:
Be sure to only use a multi-meter when testing wires, and NEVER use a test light to test wires in this vehicle. Doing so could cause some serious (by which we mean dangerous and expensive) damage.
A Civic Hybrid is not the car to choose if you want to build a massively powerful audio system. The thirsty current draw of a high-powered stereo is not a good thing for the hybrid system, so don't exceed a 30-amp current draw or 350-watt RMS power rating.
Removing the factory radio
A variety of single-DIN (2" tall) and double-DIN (4" tall) receivers will work in the Honda, with help from the discounted dash kit that's included with your order. The key thing for our purposes is that the dash itself changed when Honda revamped the interior, so stereo removal tips and techniques changed, too. We'll cover both versions below.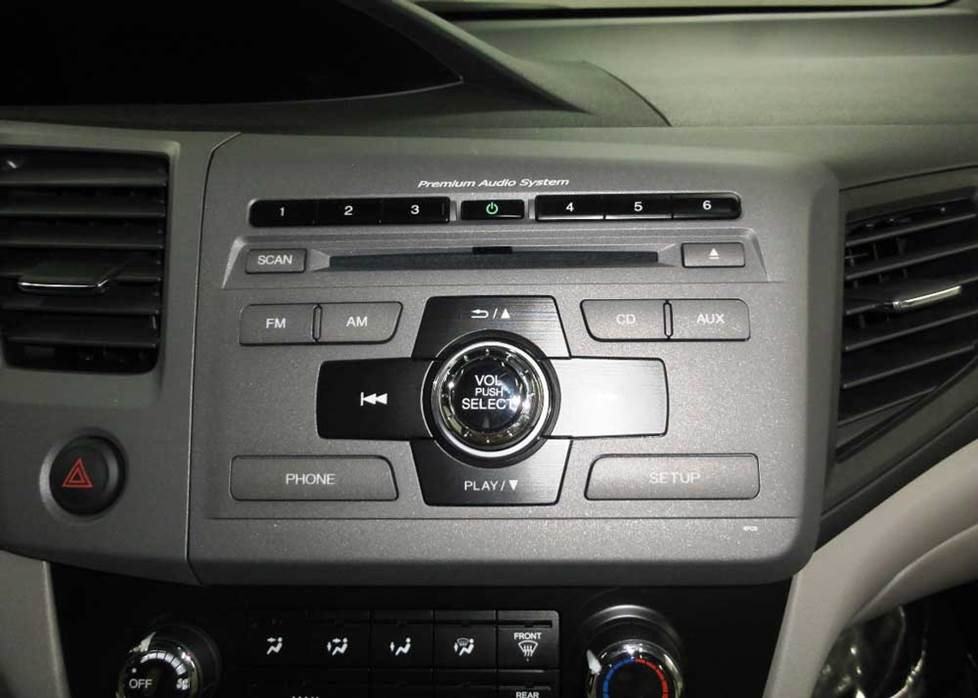 A look at the 2012 Civic's stock radio (Crutchfield Research Photo)
Removing the 2012 Civic stereo
Believe it or not, we haven't had a chance to research the factory nav receiver in a 2012 Civic. If you have some experience with that swap, feel free to share your wisdom in the comments section below.
The non-nav receiver, however, is a reasonably simple thing to remove and replace. You'll start by removing two Phillips screws located under the climate controls. Using a panel tool, pry out the power outlet/AUX input panel to release four clips, then disconnect the harnesses and remove the panel. Doing so will expose two 8mm screws, which you'll want to remove. Next, pry out the driver's side knee trim panel to release nine retaining clips, then disconnect the harness and remove the panel.
Detailed stereo and speaker removal instructions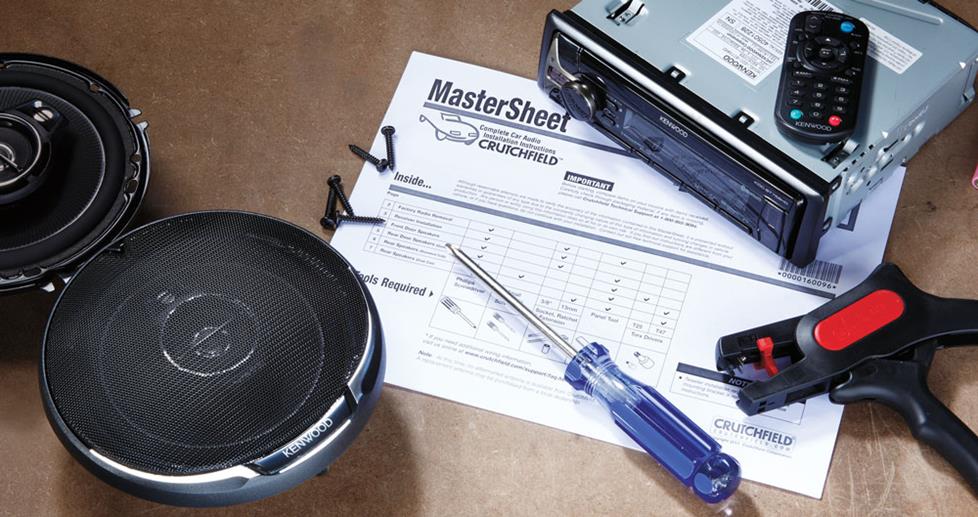 With step-by-step disassembly instructions and plenty of up-close, detailed photos, our exclusive
Crutchfield MasterSheet
™ takes the guesswork out of removing the factory stereo and speakers. It's free with your Crutchfield order, or you can purchase one separately for just $9.99.
For the next stage, you'll start by setting the tilt steering column in its lowest position. With the wheel out of the way, start at the left edge, and pry the instrument cluster trim panel toward the rear of vehicle to release thirteen retaining clips. Disconnect the harnesses and remove the panel. With all that done, you can pry out the receiver, release the seven retaining clips, and disconnect the harnesses.
Be careful when you're prying up these or any other plastic panels in your Civic. This isn't a hard job, but Honda takes pride in the fit and finish of their cars, so the panels are going to be rather snug. They'll come loose, but stay patient while you're working on them.
Tools needed: Panel tool, Phillips screwdriver, 8mm socket, ratchet & extension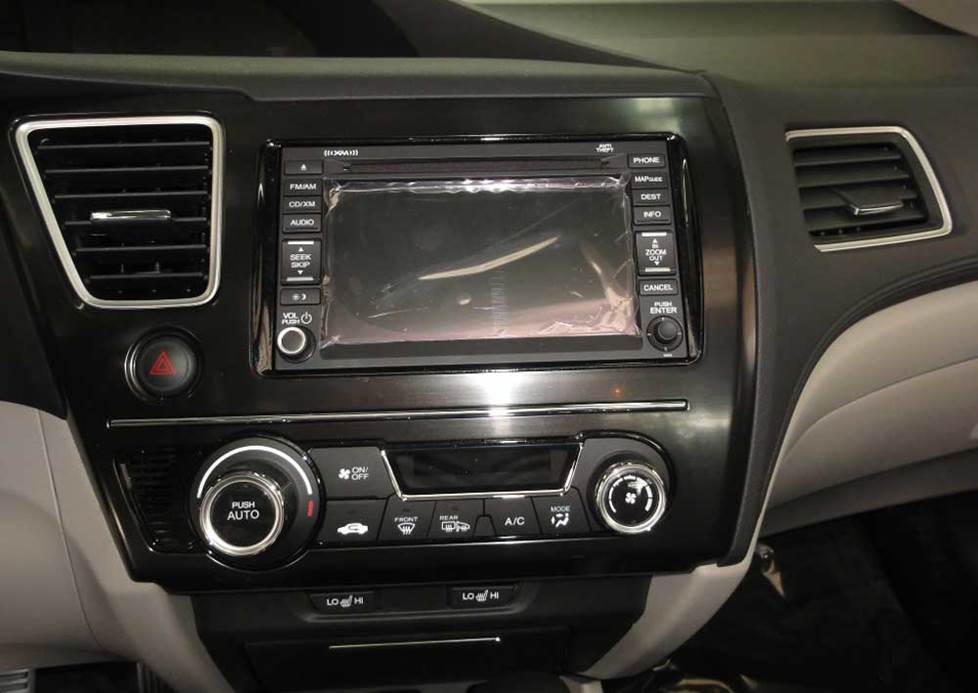 Similar, but different: the 2013 Civic nav radio (Crutchfield Research Photo)
Removing the 2013-up Civic stereo
Honda's new-for-2013 Civic interior included a revised dash layout, so the process of removing and replacing the radio changed quite a bit as well. It's still pretty simple, but it's not like it used to be.
If you have an automatic transmission, use the shift lock release to drop the gear shift into "D" and create some space to work with. Be sure to set the parking brake before you do that, by the way. But you knew that already, right?
Anyway, once that's straight, pull up the rubber mat just forward of the gear shift and remove the now-exposed Phillips screw. That will loosen the gear shift trim panel, so you can start at the back and gently pry up the panel to release the retaining clips. Once they're all taken care of, disconnect the harnesses and remove the panel.
Next, open the dash storage pocket and remove two Phillips screws. Pull the storage pocket toward the rear of the vehicle to release four clips, then disconnect the harnesses and remove the pocket. That will expose two Phillips screws, and you'll remove those, too. All you have to do now is remove two 8mm screws securing the receiver to the lower dash bracket. Once they're done, disconnect the harness and remove the old receiver.
Tools needed: Panel tool, Phillips screwdriver, 8mm socket, ratchet & extension
Read our Car Stereo Buying Guide for shopping tips and advice.
Shop for car stereos that fit your Honda Civic DX
Steering wheel audio controls
In most cases, it's reasonably easy to retain your car's steering wheel audio controls when you install a new stereo. When you enter your vehicle information, our database will choose the adapter you need to make your factory steering wheel controls work with a compatible aftermarket receiver.
Removing the factory speakers
Your Civic coupe or sedan will have speakers in the front pillars, doors (front doors on the sedan), and rear deck. Plenty of suitable aftermarket replacements are available.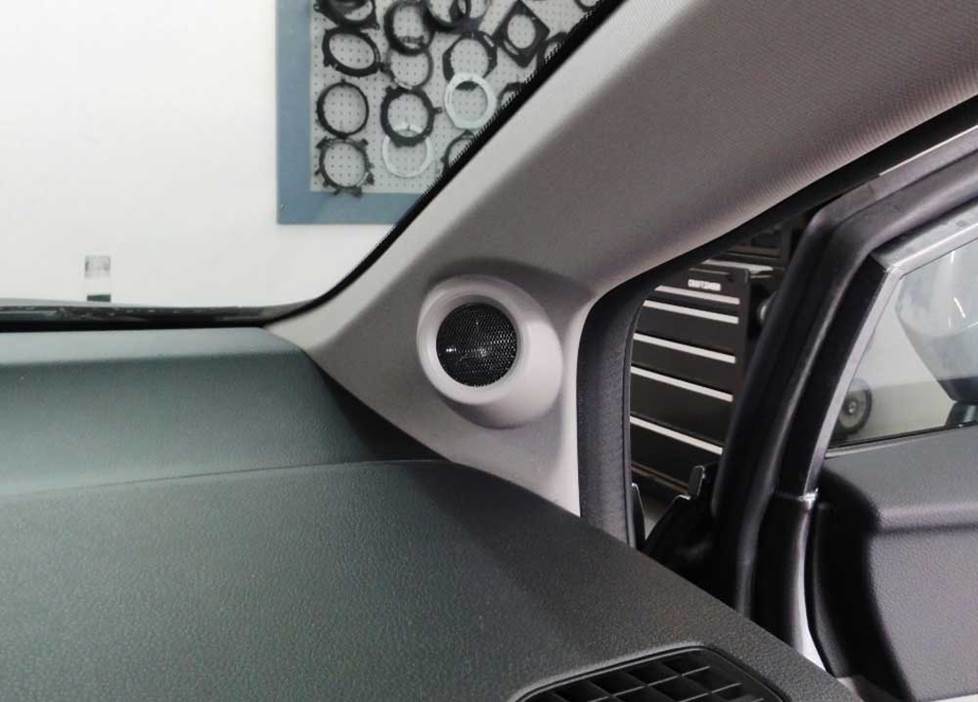 The front pillar tweeters are easy to reach and replace (Crutchfield Research Photo)
Front pillar tweeters
Removing the A-pillar trim panels is pretty painless, and step-by-step instructions can be found in the Crutchfield MasterSheet that's included with your order. The tweeters are easy to remove, but they're glued to the factory brackets, so you'll want to use care when separating them.
Better yet, don't bother. The bracket is attached to the trim panel by three screws. Once they're removed and you pull the bracket away from the panel, you can flush mount the new tweeter in the panel using the tweeter's mounting hardware. The hole is about 1-1/2" in diameter, so just make sure your tweeter hardware will fit.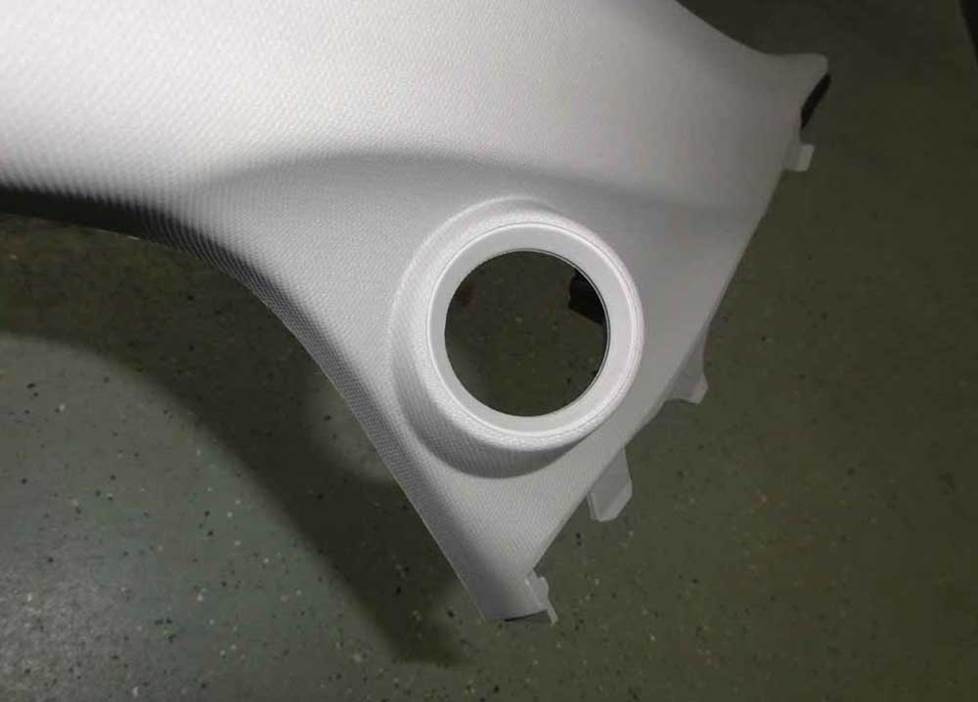 Tweeter opening in the trim panel (Crutchfield Research Photo)
Otherwise, if you want to use the factory bracket, carefully pry the factory tweeter out of the bracket. While a number of aftermarket 3/4" tweeters will fit in the factory locations, you'll need to use universal backstraps, hot glue, or silicone to secure them.
Either way, you'll also need Posi-Products speaker connectors to install these speakers, since there's no wiring harness available.
Tools needed: Panel tool, Phillips screwdriver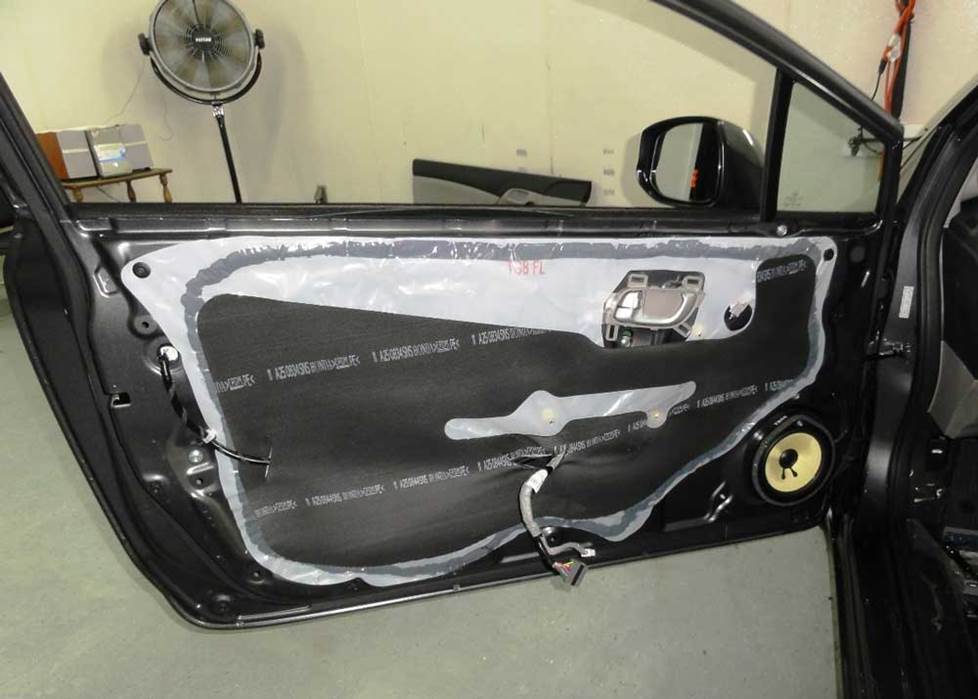 Replacing the front door speakers takes some work, but it's nothing the average DIY-er can't handle (Crutchfield Research Photo)
Front door speakers
Regardless of body type, the Civic's front (or only) doors house 6-3/4" stock speakers. You can replace them with 6-1/2" or 5-1/4" aftermarket models.
You'll need to remove te door panels to replace your Civic's speakers. There are some minor differences in what you'll need to do on the coupe and sedan, but they're minor indeed. The big thing to pay attention to is the drilling of new mounting holes for your aftermarket speakers.
Because you're installing smaller-than-stock speakers, you'll need brackets (included free with your speaker purchase) for this location. The mounting points are different, so you'll need to place the speaker/bracket assembly where it needs to be and mark the new mounting holes. Once that's done, remove the assembly and drill the new holes with a 1/8" bit.
This isn't hard to do, but since you're drilling a hole into a car you might still be paying for, you'll want to do it well. Work carefully, wear eye protection, and pay close attention to what's behind and around where you're drilling. But don't stress out – you're just drilling a hole, and you can totally handle this.
It is possible that your replacement speakers won't come with screws, so check the box before you get started. And before you finish things up and replace the door panels, check to be sure the speaker wires don't interfere with the windows. Test the door handles and locks, too.
Tools needed: Panel tool, Phillips screwdriver, drill and 1/8" bit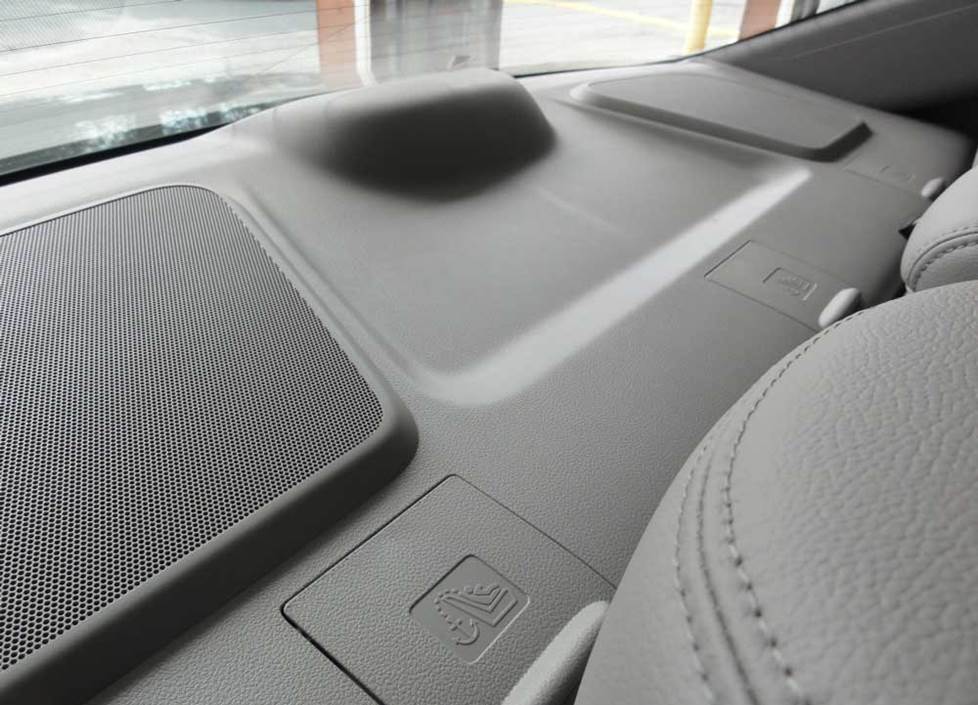 You'll need to remove the rear deck cover to reach the speakers beneath (Crutchfield Research Photo)
Rear deck speakers
The story is similar in the rear deck, except that these 6-3/4" speakers are mounted horizontally and they're a bit harder to get to. Not because the process is exceedingly difficult, mind you, but there are a few steps involved and you'll have to drill out new mounting bracket holes here, too.
There are some procedural variations between years and body styles, but they're all covered in your MasterSheet and you can always contact our highly-trained, Virginia-based Tech Support team if you need help. They're available seven days a week, and you'll have access to their knowledge for the life of your audio gear.
Tools needed: Panel tool, Phillips screwdriver, small flat blade screwdriver, drill with 1/8" bit
Read our Car Speakers Buying Guide for more information.
Shop for speakers that fit your Honda Civic DX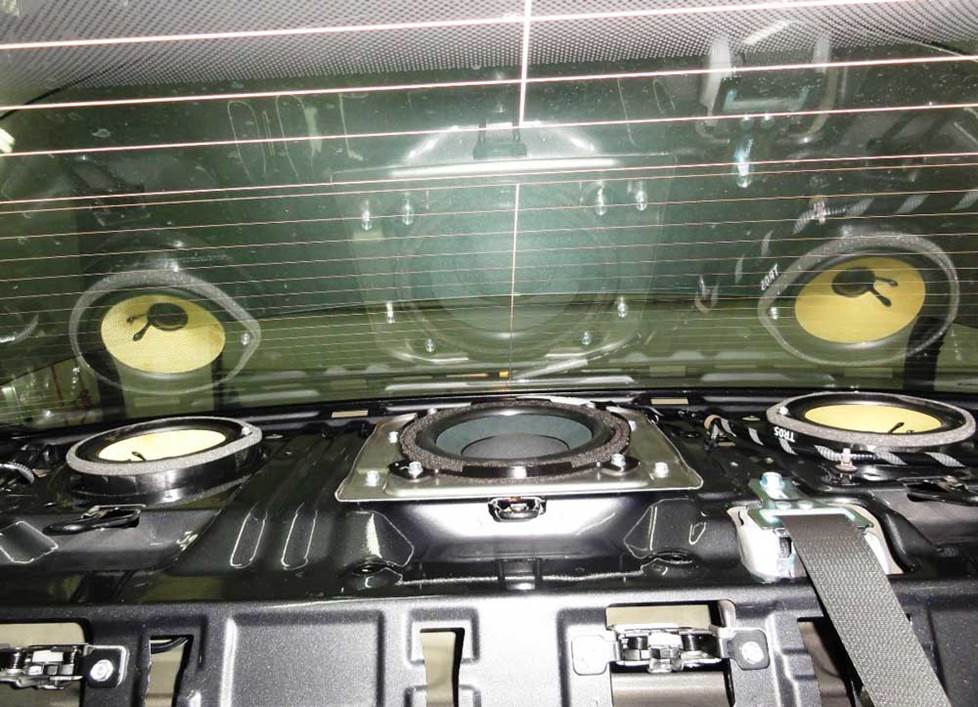 The 8" factory sub sits between the rear deck speakers (Crutchfield Research Photo)
Bass in your Honda Civic
If your Civic has the factory 8" rear deck sub, the time to install a more powerful aftermarket model is when you're replacing the rear speakers. You'll have to go through the same process to get to the sub, so unless you like spending an afternoon on this sort of thing, you might as well get it done now. The factory speaker receives only bass frequencies, so whatever you pop into this space (we're guessing it'll be an 8" sub) will only produce bass.
If an 8" rear deck sub just isn't enough bass, you can always step up to something bigger and better. You have a 39" W x 16" H x 23/28" D space to work with in the trunk of the coupe and 39" W x 16" H x 27/33" D in the sedan. That's plenty of room for even a couple of 12's in a ported box. If you have more practical concerns than bass, but still want good sound, a powered sub might be ideal for your Civic.
If you really pack the trunk with bass, we'd suggest lining it with Dynamat to reduce vibration and seal in sound. You might want to put some in the doors, too. The stuff really works, so if you're building a serious system, you should seriously consider it.
Learn more about building a bass system in our Car Subwoofer Buying Guide.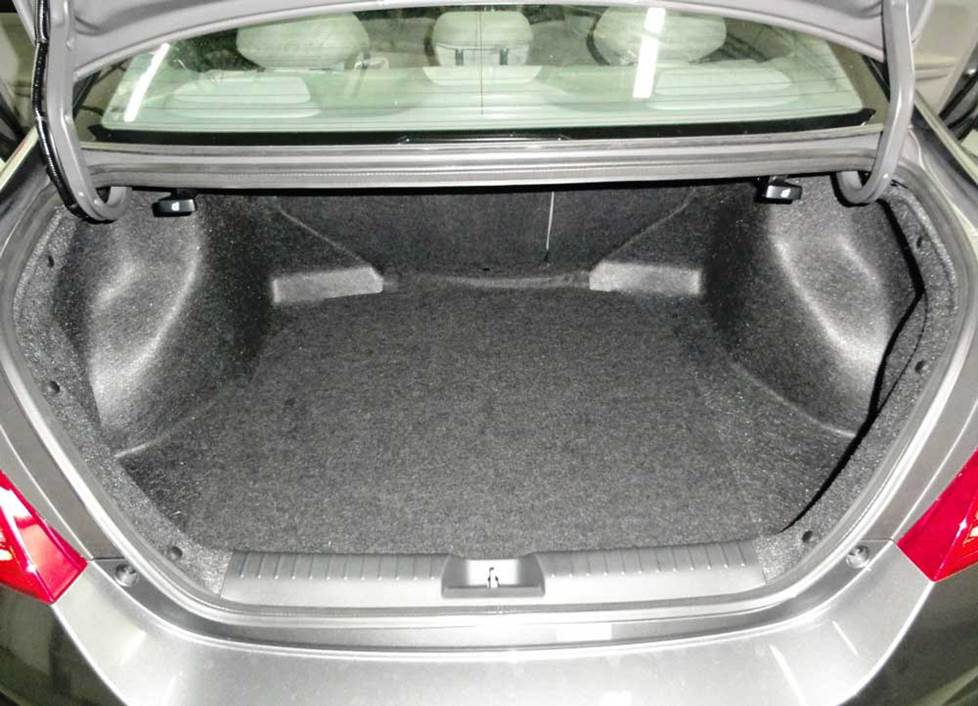 Plenty of space for adding bass (Crutchfield Reaearch Photo)
Other options for your Civic
Here are a few more great ideas for your 2012-2015 Honda Civic:
Floor mats
Hondas can run forever with proper maintenance, but the stock floor mats will not be around for the latter half of that journey. Replace them with WeatherTech floormats, which will help protect your floors from dirt and damage. As for the seats, door panels, headliner and other interior surfaces, we recommend WeatherTech's TechCare car care products.
Satellite radio
These days, satellite radio is almost a necessity if you find yourself on the road a lot. Many aftermarket receivers work with SiriusXM satellite radio tuners, or you can pick up a dock-and-play unit that can be transferred between vehicles or even used in your home. Your favorite stations will be right there wherever you go, and you'll love the variety of music, sports and news, as well as hearing music you probably would never hear on FM radio.
Remote start and security systems
Adding remote start capability to your vehicle lets you warm it up in the winter or cool it down in the summer. The iDatastart system is incredibly convenient and makes it easier than ever to install a remote start system, so we highly recommend it. The module requires a vehicle-specific T-harness (sold separately) to connect with your vehicle's computer, security, and ignition systems, so we ask that you call to order so that we can make sure you get the right harness for your ride.
You can also talk to your Crutchfield Advisor about a security system. They're not as easy to install (we usually suggest letting a professional do the job), but we can help you choose a system that'll work in your vehicle.
Let's get started!
Ready to shop? Use our vehicle selector to find the gear that will fit your car or truck. If you have questions, give us a shout via phone, chat, or email