2014-2019 Toyota Highlander
Upgrading the stereo system in your Highlander
2014 • 2015 • 2016 • 2017 • 2018 • 2019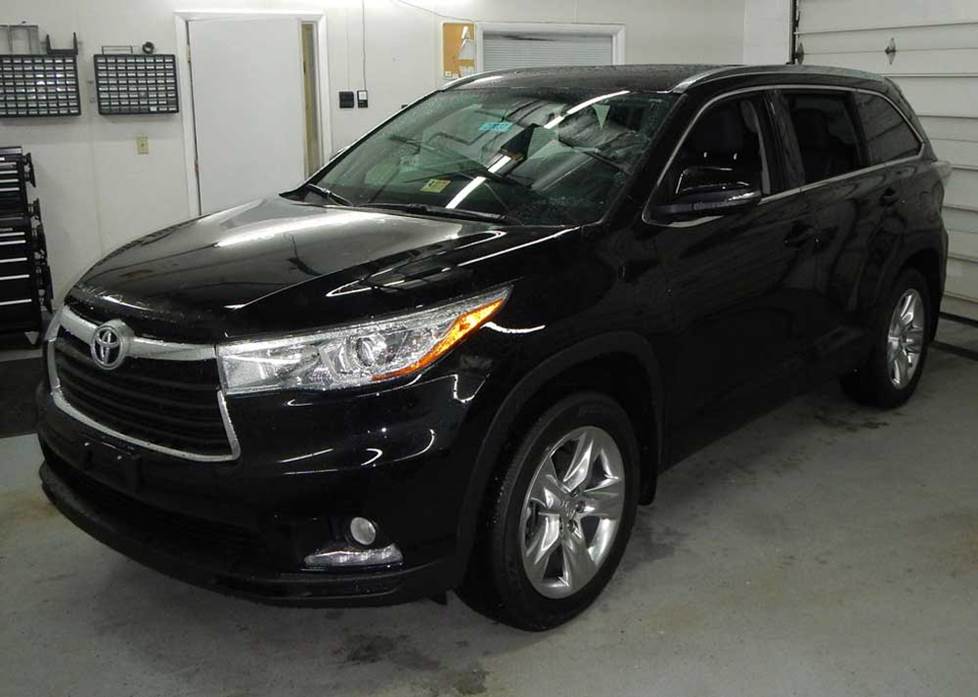 In brief: This Crutchfield Research Garage article gives you an overview of your Highlander's stock stereo system and your aftermarket upgrade options. We'll tell you all about:
Then, use our vehicle selector to find the gear that will fit your Toyota.
Overview of the Toyota Highlander
If you can think of a thing you want an everyday SUV to do, the third-gen Toyota Highlander probably does it pretty well. There's space for almost any reasonable thing you'd want to put in it, there's enough giddy-up to take the drama out of freeway merging, and the handling is reasonably car-like — which it should be, since the Highlander shares a platform with the Camry, which is a thoroughly reasonable car.
A stock Highlander is not the SUV to choose as your Baja pre-runner, but if you're like most owners, you're fine with that. You don't need an SUV to blast through the brush, you need an SUV that will get you to brunch — and everywhere else you need to be during your busy week.
The Highlander is comfortable, distinctive, and built like a Toyota, which means it'll probably start and run long after you've passed it on to one of your kids. There are a lot of miles between now and then, though, so upgrading the stereo gear will make those miles a lot more enjoyable. Oh, and we'll also be happy to help your kid when it's time for another upgrade!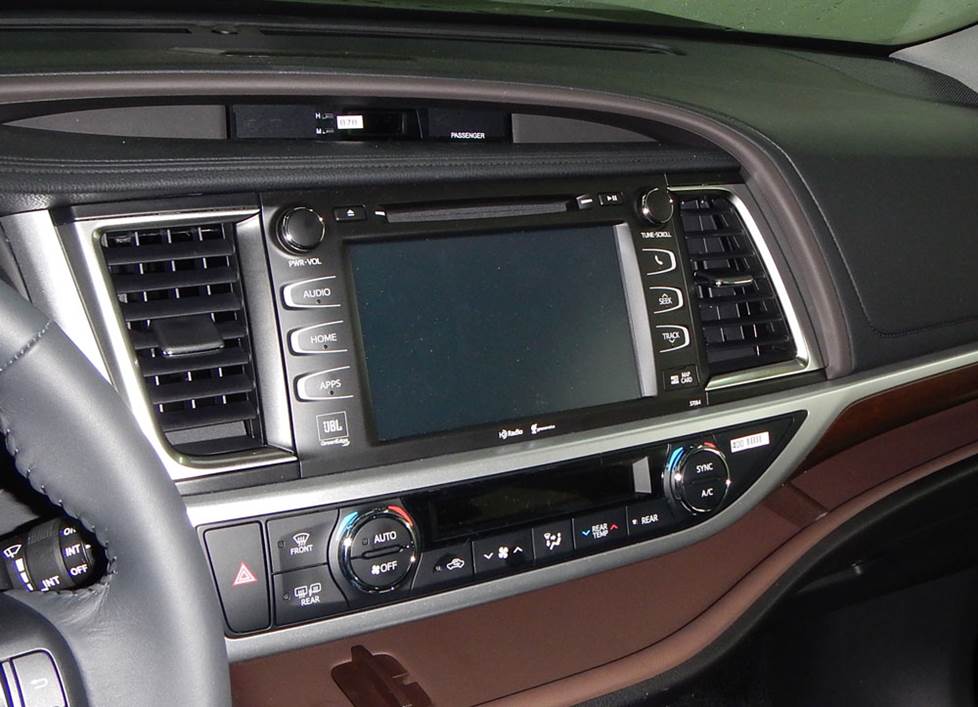 The Highlander has two radio options, but the removal process is the same for both (Crutchfield Research Photoo)
The factory stereo system
The Highlander was available with two different stock radios, a 6.1" touchscreen and the top-line 8" model. Both fit neatly into the same dash panel, so removal and replacement is the same for both.
The base system is decent enough, as these things go, but that's about it. The premium JBL GreenEdge system gives you 12 speakers in 10 locations, plus Toyota's Entune app and USB and AUX inputs in the front of the center console. This is a pretty spiffy factory system, really, but it can definitely be improved upon.
When you replace the factory radio, you'll lose the factory satellite radio capability and, of course, the factory navigation functions. These things can be found in various aftermarket receivers, so you can regain whatever you've lost.
The factory amp is located under the center console, and it's a royal pain to reach and replace. Your best bet is to bypass it and install an aftermarket model for your new stereo and speakers.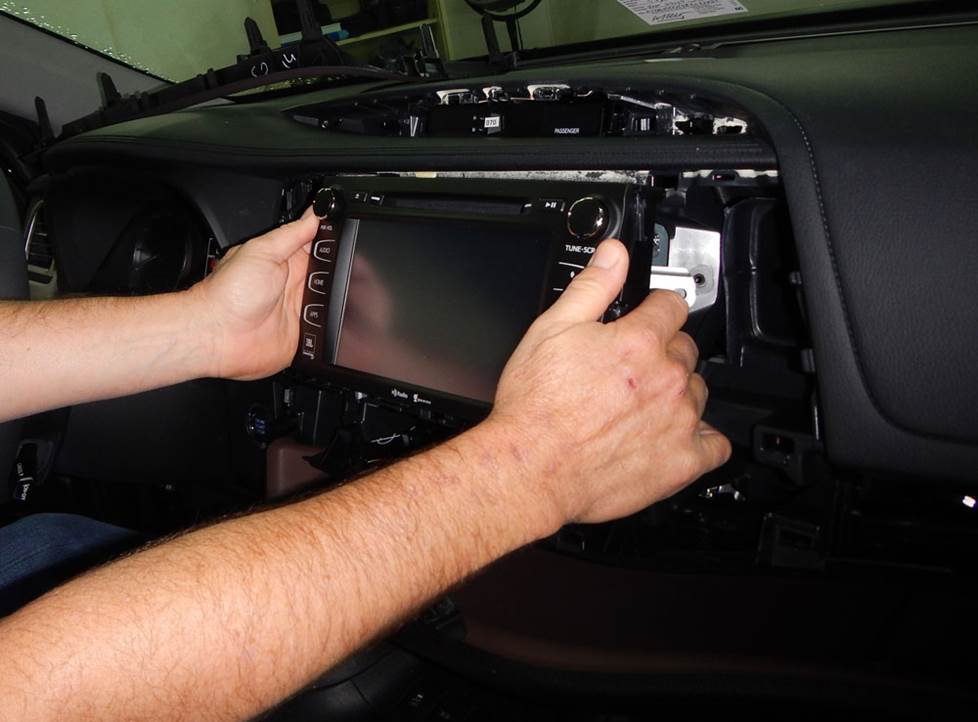 Once the old radio is out, you'll have room for a single-DIN (2" tall) or double-DIN (4" tall) aftermarket model (Crutchfield Research Photo)
Removing the factory radio
Like we said, the removal/replacement process is the same, no matter which stock receiver is sitting in your Highlander's dash right now. You can choose from a variety of single-DIN (2" tall) or double-DIN (4" tall) aftermarket replacements, and we'll give you a nifty discount on the dash kit and wiring harness adapter you'll need to connect your new receiver to the Highlander's factory wiring system.
Before you start the job, be sure to set the parking brake and disconnect the negative battery cable to prevent any electrical short. You should also press the "eject" button to make sure you don't have a favorite CD stuck in the old receiver.
Once all that's done, use a panel tool to pry off the climate control panel, which is held in place by 17 clips. Disconnect the wiring harness, remove the panel, and set it aside. Next, you'll use the panel tool to pry up, in order, the left center dash vent, upper dash trim strip, and right center dash vent.
Detailed stereo and speaker removal instructions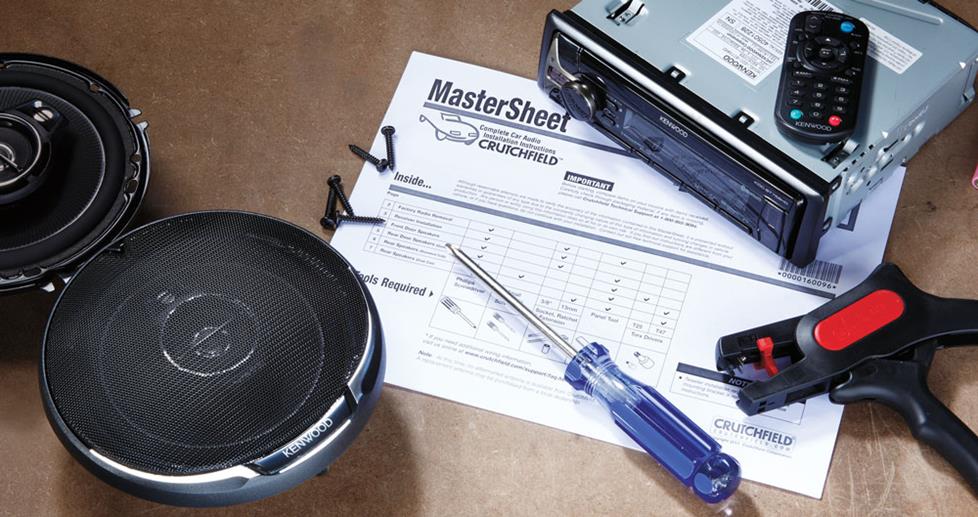 With step-by-step disassembly instructions and plenty of up-close, detailed photos, our exclusive
Crutchfield MasterSheet
™ takes the guesswork out of removing the factory stereo and speakers. It's free with your Crutchfield order, or you can purchase one separately for just $9.99.
With the radio exposed, all that's left is to remove the four 10mm screws securing the factory radio. Pull it out, disconnect it, and get it out of there. Your dash kit and wiring harness will include instructions on how to put everything together and hook it all up. Follow those, then do all the panel removal steps in reverse, using the screws you removed earlier.
If you're not into wiring, you might want to check out our exclusive ReadyHarness service. You can save a lot of time and hassle by letting our experts make most of the connections to your factory receiver.
Tools needed: Panel tool, 10mm socket, ratchet and extension
Shop for car stereos that fit your Toyota Highlander
Steering wheel audio controls
It's relatively easy to retain your Highlander's steering wheel audio controls when you install a new stereo. When you enter your vehicle information, our database will choose the adapter you need to make your factory steering wheel controls work with your new receiver.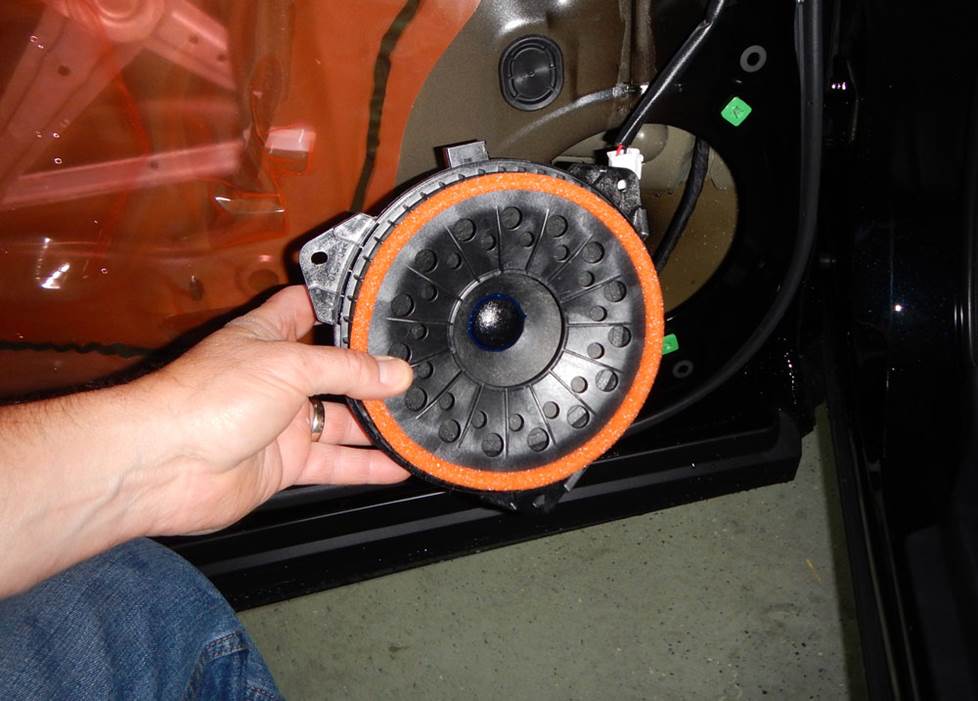 Speaker removal and replacement is generally pretty easy in the Highlander (Crutchfield Research Photo)
Removing the factory speakers
The Highlander's speakers come in two flavors — regular and JBL. The JBL models (shown) have nifty orange highlights and better performance, but they all come out the same way. We'll hit the high points below, and all the details can be found in your Crutchfield MasterSheet.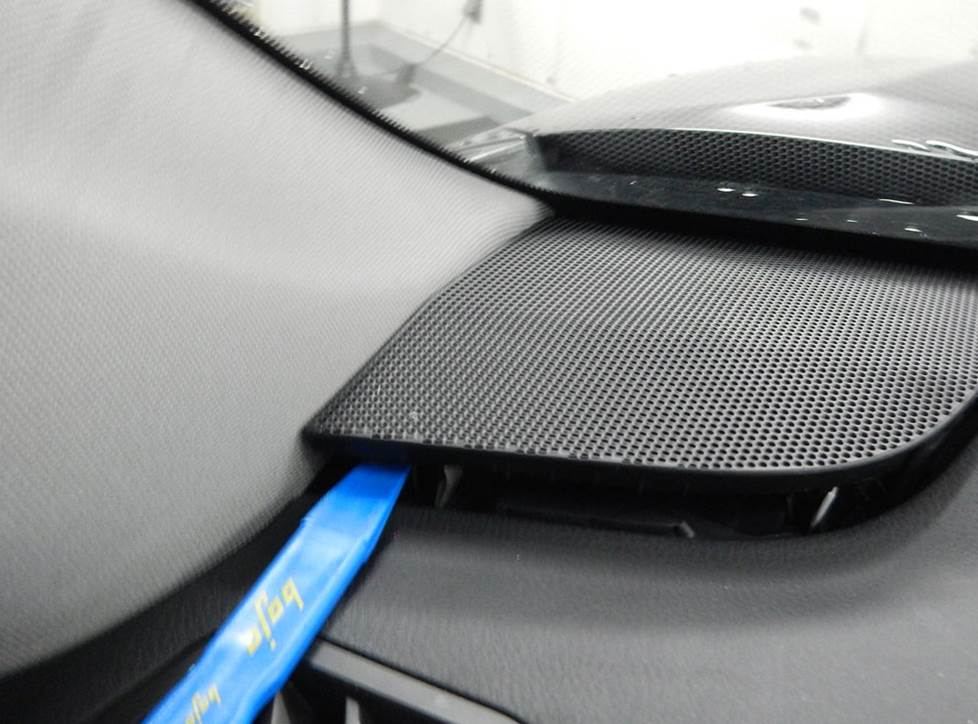 These corner dash speakers can be replaced by a variety of 3-1/2" aftermarket speakers (Crutchfield Research Photo)
Corner dash speakers
The 3-1/2" corner dash speakers, found in all Highlanders, are mostly easy to deal with. Starting at the rear edge, use a panel tool to pry up the grille and release two clips, then remove the grille. With the speaker exposed, you'll then remove the two 10mm screws securing the speaker. Pull it out, disconnect it, and set it aside.
With the JBL system, there's no wiring harness adapter available for this location, so we recommend using Posi-Products speaker connectors to connect the speakers to the factory wiring. You can also splice or solder, of course, but the Posi-Products are a lot easier for the neophyte DIY-er to work with.
Tools needed: Panel tool, 10mm socket, ratchet and extension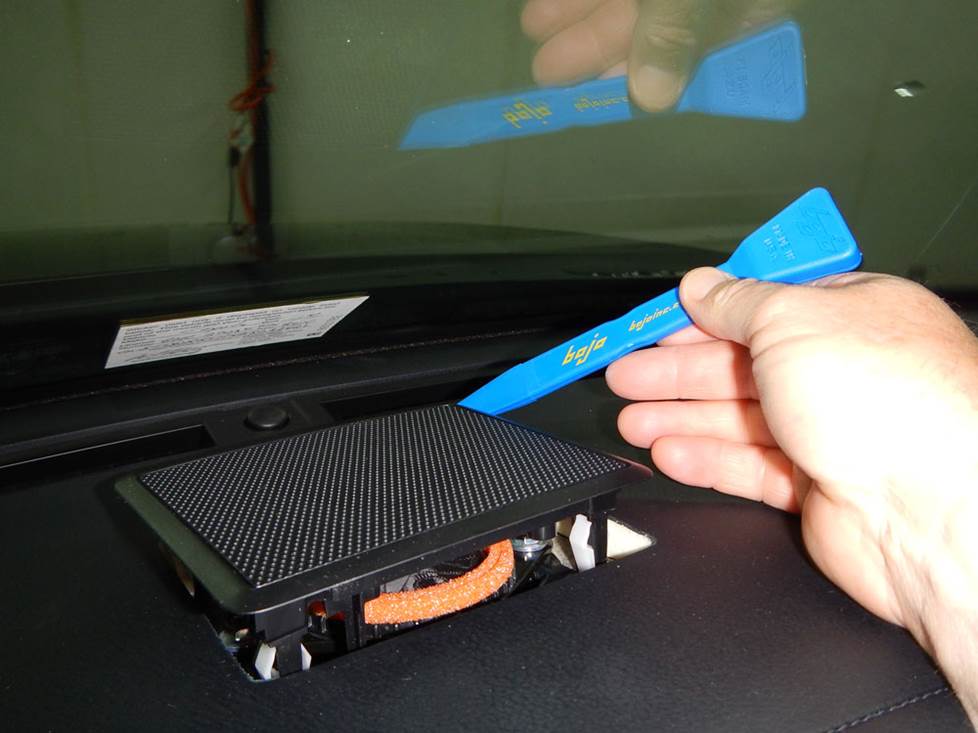 You'll find this 3-1/2" center dash speaker in JBL-equipped Highlanders (Crutchfield Research Photo)
Center dash speaker (JBL)
The JBL system's center dash speaker is pretty basic, too. Just pry up the center dash speaker grille to release four clips, then remove the grille. Remove the two 10mm screws securing this speaker, then remove it. Your new 3-1/2" speaker will fit neatly into the factory opening, but you'll need to us Posi-Products connectors here, too.
Tools needed: Panel tool, 10mm socket, ratchet and extension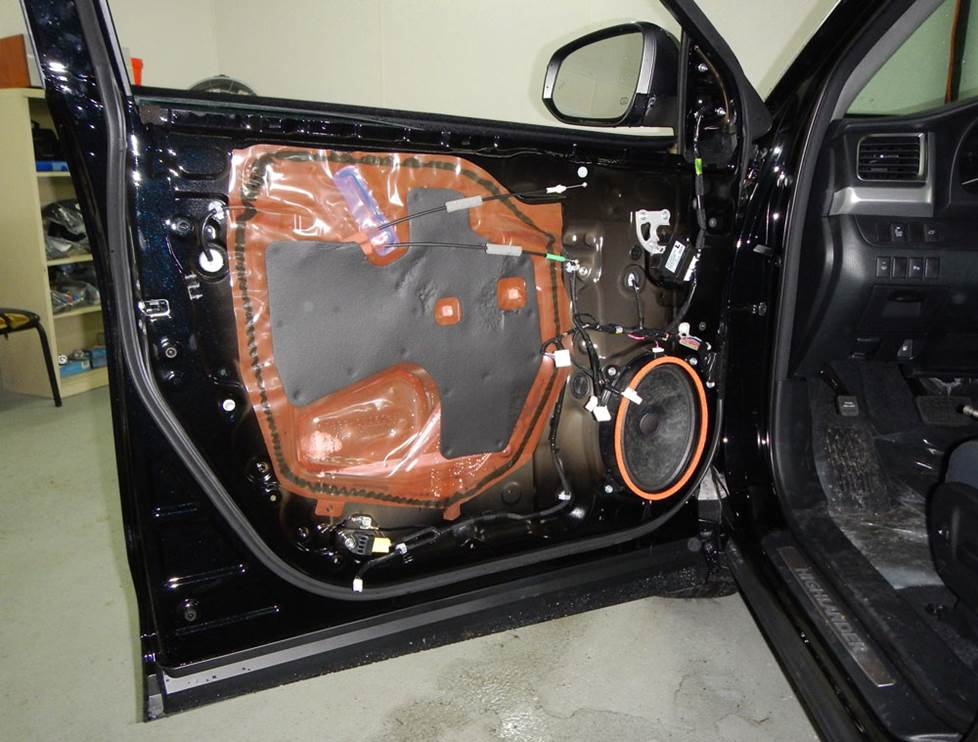 You'll need to remove the door panels to replace these speakers (Crutchfield Research Photo)
Front door speakers
Replacing the Highlander's front door speakers isn't that hard, and these 6"x9" Toyota-size speakers can be replaced by a wide variety of 6"x9", 6-1/2", and 6-3/4" aftermarket speakers. Wiring harnesses are included with your Crutchfield speaker purchase, as are mounting brackets (if needed) for your new speakers.
You'll need to remove the door panels to reach and remove these speakers, which isn't that hard, really. Complete disassembly instructions can be found in your Crutchfield MasterSheet. If you have any questions during your installation, remember that your Crutchfield purchase also includes free tech support for the life of your gear.
Once the speakers are installed, test them out and make sure they're working. Before you start reinstalling the doors, make sure the wiring isn't interfering with the windows, and also check the doors and locks to make sure they're okay. If so, you're good to go!
Tools needed: Panel tool, Phillips screwdriver, 10mm socket, ratchet and extension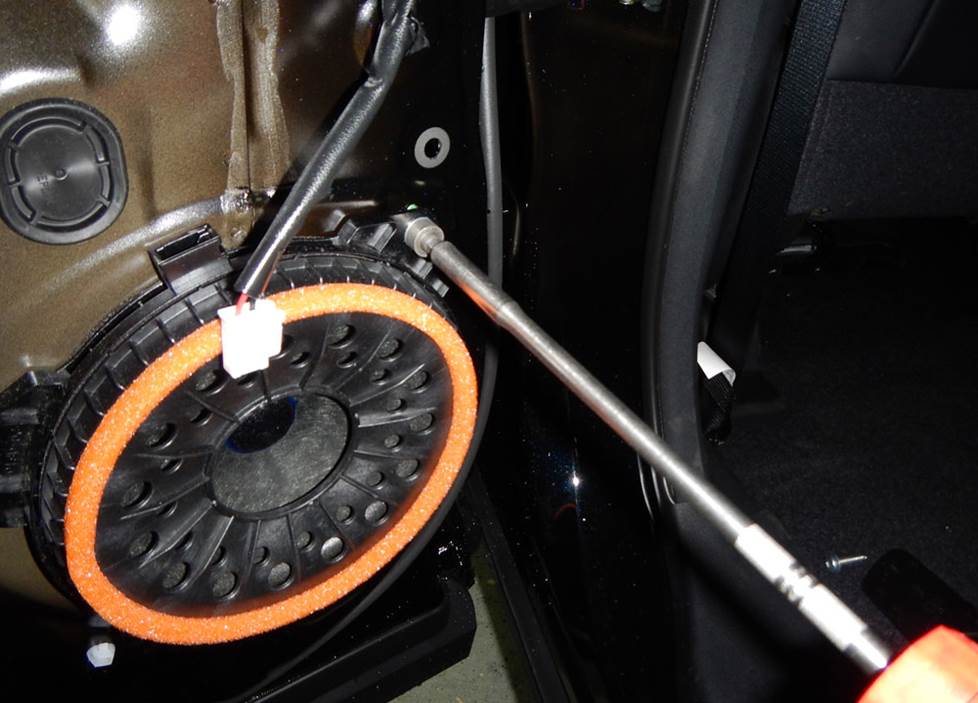 You can replace the rear speakers with a healthy variety of 6-1/2" or 6-3/4" aftermarket models (Crutchfield Research Photo)
Rear door speakers
If you're old enough to remember the band Herman's Hermits (or cool enough to know someone who does), the phrase "Second verse, same as the first" should ring some bells. In the case of the Highlander, the rear doors are pretty much the second verse of the speaker removal/replacement process. Most everything that you do on the front doors gets done on the back doors, and the few differences will be noted in your Crutchfield MasterSheet.
The same basic assortment of 6"x9", 6-1/2", and 6-3/4" aftermarket speakers will work in the rear doors, and we'll include the harnesses and necessary mounting brackets.
Tools needed: Panel tool, Phillips screwdriver, 10mm socket, ratchet and extension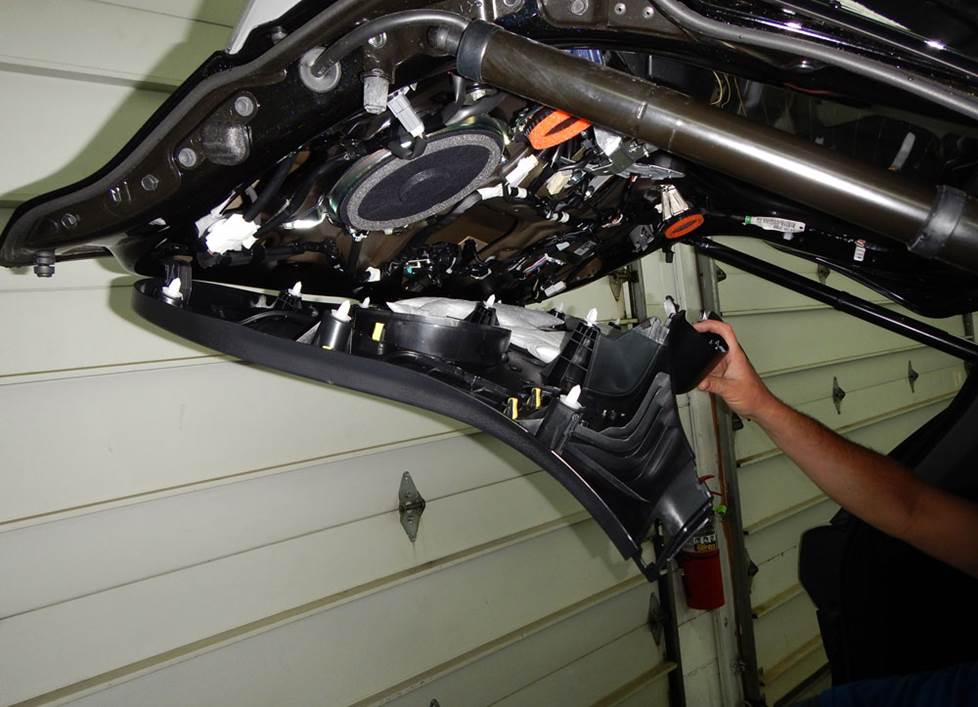 Removing and replacing the JBL cargo door speakers is a bit awkward, but it's totally do-able (Crutchfield Research Photo)
Cargo door speakers (JBL)
In JBL-equipped Highlanders, you'll find a pair of 3" tweeters and an 8" subwoofer in the cargo door. You'll need to remove the door panel to get to the speakers, and while that's not hard, the door opens upwards, so you'll be looking up the whole time you're doing the job. This can be a little tedious and hard on muscles that might not be used to that sort of thing, so bear that in mind.
The tweeters are a bit smaller than standard 3-1/2" speakers, so you'll need to fabricate a mounting bracket (or use hot glue or silicone or our universal backstraps) to install your new speakers. You'll also need to use Posi-Products connectors to connect them to the factory wiring.
Hybrid note
A hybrid's gas-electric hybrid powertrain makes replacing the stereo a little more complicated. As you might expect, hybrid Highlanders contain some very sensitive electronics, so here are a couple of things to keep in mind:
Be sure to only use a multi-meter when testing wires, and NEVER use a test light to test wires in this vehicle. Doing so could cause some serious (by which we mean dangerous and expensive) damage.
A hybrid is not the car to choose if you want to build a massively powerful audio system. The thirsty current draw of a high-powered stereo system is not a good thing for the hybrid system, so don't exceed a 30-amp current draw or 350-watt RMS power rating.
As for the sub, it's a low-profile, dual voice coil model that's roughly the size of an 8" aftermarket model. You'll have to make a mounting bracket to install your new sub, and you'll need Posi-Products connectors here, too. In all cases, your new speakers might not include mounting screws, so hang on to the ones you remove from the stock speakers or head to the hardware store for some new ones.
Tools needed (tweeters): Panel tool, Torx T-20 driver
Tools needed (subwoofer): Panel tool, 10mm socket, ratchet and extension
Shop for speakers that fit your Toyota Highlander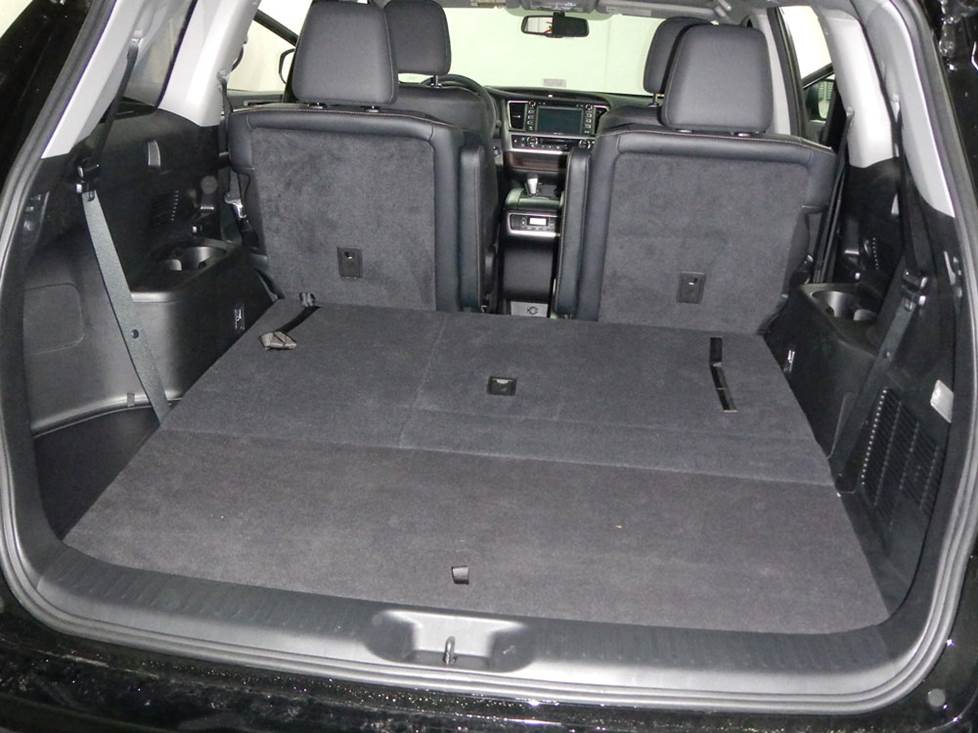 Like big bass? You can take full advantage of the Highlander's spacious cargo area (Crutchfield Research Photo)
Bass in your Highlander
Today's "mid-size" SUVs are still pretty big, so you won't be surprised to hear that there's a bunch of room in the cargo area for a subwoofer box. Our actual measurements show a 46" W x 16" H x 7"/15" D space, so you should be able to fill this space with bass if you want to. And that's with the third-row seats in the "up" position and fully reclined.
If you still value the "utility" aspect of your SUV, you might not want to fill the cargo area with an enormous sub enclosure. That's cool, too, and you can improve your Highlander's bass performance with a compact powered subwoofer that will leave plenty of room for groceries and the whatnot of everyday life.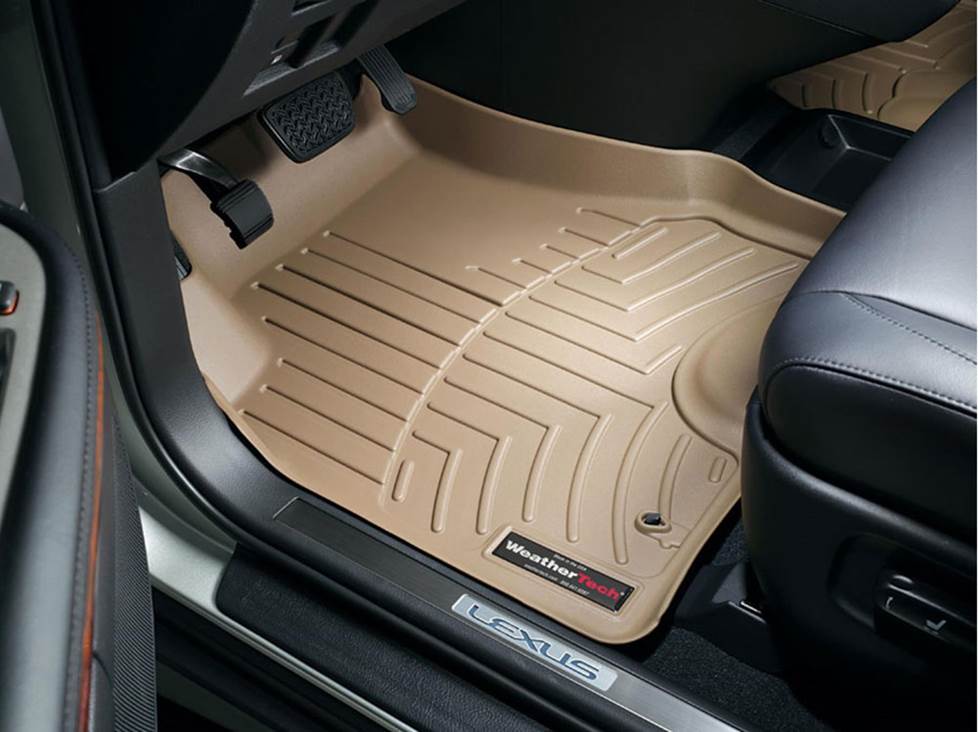 WeatherTech floor liners are designed to fit a wide variety of popular vehicles.
Other options for your Highlander
Here are some other ways to upgrade your Highlander.
Protect your carpets with floor liners
No matter how much you pamper your Highlander, you're eventually going to get involved in some sort of truck-like activity that gets you and/or it dirty. When that happens, it's a good idea to have a set of WeatherTech liners on the floors and especially in the cargo area. These incredibly durable mats trap moisture, contain dirt, and keep your factory carpets looking good. To see all the mats that fit your SUV, enter your vehicle info.
Reduce road roar with Dynamat
Highlanders are reasonably quiet as SUVs go, but as an SUV ages, creaks and groans might start to intrude on your driving serenity. A Dynamat Xtreme Door Kit is the perfect way to seal in sound. This heavy-duty insulating material is easy to install, and it really makes a difference. One kit will take care of the front doors in your Highlander. The rear doors and the rear cargo hatch are also good areas to target if you build a serious sound system.
Add an amplifier (or two) for better sound
A new amplifier will help you get the most out of the new speakers in your non-hybrid Highlander. You'll get cleaner power (and a lot more of it), which will result in much, much better sound. A 4-channel amp will help your new speakers deliver crystal-clear details in your music, and a mono amp can provide the juice your subwoofer needs to pump out the bass.
The sound processor solution
If you choose to upgrade around the stock radio, install a sound processor to send a clear, clean signal to your new amp. Sound processors remove any limitations on the signal imposed by the factory radio. The better the signal, the better the sound. Read our article explaining factory sound processors to learn more.
Protect your stuff with a security system
Installing a security system in your Highlander isn't easy (security systems rarely are), but it's less complicated than it could be. Our Crutchfield Advisors can help figure out what you need to get the job done, but we usually recommend taking your car and your new security gear to a professional installer.
Let's get started!
Ready to shop? Use our vehicle selector to find the gear that will fit your car or truck. If you have questions, give us a shout via phone, chat, or email