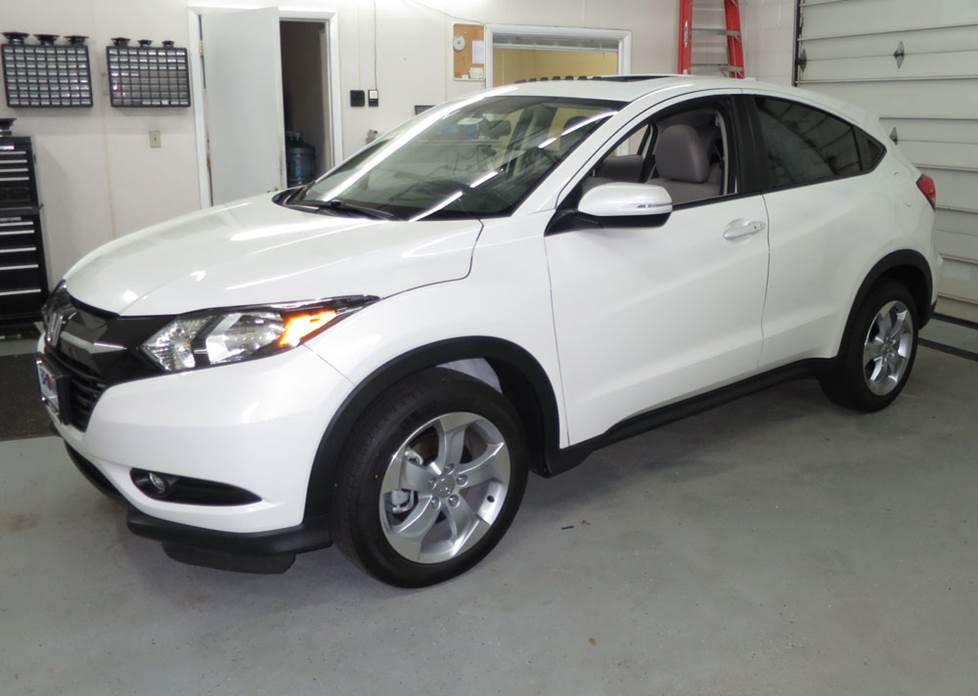 In brief: This Crutchfield Research Garage article gives you an overview of your HR-V's stock stereo system and your aftermarket upgrade options. We'll tell you all about:
Then, use our vehicle selector to find the gear that will fit your Honda.
Overview of the Honda HR-V
Behold the future. Not the eventual somewhere-up-the-road future with self-driving cars, smart roads, and who knows what else, but the more immediate future in which small SUVs pretty much take over the automotive world.
More and more people are downsizing out of their large SUVs and jumping into "small and tall" crossovers like this one. It makes sense to us, because these trucklets combine the height and utility of an SUV with the footprint and fuel efficiency of a compact car.
The HR-V is one of the best of the breed, since it's based on Honda's popular Fit, which is a pretty nifty little machine in its own right. The HR-V is bigger, of course, but it's still a neat, compact package that's ideal for both daily drives and weekend excursions. The factory audio gear isn't terrible, but you'll get much better performance when you add aftermarket gear. And it's easier than you probably think, so read on.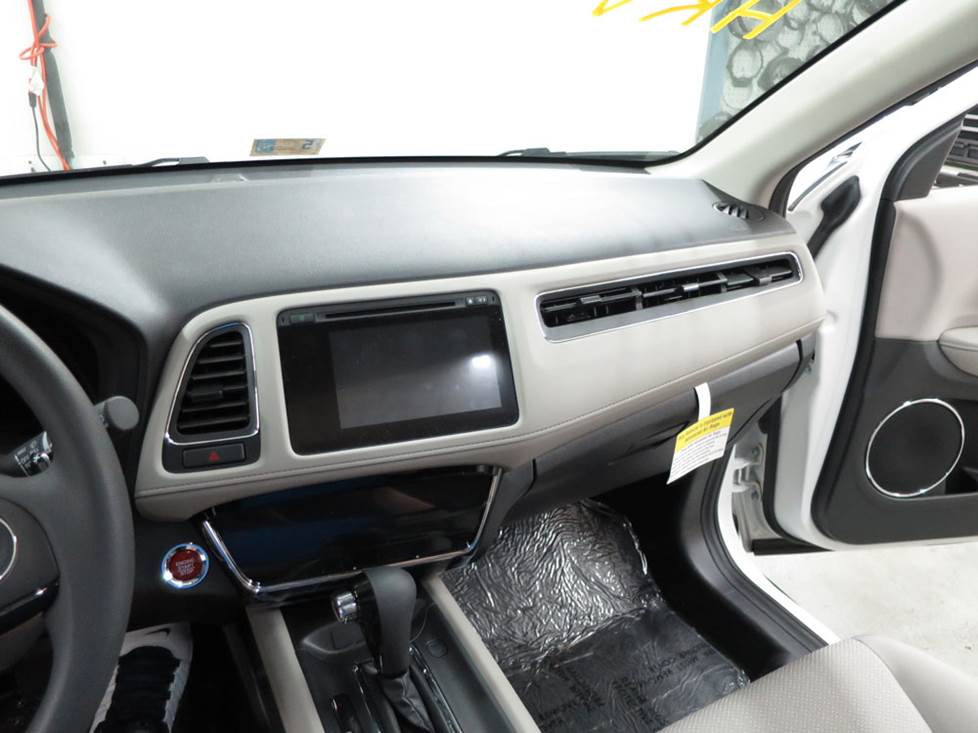 Replacing the radio is pretty simple, but you should still work carefully (Crutchfield Research Photo)
The factory stereo system
The HR-V's stock audio gear is pretty ordinary, really. Both the standard radio and the optional navigation model offer the usual bells and whistles expected in a 21st Century receiver, and the music plays through either 4 or 6 speakers. Like we said, they're not terrible, but they're not outstanding, either.
The nav receiver is an especially subjective topic, since as far as we can tell; some people like it just fine and others don't like it at all. If you like yours, you can keep it and focus on improving the speakers. If you don't, a wide variety of single-DIN (2" tall) and double-DIN (4" tall) receivers will fit in the HR-V's dash.
Detailed installation instructions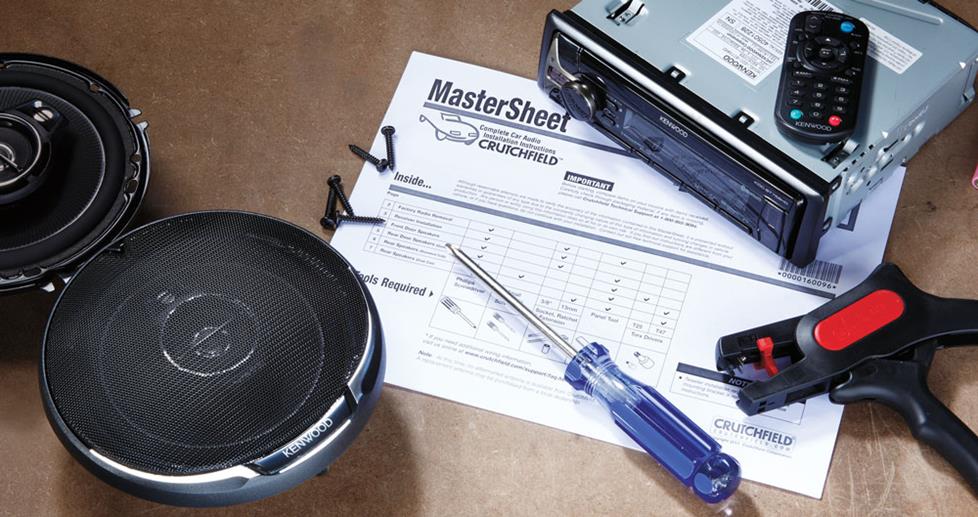 If you're looking for step-by-step instructions on how to install a car stereo or speakers in your car, there's nothing better than our exclusive
Crutchfield MasterSheet
™. This detailed, well-illustrated document is free with your Crutchfield order, or you can purchase one separately for $9.99.
You'll lose some factory functionality with a new receiver, but you'll have no trouble finding an aftermarket receiver with AUX and USB inputs, satellite radio capability, and/or hands-free calling.
One interesting thing to keep in mind if you're only thinking about buying an HR-V is that mid- and –upper level models include the touchscreen receiver and also touchscreen HVAC controls. If you prefer the fumble-around-and-find-it-without-looking security of old-school knobs, you'll want to check out the base model. But if you have the touchscreen already, replacing the receiver doesn't affect the HVAC or the rear-view camera that's standard on the HR-V.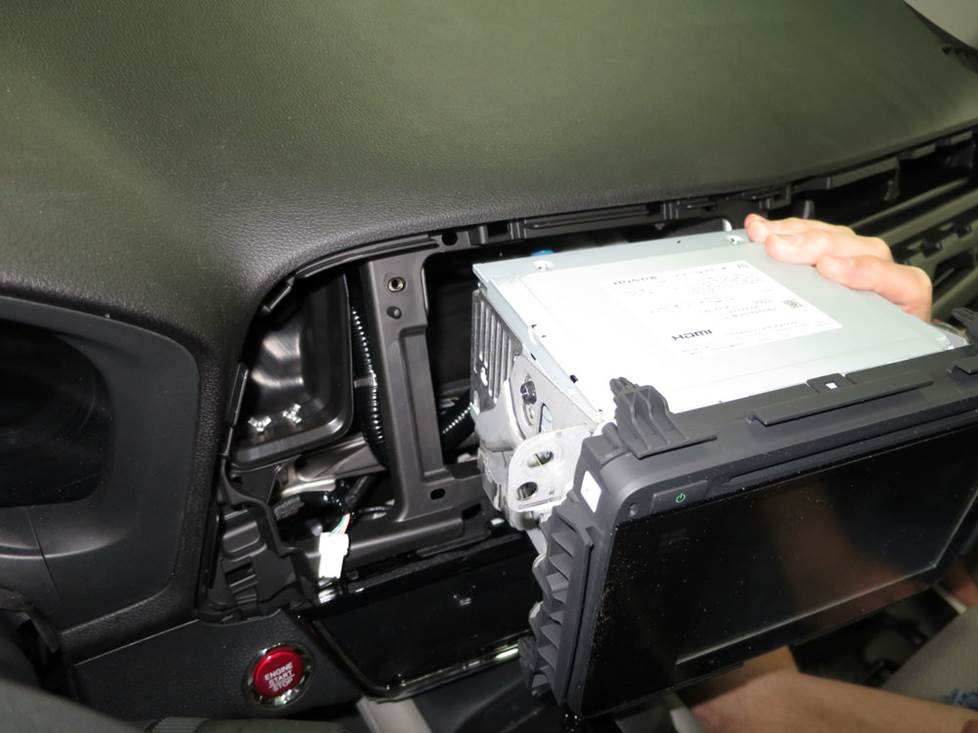 The factory radios included a standard radio/CD player and this optional nav receiver (Crutchfield Research Photo)
Removing the factory radio
Our tech department has a conniption any time we use the word "easy" to describe any installation, but even they would (probably) agree that removing the HR-V's stock radio and installing a new one isn't that hard.
Safety first, though. Before you start, set the parking brake and disconnect the negative battery cable to prevent any electrical short.
Now, you're ready to get to work. Starting on the passenger's far side of the dash, use a panel tool to pry out the one-piece trim/vent panel to release fifteen retaining clips. The key here is to work carefully, since Hondas are put together pretty well and these clips could be kind of tight. You can do it. Just take your time and listen to what the panels are telling you. Once you're done, disconnect the harness and remove the panel.
Next, remove the three Phillips screws securing the receiver to the dash, then disconnect the harnesses and remove the receiver. To install the new one, just do all that stuff backwards. The wiring harness adapter and appropriate dash kit you need to install your new radio are included at a steep discount with your Crutchfield receiver purchase.
Tools needed: Panel tool, Phillips screwdriver
Steering wheel audio controls
It's relatively easy to retain the steering wheel audio controls when you install a new stereo in your HR-V. When you enter your vehicle information, our database will choose the adapter you need to make your factory steering wheel controls work with your new receiver.
Shop for car stereos that fit your Honda HR V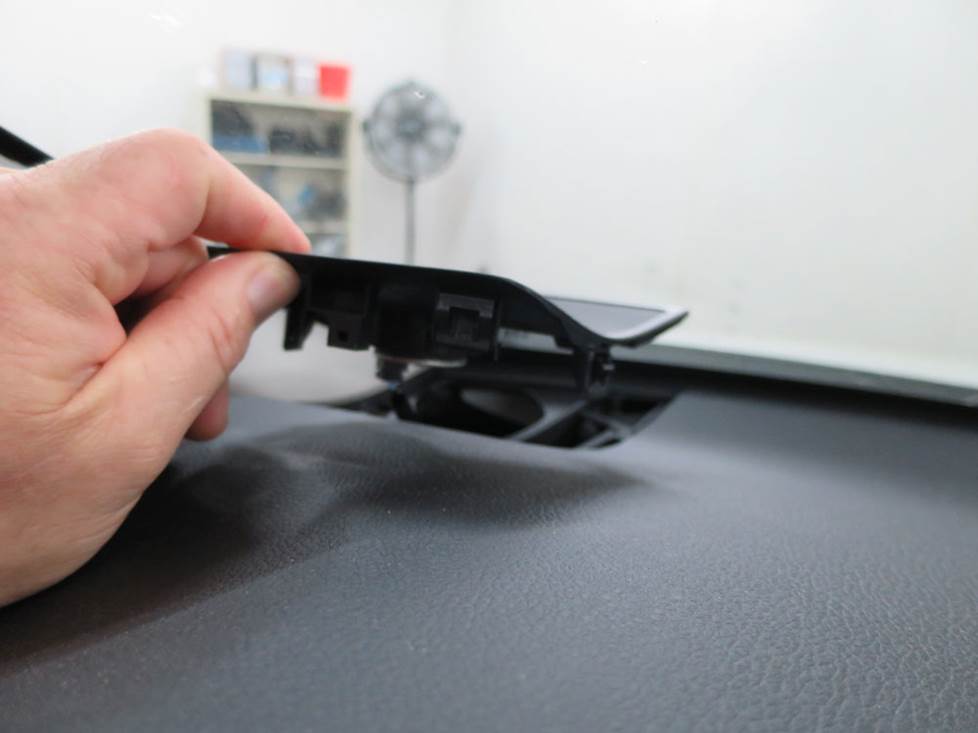 Replacing the dash speakers is an easy project for the average DIY-er. (Crutchfield Research Photo)
Removing the factory speakers
The HR-V has speakers in the doors and dash. All of them are reasonably easy to remove and replace.
Replacing the corner dash tweeters (6-speaker system)
Swapping out the 1-1/2" corner dash tweeters that are part of the 6-speaker system is also an uncomplicated process. Locate the pry point on the rear edge of the grille and pry it up to release four retaining clips, then disconnect the harness and remove the tweeter/grille assembly.
The tweeter is attached to the assembly, so you'll need to gently pry out the three retaining tabs. That'll separate the tweeter from grille and allow you to disconnect the harness.
There's no wiring harness for this location, so you'll need to use a set of Posi-Products speaker connectors to connect to the factory wiring. You'll also need to use a set of universal backstraps (or hot glue or silicone) to secure the new tweeters.
Tools needed: Small flat blade screwdriver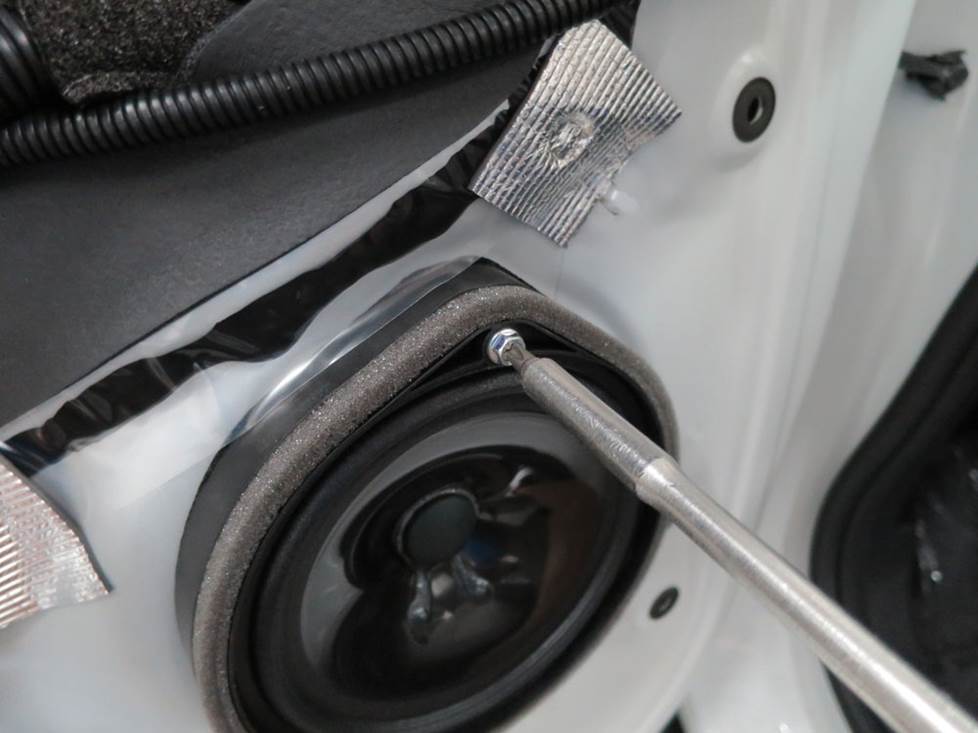 Each door speaker is held in place by one Phillips screw (Crutchfield Research Photo)
Replacing the front door speakers in your HR-V
Replacing your HR-V's 6-3/4" front door speakers is pretty painless, too. You'll need to remove the door panels, but that's totally do-able. Just use some care with the retaining clips here, too.
Start at the top edge of the sail panel, pry it out to release one retaining clip, and remove the panel. Moving down the door, you'll see a screw cover behind the door release handle. Starting at top pry point, pry it out, then remove two exposed Phillips screws.
Next, pry open the screw cover inside the door pull cup and remove one exposed Phillips screw form that location.
Removing the door panel isn't hard, but it does require patience. Pry out all sides of the panel to release 12 retaining clips, then pull out the door lock/release assembly, disconnect the harnesses, and remove the panel.
The stock speaker is secured by one Phillips screw. Remove that, then pry out the top of the speaker, lift it up, disconnect the harness and remove the speaker.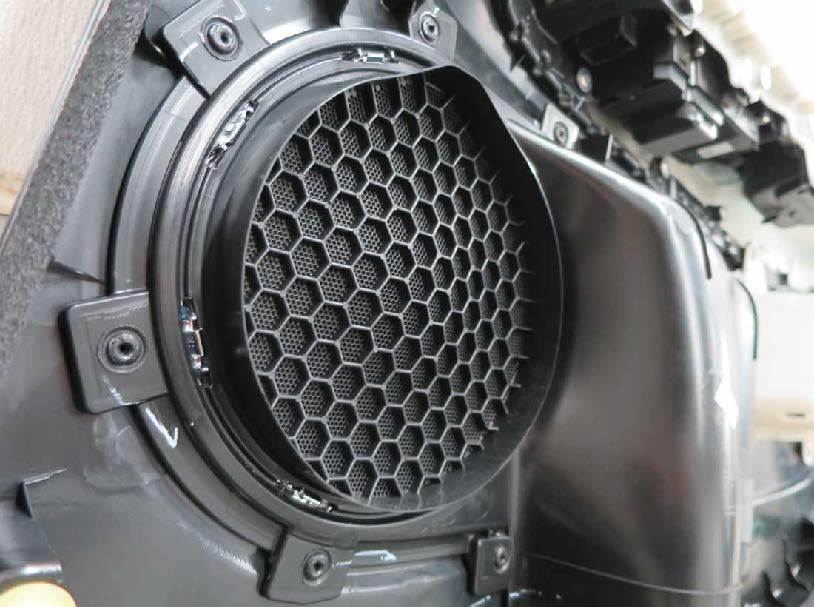 You might need to remove this ring when installing new speakers (Crutchfield Research Photo)
Depending on the speakers you choose, you might need to cut off the grille ring on the back of the door panel to gain a half-inch or so of extra cavity height. The mounting brackets you'll need to install the new speakers will be included with your Crutchfield speaker purchase.
Tools needed: Panel tool, Phillips screwdriver, small flat blade screwdriver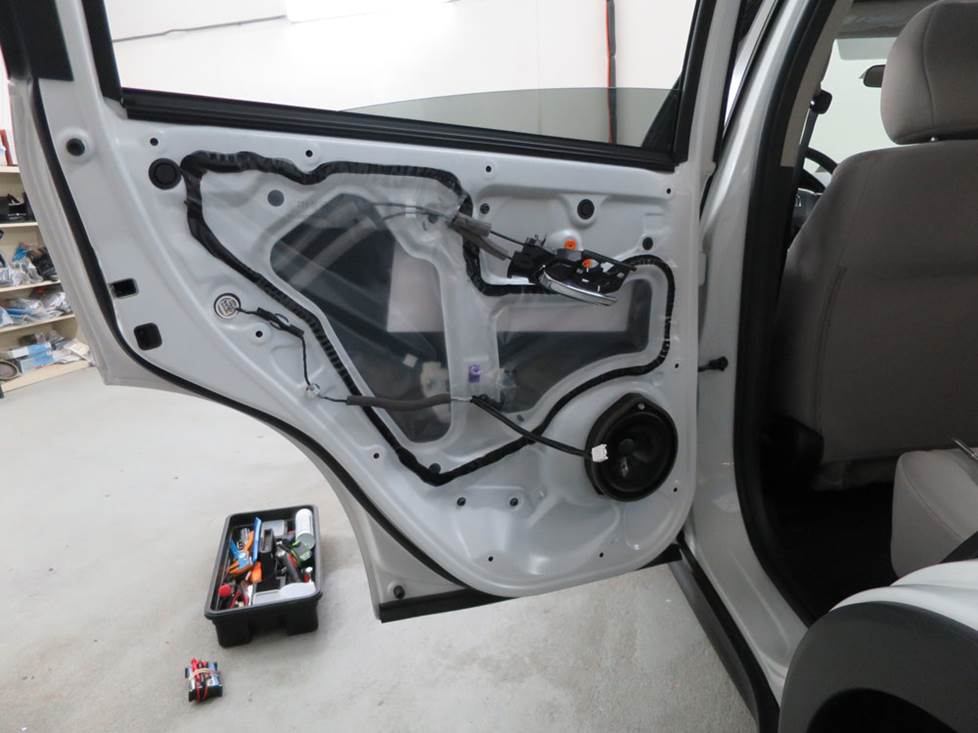 The rear doors house 6-3/4" full-range speakers (Crutchfield Research Photo)
Replacing the rear door speakers in your HR-V
The smoothly integrated rear doors (hidden handles are cool) house a pair of 6-3/4" speakers. They're exactly the same as the ones up front, and removing them involves basically the same tasks. You'll have 10 retaining clips instead of 12, but that's the major difference. All the details can be found in the Crutchfield MasterSheet that's included free with your speaker or stereo purchase. You'll get mounting brackets, too, of course.
This location also has the grille ring on the back of the door panel. If you had to cut if off up front, you'll probably need to do so back here, too.
Tools needed: Panel tool, Phillips screwdriver, small flat blade screwdriver
Shop for speakers that fit your Honda HR V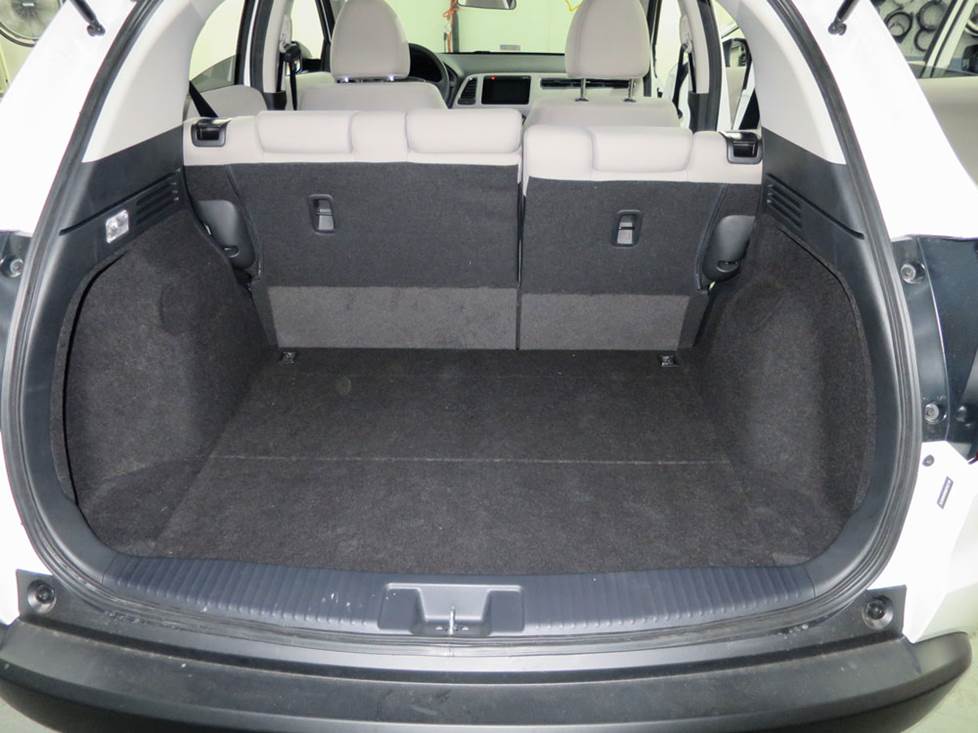 There's plenty of space for bass back here if you want it (Crutchfield Research Photo)
Bass in your HR-V
If you're thinking about adding a subwoofer box and a couple of big boomers to your HR-V, you have a 39" W x 18" H x 30"/21" D space to work with. But, if you value the everyday practicality of your HR-V, you can go with something smaller or even choose a powered subwoofer.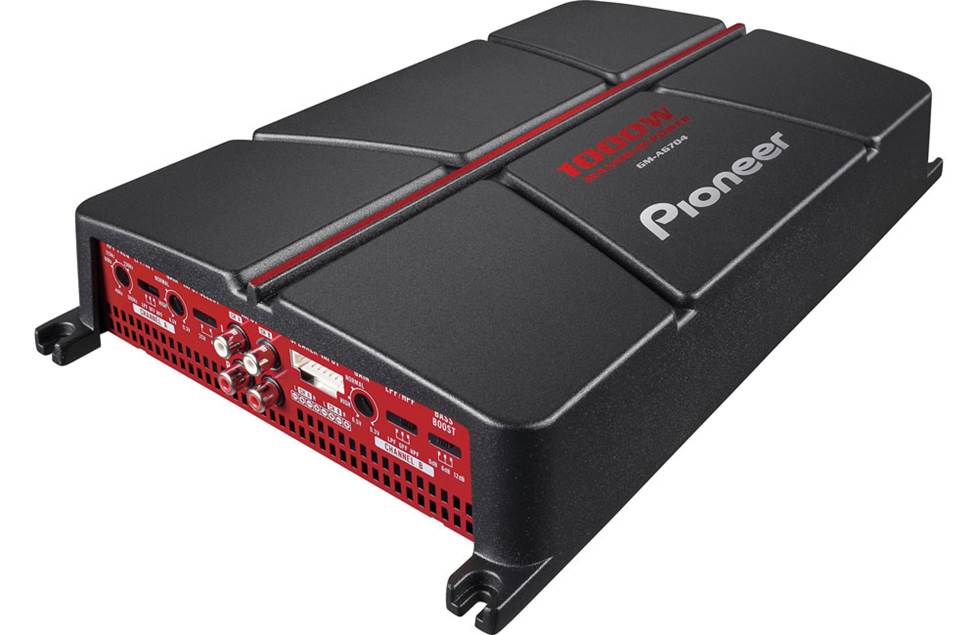 Adding an amp or two will really bring out the best in your music
Other options for your HR-V
There are plenty of other ways to improve the sound, safety, and comfort of your HR-V. Here are some of the ways Crutchfield can help.
Add an amp (or two) for improved sound
A new 4-channel amplifier will help you get the most out of your new speakers. You'll get cleaner power (and a lot more of it), which will result in much, much better sound. A mono amp can provide the juice you need for your new rear deck subwoofer, too.
Interior protection
If you have an SUV of any size, you're eventually going to haul something somewhere. And even if you don't, the front floor mats will get a lot of abuse. Floor mats and cargo mats from WeatherTech will help protect your floors from dirt and damage.
Security
In stark contrast to the rest of the electronics on the HR-V, installing a security system isn't easy at all. Security systems rarely are, actually. Our Crutchfield Advisors can help figure out what you need to get the job done, but we usually recommend taking your car and new gear to a professional installer.
Let's get started!
Ready to shop? Use our vehicle selector to find the gear that will fit your car or truck. If you have questions, give us a shout via phone, chat, or email