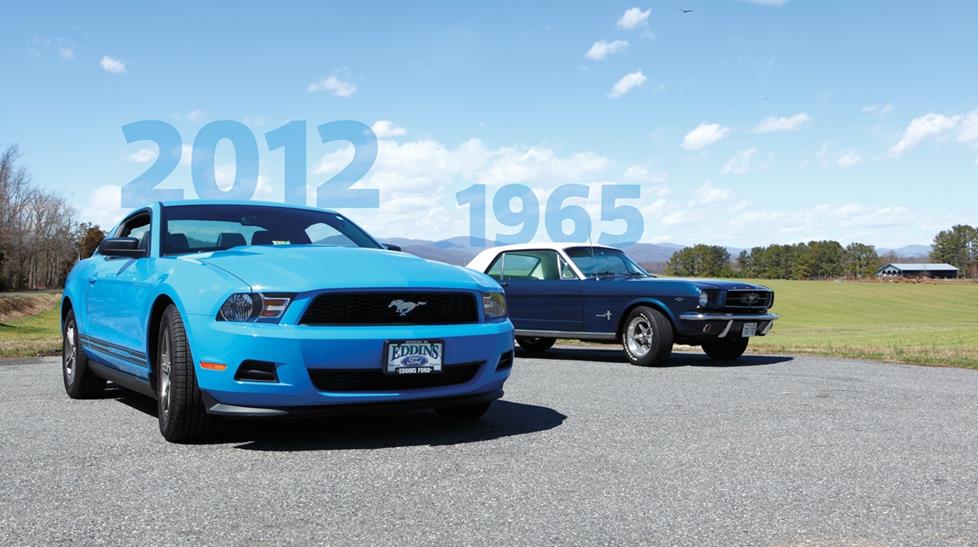 Whether your Mustang is contemporary or classic, there's an aftermarket stereo that fits
Mustang magic
The Ford Mustang isn't just a car, it's an American automotive icon. From the 19641/2 cars that defined a category to the high-tech, retro-style models of today, there's just something about a Mustang that most cars can't match.
A stock Mustang is a beautiful thing, but for many owners, a stock model is just a starting point. A Mustang can always be made to go faster, look wilder, or, of course, sound better. Whether you own a classic or a contemporary model, we can help you build a stereo that's as legendary as the car you drive. To prove it, we got hands-on with one of each.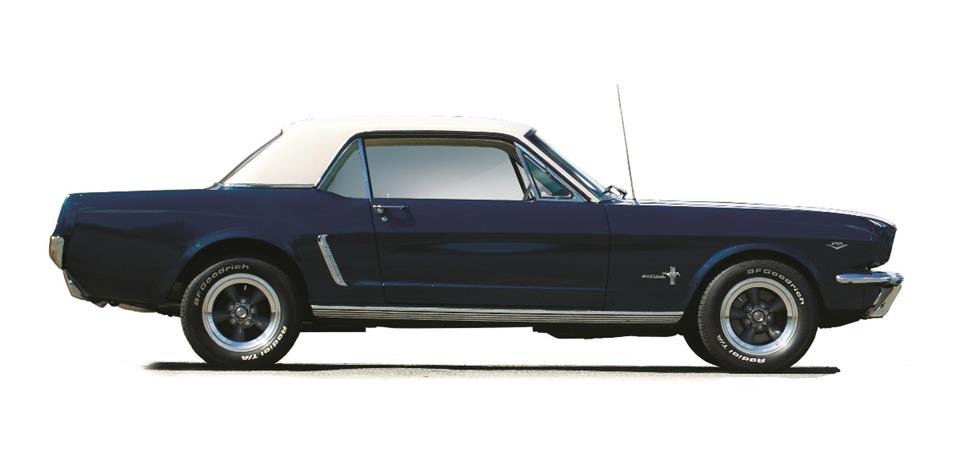 1965 Ford Mustang
State-of-the-art stereo for a 1965 Mustang
Cars like this '65 Mustang should be enjoyed to the fullest. While we appreciate both concours-quality restorations and full-on customs, there's something about a car that looks stock, but has a few subtle tweaks that enhance its everyday (or every weekend) roadability.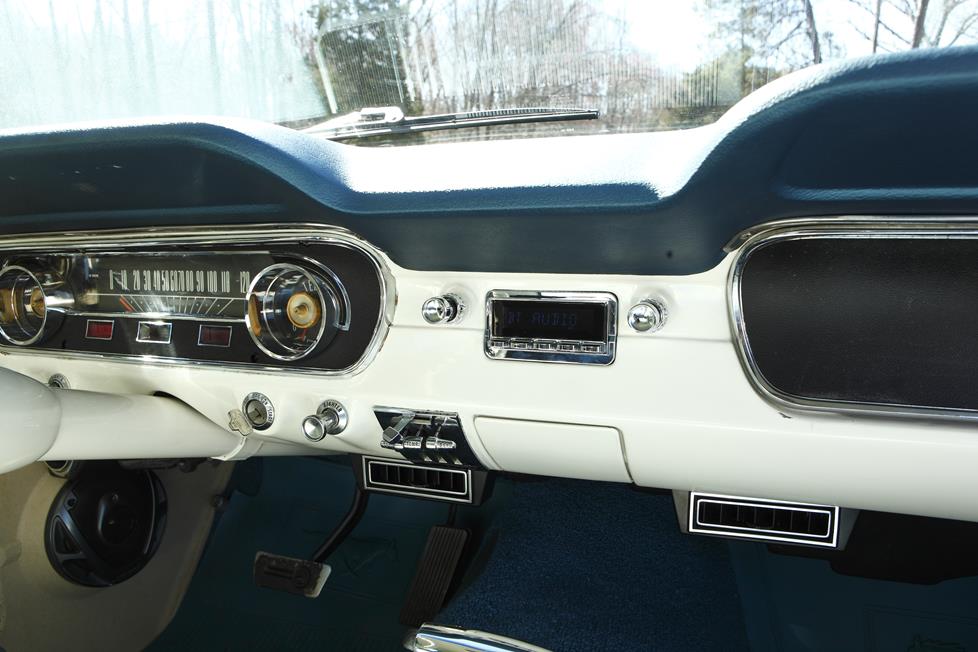 The Retrosound Model Two fits right into this 1965 Mustang
When you're out enjoying your car, you probably want to enjoy some music, too. Unfortunately, the factory radio doesn't give you a lot of choices. There's AM...and maybe FM...and that's all. Back when your old car was new, things like satellite radio, Bluetooth, and portable phones that played music were the stuff of B-grade sci-fi flicks at the local drive-in.
Retrosound makes it possible to add a modern stereo to a great old car without cutting into your dash and disturbing the factory look. Their Model Two digital media receiver uses an adjustable shaft system that adapts to any dash opening, so it fits into this Mustang (and a long list of other vintage cars) without the need to cut, file, or otherwise disturb the car's original appearance.
This digital media receiver lets you relive the good old days while taking advantage of modern features like iPod/iPhone control and Bluetooth hands-free calling or music streaming. Plus, you get dual USB ports, rear aux inputs for your satellite radio tuner or other device, and two preamp outputs.
With each Model Two, we also offer a Retrosound faceplate/knob kit designed specifically to match your car's interior. Call us or check out crutchfield.com/whatfits to see if we have one for your Mustang.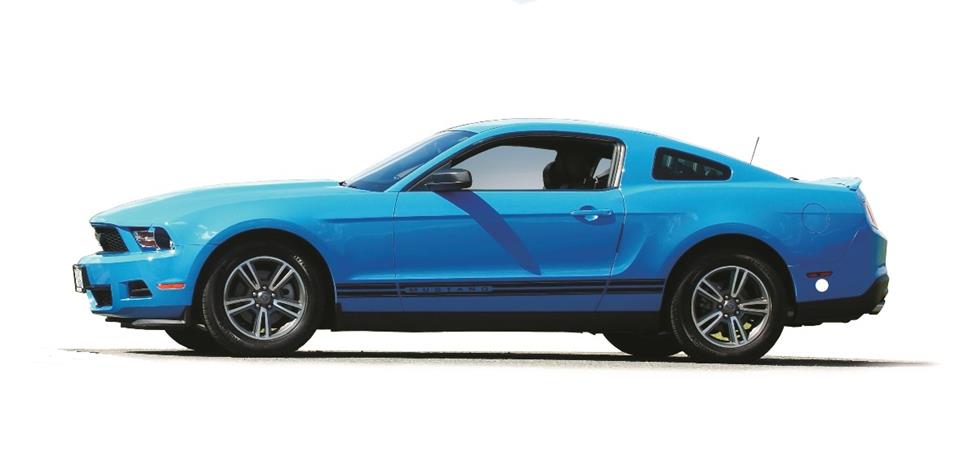 2012 Ford Mustang
Keep your 2010-up Mustang in SYNC®
Mustangs have come a long way since the days of two-knob AM radios. The latest models feature just about everything you could ask for in a factory stereo, including Ford's SYNC system. This popular feature integrates phone functions, Bluetooth, and car telematics into the factory receiver. Once you get used to that kind of functionality, it's hard to give it up – even for better sound.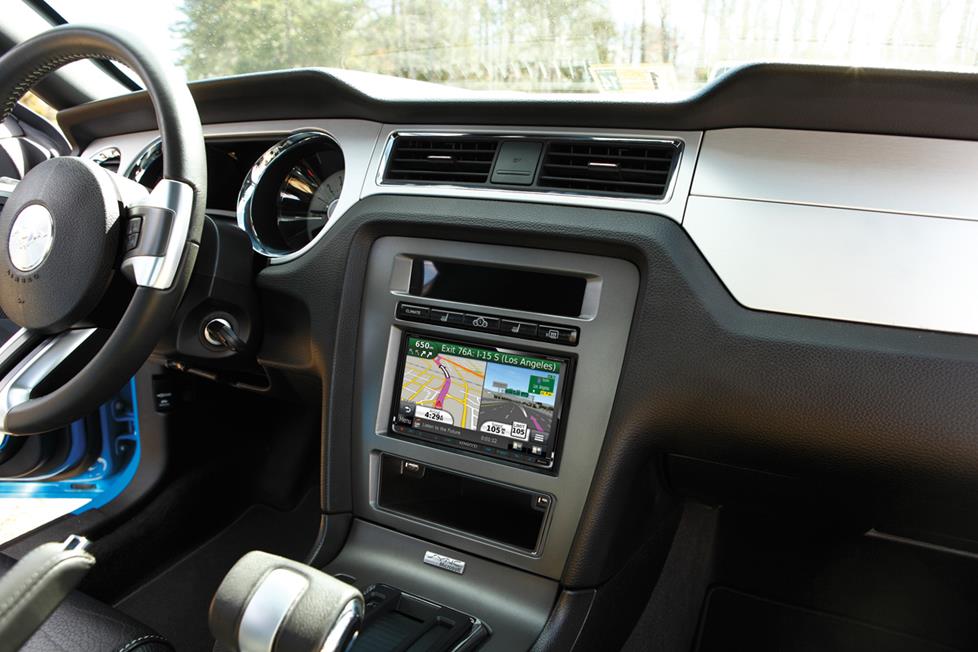 This Kenwood receiver looks -- and works -- like it came with the car
Now, you don't have to, thanks to the iDatalink Maestro module. It communicates with SYNC and makes it possible to install a new Kenwood nav receiver without losing your Mustang's factory functionality.
With the Maestro and select Kenwood receivers, for example, you can use SYNC to control your iPod, use apps through your iPhone®, or enjoy Bluetooth® calling and audio streaming with your Android™ phone. These touchscreen Kenwood receivers give you fingertip control, plus crystal-clear video and maps. It's an amazing combination.
With the Maestro interface (and compatible wires and wiring adapters), you'll be able to access even more through the touchscreen, including climate controls, customizable gauges, and even vehicle diagnostic codes. iDatalink also allows you to access all those features via the Mustang's steering wheel controls. And you can even assign a secondary "press and hold" function to each steering wheel button.
For this car, we used a custom-fit iDatalink dash kit. It retains the factory LED display, but elevates the receiver location to give you easier access to the touchscreen. It's also equipped with five control buttons and two front USB ports on either side of the handy storage bin. The color and texture are designed to match your Mustang beautifully. The iDatalink ADS-KIT-MUS01 factory integration adapter must be used with the iDatalink Maestro RR adapter and a compatible aftermarket Kenwood head unit (sold separately). This adapter is only compatible with 2010-2014 Mustangs without the factory navigation radio.
For other aftermarket receivers, there's a dash kit from Metra that works with both single-DIN (2" tall) and double-DIN (4" tall) models. If you prefer Alpine equipment, there's an Alpine Restyle dash kit that allows you to install an Alpine nav system in your Mustang. We offer the dash kit and iDatalink module you need at a discount when you buy them with a compatible receiver.
For more information on what fits your Mustang, including speakers and subwoofers, give us a call or check out crutchfield.com/whatfits and enter your vehicle information.
More Mustang Info
If you enjoy great-running Mustangs and great-sounding car audio systems, join our Mustang Sound community on Google +. It's a great place to share audio installation tips, post photos, and connect with other Mustang enthusiasts. We'll see you there!