It's tough to deny the convenience of streaming music wirelessly via a Bluetooth connection. You hop in the car, power up your tunes, and hit the gas. You don't have to insert a CD or plug in a portable player. You just need a phone and car stereo that are equipped with Bluetooth capability and voila, tons of music options with no wires.

Car stereos that include Bluetooth with aptX, like Kenwood's KDC-X700, offer clear wireless sound.
Upgrading your wireless music
Pretty great, right? So, how can it get better? Do you ever hear songs that sound a little tinny or "swishy," especially in the higher frequencies, like the cymbals? That's often due to compression. Bluetooth wasn't originally developed with sound quality in mind.
However, many car stereos and Android phones now have Bluetooth that features aptX® technology for improved sound when streaming higher-resolution audio files. When two devices that include Bluetooth with aptX are paired together, this new technology improves the audio by reducing the amount of audio compression used when streaming and increasing the streaming bitrate.
A point that bears repeating: Both your phone AND your stereo have to have Bluetooth with aptX technology in order to give you the higer-quality sound.
In geek speak, aptX is a data codec included on some Bluetooth devices that retains elements of your music that can be lost during digital compression. Kenwood has led the charge for improved streaming audio quality by including aptX technology in many of their newer models of car stereos. To really drive home how much of an improvement the aptX codec can make (up to five times better sound), Kenwood created this chart and kindly let us use it here: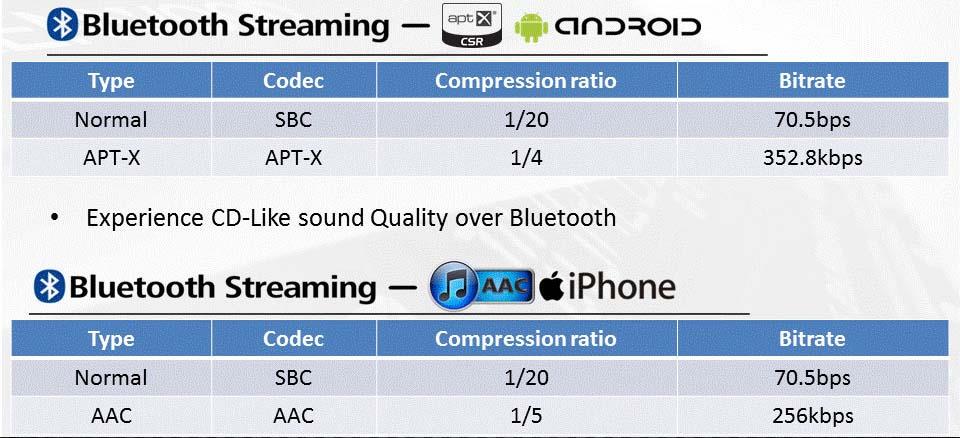 Discovering the audio benefits
Devices that include aptX technology deliver near CD-quality sound when you stream wirelessly. The benefits aren't restricted to just Android phones. The chart also shows how AAC music files streamed from an iPhone® offer a more detailed sound (one fourth of the compression and almost four times the bitrate) than when streamed with standard Bluetooth. Because aptX is part of the most recent Bluetooth chipset, many people also report that their hands-free phone calls have better clarity than with previous versions of Bluetooth.
If you want to stream high-quality music and take calls hands-free, we suggest looking for car stereos that include the "Bluetooth with aptX" in the feature list (or have the aptX emblem on the box) for the best audio experience. And you can check out our selection of car stereos that feature Bluetooth with aptX.