Best audio gear for your Jeep Wrangler
Go-anywhere gear that our Jeep customers love
In this article, we'll share sound system ideas for your Wrangler, from roll bar speakers to the best speakers for your Wrangler. With the right car audio gear, you can keep in touch while you're getting away from it all. Or just crank your tunes and drive over some rocks. It's up to you.
Whether your idea of off-roading means climbing rocks and slogging through mud or driving up a dusty lane to a winery, there's nothing like a Jeep Wrangler. Equally at home in the back country or a country club parking lot, the Wrangler is an American original that seems to get better with each generation.
Get the best stereo system upgrades for your Wrangler
If you're shopping for a new stereo for your Wrangler, you've come to the right place. Crutchfield carries a wide range of single-DIN (2" tall) and double-DIN (4" tall) receivers, and when you buy from us, you'll get a nice discount on the dash kit and wiring harness you'll need to install your new stereo.

To see what fits your Wrangler, enter your Jeep's details in our vehicle selector and let our database show you what works. If you don't see anything for your specific model (rare, but it happens), just give us a call. Our experts can help you find a new stereo that'll fit nicely, sound great, and stand up to whatever you get into.
Custom-fit receivers for your Jeep
Looking for the ultimate in style, sound, and functionality? Alpine and Stinger offer digital media recievers that are specifically designed to bring smartphone connectivity to select 2007-up Jeep Wranglers and Gladiators. To learn more, check out our Best custom stereos for your Jeep Wrangler article.
Custom-fit Jeep speakers
You already know that aftermarket speakers are better than whatever the factory installed in your Jeep. We stock a huge selection of high-performance aftermarket car stereo speakers that'll sound fantastic in your Jeep. You can put together your own system, or step up to a system that's designed for your Jeep. We also offer speaker pods and roll bar speakers that are designed to work in the Jeep environment, as well as subwoofers to bring the bass to your adventures — more on those below.
Weatherproof and extremely versatile JK speakers
The above custom-fit 6-1/2" Alpine SPV-65X-WRA speaker set lets 2007-2018 Jeep Wrangler JK owners configure the included woofers and tweeters separately or as coaxials, depending on the factory setup. Alpine includes brackets to help with the installation. Crutchfield photographer and Jeep enthusiast J says the tweeters clip right in to the factory locations of his 2012 Jeep Wrangler Rubicon Unlimited (below).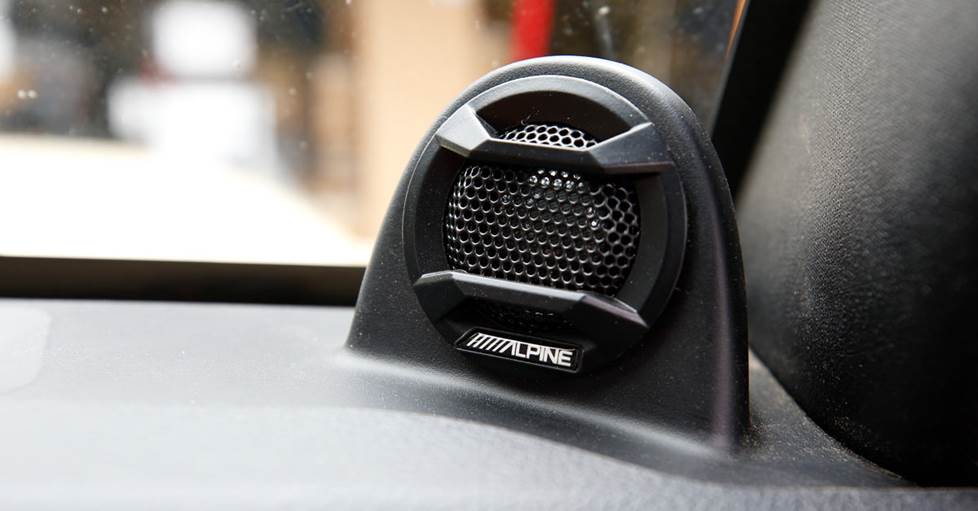 Custom-fit speaker upgrades for the whole system
Alpine offers a number of custom-fit Restyle speaker systems for Jeep Wranglers. Depending on the system, these could include speakers, tweeters, amplifiers, and powered subs. These systems offer direct-fit replacement for your Jeep's non-premium audio system.
Replace your overhead soundbar speakers for bigger sound
Soundbar speaker adapters from SSV Works let 2018-up Wrangler and Gladiator owners replace the factory overhead speakers with their own 6-1/2" speakers for a full-size revamp. With larger speakers that can handle much more power than the factory ones, you'll hear the difference immediately.
To learn more about your speaker options, check out our article on the Best Car Speakers for 2023. It's a great place to start your speaker shopping.
When you order any new speakers from Crutchfield, you'll get a nice discount on the wiring harness and mounting brackets you'll need to install them. And if you need car stereo installation tools, we have those, too.
Roll bar speakers and lights for your Wrangler
Many late-model Jeeps have built-in roll bar speakers, and we have plenty of aftermarket models that will fit right into those stock enclosures.
But if you're a fan of "al fresco" off-roading and you really like big sound, a set of roll bar-mounted speakers will really bring out the beast in your system. These rugged speakers are made for off-road use, and they'll clamp securely to your roll bar. When you need to put the top back on, they're easy to remove, too.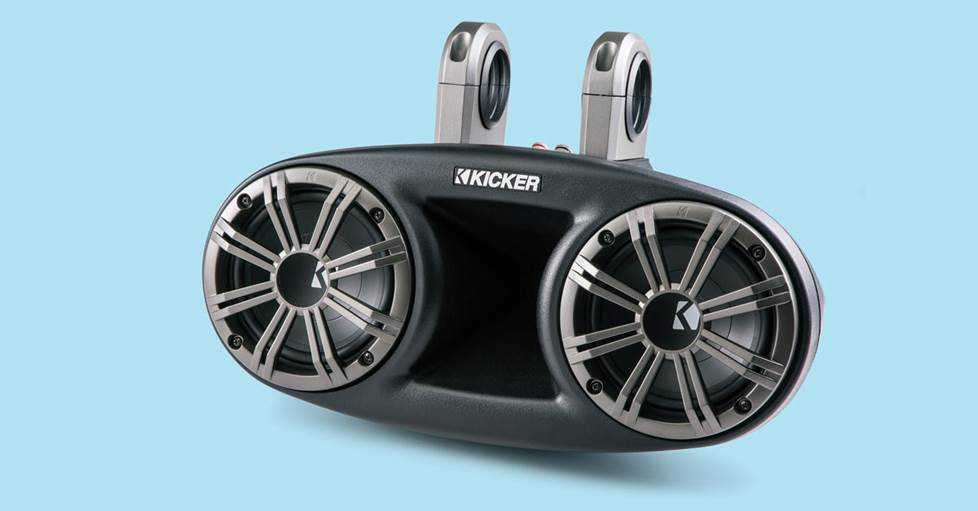 Kicker's KMT674 marine speakers bring outstanding performance and marine-rated durability to your Jeep.
As long as you're adding sound, why not add some light? We offer a nice selection of large LED light bars that will add style and functionality to any roll bar. These bars produce an adjustable full-range beam (narrow-beam "spot" lights are also available) using bright, efficient LED technology. In addition to clear white light when you need it, you can also enjoy full-color RGB accent lighting with some models.
We don't sort this gear by fit, but you can take a look at the entire selection in our ATV & UTV section. Larger tower speakers can be found in our Wakeboard Tower Speaker section.
Custom-fit Jeep speaker pods
Speaker pods are an attractive option to adding speakers in non-factory locations in your Jeep, and they're usually designed to handle the elements.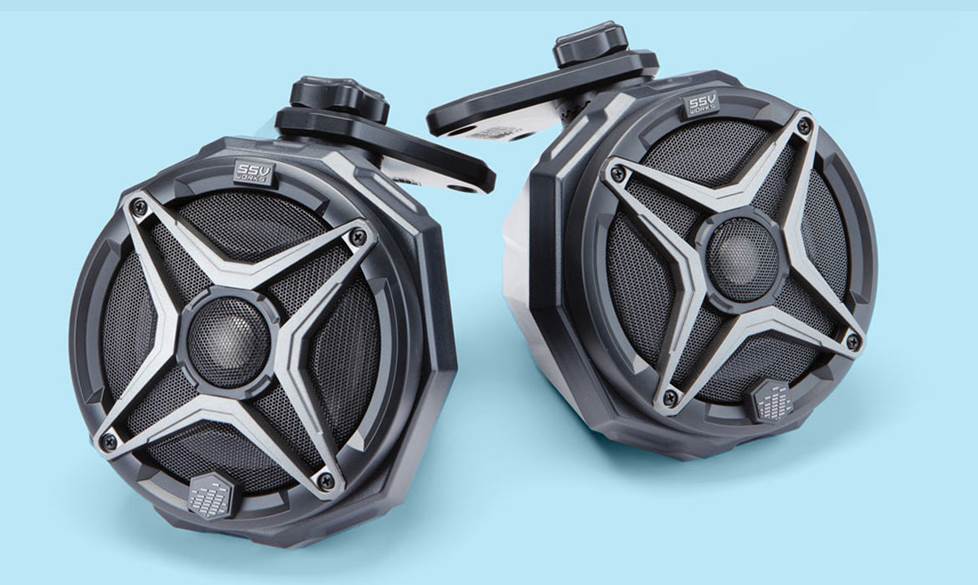 Weatherproof 180° pods
These SSV Works swivel-mounted 6-1/2" speaker pods mount to your 2017-up JL's factory cage mounting points and let you hear your tunes inside or outside of your Jeep. They're available unloaded or with SSV Works or Kicker marine speakers installed.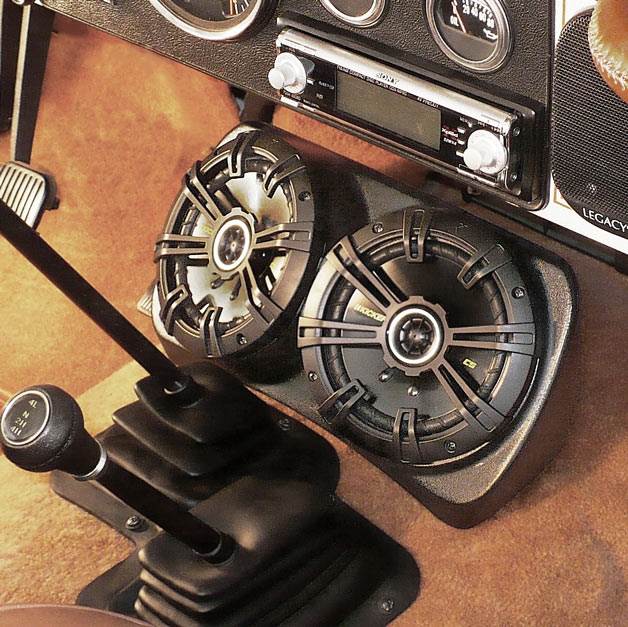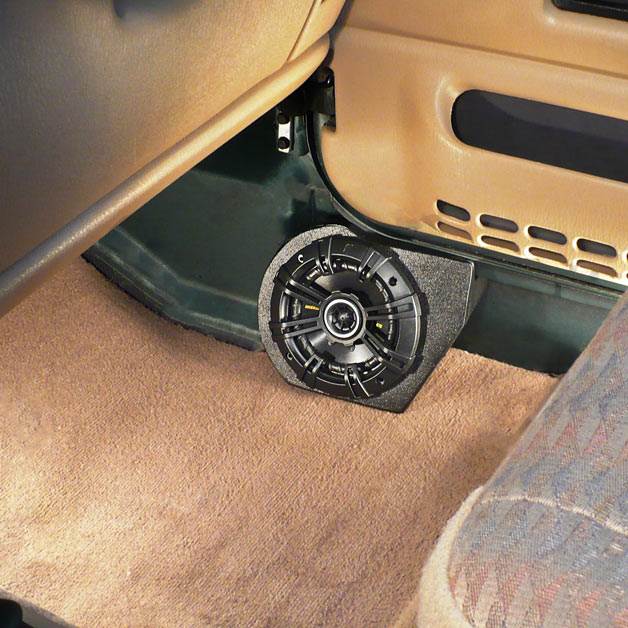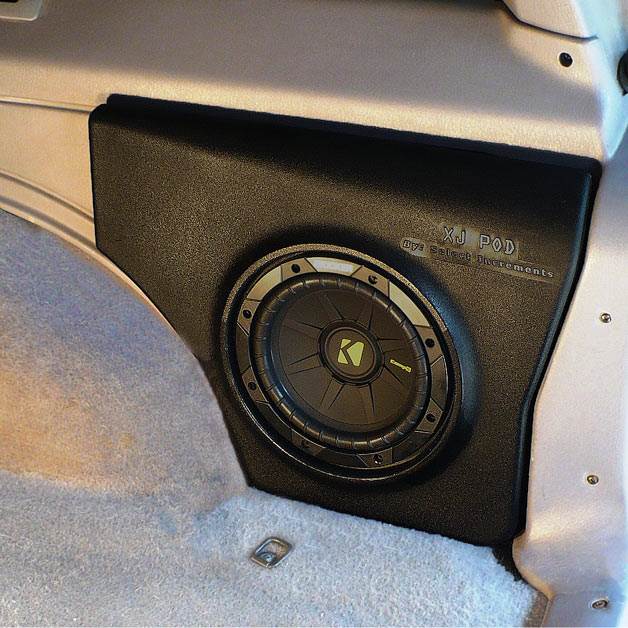 Select Increments offers a wide array of unloaded speaker pods for various Jeep models, including the Centra-Pod, Mod-Pods, and XJ-Pods (from left).
Speaker pods for classic Jeeps
Select Increments speaker pods overcome wind and road noise in Jeep models dating back to 1955 without taking up much room — you just need to add your own speakers.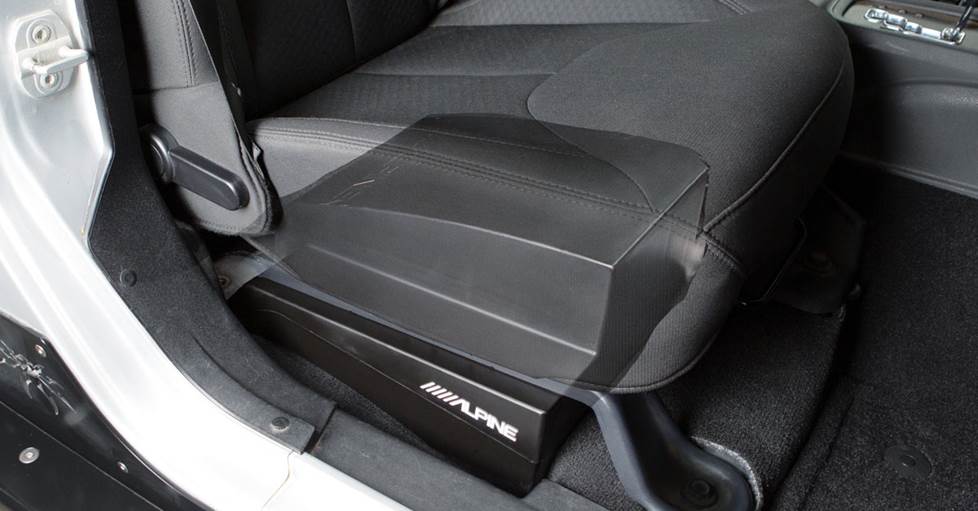 Custom-fit Jeep subwoofers
When it comes to improving the bass in your Jeep, you have plenty of options. If you want to go seriously big, you can pop a couple of component subs into a box and secure it in the cargo area. If you want a sub that's already in a marine-rated enclosure, we have those, too. And there are also compact powered subs that are tough enough for off-road use.
The Alpine 10" weatherproof sub enclosure (shown installed above) fits under the passenger seat of 2007-2018 Wrangler Unlimiteds, so your precious leg room and storage area stay intact. All you have to add is an amplifier. We have plenty of custom-fit options for other Jeeps, including subs that squeeze into the cargo area or attach to the rear door, for fulfilling bass that doesn't take up too much space.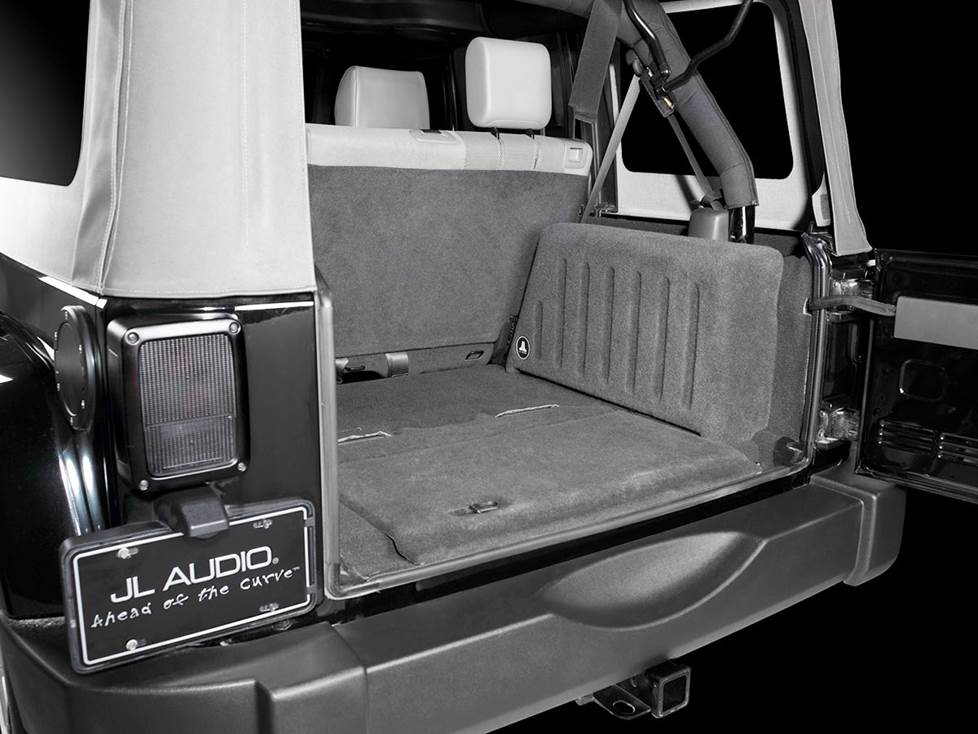 This JL Audio Stealthbox contains a 13.5" TW5-v2 subwoofer and fits 2007-up Wrangler Unlimited models
Depending on which Jeep model you own, you also have the option of custom-designed sub/enclosure combos that will fit right in. They're not marine-rated, but they're pretty tough and they're a great way to add bass without taking up space you'd rather use for camping gear or hunting and fishing equipment. To see what's available for your Jeep, enter your vehicle information.
Amplifiers will really boost your sound
Off-roading can be a rather noisy activity in a Jeep. So can on-roading, for that matter. Hopped-up engines, knobby tires, open-air seating, and the like are the enemies of good sound, on-road or off. If you want to actually hear your music while you're roaring around in your Jeep, add an amplifier to your stereo system.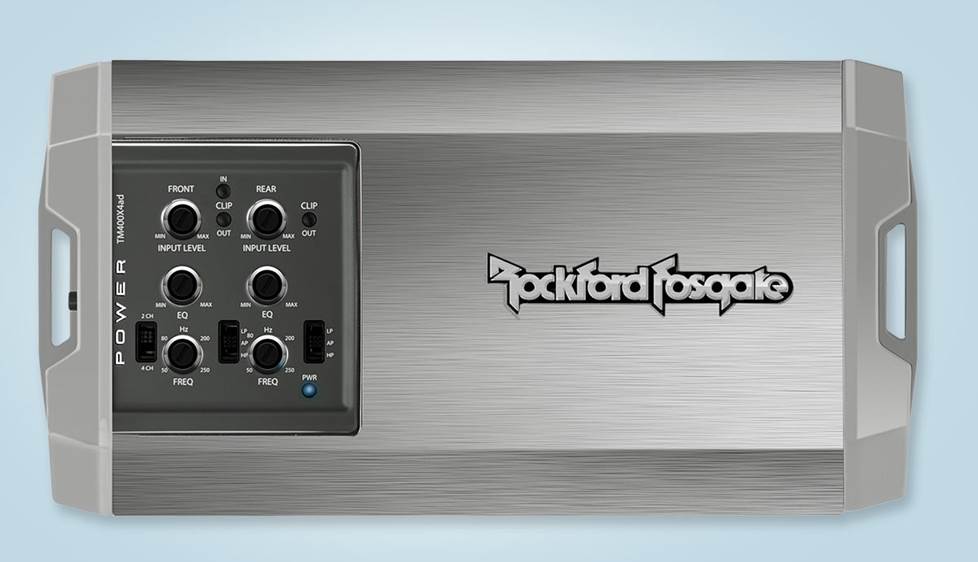 Marine amps like the Rockford Fosgate TM400X4AD give you plenty of power, plus all-weather reliability
If you think an amp is only good for bringing out the high notes in a light opera, think again. An amp will add clarity and volume to any type of music by wringing every last bit of musical detail from your speakers and subs.
For serious off-roaders, we suggest a marine amp, because those models are made to resist moisture and the constant pounding of rough water. If they can stand up to that, they can certainly take a day in the wilderness with you. Many of these amps are surprisingly compact, so they can fit under a seat and out of the way.
Noise-deadening solutions for your Jeep
Between road noise and wind noise, Wranglers can be a little loud before you start playing music. Boom Mat headliner kits block out the noise and insulate the interior of your hard-top Jeep Wrangler. The kit includes three pieces that fit perfectly in the headliner, each cut from marine-grade acoustical foam that resists mold and mildew. The panels are also styled to blend right into your Jeep. SoundSkins sound-deadening kits help reduce the din from below and along the sides of your Jeep.
Custom-fit Jeep cameras
Nobody wants to explain to a fellow Jeep enthusaist that the dings on their beloved vehicle are from a fender-bender in the mall parking lot, so getting a camera (or two or three) makes perfect sense. Here's one of several options for Wrangler owners.

Add a rear-view camera, reverse LED lamp, and brakelight to your Jeep
This handy weatherproof Alpine HCE-TCAM-WRA backup cam and brakelight package fits directly onto the spare tire mount of select 2007-up Wrangler JK models. You get a factory look while adding a third brake indicator — all without drilling!
There are other backup camera options available, either custom-fit for Jeeps or more generic. Here's a handy link to all of our backup cameras.
Capture the fun while you drive
A dash camera is a great way to record all the fun you're having when you're out there. Whether you're crawling up a rocky trail or blasting through a mudhole, that footage will look really good on social media when it's recorded in high-definition. And on the way home, dash cams are very handy for recording the behavior of other, decidedly less-talented motorists.
For the hardest of the hard-core, action cameras can be mounted all over your Jeep to capture all the action.
More ideas to improve your Jeep
There's a vast universe of aftermarket gear out there. Here are some of our other favorite ideas for making your Jeep an even more enjoyable ride.
Add off-the-grid guidance
Even if you do most of your exploring within cell signal range, there's always a chance that you could find yourself without a reliable way to pull up maps on your phone. And if your stereo can't tell you how to get where you're going, a portable GPS navigator can help. Satellite coverage is much more reliable than phone signals, so you can count on accurate guidance pretty much anywhere, and some navigators offer detailed maps for off-road trails and areas. Some even feature built-in HD cameras that can record your trips.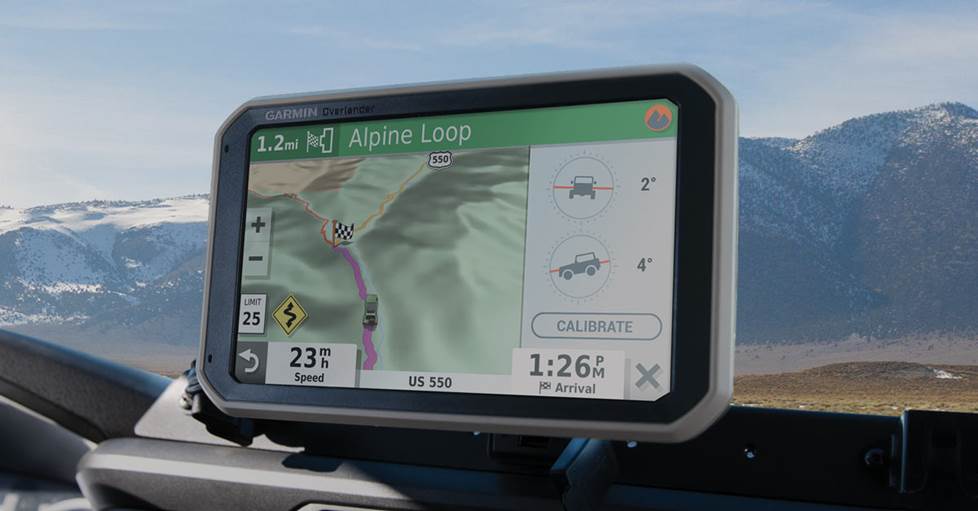 Garmin's Overlander portable GPS navigator offers a 7" display, a rugged housing, and trail maps so you can take your Jeep just about anywhere — its built-in pitch and roll gauges let you keep track of your Jeep's position on challenging terrain.
Get some security
A security system isn't the easiest thing to install, but it can be a smart upgrade in many cases. Rule of thumb: If you think you need one for your Jeep, you probably do. No matter what kind of Jeep or truck you own, we can help you find a security system that'll work for your vehicle.
Install a remote start system
The popular notion of a remote start system is that it's great for those frigid mornings when you really appreciate being able to start your vehicle and give the heater and defroster some time to work before you go out into the cold. But you'll also appreciate it in extremely hot weather, on rainy days, or any time you want your Jeep running, comfortable, and ready to go when you climb in.
Power your AC devices
Getting away from it all is great, but if your off-road travels involve hunting, fishing, hiking, or camping, there are times when an AC-powered device can really come in handy. With a power inverter, you can convert your Jeep's DC power to AC power and run household devices from your vehicle's power supply.
Pack some spare power
We know you're smart enough to be careful about your battery, of course, but dead batteries do happen. What you need is a compact, powerful, easy-to-use charger that can jump your Jeep in an emergency – wherever you are. We offer a wide variety of power packs that can do just that, plus charge your phone, tablet, or other device.
Protect your floors
If you're going off-road, you're going to get dirty. Or muddy. Or possibly just wet. Either way, a set of floor mats and cargo mats from WeatherTech will keep the ick under control. Enter your vehicle information on our vehicle selector page and find the mats that fit your Jeep.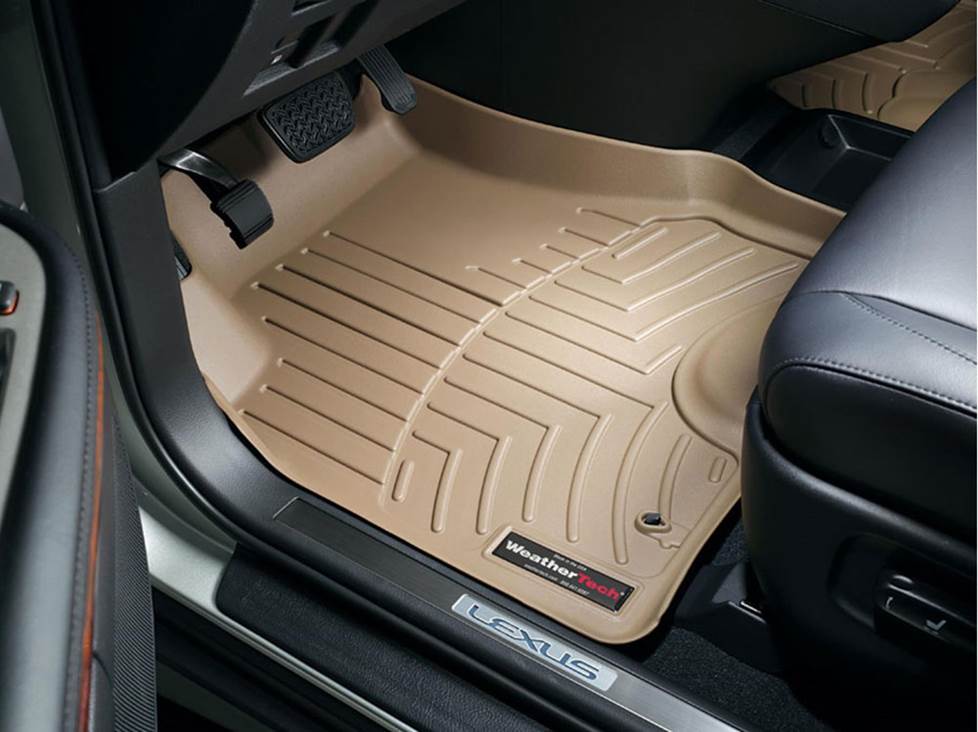 A set of WeatherTech floor liners (sample photo) will keep mud and muck from messing up your Jeep's interior
Store your stuff
If your ideal weekend involves a bunch of camping gear, you already know how easy it is to fill a cargo area with essential stuff. Need more space? Thule racks and carriers give you the carrying capacity you need for bikes, kayaks, tents, and more.
Use marine-rated wiring
If you're into hardcore off-roading, marine-rated wiring is a smart investment. The great outdoors can ruin ordinary wiring in a hurry, so if you like getting muddy, make sure your Jeep's audio system is built to last.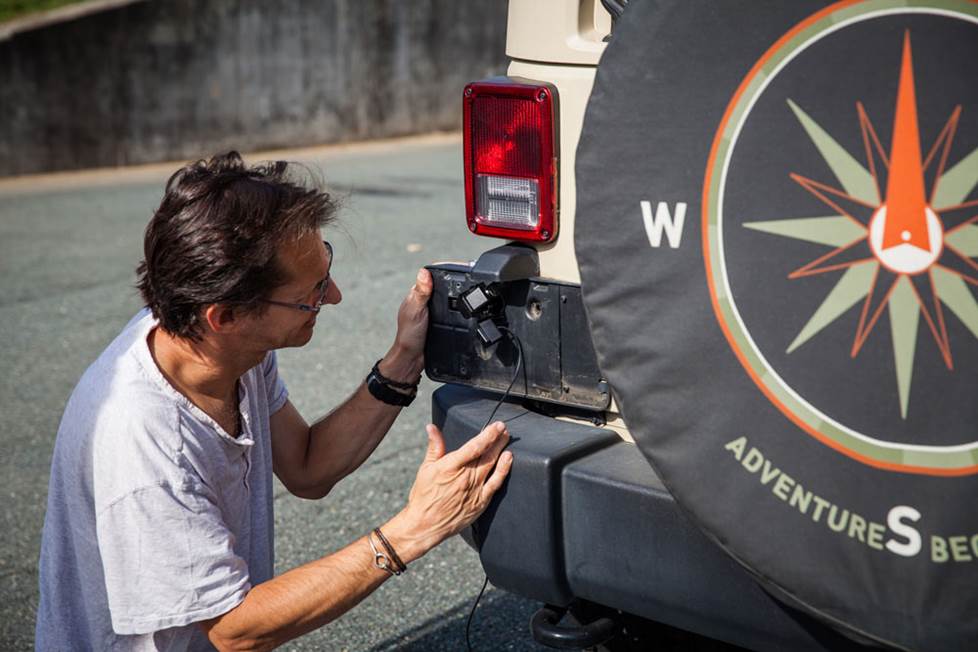 Questions? That's what we're here for!
A Jeep project is never truly "done," mostly because adding gear is part of the fun of being a Jeep owner. If you have any questions, our Crutchfield Advisors will be happy to answer them. And when you buy from Crutchfield, you get free tech support for the life of your gear.
Popular questions customers ask
Adding GPS navigation requires that you get a touchscreen stereo, of course, and you have two options. First, Android Auto and Apple CarPlay let you use your favorite GPS app including Apple Maps, Google Maps, and Waze. If you want GPS navigation without tying up your phone, you'll have to get a new stereo with built-in navigation.
Yes, when connected via USB or Bluetooth, you can play music from your phone on the radio. And if you're using CarPlay or Android Auto, you can control most music apps from the stereo's touchscreen for a "true" car stereo feel.
Our vehicle database is unmatched. We've taken apart the dashes and door panels of more than thousands of vehicles and measured every space and bolt pattern. We'll also make sure you get the right installation gear when you order.
You'll need a special adapter to keep those handy buttons working with your new stereo. When you shop on our site, we'll show you all the options for installation hardware, including the right adapter for the steering wheel controls.
New stereos will often work with your existing backup camera. We'll let you know before you make your purchase. If your car doesn't already have a camera, you'll find compatible backup cameras under the stereo's "Accessories" tab on our site.
Last updated 7/6/2022